Costco Chicken Bone Broth + Must Do Flavor Enhancement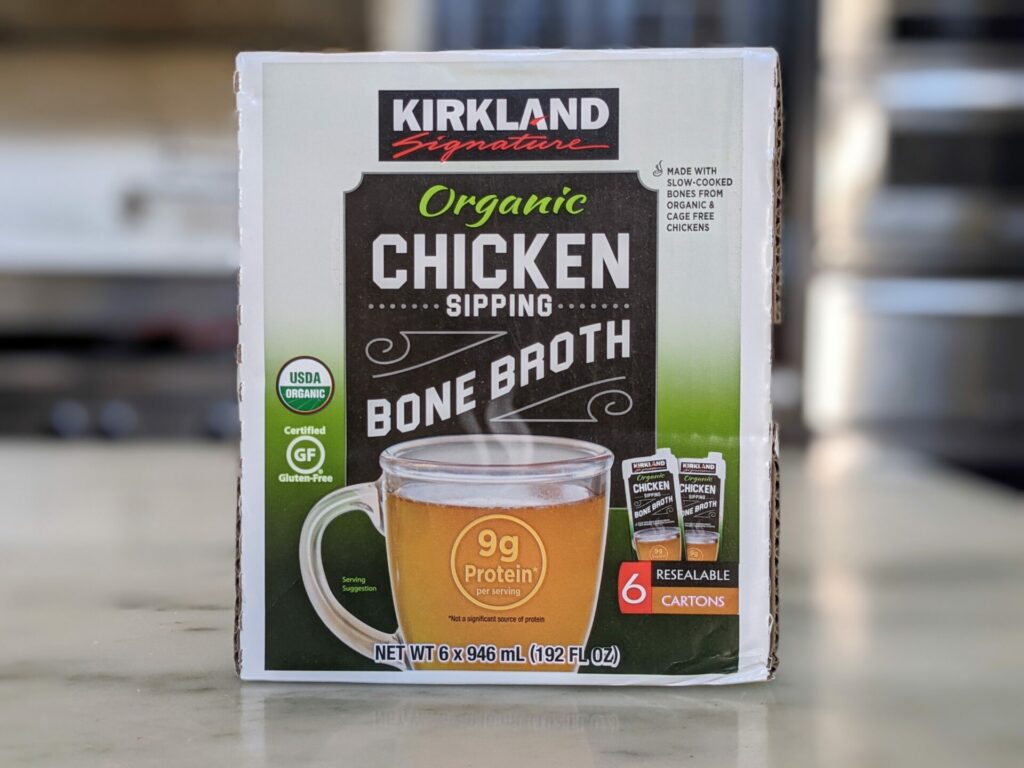 Kirkland Signature Chicken Bone Broth at Costco
Costco sells a 6 pack of their Kirkland Signature Organic Chicken Sipping Bone Broth for $18.99. The chicken bone broth can be found in the Pantry and Dry Goods area of the store near other items such as the canned chicken, salsa, and the spaghetti sauce.
Costco's chicken bone broth contains 6 resealable cartons of 32 fluid ounces. The bone broth is made with slow cooked bones from organic & cage free chickens. 
The Kirkland Signature Sipping Bone Broth can be stored at room temperature for up to 12 months but will need to be refrigerated for 7 days once opened.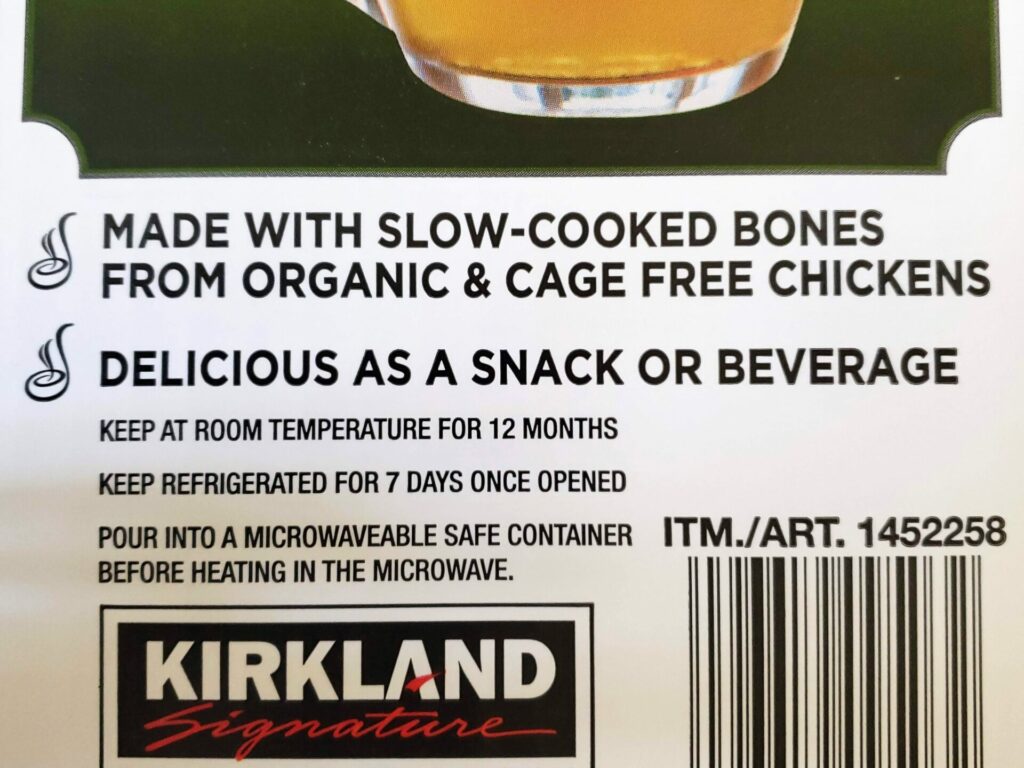 A rather simple definition or explanation of the differences between broth and stock is that stock is made with bones and the carcass of chicken, while broth is made with bones, meat, vegetables, and even seasonings. 
Stock is usually left unseasoned and meant to be used as an ingredient in another dish, while broth is considered the final product and can be consumed as is.
Chicken Bone Broth vs Bone Broth - Fancy Marketing Name?
After way too much time researching the difference, I just only have a general idea of the difference between chicken broth and chicken bone broth. There is a lot of conflicting information out there.
There are definitely some general characteristic differences and if I could sum it up, it would be that bone broth is boiled for a longer period, has a darker color, more distinct and robust flavor, and is healthier.
There is actually an opposing view that says chicken bone broth has no significant difference from regular chicken broth and in fact is just a clever marketing name. 

If anybody can really clear it up, I would love to hear your thoughts in the comment section below. 
How Much Does Chicken Bone Broth at Costco Cost?
Costco sells their 6 cartons of Kirkland Signature Organic Chicken Bone Broth for $18.99. Each carton breaks down to a price of $3.17 per carton or $0.10 per ounce. 
This is definitely on the higher end for chicken broth, as Costco sells Swanson chicken broth for $0.05 per ounce.
Costco vs The Competition
Sam's Club sells their Member's Mark Bone Broth for $15.99 or $2.66 per 32 ounce carton. This is, unfortunately, better than Costco's price for the Kirkland Signature Chicken Bone Broth.
Tom Thumb, my local grocery store, sells their 32 ounce O Organic Chicken Bone Broth for $4.99. This is significantly higher than Costco's price!
Chicken Sipping Bone Broth Taste Test
Costco calls this a sipping bone broth, so there is no better taste test than by purely drinking it. 
I've tasted the drink cold, at room temperature, and hot, and far and away my favorite was when the drink was warmed up.
The smell of the chicken bone broth is very strong and smells quite nice. Its a very high quality chicken broth smell and I would be able to easily distinguish a traditional chicken broth form this Kirkland Signature chicken bone broth.
For taste, I find the bone broth to be just ok. The flavor is strong and it is much more full than a regular chicken broth, but it's only enjoyable and not absolutely delicious.
To really improve the flavor of the bone broth when sipping, I think it's essential to add in a little salt and even some pepper for additional taste. 
This transforms the average tasting chicken bone broth into something that is truly wonderful. 
The flavors become more intense and the drink is downright good.
When warmed up and flavored with salt and pepper, the chicken bone broth is amazing. The broth has great flavor and is super easy to drink. I can see this easily becoming one of my winter comfort drinks!
While Costco does call this a sipping broth, the chicken bone broth can be used in a variety of ways.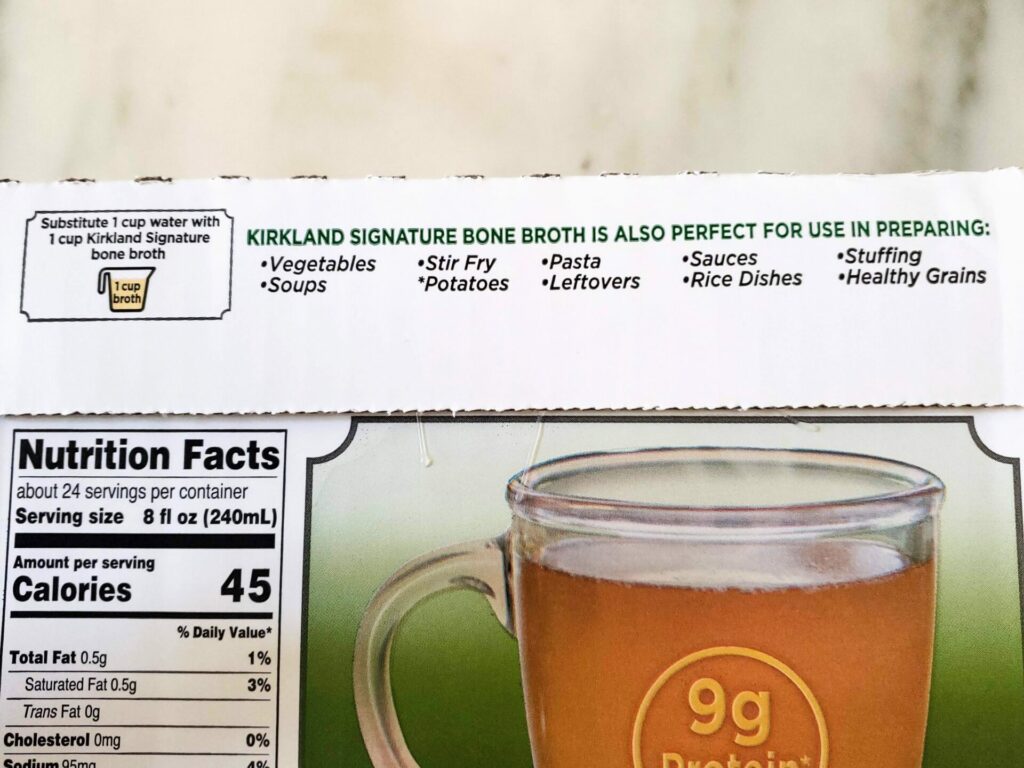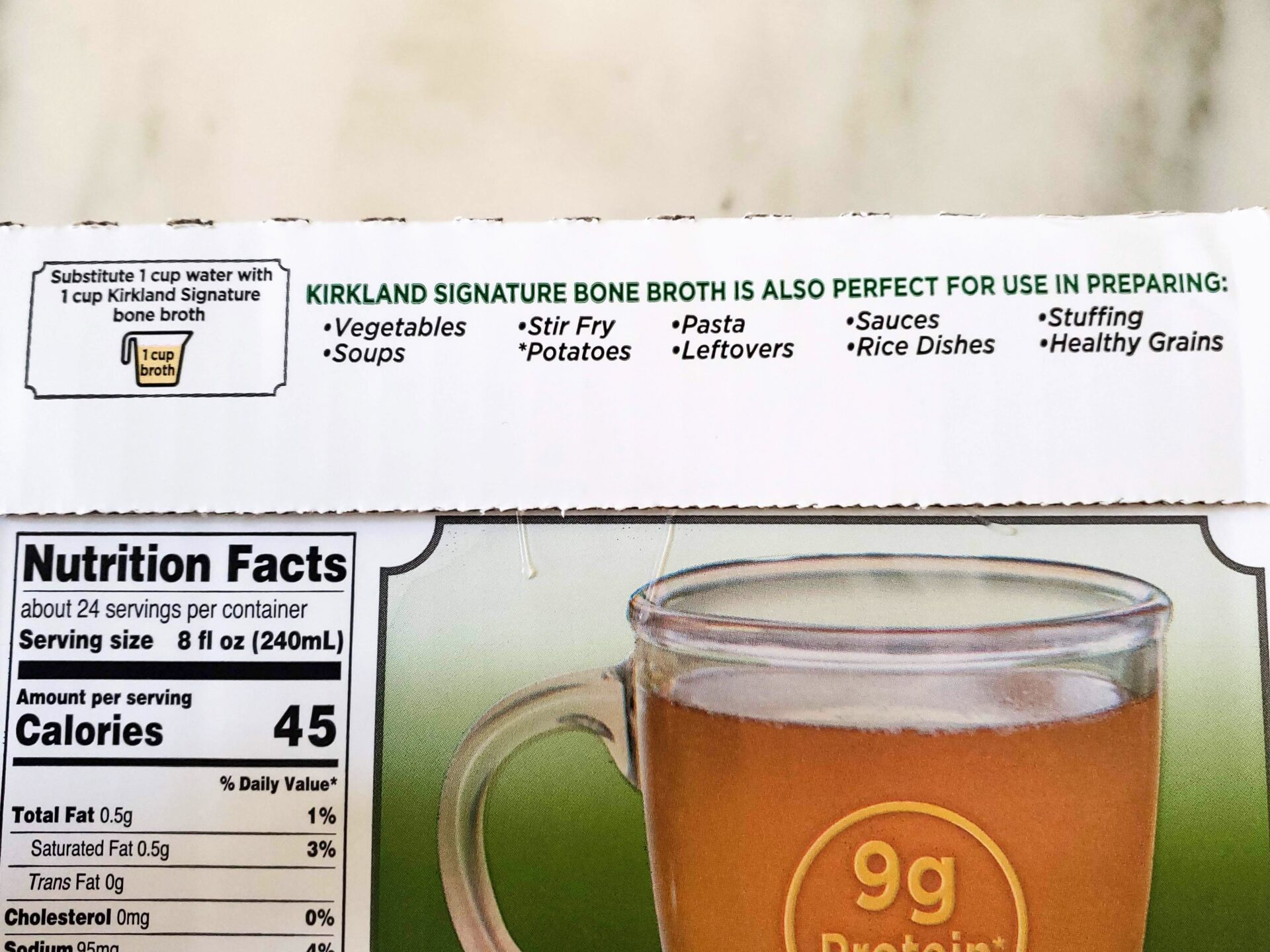 Kettle and Fire has a list of 15 great uses for chicken bone broth. My favorite uses are as soup base, added into rice, and as a bbq sauce. 
This is a great way to add some flavor and sneak in some additional protein!
Kirkland Signature Organic Bone Broth Nutritional Information
How Many Calories in Chicken Bone Broth?
One serving of Costco Chicken Bone Broth is going to be 8 fluid ounces or 1/4 of a carton. Each serving will include 45 calories coming from 0.5 grams of fat, 0 grams of carbs, and 9 grams of protein.
Amazing Nutritional Label
This is an absolute fantastic nutritional label as there are no carbs and just a minuscule amount of fat. The great majority of the calories will come from the 9 grams of protein! Very rarely do you come across a liquid that is going to be heavy in protein and not in carbs. 

Chicken Bone Broth makes a great keto friendly drink!
In addition to the great nutritional label, chicken bone broth has a ton of great benefits as well. According to healthline.com, chicken bone broth contains a bunch of important minerals and vitamins.
Bone broth is rich in collagen and may also help fight inflammation, improve joint health, and help out the digestive system.
Aside from the small amount of sodium (4% of recommended daily value), there is almost no reason to not consume bone broth.
Costco Chicken Bone Broth Review
Product Name: Kirkland Signature Organic Chicken Sipping Bone Broth
Product Description:
Price: $18.99
Quantity: 6-32 Ounce Cartons
Location Within Costco: Pantry and Dry Goods
Price Per Carton: $3.17
Summary
The Chicken Bone Broth from Costco is a winner. The sipping bone broth is delicious, easy to drink, versatile, and so flavorful. The broth can be used in a variety of dishes or consumed directly. 
The nutritional benefits are amazing and it has one of the best nutritional labels in all of Costco. A true hidden gem.
Value -

7/10

Convenience -

9/10

Taste -

8/10

Nutrition -

10/10

CFDB Score -

8/10
Pros
Strong & robust flavor

Perfect nutritional profile

Versatile

Great for diets