Costco Spanakopita - Air Fryer Recipe + Dip Ideas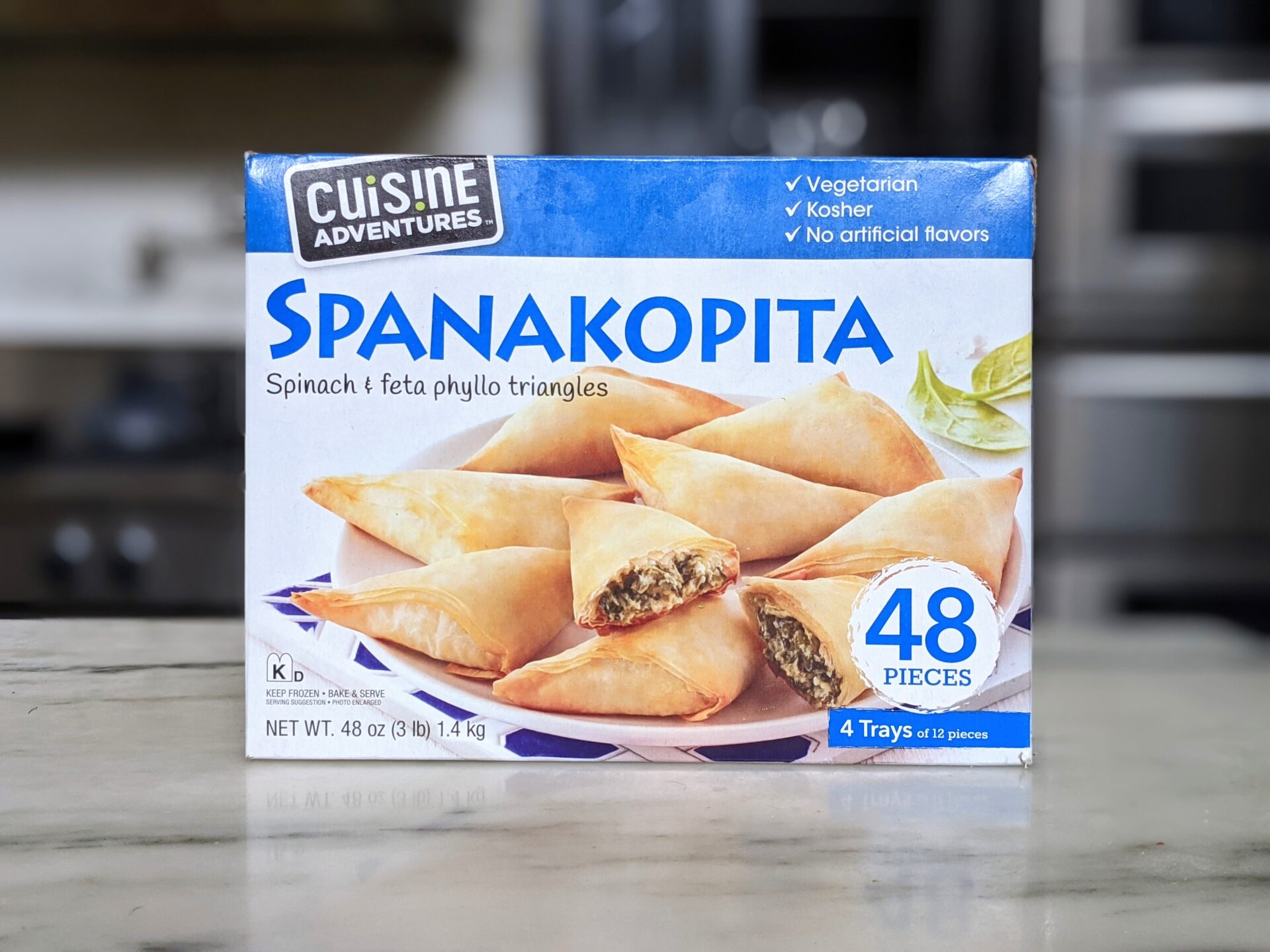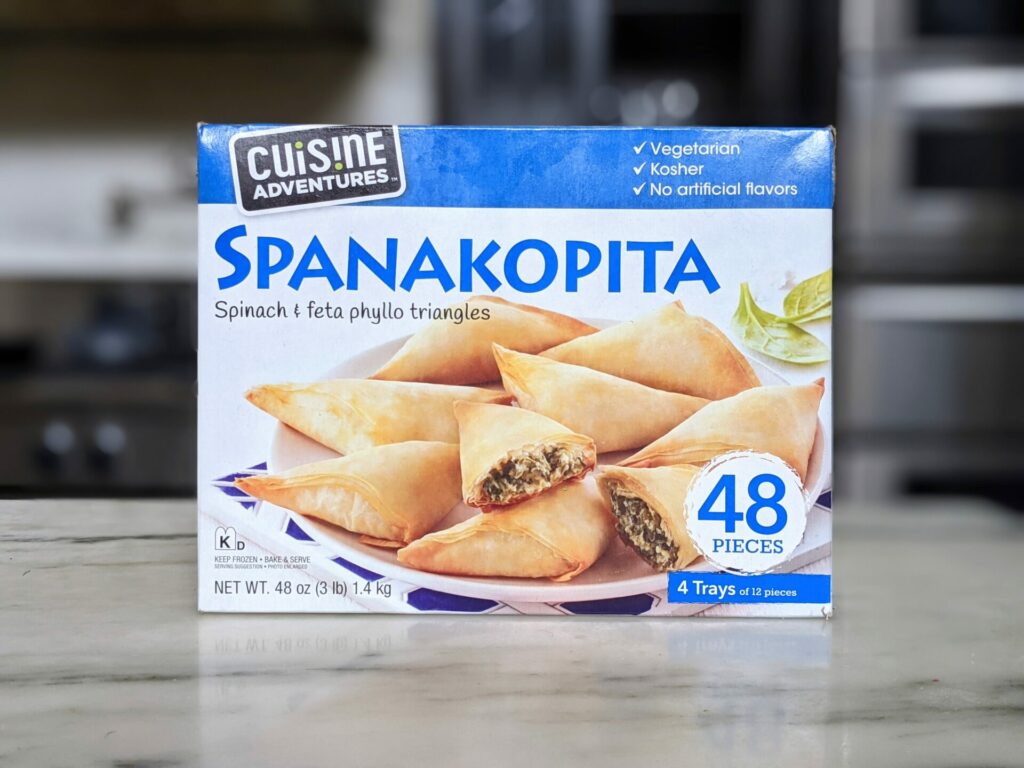 Cuisine Adventures Spanakopitas at Costco
Costco sells a 48-count pack of Spanakopita for $17.59. The spanakopita can be found in the frozen food aisle near other appetizer-type items such as the chicken wings, brazi bites, and the mozzarella sticks.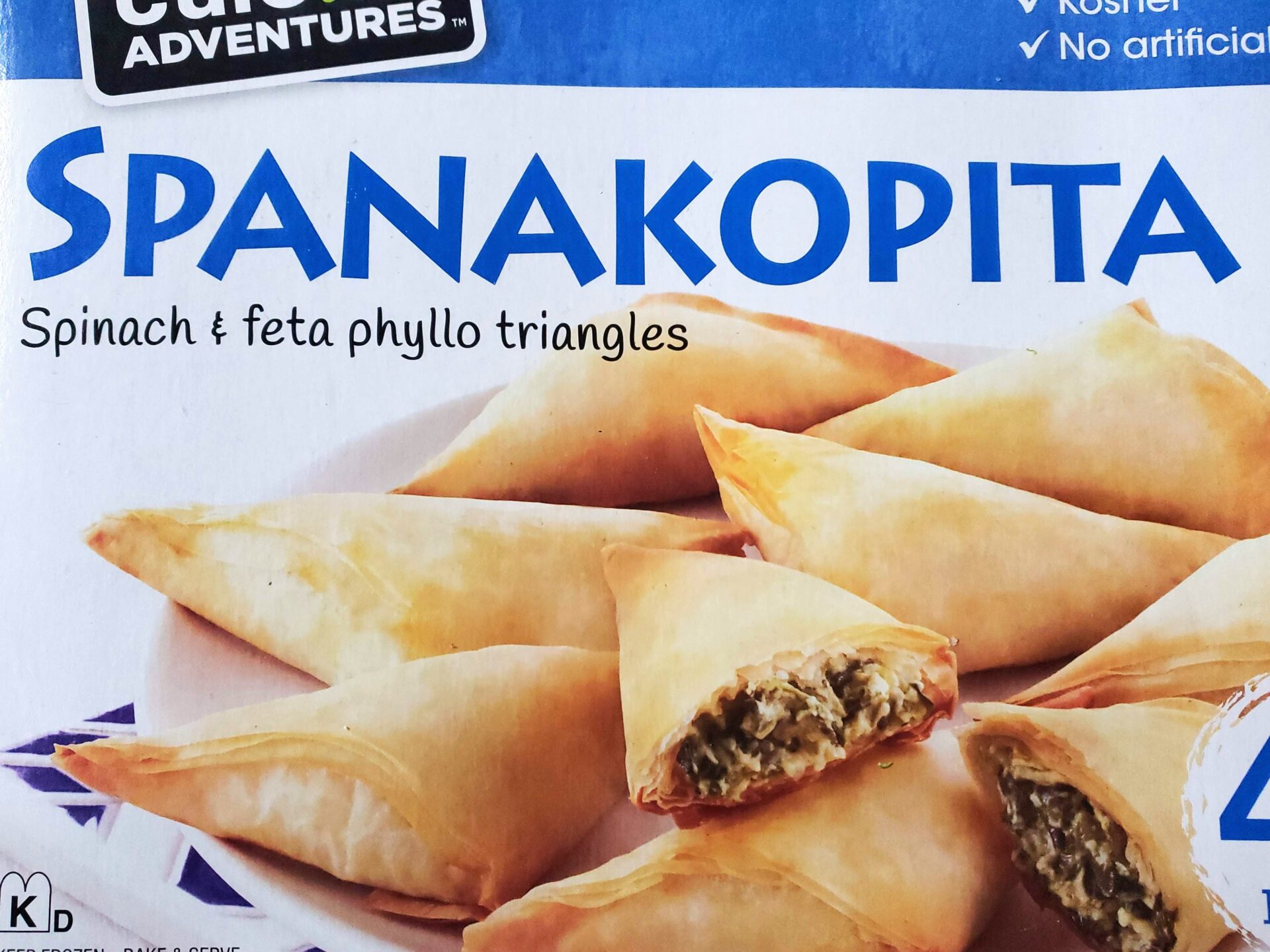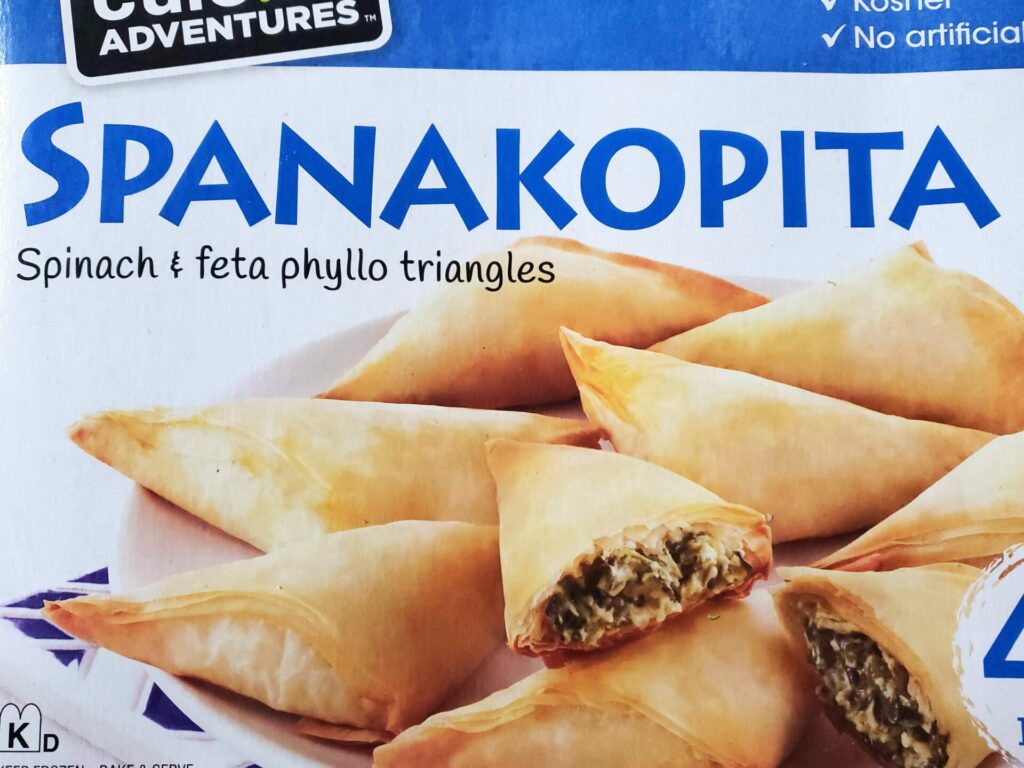 Each box of Costco spanakopita will weigh 3 pounds and contain 4 trays of 12 spanakopita pieces. The spanakopita is vegetarian, kosher, and has no artificial flavors.
Have You Tried Costco's Spanakopita?
Let the rest of the Costco Food Database community know what you thought of this product. Results and reviews are at the bottom of this page.
Please allow 24 hours for review moderation and approval.
Spanakopita is essentially a Greek spinach pie. Authentic spanakopita is made with feta cheese, chopped spinach, onions, and seasonings. 
The filling is then wrapped into phyllo pastry (made with many layered sheets of crispy filo) and then baked. Spanakopitas can be served as a full pie or shaped into little triangles or wedges.
The most common spanakopitas are usually in pie form where a slice or square is cut out and then served, but the Costco spanakopitas are served as individual triangle finger foods.
The Costco version is a little easier to eat which is great because you can control just how much food you want to cook and eat at a time. You don't have to take a cook or eat a full pie's worth of spanakopita but could grab as little as one piece.
This is a large box of 48 frozen spanakopitas, and unless you are throwing a large party, this isn't something you will finish in a day or two.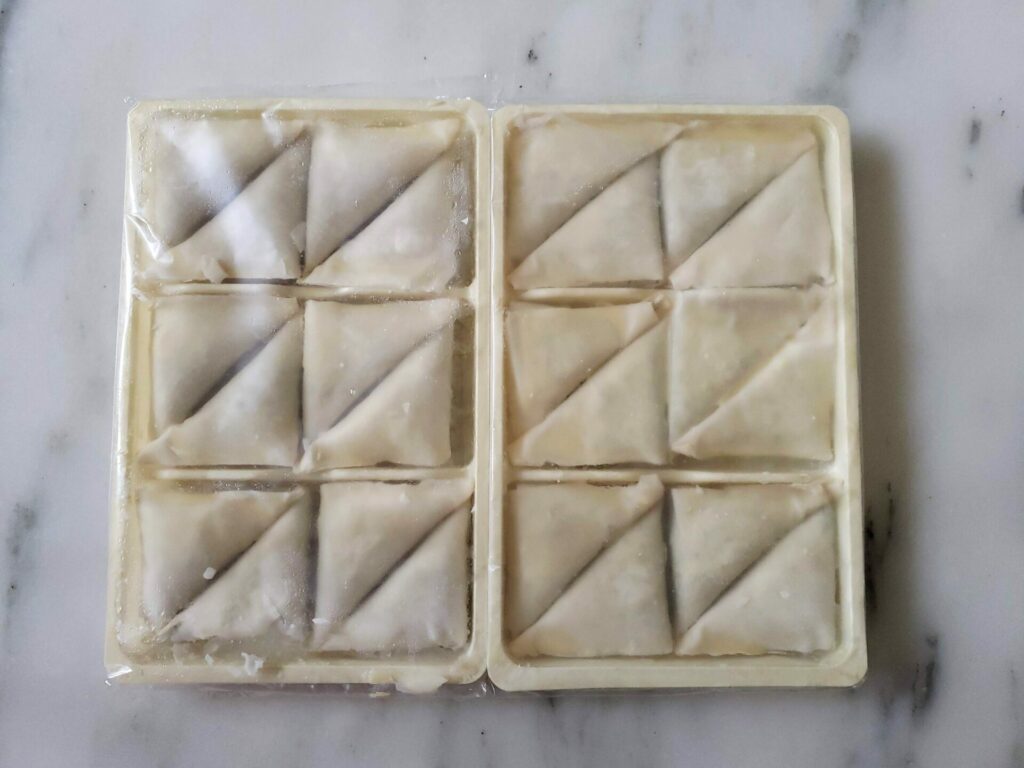 I really appreciate that Cuisine Adventures has made it easy to keep and store the Costco spanakopitas by packing the 48 spanakopitas into 4 trays of 12. 
This allows me to only open one of the trays at a time to get just what I need while keeping the rest of the spanakopita sealed.
How Much Do Costco's Spanakopitas Cost?
Cuisine Adventures Spanakopita at Costco retails for $17.59. I was able to snag this box when it was on sale for $12.99. This is a huge discount of $4.60 or 26% off.
The price per pound at retail is $5.86, which drops to $4.99 when the spanakopita is on sale. Each box will have exactly 48 spanakopita, and they go for $0.36 each at the regular price or $0.27 when they are on sale.
There is a massive price difference between the retail and sale price, and it's always great to save a little bit of money.
Costco Vs. The Competition
Sam's Club sells a 36 Count Member's Mark Spanakopita for $11.98 or $0.33 per item. This is right between Costco's retail and sale price, but the big difference is that the Sam's Club spanakopitas are diluted with cream cheese, while Costco's are made only with Feta Cheese.
Target sells their 8-ounce Good & Gather Spanakopita for $5.79 or $11.58 a pound. This price isn't close to Costco's spankopita retail price per pound and is actually double. 
The spanakopita came out of my air fryer super hot and crispy. They looked fantastic and had a nice golden brown color to them.
These are spinach and feta cheese spanakopitas but the phyllo pastry is the star of the show. It looks the part, is super flaky, and the glaze on the phyllo gives it an awesome buttery taste. They were crispy all around and provided that perfect bite of crunchiness.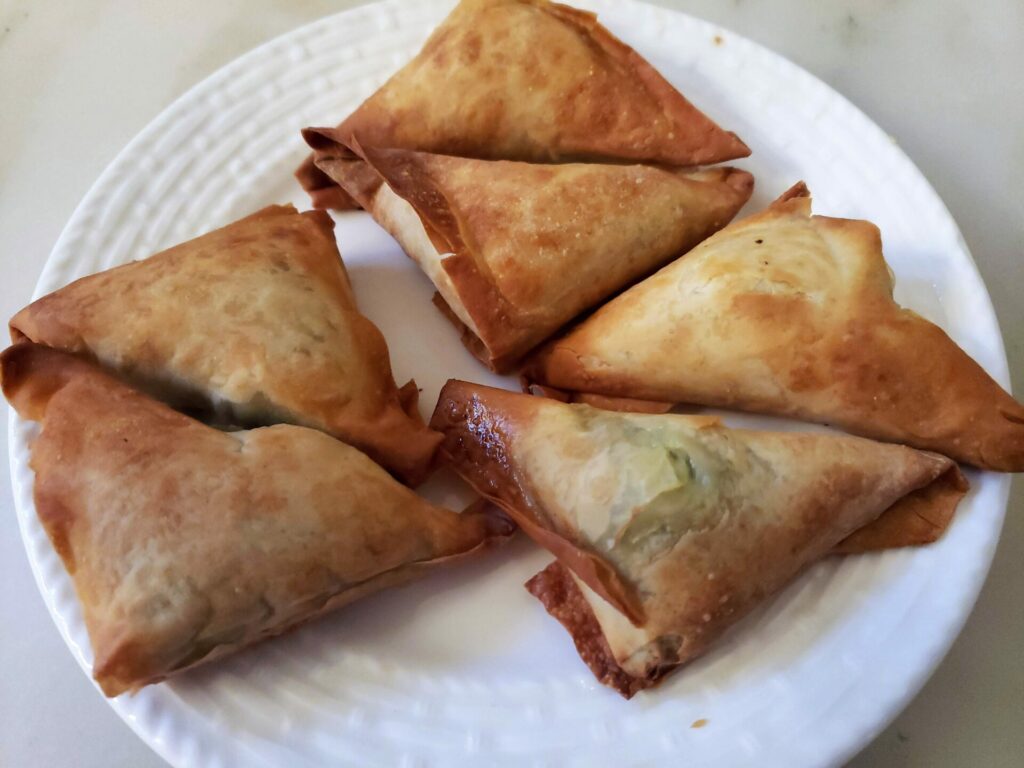 Unfortunately, the spinach and feta cheese filling was disappointing. The highlight of the filling is that it came out warm.
Disappointing Spinach and Feta Filling
I expected a nice blend of spinach and feta cheese, but these Costco spanakopitas were filled mostly with spinach. There was definitely some feta cheese, but this is spinach-dominated spanakopita.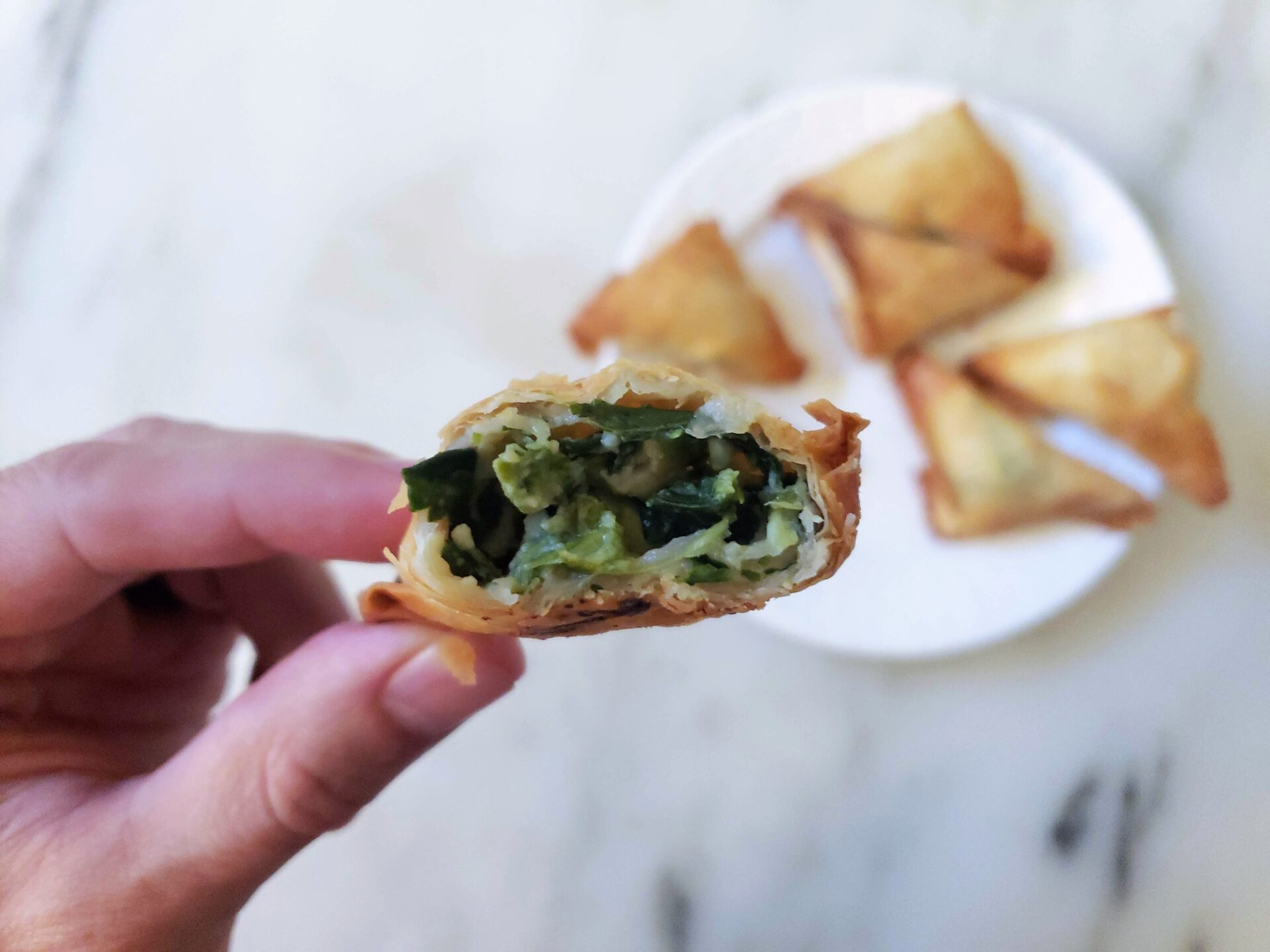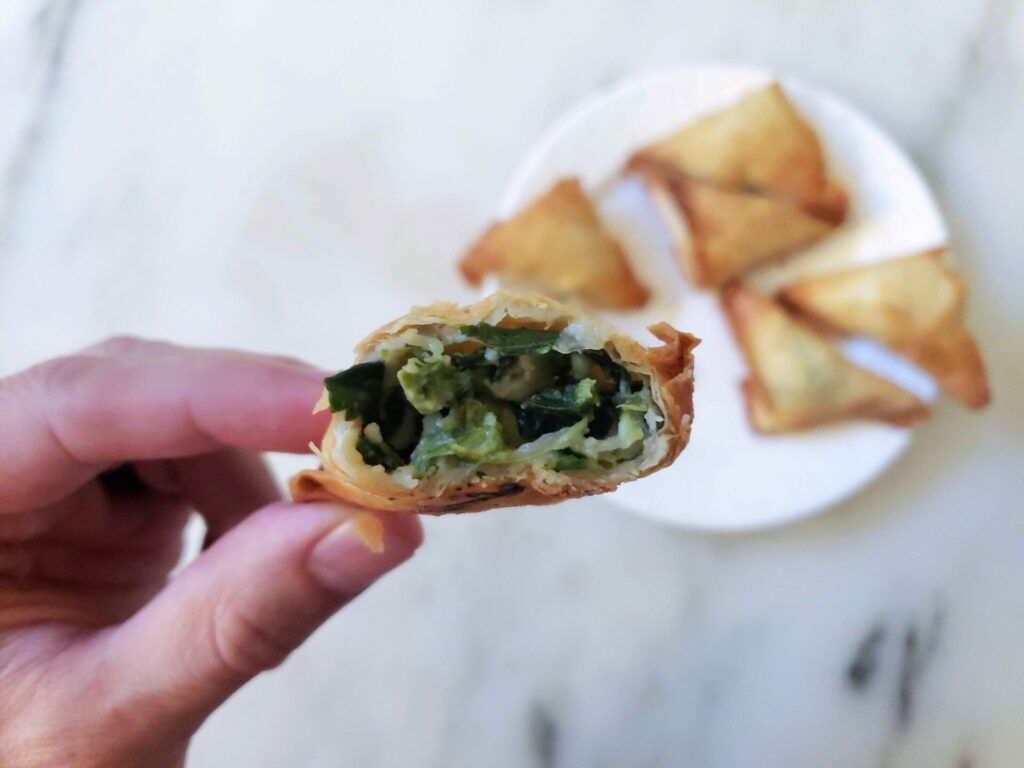 That being said, the flavor was lacking. The few bites with an acceptable amount of feta cheese were passable, but there were too many bites of mostly spinach. 
The spinach didn't have a lot of flavor and was being carried by the delicious phyllo.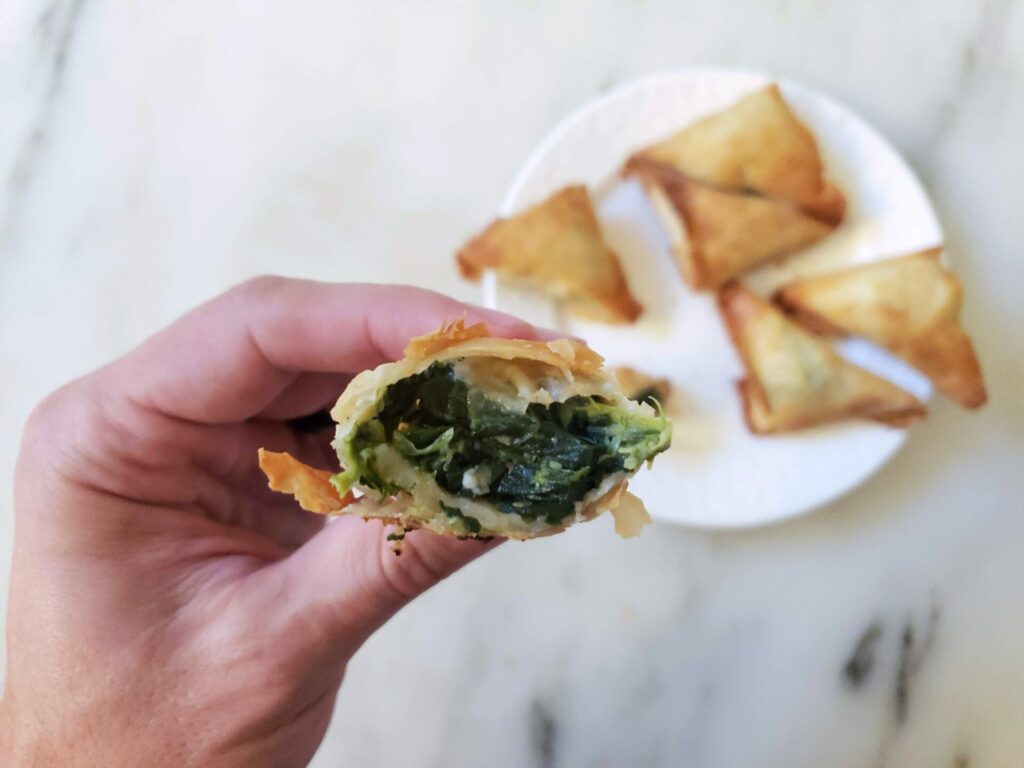 I would have to say the most enjoyable bites were the ones at the end of each spanakopita where I was finishing off the phyllo crust.
The Costco Spanakopita comes in a pack of 48, but I don't consider these a great option for a party or guests. I'm not looking for the absolute highest quality food around, but I wouldn't be serving these. 
If I set these out at a party, I don't think anybody will be eating more than one or two, and I know that nobody will be devouring these.
How to Cook Costco Spanakopita
The two recommended methods to cook the spanakopita from Costco are to either bake them in the oven or air fry them. 
I like to air fry them as it's faster to cook, and the spanakopitas come out extra crispy.
Costco Spanakopita Preparation Instructions:
Keep frozen until ready to prepare.
Remove all packaging.
Do not bake in the plastic tray.
Ensure product reaches a minimum internal temperature of 165°F (75°C).
Appliances vary. Adjust baking time as needed.
Do not prepare in the microwave oven.
Conventional Oven Cooking Instructions
Preheat oven to 400°F (200°C)
Place pieces glazed side up on a baking sheet. Do not separate pieces apart.
Bake on the center rack of the oven for 17 to 19 minutes or until golden brown.
Air Fryer Spanakopita Cooking Directions
Preheat the air fryer to 350°F (175°F).

Place 10 pieces, glazed side up, in a single layer in the basket.

Bake for 10 to 13 minutes. 
Careful, the product will be hot! 
I do find it funny that Cuisine Adventures serves the spanakopitas in packs of 12, but the air fryer instructions are only for 10 pieces.
Spanakopita Serving Suggestions
Spanakopitas make a great appetizer or light snack. They can be eaten as-is and will be absolutely delicious, or they can be combined with some additional toppings or dips.
The easiest and most common dip for the spanakopita will be a tzatziki-style dip. The greek yogurt base dip is tasty, refreshing, and super healthy. Costco sometimes will carry a tzatziki dip, but if they don't, you can always make your own with the super versatile Kirkland Signature Greek Yogurt.
If you want to mix it up a little bit and get away from the tzatziki sauce, some other great dip options will be roasted red pepper dip or any type of flavored hummus.
Costco Spanakopita Calories and Nutrition
How Many Calories in Costco's Spanakopitas
One serving of Costco's Spanakopita will be 3 pieces (3 ounces) and will contain 200 calories. Those 200 calories come from 11 grams of fat, 20 grams of carbs, and 7 grams of protein.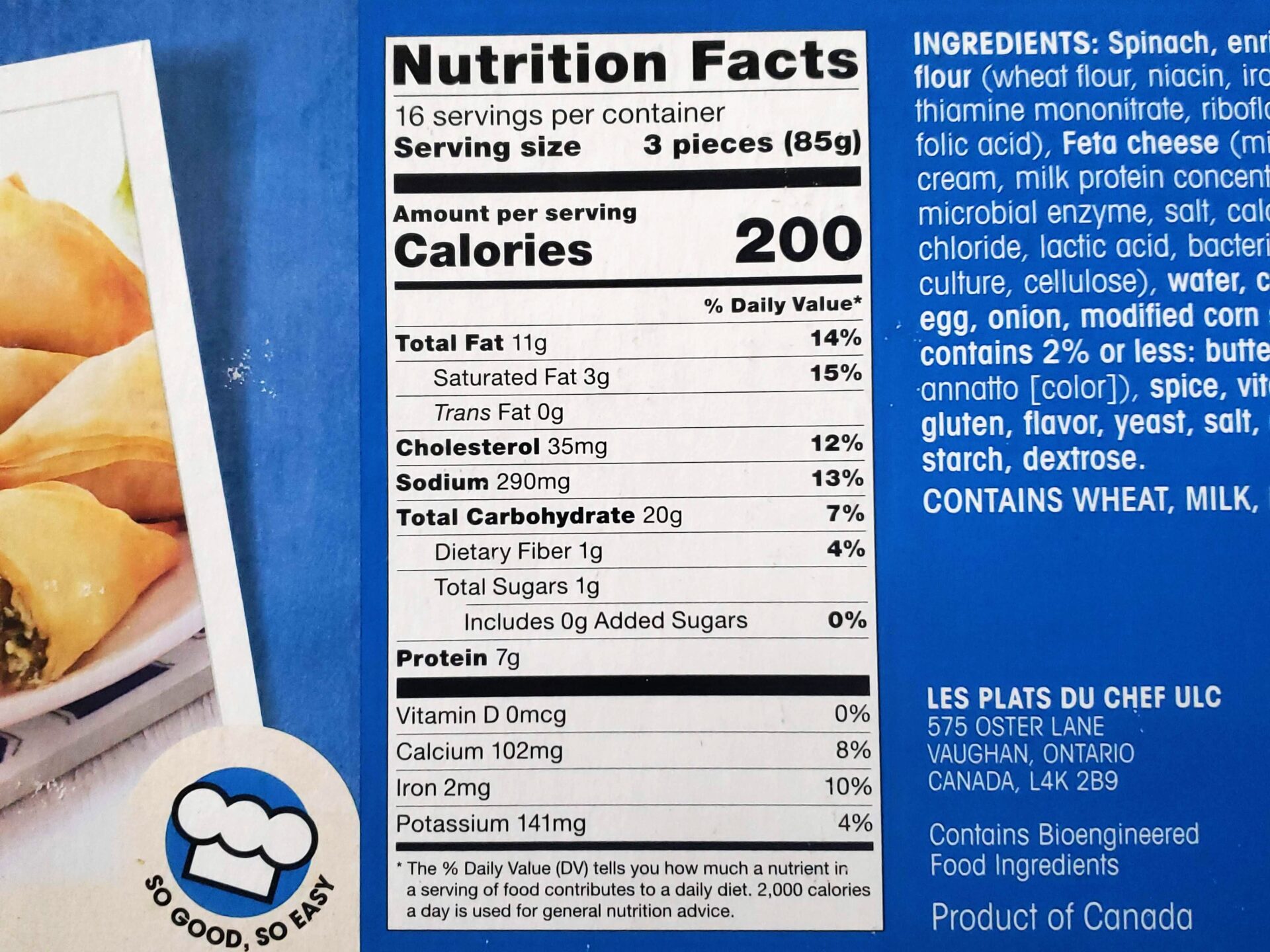 This is a mediocre nutritional profile, but it is about right where I expected these spanakopitas to be. They aren't going to be super healthy, but they aren't the worst thing to eat in the world, either. 
The spinach helps keep the calories down, and the protein is very respectable at 7 grams per serving.
The big surprise for me is the low amount of sodium in each serving. Most frozen food options from Costco are loaded with sodium, but these Cuisine Adventure Spanakopitas really do a great job of keeping the sodium content low. 
Each serving will have only 290 mg of sodium, or 13% of the daily recommended value. This is fantastic for a frozen appetizer. Great job, Cuisine Adventures! 
Costco Food Database User Reviews
Have you tried this item? Let the rest of the Costco Food Database community know what you think. Leave a rating and review for this product. 
Costco Spanakopita - Extra Crispy
The perfect air fryer recipe to make Costco's spanakopita extra crispy!
Instructions
Preheat Air Fryer to 350°F

Place 12 pieces, glazed side up, in a single layer in the basket.

Bake for 10 to 13 minutes. 
Nutrition
Serving:
3
Pieces
Calories:
200
kcal
Carbohydrates:
20
g
Protein:
7
g
Fat:
11
g
Saturated Fat:
3
g
Trans Fat:
0
g
Cholesterol:
35
mg
Sodium:
290
mg
Fiber:
1
g
Sugar:
1
g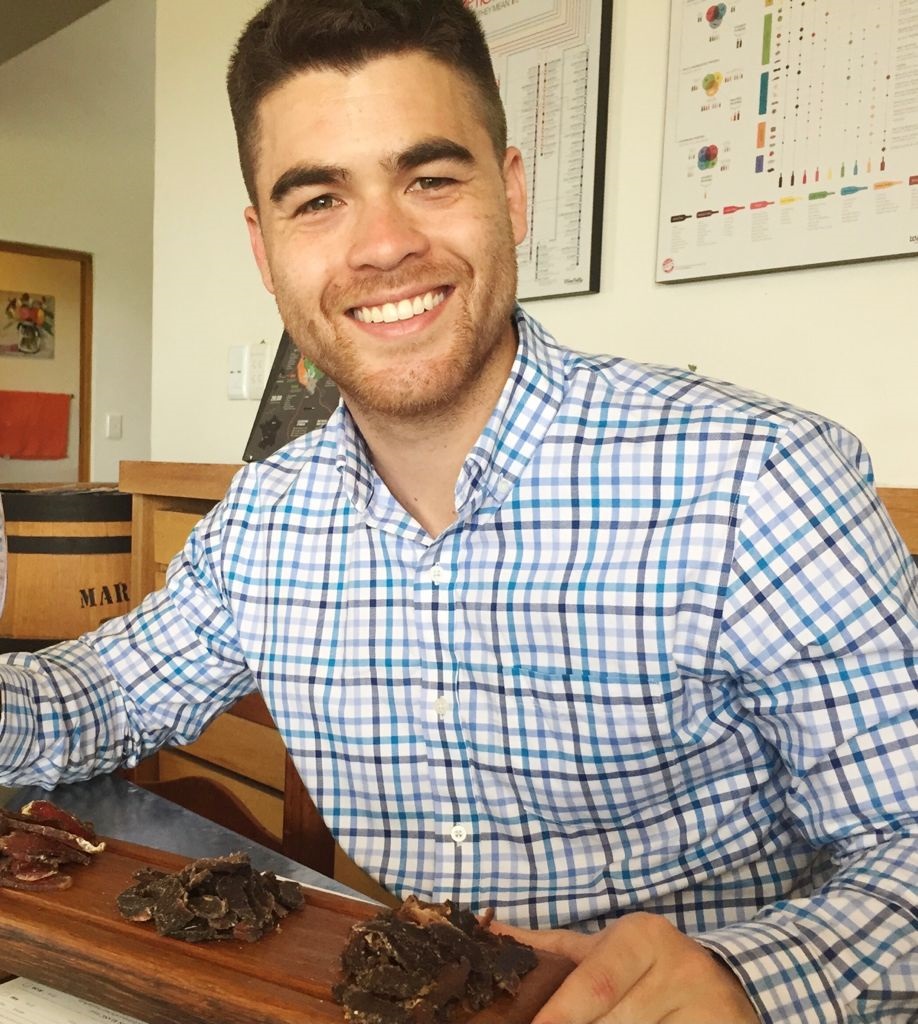 Greg Larkin is the founder and managing editor of Costco Food Database, the premiere site for honest takes on all things Costco food. A self-proclaimed Costco super-fan since childhood, Greg turned his obsession in a mission to properly rate and review all of Costco's delicious buys. When he's not busy navigating Costco aisles, you can find Greg smoking Kirkland Signature meats, meal prepping, or perfecting his homemade jerky recipes.