Costco Bitchin' Sauce Chipotle Almond Dip Review
I've been wanting to try Costco's Bitchin' Sauce Almond Dip for way too long now. The stars have aligned and I finally have my hands on some Bitchin' Sauce.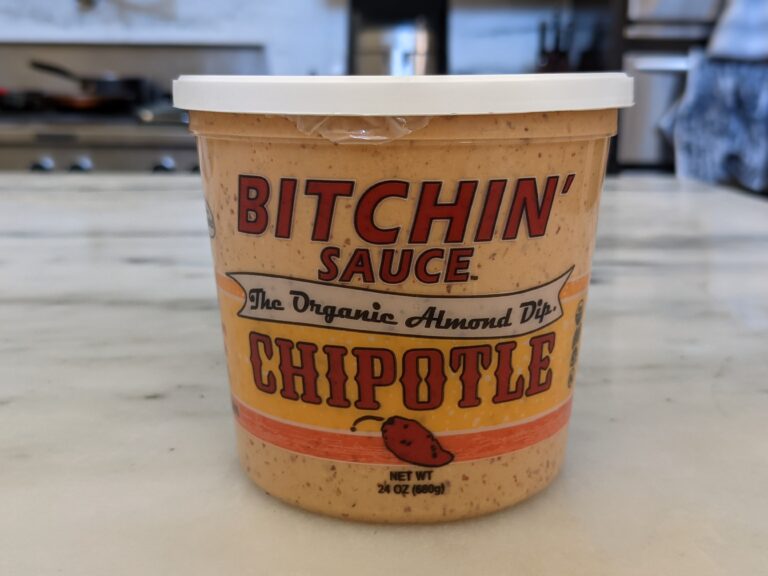 Bitchin' Sauce Almond Dip at Costco
I'll tell you, the name catches my eye every time I go to Costco. How can it not? The marketing is good. I've been waiting for the right opportunity to try this dip and it's finally here. It's super bowl week and the dip is on sale. I really don't have any excuse to not buy it.
Costco sells the Bitchin' Sauce Chipotle Almond Dip for $8.99. It's currently on sale for $2.30 off bringing the price down to $6.69. Each container has 24oz of the organic almond dip and can be found in the refrigerated deli section of the store. These are located with the other dips such as the pimento cheese dip, hummus, and soups.
At retail price of $8.99, the price per ounce is $0.37 and it drops to $0.28 when the almond dip is on sale. Other stores sell an 8oz version of this dip for $4.99 or $0.62 an ounce. This is more than double the Costco sale price per ounce! This is just one more example of how Costco trounces their competitors in price. 
Have You Tried Costco's Bitchin Sauce?
Let the rest of the Costco Food Database community know what you thought of this product. Results and reviews are at the bottom of this page.
Please allow 24 hours for review moderation and approval.
I've noticed this item many times in the store, but never actually looked at it until I was ready to purchase it. Upon closer inspection, the dip had quite a bit of separation going on. Every container of the bitchin' sauce at my local Costco had orange dip colored oil that fell to the bottom of the container and some even had a black substance that separated. It was not appealing at all, and I hesitated at that point if I should actually buy the product or not. I had to quickly shake up the almond dip in the store and everything blended back in nicely. 
Now that I have it home, it is still blended together, and the top does say natural separation may occur. The sauce itself actually looks really good. The orange is a pale orange but looks great for a dip. There are chipotle pepper specks all throughout the dip and as a whole looks creamy and flows smoothly when I turn the container.
I'll be honest, up until this Costco trip, I thought this sauce was a cheese based dip. I think I was getting it confused with a pimento dip that is about the same color. I'm surprised to find out it was an almond dip this entire time. Compared to traditional dips, this is a nice alternative that is dairy free, and made with healthy organic ingredients.  
With a name like Bitchin' Sauce, I didn't expect a healthy product instead I expected a badass dip that had total disregard for the nutritional label. I was planning to pig out in front of the TV with this dip, so we'll see if I can still do that with an organic almond dip.
Costco Bitchin Sauce Almond Dip Review
Wow wow wow this dip is amazing. Like any good human being, when you pull the plastic wrapper off the top of a dip, you lick it. As soon as my tongue touched the dip, I knew we had a winner. Everything hit right, the chipotle flavors were very strong, and the nuttiness of the dip blended so well with the smoky chipotles. There was just a touch of sweetness and a touch of spice that lingered just long enough. Every taste bud of my tongue was hit and it felt like a full mouth experience.
The texture was interesting with this dip/sauce. It was mostly smooth with some gritty almond chunks throughout the dip. I know some people might have some issue with the grittiness of it all, but I personally thoroughly enjoyed it.
I haven't had any food item make me feel this way in a long time. I tasted this dip using Food Should Be Goods Multigrain Chip also purchased at Costco, but I could have used a celery stick or broccoli and I still would have loved it.
Guacamole is currently #1 on my dip tier list, but this Costco Bitchin Sauce is right there now at #2 and is going to give guacamole a run for its money.
To be honest, a sauce and dip aren't the same and I was going to say something about the Bitchin' Sauce name, but I can't anymore. Their product can be used as a dip, sauce, condiment, medicine, gravy, dressing, beverage, marinade. Sorry Frank's red hot, but I'll put this shit on everything. 
Realistically, this sauce makes a great dressing. It can really liven up any salad you put it on. It goes well with veggies and protein, but it does have the potential to overpower the other flavors in the salad. 
I've thrown this on burgers to add a completely whole new depth of flavor. This dip works as a condiment to drizzle on burgers, pizza, sandwiches and wraps. 
There seems to be an unlimited amount of uses for this sauce/dip and it really takes any dish and turns it up a notch. In my mind, it is one of the most flavorful items in all of Costco.
Costco Bitchin' Sauce Nutritional Information
Costco's Bitchin' Sauce Almond Dip contains 24 servings that are 2 tablespoons or 1 ounce each. Each serving has 90 calories, 9g of fat, 2g of carbs with 1g of fiber, and 2g of protein. This is on par with other dips and not significantly lower in calories. You should limit dip on a diet anyways, and I believe that Bitchin' Sauce is a healthy food alternative to dip and not an attempt to create a low calorie dip.
Organic almonds are listed as the third ingredient behind water, and sunflower oil. Nut fats are good fats for you, and I'm hoping a fair portion of the fat comes from the almonds. The rest of the ingredients look fairly good and the only ingredient that I'm not 100% sure about is the nutritional yeast. When I look at a nutritional label, I like to see as many whole foods and food names that I can recognize. 
After further research, nutritional yeast is a deactivated yeast that has a cheesy, nutty, savory flavor. It's often used as a vegan cheese substitute.
It's only February, but this is in contention for Costco item of the year. Bitchin' Sauce Almond Dip is unique, flavorful, and versatile. The spiciness and smokiness are near perfection, and it hits all the checkmarks. Pick one up from your local Costco. It's bitchin' good. 
Costco Food Database User Reviews
Have you tried this item? Let the rest of the Costco Food Database community know what you think. Leave a rating and review for this product.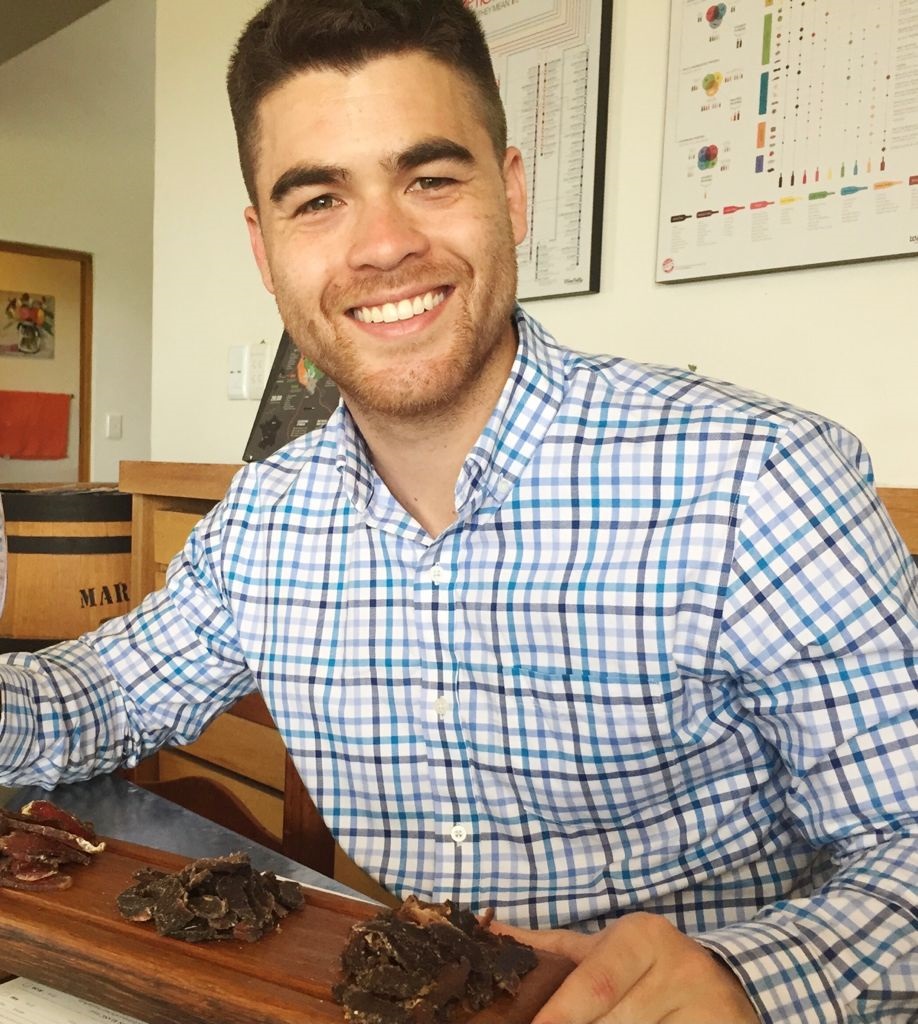 Greg Larkin is the founder and managing editor of Costco Food Database, the premiere site for honest takes on all things Costco food. A self-proclaimed Costco super-fan since childhood, Greg turned his obsession in a mission to properly rate and review all of Costco's delicious buys. When he's not busy navigating Costco aisles, you can find Greg smoking Kirkland Signature meats, meal prepping, or perfecting his homemade jerky recipes.