Costco Jalapeno Pimento Cheese - Is It Good?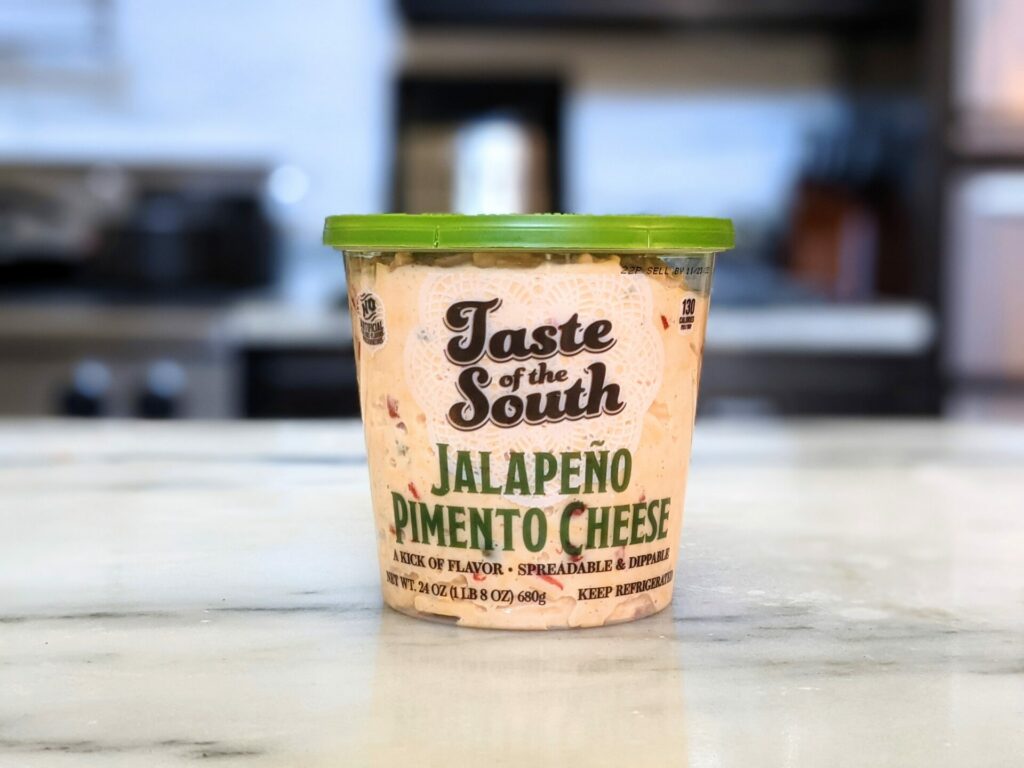 Taste of the South Jalapeno Pimento Cheese at Costco
Costco sells a 24-ounce tub of Tate of the South Jalapeno Pimento Cheese Dip/Spread for $6.79. The Pimento Cheese can be found in the refrigerated deli area of the warehouse near other items such as the Mac and Cheese, Guacamole, and the Belgian Chocolate Mousse.

Costco's Jalapeno Pimento Cheese is made with aged cheddar cheese, chopped pimentos & jalapeno peppers. The cheese is spreadable, dippable, and great with various items.

Have You Tried Costco's Pimento Cheese?
Let the rest of the Costco Food Database community know what you thought of this product. Results and reviews are at the bottom of this page.
Please allow 24 hours for review moderation and approval.
Pimento Cheese is a spread that is made with cheddar cheese, mayonnaise, and pimentos. The spread can be served with crackers or in sandwiches and is eaten widely across the Southern United States.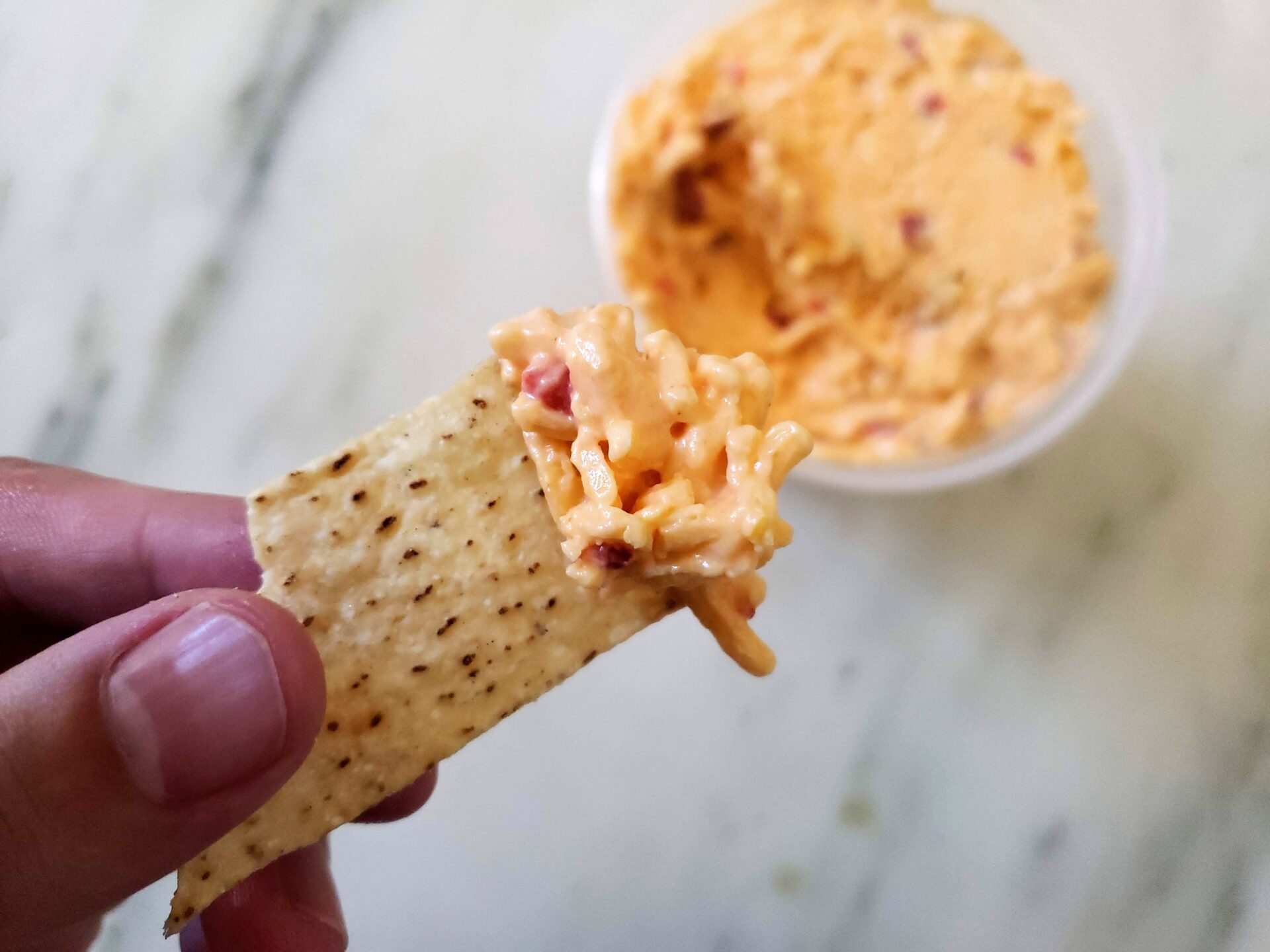 A pimento or also spelled pimento, is a red chili pepper that is sweet and sometimes hot. The pimiento peppers are the red peppers that are prevalent in this cheese spread.

Not Costco's Original Pimento Cheese
The Taste of the South brand of Pimento Cheese isn't the first or original pimento cheese that Costco has carried. 
Costco used to carry Palmetto's pimento cheese which many consider to be one of the top brands for pimiento cheese.
Costco was not fond of some of the words the Palmetto owner used to describe the BLM organization and pulled the pimiento cheese from all locations.
The Palmetto Pimento Cheese can still be purchased at Sam's Club for the same price as Costco's Taste of the South Pimiento Cheese.
How Much Does Costco's Pimento Cheese Cost?
Costco sells the 1 lb 8-ounce tub of Pimiento Cheese for $6.79. This breaks down to a per-pound price of $4.52.
This is a fair price for a cheese dip, considering how versatile the dip/spread really is.
Costco vs. The Competition
Taste of the South doesn't appear to sell their pimiento cheese outside of Costco. I will compare the price against rival pimento cheese brands for this cost comparison.

Sam's Club sells one of the more popular brands of Pimento Cheese from Palmetto for $6.98. This is a negligible $0.20 more than Costco's price for the Taste of the South Pimiento Cheese.
Target sells a 12-ounce tub of Price's Original Pimento Cheese for $4.19. This is a price of $5.58 per pound, significantly higher than Costco's Taste of the South Pimento Cheese.
Pimento Cheese Dip - Taste Test
For appearance, Taste of the South's Pimento cheese definitely looks the part. The shredded cheese is there, and there are chunks of jalapenos and pimento chile pepper pieces. 
One thing I noticed about the pimento cheese is that there were spots of pure cream cheese just randomly throughout the dip. I would have liked the cream cheese to have been mixed in a little better. 
My other issue with the Taste of the South Pimento Cheese is the texture and taste. Overall it's not terrible pimiento cheese, but it doesn't wow me.
The cheddar cheese itself is on the much more mild end and lacks the sharp cheddar flavor.
Taste of the south did not skimp on the mayonnaise or cream cheese, and the spread is a touch too creamy for my liking. It can, at times, taste like a cream cheese spread.
I didn't enjoy the pimento cheese with chips as much as I normally would with other brands.
The pimento cheddar cheese dip is also lacking its signature kick. The spice is there on some bites but missing on others.
If I caught a bite without pimento or jalapeno, it just felt like I was eating cheese and mayonnaise. Those bites can be underwhelming, and it's not enjoyable when some of the bites are good and the other bites are plain in flavor.
Again, it's not a terrible pimiento cheese dip, but it's not my favorite either. It filled my pimiento cheese craving, but it's going to be a while before I go back and buy this pimento cheese from Costco.

In this post, I've mentioned a few times how versatile the pimento cheese spread is, and I want to share some ideas of my favorite ways to enjoy it. 
Of course, it's always great keeping this as a classic pimiento cheese dip and just scooping some out with tortilla chips or even spreading it on crackers. I've never been disappointed with this combination.
I also like to use the pimiento dip in my cooking, and I absolutely love using pimento cheese dip to make spicy grilled cheese sandwiches. The pepper heat isn't extremely intense but does add a nice kick or flair to the traditional grilled cheese sandwich.


I also love adding the pimento cheese spread as a replacement cheese for a cheeseburger. The cheese pairs very well with Costco's grass fed hamburger patties and is one of my favorite ways to use the cheese. The pimiento adds a nice flavor while keeping the overall burger very moist and delicious.
If you are looking for additional ways to use the pimiento cheese, check out Palmetto's recipe ideas, as they have hundreds of recipes spanning from deviled eggs to cornbread to breakfast casseroles.

Costco Pimento Cheese Dip Nutrition & Calories
One serving of Jalapeno Pimento Cheese from Costco will be 2 tbsp and will contain 130 calories. The 130 calories will come from 12 grams of fat, 1 gram of carb, and 3 grams of protein.

This pimiento cheese from Costco will be mostly fat and will not be considered a healthy item by any means.
This is a dip/cheese spread, and this is expected, but regardless, I am still shocked by how many calories there are in here.
Each 24-ounce tub from Costco of this pimiento cheese dip/spread will contain a whopping 2990 calories.
And I'll be honest, I will eat through this entire tub in significantly less than 23 separate occasions.
Costco Food Database User Reviews
Have you tried this item? Let the rest of the Costco Food Database community know what you think. Leave a rating and review for this product.