Costco's Instant Boba Packs - Taste Hack + Pro Tips
Who doesn't love an ice cold boba tea? Make yours at home today with Costco's Boba Bam Instant Boba Kits!
Boba Bam Instant Boba at Costco
Boba Bam Instant Boba 12 Packs can be found at Costco for $10.99. The Instant Boba can be found in the frozen food aisle near other dessert items such as the Boba Ice Cream Bars, Mochi, and the Vanilla Ice Cream.

The Costco Instant Boba has no preservatives, nuts, or gluten and is vegan.

Have You Tried Costco's Instant Boba?
Let the rest of the Costco Food Database community know what you thought of this product. Results and reviews are at the bottom of this page.
Please allow 24 hours for review moderation and approval.
Boba tea, or bubble tea, is a drink that originated in Taiwan and is a cold tea accompanied by chewy tapioca balls.

The tapioca is chewy and sweet, which separates a boba tea from another type of drink.
The most popular boba drink is the black pearl boba tea which consists of black tapioca balls at the bottom of the drink. 
How Boba and Tapioca Balls are Made
Boba is made from the cassava root, boiled, and formed into small balls. The chewiness of the boba delivers a very satisfying mouth feel and makes this treat so unique.
Typically, boba requires 30 minutes or more of cooking time, but these Costco instant boba packs reduce the heating time to 60 seconds! 
For this home kit, you will need to provide your own milk and ice to complete the drink, but the packs contain the boba, sweetener, and, most importantly, the straw. 
No boba drink can be complete without the straw, and it's a nice touch to create the authentic boba feel and suck up the yummy tapioca balls.
Boba Bam Instant Boba Pack First Impression
The packaging comprises a neat little box with just enough marketing. Not everyone will know what Boba is or what to expect with this item, but the box does an excellent job of clearing that up.

The box provides some history and information on Boba and easily explains the preparation process with images.
When you first open the box, all 12 boba packs stand straight up, lined up like soldiers. The straws fill up the remaining space and keep the boba packs upright. Each pack is individually vacuum sealed, and the presentation is beautiful.
Each Costco Boba pack weighs 2.3oz and includes the brown sugar sweetener and a conservative estimate of 30 boba balls. I wouldn't be surprised if there were closer to 35 or even 40 boba balls per pack.
There are plenty of tapioca balls in each pack; you won't be disappointed!
How Much Does the Instant Boba Cost at Costco?
The 12-pack of Costco Instant Boba sells for $10.99 or $0.92 each. This is a great price for a home boba kit as it's hard to find any type of drink for less than $1 now, and this one includes delicious tapioca balls.

Costco vs The Competition
Sam's Club sells the same 12-pack of instant boba by Boba Bam for $12.98 or $1.08 per pack. This is $0.16 more per boba drink than Costco's price. 
Costco once again comes out ahead in price!
Boba Bam Instant Boba vs Boba Shop
Many Boba Shops charge $5 or even more for a boba tea. It's hard for me to justify spending that much for a drink, so a $1 home alternative is very appealing to me. On the other hand, my wife is a boba fan (she loves Boba Guys) and will get a boba tea as often as possible.
This is a nice, fun and affordable way to enjoy a boba tea drink. It's a lot easier for me to enjoy a $1 drink than it is a $5 drink. Thank you Costco!
Costco Instant Boba Heating Instructions
How to Heat Boba Bam Instant Boba?
The Costco Instant Boba packs are very convenient to make. The boba and sweetener need to be heated, and there are two different preparation options on the packaging.
The easiest method will be in the microwave. 
Place it in a bowl and cut a sliver off the top of the packet to open it. 

Microwave for 60 seconds.

Combine the contents of the Costco boba packet with 1 cup of milk and 1 cup of ice.

Stir the contents and enjoy your ice-cold instant boba.
Stove Top in Boiling Water
Boil the whole boba packet for 3-5 minutes

Open and combine the packet with 1 cup of milk, and 1 cup of ice.

Stir the contents and enjoy your ice-cold instant boba kit from Costco. 
Boba Bam made it really easy to enjoy your homemade boba tea at home. Preparing the Costco Instant Boba bubble tea drink just takes just a few minutes and a couple of simple and easy tasks. The convenience of this product plays a big role in why it is sold in Costco.
Costco Boba Pack Taste Test
I opted for the microwave method in preparing this boba drink. I don't know if I see the benefit of heating the boba pack on the stove instead of the microwave.

The microwave method took 1 minute, and I simply had to cut the top off the boba pack and place the bag in the bowl.
The rest of the preparation is just as easy. Pour the boba balls and the syrup into a cup of milk and ice. Stir, serve, and enjoy. I did just that, and the results came out pretty darn good.

The first thing I noticed was that the color of my boba drink was much lighter than the one shown on the box. The box showed a caramel brown boba drink, while mine was between a tan and white color.
I originally thought I added too much milk, so I remade the drink with exactly one cup per the instructions. It didn't change much, and the color was still nowhere near the color of the boba from the box.
While the color was off, the drink tasted great. It was appropriately sweet, and the tapioca balls were chewy and delicious.
There was a very generous amount of tapioca balls, and Boba Bam definitely did not skimp out.
It didn't bring that super strong brown sugar flavor but it is still very tasty nonetheless.
Sometimes boba drinks can be overly sweet, but that isn't the case with Costco's Instant Packs. The sugar to milk ratio was acceptable, and those who prefer a more mild sweetness will have the option to add more milk. 
The nice thing about creating a boba drink at home is the ability to truly customize the drink to your taste. 
If the drink is too sweet, add a little more milk or ice. 
If you like a little more sweetness, you can add sweeteners or even different flavors in syrup or powder form. Chocolate or hazelnut would be excellent additions to this Costco instant boba.  
The label suggests using regular whole milk as the base for this boba drink. This is a great neutral option that balances the sweetness of the brown sugar boba very well.
Other options that would be a great milk replacement would be oat milk, sweetened or unsweetened almond milk, or even unsweetened coconut milk.
Let me know in the comments if you try any of these and what your thoughts are.
Costco Boba Kit Nutritional Information & Ingredients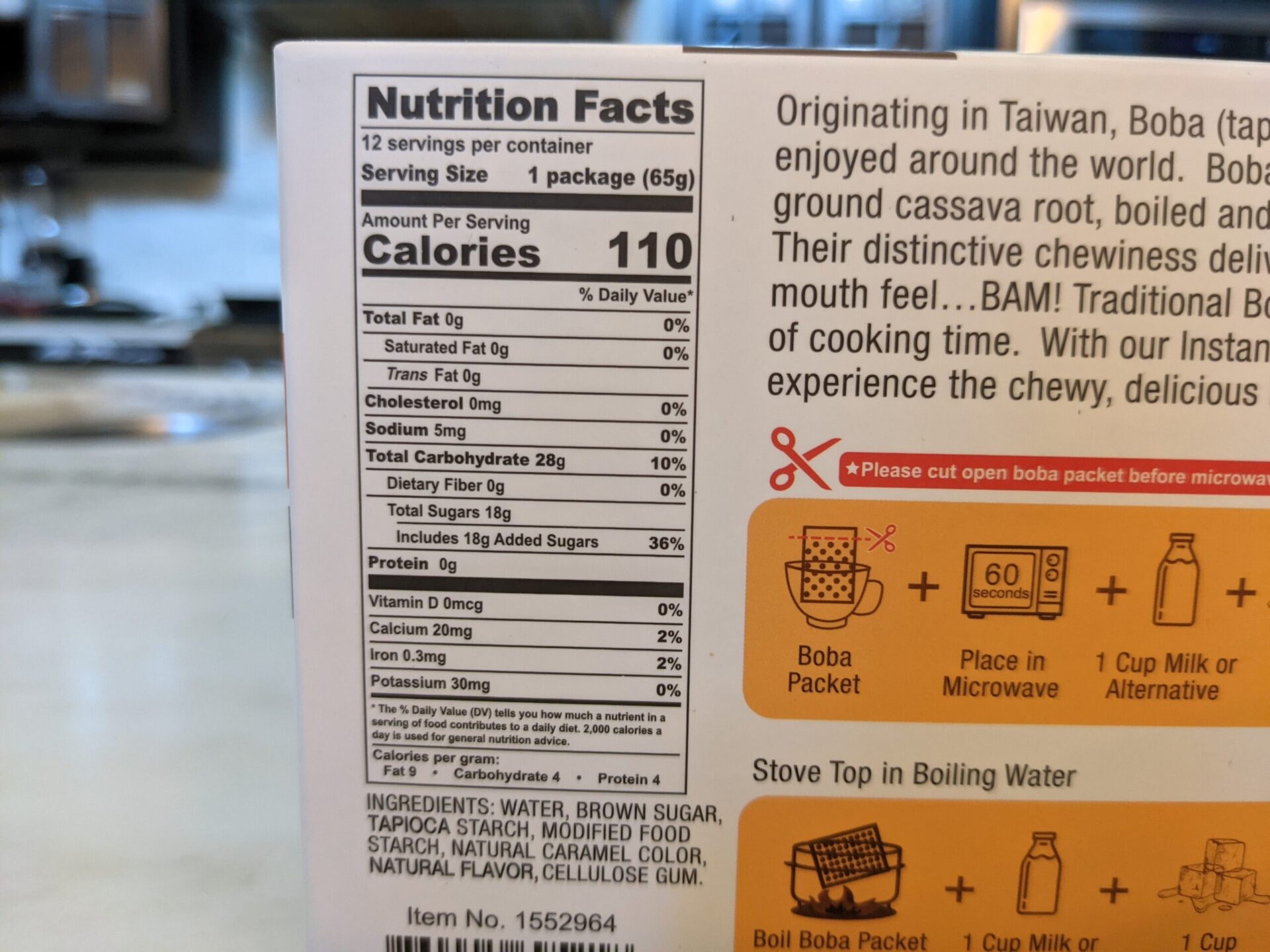 How Many Calories in Costco Instant Boba?
Each of the boba packs from Costco will have 110 calories. The calories come only from 28g of carbs and include 0 grams of fat or protein. 
This drink includes 18g of sugar, all of which are added sugars. Boba in general, is not considered to be healthy. The drink is sweet and is a once in a while treat. 
Obviously, being pure sugar isn't ideal, but much better than actual boba shops. Boba Guys' classic milk tea can have up to 400 calories. They don't show how much sugar is in each drink, and I think we all don't want to know.
Boba Instant Pack Ingredients
Water

Brown sugar

Tapioca starch

Modified food starch 

Natural caramel color

Natural flavor 

Cellulose gum
Not the best ingredient list. I only recognize water and brown sugar. I didn't expect to see all whole ingredients on this list, so I'm not too concerned. It is interesting that natural flavor can be listed as an ingredient like that.
I love these Costco boba packs. They allow me to make a homemade version of a $5 boba for $1 and I can control exactly how sweet I want it. The boba packs are easy to make and don't take up a lot of storage space in the freezer. 
The taste is on point and they don't skimp out on the boba balls. Costco's Boba Bam Boba Packs are a winner and at 25% the cost and 25% the calories of a store made boba, you can't go wrong.
Costco Food Database User Reviews
Have you tried this item? Let the rest of the Costco Food Database community know what you think. Leave a rating and review for this product.