Costco Vanilla Ice Cream (Super Premium) - Kirkland Signature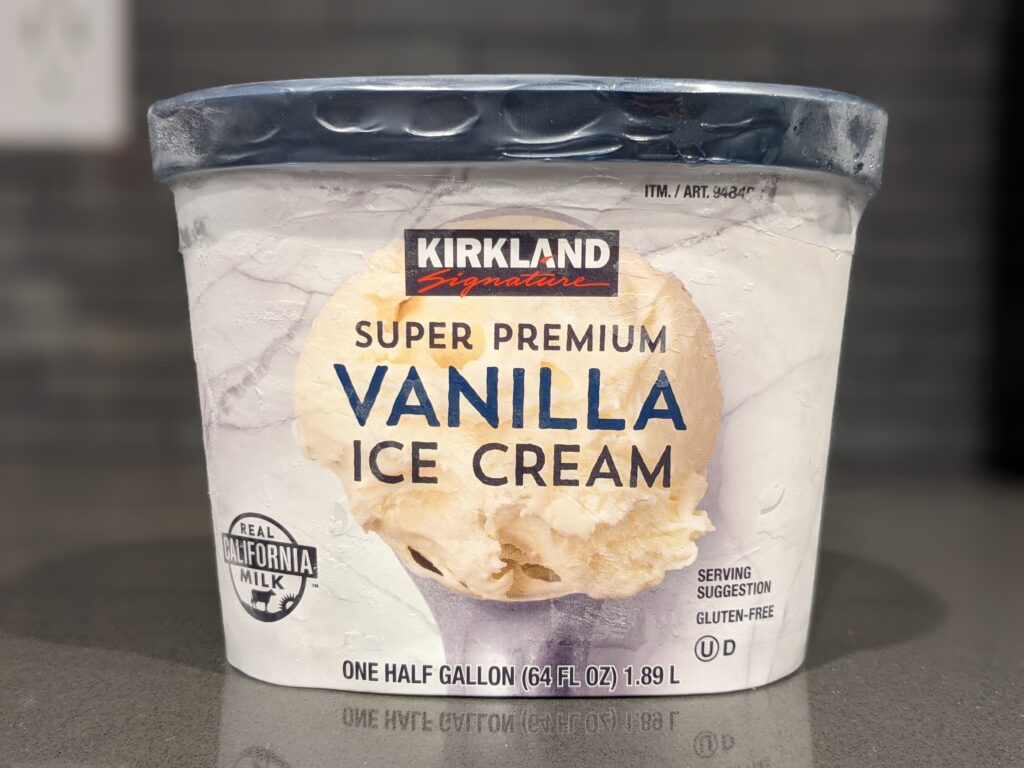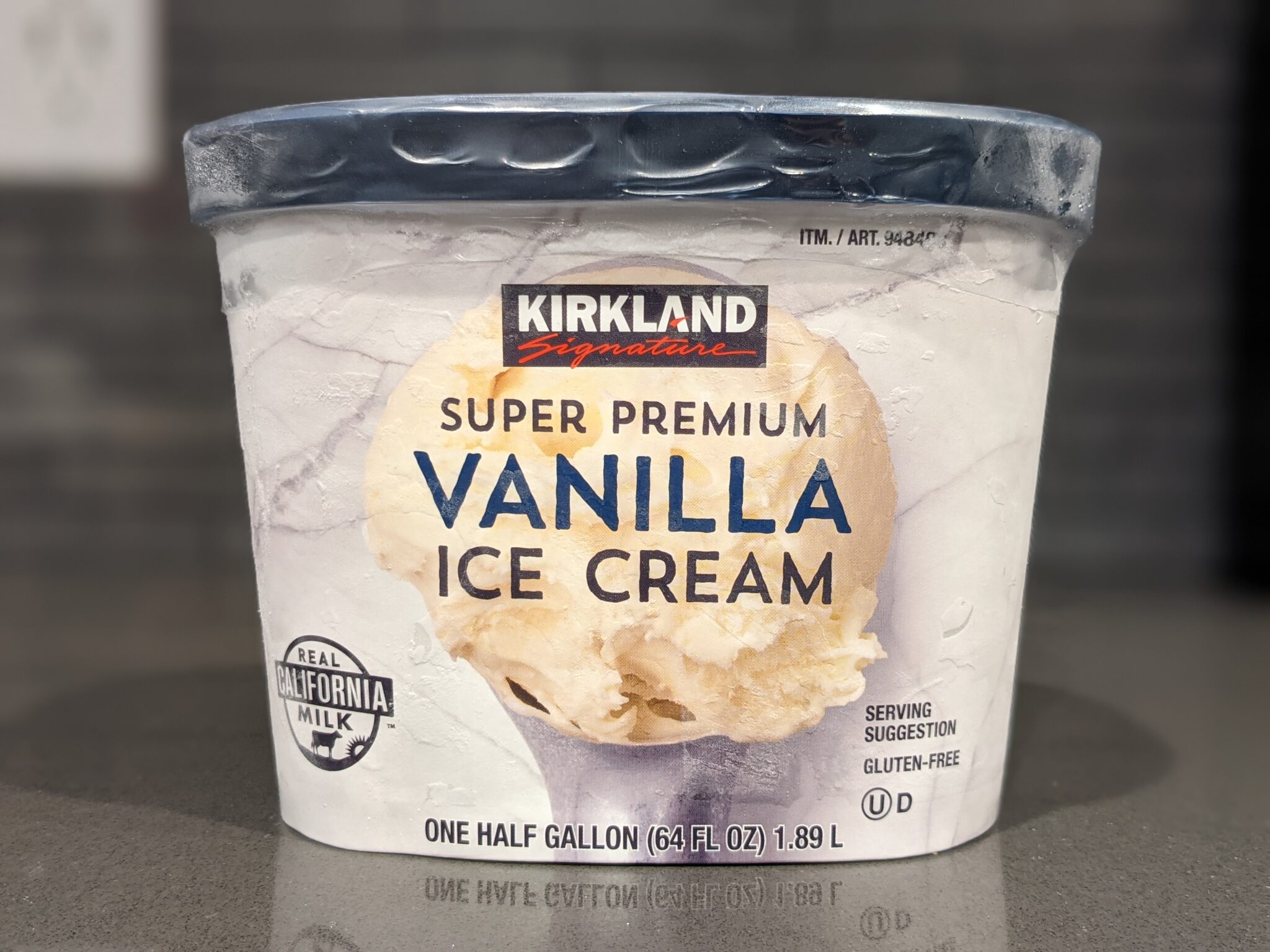 Kirkland Signature Super Premium Vanilla Ice Cream
Costco sells a 2 pack of their own Kirkland Signature Super Premium Vanilla Ice Cream for $12.99. The two pack includes two half gallon tubs of ice cream. 
The ice cream will be found in the frozen food aisle near the other frozen desserts and treats such as the Boba Ice Cream, instant boba packs, frozen acai bowls, or the mochi ice creams.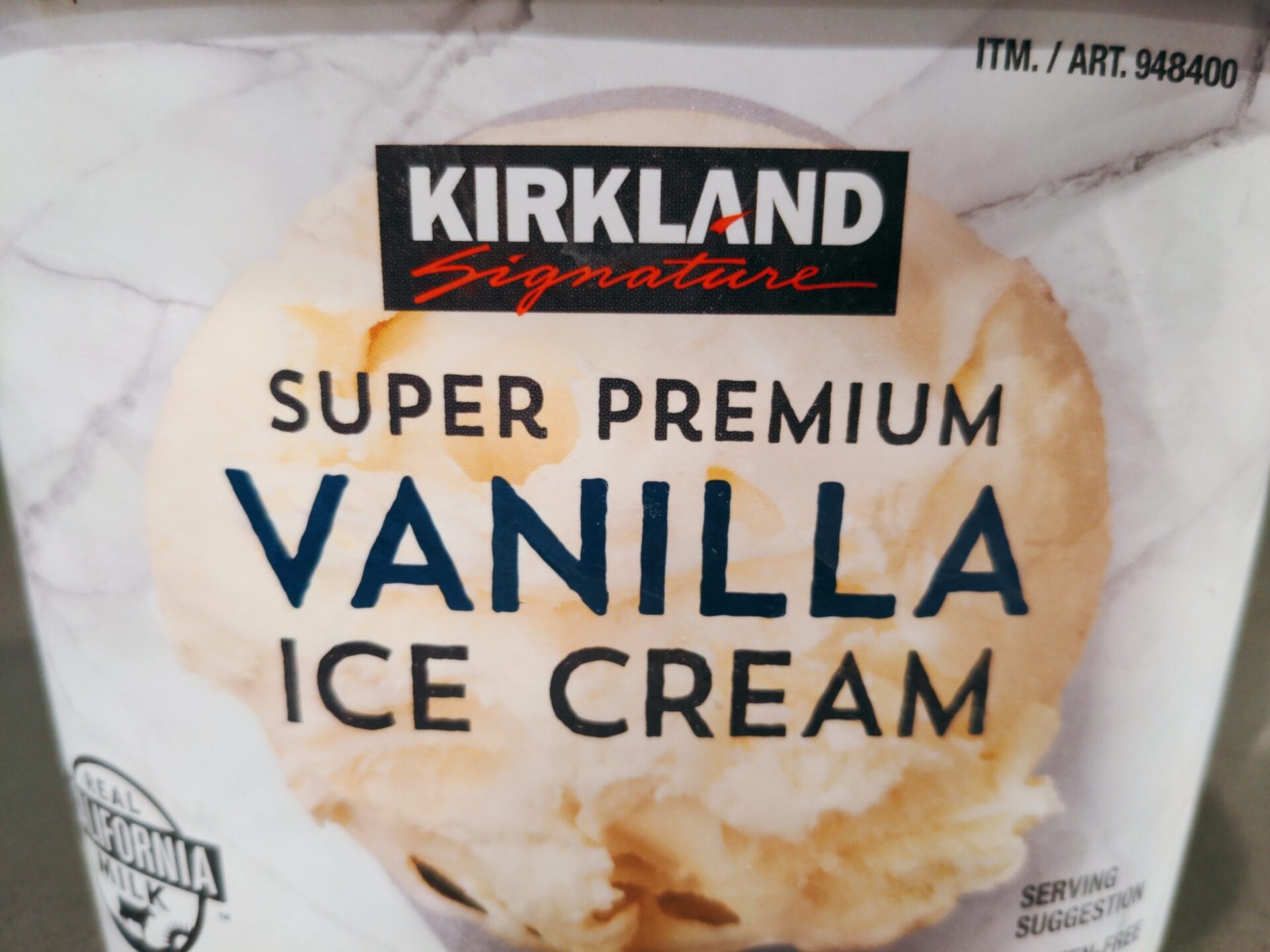 The big downside to Costco's Ice cream is that there is only one flavor: Vanilla
Ice Cream vs Frozen Dessert
In today's world, money rules everything. If large corporations can charge the same amount for a low quality product, they will gladly do that.
The ice cream industry has transitioned from real ice cream to what is called frozen dessert.

Frozen desserts look like ice cream, smell like ice cream, but don't taste nearly as good as real ice cream.

Costco's Vanilla Ice Cream Is Real Ice Cream
Real ice cream, like this Kirkland signature ice cream, is made with 100% dairy. This means made with either milk or milk products such as cream, skim milk, and milk powder.

Frozen desserts on the other hand are made with vegetable oils, like palm or coconut oil. Many "ice creams" sold in grocery stores today are actually considered frozen desserts. 
They don't mark it in big font on their packaging, so next time you are in the grocery take a look to see what's actually ice cream, and what's actually a frozen dairy dessert. You may not like what you see. 
One thing to Note: This vanilla ice cream feels much heavier than regular ice cream.
Who Makes Kirkland Signature Vanilla Ice Cream?
It's always a fun little game to try and figure out what company actually makes Kirkland Signature products. 
Costco doesn't produce their own products and will private label from established and quality brands.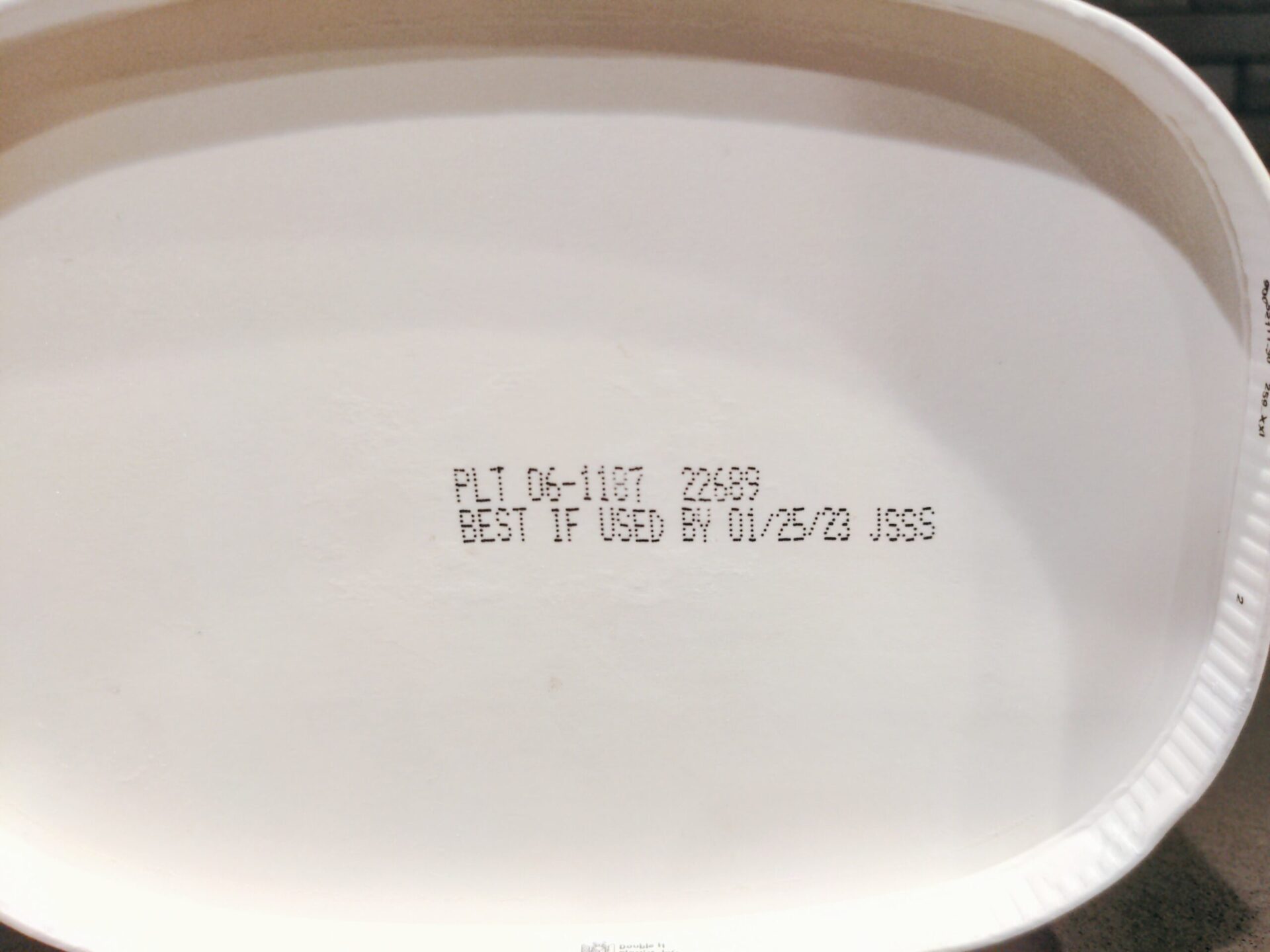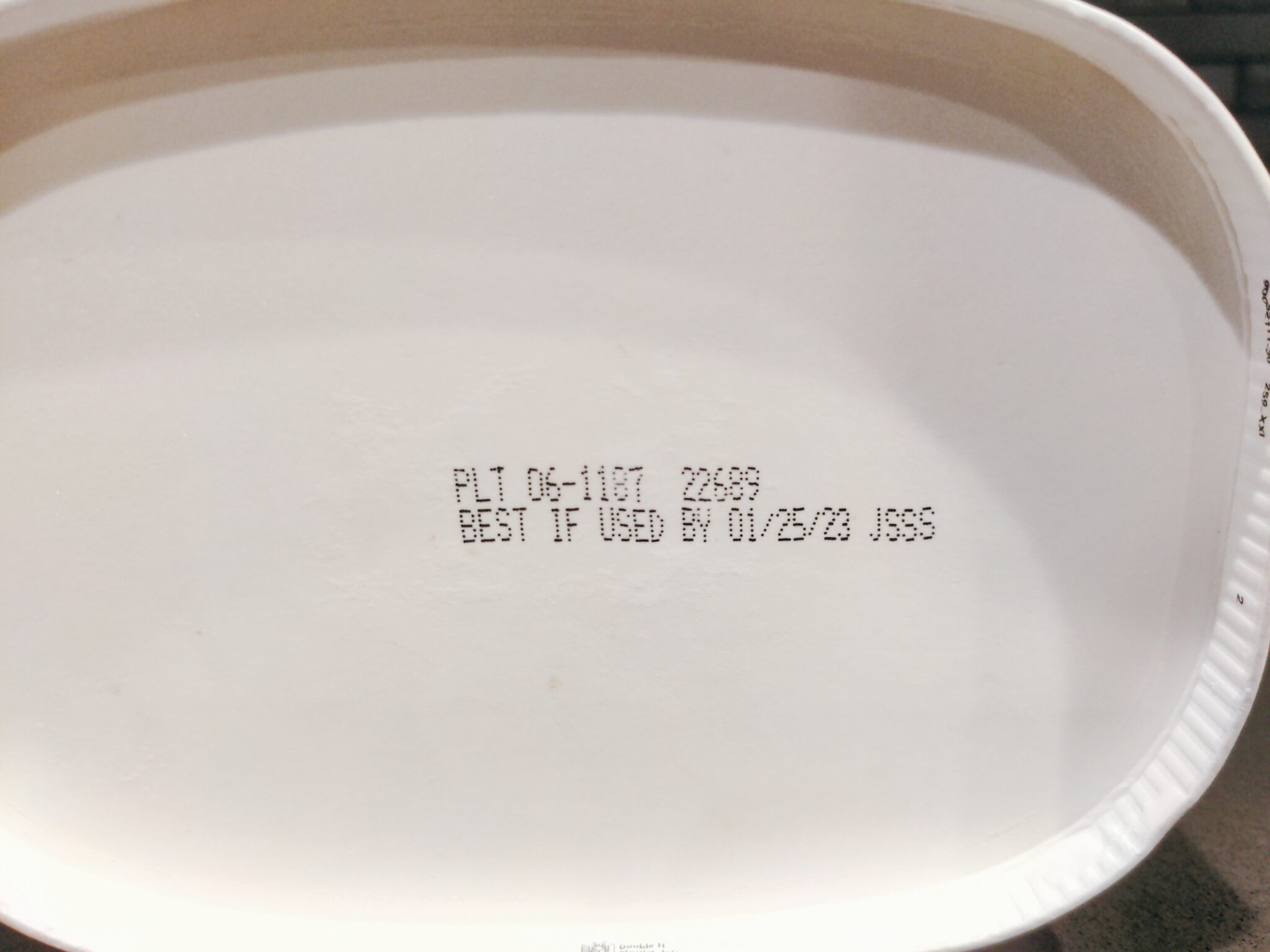 Their super premium vanilla ice cream is made from Humboldt Creamery.

This can be found by taking the plant number printed at the bottom of the ice cream tub and inputting it here.
Credit to this reddit thread.
What is Super Premium Ice Cream?
Similar to how Trident Seafoods has the "Ultimate" Fish Stick name, I originally thought that "Super Premium" was just part of the name of the ice cream.
It was very unlike the Kirkland Signature brand, but I didn't realize Super Premium is actually a category of Ice Cream.

There are 4 quality segments of ice cream: economy, regular, premium, and super premium.
The category is determined by how much overrun (amount of aeration the ice cream undergoes in the production process), quality of ingredients, and how much milk fat content is in the ice cream. Higher quality ice creams will have less overrun and a higher fat content. 
Why Costco's Ice Cream is So Good
Costco's vanilla ice cream qualifies for the super premium designation by having a very low overrun with a very high fat content all while using the best quality ingredients. This might explain why the ice cream is so heavy!
Costco Vanilla Ice Cream Cost Comparison
How Much Does The Vanilla Ice Cream at Costco Cost?
Costco sells their 2 half gallon tubs of Ice cream for $12.99. Most people are familiar with the 1.5 quart packages of ice cream that are sold in most major retailers or grocery stores.
You will need a little more than 2 and a half of those 1.5 quarter packages to equal the 1 gallon of Kirkland Signature vanilla ice cream.
If we were to break down Costco's Vanilla Ice Cream into 1.5 qt packages, the price would be $4.88.
Costco vs The Competition
With ice cream, there is a wide range of quality and price. Ice cream is also one of the items that goes on sale frequently. 
On the low end are going to be the store brands that can be as inexpensive as $2.50 for 1.5 qts when on sale while premium brands will charge $6 to $8 or even more! 
Most major mass market brands of ice cream retail in this $4-$5 range for 1.5 qts.
Super Premium vs The Rest
Costco's vanilla ice cream, while being a super premium ice cream, is on par with other retailer's regular ice cream pricing.
You can definitely get ice cream for less than $4.88 per 1.5 qts, so Kirkland Signature Premium Ice Cream isn't the most affordable option, nor are they trying to be.
This is one of those cases, where Costco or Kirkland Signature will never have the lowest price. Kirkland Signature ice cream is super premium, and they are intending to compete with boutique high-end ice cream brands. 
I am always ok paying mid tier prices for top tier ice cream.
Super Premium Vanilla Ice Cream Review
Is Costco's Ice Cream Good?
The Kirkland Signature brand, the super premium designation, and the weight of the vanilla ice cream are all signs that this is a high quality elite ice cream. 

From the first bite, you can immediately notice that the Kirkland Signature ice cream is full bodied and creamy. The vanilla flavor is very present and deep. 
There is an ever so slight chewiness to the ice cream that you don't find from the mid tier ice cream brands.
I wouldn't necessarily call it artisanal ice cream, but I would be more than satisfied if I was served this ice cream from an ice cream shop.
I did only eat this ice cream plain and as is, but because of the traditional flavor of vanilla, this Costco ice cream will go well with a variety of toppings or syrups. 
Before today, I never knew that Super Premium ice cream existed, but it's obvious that this fits the super premium bill. 
Costco's vanilla ice cream is an exceptional option and without a doubt the best ice cream in the entire warehouse and I would bet it's the best ice cream to be had at this price point.
How Many Calories in Kirkland Signature Ice Cream?
Each serving of Kirkland Signature Vanilla Ice Cream is two thirds of a cup, 144 grams, or a little more than 5 ounces. Each half gallon tub contains 12 servings.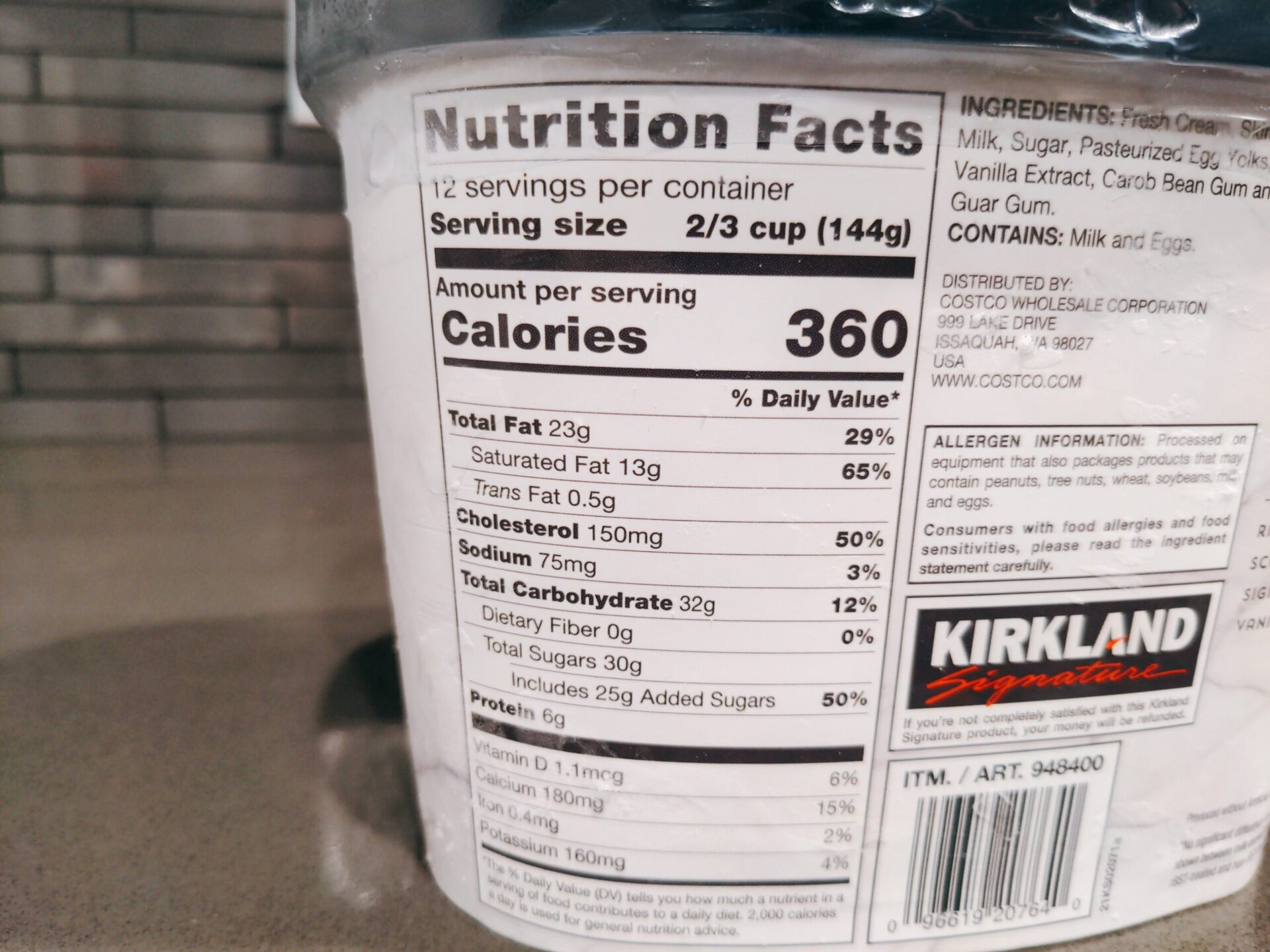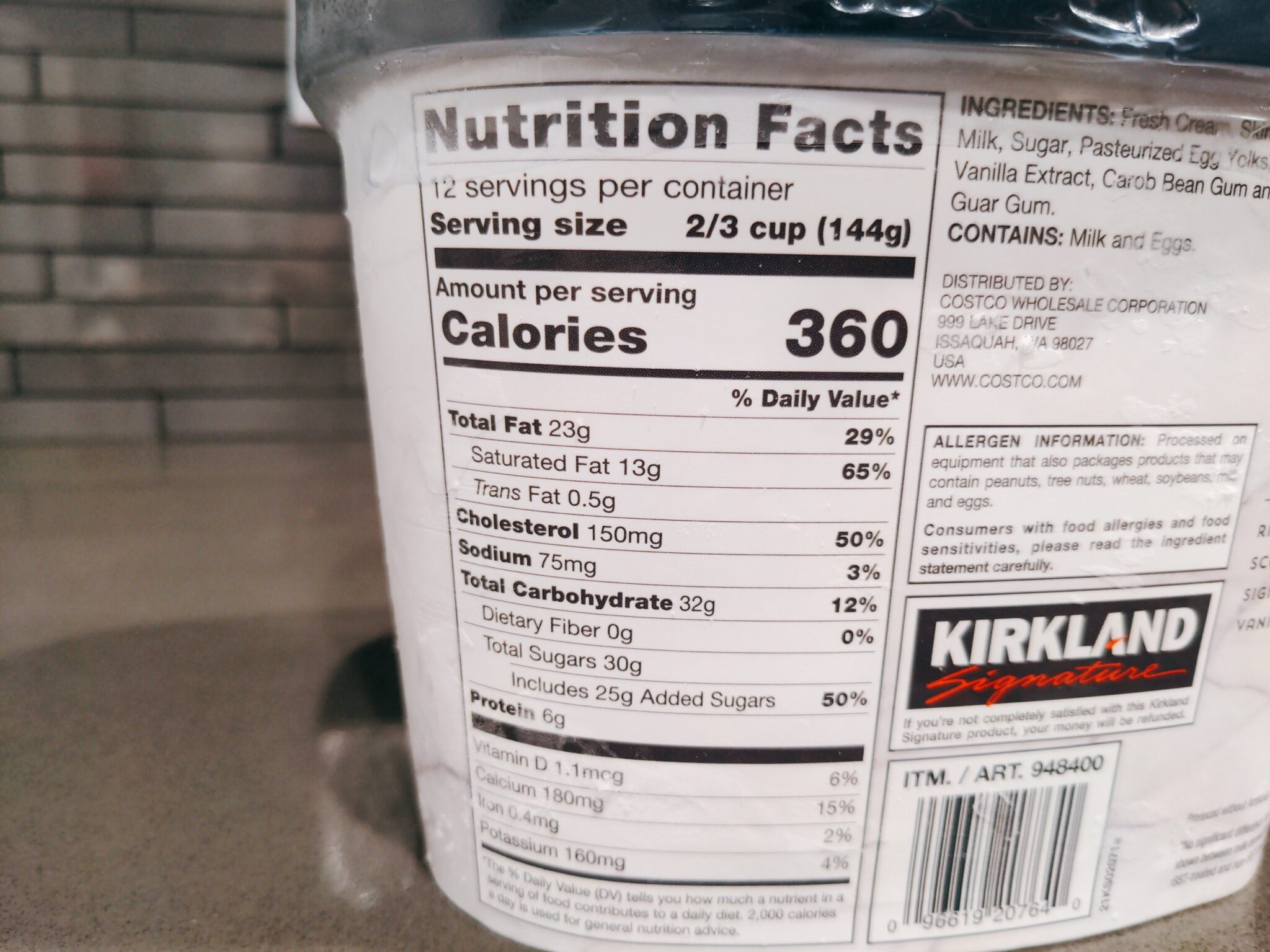 Because this is real ice cream, there are 360 calories from 23 grams of fat, 32 grams of carbohydrates, and 6 grams of protein per serving. 
More Calories than Lower Quality Ice Cream
This Costco ice cream does contain more calories than traditional ice cream. A serving of Breyers Vanilla Ice Cream is also two-thirds of a cup but contains only 170 calories. 
The reason Breyer's ice cream has about half the calories of Kirkland Signatures is because of the overrun ( how much air is in the ice cream) and the milk substitutions. 
Both serving sizes are the same at two-thirds of a cup, but Costco's ice cream weighs 144 grams to Breyer's 88 grams. Kirkland Signature Ice Cream will have double the weight and double the calories. 
I guess there is a price to pay with super premium ice cream, and it's going to be on the nutritional label. Do keep that in mind, if you like to go on ice cream binges like I do
Costco Vanilla Ice Cream Ingredients
As mentioned this is real ice cream, and not a frozen dairy dessert. The Kirkland Signature vanilla ice cream is made with Fresh Cream, Skim Milk, Sugar, Pasteurized Egg Yolks, Vanilla Extract, Carob Bean Gum, and Guar Gum.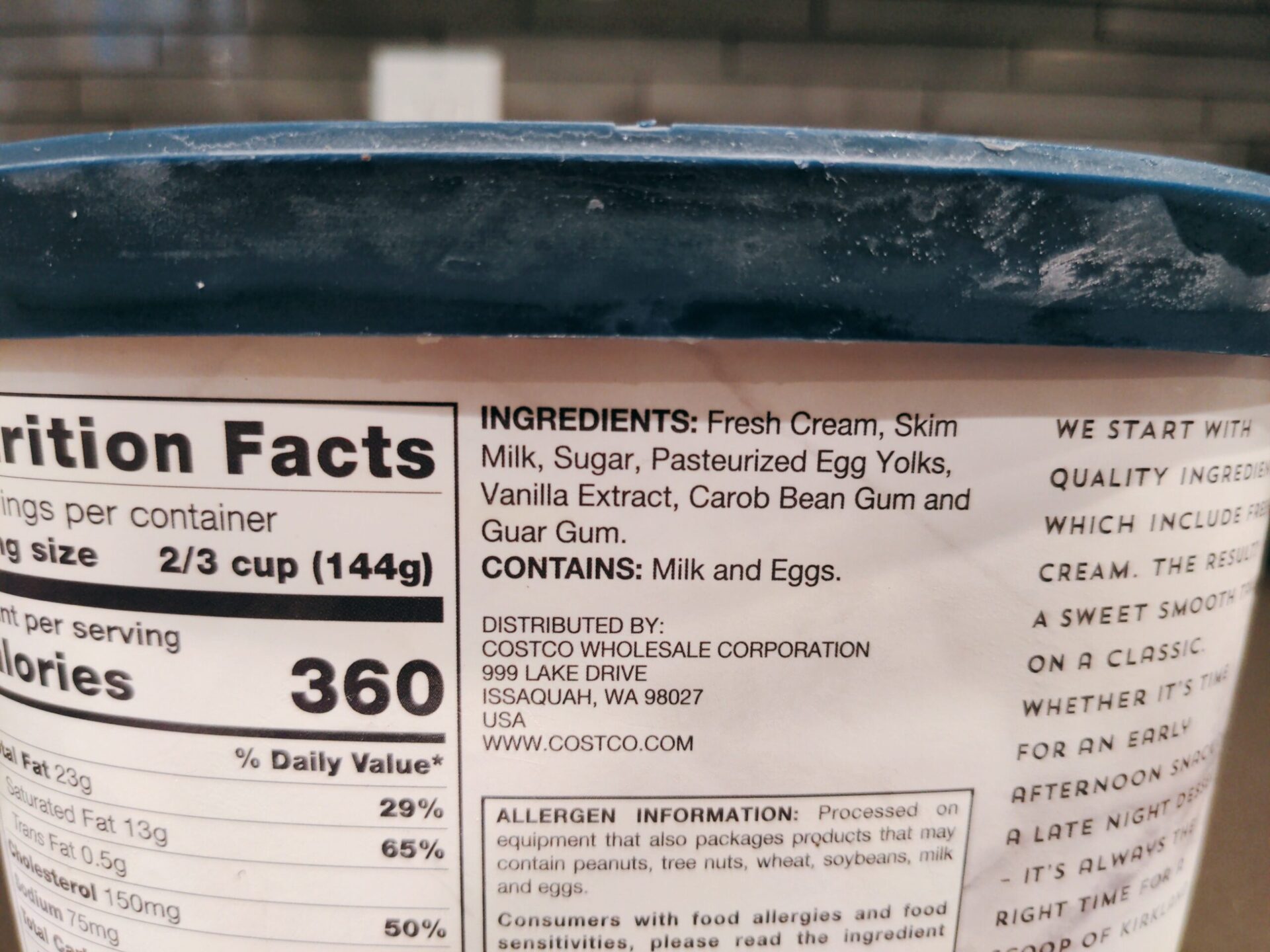 There are some ingredients on the list that I don't recognize and that is always a little disappointing.
COSTCO VANILLA ICE CREAM
Product Name: Kirkland Signature Super Premium Vanilla Ice Cream
Product Description:
Price: $12.99
Quantity: 1 Gallon
Location Within Costco: Frozen Food Aisles
Price Per Pound: $3.25
Summary
Costco's Vanilla Ice Cream is a fantastic bargain for a Super Premium Ice Cream. This is a high quality ice cream at a mid tier ice cream price.
The nutritional profile isn't the greatest, but its worth it for this ice cream.
Value -

9/10

Convenience -

10/10

Taste -

9/10

Nutrition -

4/10

CFDB Score -

6/10
Pros
Super Premium ice cream
Great taste
Excellent price for top tier ice cream
Cons
Only 1 flavor
Below average nutritional profile
This is absolutely tasty ice cream. Costco and the Kirkland Signature brand knock it out of the park with their Super Premium Vanilla Ice Cream. It's priced like an everyday grocery store ice cream, but tastes like something you would get from a specialty ice cream shop. 
Even if vanilla isn't your preferred flavor, give this ice cream a try!