Costco Smoothie Packs - Flavor Tips + Deceptive Label?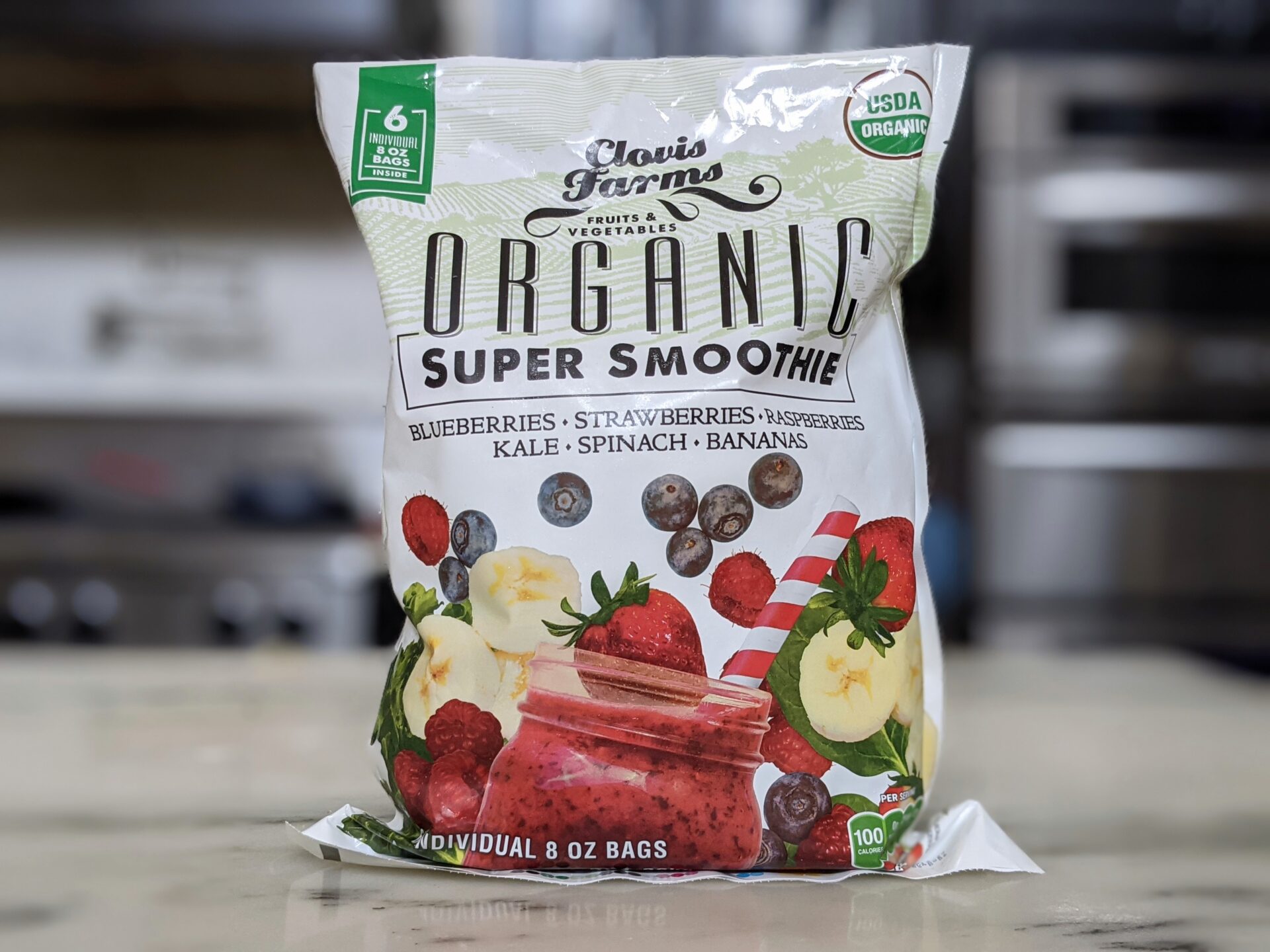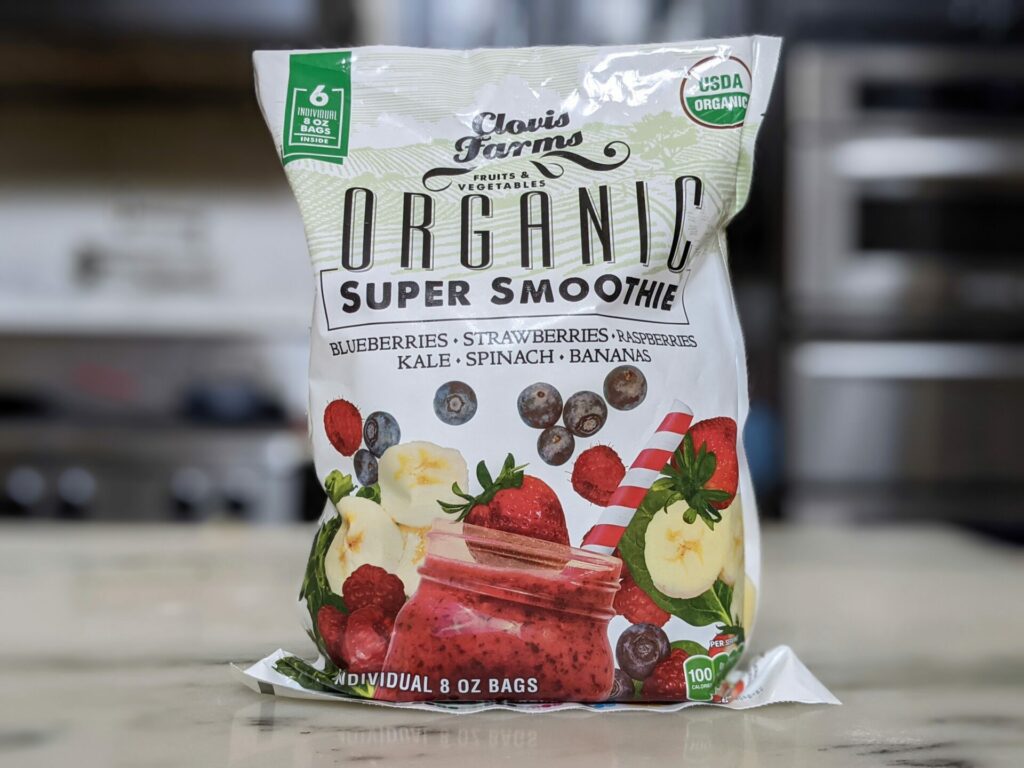 Clovis Farms Organic Super Smoothie Packs at Costco
Costco sells a 6-pack of Clovis Farms Fruits & Vegetables Organic Super Smoothie Packs for $12.49. The smoothie packs can be found in the frozen food aisle near other items such as the frozen fruits, Acai Bowls, and Island Way Fruit Sorbets.

Each package of Clovis Farms Smoothie Packs comes with 6 individual bags containing 8 ounces of frozen blueberries, strawberries, raspberries, kale, spinach, and bananas.

Have You Tried Costco's Smoothie Packs?
Let the rest of the Costco Food Database community know what you thought of this product. Results and reviews are at the bottom of this page.
Please allow 24 hours for review moderation and approval.
Imported Fruits/Vegetables?
Clovis is a small city in California, and with the name Clovis farms, I think it's fair to assume that the fruits are grown on a farm in Clovis.
In actuality, Wawona Frozen Foods, located in Clovis, is the company that produces these Costco smoothie packs, but they don't use 100% locally or even American-grown produce. 
The smoothie packets are packed in the USA and most likely in Clovis, but the ingredients appear to be imported from other countries such as Belgium, Ecuador, Argentina, and Serbia.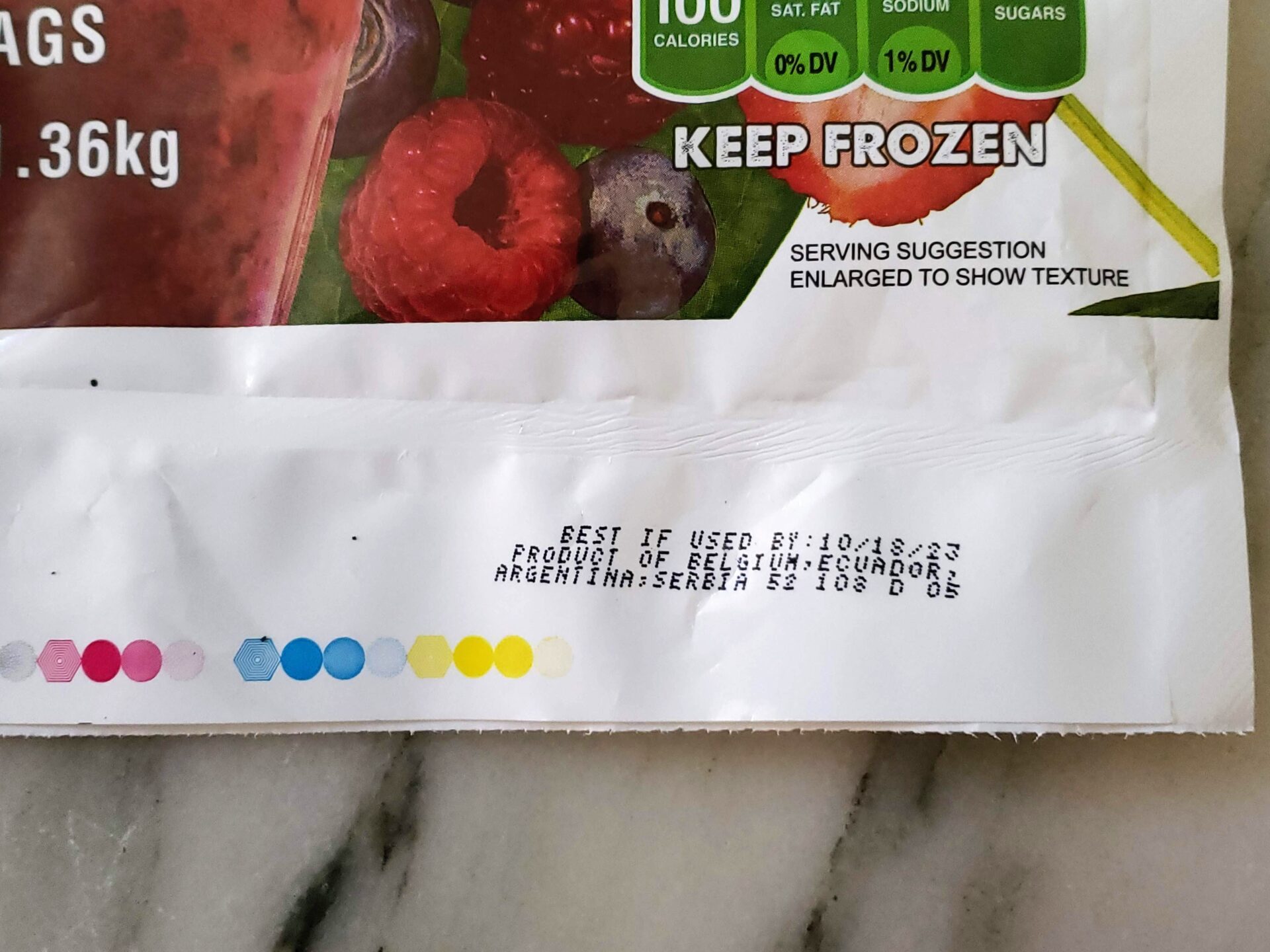 I'm always for American made items, and I'm really disappointed that Wawona Frozen Foods decided to save a couple pennies and import the produce from other countries. 
I also have no doubt that Wawona Frozen Foods wanted to do everything they could to hide the fact that not all of the ingredients used in these smoothie packs are American grown and instead imported from around the world.
How Much Do The Smoothie Packs Cost at Costco?
Costco will sell the Clovis Farms Organic Smoothie Packs for $12.49. Each of the 6 packets weighs 8 ounces, and in total, there are 3 pounds of frozen fruit and vegetables.
Each individual smoothie packet will cost $2.08, and the per-pound price for these smoothie packs will be $4.16.
This is a fairly standard price for frozen fruit as most of Costco's other frozen fruit options also sell in the $3-$4 per pound range. 
$4 per pound is more than fair, considering the convenience of the individual packs and the variety of included fruit and vegetables.
Costco vs The Competition
It doesn't appear that Clovis farms sell their frozen fruit smoothie packs outside of Costco, but other retailers will have their own versions.
Walmart sells its Great Value Red Smoothie pack for $1.78. I can't judge on quality, but their packet beats out Costco's smoothie pack purely on price.
Costco Smoothie Packs - Taste Test
Equal Amount of All Ingredients
Costco's frozen smoothie packs are super convenient because of their individual 8-ounce bags and variety of frozen fruits. You simply need to combine the fruits and vegetables in a blender with a liquid of your choice.
I've tried a few of the packets, and I've noticed the amount of each fruit/vegetable was pretty consistent with one another. None of the fruits really jumped out to me as significantly outnumbering the rest.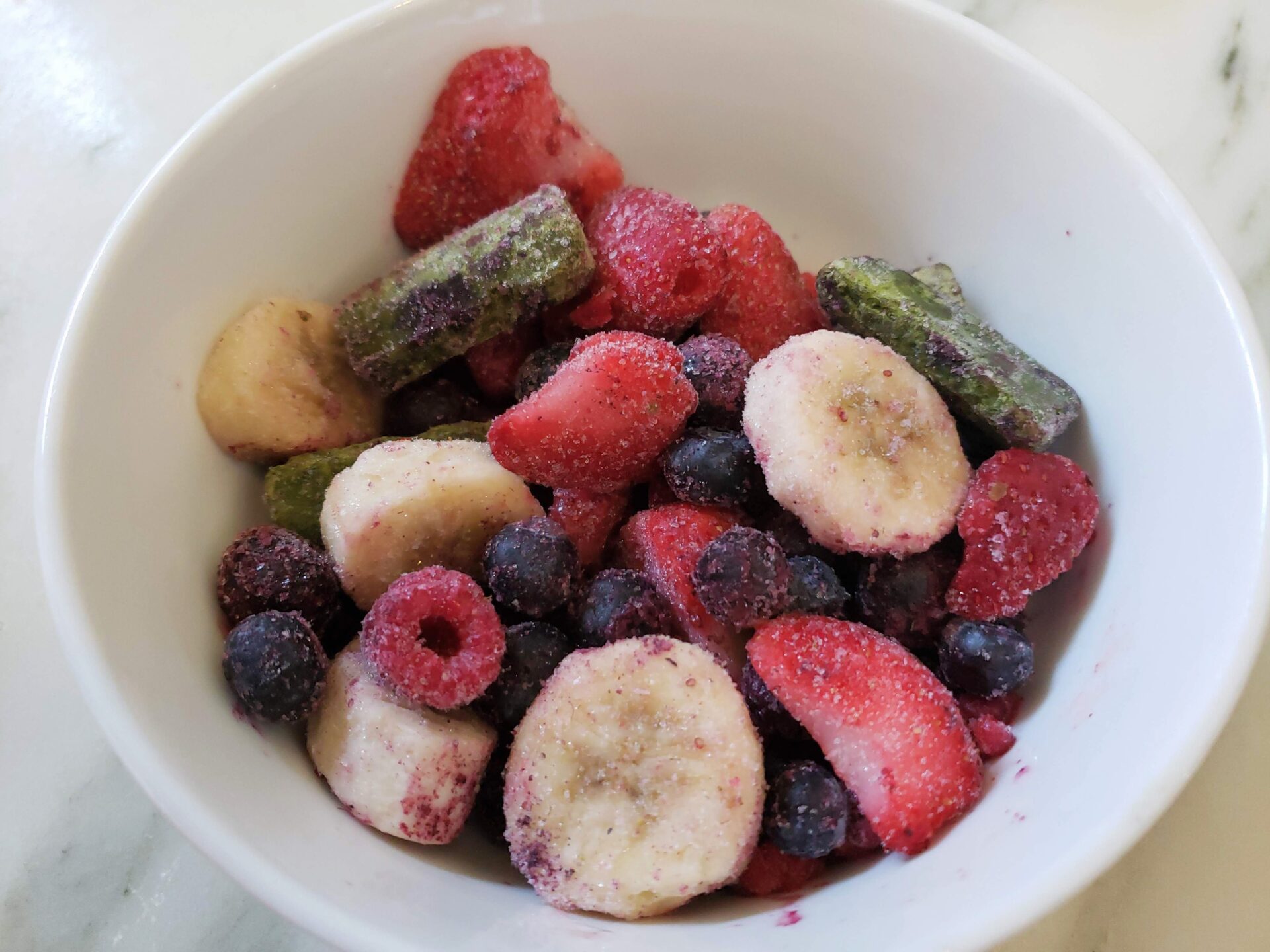 If there was one thing, I would say that there were only a few kale/spinach combo pieces. I may have only noticed because they are green and stick out, but a few more of those would have been nice.
Clovis Farms Recommends Apple Juice
Clovis Farms does recommend using apple juice with the smoothies, but I didn't have any on hand.
Instead, I made two smoothies for my test, one with regular whole milk and another with acai berry juice.
Mixes Well With Milk - But Lacking in Flavor
Everything blended well with the milk, and the smoothie came out as a nice pinkish color. The consistency was great, and all the fruits were in the smoothie, but my big problem was just how bland the flavors were.
All the fruits that should be providing the flavor were there, such as bananas, strawberries, and blueberries, but the smoothie was just flavorless.
There was a slight tartness from the berries which I like, but other than that, the smoothie needed more flavor and an infusion of sugar or sweetness.
The milk may have diluted some of the flavors, but after trying a second smoothie with juice, it was clear that the fruit just didn't bring the flavor.
Even with Acai Juice, the smoothie pack didn't bring a lot to the table. The acai smoothie was overrun with acai flavor, which was just fine, but I would have liked some of the banana or strawberry to shine through.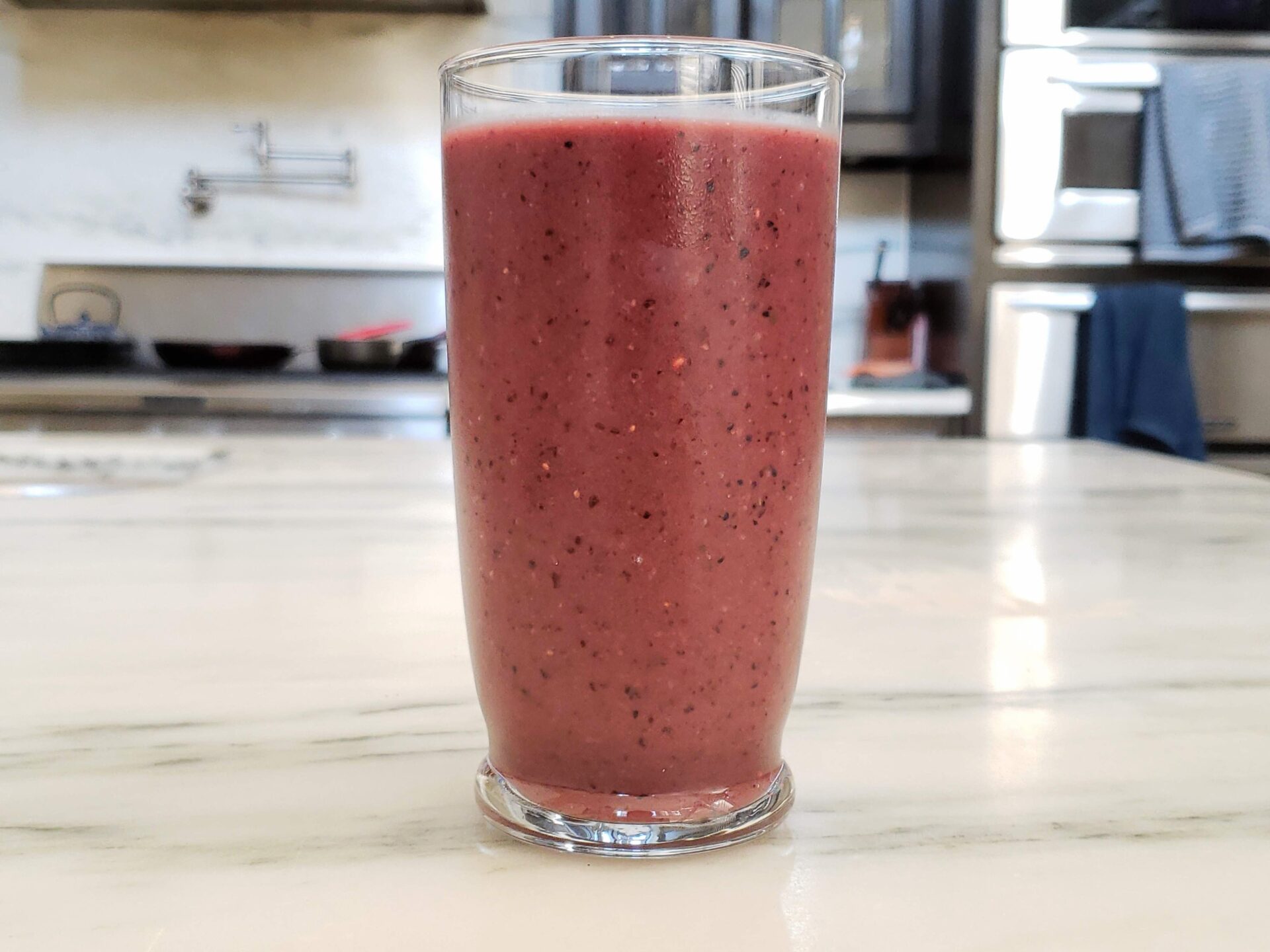 I had no problem finishing either smoothie, but I'm not necessarily chomping at the bit to have another one. 
I'm sure if I went with the recommended apple juice, the smoothie would taste great, but It feels to me like a cheap way out to artificially flavor the smoothie. The apple juice will be sweet and also doesn't have much nutrition.
Maybe if the fruit was locally grown, it would be a little more potent.
Overall, the smoothie pack was a big disappointment. The concept of having a variety of frozen fruit on hand that is ready to be blended into a smoothie is great, but the flavors just weren't there.
The smoothie can be salvaged with some enhancements and will almost be a must if you want to truly enjoy the drink.
How to Prepare Clovis Frozen Smoothie Packs
The main selling point of the frozen smoothie packs will be their convenience. The fruits and vegetables come pre-packed and are individually portioned.
All you have to do is pour the frozen fruits and vegetables into a blender with some liquid.
Combine the contents of (1) Clovis Farms Super Smoothie Blend Pouch and 1- 1.5 cups of water or your favorite juice or milk in a blender.

Blend on high for 60 seconds or until desired texture is achieved.

Pour into a tall glass, garnish as desired and enjoy
I also used some Pomegranate Juice, which made the smoothie very tart. 
Smoothie Improvement Tips
These Costco Smoothie packs are not the most flavorful, and they do need some help.
Here are a few easy additions that I have that can add a lot of flavor to these bland smoothie packs.
Protein Powder
Additional Fruit
Chia Seeds
Vanilla Extract
Honey
Clovis Farms Smoothie Pack - Nutritional Information and Calories
How Many Calories In Each Smoothie Pack?
Each 8-ounce pack of Costco's Smoothie Pack will contain 100 calories. Those 100 calories will come from 1 gram of fat, 24 grams of carbohydrates (0 grams of added sugar), and 3 grams of protein.
Considering this is an all-fruits and vegetable smoothie, this is a typical and expected nutritional label and calorie count. There isn't going to be a lot of fat, nor is there going to be a lot of protein, either. This also does not include any additional liquid, such as milk or apple juice, that they recommend.
To make a more full, complete and balanced smoothie meal, I recommend adding in some protein powder as well as granola.
Costco Food Database User Reviews
Have you tried this item? Let the rest of the Costco Food Database community know what you think. Leave a rating and review for this product.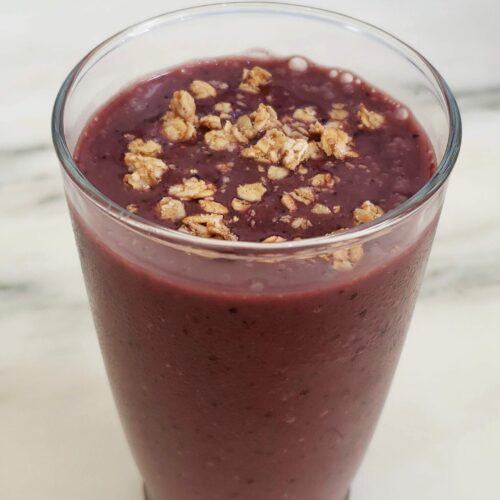 Costco Organic Super Smoothie
Use the Clovis Farms Organic Super Smoothie Mix from Costco to make your own at home smoothies
Ingredients
1

Pouch

Frozen Smoothie Blend

1

Cup

Apple Juice
Instructions
Combine the contents of (1) Clovis Farms Super Smoothie Blend Pouch and 1- 1.5 cups of water or your favorite juice or milk in a blender.

Blend on high for 60 seconds or until desired texture is achieved.

Pour into a tall glass, garnish as desired and enjoy.
Nutrition
Serving:
1
Smoothie
Calories:
100
kcal
Carbohydrates:
24
g
Protein:
3
g
Fat:
1
g
Saturated Fat:
0
g
Trans Fat:
0
g
Cholesterol:
0
mg
Sodium:
25
mg
Fiber:
7
g
Sugar:
12
g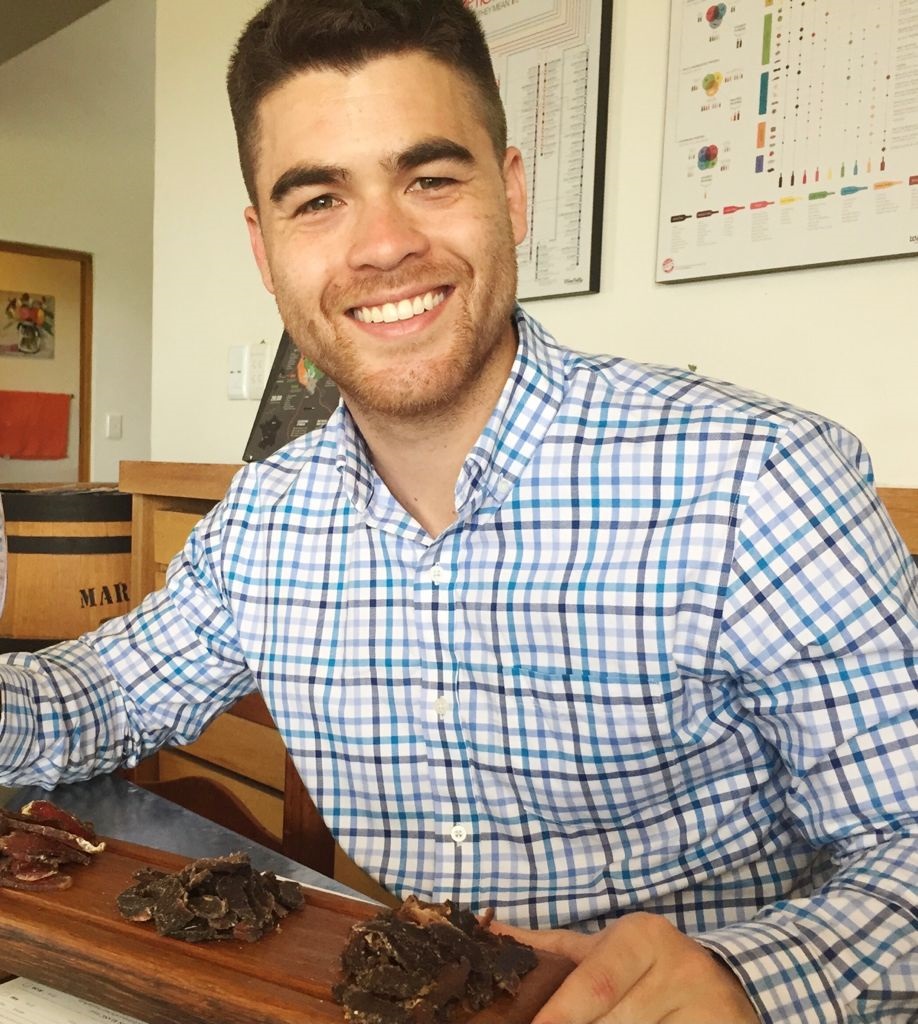 Greg Larkin is the founder and managing editor of Costco Food Database, the premiere site for honest takes on all things Costco food. A self-proclaimed Costco super-fan since childhood, Greg turned his obsession in a mission to properly rate and review all of Costco's delicious buys. When he's not busy navigating Costco aisles, you can find Greg smoking Kirkland Signature meats, meal prepping, or perfecting his homemade jerky recipes.