Costco Canned Salmon (Kirkland) - Is It Tasty? + Usage Tips
Costco's Kirkland Signature Wild Alaskan Pink Salmon provides a ton of health benefits and is a great emergency preparation food. But, does it pass the taste test, and is it worth the price?
Kirkland Signature Wild Alaskan Pink Salmon
Costco sells a 6 pack of Wild Alaskan Boneless Skinless Pink Salmon for $15.99. These can be found in the pantry and dry goods area of the store near the other canned fish such as tuna or sardines and meats like canned chicken or spam.
Each can of Wild Alaskan Pink Salmon contains 6 ounces of fish.
Have You Tried Costco's Canned Salmon?
Let the rest of the Costco Food Database community know what you thought of this product. Results and reviews are at the bottom of this page.
Please allow 24 hours for review moderation and approval.
The price of each can breaks down to $2.67 and the per ounce price is $0.45. Now, I was always under the impression that canned fish and meats were significantly cheaper than their fresh counterparts. 
While there is a slight discount, in actuality, the prices are fairly close. Costco's price per pound for this canned salmon is $7.11. Costco sells fresh salmon in the meat and seafood department for $8.99 a pound and even prepared salmon for $10.49 a pound. 
Long Shelf Life of Canned Salmon
Of course, there are certain benefits to canned salmon over fresh salmon with the main benefit being shelf life. 
This salmon is going to last multiple years if not longer. The best by date printed on my can of salmon is July 2026. 
This is almost 4 and half years away! While a little pricey, this is a great item to keep as an emergency food in your pantry.
A couple of things jump out to me on this package of Kirkland Signature Wild Caught Alaskan Pink Salmon. 
When Costco produces a Kirkland Signature item they are not manufacturing the product themselves but will relabel an item manufactured by a larger brand that specializes in that item. 
For most products, Costco doesn't tell us who actually manufactures the item. Some examples of Costco items that do print their brand on the packaging are starbucks, jelly belly, and a few others. 
In this case Trident Seafoods is printed on the label for the whole world to see.
The second thing that I couldn't help but notice were the words "Pink Salmon". 
I had to look up what pink salmon was, and it turns out it's a completely different species of salmon than we normally see sold at Costco.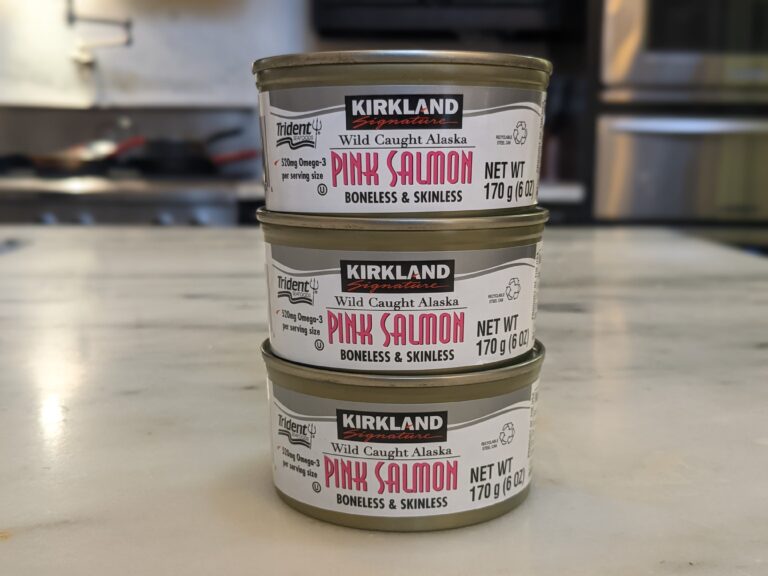 Pink Salmon or humpback salmon (Oncorhynchus gorbuscha) is the smallest and most abundant of the Pacific Salmon and has a soft texture and mild taste. 
Most canned salmon is made with Pink Salmon.
I have to say the labeling on this package is a little bland. There are limited colors and they don't really pop out. 
This is typically for Kirkland Signature products, but this Costco canned salmon seems to have one of the most generic looking labels. 
The first thing I did after opening the wild Alaskan canned salmon was to weigh the can and the contents. 
The can weighed 7.55 ounces without the top and after draining weighed 6.55 ounces. There was still some liquid at the bottom of the can which accounts for that extra half an ounce above the advertised 6 ounces of salmon.
The canned salmon, like the packaging, was bland looking. With a name like pink salmon, I expected a bright and vibrant pink but instead got a pale whitish fish instead.
This reminded me of the color of Costco's canned chicken or even canned tuna. Nothing about the looks here says this is salmon to me.
Costco Canned Salmon Review
Canned salmon and canned foods in general usually are better eaten cooked or as part of a meal. I decided to go ahead and make (and burn) some salmon cakes, but I did have a chance to eat some of the salmon as-is.
I didn't really care for the salmon much when eaten directly from the can. I thought the flavor was lacking and it tasted very similar to tuna. There is a slight salmon taste at best, but if you told me it was tuna, I honestly might not have noticed. 
For the salmon cakes I made, they were great. The salmon was very easy to use, but with Pink Salmon the flavor isn't super pronounced. It was clear it was a fish patty, and even a salmon patty, but again there definitely could have been more salmon flavor.
I absolutely devoured the salmon patty cakes, but for a few dollars more per pound, I could have used fresh salmon which would have packed a punch of flavor.
They may not be obvious, but there are many uses for canned salmon. My favorite way to use the Costco canned salmon is to make salmon cakes. 
They are simple to make, tasty, and take only about 30 minutes. I just improvised when I made my salmon cakes, but here is a full recipe if you are interested.
For the most part any recipe that calls for canned tuna can be substituted with canned salmon. I personally think this Costco canned salmon would go great as a protein for a salad, with pasta, or even simply with crackers.  
When you buy in bulk at Costco, you will have the opportunity to really experiment with the fish.
How long does canned salmon Last?
The Costco Canned Salmon has a shelf life of over 4 years. I purchased this salmon in February of 2022, and the best by date is July 2026. Nearly 4 and a half years until the consume by date. The salmon will also be edible after that date as emergency food, but use proper judgment. 
Is canned salmon from Costco healthy for you? 
Salmon is super healthy and so is canned salmon from Costco. Salmon is a very high protein, low fat, no carb food. Salmon is packed with Omega 3 Fatty acids as well as other vitamins and nutrients. 
Is Costco canned salmon already cooked?
Yes, the salmon is already cooked before canning. Like most canned foods, you can simply eat the food directly out of the can. Just drain the liquid and enjoy.
This Costco Wild Alaskan Canned Salmon is extremely healthy. People are going to be looking for different things on the nutritional label, but for me, I want to see high protein, and lower fat and carbs. 
Each can contains 2 servings of 80 calories each. There is 1.5g of fat, 0g of carbs, and 17g of protein per serving. In the entire can, there is 3g of fat, 0g of carbs, and 34g of protein. This is an excellent food item just from the macronutrients. 
In addition to being high protein, salmon provides an abundance of omega 3 fatty acids, vitamin B and vitamin D. Salmon has also been shown to fight inflammation and provide health benefits. For this nutritional value, I'd be happy to eat these all day long.

The Costco canned salmon was a bit of letdown. The salmon flavor was lacking and It was rather pricey at $7.10 per pound. It didn't taste much better than the less expensive canned tuna. At this price range, you are better off spending a few dollars more and getting fresh salmon or going down in price and purchasing Costco salmon burgers.
The benefits of the Kirkland Signature canned salmon are that you can easily have salmon on demand and it makes a great emergency/backup food. They have an excellent shelf life, and they are super healthy and nutritious.
Costco Food Database User Reviews
Have you tried this item? Let the rest of the Costco Food Database community know what you think. Leave a rating and review for this product.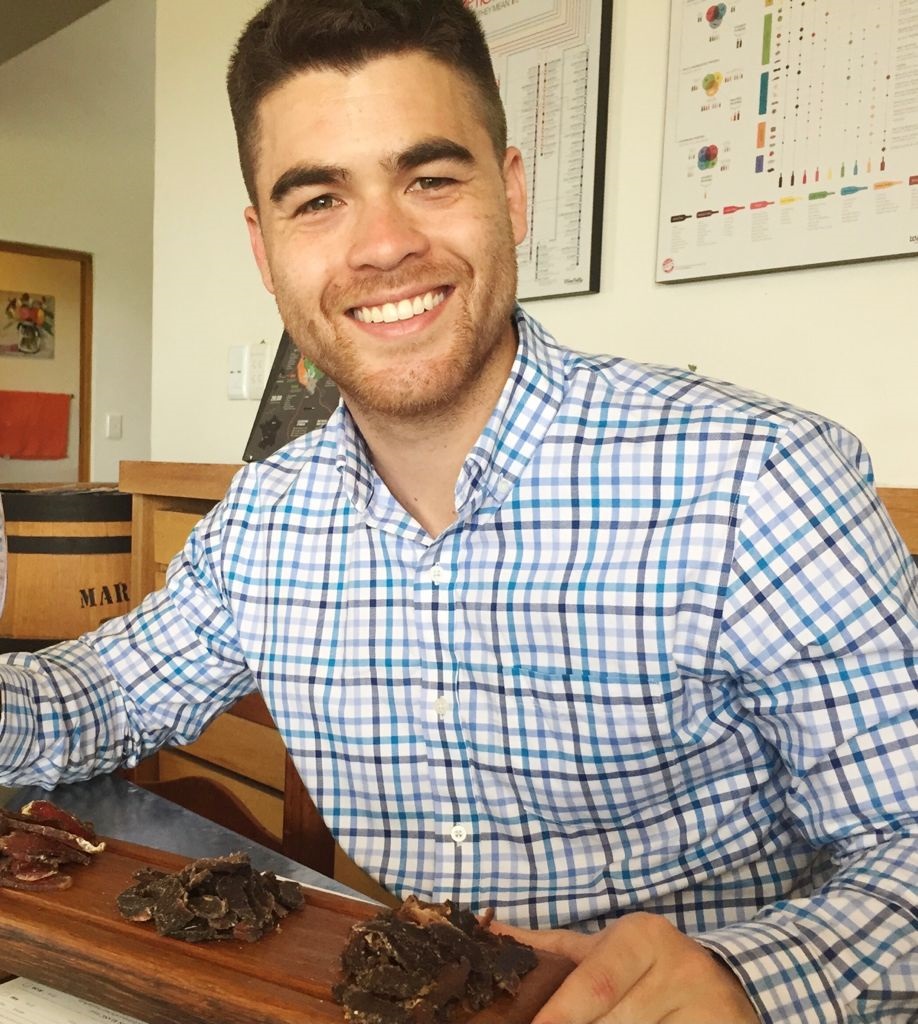 Greg Larkin is the founder and managing editor of Costco Food Database, the premiere site for honest takes on all things Costco food. A self-proclaimed Costco super-fan since childhood, Greg turned his obsession in a mission to properly rate and review all of Costco's delicious buys. When he's not busy navigating Costco aisles, you can find Greg smoking Kirkland Signature meats, meal prepping, or perfecting his homemade jerky recipes.