Costco Frozen Atlantic Salmon Fillets - Convenient & Tasty!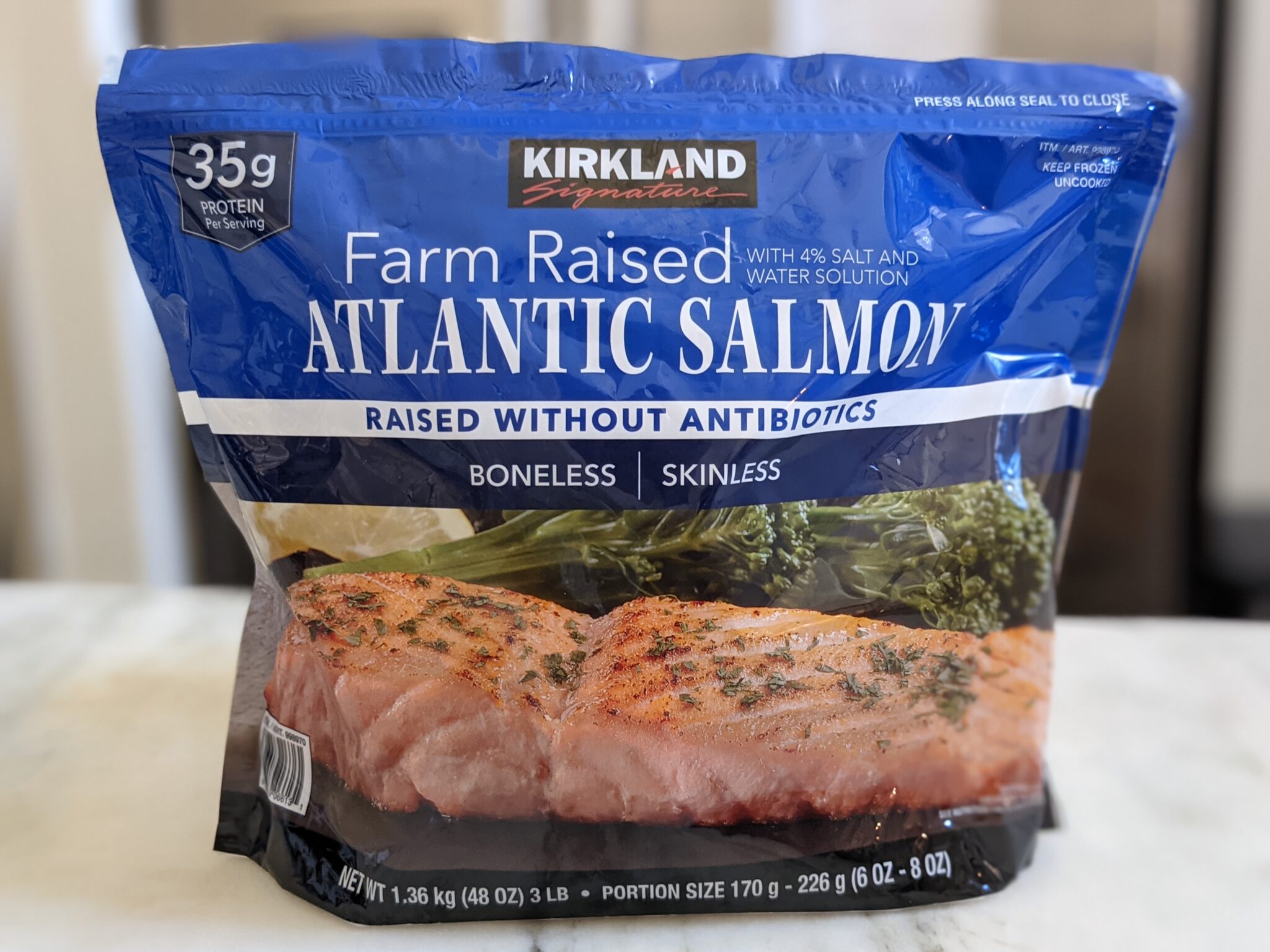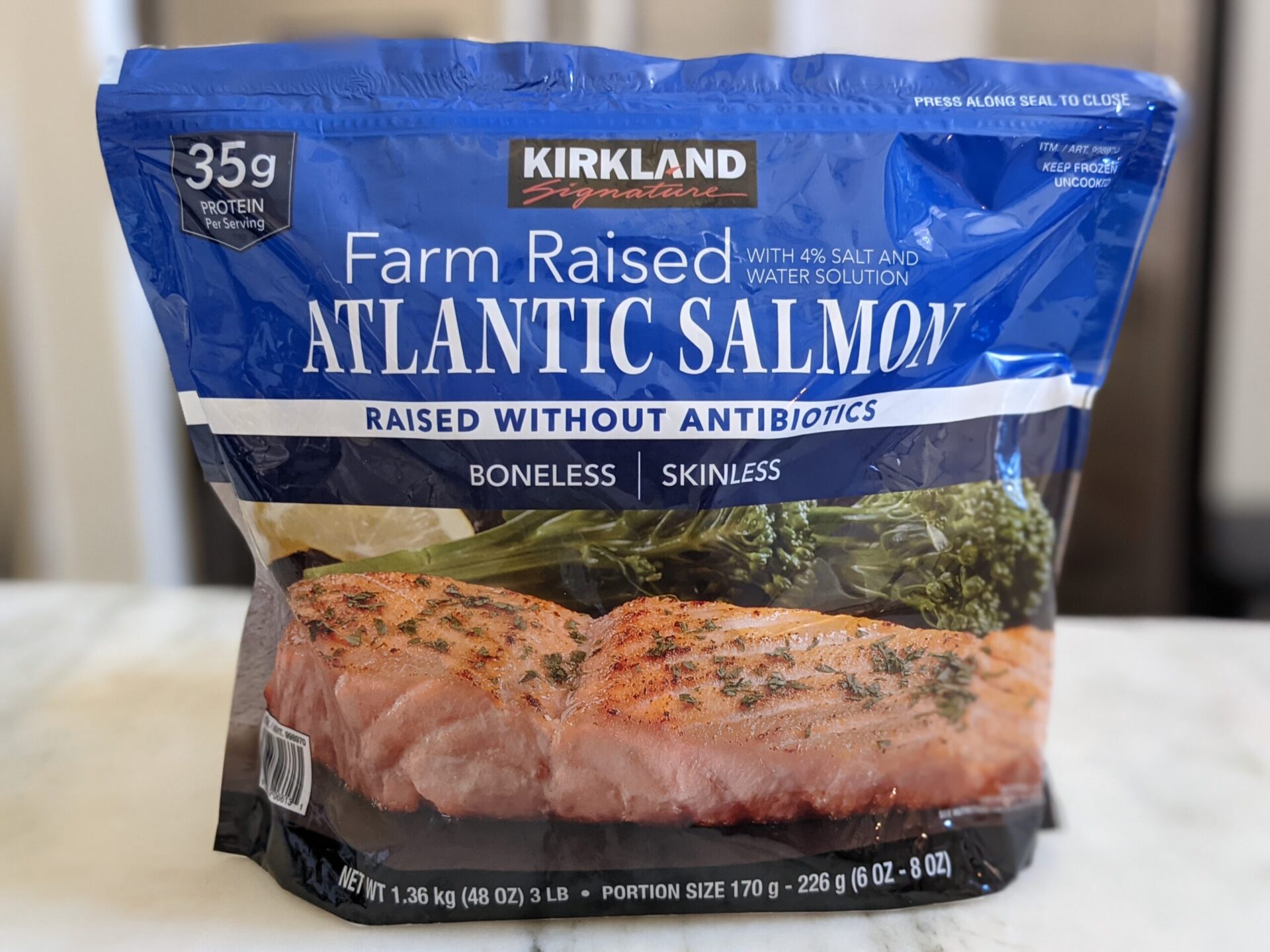 Kirkland Signature Frozen Farm Raised Atlantic Salmon at Costco
Costco sells their Kirkland Signature Frozen Salmon for $26.99. The 3 pounds of frozen salmon come individually wrapped and can be found in the freezer section of the warehouse.
It is often near other items such as the Cedar Plank Salmon, Fish Sticks, or the Tortilla Crusted Tilapia.
The frozen salmon fillets come from Farm Raised Atlantic Salmon and are boneless and skinless. (The packaging states they are boneless, but also warns that they may have bones). The salmon is raised without antibiotics but may contain up to 4% of a salt and water solution.
The salt and water solution is pretty standard for frozen fish and meat. I explore a little more in depth about plumping in my Ultimate Guide to Costco Chicken.
Have You Tried Costco's Frozen Salmon?
Let the rest of the Costco Food Database community know what you thought of this product. Results and reviews are at the bottom of this page.
Please allow 24 hours for review moderation and approval.
In short, there are 6 species of salmon in the United States. When filleted they are all pretty similar in aesthetics with the main differentiator being the hue of pink or red. 
One key characteristic of Atlantic salmon is that it's always farmed and never wild.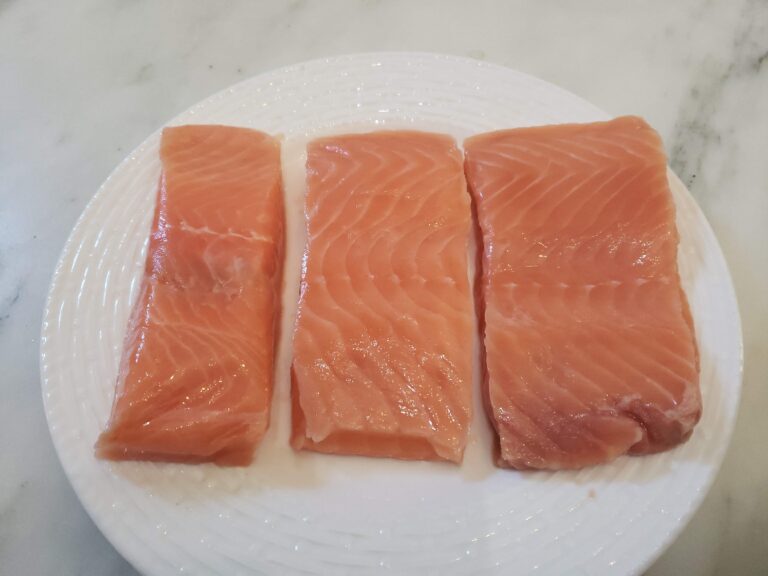 Essentially all Atlantic Salmon are grown in contained areas. This particular Costco frozen salmon is farmed in Norway and imported to the United States.
Atlantic Salmon is Artifically Dyed
Normally wild salmon feed on wildlife such as shrimp or krill which contain carotenoids which provide salmon its distinct red, pink or salmon color.  Farmed Atlantic salmon don't feed on wildlife and instead are fed fish food/pellets.
In order to color the flesh, the pellets include synthetic carotenoids. Otherwise the fish meat will be mostly gray. So yes, these are artificially colored salmon.
The packaging of the frozen salmon states that each salmon portion is going to be in the 6-8 ounce range. 
I wasn't going to check the weight of the salmon, but the 3 pieces I pulled out for dinner were quite different in size. 
It almost looked like I had a daddy salmon, a mommy salmon, and a baby salmon.
I would have thought the smallest looking piece would have been in the 6 ounce range while the widest piece would have been pushing 8 ounces.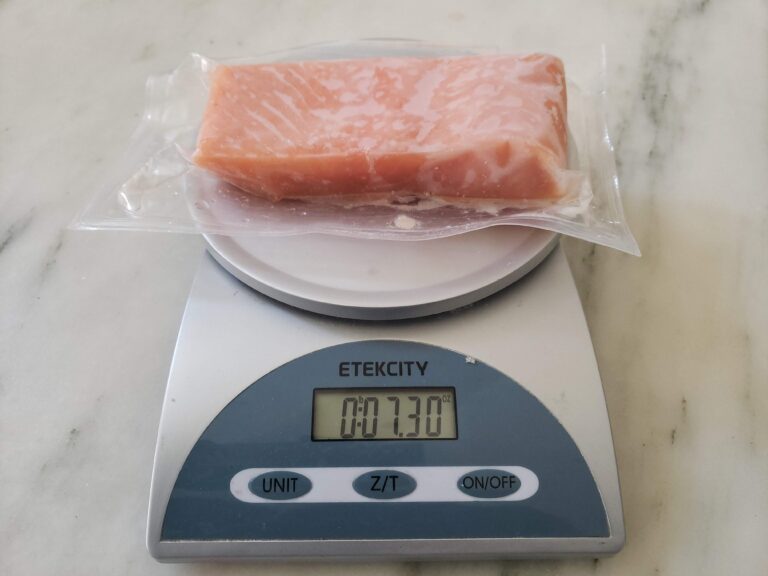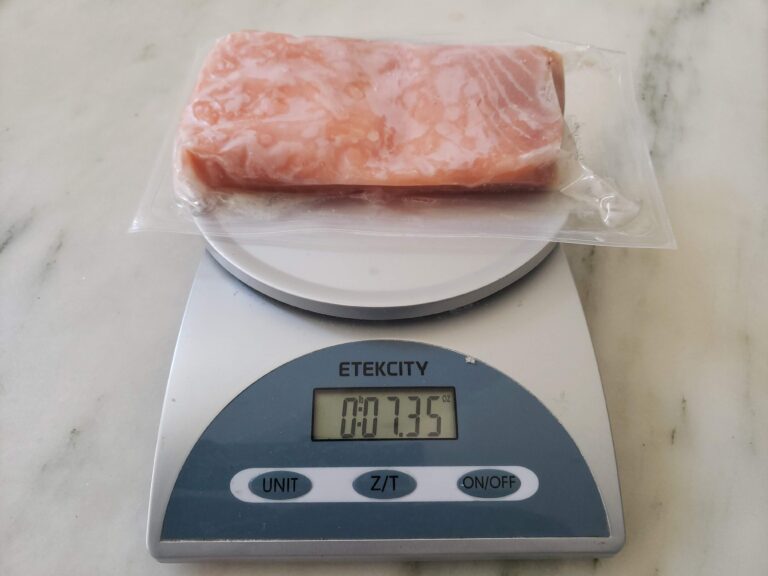 It turns out they are all fairly close between 7.15 ounces and 7.35 ounces. 
I was way off with my estimates, but it's good to know that each salmon portion is fairly consistent. Kudos to Kirkland Signature.
Kirkland Signature Frozen Salmon - Taste Test
My regular readers know that I love my air fryer and you better believe thats what I used to cook these salmon portions. I used the little cookbook that came with my air fryer and cooked the salmon at 400° for 13 minutes.
Beautiful Crust and Perfectly Flaky
As you can see, they came out perfect. They had a very nice color and were crisping up rather well. Maneuvering the salmon in the air fryer was a little tough and I did end up breaking the piece on the right. 

Lacking in Salmon Flavor but Still Delicious
The salmon was weak on salmon flavor, but still tasty. I'm not sure if it's due to being Atlantic salmon or frozen salmon, but I would have liked a little bit stronger of a salmon flavor.
The salmon taste was there, but it wasn't at the same level as a wild Alaskan sockeye salmon.
It was a little lacking in taste, but the texture and cook went great. The salmon slightly crusted up while staying moist on the inside. The fish started to flake a bit as evidenced by the salmon piece on the left. 
The salmon was literally ready to fall apart, and it took some careful pinpoint tong accuracy to pull the salmon out of the air fryer in one piece.
I also wanted to try a teriyaki salmon and brushed one piece of salmon with Kinder's Teriyaki Sauce and Marinade. I applied the teriyaki with about 2 minutes left in the cook, but the teriyaki didn't caramelize as much as I wanted it to. 
The fish was still tasty, but next time, I'm going to coat the salmon with 4 minutes left.
Overall, salmon is salmon, and I really enjoyed this meal. It's not the highest quality salmon, but still delicious nonetheless. 
Costco Frozen Salmon Cooking Instructions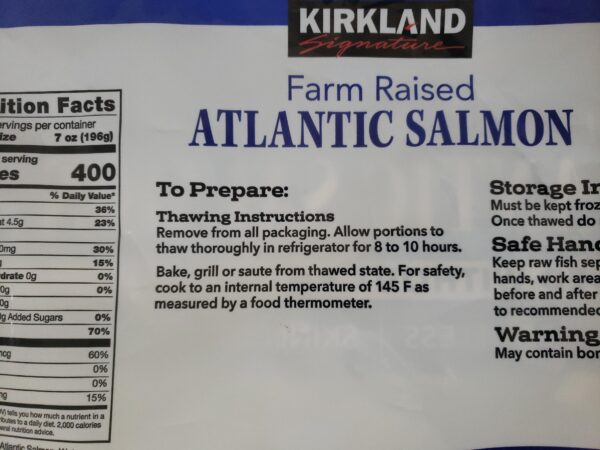 This salmon, when defrosted, can be prepared in the same ways as fresh salmon. According to the instructions, to properly thaw the salmon, you should remove all packaging and store the fish in the refrigerator for 8-10 hours. 

After the salmon is fully defrosted, you can bake, grill, or saute the salmon portion. For this review, I decided to air fry the Atlantic salmon. I lightly brushed the salmon with oil and cooked it at 400°F for 12 minutes or so. 
As shown in the review, I also made a Kinder's teriyaki salmon. I brushed the salmon with teriyaki for the last 2 minutes of cooking, but in the future, I will probably coat the salmon with teriyaki with about 4 minutes left.
Salmon Nutritional Information
How Many Calories in Costco Frozen Salmon?
Each portion of salmon will weigh about 7 ounces and contain 400 calories. Those 400 calories come from 28 grams of fat, 0 grams of carbs, and 35 grams of protein. While there is a good amount of fat, salmon contains some of the healthiest fats you can get. 
Is Salmon Healthy for You?
Their fat is full of omega 3 fatty acids which are excellent for you and can help maintain a healthy body. Omega 3s excel at lowering blood pressure, reducing plaque in arteries, and are great for overall heart health. 
I even take Costco's fish oil pills almost daily to boost up my omega 3 fatty acid intake.
Costco Cost Comparison - Frozen Atlantic Salmon
How Much is Frozen Salmon at Costco?
The 3 pound bag of  Kirkland Signature Frozen Salmon sells for $26.99 or $9 per pound. Costco will put this bag of salmon on sale with a $5 off instant coupon bringing the price down to $21.99 or $7.33 per pound. 
Even when the frozen salmon is on sale, the $7.33/pound is an ok price, not a great price. 
To give you some perspective on Costco's salmon pricing, their Kirkland Signature canned salmon sells for $7.11 per pound, salmon burgers go for $6 a pound, and fresh Atlantic Salmon from the seafood department is $8.99 per pound.
Fresh vs Frozen Salmon Price
At retail, the frozen Atlantic salmon at Costco is the same price as their fresh Atlantic salmon at $9 per pound. 
When on sale, it drops $1.67 a pound and is right in the range of the canned salmon pricing. Salmon prices seem to be fairly consistent regardless of what form it's in. 
Costco Beats out Sam's Club
Compared to Sam's Club who sells a 2.5 pound bag of frozen atlantic salmon fillet portions for $22.48, Costco easily comes out ahead.
Sam's Club's frozen salmon costs $9.99 a pound which is even more expensive than Costco's fresh Atlantic Salmon.
Costco's Farm Raised Atlantic Salmon will get the job done. It's not the best tasting salmon at Costco nor does it offer the best value. 
The frozen salmon is in a tough spot, and its most redeeming quality is that the salmon is individually packaged. 

Costco's Fresh Atlantic Salmon is available for the same price per pound, but tastes better and fresher. If you want a truly top notch salmon, go for Costco's Wild Sockeye Salmon.
Costco Food Database User Reviews
Have you tried this item? Let the rest of the Costco Food Database community know what you think. Leave a rating and review for this product.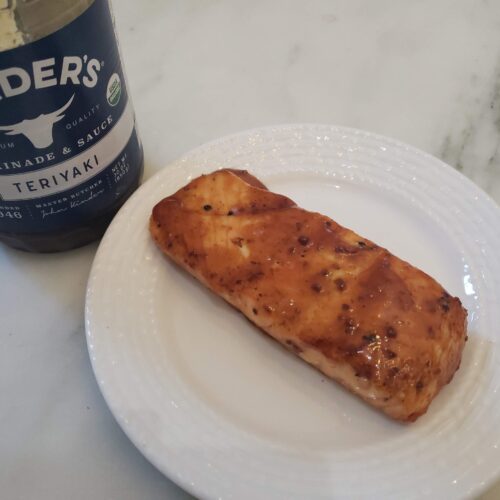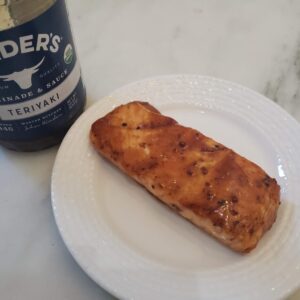 Costco Frozen Salmon - Teriyaki Style
Costco's Kirkland Signature Frozen Salmon is delicious anyway you cook it, but I love having it with some of Kinder's Teriyaki Sauce. Try this easy recipe tonight!
Ingredients
2

Kirkland Signature Frozen Salmon Fillets

3

tbsp

Kinder's Teriyaki Sauce
Instructions
Thaw frozen salmon overnight

Preheat Air Fryer to 400°F

Lightly brush defrosted salmon with cooking oil

Heat for 8 minutes in the air fryer

Remove from air fryer and brush with teriyaki sauce

Return to air fryer and cook for 4 more minutes or until salmon is fully cooked through.
Nutrition
Serving:
7
oz
Calories:
400
kcal
Carbohydrates:
0
g
Protein:
35
g
Fat:
28
g
Saturated Fat:
4.5
g
Trans Fat:
0
g
Cholesterol:
90
mg
Sodium:
350
mg
Fiber:
0
g
Sugar:
0
g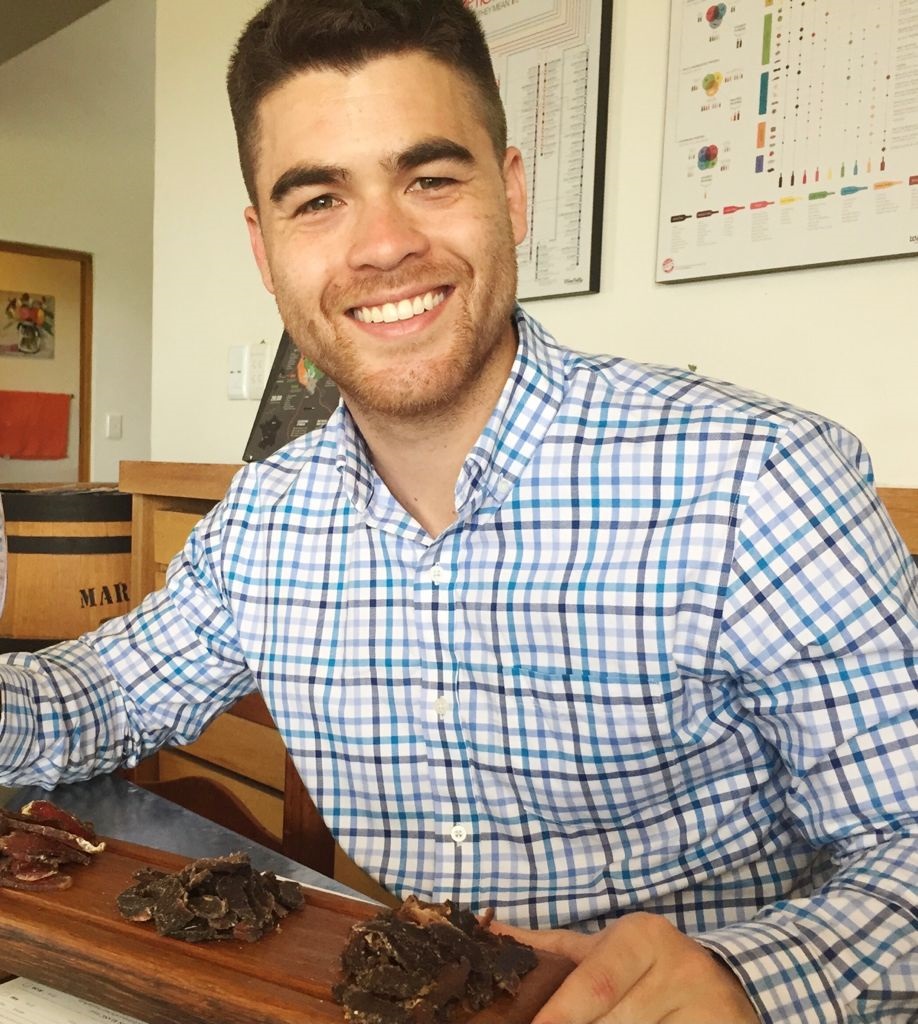 Greg Larkin is the founder and managing editor of Costco Food Database, the premiere site for honest takes on all things Costco food. A self-proclaimed Costco super-fan since childhood, Greg turned his obsession in a mission to properly rate and review all of Costco's delicious buys. When he's not busy navigating Costco aisles, you can find Greg smoking Kirkland Signature meats, meal prepping, or perfecting his homemade jerky recipes.