Costco Boneless Chicken Thighs (Kirkland Signature) - Price + Tips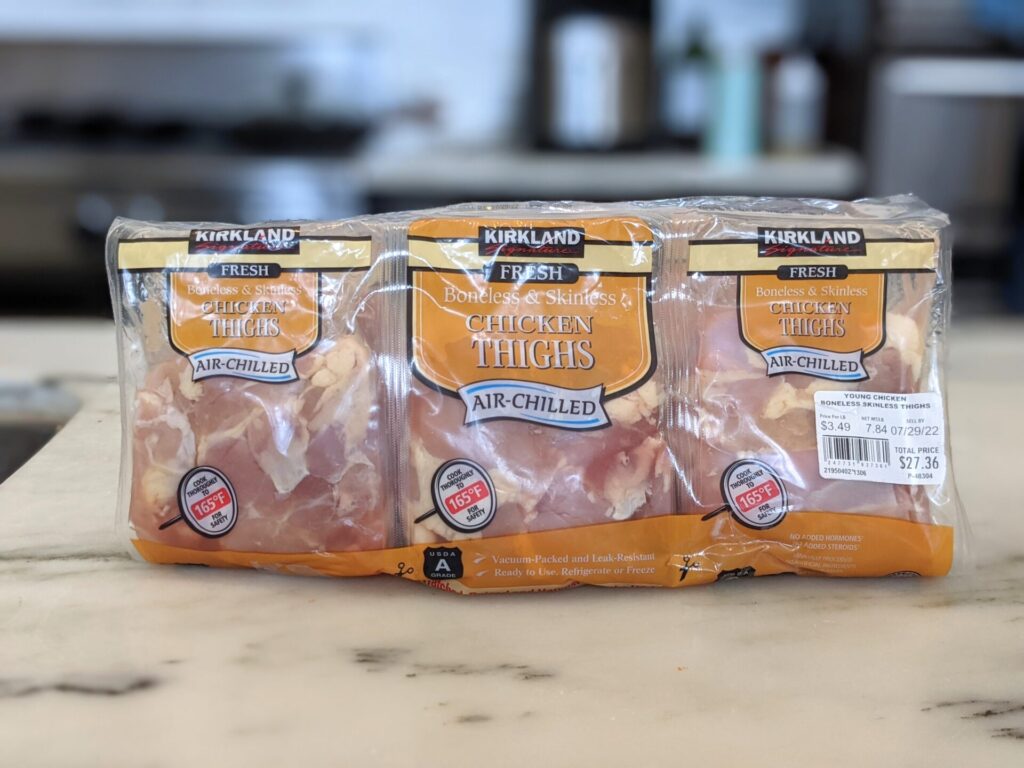 Kirkland Signature Boneless Chicken Thighs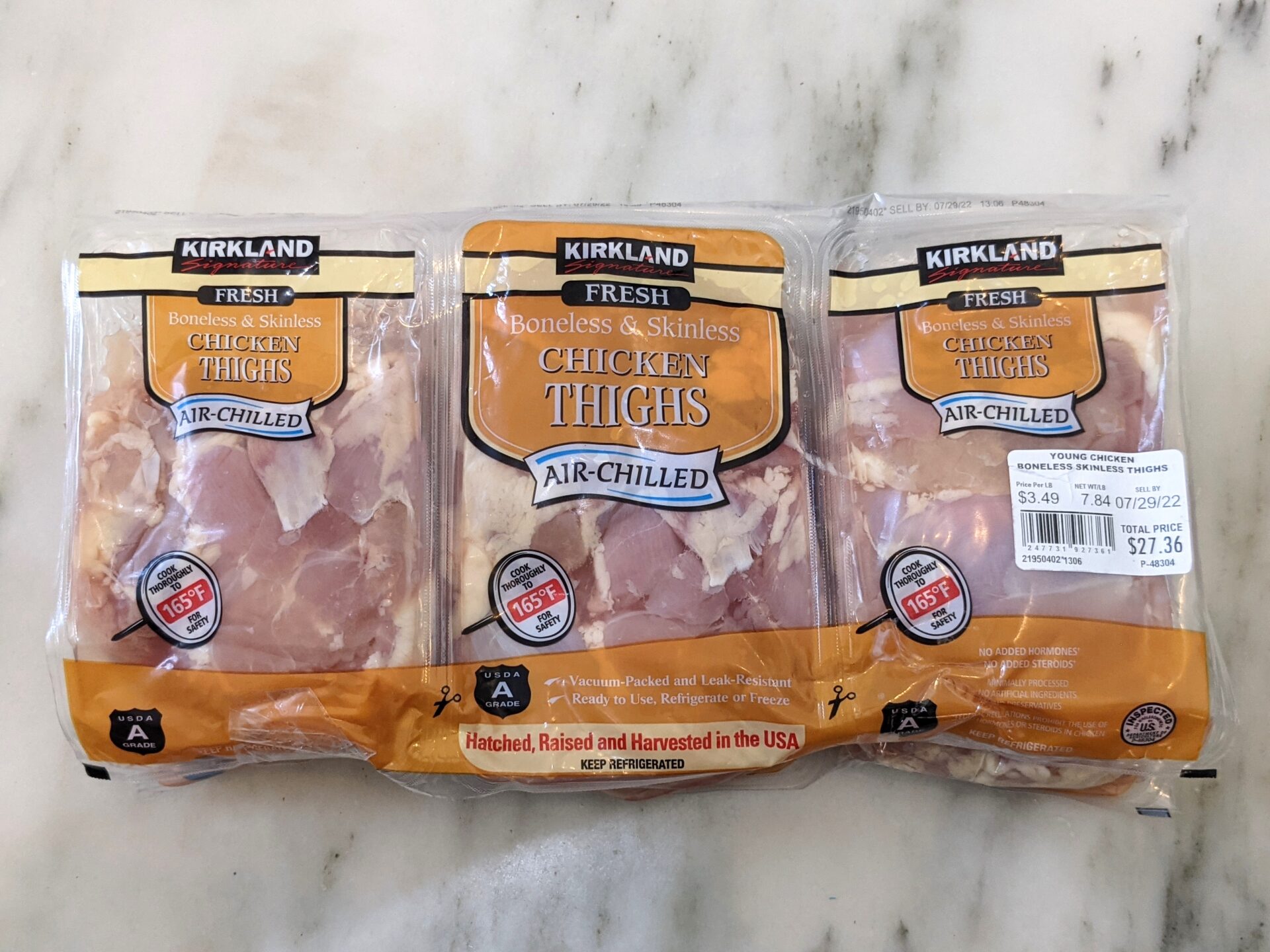 Kirkland Signature chicken thighs are sold boneless and skinless. They are typically sold in 7-9 pound packages. 
Check out our Costco Chicken Guide for more tips and information on all of Costco's Chicken Products. 
At this time, Costco does not appear to be selling any frozen boneless skinless chicken thighs, and the only option is fresh chicken thighs from the meat and seafood department.

Bone-in chicken thighs are available in the meat and seafood department for $1.29/pound.
Frozen Boneless Chicken Thighs
Costco has in the past offered a 6.5-pound bag of frozen chicken thighs but seems to have discontinued the item sometime in 2020. 
During the processing of chicken, the chicken meat will need to be cooled down to refrigeration temperatures. 
Most poultry farms will dip their chicken in a solution of salt water and other chemicals to bring down the temperature of the chicken. Costco's Fresh Kirkland Signature Chicken does not use this method! 
Costco uses the air chilled method which is essentially refrigerating the chicken until it hits the desired temperature. This helps the chicken retain its juiciness and its natural texture. 

Air chilled chicken is always the desired option if available.
There normally isn't a need to talk about chicken packaging, but Costco's chicken packaging is quite unique and provides quite a few benefits.
Costco's fresh chicken is sold in large packages that can be broken down into 6 individual pouches. Each of the pouches can be easily torn or cut from one another.

This is great for separating Costco's large packages of chicken into multiple meals, and the nicest part about it all is that the chicken can be frozen directly in that packaging.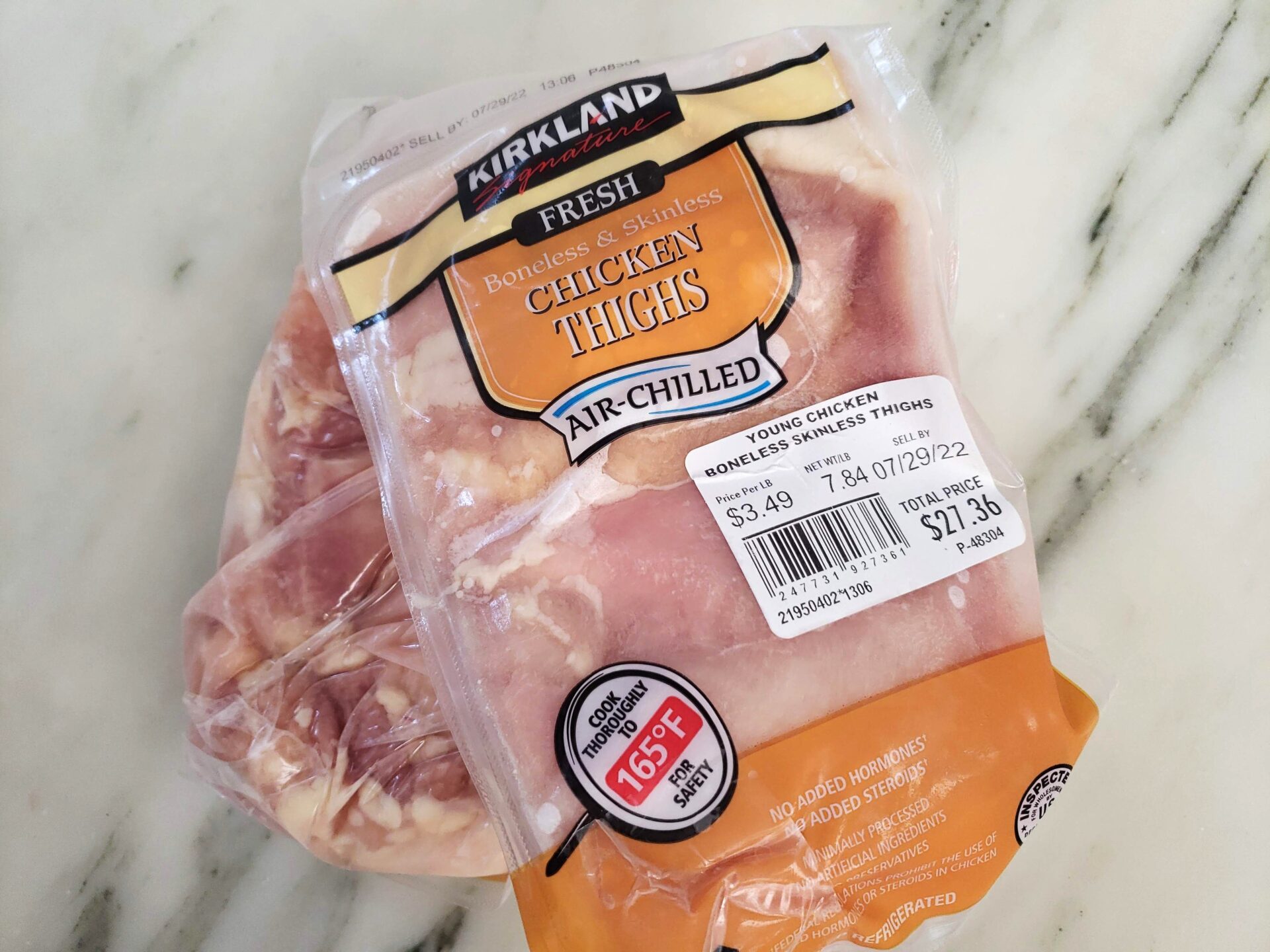 You can come home from Costco and place the chicken directly in the freezer in its original packaging. Each pouch of chicken is vacuum sealed and leakproof. 
After many years of purchasing chicken from Costco, I have yet to experience a package that has torn or leaked.
How Much Do Kirkland Signature Boneless Skinless Chicken Thighs Cost?
Unfortunately, the price of Costco's chicken thighs has gone up recently from $2.99 per pound to $3.49. 
This is a huge increase of 14% or $0.50 per pound, which I guess was only a matter of time due to overall inflation.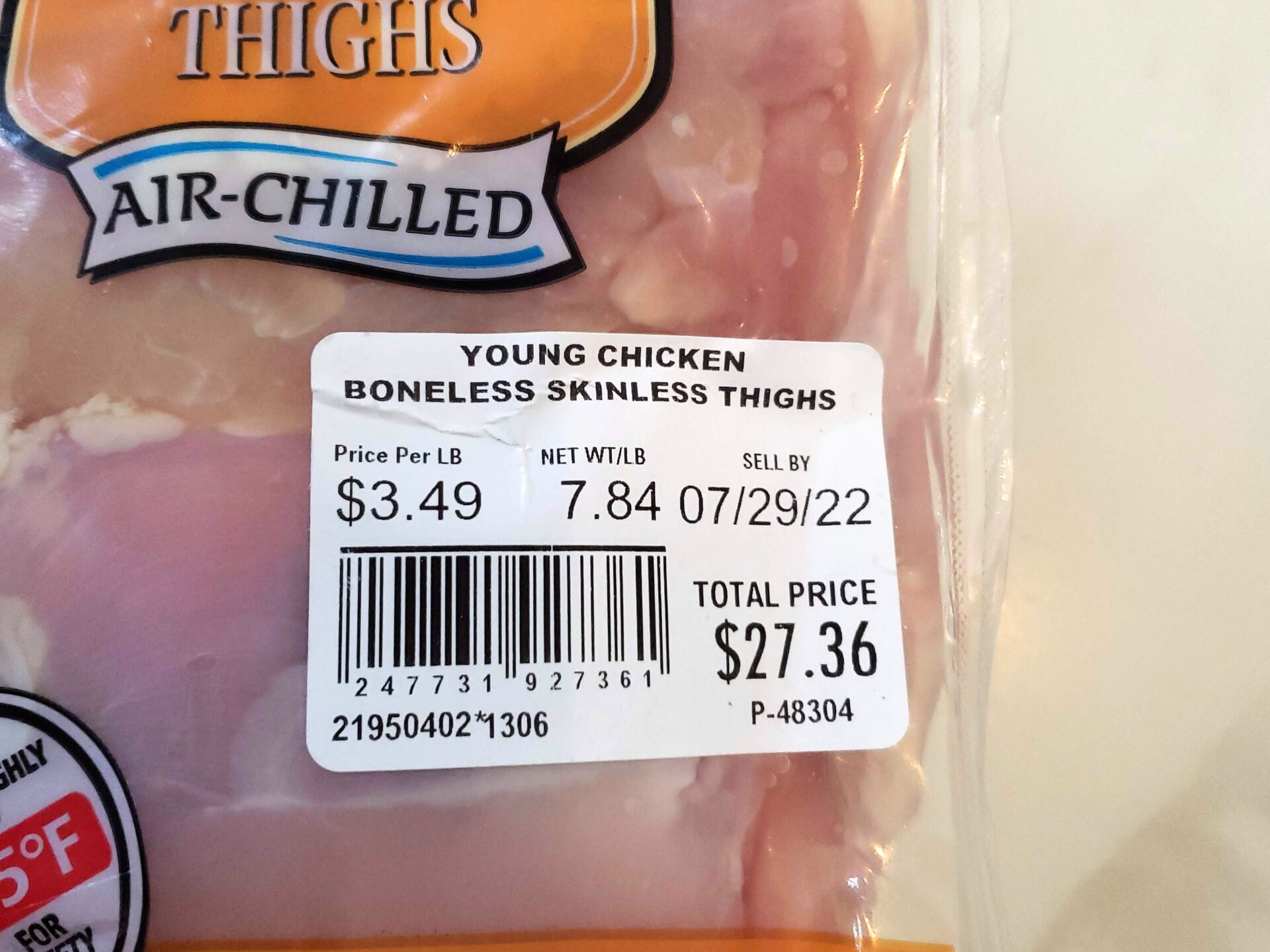 At $2.99, I considered Costco's boneless chicken thighs to be of excellent value, but at $3.49/pound it's just solid value.
Each individual chicken thigh piece costs approximately $1.
All Costco Chicken Prices
| Product | Fresh | Avg Package Weight | Fresh Organic | Avg Package Weight | Frozen | Package Weight |
| --- | --- | --- | --- | --- | --- | --- |
| Boneless Skinless Chicken Breast | $3.49 | 8.5 Pounds | $5.99 | 6.5 Pounds | $2.92 | 6.5 Pounds |
| Chicken Tenderloins | $3.49 | 7 Pounds | $5.99 | 6.5 Pounds | $2.99 | 6 Pounds |
| Chicken Wings | $2.99 | 8.5 Pounds | $3.99 | 5 Pounds | 3.49 | 10 Pounds |
| Boneless Skinless Chicken Thighs | $3.49 | 8.5 Pounds | $5.49 | 5 Pounds | X | X |
| Bone-In chicken Thighs | $1.49 | 11 Pounds | $1.99 | 5 Pounds | X | X |
| Chicken Drumsticks | $.99 | 9 Pounds | $1.99 | 5 Pounds | X | X |
| Whole Chicken (2 Pack) | $.99 | 10 Pounds | $2.49 | 10 Pounds | X | X |
This chart is updated monthly. If the price of chicken thighs changes, it will be reflected on the chart, but may not be reflected throughout this article. 
Costco vs The Competition
Walmart sells their boneless chicken thighs for $3.49 a pound which is essentially the same price as Costcos. Their chicken, however, is not air chilled, and is packed in the typical styrofoam tray.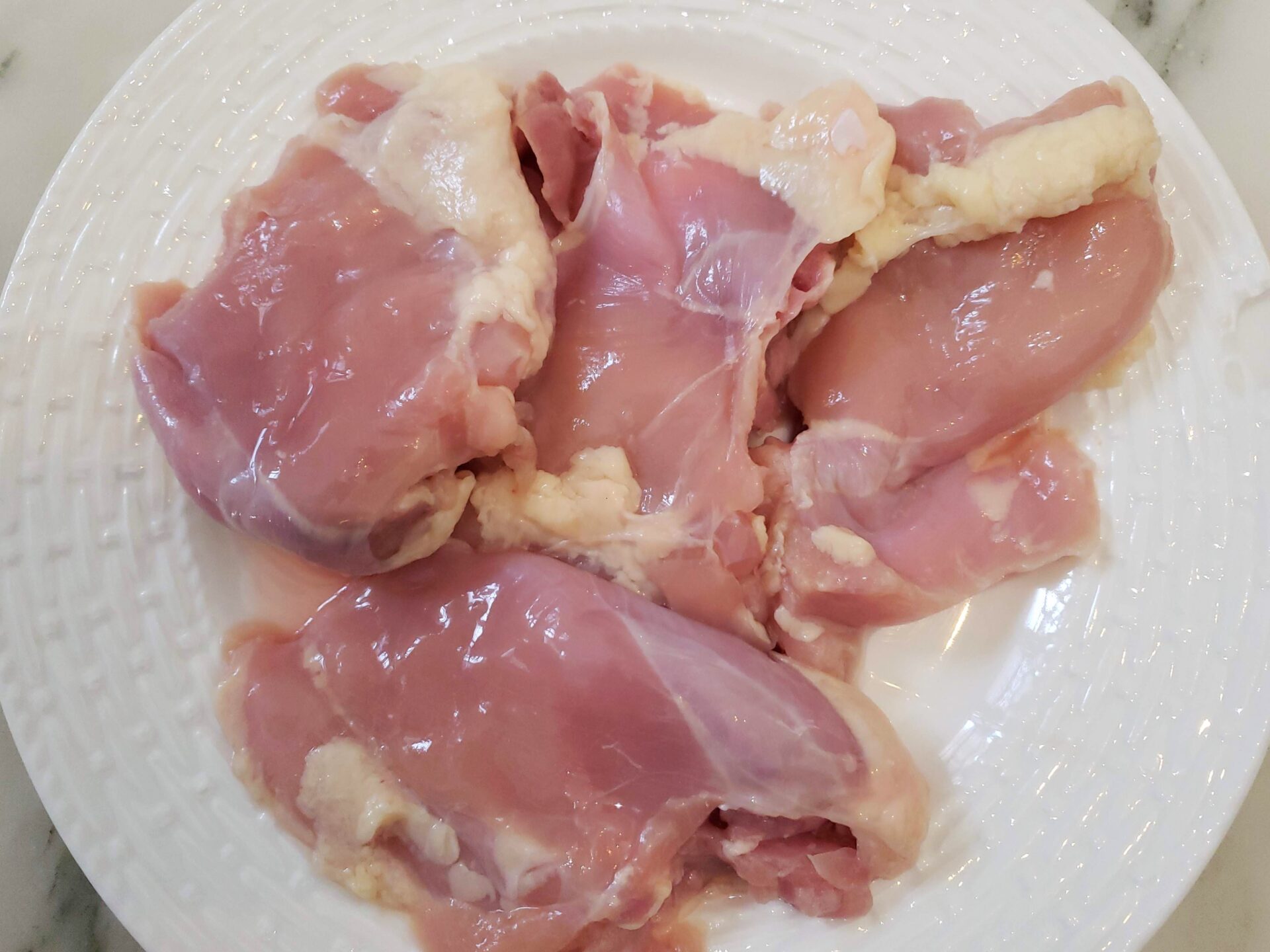 Target sells Tyson brand boneless skinless chicken thighs for $4.49/lb. 
This is considerably more expensive than Costco's price while also not being air chilled.
Costco Provides The Best Value
Costco comes out ahead in price against most other retailers, and always comes out ahead in value. It's hard to beat Costco chicken thighs.
Kirkland Signature Boneless Chicken Thigh Taste Test
No matter what way you cook chicken thighs, they are almost always going to be absolutely delicious. 

My preferred methods are on the grill, in the air fryer, or cooking them on a cast iron on the stove. All 3 of those options produce extremely tasty boneless chicken thighs.
More Tasty than White Meat
Chicken thighs contain a fair amount of fat that really enhances the flavor. Dark meat in general is juicier, more tender, and more flavorful than white meat. 
I like that the fat adds some nice flavor without making the chicken too oily or fatty. 
How to Cook Costco Boneless Chicken Thighs
Boneless chicken thighs are an extremely versatile protein that can be cooked using almost any method.
I like to cook the Kirkland Signature chicken thighs on high heat to really sear up the outsides and keep the juices locked in.
Boneless chicken thighs are also very forgiving to cook because of the large amount of fat that is contained within. It is hard to mess them up!
Preheat grill to 450°F 

Season Chicken Thigh to your taste

Lightly brush with cooking oil

Grill for 5 minutes and then flip

Remove chicken from grill when internal temperature hits 165°F
Preheat Oven to 400°F

Season for taste

Place Kirkland Signature chicken thighs on baking pan

Bake for 20 minutes or until internal temperature hits 165°F.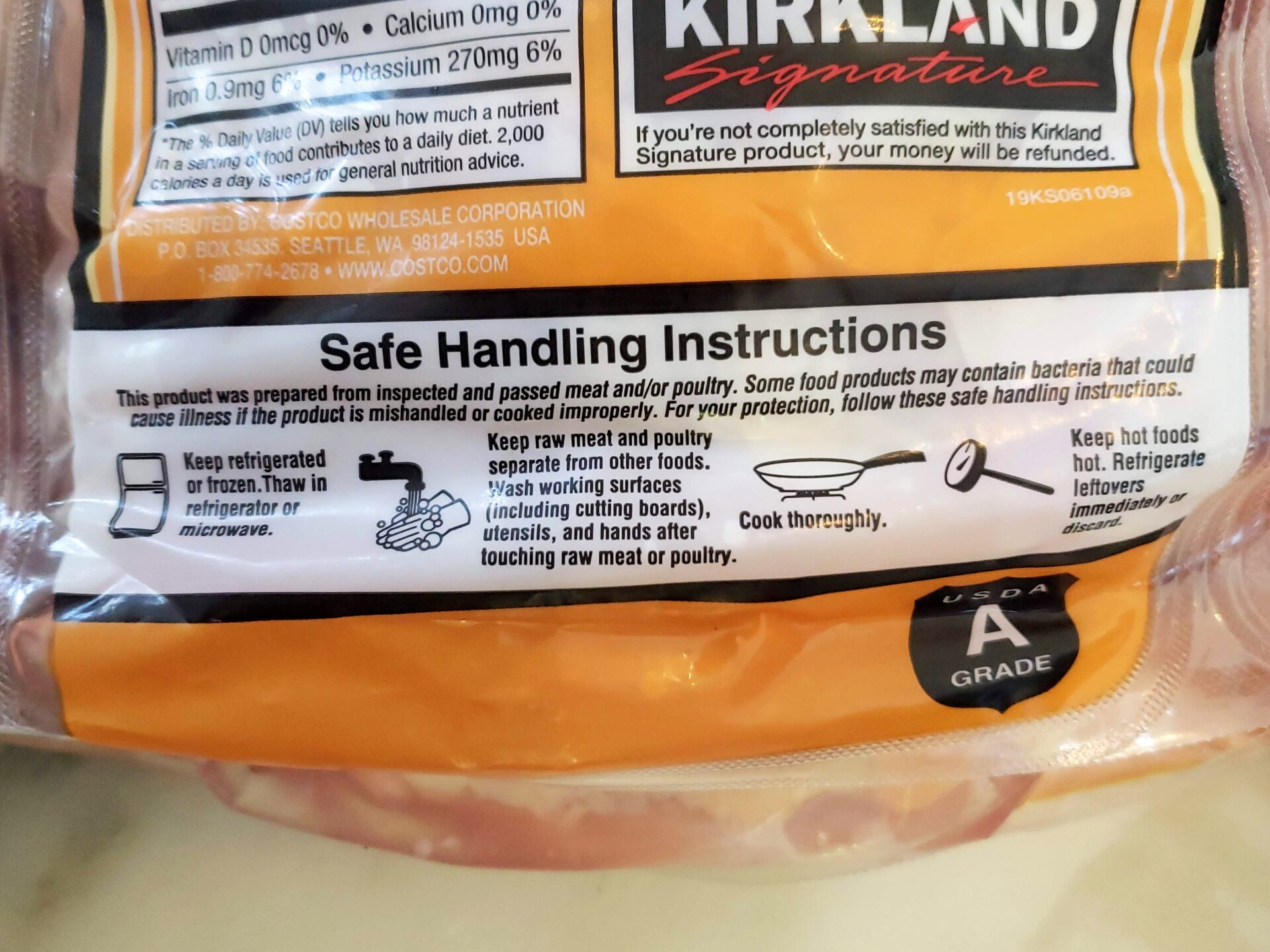 Heat pan over medium heat 

Add 1-2 tablespoons of olive oil

Place boneless skinless  chicken thighs on a hot pan, and cook for 5 minutes. 

Flip and cook for 5 additional minutes or until internal temperature hits 165°F.
Preheat Air Fryer to 400°F

Brush chicken thigh with olive oil

Season to taste

Place chicken thighs in the air fryer and cook for 12 minutes.

Flip chicken thigh and cook for an additional 5 minutes or until internal temperature hits 165°F.
Costco Chicken Thigh Recipes & Serving Suggestions
Chicken thighs can be used as a protein source in almost any meal and goes great with a wide variety of sauces, seasonings, and flavors.  
Here are some of my favorite uses of Costco's boneless chicken thighs.
This is one of my all time favorite dishes due to its simplicity as well as taste. Chicken thighs are great at taking on flavors, and rice is the perfect pair due to its ability to compliment the chicken.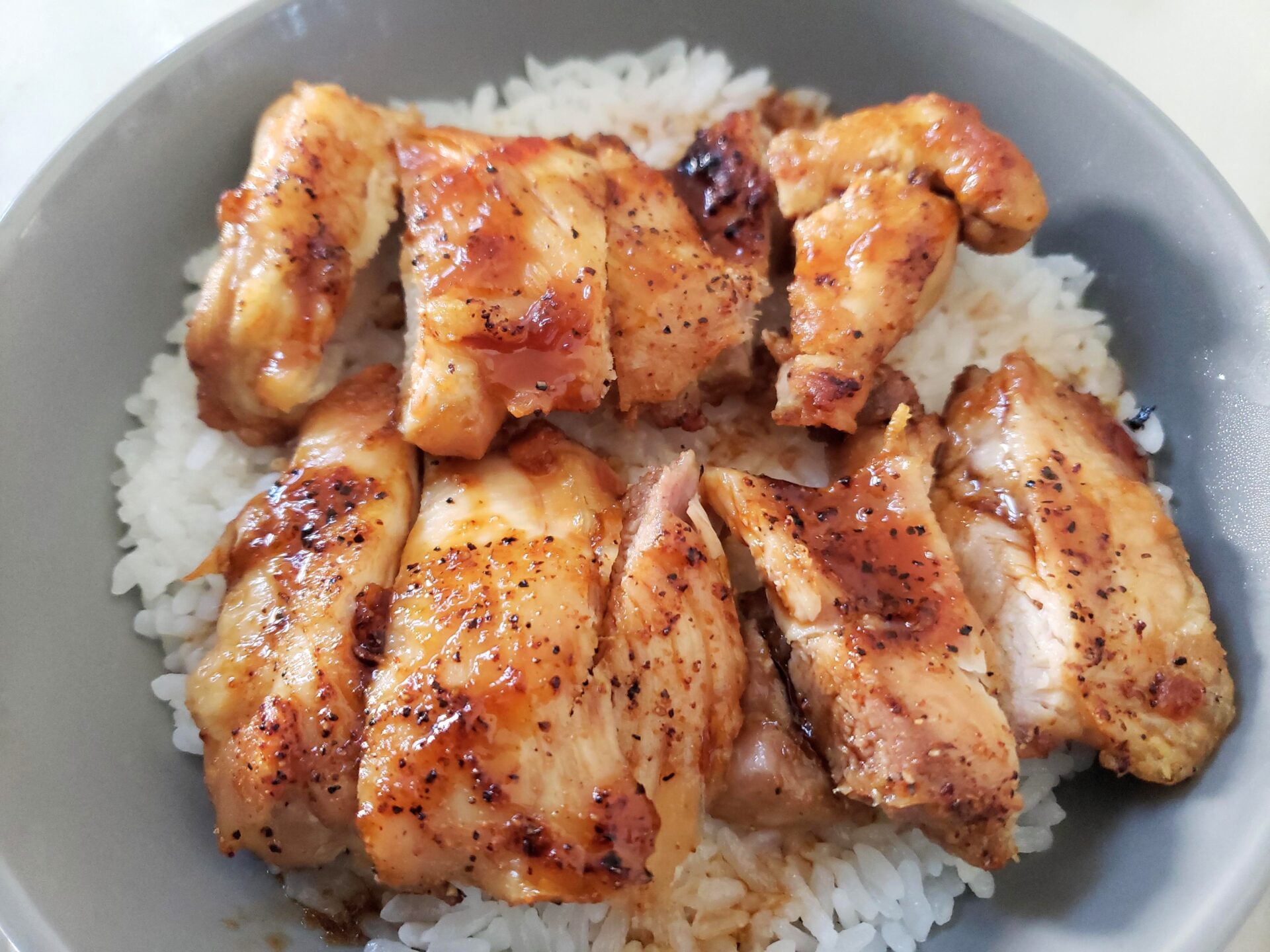 The image above is a chicken bowl rice plate with Bachan's Japanese BBQ Sauce, but you can add buffalo, Teriyaki, BBQ, or any other sauces or seasonings.
It's hard to go wrong with a simple but tasty chicken and rice dish.
Boneless Chicken thighs are amazing with pasta. Most people prefer to include chicken in non marinara sauce dishes. 
Chicken thighs are perfect with alfredo sauce or even mixed with just olive oil
My wife went with a cheesy lemon pasta with broccoli and chicken. Her dish was light, refreshing, and perfect for lunchtime.

Natasha's Kitchen also has a great Creamy Cajun Chicken recipe that is so delicious. She uses chicken breast, but you can easily substitute in chicken thighs.
Chicken Thigh Nutritional Information
How Many Calories in Costco Chicken Thighs?
One serving of chicken thighs is going to be 4 ounces and contain 130 calories. The 130 calories are going to be made up of 4.5 grams of fat, 0 grams of carbs, and 22 grams of protein.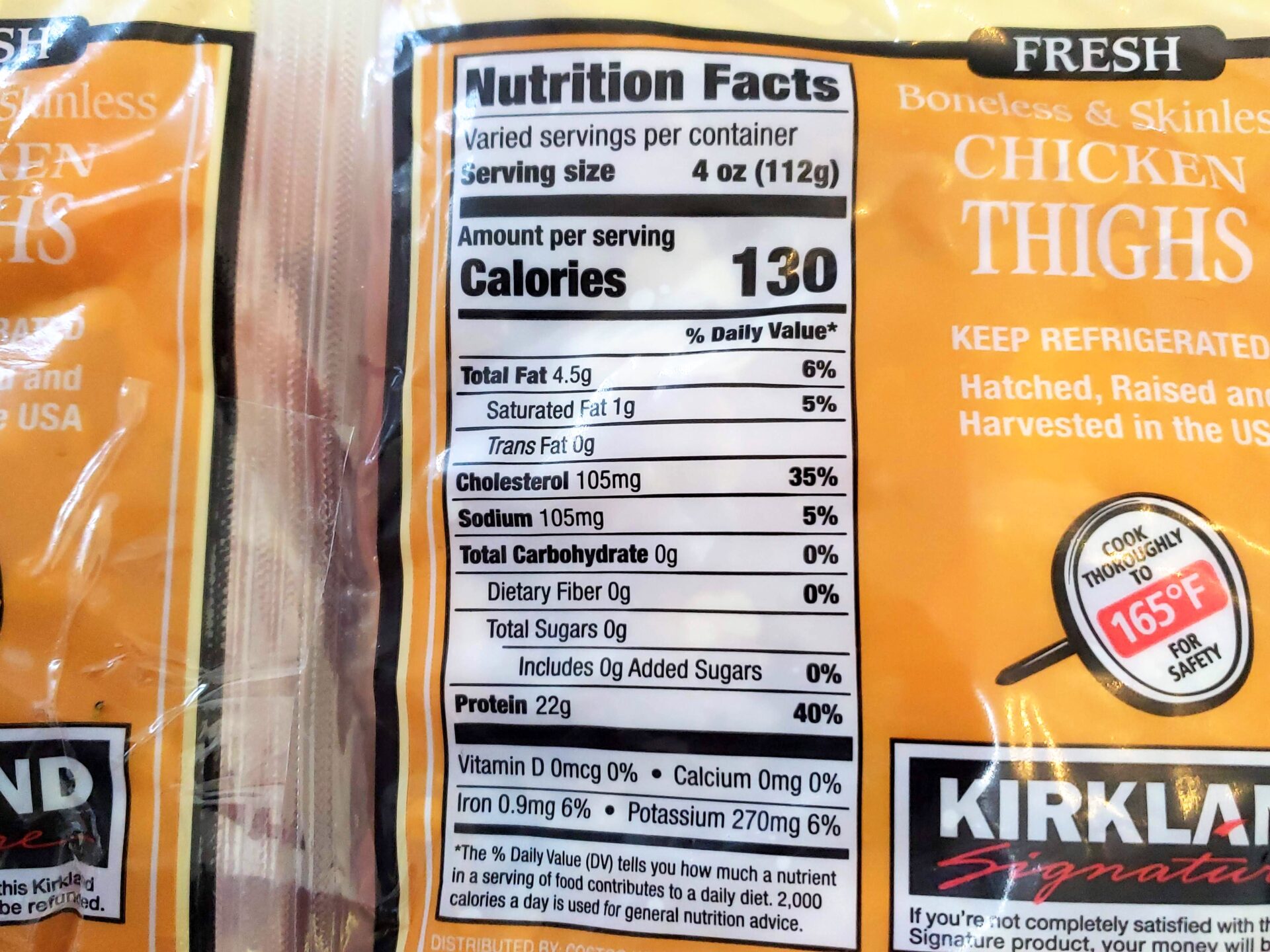 This is an excellent nutritional profile as the protein to fat and carb ratio is fantastic. This isn't the leanest chicken option available, as Costco's chicken breasts will provide less fat, but also less flavor. 
Chicken thighs are a great balance of flavor and nutrition.
Costco Chicken Thigh Review
Product Name: Kirkland Signature Boneless Skinless Chicken Thighs
Product Description:
Price: ~$30
Quantity: ~7-8 Pounds
Location Within Costco: Meat & Seafood Department
Price Per Pound: $3.49
Summary
Costco's chicken thighs are amazing. They are fairly priced, delicious, and easy to make. 
The chicken is air chilled and top notch. The portion sizes are great and the packaging is super convenient. 
I love Kirkland Signature boneless chicken thighs from Costco.
Value -

7/10

Convenience -

8/10

Taste -

8/10

Nutrition -

8/10

CFDB Score -

7/10
Pros
Easy To Cook

Flavorful

Air Chilled

Super versatile
Cons
Price Increase ($3.49/Pound)