Costco Chicken Tikka Masala - Review + Improvement Tips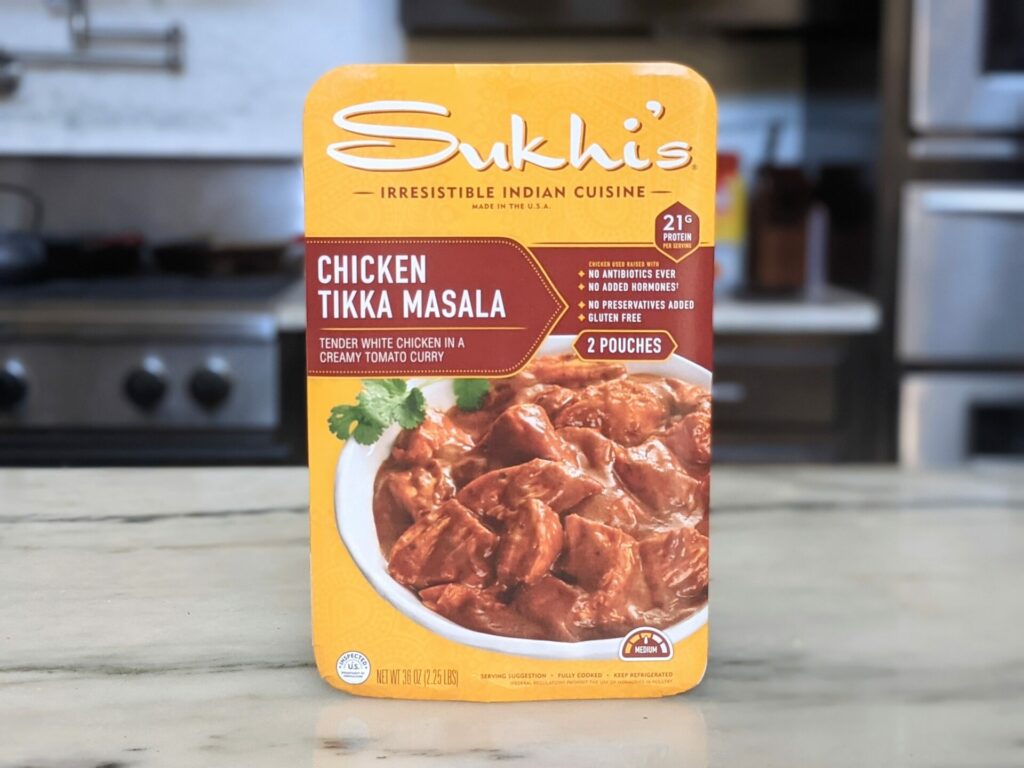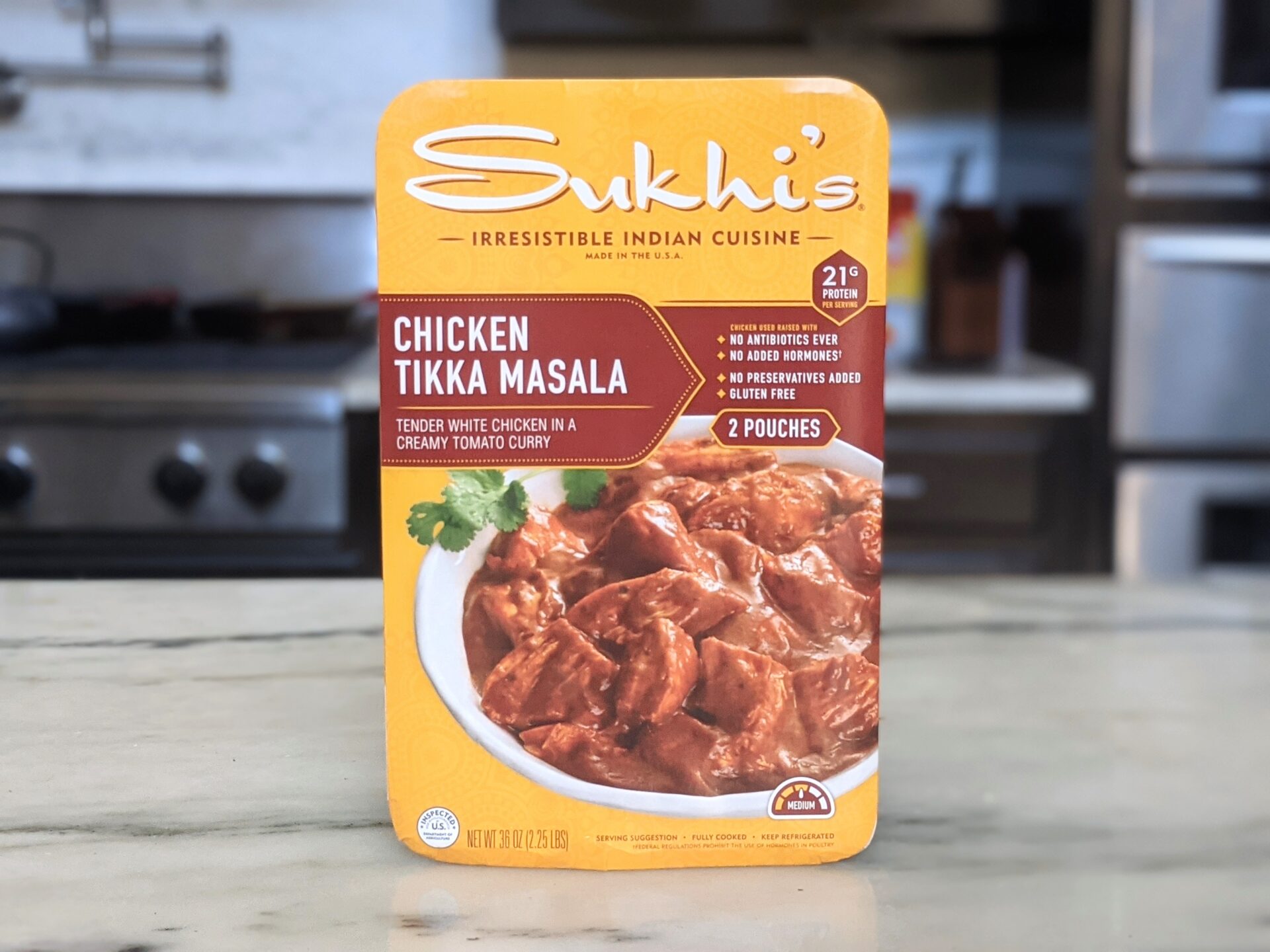 Sukhi's Chicken Tikka Masala at Costco
Costco sells the 36-ounce pack of Sukhi's Chicken Tikka Masala for $16.99. The Costco tikka masala can be found in the refrigerated deli area. 
Sukhi's Chicken Tikka Masala is sold in 2×18 ounce packages and is made with chicken that is raised with no antibiotics, no added hormones, and no added preservatives.

Sukhi's also sells an absolutely delicious frozen samosa.
Tikka Masala is a dish that consists of roasted chicken in a spiced sauce. There is no one authentic tikka masala, but most dishes will share characteristics of creaminess, an orange/reddish color, and will be heavily seasoned and flavored.
Sukhi's describes their Costco Tikka Masala dish as tender white chicken in a creamy tomato curry.
Interestingly enough, the origin of the dish is disputed. Many people believe tikka masala was actually invested in Great Britain or even in Scotland. 
So while many people here in the United States consider tikka masala to be an Indian dish, that may not actually be the case. Even when tikka masala is served in restaurants in India, it is most likely that those restaurants will be catering to tourists. 
How Much Does Costco's Tikka Masala Cost?
Costco sells Sukhi's Chicken Tikka Masala for $16.99. I was able to snag this package when it was on sale with a $5 discount bringing the price down to $11.99. 
I couldn't pass up this deal as it's a massive discount of 30%.
Since each package of Costco tikka masala does contain two individual packs, each one costs $8.50 at retail and $6 when on sale. I consider this to be quite expensive at retail but a little more reasonable when on sale. 

And just like most items over the past few years, Sukhi's chicken tikka masala isn't immune to price increases. A few months ago, the Costco tikka masala sold for $14.99.
Costco vs. The Competition
Costco isn't the only place that I've seen this Sukhi's tikka masala. My local grocery sells a smaller 15-ounce package for $11.99.
Sukhi's own website sells a 15-ounce package for a staggering $15. This is ridiculously priced, and looking at these prices, the best option will clearly be Costco's tikka masala. 
Chicken Tikka Masala - Taste Test
I went with the stovetop method for preparing the Costco tikka masala, which was as easy as could be. 
The total cook time was about 5 minutes, and the chicken and tikka masala sauce both came out perfectly heated.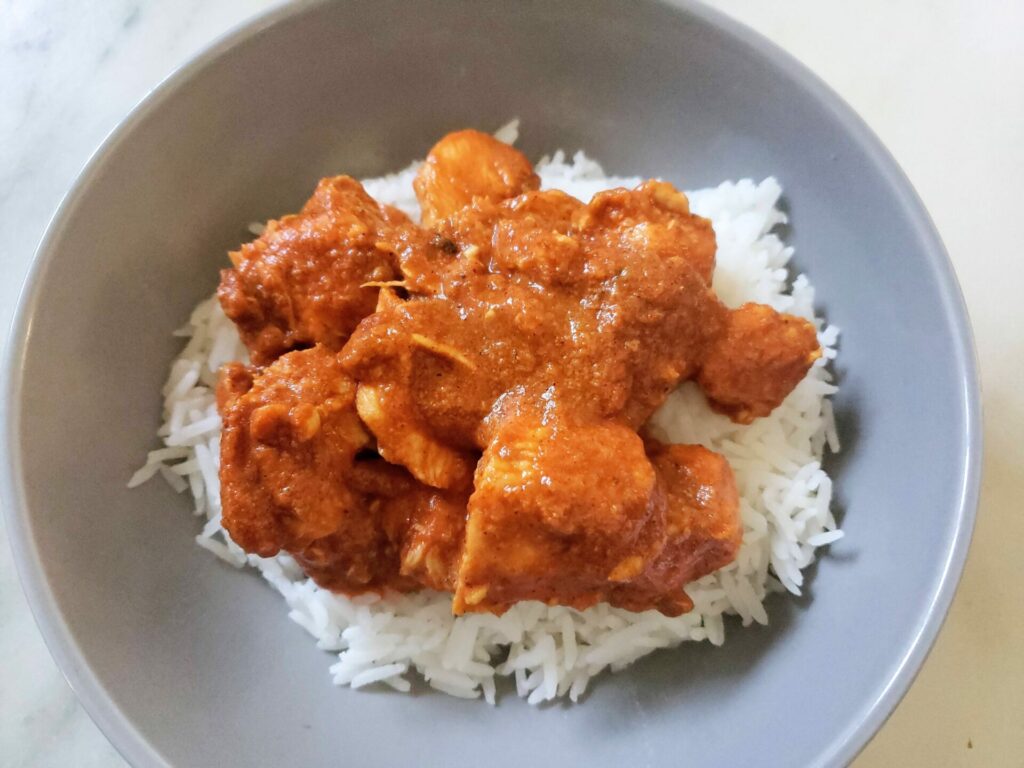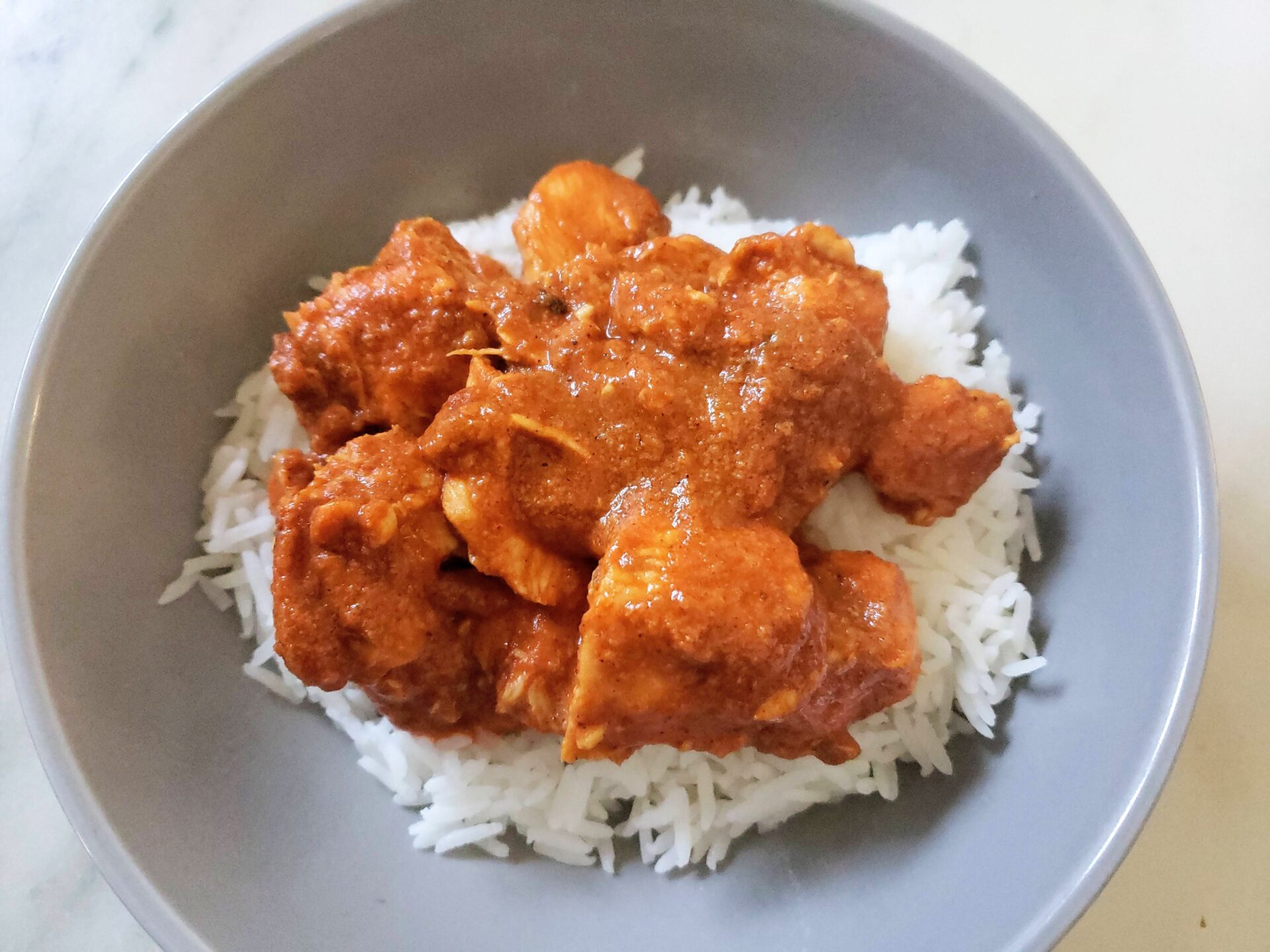 Tender White Meat Chicken
When I was eating the tikka masala, I couldn't help but notice how tender the chicken breast pieces were. The chicken was soft, easy to bite through, and did a great job of holding onto that sauce.
I can overcook chicken like nobody's business, so it's fairly easy to please me with some decently cooked chicken, but I actually thought Sukhi's chicken was fantastic. 
The pieces were extremely easy to eat and a great addition to the meal.
Great Sauce, But Not Spicy
I did really enjoy the sauce and Costco chicken tikka masala meal as a whole. I liked the sauce's creaminess, and the deep flavor that lingered after every bite. 
The sauce has a very deep and rich flavor that excites the taste buds, but it was also lacking in certain areas. 
On the label, Sukhi's rates their chicken tikka masala as a medium for spiciness, but I thought it was much closer to a mildly spicy sauce.
I didn't catch any significant spiciness, and only when I really tried to search for the spiciness was I able to find even a hint of spicy.
This one may be on me, but I was also expecting a blend of spices and intense flavors, but instead, I got a delicious but less flavorful sauce. 
The sauce was creamy, buttery, and had a nice blend of sweet and savory, but I was hoping to get more of a unique flavor.
The label says creamy tomato curry, which is a fair description of the sauce. In future cooks, I would add some of my own seasonings to enhance the dish.
Altogether, the Costco tikka masala meal was delicious, and the sauce was flavorful. There are improvements that could be made with some basic pantry seasonings (garlic powder, paprika, cumin), but it is a tasty and satisfying meal. 
Costco Chicken Tikka Masala Cooking Directions
Sukhi's recommends cooking the chicken tikka masala in the microwave or on the stovetop. I always like to avoid the microwave if possible, and I don't find the stovetop option to be much more inconvenient.
Remove the paper sleeve and empty the bag(s) in the tray.

Cover and heat on high; 2 minutes for one bag or 4 minutes for two bags. 

Stir, cover, and heat for another 1-2 minutes or until the entree is hot.

Stir again. Let stand for 1 minute. Serve with Sukhi's lemon rice.
Remove the paper sleeve and empty the bag in a medium-sized saucepan.

Cover and heat on medium heat for 5-7 minutes or until hot.

Empty contents into a serving tray. Serve with rice.
Can you freeze Sukhi's Chicken Tikka Masala?
Yes, you can freeze the Costco tikka masala for up to 3 months. Thaw in the refrigerator overnight before heating. Sukhi's doesn't recommend heating directly from frozen, and I would assume there will be some quality loss. 
The Costco tikka masala comes in pretty durable plastic bags and would have no problem holding up in the freezer.
Costco Tikka Masala Nutrition and Calories
One serving of Costco's chicken tikka masala will be 5 ounces and contains 180 calories. Those 180 calories will come from 8 grams of fat, 7 grams of carbs, and 21 grams of protein.
This is an excellent nutritional profile for an entree like this. I always like to see the protein outnumber the combined fat and carbs, which is exactly what this tikka masala does. This is a healthy dish that I would not mind eating at all. 
The Costco tikka masala can be part of a low-calorie dish when combined with white rice, madras lentils, or naan bread. I could easily create a 600-calorie meal that would be super filling and tasty.
Costco Tikka Masala Chicken Review
Product Name: Sukhi's Chicken Tikka Masala
Product Description:
Price: $16.99
Quantity: 36 Ounces
Location Within Costco:Refrigerated Deli Area
Price Per Pound: $7.55
Summary
I really liked Sukhi's Chicken Tikka Masala from Costco. The package is a little pricey, but the meal is delicious. 
The chicken is incredibly tender, and the sauce is flavorful. I thought the sauce lacked some more traditional Indian spices, but it was still loaded with flavor and can be enhanced with added seasonings. 
It's not an everyday buy at retail, but worth it when it's on sale.
Value -

7/10

Convenience -

8/10

Taste -

8/10

Nutrition -

9/10

CFDB Score -

8/10
Pros
Great tasting

Easy to cook