Costco Kimchi Fried Rice - How to Cook, Calories, and Value
On The Street Foods Kimchi Chicken Fried Rice at Costco
I noticed this Kimchi Fried Rice at Costco for the first time, and I just had to try it. I'm a big fan of Kimchi Fried Rice, but it's not something I get to eat too often, so I was super excited to try it. 
I found the Kimchi fried rice in Costco's refrigerated deli area near some of the other heat-and-eat meals, such as the teriyaki stir fry udon and the healthy noodles.
The kimchi fried rice contains two 16-ounce packs and is already fully cooked but will need to be refrigerated. The kimchi fried rice is rated at a medium spice level.
Have You Tried Costco Kimchi Fried Rice?
Let the rest of the Costco Food Database community know what you thought of this product. Results and reviews are at the bottom of this page.
Please allow 24 hours for review moderation and approval.
What's included in The Kimchi Fried Rice
There are many ways to make kimchi fried rice, and this one from Costco is made with kimchi, chicken, brown rice, pork, green onion, peas, and carrots. From my experience with kimchi fried rice and what I've seen online, this accurately represents the dish!
Costco sells the 32-ounce bag of Kimchi Fried Rice for $11.79. Each 16-ounce bag breaks down to a price of $5.90. This is a reasonable price for what should be about 4 meals of kimchi fried rice and chicken. 
Typically I would compare it to options from other retailers, but there doesn't appear to be many other kimchi fried rice options on the market.
Kimchi Fried Rice Taste Test
I cooked the kimchi fried rice for lunch, and I have to say it was actually quite tasty. When I opened the package, the rice smelled fantastic and looked great. 
It had a nice bright orange/red color and was full of chicken and other vegetables. 
The rice was as easy to heat up as advertised. It took just a few minutes in the wok at medium-high heat. I used a touch of oil because I wanted to give it a nice little char for some extra flavor.
For taste, I thought the kimchi was nice. The rice was very flavorful, and the cabbage had some texture to it, even though this was a prepackaged meal. 
I thought the spice level was accurate at medium. I generally find that foods are one level down from advertised when it comes to spice, but the kimchi fried rice was about a medium spice level for me. Great job on that.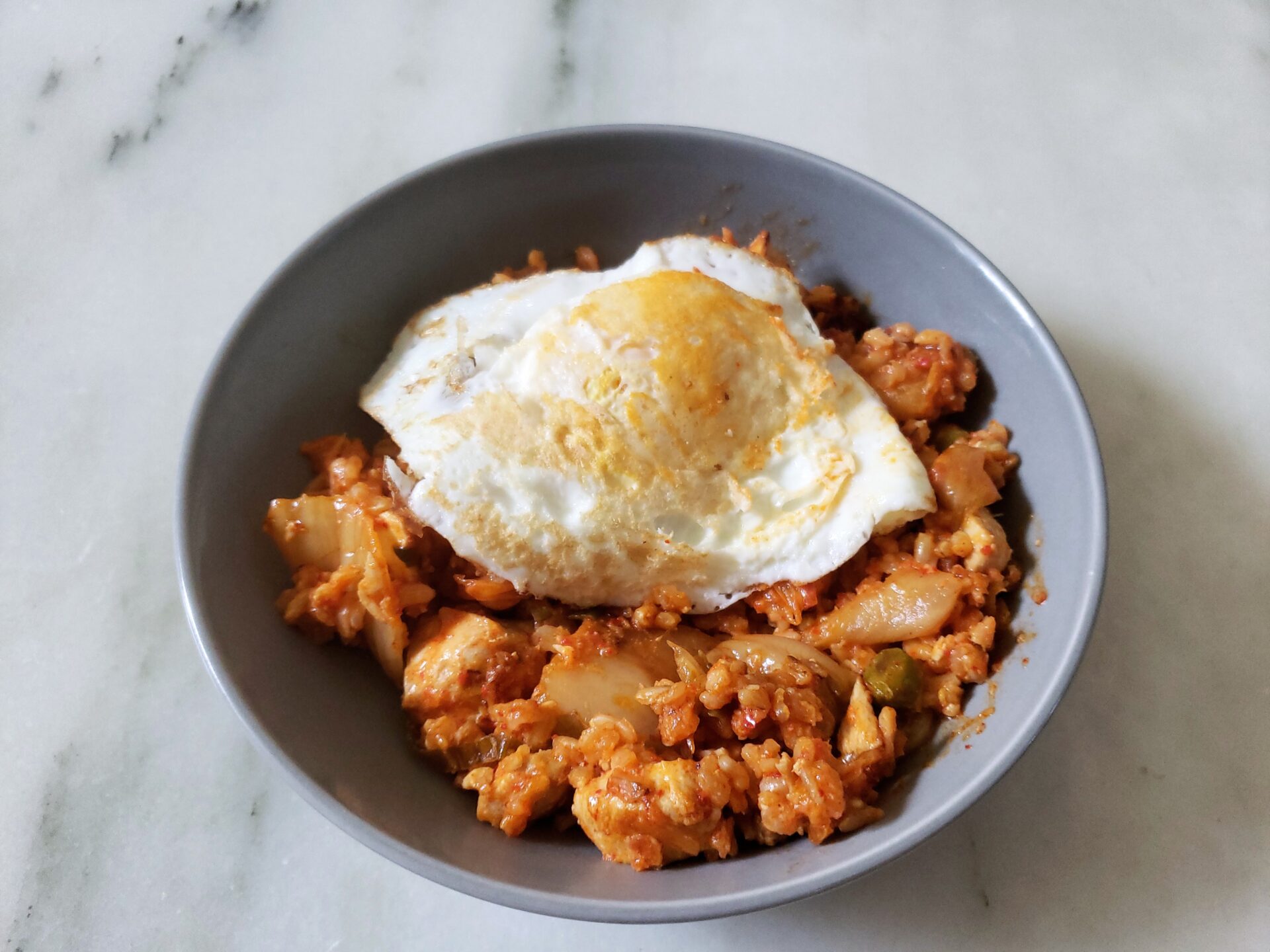 I also liked that there were plenty of vegetables and chicken pieces. I did think the chicken was on the dry side, but it was still edible. 
The entire dish was also quite salty, which I expected for a prepared meal like this. This isn't ideal, but it does allow you to add in some of your own rice to stretch the meal and cut through some of the saltiness.
How to Cook Costco's Kimchi Fried Rice
The kimchi fried rice is super easy to cook, and one of the big selling points is that the fried rice needs just 5 minutes to be fully heated. The kimchi fried rice is already cooked and just needs to be reheated. 
Preheat a non-stick pan on high.

Open the kimchi fried rice pouch and empty the contents into the pan. 

Stir fry for 3-5 minutes or until hot, and enjoy.
Recommended Serving Suggestions
On the Street Foods recommends a couple of additions to improve and elevate the fried rice. First, they recommend adding some scrambled eggs or throwing a fried egg on top of the kimchi bowl.
Additionally, they also suggest adding in other vegetables. This will make the meal more filling and provide some additional textures and flavor. You can also garnish the kimchi fried rice bowl with sliced scallions. 
I see the bowl as a starter kimchi fried rice meant to be used as a base, so both of the recommended suggestions are excellent. They will greatly improve the overall flavor and presentation.
Kimchi Fried Rice Calories and Nutrition
One serving of the Kimchi Fried Rice from Costco will be only 4 ounces and contain 180 calories. The 180 calories come from 9 grams of fat, 17 grams of carbohydrates, and 8 grams of protein. The entire nutritional label is as follows:
Nutrition Facts
Costco Kimchi Fried Rice With Egg
Amount per Serving
% Daily Value*
* Percent Daily Values are based on a 2000 calorie diet.
This is a relatively standard nutritional label, and I'm pleasantly surprised by the amount of protein. 8 grams isn't the most, but it's respectable for a dish like this. 
One thing to remember is that one serving is only ¼ of an individual bag, and there are 8 servings in each 32-ounce pack of On the Street Foods Kimchi Fried Rice.
Costco's kimchi fried rice is a solid base for a meal. The meal can be customized with more vegetables and some protein and added to some plain white rice to stretch the meal and cut some of the saltiness.

Reasonably priced and makes for a great easy weekday lunch.
Costco Kimchi Fried Rice With Egg
Costco's kimchi fried rice is great but can easily be improved with a fried egg
Ingredients
1

Pack

Kimchi Fried Rice

2

Eggs
Instructions
Preheat a non-stick pan on high.

Open the kimchi fried rice pouch and empty the contents into the pan.

Stir fry for 3-5 minutes or until hot.

Fry Egg to desired doneness.

Add fried egg to kimchi fried rice.
Nutrition
Serving:
4
oz
Calories:
180
kcal
Carbohydrates:
17
g
Protein:
8
g
Fat:
9
g
Saturated Fat:
1.5
g
Polyunsaturated Fat:
0
g
Monounsaturated Fat:
0
g
Trans Fat:
0
g
Cholesterol:
20
mg
Sodium:
460
mg
Fiber:
1
g
Sugar:
1
g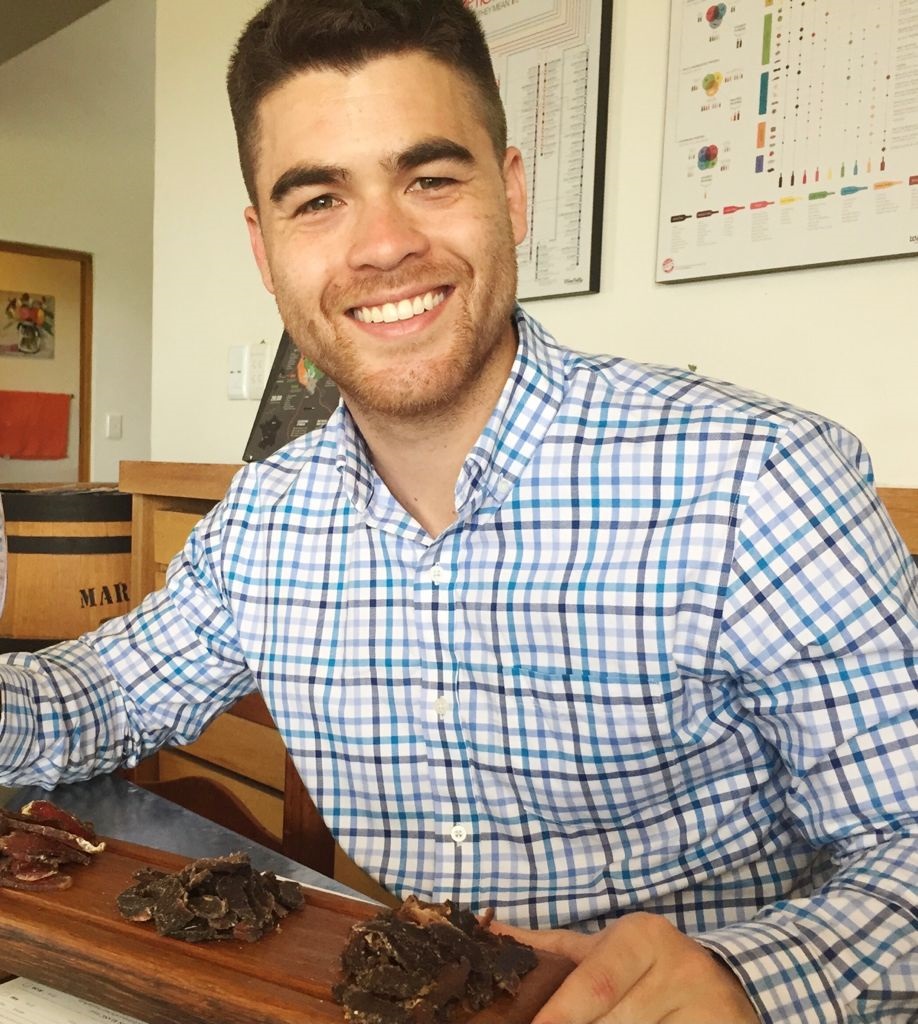 Greg Larkin is the founder and managing editor of Costco Food Database, the premiere site for honest takes on all things Costco food. A self-proclaimed Costco super-fan since childhood, Greg turned his obsession in a mission to properly rate and review all of Costco's delicious buys. When he's not busy navigating Costco aisles, you can find Greg smoking Kirkland Signature meats, meal prepping, or perfecting his homemade jerky recipes.