Costco Samosas - Crispy & Delicious Indian Appetizer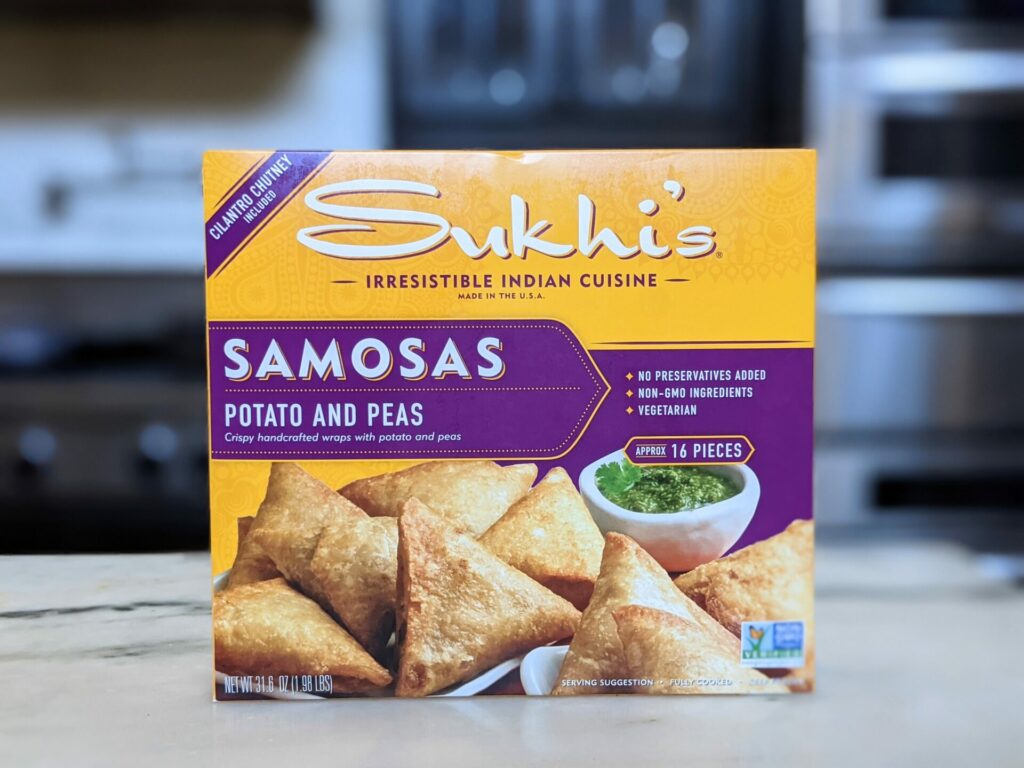 Sukhi's Samosas (Potatoes and Peas) at Costco
Costco sells an almost 2-pound package of Sukhi's Samosas made with potatoes and peas for $14.99. I found the samosas in Costco's frozen food aisles near other appetizers such as the Mozzarella sticks, crab cakes, and spanakopitas.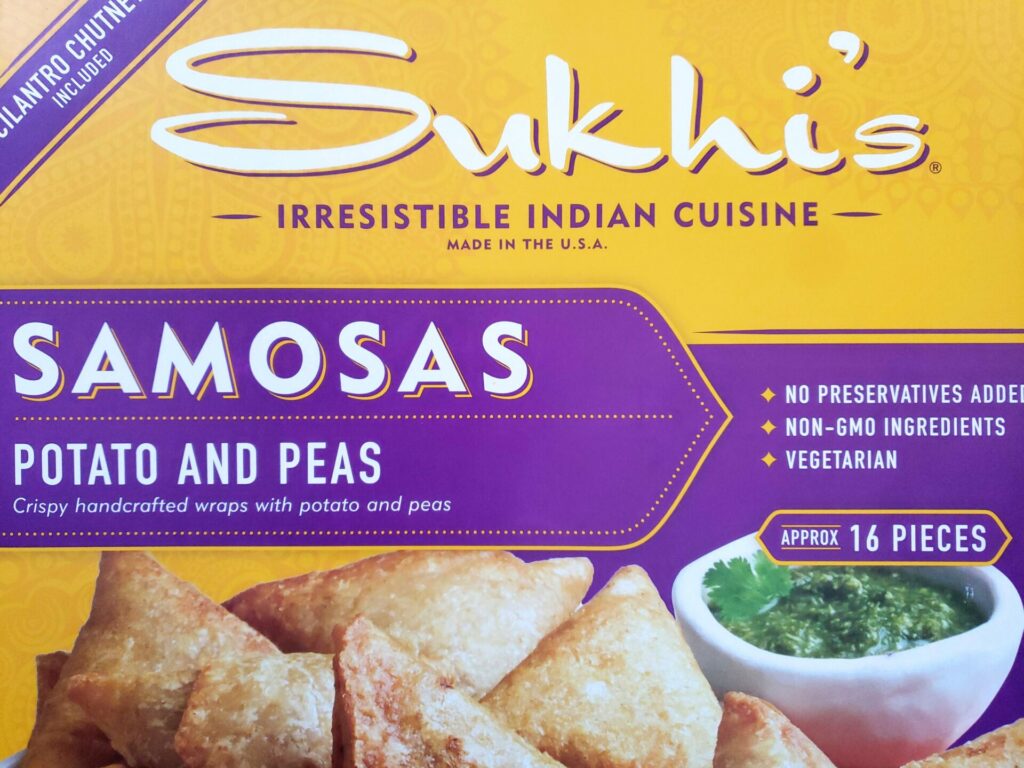 Each box of Sukhi's Samosas weighs 1.98 pounds and contains approximately 16 crispy handcrafted potato and pea samosas. The samosas also come with a cilantro chutney dip.
The samosas have no preservatives added, non-GMO ingredients, and are vegetarian
Samosas, also known as singaras, are fried pastries with a savory filling. Usually, the filling includes potatoes, onions, and peas and is paired with a chutney. (Sukhi's appears to use a traditional and authentic samosa recipe).
Samosas are popular primarily in India, Bangladesh, Nepal, and Pakistan, but similar savory handheld pastries are eaten worldwide.
Sukhi's does not only sell samosas at Costco, but they also have a few other Indian food products as well. Their even more popular items are their prepared entrees.
Just at my local Costco, I've seen Sukhi's Tikka Masala, Chicken Coconut Curry with Mango, Roasted Tomato Chickpeas, Chicken Biryani, and their famous lemon rice. 
As an avid Costco shopper, there are a few things that I look for in almost every single item, and that is going to be how convenient the item is to store and keep. Unfortunately, the 16-count samosas are packaged in a lightbox and covered with plastic wrap.

Sukhi's didn't provide any way to reseal or store the samosas once the package had been opened. I wasn't planning to eat all of them at once or serve them at a party, and the packaging makes it tough to pick one or two out at a time
The second issue I have with this is that Sukhi's only provides 2 cilantro chutney packets. 
Maybe these are intended to be served to guests or at family occasions, but again with only 2 packets of the chutney, I can't really pull one or two out at a time for a light snack. 
How Much Do Sukhi's Samosas Cost at Costco?
At Costco, Sukhi's Samosas retail for $14.99 but are occasionally discounted to $11.49. This is a discount of $3.50 or 23%. The price of each individual samosa breaks down to $0.93 at retail and $0.71 when the item is on sale.
I bought this 16-pack of Samosas on sale, and I feel I got some pretty good value out of it. Keep in mind, these have gone up in price lately due to inflation, just like all other food items. 
Years ago, they sold for $8.99 and slowly worked their way up in price until making a considerable jump this past year.
The only other place near me that sells Sukhi's Samosas will be my local grocery store Tom Thumb/Safeway. They sell a 10-count pack of Samosas for $8.99 or $0.90 apiece.
This is right at Costco's price for Sukhi's Samosas, but the big difference here will be the size. Costco's samosas weigh about 1.6 ounces, while the grocery store version samosas weigh only 1-ounce each.
So the price per samosa is the same, but the Costco samosas are 60% larger.
Costco Samosas - Taste Test
I popped these samosas in the air fryer for the recommended 7 minutes, and they came out golden brown and piping hot.
The samosa wrapper looked terrific and was super crispy. The wrap was strong yet delicate, and I had no problem biting through the handcrafted crust. I have no complaints about the crust.
I didn't know what to expect with the inner filling of potatoes and peas, but I was pleasantly surprised with the taste. Sukhi's doesn't skimp on the filling, and the samosa is sufficiently packed.
There is quite a bit of potato, which does dry the samosa out a little bit, but it isn't the worst thing in the world. I'm not a fan of peas and will usually go way out of my way to pick them out of my food, but they were tolerable here.

If you can use spices to make peas and potatoes taste this good, then you know you did something right. The Indian spices here were fantastic and really added in some great flavors. 
Still, I wasn't too fond of the texture of the peas, but the seasoning made it easy to take down multiple samosas. 
The star of the show is going to be the cilantro chutney. The chutney was sweet, savory, and full of garlic. The vibrant green sauce was absolutely packed with flavor and was so delicious. The samosas are fine on their own, but they are darn good with that chutney.
It's a must-add to every bite, and I honestly got to a point where I almost decided to just eat a spoonful of the sauce. It was that good!
How to Cook Costco's Samosas
Sukhi's makes it super easy to heat their samosas and offers two methods – Convention or Toaster Oven and the Air fryer.
I went for the air fryer cooking method because the cooking time was 70% shorter than the oven bake cook time (Not even including preheating).
Conventional or Toaster Oven
Preheat the oven to 375°F (190°C).
Do Not Thaw. Remove samosas from the tray.
Place on a baking sheet and bake for 25 minutes or until golden brown.
Airfryer (CFDB Recommended)
Heat air fryer to 350°F.
Do Not Thaw Samosas. Remove from the tray.
Place samosas in an air fryer and heat for 7 minutes or until golden brown. 
Sukhi's Samosas Nutrition and Calories
How Many Calories in Sukhi's Samosas frrom Costco?
One serving of Sukhi's Costco sized samosas is going to be 2 samosas. Each serving contains 260 calories from 13 grams of fat, 31 grams of carbs, and 6 grams of protein.
The cilantro chutney sauce will contain 20 calories per each 1.5 Tbsp serving.
Considering how big and filling these samosas are, I don't think this nutritional label is too bad. 
The 31 grams of carbs is a bit high but understandable because of the samosa crust and the potato filling. The 6 grams of protein is suitable for vegetarian food but a little lower than what I like to see.
Costco Samosas Review
Product Name: Sukhi's Samosas - Potato and Peas
Product Description:
Price: $14.99 Retail / $11.49 Sale
Quantity: 16 Samosas
Location Within Costco: Frozen Food Aisles
Price Per Samosa: $0.93 / $0.71
Summary
Costco's Samosas are awesome. The samosa wrapper is super crispy, and the filling is solid. I absolutely love the cilantro chutney, which elevates the samosa to the next level. 
The price is fair, and the amount of calories per serving is reasonable.
Value -

8/10

Convenience -

8/10

Taste -

8/10

Nutrition -

8/10

CFDB Score -

8/10
Pros
Amazing chutney

Crispy Samosas