How To Order Costco Cakes + Prices, All Designs, Sizes (Sheet Cakes)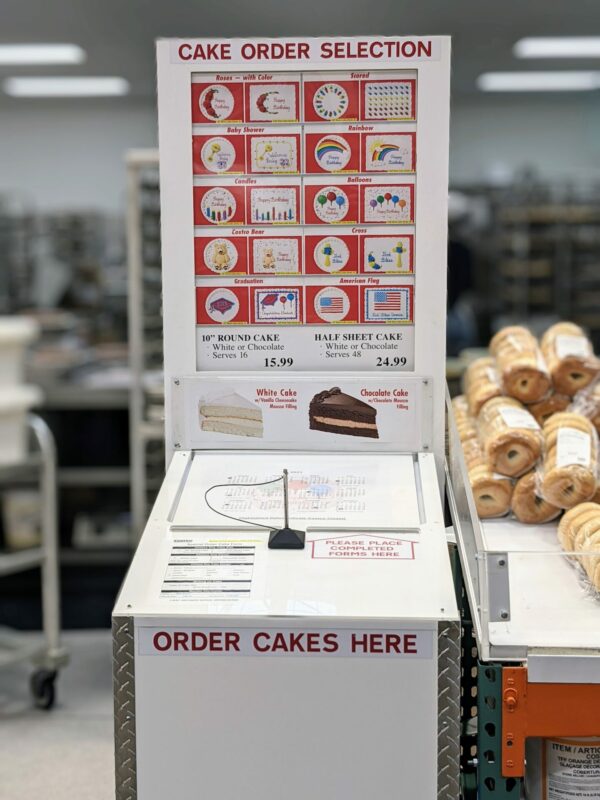 The Ultimate Costco Cake Ordering Guide - Round Cakes and Sheet Cakes
Do you need a cake for a birthday party or large gathering? Costco sells a wide variety of custom cakes and even premade cakes! The Costco bakery offers a few different cake options, including round cakes and sheet cakes, of course, at an amazing Costco price. 
If you need a high quality and tasty cake for your next party or event, don't overlook the cakes from Costco's bakery. They are easy to order, delicious, and will save you money.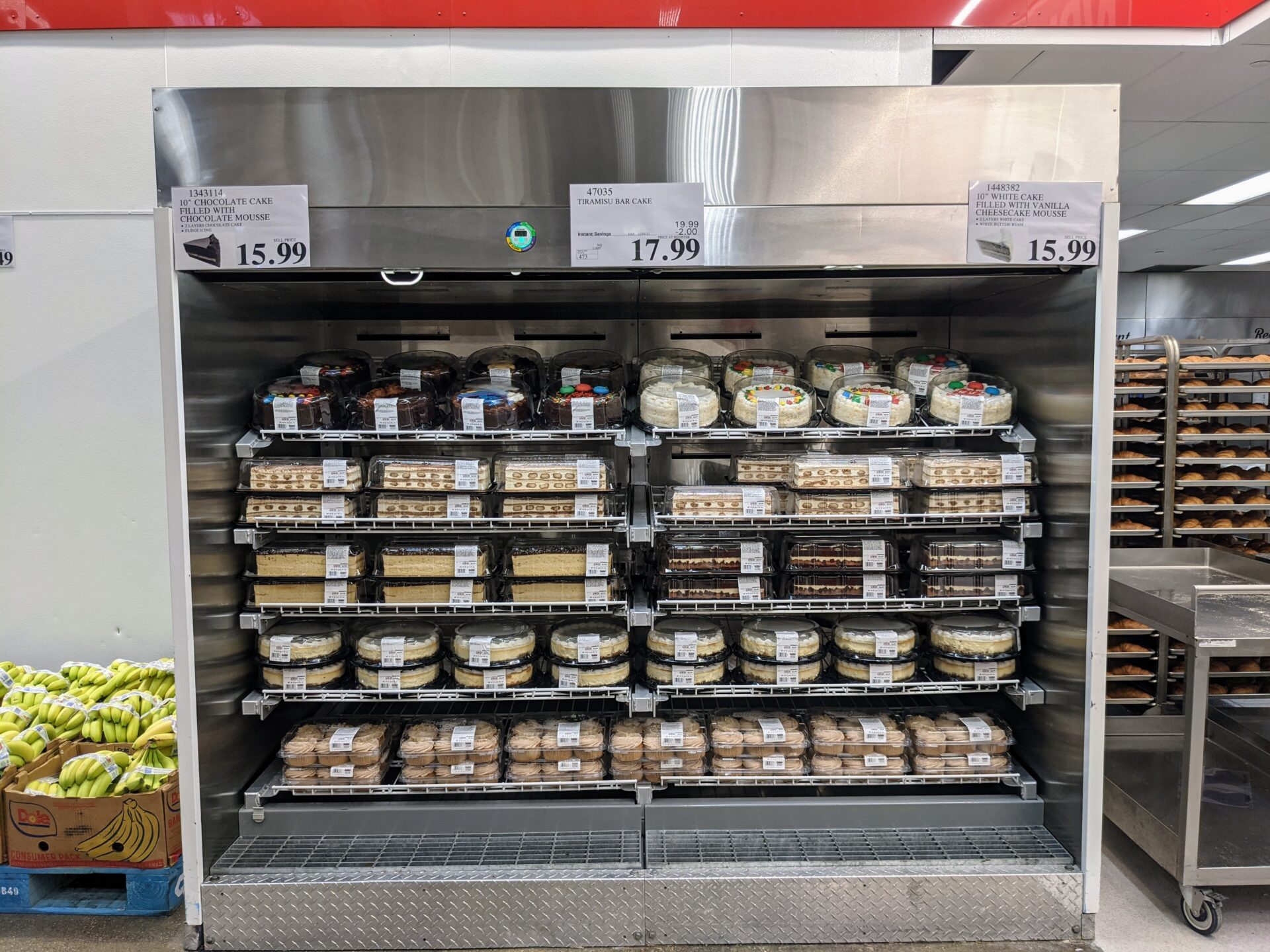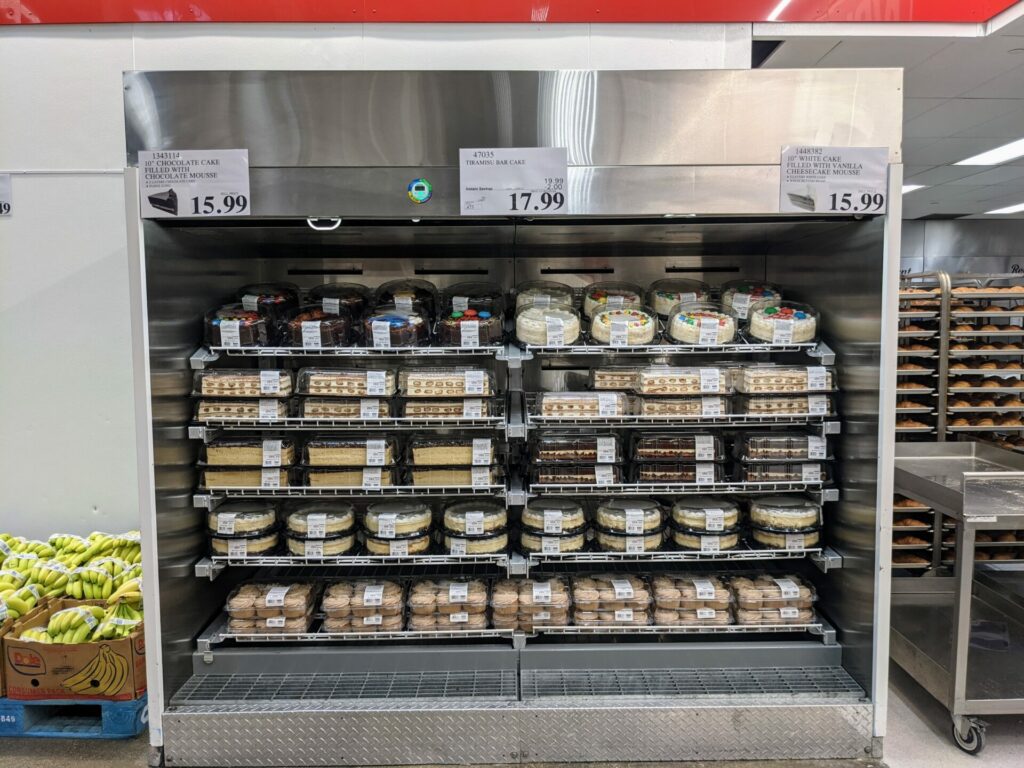 In this guide, I cover all the Costco cake options, including the custom cakes and some of their decorated premade cakes. I provide the pricing for all of the cakes that Costco sells, including the round cakes and the sheet cakes. 
I also walk you through the entire Costco custom cake ordering process and provide all pertinent information along with pro tips for designing your perfect cake. You'll learn everything there is to know about ordering, customizing, and enjoying special occasion cakes from the Costco bakery. 
What Types of Cake Does Costco Sell?
Costco's Bakery Sells Round Cakes And Sheet Cakes
Costco sells a variety of different cakes, but we'll start with the two custom cake options: the round cake and sheet cake. 
You can order both cakes from the "Mystery Cake Box" (we'll talk more about this later) and you can customize the cakes with simple text or images.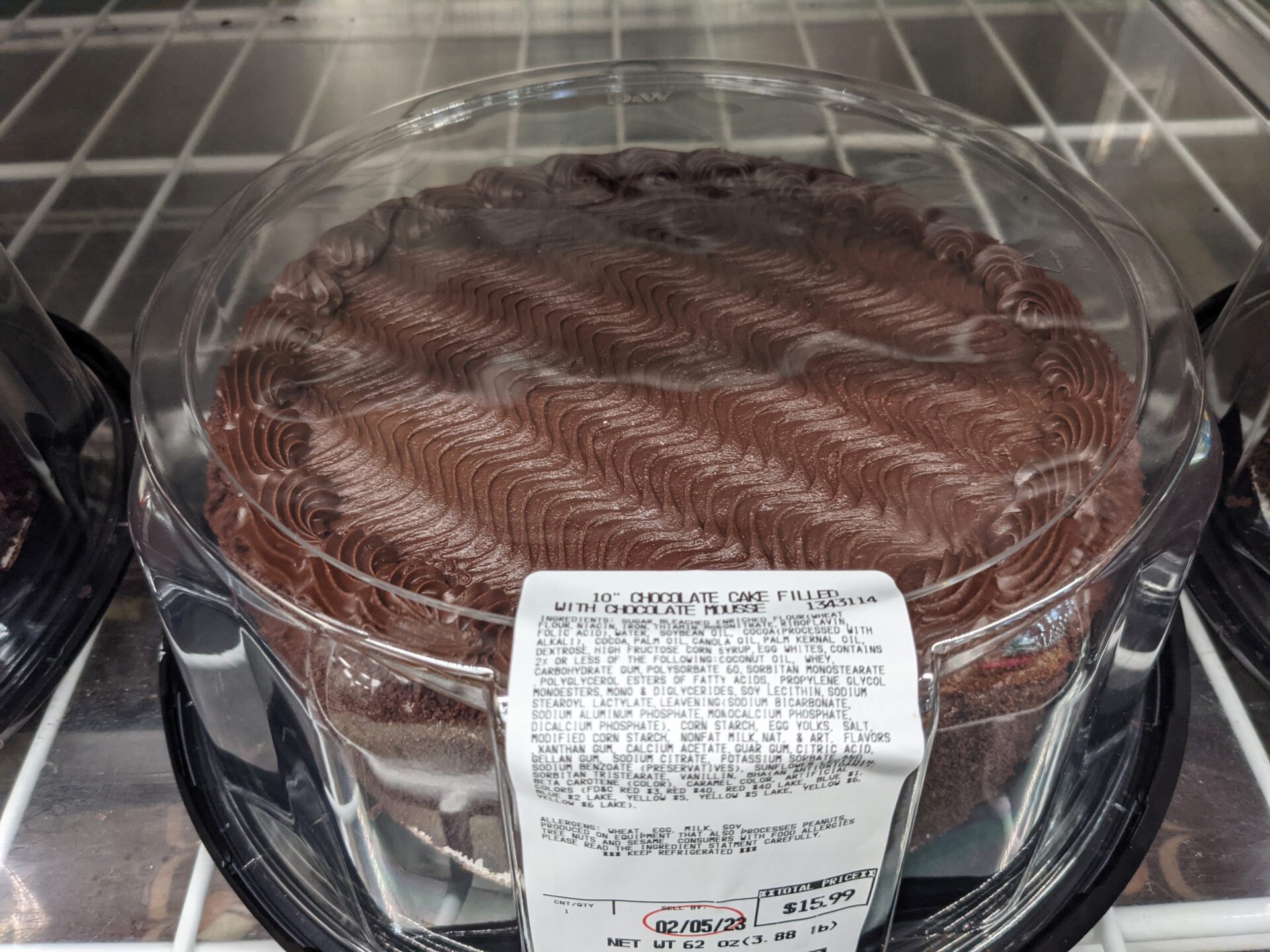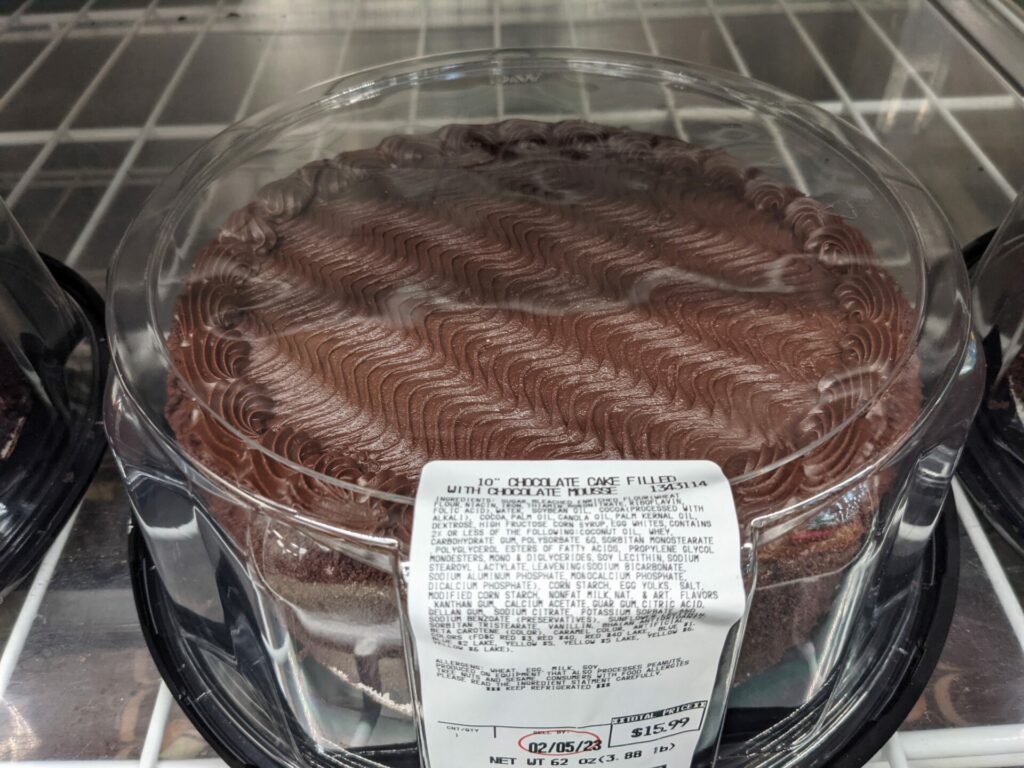 The Costco round cake is 10" in diameter, serves 16 people and comes in either chocolate or vanilla flavor. The round cake is perfect for smaller gatherings such as intimate parties or festivities.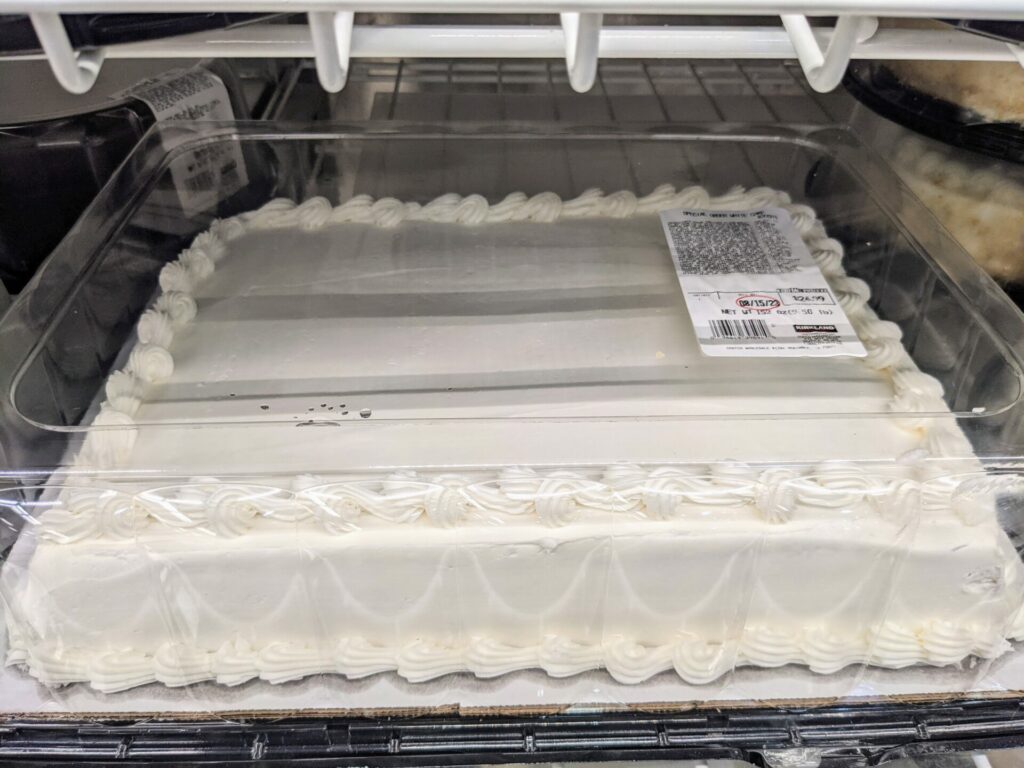 Costco's sheet cake is the larger of two Costco cakes and also only comes in vanilla flavor or chocolate flavor. The giant Costco sheet cake serves 48 people and is the better pick for larger parties or gatherings.
How Many People Does a Costco Round Cake Serve?
The Costco Round Cake Serves 16 People
Each 10" Costco round cake will serve about 16 people. For reference and to give everyone a much clearer idea of what these slice sizes look like, I've included a helpful graphic from The Cake Flake.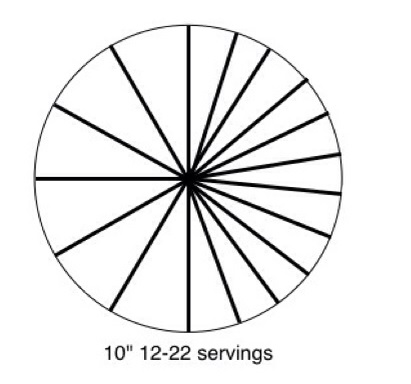 Although the graphic doesn't actually show a 16-serving slice to compare, it does show a 12-serving slice as well as a 22-serving slice. A 16-serving size slice falls between these two slices with each slice weighing about 4 ounces. To me, this seems to be a reasonably sized cut that will stretch the cake to feed 16 people.
How Many People Does a Costco Sheet Cake Serve?
Costco's Sheet Cake Serves 48
Costco's bakes the sheet cakes to serve approximately 48 people. For the sheet cake, the assumed serving size is a 2" by 2" squares, weighing approximately 90 grams or 3.17 ounces. This is roughly 20% smaller than the 4-ounce slices of Costco's round cakes.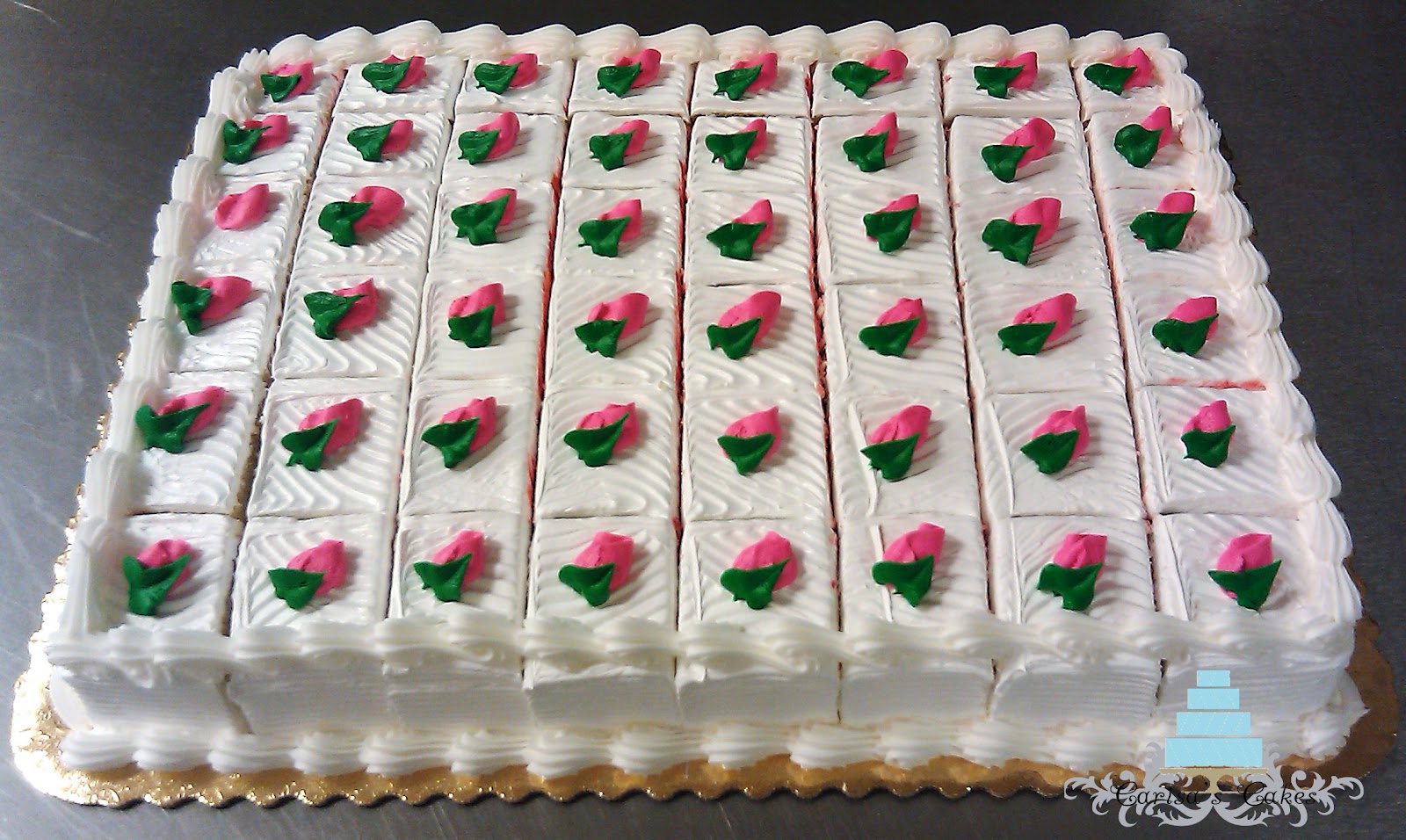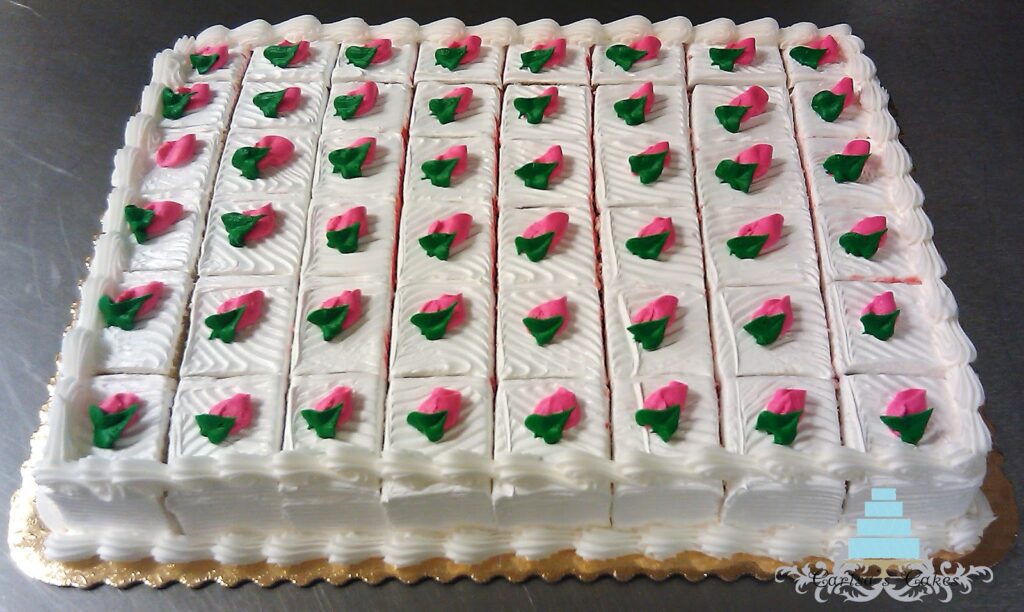 A single serving of Costco's sheet cake is on the smaller side for most people. Your guests may want more than one piece at your party.
With that in mind, it's smart to buy servings for more than just the number of attendees. Stock up so there are seconds to go around.
How Big Is The Costco Sheet Cake?
The Sheet Cake Has Dimensions Of 12"x16"
Costco's sheet cakes measure in at 12″ x 16″ (192 square inches) and feed about 48 guests. It's worth noting this is technically a half-sheet cake as full-sheet cakes are typically 18″ x 26″ (468 square inches).
At 192 total square inches and 48 servings, each slice of Costco sheet cake works out to around 4 square inches, or a 2″ x 2″ piece.
Chocolate and White (Vanilla) Flavors
There are a lot of great things about Costco and their bakery, but there are some shortcomings when it comes to their cake offerings. One of them is that the customized Costco cakes are limited to just two flavors – white or chocolate.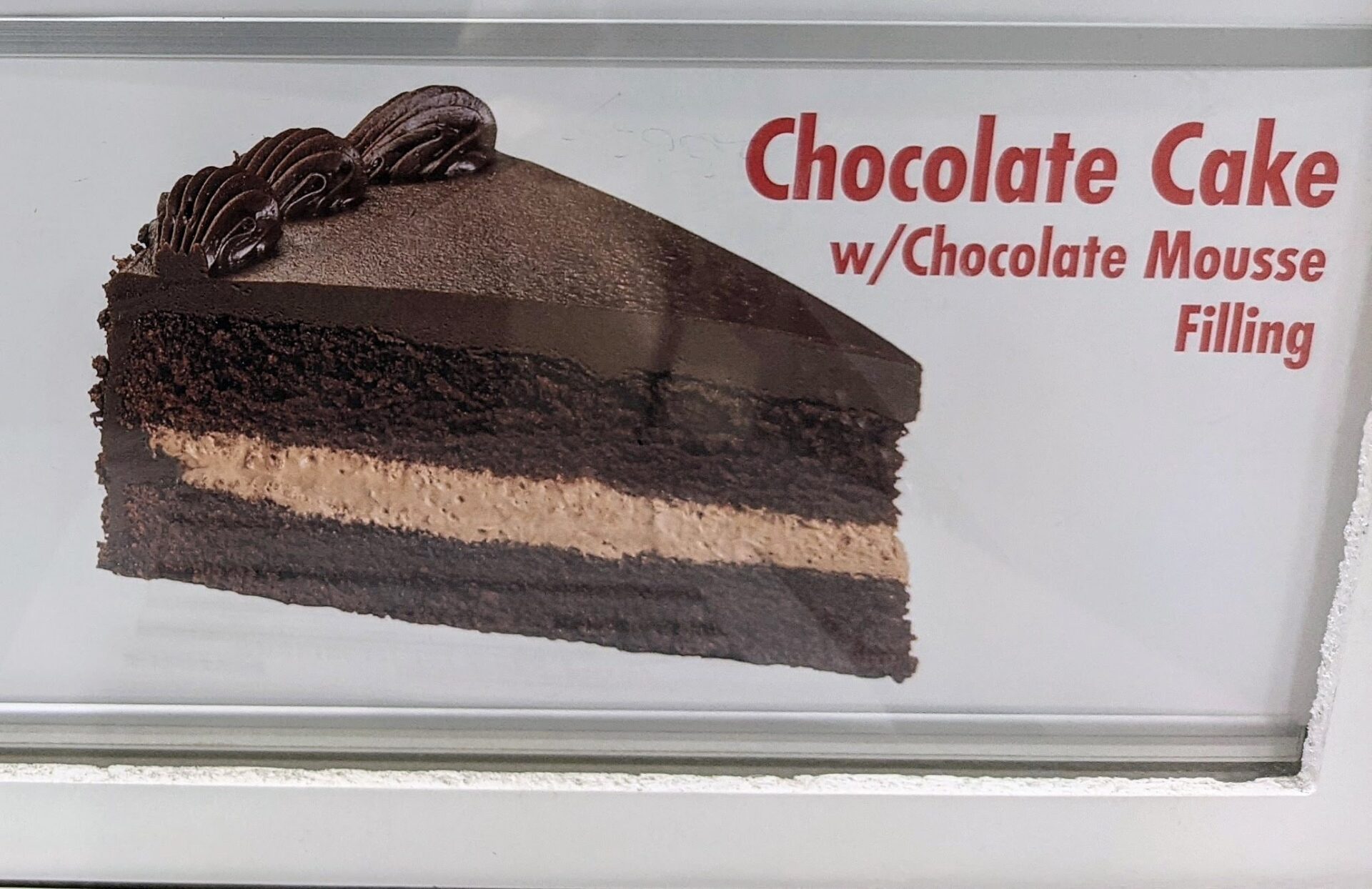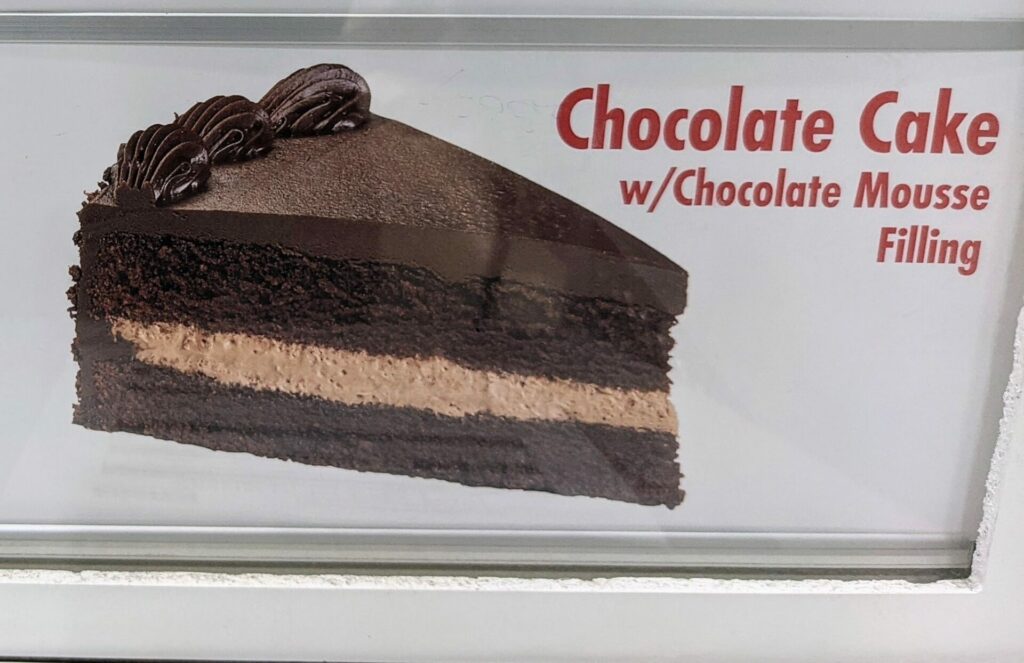 The chocolate Costco cake is filled with chocolate mousse filling and covered in a chocolate frosting.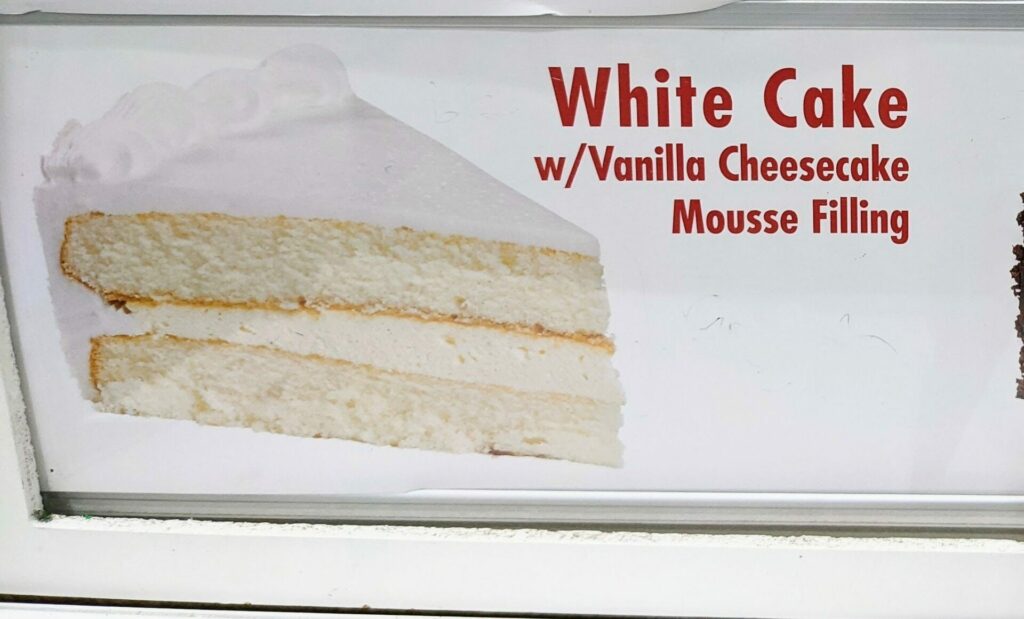 The white flavor cake (vanilla) is filled with vanilla cheesecake mousse filling and covered in white frosting. I'm assuming Costco chooses to call it white cake rather than vanilla because it isn't true vanilla flavor, but something similar.
Costco Round Cakes Sell for $15.99, Sheet Cakes for $24.99
Costco doesn't disappoint in price when it comes to their special custom cakes. Costco's 10-inch round cake serves 16 people and costs only $15.99. The Costco half-sheet cake is an even better deal, feeding 48 people for just $24.99.


Costco Cake Price Increase
Like almost everything else in the world, Costco has raised prices on their cakes. The current price for the 10" round cake is $15.99, up from $12.99 in 2022, and the sheet cake sells for $24.99, up from $19.99. 
While price increases are always unfortunate, Costco's cake stills are very fairly priced and offer some amazing value.
Costco Vs. The Competition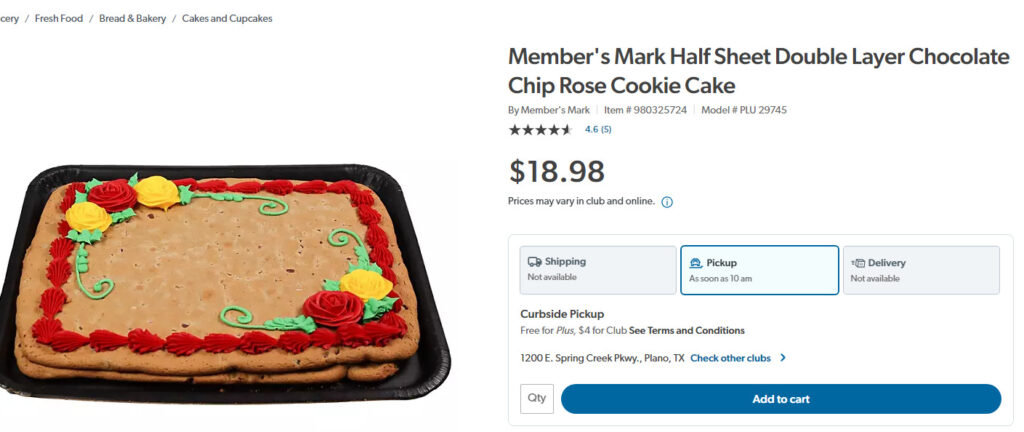 Sam's Club sells their 10" round cake for $16.98, or about $1 more than Costco's round cake price. Sam's Club's half sheet cakes sell for $18.98, which is about $6 cheaper than the Costco sheet cake price. 
So it looks like Sam's Club may be the best option if you are solely shopping on price.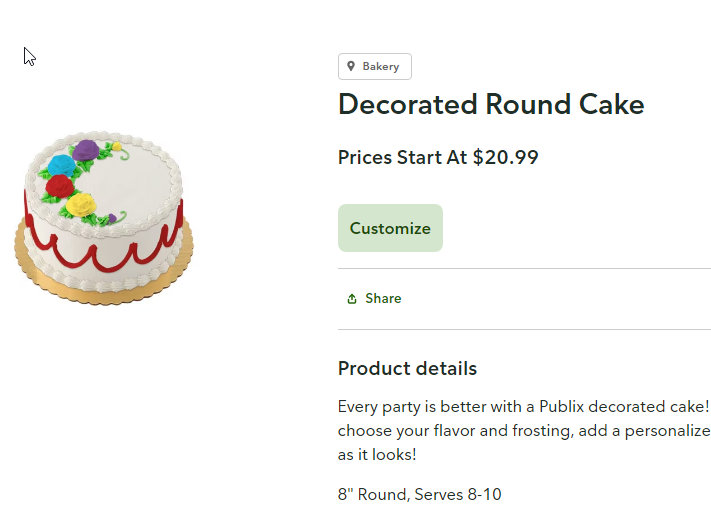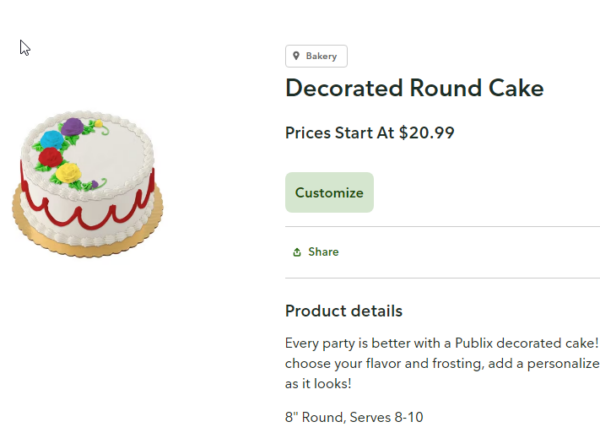 Compared to regular grocery stores, Costco cakes are a steal. For example, Publix sells an 8" round cake for $20.99 and a half-sheet cake for $45.99.
These prices are typical of your standard grocery store and pale in comparison to Costco's cake prices. You will pay nearly double for a cake that may or may not even be of the same quality tier as Costco's cake. 
Costco's Cake ORder System Is outdated
Costco is an absolutely fantastic company, but their custom cake order system has fallen behind the times. 
All orders Custom Costco cake orders must be placed at the in-store cake order kiosk using paper forms. Just like ordering a Costco party platter, there are no online or app ordering options available.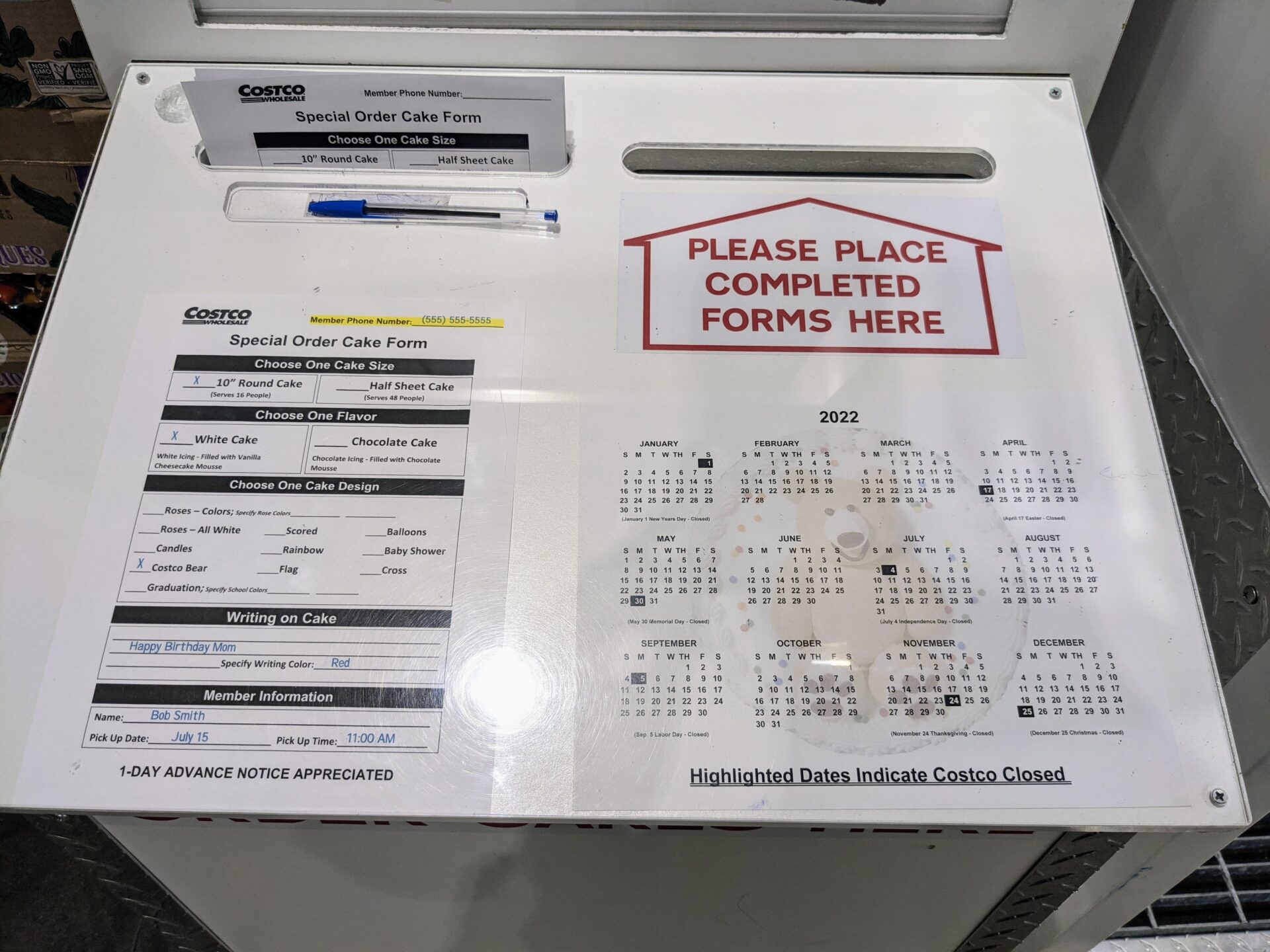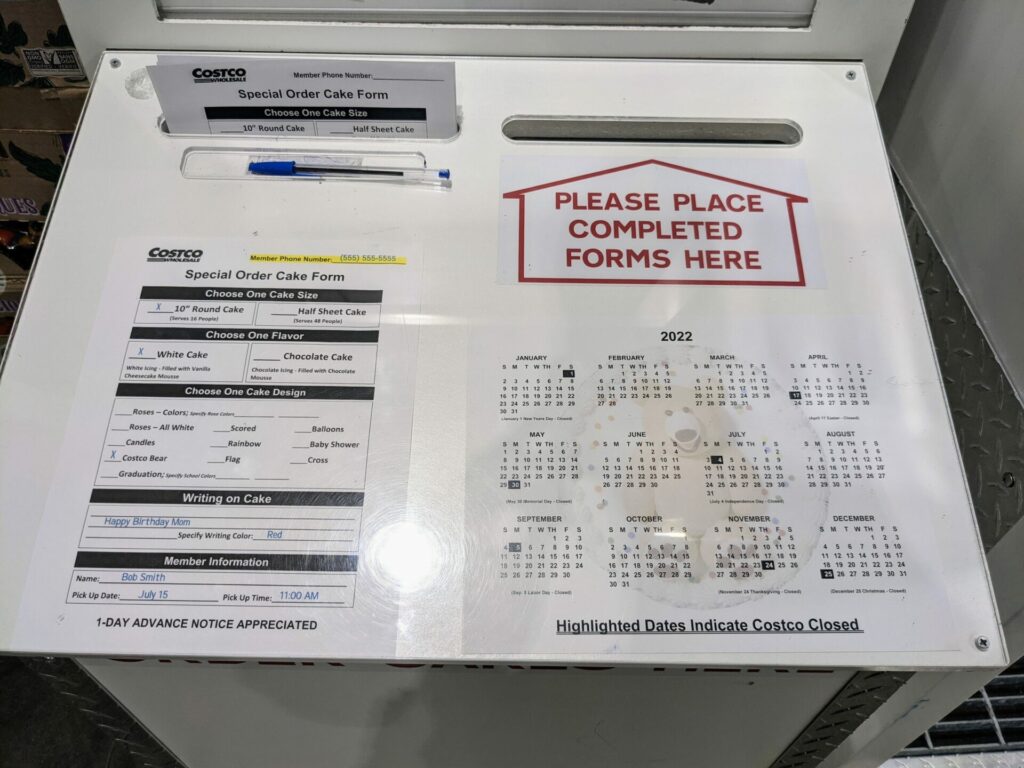 How to Place a Custom Cake Order at Costco
Find the Costco Cake Special Order Kiosk
To place an order for a custom cake, head to the Costco bakery (usually located at the back of the warehouse), and find the cake order kiosk. Each Costco location has them in slightly different locations, but the kiosks will be located somewhere in the Bakery.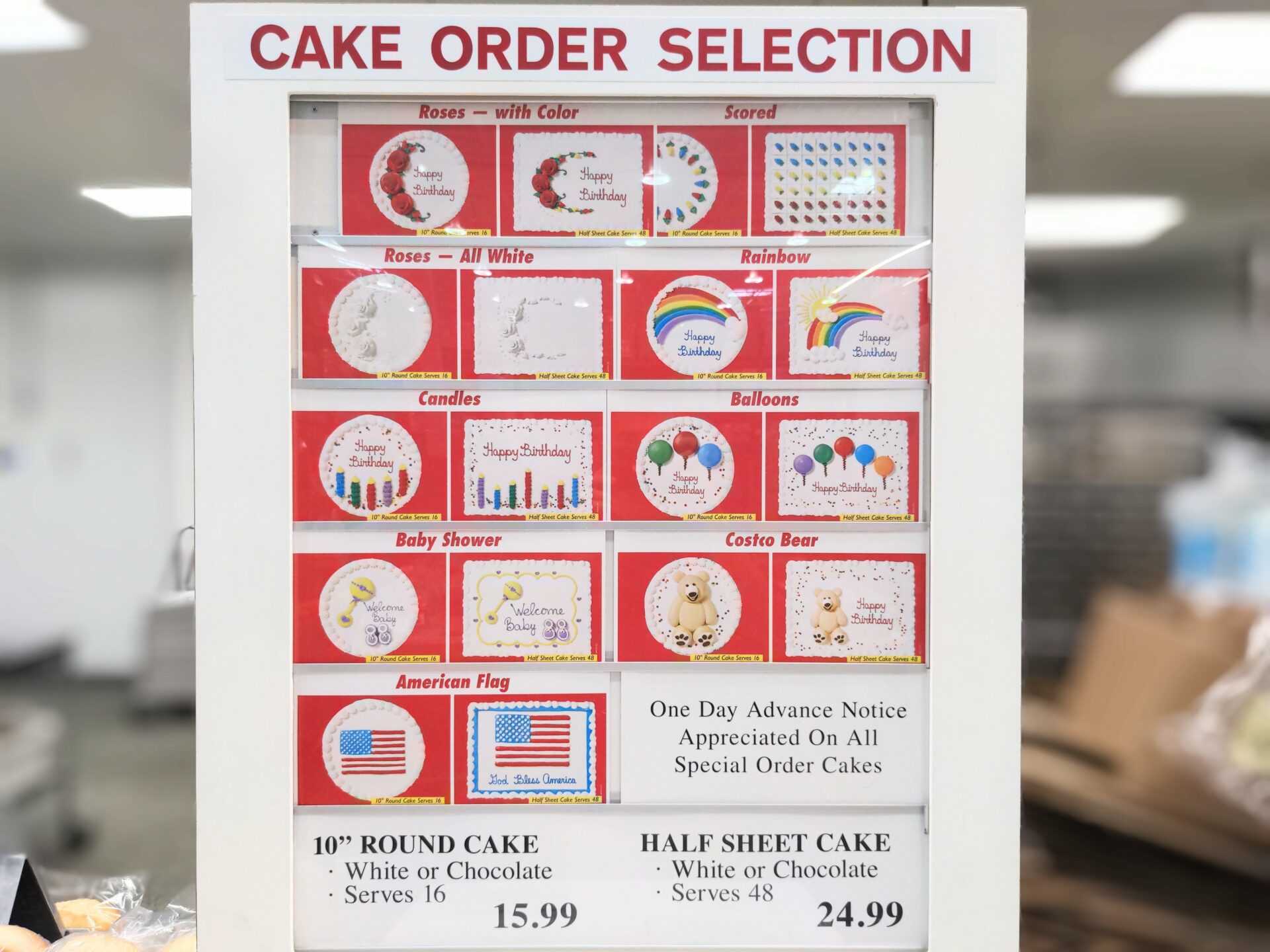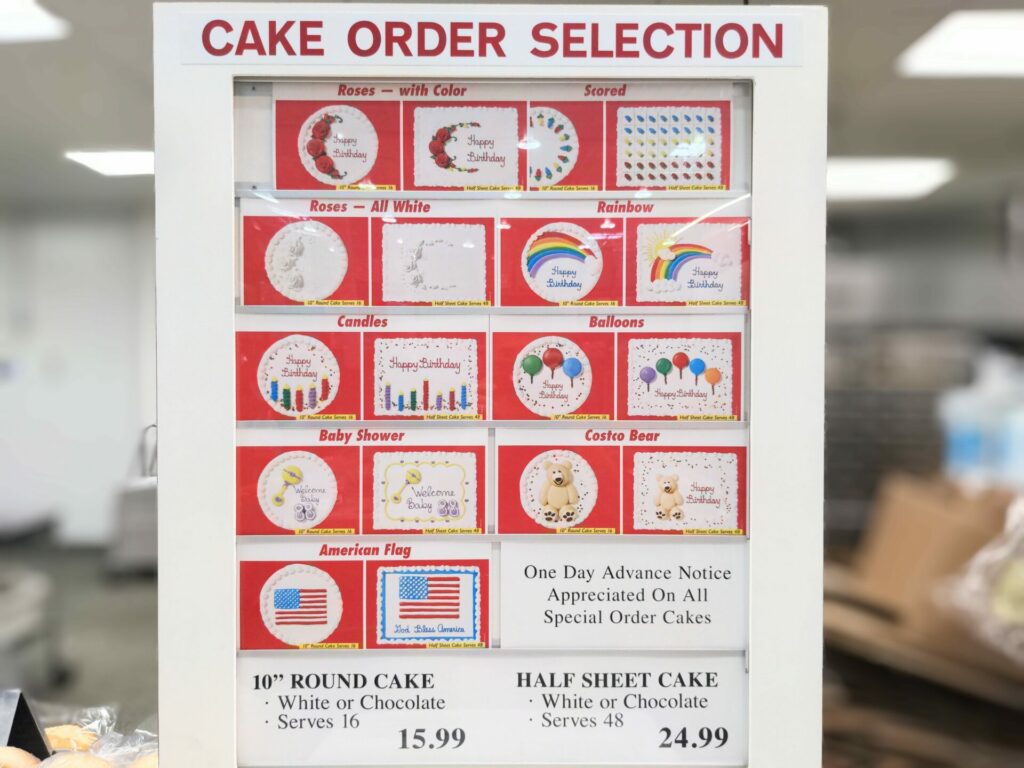 The Cake kiosk located in the bakery is your one-stop shop for Costco cakes. The kiosk has the order forms, available cake design options, size and flavor choices, pricing info, and order submission instructions.
Fill Out The Custom Cake Order Form
When you locate the kiosk, you will find the paper Special Cake Order Form. The Costco cake order form is quite basic and rather straightforward to fill out. These are the choices you will have to make on the special cake order form:
Cake Size: 10" Round Cake or Half Sheet Cake
Cake Flavor: White Cake (White Icing Fill With Vanilla Cheesecake Mousse) or Chocolate Cake (Chocolate Icing filled with Chocolate Mousse)
Desired Cake Design: Select from one of the pre-created template designs. You can also leave this field blank. (Remember cake design choices will vary by season)
Writing on Cake: Fill in with desired text on cake and select your desired color
Member Information: Fill in your member information, including your selected pick-up date and pick-up time.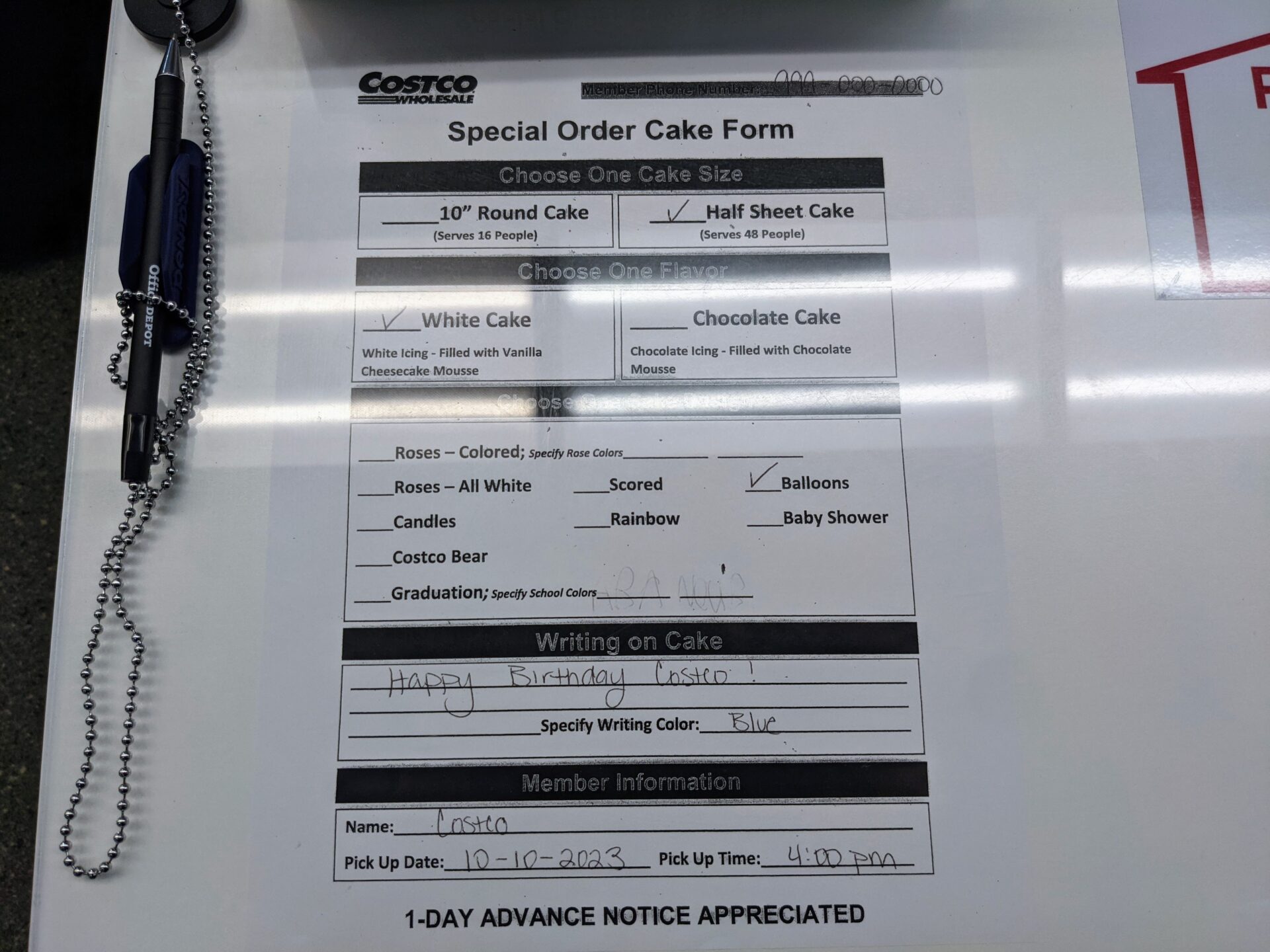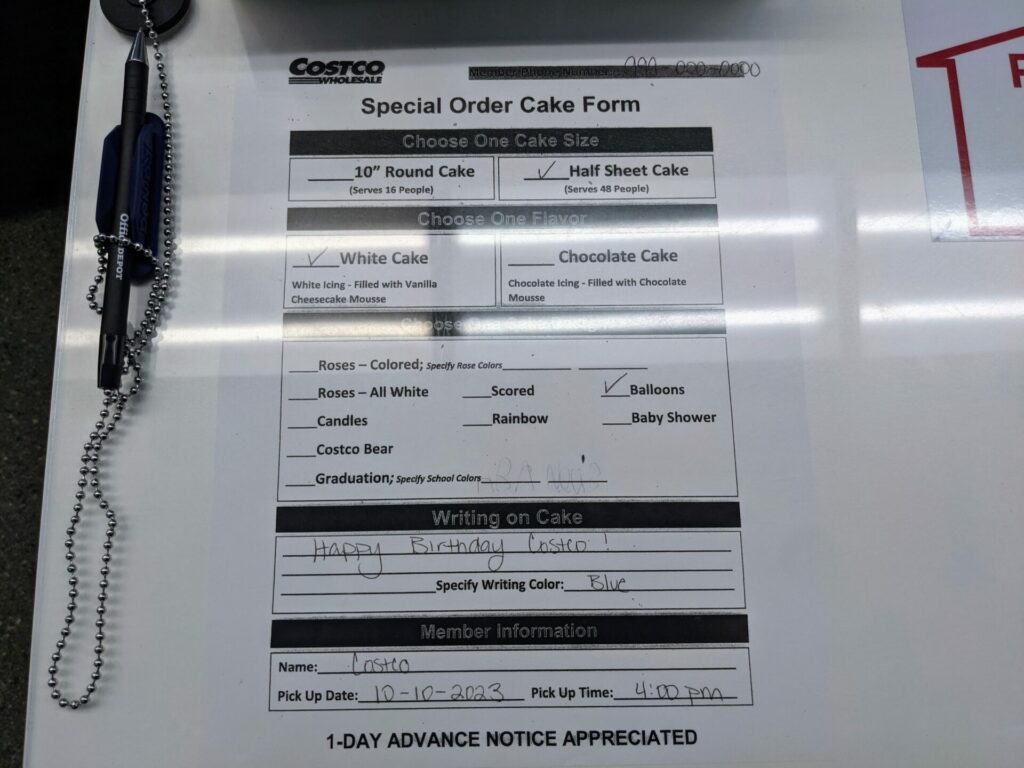 Costco does request 1 day notice for cake orders and don't forget to write in your phone number at the top of the order form page.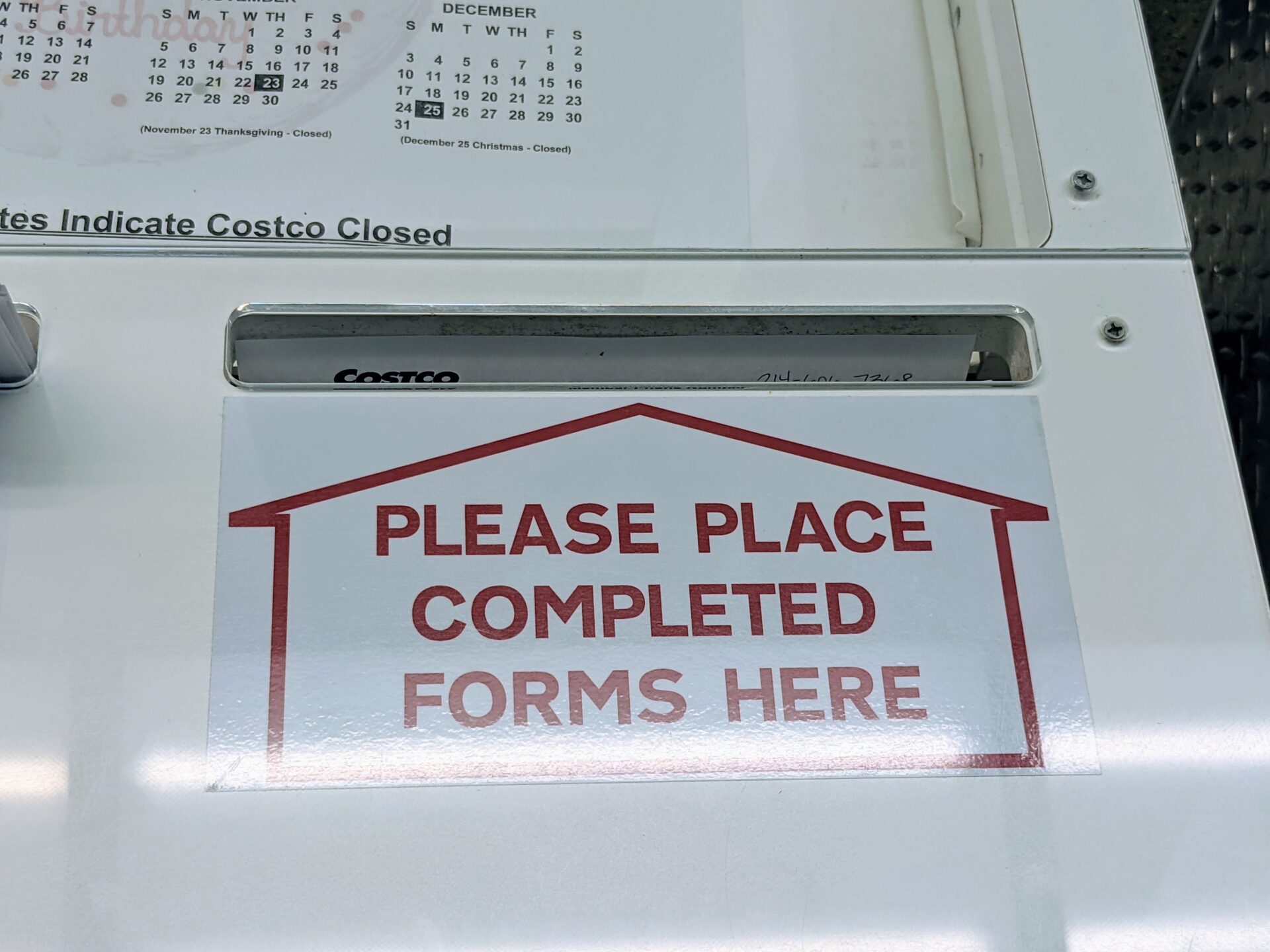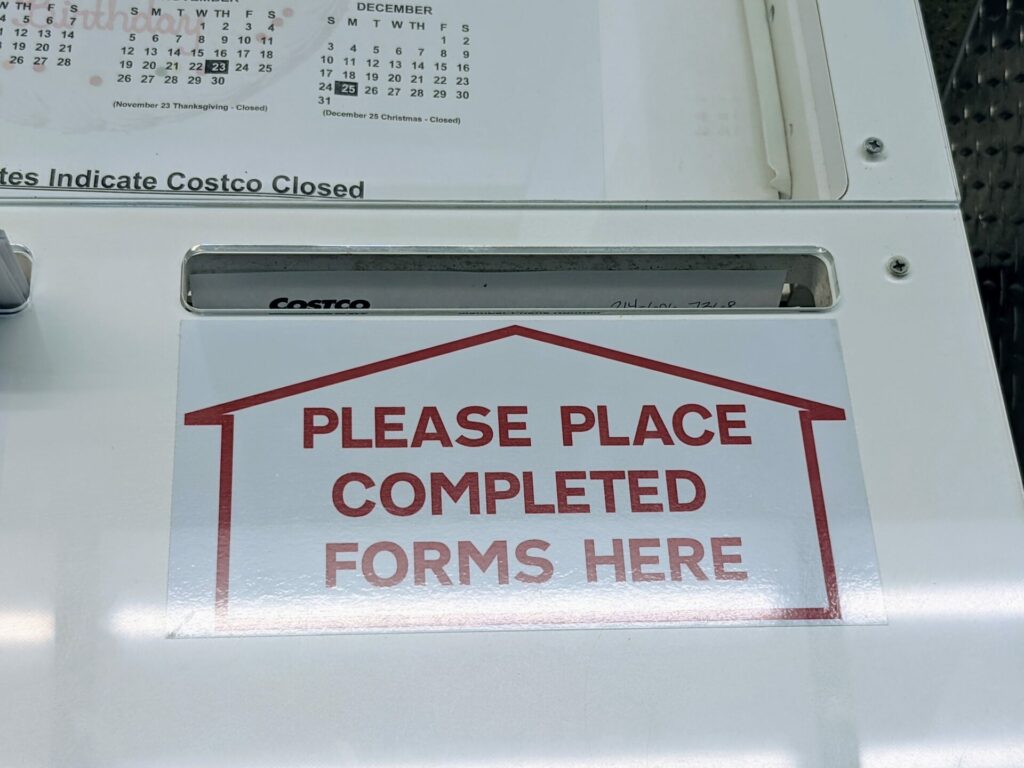 When completed, submit the form in the order form slot. 
Download The Costco Cake Order Form Ahead Of Time
Feel free to print and download the Costco Cake Order Form by clicking here. This particular order form may not be the same exact copy that your local Costco has or uses in their bakery, but I have yet to hear from anybody about Costco not accepting this printed special order cake form.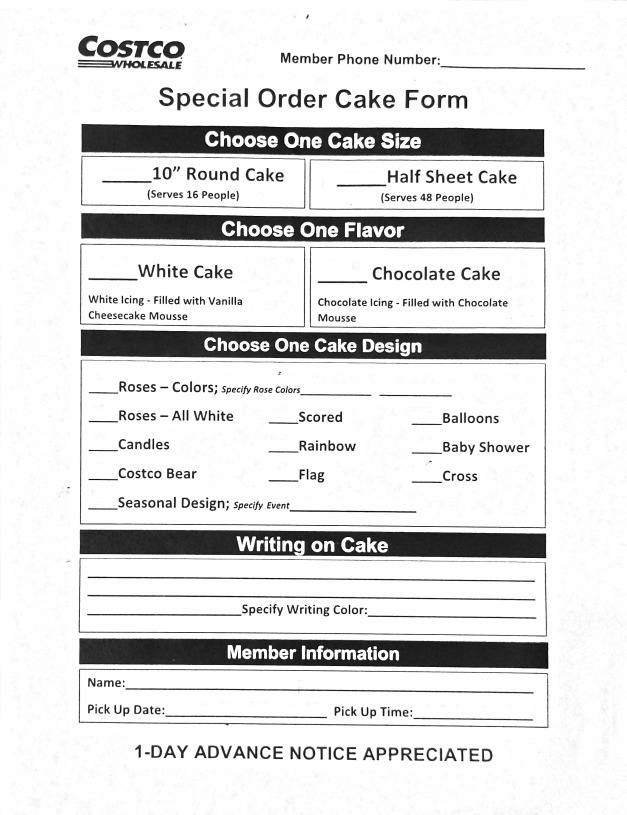 You will also notice a calendar on the cake order kiosk with all the days that Costco is closed during the year. The holidays that Costco is closed for are the following:
New Year's Day
Easter
Memorial Day
Independence Day
Labor Day
Thanksgiving
Christmas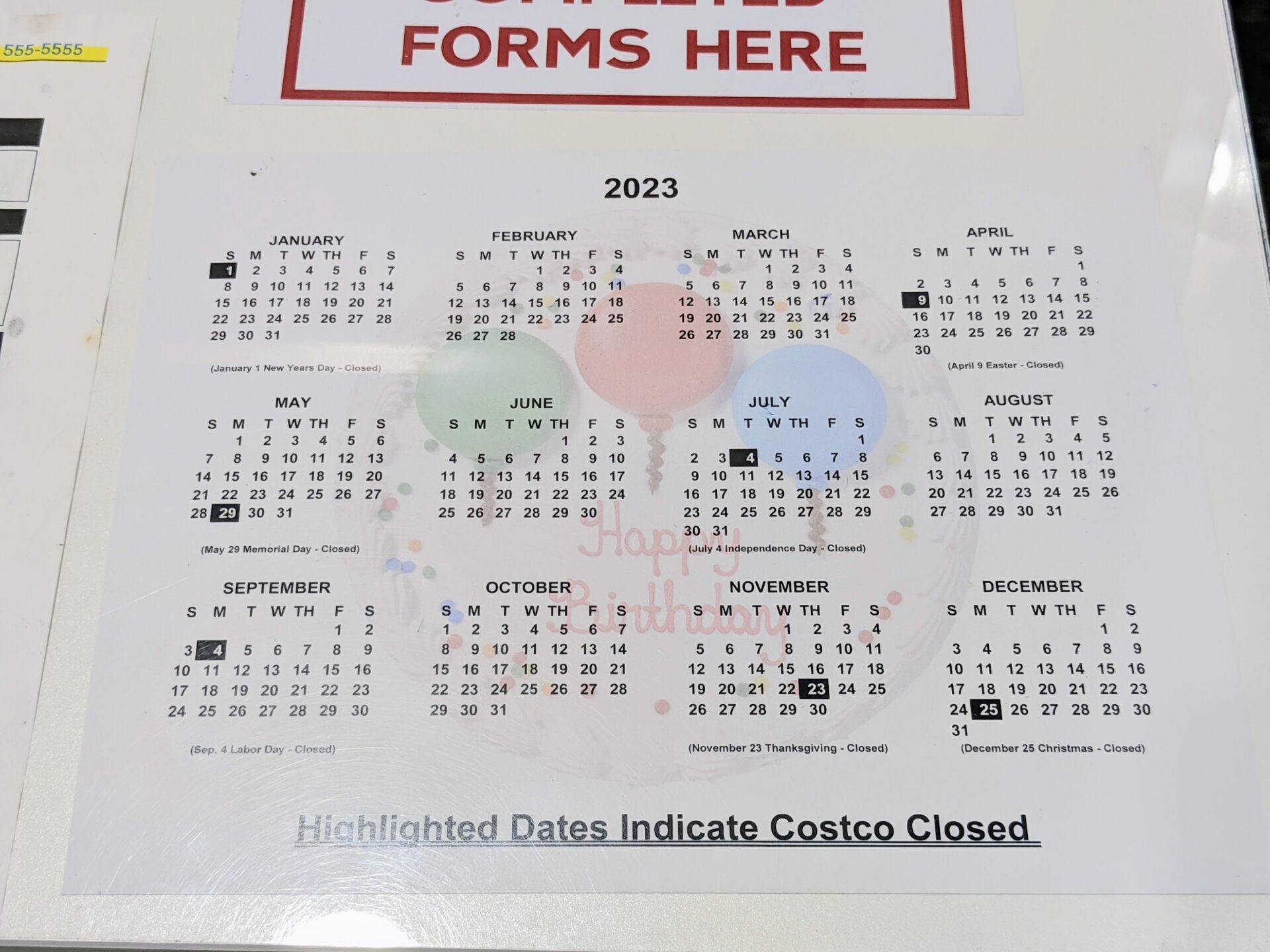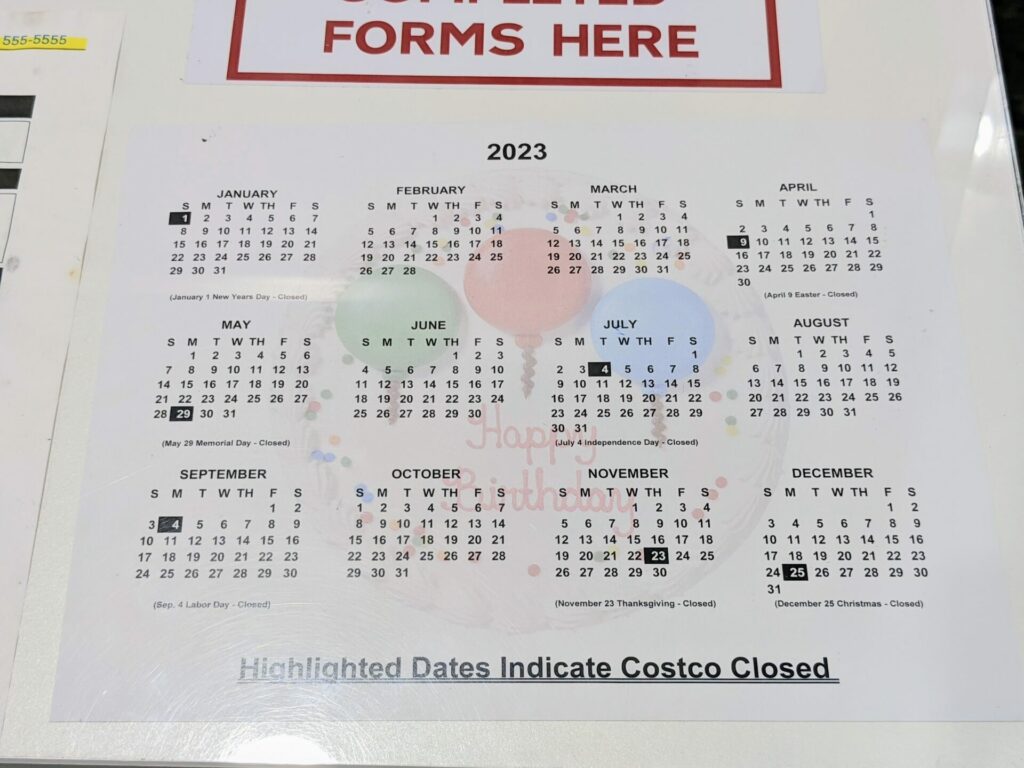 Costco sells holiday cakes and custom designs for many occasions. However, if it is one of the above listed holidays, they are closed on the actual holiday day.
So you'll need to pick up your special order holiday cake at least one day before the holiday.
How To Pick Up Your Custom Costco Cake
Find The Special Custom Cake Rack Or Find A Costco Employee For Help
Don't expect a confirmation or even acknowledgement of your custom Costco cake order. And it may not the best system, but you will have to trust that your cake will be there on pick up day.
Head to Costco's bakery and find the special order cake rack near the cake ordering kiosk. This rack holds all the custom cakes for the day, with each one attached to its order sheet. Search through the cake rack until you find your custom cake.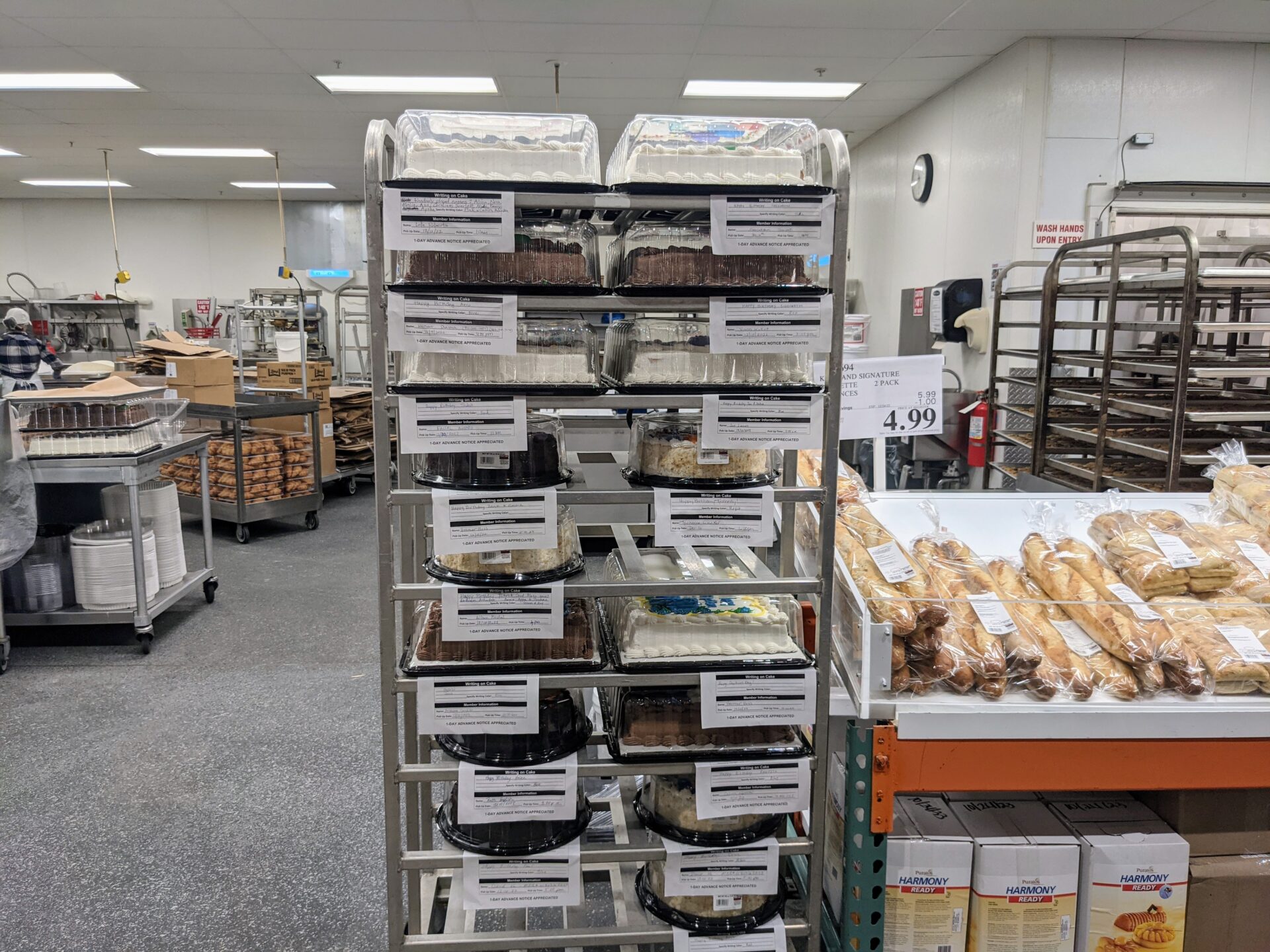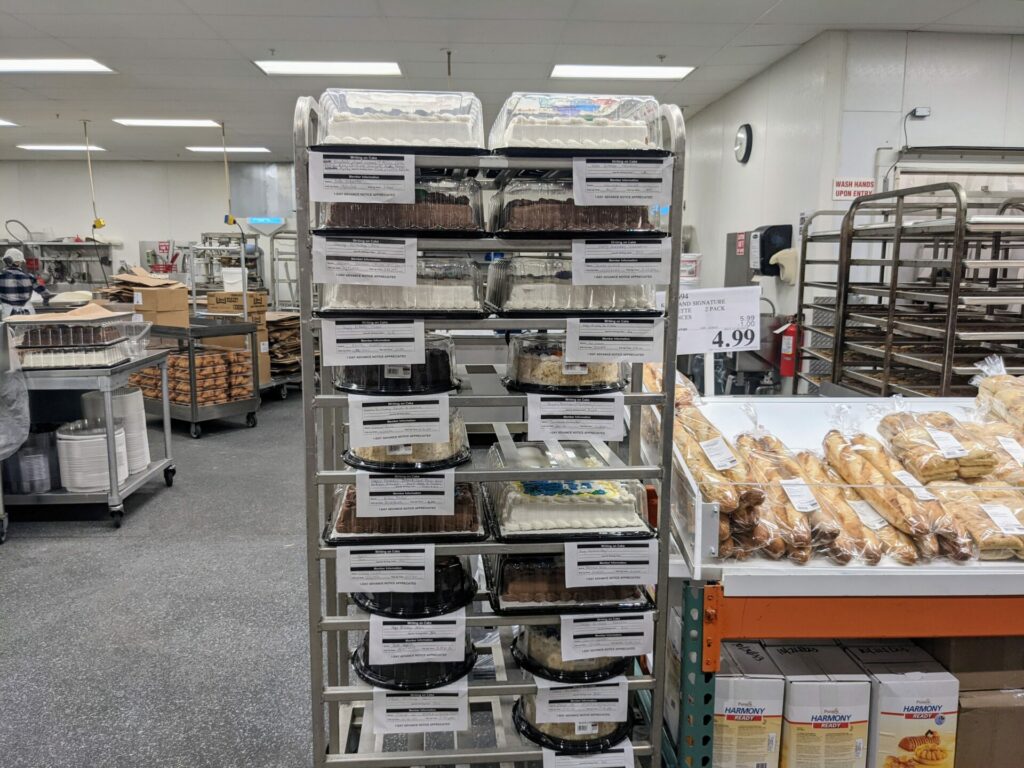 In the late afternoons or evenings, once most cakes have been picked up for the day, Costco bakery staff will often return any remaining cakes to the fridge in the bakery department. If you're picking up a cake late in the day, you may need to ask a bakery employee for assistance in retrieving your cake from the fridge.
If you are picking up your cake order on a slower day (usually weekdays), Costco may not use the special cake rack. In that case, you'll need to get the attention of one of the bakery employees and let them know you're there to pick up your custom cake order. 
Costco Cake Design Choices
Rose - Colors or All White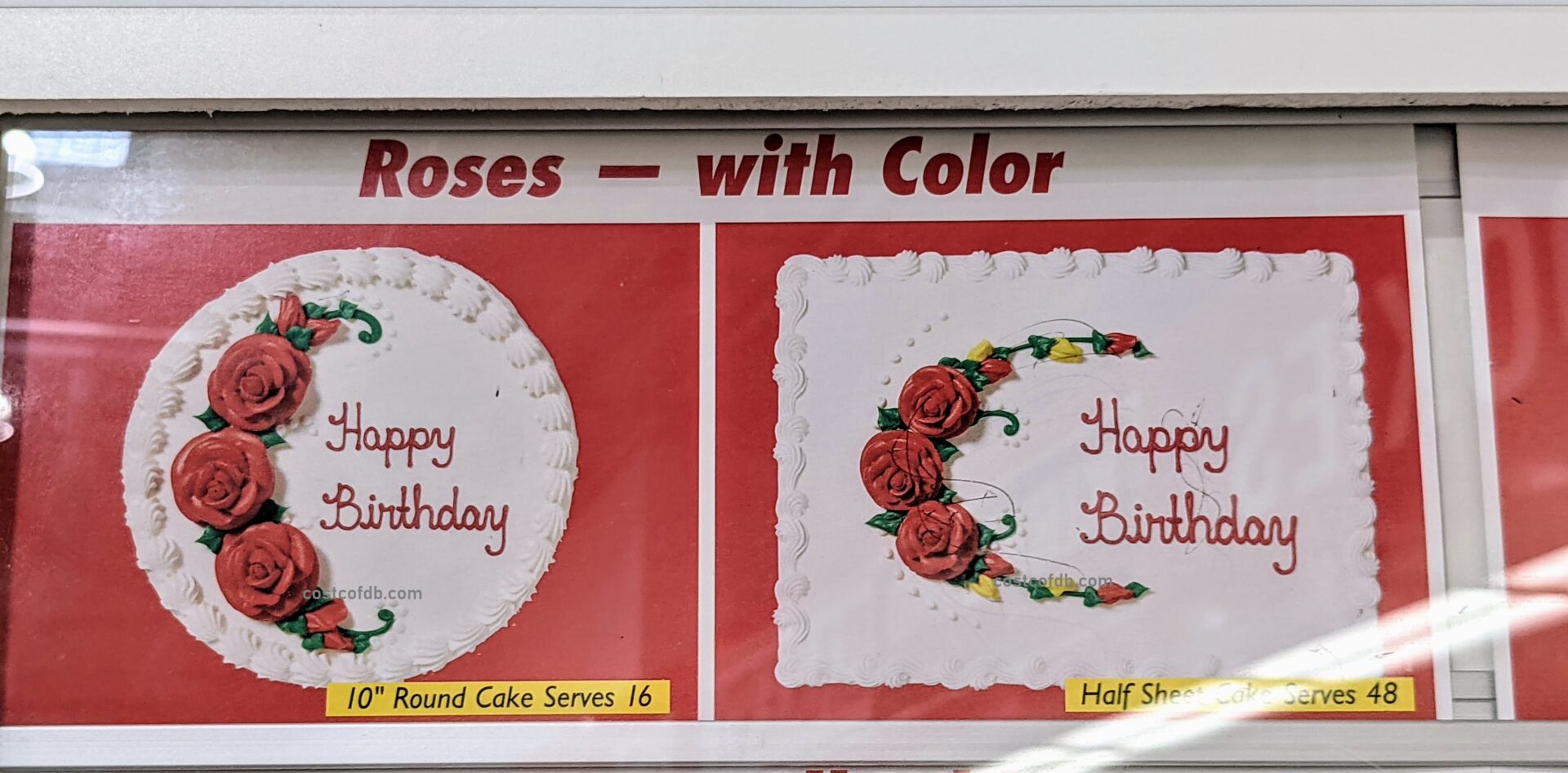 Costco's trio of roses cake is a favorite for special celebrations. Three glorious roses top this elegant cake, available in classic all-white for bridal events, passionate red for Valentine's Day, or any customized color to match your theme. 
The rose trio cake is a timeless choice for momentous occasions like birthdays, anniversaries, graduations, or any type of special event.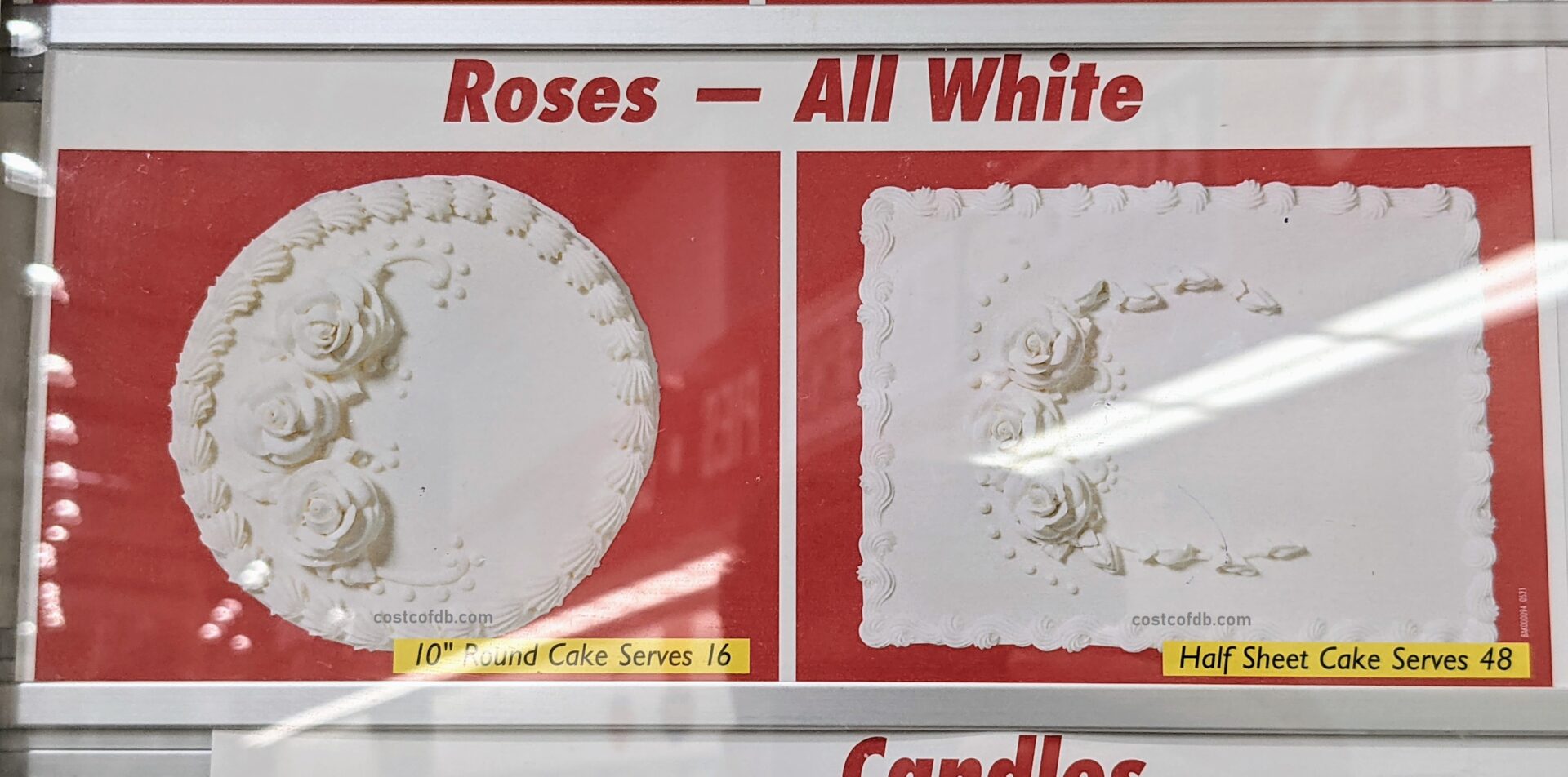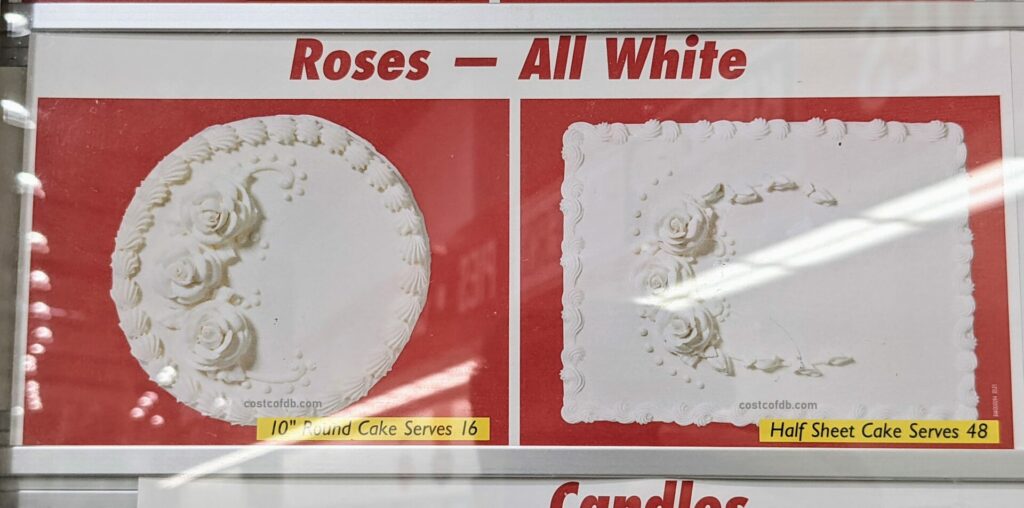 Scored Costco Cake Design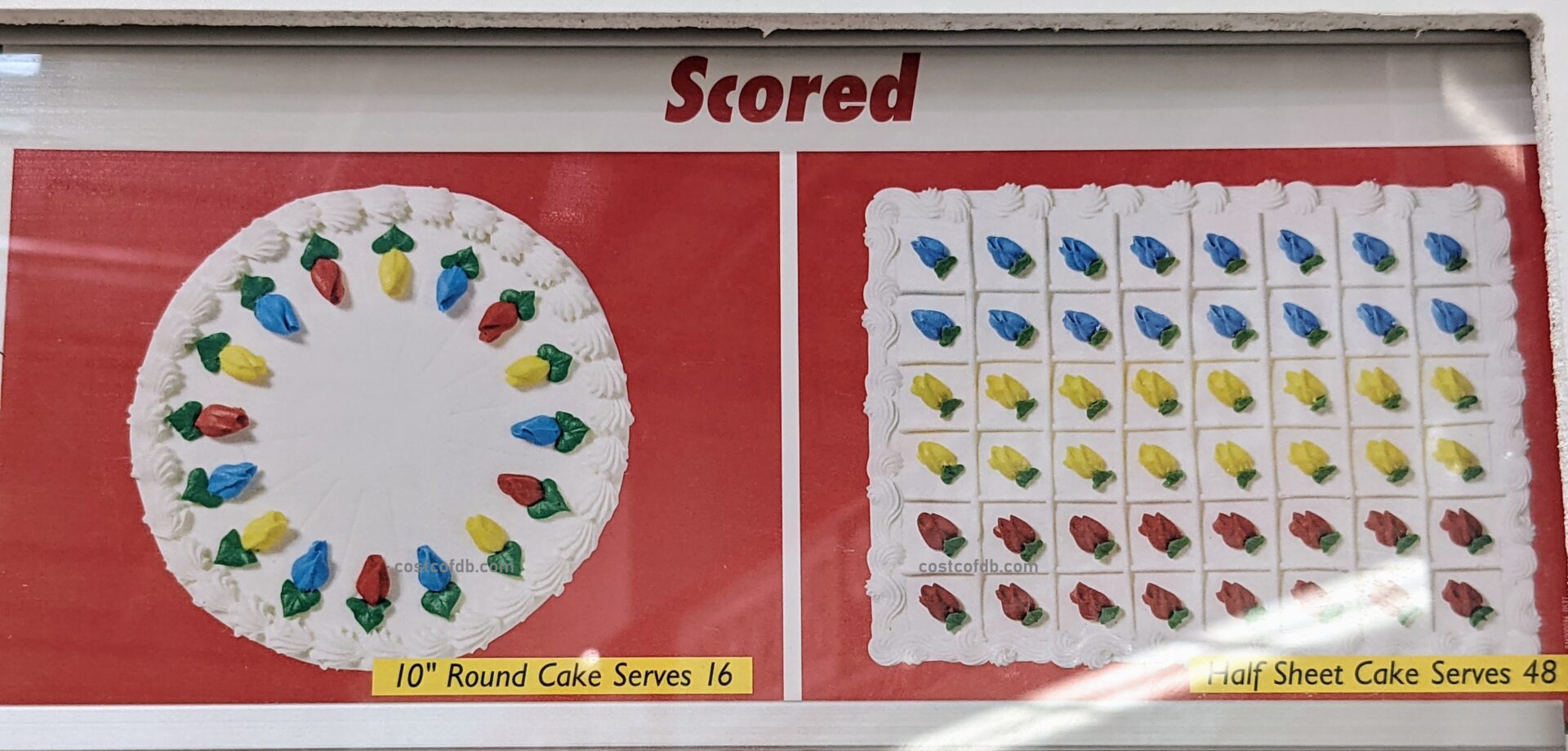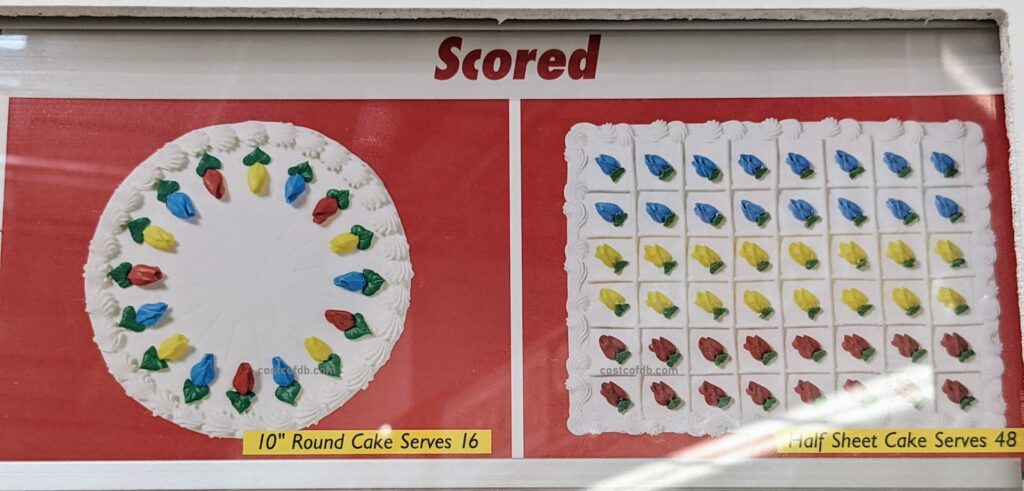 Costco's scored cake design features smaller roses arranged throughout the cake. The round cake includes 16 multi-colored roses while the sheet cake has 48 roses total. 
The useful scored design marks out perfect slices, making cutting and serving the cake much easier during a party. You can also request specific rose colors when ordering a custom Costco cake.
Costco Birthday Cake Design - Balloons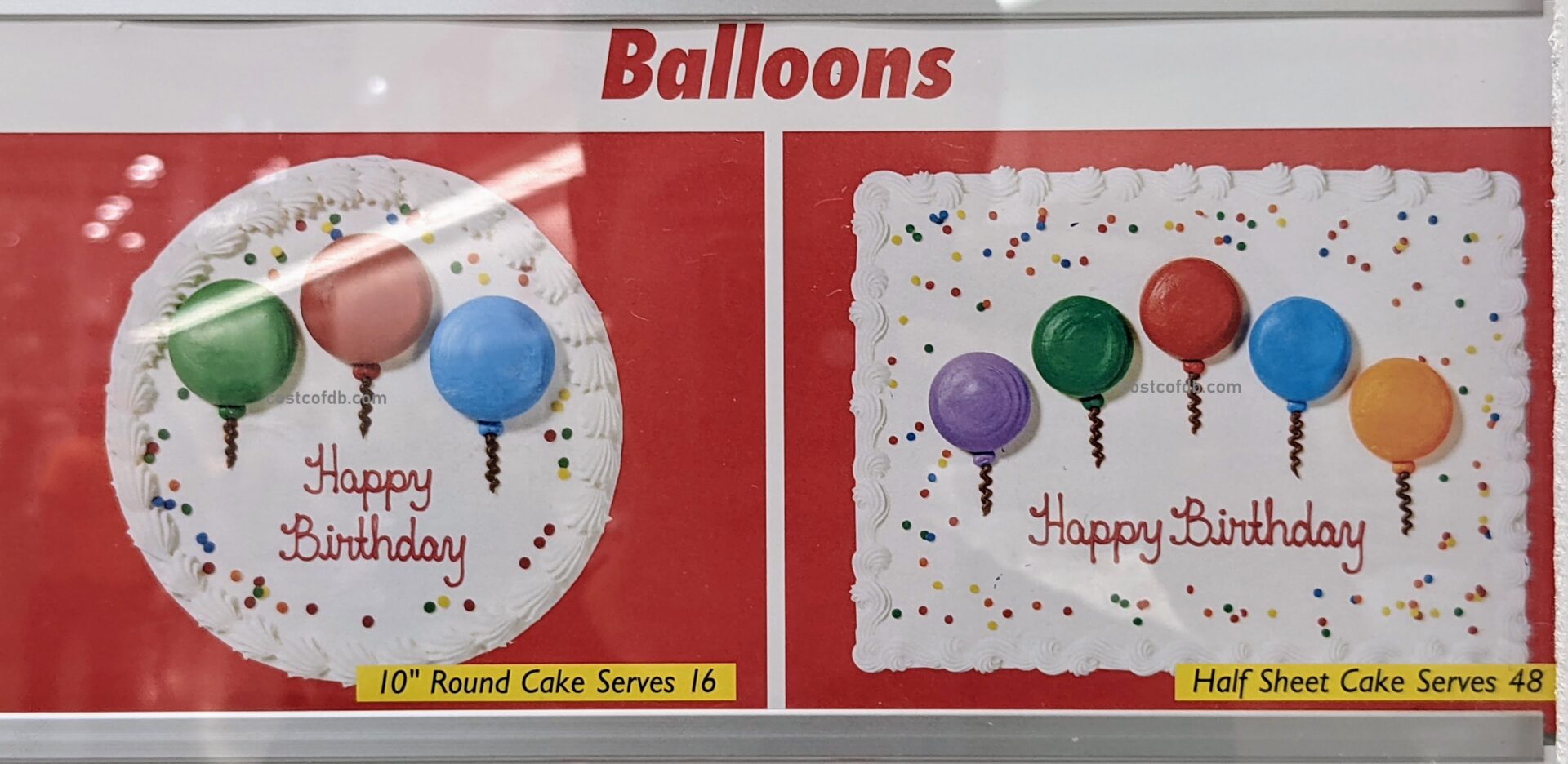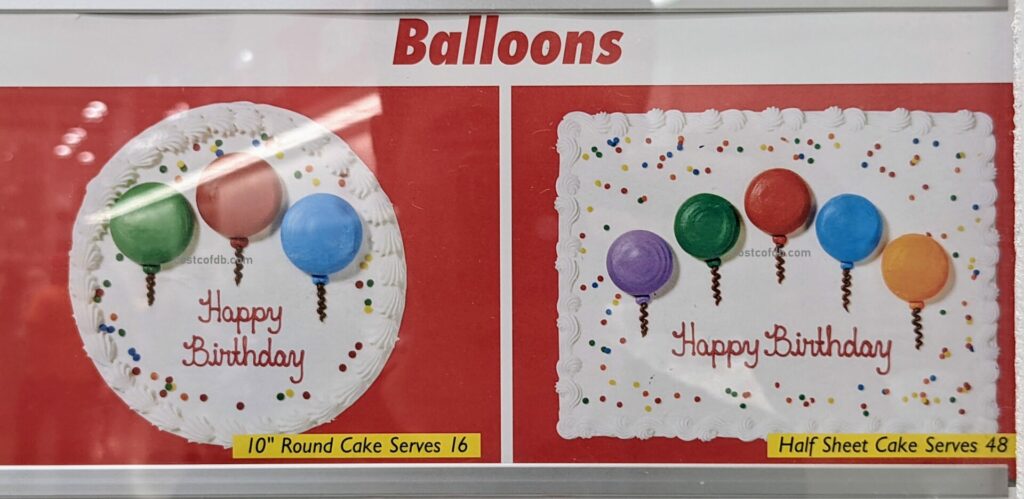 Celebrate birthdays in style with Costco's colorful balloon cake designs. The 10-inch round cake features 3 festive balloons, while the sheet cake is topped with 5 balloons. The balloons come in various bright hues like red, blue, green, and orange or can be customized for the special birthday boy or girl.
These cakes are ideal for kids' birthdays (or even adult birthdays), milestone birthdays, or any fun celebration.  
Candles Design - Costco Birthday Cake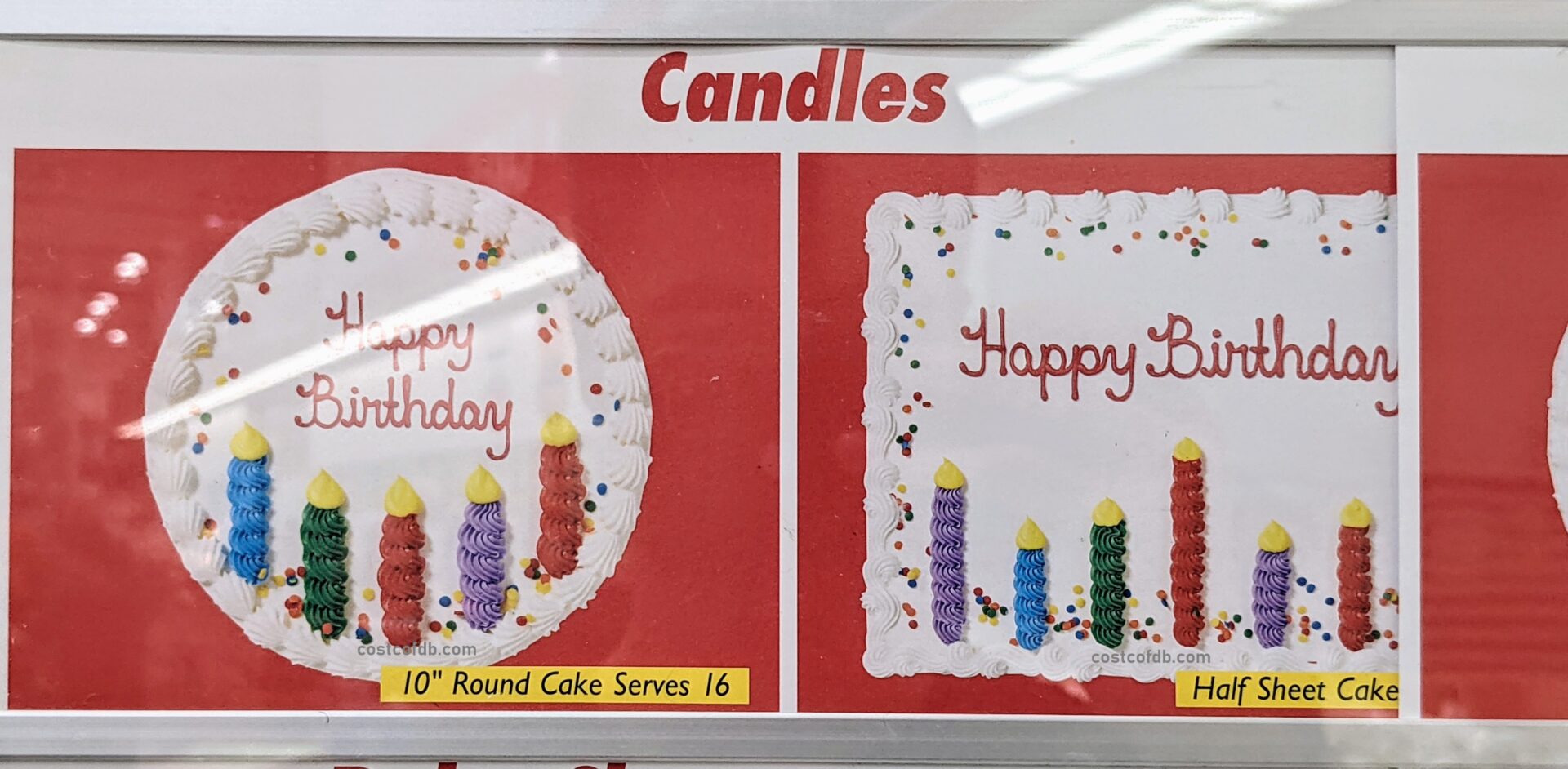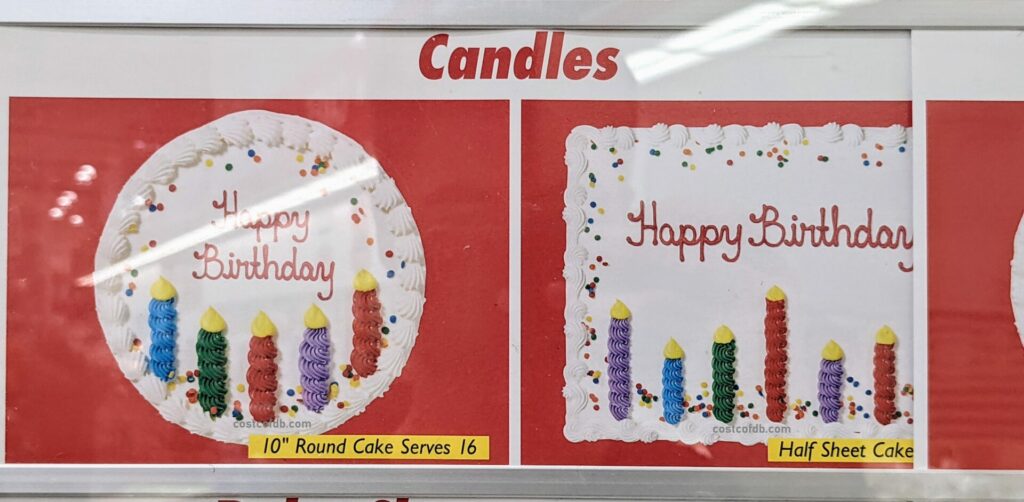 You cannot go wrong with Costco's candle design! The colorful candles and the ring of rainbow sprinkles around the border are perfect for making the birthday truly special. 
The default colors of the candle are blue, green, red, and purple, but once again, the design can be customized to your liking.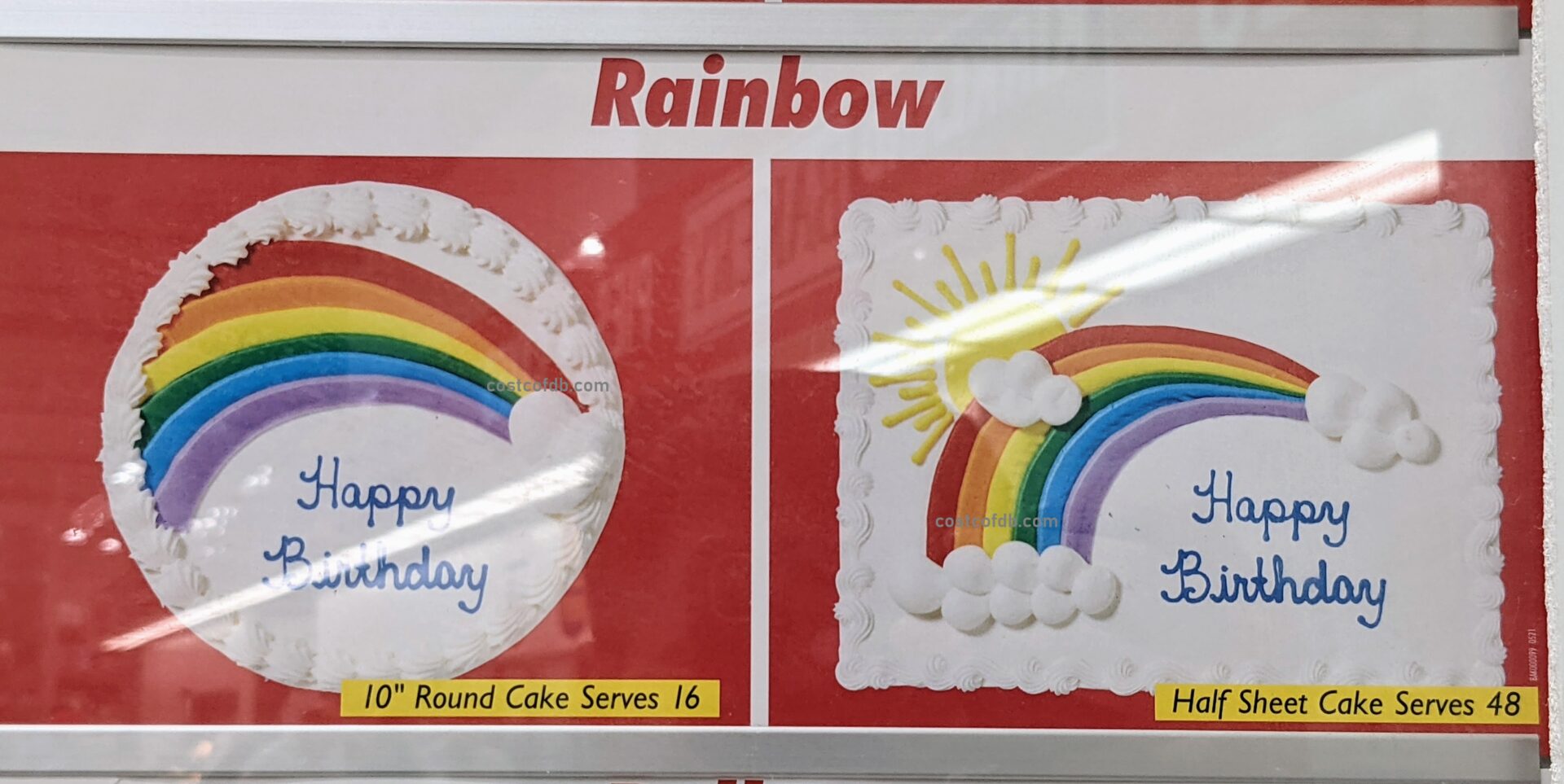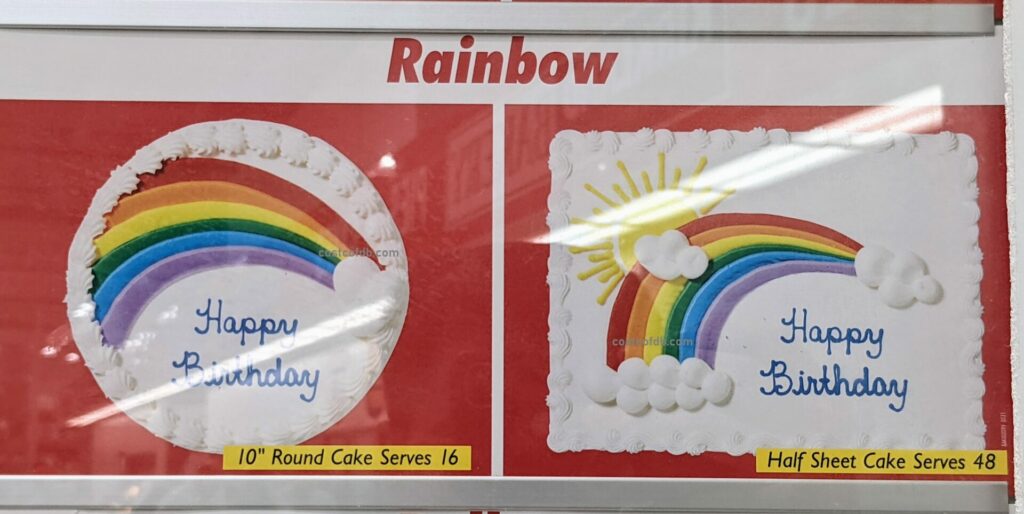 Costco's rainbow cake features a vibrant six-color rainbow arching across white frosting clouds. The rainbow uses red, orange, yellow, green, blue and purple shades, and the sheet cake version also includes a smiling sun design. 
Costco leaves plenty of blank space underneath the rainbow for special customizable messaging.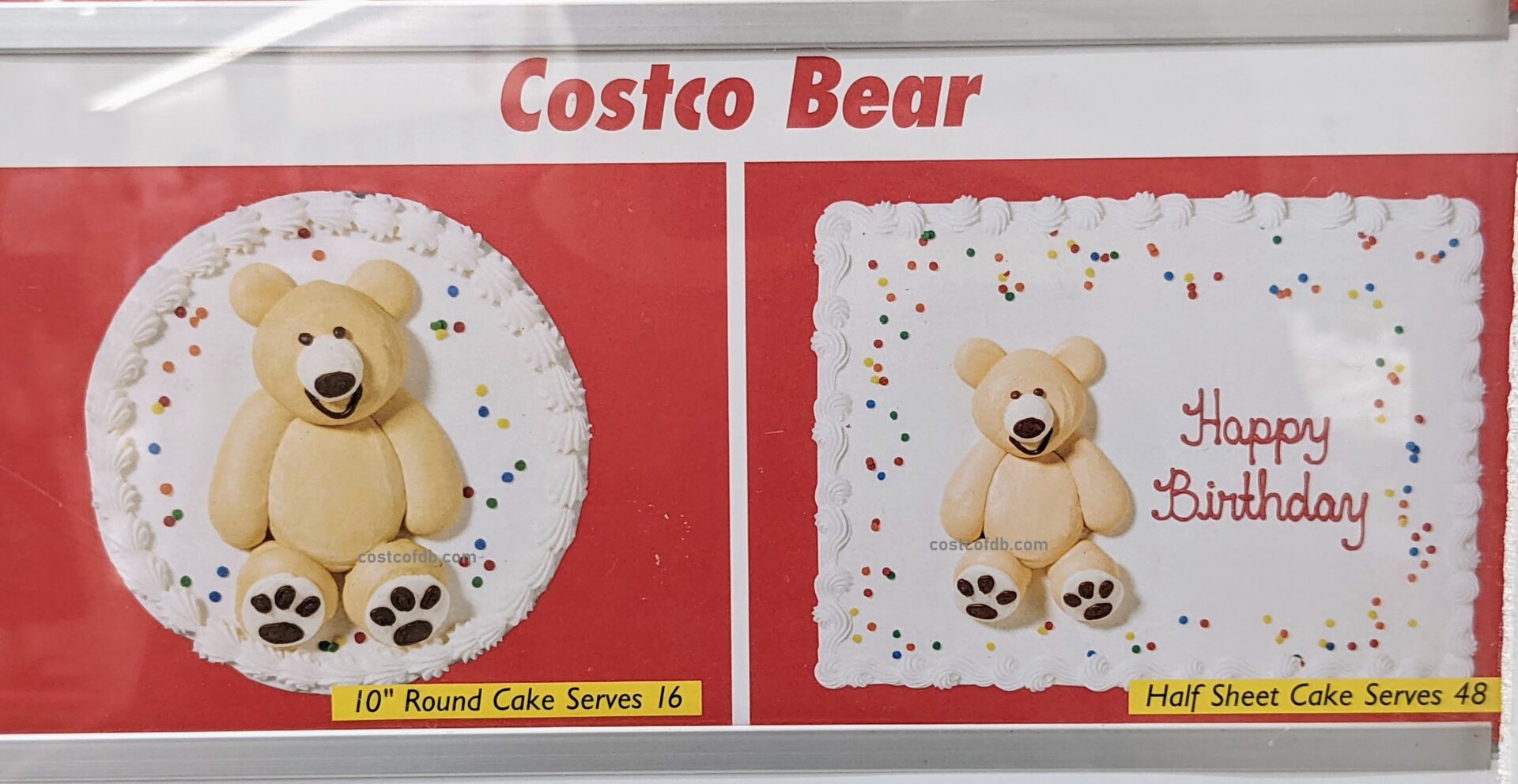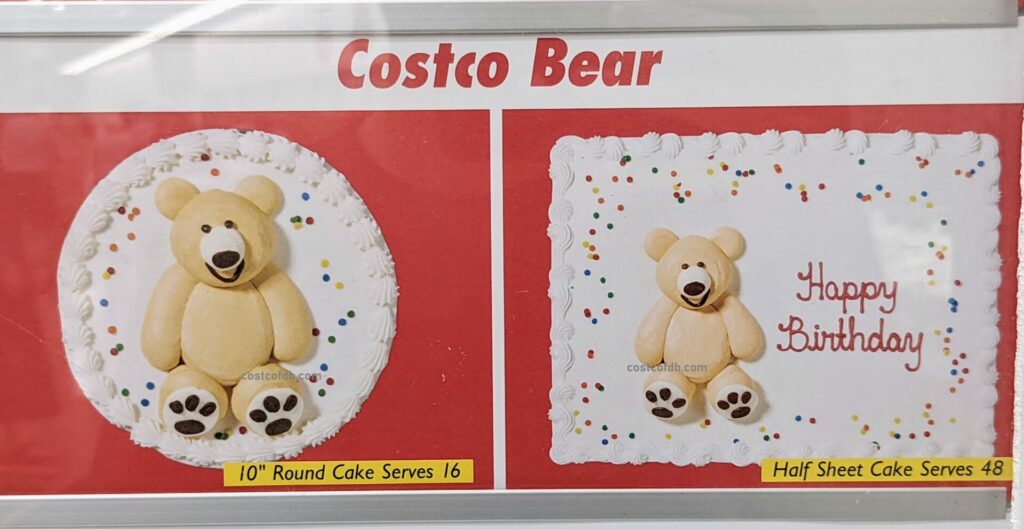 My favorite of Costco's cake designs and maybe one of their most unique options, The Costco Bear features a light brown teddy bear surrounded by colorful sprinkles around the outside edge. The cake design is fun, playful, and perfect for guests of all ages.
If you really like the bear cake design, get the life-size version to go with it. Only $399.99.
Costco has the perfect graduation cake design for new grads. The smaller round cake is decorated with a graduation cap and graduation year. The larger sheet cake option includes the graduation cap as well as balloons. 
The best part is Costco can customize the colors to match your graduate's school colors. Just write down the specific colors you want on the custom cake order form, and they will get it done!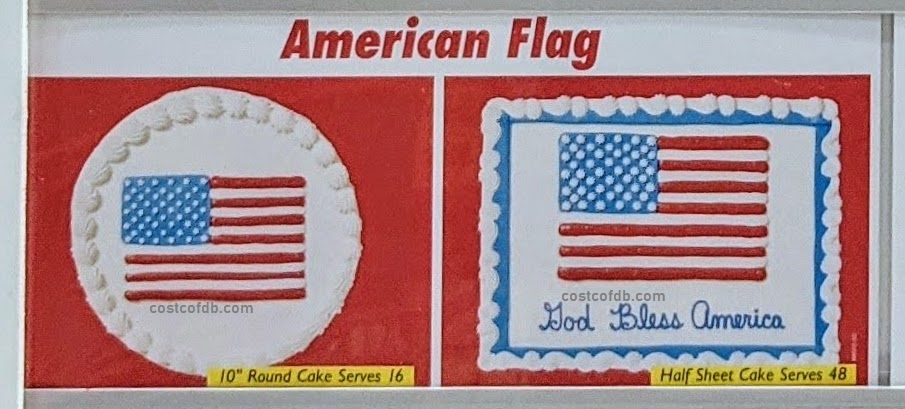 Celebrate the 4th of July, Veterans Day, Memorial Day, or Flag Day with Costco's USA flag cake design. This seasonal patriotic Costco cake is one of my favorites and, in my opinion, one of the most beautiful. 
The sheet cake version has a blue border and also says God Bless America. You love to see the patriotism!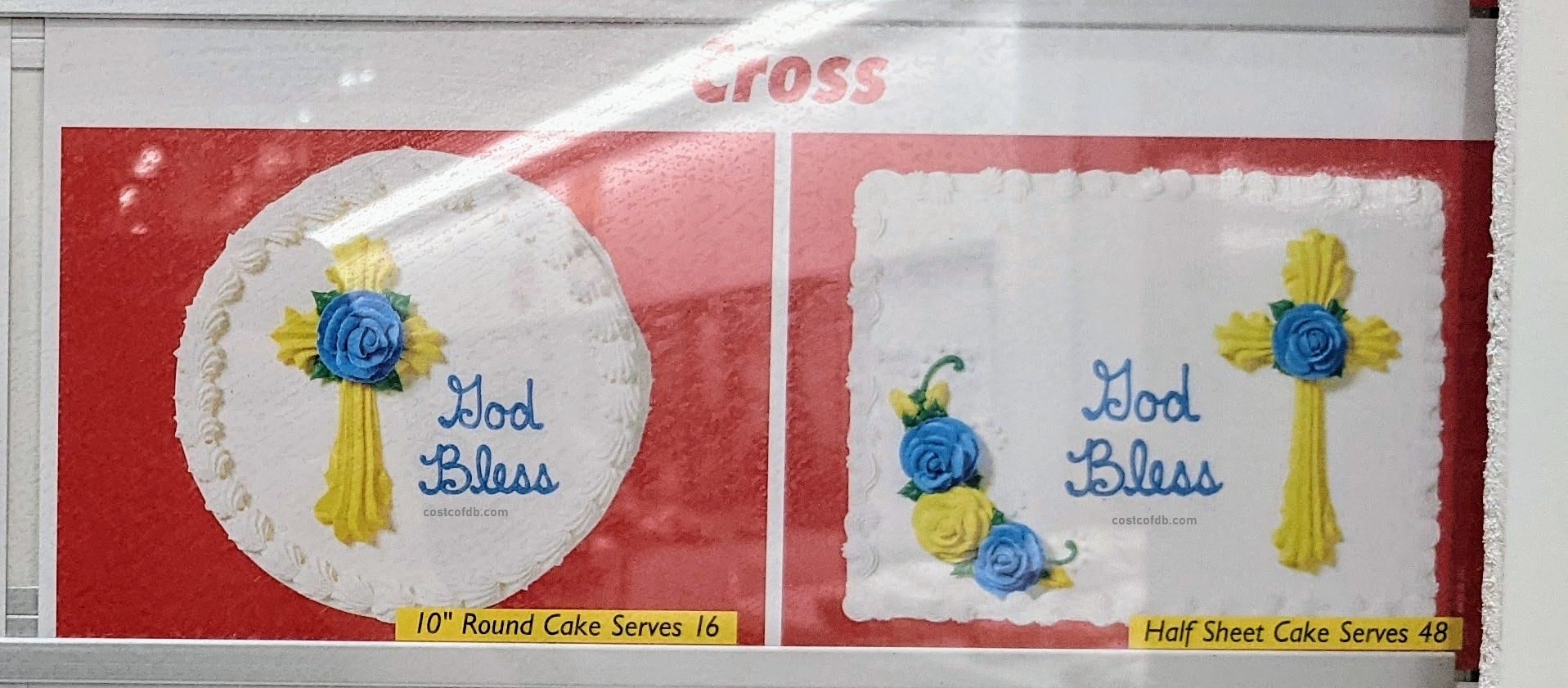 The cross design features a Christian cross adorned with blue and yellow roses. This graceful design is a great alternative to the classic Christmas cake that Costco offers and is perfect for religious celebrations and special events such as christenings or confirmations. 
Costco Christmas Cake Design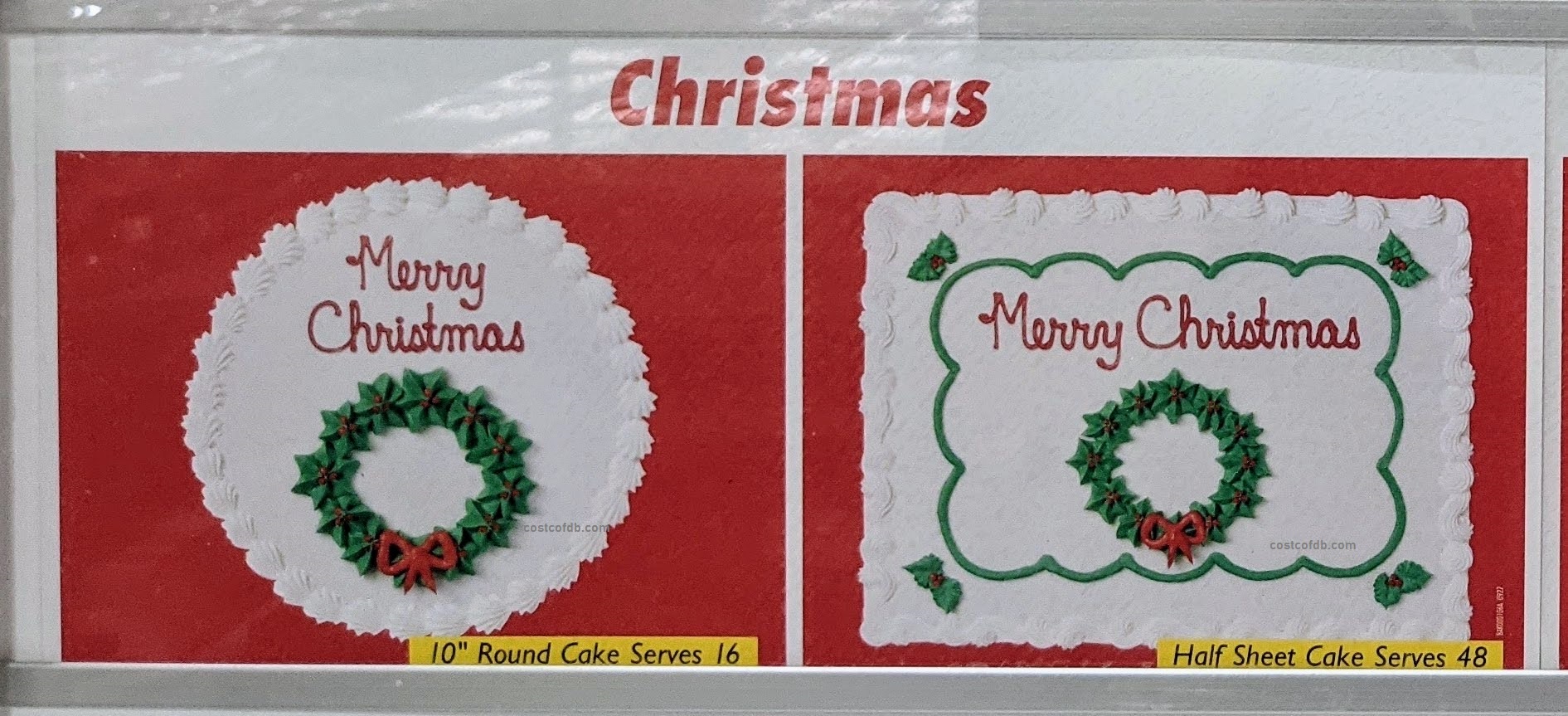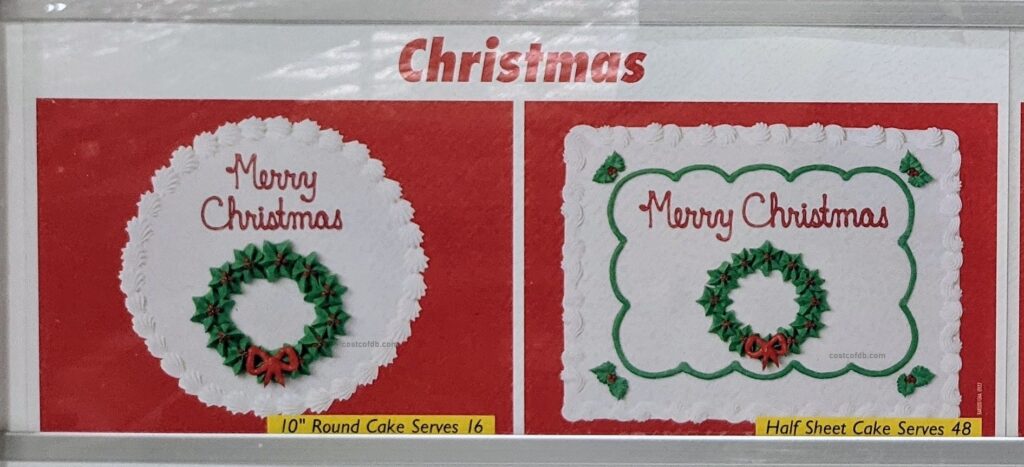 The Christmas cake design is decorated with a traditional Christmas wreath and a big red bow. The words Merry Christmas are also written on the cake. 
The red and green design is festive and an easy option for celebrating the Christmas season.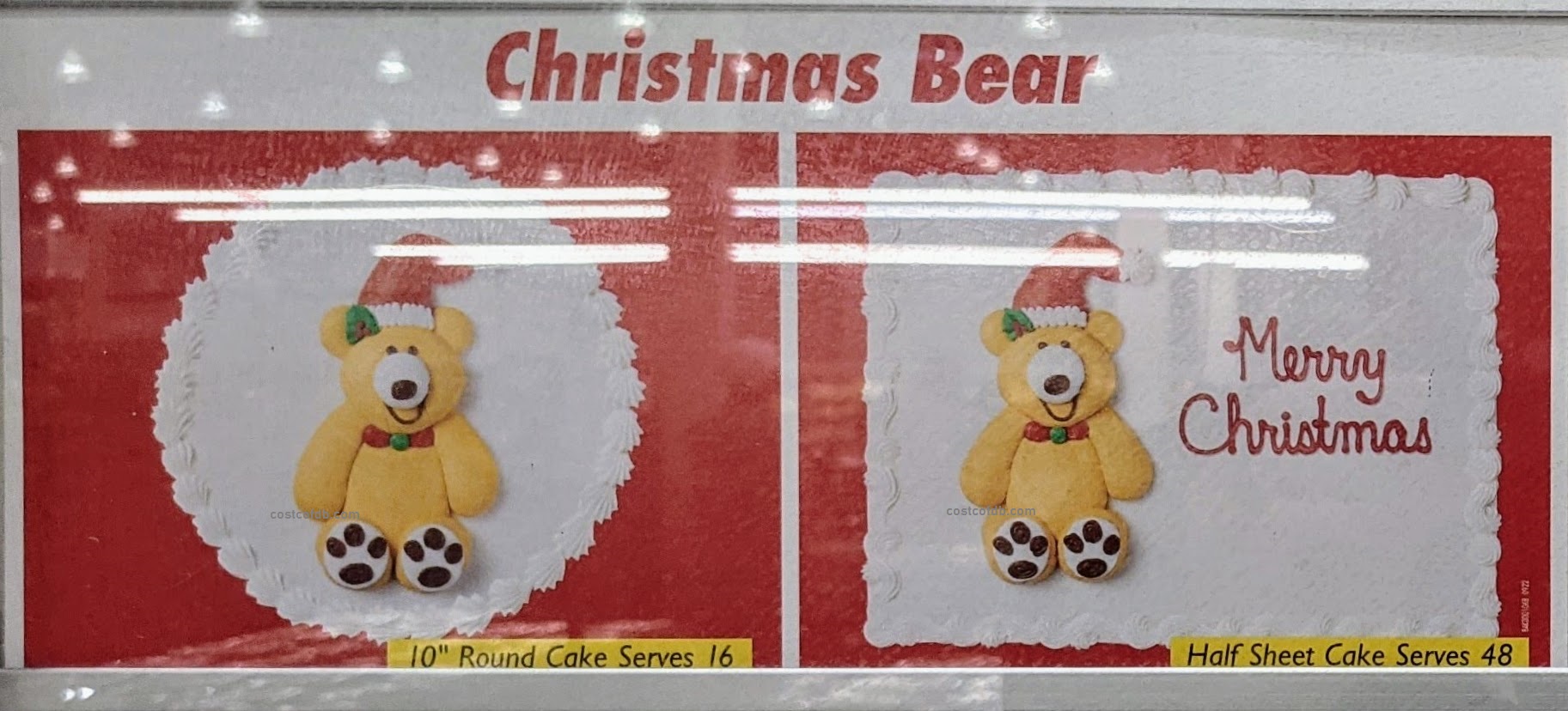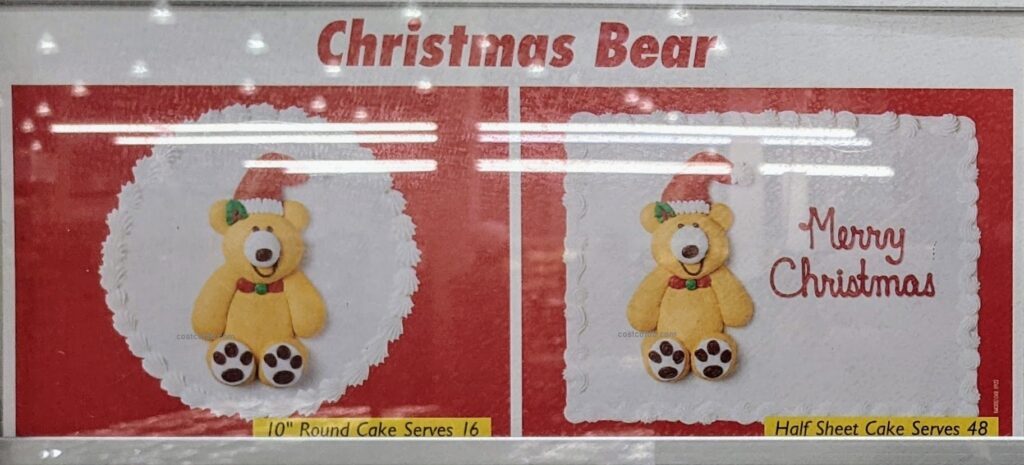 Costco's festive take on their popular Bear cake design. The cheerful Costco bear dons a red and white Santa hat making this cake a fantastic and fun holiday option.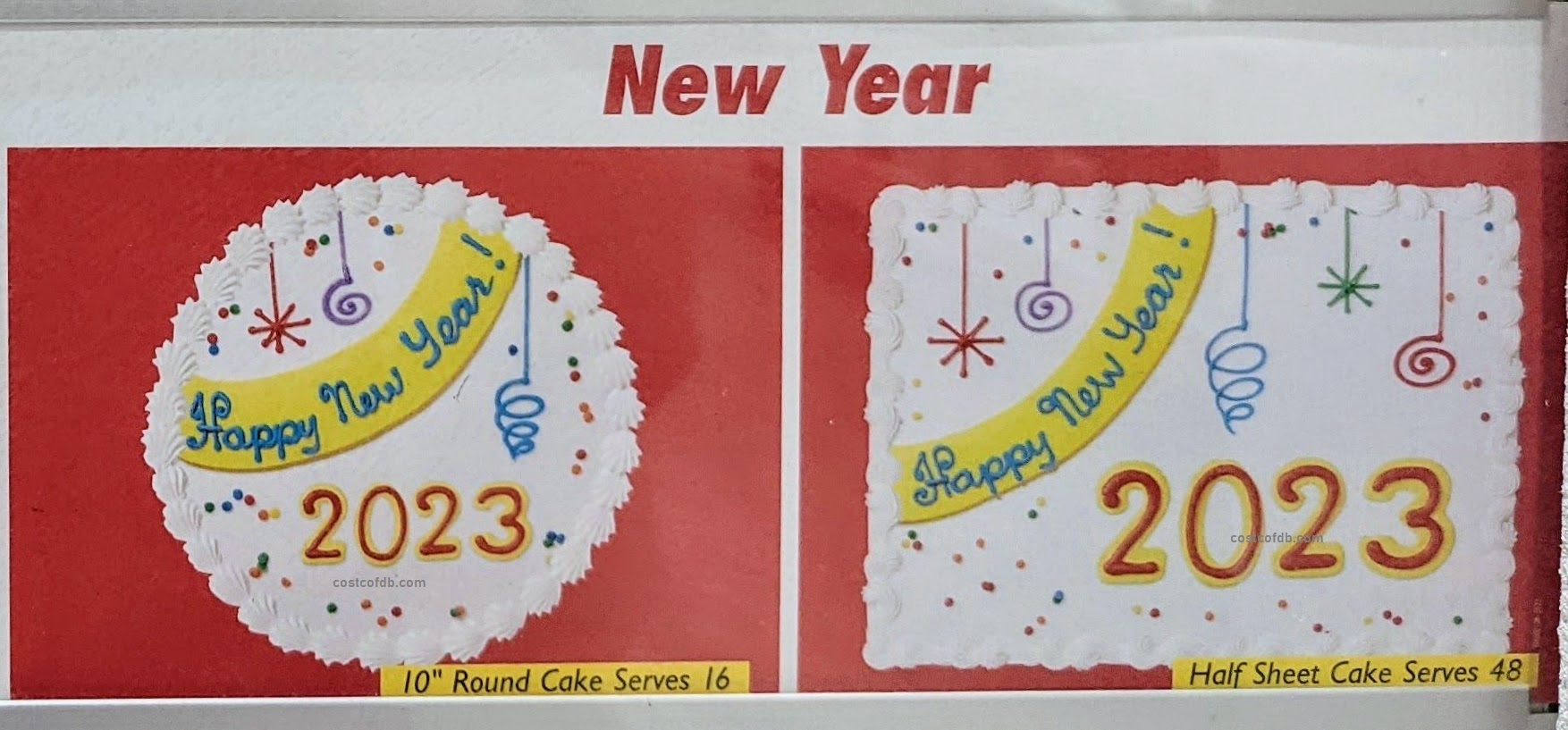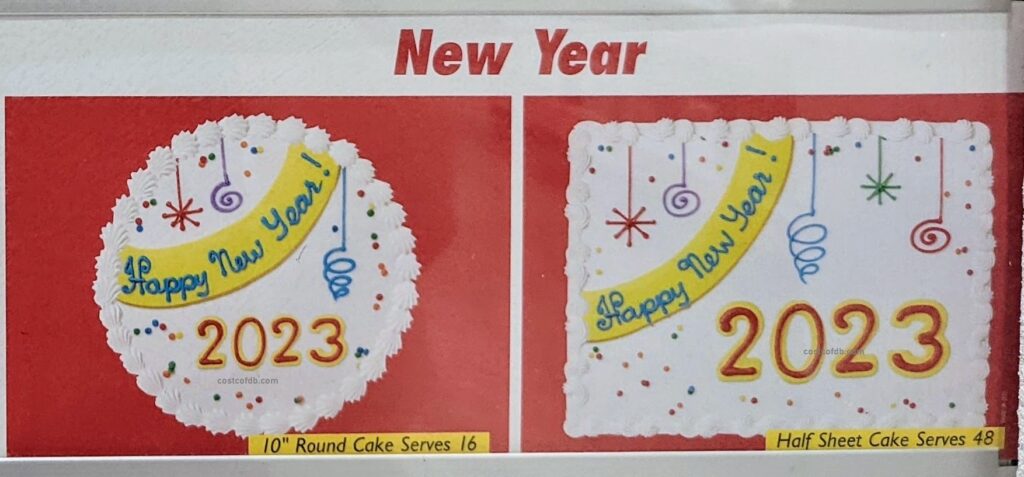 Start the New Year off right with the custom Happy New Year's cake design from Costco. The New Year's Cake is decorated with the upcoming year, a large Happy New Years sign and fun ceiling decoration pieces. 
Can You Make Special Requests On Costco's Cake Order Form?
Yes and No, Costco doesn't usually honor requests, and they don't even have a spot on the form to put any special request asides from the text. But the Costco bakery staff is reasonable and will accommodate minor and straightforward requests.
I've seen people who have successfully requested slight color or design changes. For instance, you could select the Happy Birthday Cake design and order all purple balloons, but don't expect them to make custom designs or elaborate art on your cake. 
The best option is to select one of their pre-made designs, and if you make any other requests, just remember, you may not get exactly what you are looking for.
The Costco Mystery Cake Box
Costco's archaic special cake order form has gone viral recently when one Twitter user aptly named it the Costco "Mysterious Box". 
Lucy Huber tweeted, "Ordered a cake from Costco and their system is from the 1800s, you write what you want on a piece of paper & put it in a box then nobody follows up and you just show up and hope they made it? I tried to call to confirm & they were like "if you put it in the box, it will be there""
Ordered a cake from Costco and their system is from the 1800s, you write what you want on a piece of paper & put it in a box then nobody follows up and you just show up and hope they made it? I tried to call to confirm & they were like "if you put it in the box, it will be there"

— Lucy Huber (@clhubes) May 11, 2023
While it does seem a little outdated and today's tech-heavy world, the system works, and Lucy and anybody else who orders a cake from Costco's mysterious cake box will get their cakes when they request them.
Pre-made Costco Cakes - First Come, First Serve
Need a cake ASAP? You might be in luck. Costco's bakery sells pre-made 10" round cakes in their bakery for the general Costco public to buy. The pre-made Costco cakes are located in the bakery in the same area as some of the fancier cakes.
These are the same cakes you would get if you ordered the cake from the "mystery box," just without the custom decorations or text.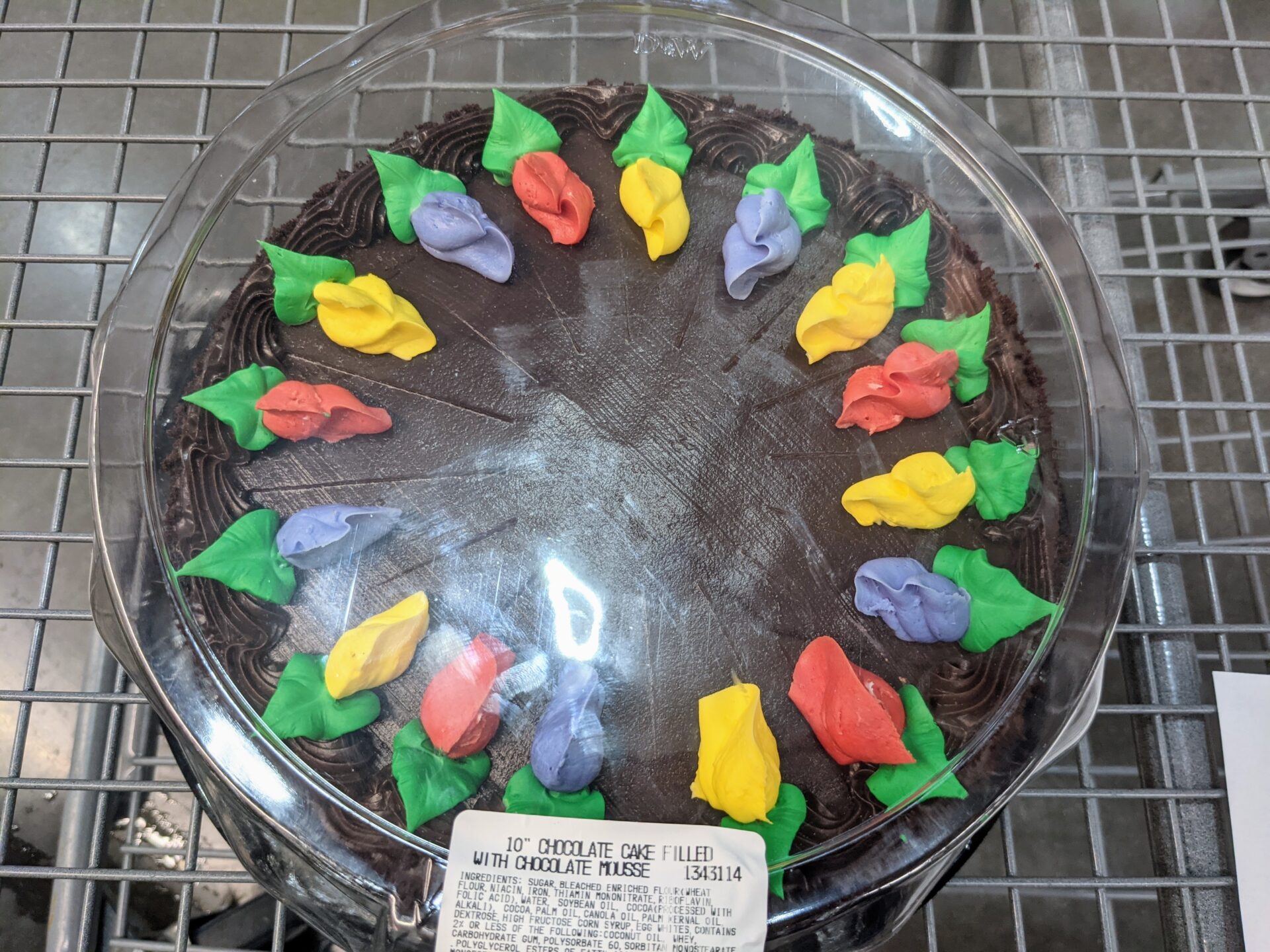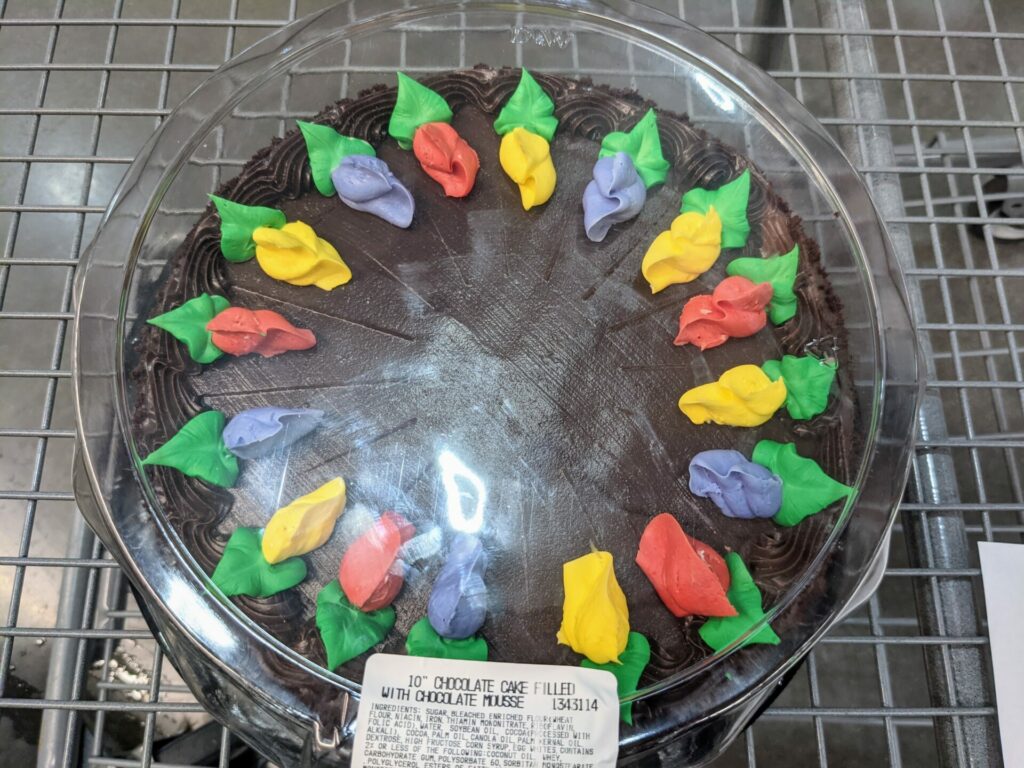 Costco usually has premade round cakes available, but there's no guarantee. They could sell out at any time, or not even make them for that day.  And I rarely see premade sheet cakes there.
So if you know you need a cake, your best bet is to order through the "cake box" system. That's the only way to guarantee you'll get one from Costco.
Don't Need a Custom Cake? Pick Up a Premade Cake The Day Of
Most premade cakes at Costco are either blank or have basic birthday designs. You'll often see a generic "Happy Birthday" message with some candles or random colored balloons. 
These cakes aren't customized, but they're a great last minute option if you need a birthday cake or even just a plain cake on short notice. 
Picking the Right Costco Birthday Cake Size?
Is 16 Servings Enough? Go With the Round Cake
Birthday cakes account for most of Costco's cake orders. Aside from choosing a flavor and design, the key decision is determining the right birthday cake size from Costco for your party.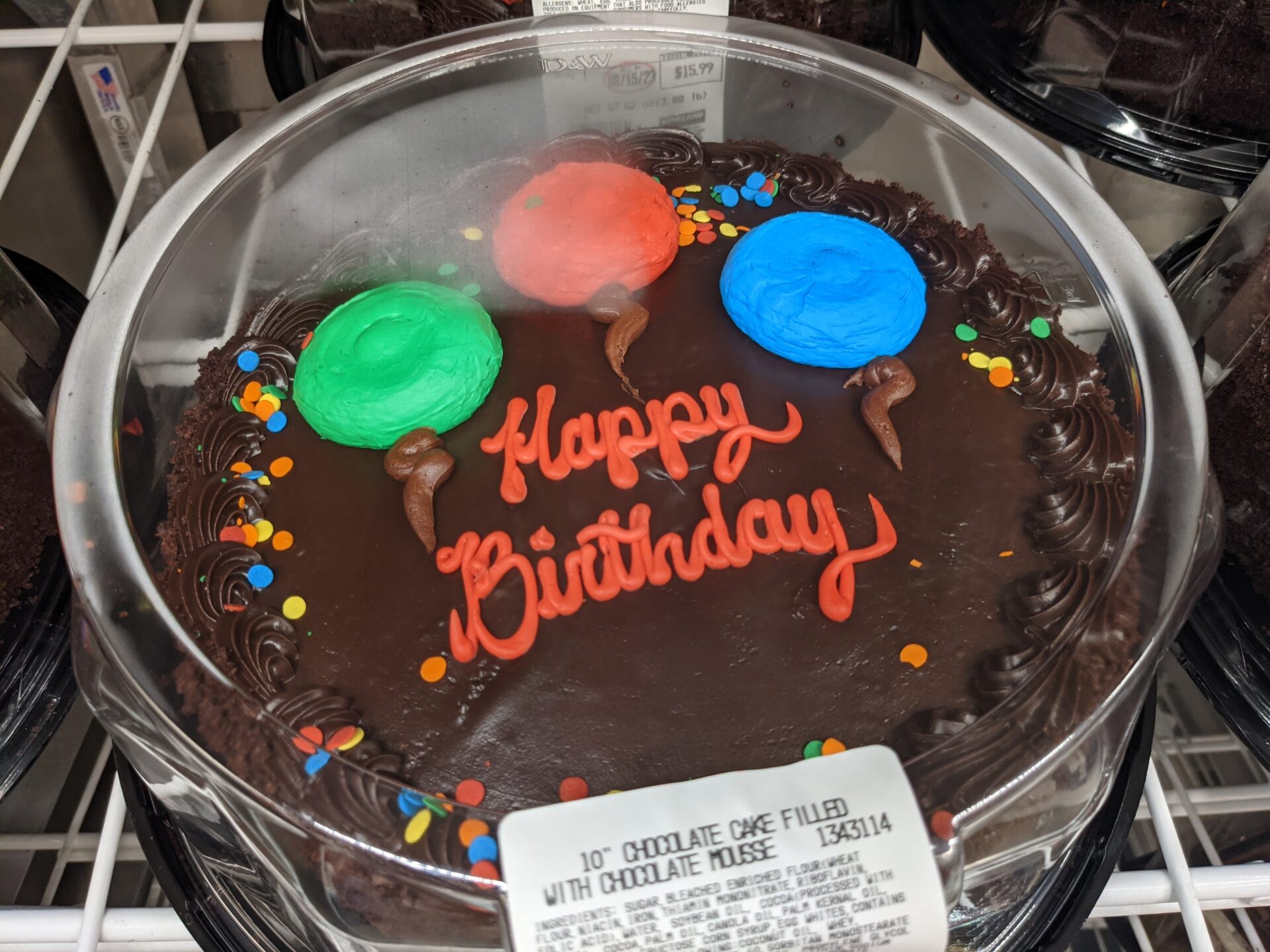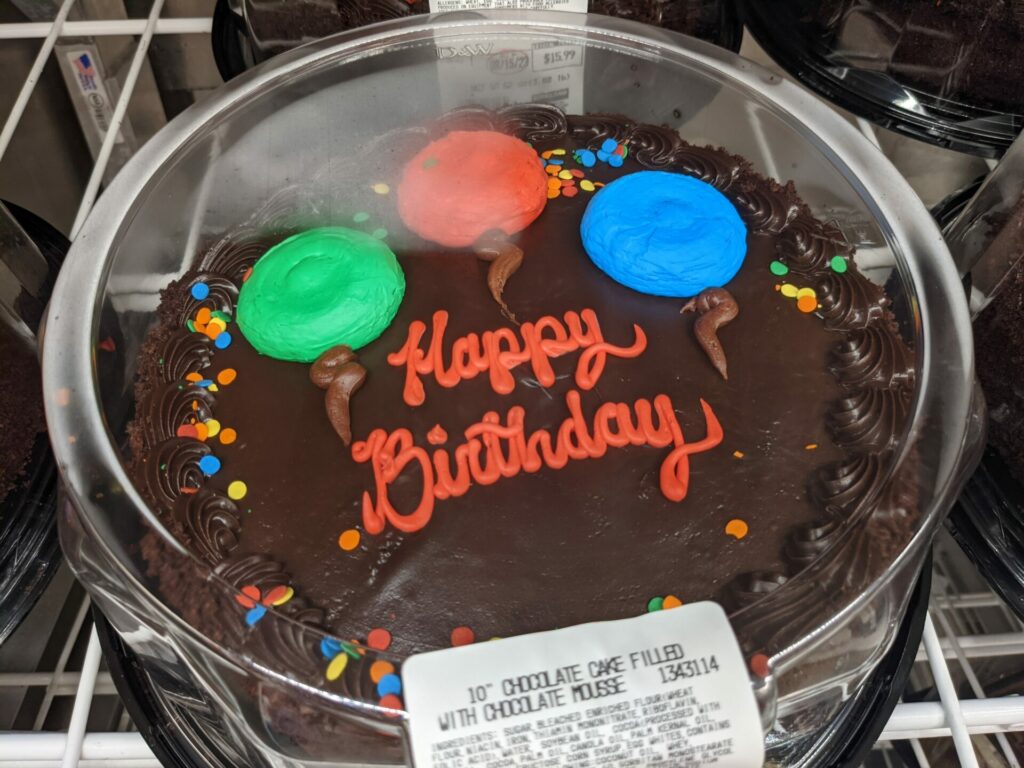 The cake size you select depends on your headcount. Costco offers two options: the 10-inch round (feeds 16) and the half sheet (feeds 48).
Keep in mind the suggested servings are based on petite slices. You'll likely need more than 16 slices to satisfy 16 guests sufficiently. Running out of cake would be a big time party foul, always try to have extra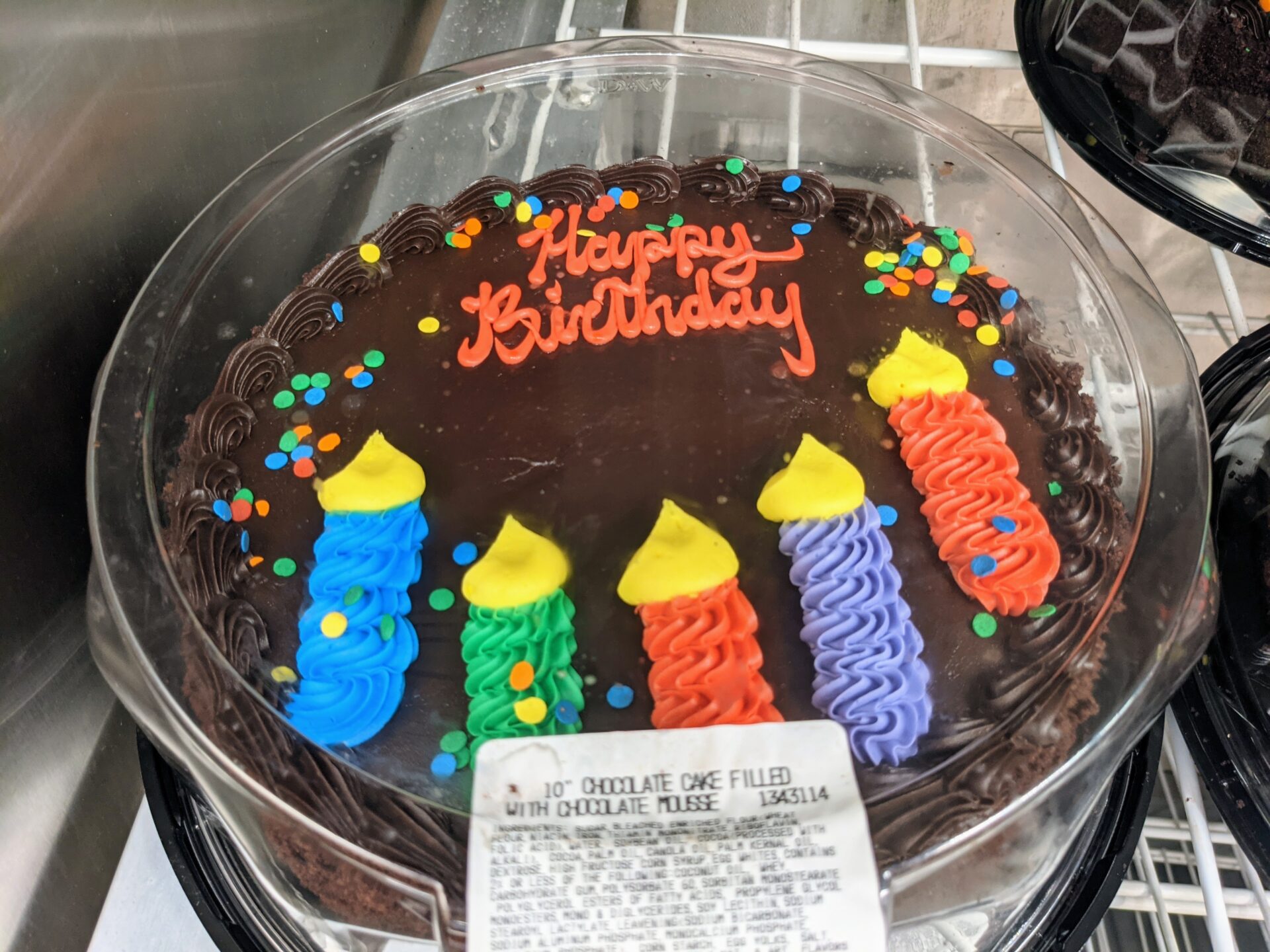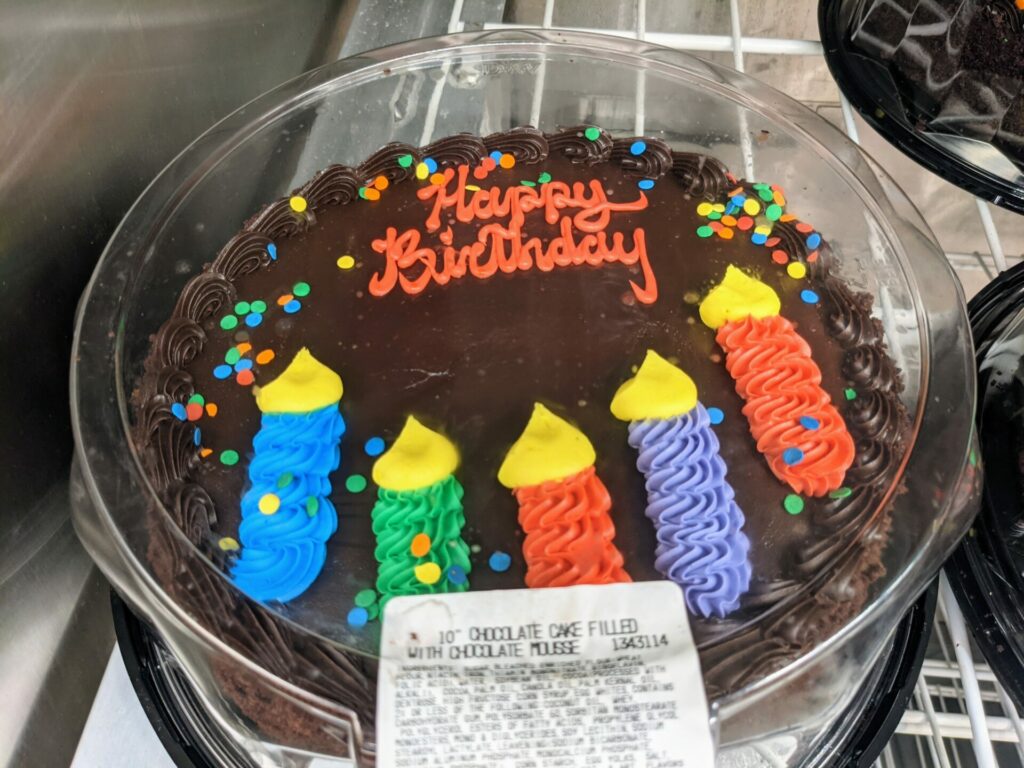 When deciding which of Costco's cake to purchase, account for your guest count and consider sizing up if you want leftovers or just peace of mind. It is always better to have excess cake than run short! The Costco Bakery staff can also provide sizing guidance if you're unsure.
If debating between the round and sheet cakes, I'd suggest opting for the sheet cake. It may cost $10 extra, but springing for the larger sheet cake ensures every guest can get a generous portion without worrying about running out. 
Costco Holiday Season Cakes
Costco also has themed premade cakes for holidays like Christmas, New Year's, Valentine's Day, Memorial Day, Father's Day, Mother's Day, and more.
These cakes have designs fitting the occasion and can be grabbed right off the premade shelf.
Does Costco Sell Wedding Cakes?
Costco Cakes Can Be Used For Weddings
Costco doesn't specifically sell wedding cakes, but that hasn't stopped countless members from using a Costco cake at their reception. 
The current wedding trend seems to be for the bridal party to have a specific more elegant (non-Costco) cake to cut and eat for themselves while the guests are served the basic Costco sheet cake. 
Save Big On Your Wedding With A Costco Cake
Costco's affordable cakes allow couples to allocate more of their wedding budget to other priorities. The generic sheet cakes still offer tasty, delicious flavors like chocolate and vanilla that wedding guests will enjoy.

Pro Tip: Costco's bakery staff can usually add lovely piping, flowers, or other decorations to personalize the cake for the big day.
Other Costco Cake Options
Costco wouldn't be Costco if you only had one option. If you aren't in the mood for a traditional cake, no worries; Costco actually carries a couple of fancier elevated cake options that will wow even the biggest cake connoisseurs.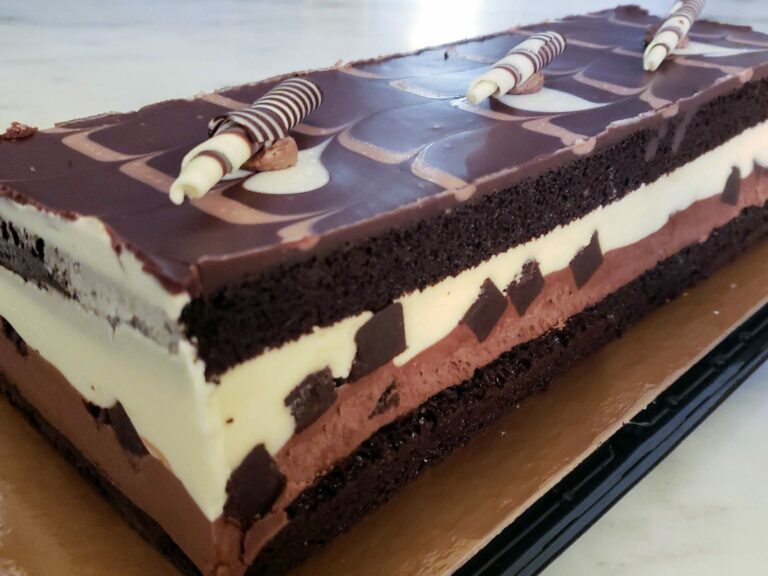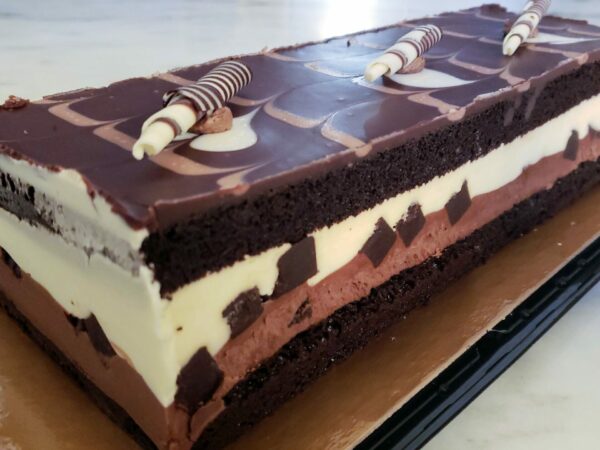 The tuxedo chocolate cake is a chocolate lover's dream with chocolate cake, chocolate mousse filling, and chocolate frosting. This decadent chocolate explosion is sure to satisfy any chocolate aficionado.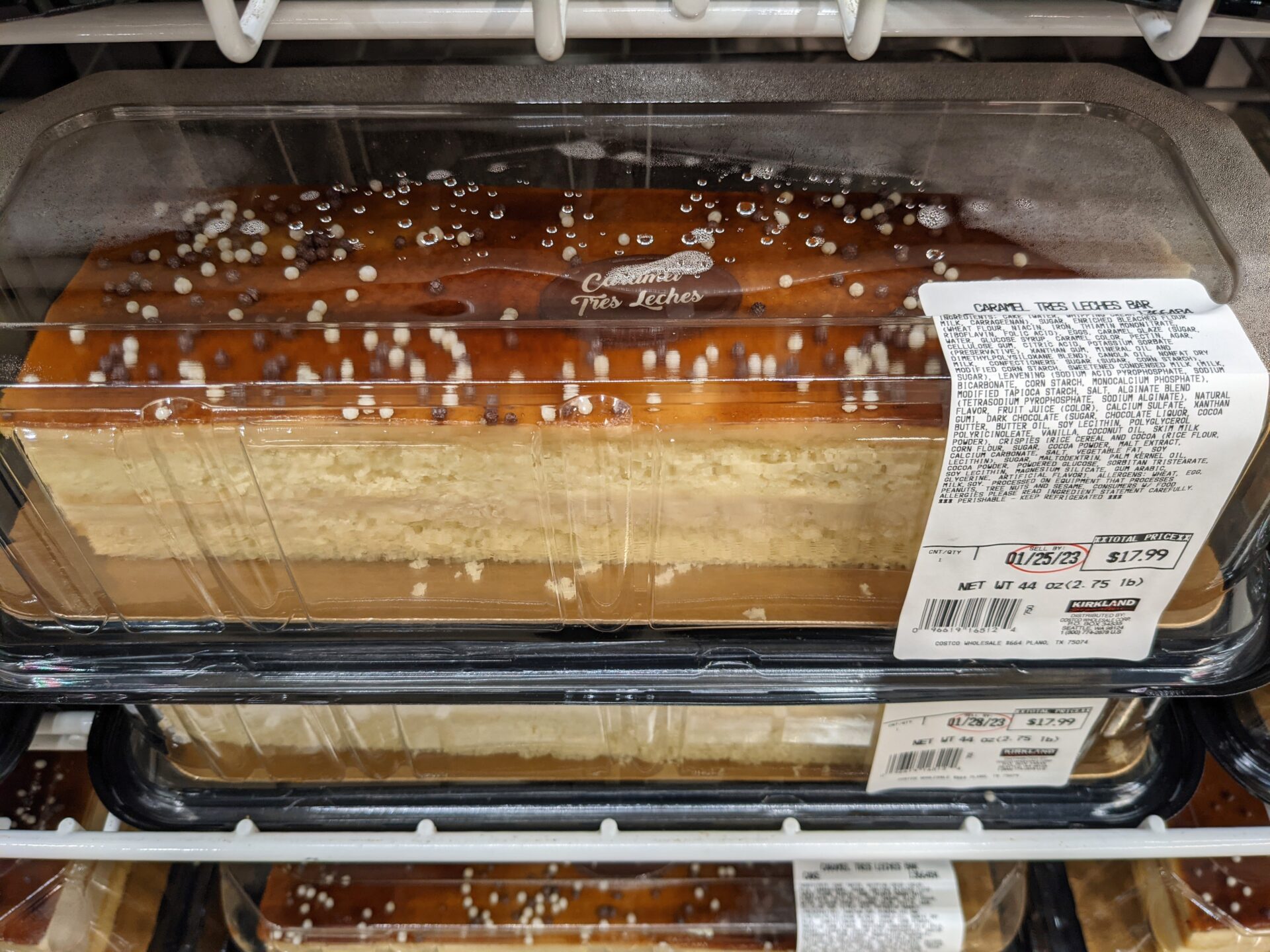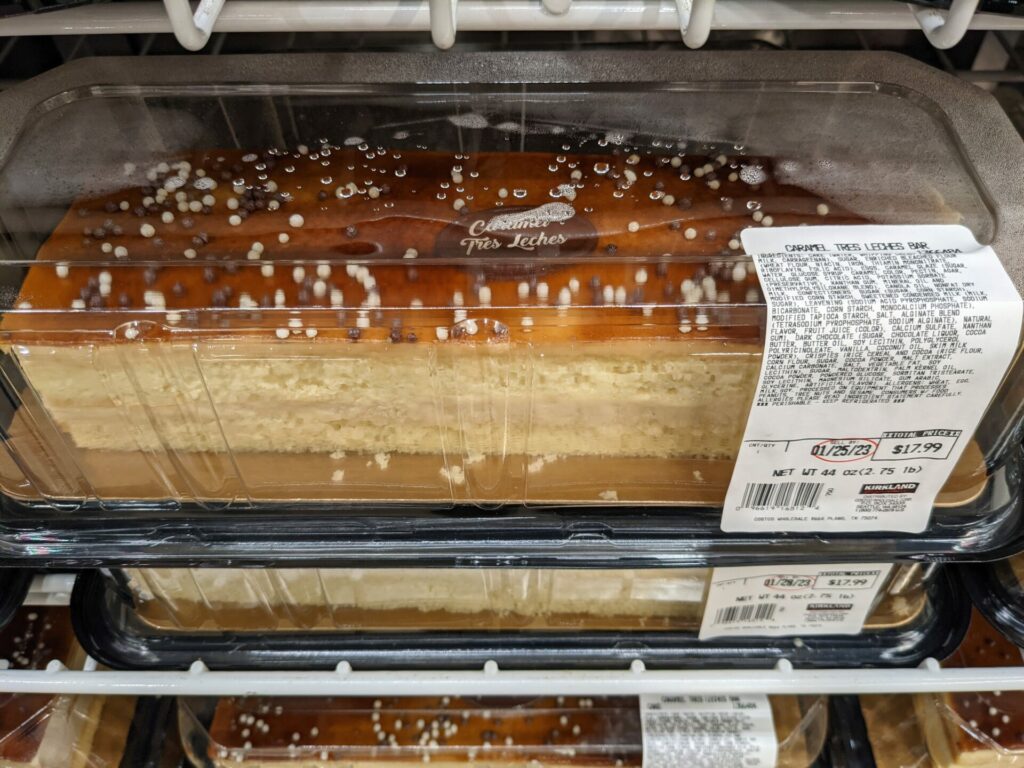 For a more unique cake, try the Costco tres leches cake, soaked in three kinds of milk for an ultra-moist and smooth texture. Each creamy bite of this Latina American specialty cake absolutely melts in your mouth. 
Strawberry And Cream Cake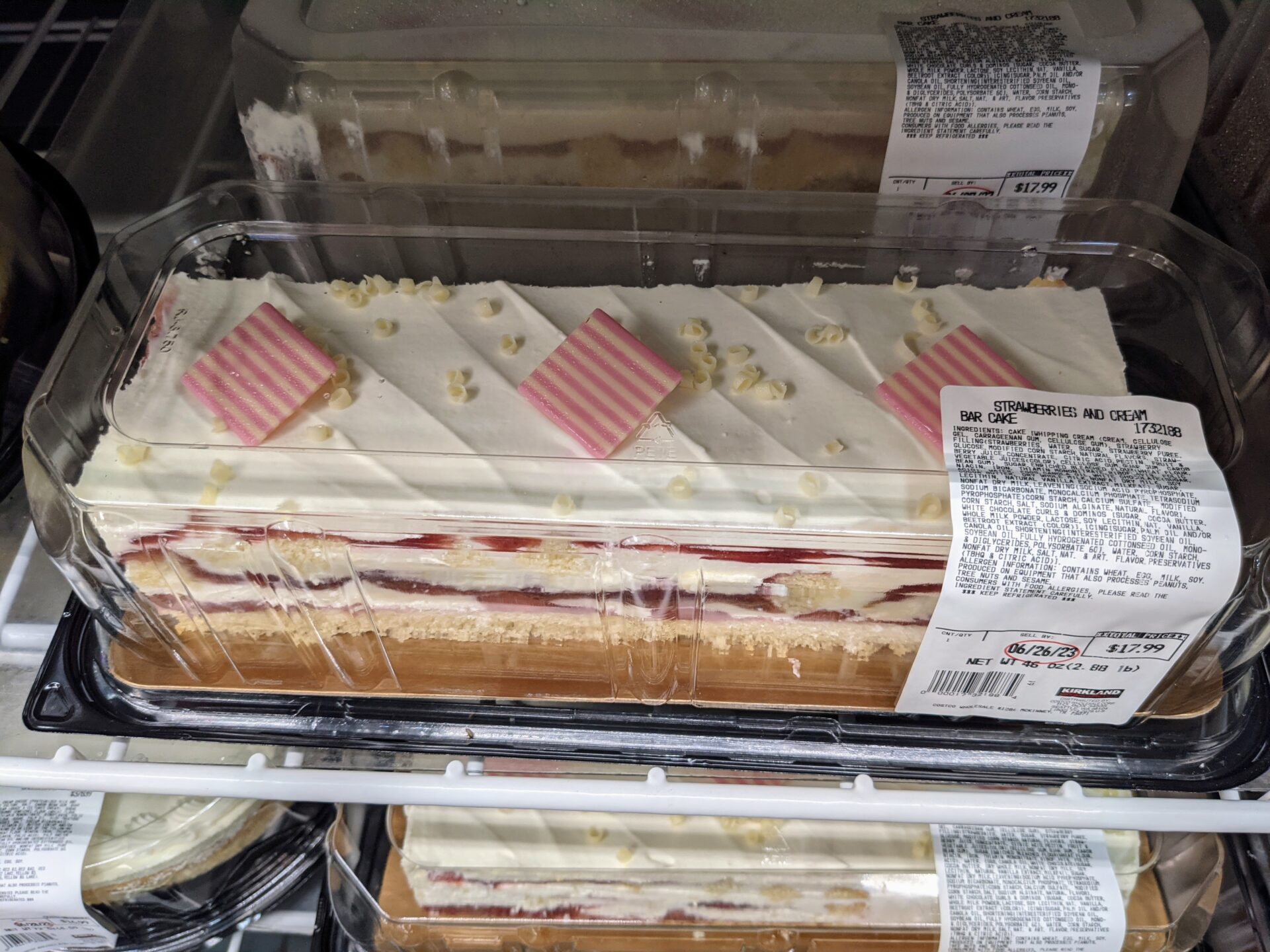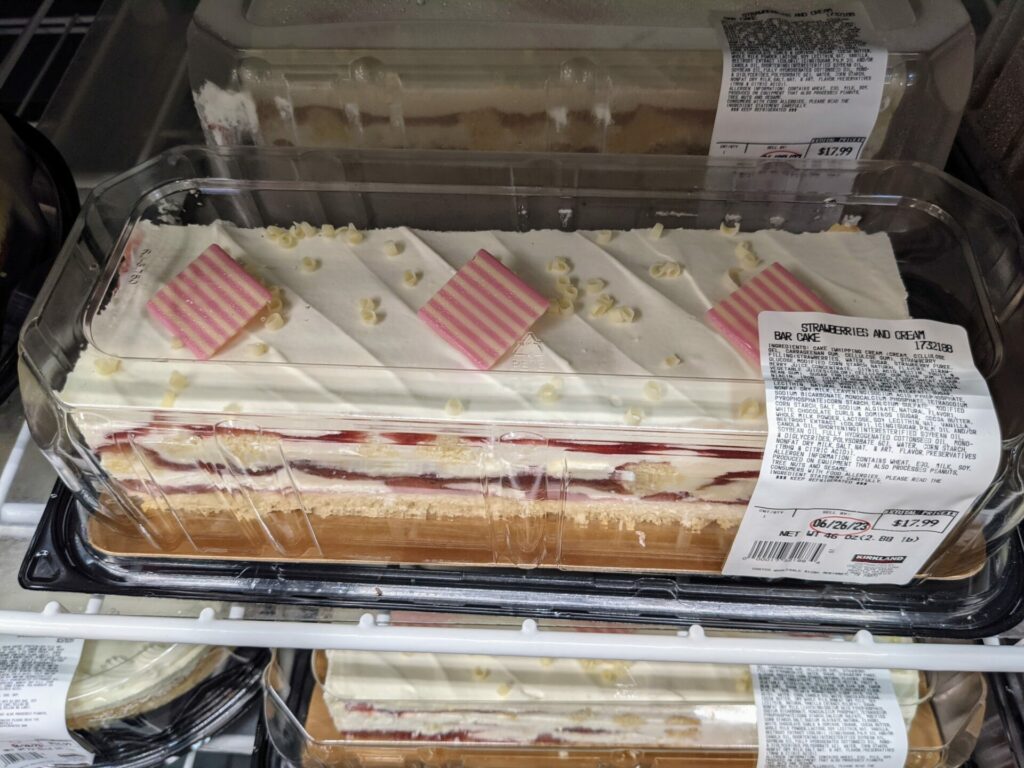 Costco's newest cake is the strawberry and cream delight cake. This cake pairs fluffy vanilla cake layers with cream cheese frosting and juicy strawberries. An excellent summer time treat.
There's no denying that both Costco cake options are on the larger size, and chances are you'll have leftovers. Thankfully Costco's cakes freeze beautifully for future snacking. When frozen properly, a Costco cake can stay fresh for up to 6 months in the freezer.  
How to Freeze Costco Cake
Cut up the remaining cake into slices
Double wrap the cake slices individually in plastic wrap.
Optionally wrap in a layer of foil for extra protection.
Place the wrapped Costco cake into ziplock freezer bags. 
Always slice the cake first, so when it comes time to enjoy it, you can just pick out the one or two slices of cake that you need. 
Costco Cake Nutrition and Calories
I wasn't going to include nutrition facts here since I have a whole page dedicated to Costco bakery calories, including their cakes.
But I know some folks may want that info handy at the party, in case any guests are watching what they eat, even though most of us don't care about calories when taking down some cake!
Costco Chocolate Round Cake Calories
One serving of Costco's chocolate round cake is 4 ounces or 1/16th of a cake. Each serving contains 390 calories coming from 18 grams of fat, 57 grams of carbohydrates (45 grams of sugar) and 4 grams of protein. 
The full nutritional label for Costco's 10" chocolate round cake is below:
Nutrition Facts
Costco 10" Chocolate Cake
Amount per Serving
% Daily Value*
* Percent Daily Values are based on a 2000 calorie diet.
Costco White (Vanilla) 10" Round Cake Calories
The calorie count and nutritional information will be very similar between Costco's white round cake and the chocolate round cake. The serving size for the vanilla round cake is again 4 oz but with 440 calories per serving. 
The 440 calories of Costco's white round cake are made up of 21 grams of fat, 59 grams of carbohydrates (46 grams of sugar), and 3 grams of protein.
Nutrition Facts
Costco 10" Vanilla Cake
Amount per Serving
% Daily Value*
* Percent Daily Values are based on a 2000 calorie diet.
Yes, Costco's vanilla round cake packs on quite a few more calories compared to its chocolate counterpart. If calories, fat, carbohydrates, or sugar are of any concern, then Costco's chocolate cake will be the better option.
Costco Chocolate Sheet Cake Calories
A serving of Costco's sheet cake is 1/48th of the entire cake or 90 grams (just a little over 3 ounces). The calorie count for the Costco chocolate sheet cake is very similar to the chocolate round cake. 
Each 90-gram serving of Costco chocolate sheet cake has 330 calories, 17 grams of fat, 42 grams of carbohydrates, and 3 grams of protein. The full nutritional label is as follows:
Nutrition Facts
Costco Chocolate Sheet Cake
Amount per Serving
% Daily Value*
* Percent Daily Values are based on a 2000 calorie diet.
Costco Vanilla Sheet Cake Calories and Nutrition
The Costco Vanilla Sheet Cake serving size is the same size as the chocolate sheet cake at 90 grams or 1/48th of a cake.
Each serving of Costco Vanilla Sheet Cake has 350 calories, 17 grams of fat, 47grams of carbohydrates, and 3 grams of protein. The full calorie information and nutritional label are below:
Nutrition Facts
Costco Vanilla Sheet Cake
Amount per Serving
% Daily Value*
* Percent Daily Values are based on a 2000 calorie diet.
The Internet Reviews and Taste Test Costco Cakes
Since cake is one of those foods that you are sharing with your entire party, I decided to get a general consensus taste test from Reddit users. After reviewing this thread, this one, and this one, here is what I gathered.
Costco cakes are very sweet, rich, and decadent tasting. The cake itself is moist, soft, and spongy. The frosting is smooth, creamy, and buttery.
The Costco vanilla cake with vanilla buttercream frosting and cheesecake mousse filling seems to be a favorite combination. The cheesecake mousse filling helps cut the sweetness and provides a nice tangy, creamy element.
The Costco chocolate cake with chocolate frosting and chocolate mousse filling is also well liked. It's an intense chocolate overload.
Some find the frosting too sweet on its own but enjoy it combined with the cake and filling. Others feel it's just right and complements the richness of the filling.
The cakes are described as tasting similar to high-end, gourmet versions. Way better than typical grocery store sheet cakes. They taste homemade and fresh, not like chemicals.
Overall, most agree the cakes from Costco taste fantastic, are moist, and have excellent frosting. They are sweet, as expected for American-style cakes, but the quality of ingredients comes through in the delicious taste. An excellent value purchase.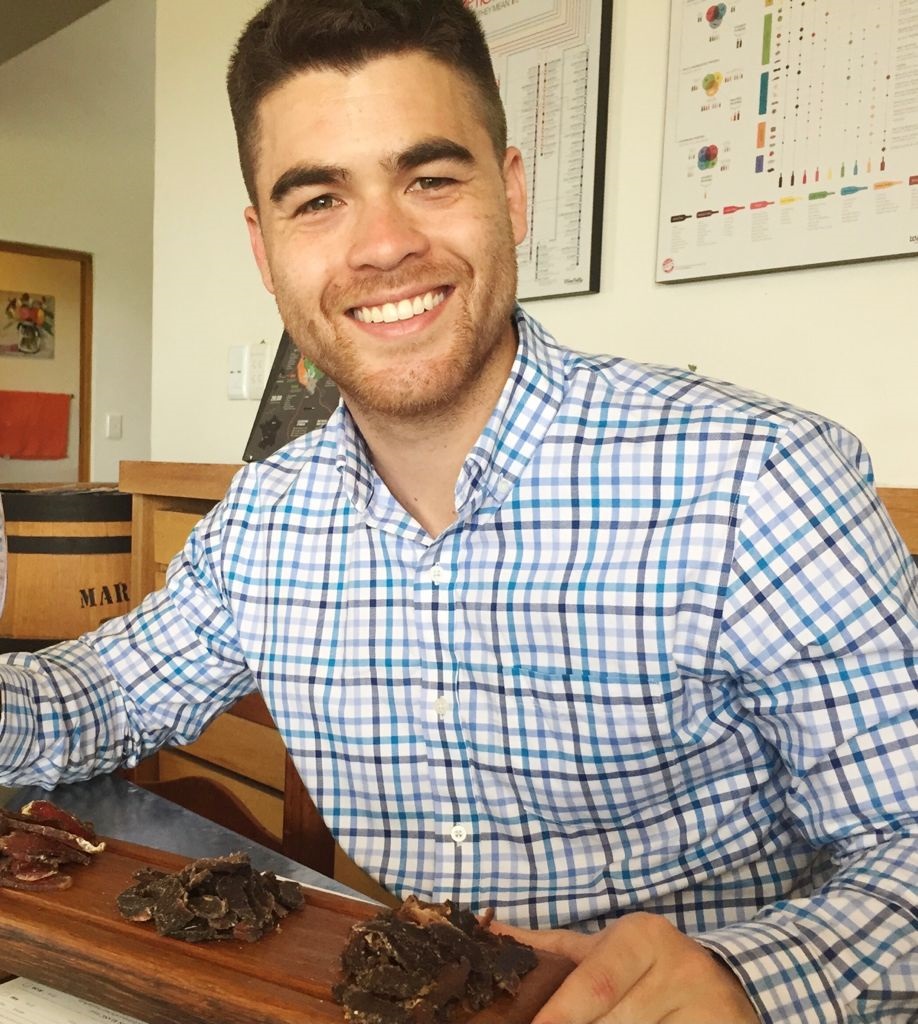 Greg Larkin is the founder and managing editor of Costco Food Database, the premiere site for honest takes on all things Costco food. A self-proclaimed Costco super-fan since childhood, Greg turned his obsession in a mission to properly rate and review all of Costco's delicious buys. When he's not busy navigating Costco aisles, you can find Greg smoking Kirkland Signature meats, meal prepping, or perfecting his homemade jerky recipes.