Costco Everything Seasoning Breaded Cod - Amazingly Good
Kirkland Signature Everything Seasoning Breaded Cod at Costco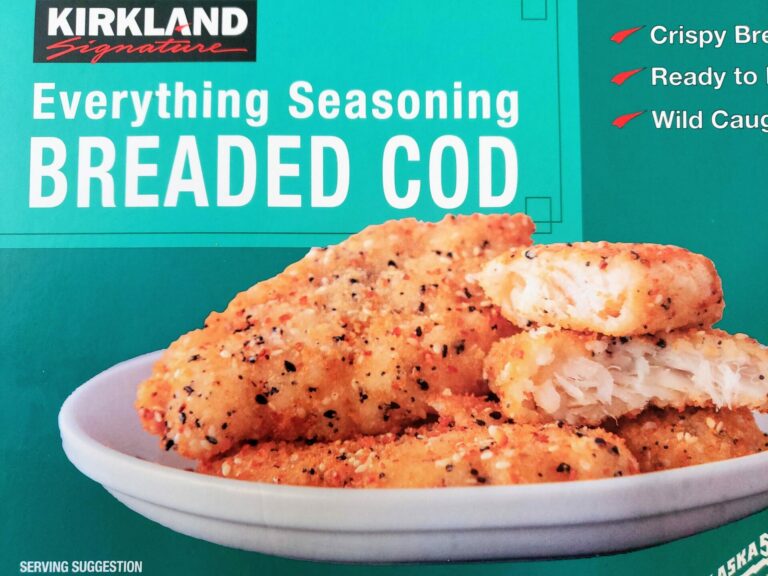 Hook Line & Savor Everything Seasoning Cod
This isn't the first everything seasoning breaded cod that Costco has sold. Just a few months ago, they used to carry Hook Line & Savor Everything Seasoning Cod. When the item was discontinued, I was flooded with comments and emails asking what happened to the beloved product.
I never was able to find out the exact reason why the item was removed from shelves, but Hook Line and Savor did stop all sales of their everything crusted cod. I guess due to its popularity Costco has created their own Kirkland Signature version of the dish.
Costco's Everything Seasoned Cod
Costco's everything seasoning cod is made from wild caught cod that is enhanced with a crispy breading and everything bagel seasoning. The cod can be used as an appetizer or eaten as a main dish.
What is Everything Seasoning?
Everything seasoning was popularized by its use on bagels, but now is sold separately as a seasoning and many food items now are everything seasoning flavored.
Everything seasoning includes poppy seeds, dried garlic, dried onion, toasted sesame seeds, and salt. There is an even mixture of all of the seasonings except for salt and when combined the flavors make a salty, savory, earthy and truly delicious flavor.
My one big complaint about Costco's Everything Seasoning Breaded Cod is that the cod does not come in a resealable plastic bag. 
I think it's safe to say that most people aren't going to eat all of the fish in one sitting and will instead be opening the bag and then placing it back into the freezer.
Yes, you can place the plastic bag back into the box and keep all the fish secure, but that does take up more freezer room than necessary. I would have liked to have seen resealable bags for this everything seasoning cod.
How Much Does The Everything Seasoned Cod Cost at Costco?
Costco sells their Everything Seasoning Breaded Cod for $17.89. The 2.5 pound box breaks down to a per pound price of $7.16.
This price is on par with Costco's other cod products. Costco's frozen beer battered cod goes for $7.20 a pound and their fresh cod sells for $7.99. This is an appropriately priced frozen seafood item.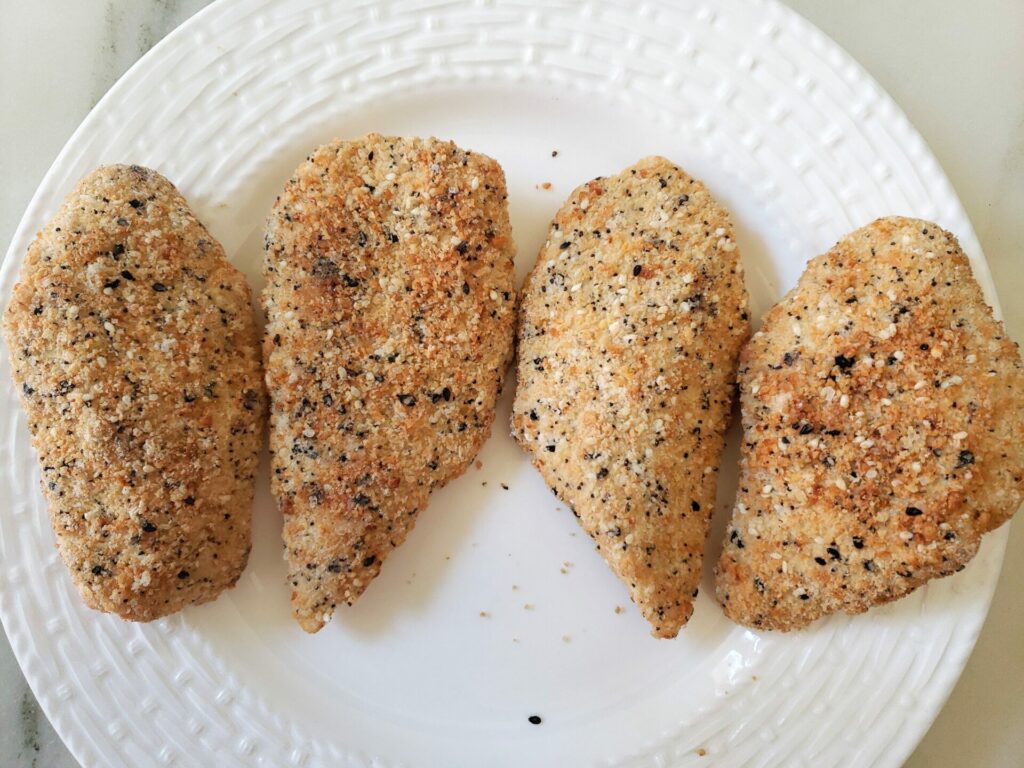 When Costco did carry Hook Line & Savor's Everything seasoning cod it was sold in a 27.9 ounce package (1 pound, 11.9 oz) and went for $15.49. This is a per pound price of $8.90. 
The Kirkland Signature version of the everything seasoning breaded cod is 20% cheaper.
Costco vs The Competition
Normally I like to compare Costco's prices to other retailers, but there doesn't seem to be any mainstream retailers or grocery stores that sell an everything seasoning cod.
Costco may be one of the only places to buy a premade everything seasoning breaded cod.
Costco Everything Seasoning Cod Taste Test
I opted to cook the Costco everything seasoning cod in the air fryer and the cod came out hot and super crispy. The everything breading had a nice crunch and the Kirkland Signature cooking instructions were great.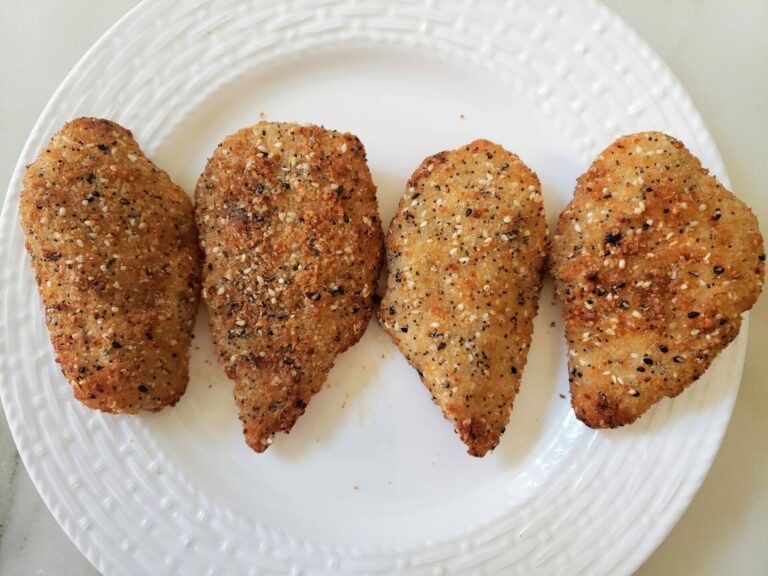 The everything breading was super crispy and crunchy without being dry or too thick. There was everything seasoning fully embedded in the breading and fully covering the cod. 
I could clearly see the sesame seeds, garlic, onion, and poppy seeds all throughout the crust.
All the flavors were there, without being overly salty. The everything seasoning complemented the fish very well and created a lot of flavor while being extremely enjoyable. 
Costco doesn't skimp on the everything seasoning, and I couldn't have done a better job making this at home.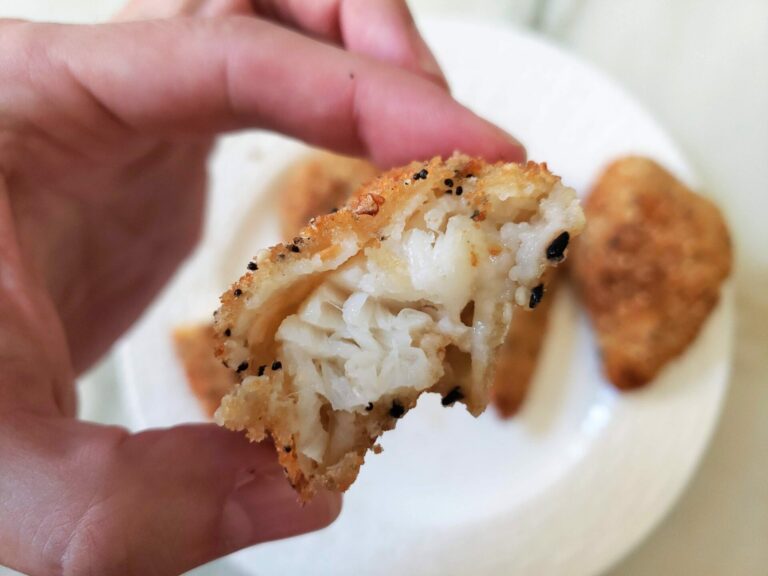 The fish was also cooked perfectly and was tender and flaky. The cod itself is on the bland side, but pairs perfectly with the super flavorful breading. 
Overall, the Kirkland Signature Everything Seasoning Breaded Cod is absolutely delicious.
Costco Signature Everything Seasoning Breaded Cod Cooking Directions
Kirkland Signature lists two different heating directions for their everything seasoning cod and that is either to bake or air fry the cod pieces. 
I always like the air fryer option as the preheating and cook times are minimized and the food crispiness is maximized.
Preheat the oven to 425°F.
Line the baking sheet with foil.
Lightly crumble for extra crispiness.
Bake for approximately 20-25 minutes, flipping once halfway through or until fish flakes when tested with a fork.
Let cool for 2 to 3 minutes before serving.

For a convection oven, reduce cooking time by approximately 2 minutes.
Preheat air fryer to 390°F.
Place 3 to 4 pieces in air fryer.
Fry for 9 to 100 minutes or until internal temperature reaches 145°F.
Let cool for 2 to 3 minutes before serving.
Kirkland Signature Everything Cod Nutrition and Calories
How Many Calories in Everything Seasoning Cod
One serving of Kirkland Signature Everything Seasoning Breaded Cod will be one 1 piece (3 ounces) and will contain 160 calories.
Those 160 calories will be made from 7 grams of fat, 15 grams of carbs, and 9 grams of protein.
This is a solid nutritional profile for the cod, but not the best. The carbs are a little high for the dish and in comparison to Costco's popular tortilla crusted tilapia, the everything seasoning cod pales in comparison.
Each serving or piece of cod will contain 330 mg of sodium or 14% of the recommended daily value. This isn't too bad on its own, but realistically you will need to consume multiple pieces of the everything season cod to make a meal.
Just by eating 3 pieces, you will be taking in 45% of the recommended daily value. This is something to be aware of when eating this cod.
Costco Everything Seasoning Cod Review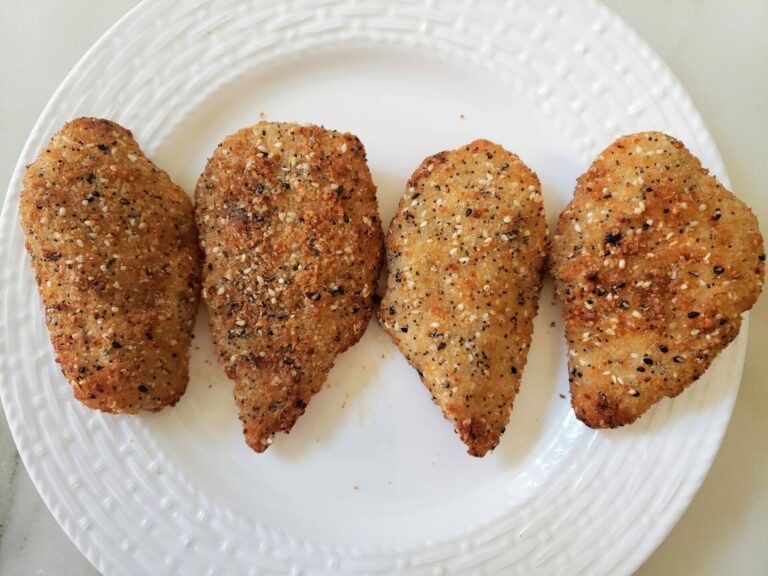 Product Name: Kirkland Signature Everything Seasoning Breaded Cod
Product Description:
Price: $17.89
Quantity: 2.5 Pounds
Location Within Costco: Frozen Food Aisles
Price Per Pound: $7.16
Summary
Costco's Everything Seasoning Breaded Cod is wonderful. The price is fair at $7.16 per pound, and the cod is super tasty and enjoyable. 
The nutritional label isn't amazing, but manageable considering this it is a frozen food item. 
I would easily buy this again.
Value -

8/10

Convenience -

9/10

Taste -

9/10

Nutrition -

8/10

CFDB Score -

9/10
Pros
Great taste

Fair price

Easy to cook