Costco Lobster Roll Kit - Is It Worth It?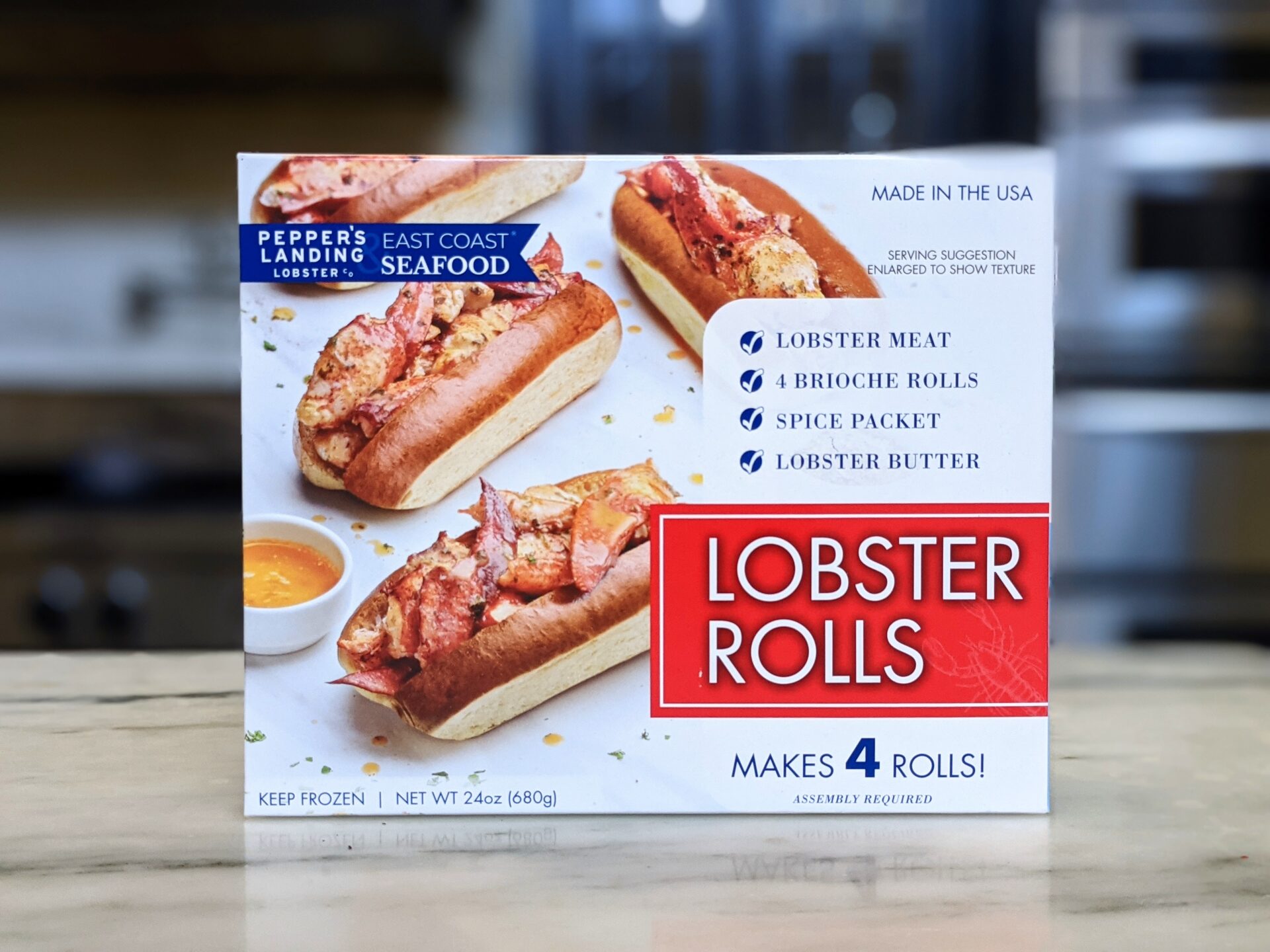 East Coast Seafood Lobster Rolls at Costco
Costco sells a four-pack of East Coast Seafood Lobster Rolls for $42.99. I found this lobster roll kit in the frozen food area of the warehouse near other items such as the Lobster Tail Skewers, Shrimp Tempura, and the Mahi Mahi.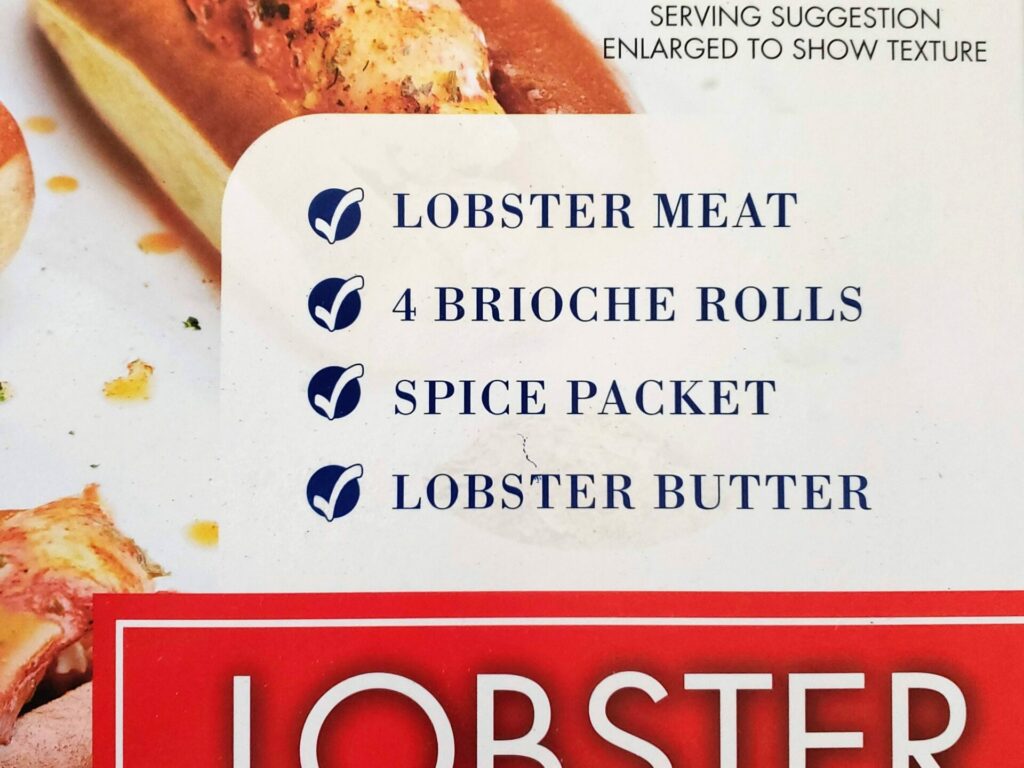 Each Costco Lobster Roll Kit will include lobster meat, four brioche rolls, a spice packet, and two pieces of lobster butter. The total package weighs 24 ounces.
Cold Water vs. Warm Water Lobster
When people picture a lobster in their head, they mainly think of cold-water lobsters, but in fact, there are both cold and warm-water varieties. 
The cold water lobsters typically come from the east coast near Maine or even from Canada. Warm water varieties will come from warmer climates such as California, Florida, and the Caribbean.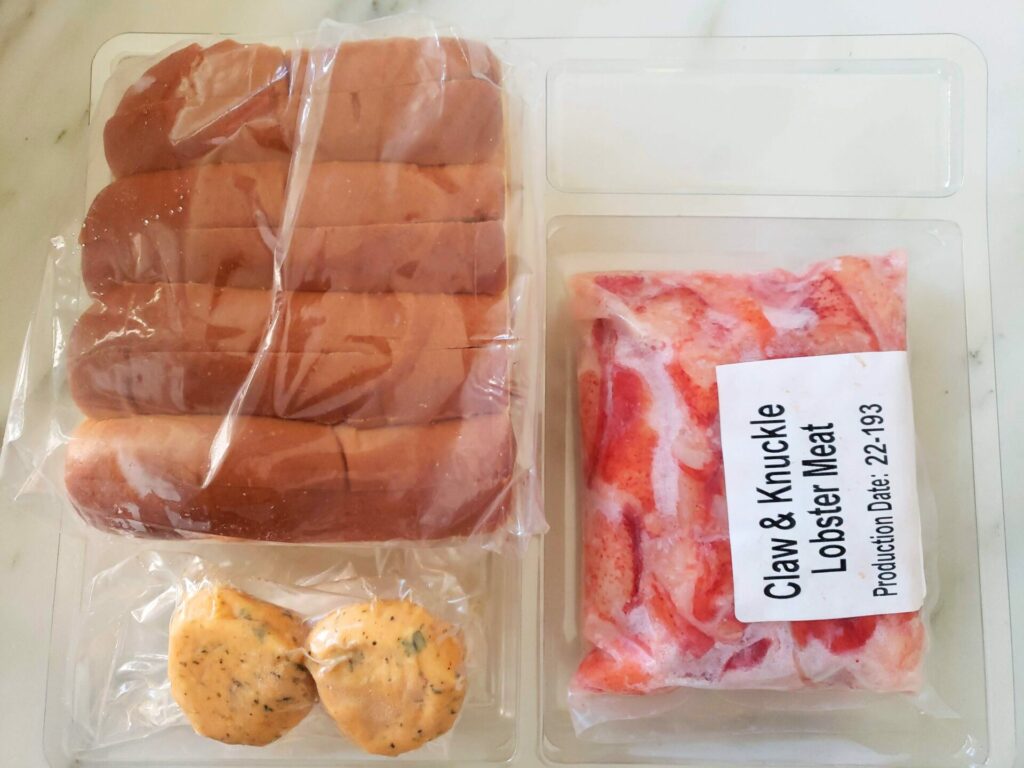 Not only do they come from different regions, but they also look drastically different. Cold water lobsters have the traditional lobster look with giant claws. Warm water lobsters have a spiny look and lack claws. The only edible portion of warm water lobsters will be the tail.
The lobster in this lobster roll kit from Costco comes from cold water lobsters, which have better texture and are more flavorful. Because of its taste, cold water lobster does command a higher price point.
Are these Maine Lobsters?
Maine lobsters are highly sought after and considered the best in the world. The company that produces these Costco lobster roll kits is from the east coast, and it is possible they are using Maine lobster, but it is extremely unlikely at this price point.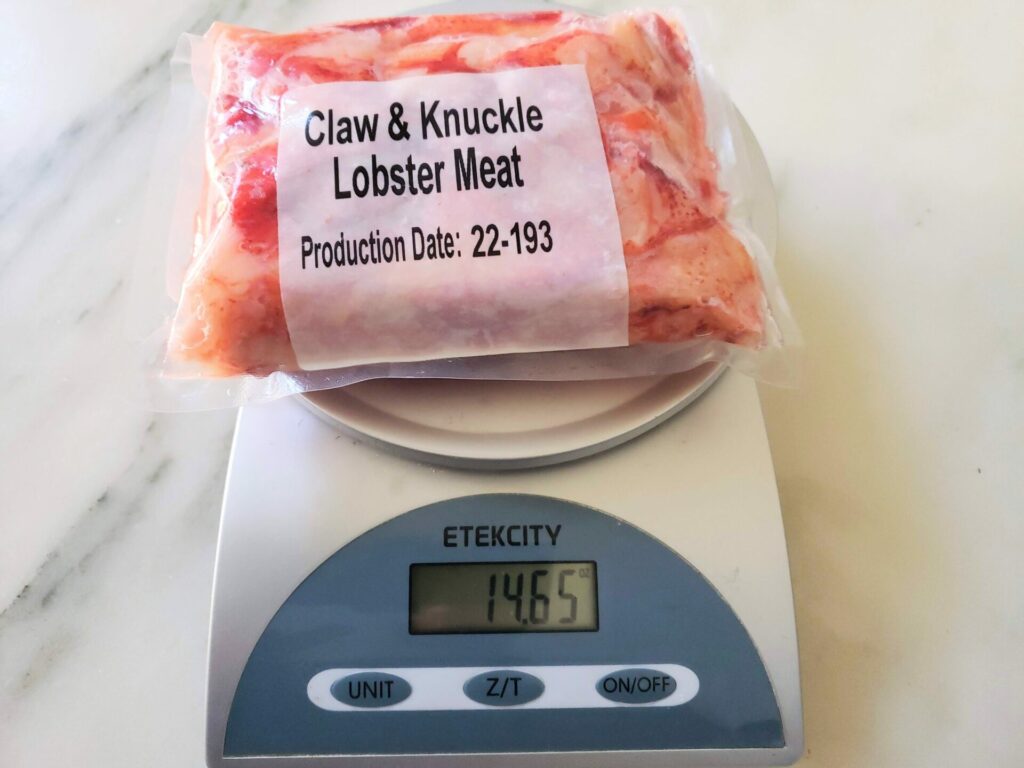 I know that if I included a top-tier world-renowned food in my product, I would heavily promote it all over the label. 
Because there is no mention of Maine Lobsters on the label, I have to assume that the lobster meat is sourced from a different region. The most likely culprit is the Canadian lobster, which is valued at 50-75% less than Maine lobsters.
Lobster is delicious, and we all love to eat it. That is why it's so important in today's world to practice sustainability with our seafood.
East Coast Seafood's lobsters are harvested by small lobster boats owned and operated by generations of proud lobstermen. This is exactly what we need more of in this world.
How Much Does The Lobster Roll Kit at Costco Cost?
Costco sells the 24-ounce Lobster Roll Kit for $42.99, and at this price, each Costco lobster roll will cost $10.75. At first glance, this is very expensive and one of the more costly of the boxed frozen food items that Costco carries.
This will be pretty pricey for almost any other type of sandwich, but for a lobster roll, this is quite the bargain.
Costco Vs. Maine Lobster Shacks
According to New England Today, a smaller Maine lobster shack will usually try to keep their lobster rolls to under $20, while some of the popular high-end spots will charge upwards of $36.
The price savings are dramatic when comparing the Costco lobster roll to an authentic lobster shack.
Costco vs. Delivered Lobster Rolls
If you can't make it out to the New England area, you can have lobster roll kits mailed out to you directly to your doorstep. These, of course, go for quite the premium.
Lobster Anywhere sells an 8-count lobster roll kit for $188.95 or $23.62 per roll. Luke's Lobster Luke's sells a 4-roll kit for $125 ( $31.25 per roll). And finally, Get Maine Lobster sells 4 rolls for $139.99 ($34.99 per roll).
Authentic lobster rolls are not cheap, and Costco's lobster rolls at half or even one-third the price are quite the bargain. 
Lobster Roll Kit - Taste Test
I followed the directions to assemble these Costco lobster rolls, and they were really easy to prepare. It took me about 10 minutes in total to get the lobster rolls onto a plate.
First, I do have to say the lobster looks truly wonderful. There were large pieces of lobster, and I was most impressed because I could actually see the lobster claws.
I wasn't sure what to expect, and I didn't know if I would get claws and knuckles as I did or if the lobster meat would be more chopped up random leftover lobster pieces.
Thankfully, the lobster meat was whole lobster claw and knuckle pieces. The lobster meat is pre-cooked and has that perfect vibrant red & white lobster color. 
I was very impressed with the quality of the meat, and I took great pride in chopping the lobster claws down to bite-sized pieces.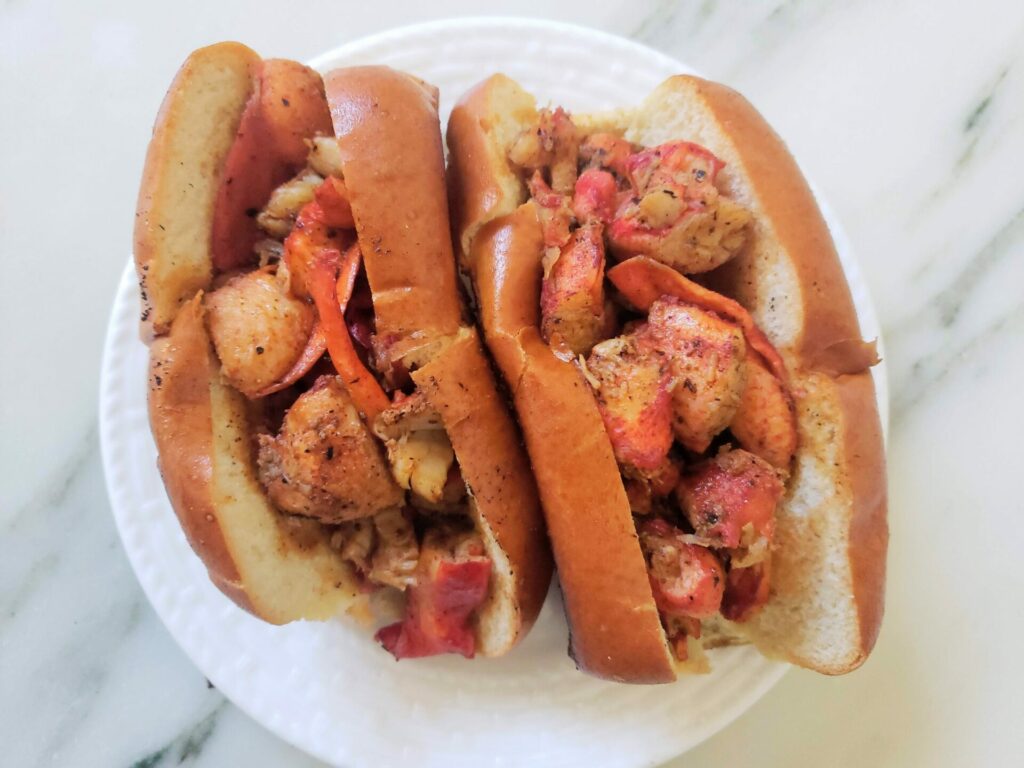 For taste, everything was spot on. The brioche bread was impressive for frozen bread and was a fantastic compliment to the lobster. The lobster butter was delicious, and of course, the meat was outstanding.
If I had one complaint, it would be that I didn't really care for the provided seasoning. It was heavy on that classic spice taste, which I'm not the biggest fan of. 
Maybe the folks out there in New England really dig it, but it wasn't my favorite.
The giant lobster pieces were terrific and loaded with lobster flavor. The lobster claws were sweet and delicate and had a clean and light taste. 

The lobster was the star of the show, and for good reason. The meat was tender, juicy, and flavorful and elevated the meal. Very delicious! 
How To Cook The Costco Lobster Rolls
The directions are long for this Costco lobster roll kit, but I thought it was pretty easy overall to cook and prepare the lobster rolls.
Once I had the lobster defrosted, it took me only about 10 minutes to get everything from the package to the table.
Preparation Instructions:
For best results, thaw lobster meat overnight under refrigeration at 38°F (3.5°C). To speed up the process, the sealed lobster pack may be soaked or run under COLD water, (product temperature should remain 38°F or below).
Important, be sure to drain any excess water from the lobster meat.
Chop the cooked lobster meat into ½-inch pieces and set aside in a large bowl.
Season to taste, open the spice packet and toss with meat in a bowl until spice is evenly distributed or desired seasoning is achieved.
Melt one lobster butter puck in a large skillet over medium-high heat and toast both sides of the buns (or, if preferred, without butter in a toaster) for 1-2 minutes, then set aside.
Melt remaining lobster butter in the same large skillet on low heat, and add lobster meat. Heat for 2-3 minutes, warming lobster meat only (do not re-cook meat).
Add lobster meat to your butter-toasted roll, drizzling any remaining butter from the pan on top of the lobster roll, and enjoy!
Lobster Roll Nutrition and Calories
How Many Calories in Costco's Lobster Roll Kit?
One serving will be a 6-ounce lobster roll and contains 380 calories. Each Costco lobster roll will have 14 grams of fat, 33 grams of carbs, and 27 grams of protein.
I consider this a solid nutritional profile for a lobster roll. There is a fair amount of fat and reasonable carbs, given that this is a sandwich. 
The protein is very high due to the lean lobster meat, and when all put together, I have no problem with the calories or the macronutrients.
The only major concern I have with the lobster roll kit from Costco is that each roll contains 860 mg or 37% of the daily recommended value.
The sodium content is slightly higher than I would have liked to have seen for a medium-sized lobster roll like this.