Costco Enchilada Bake - Calories + Cooking Directions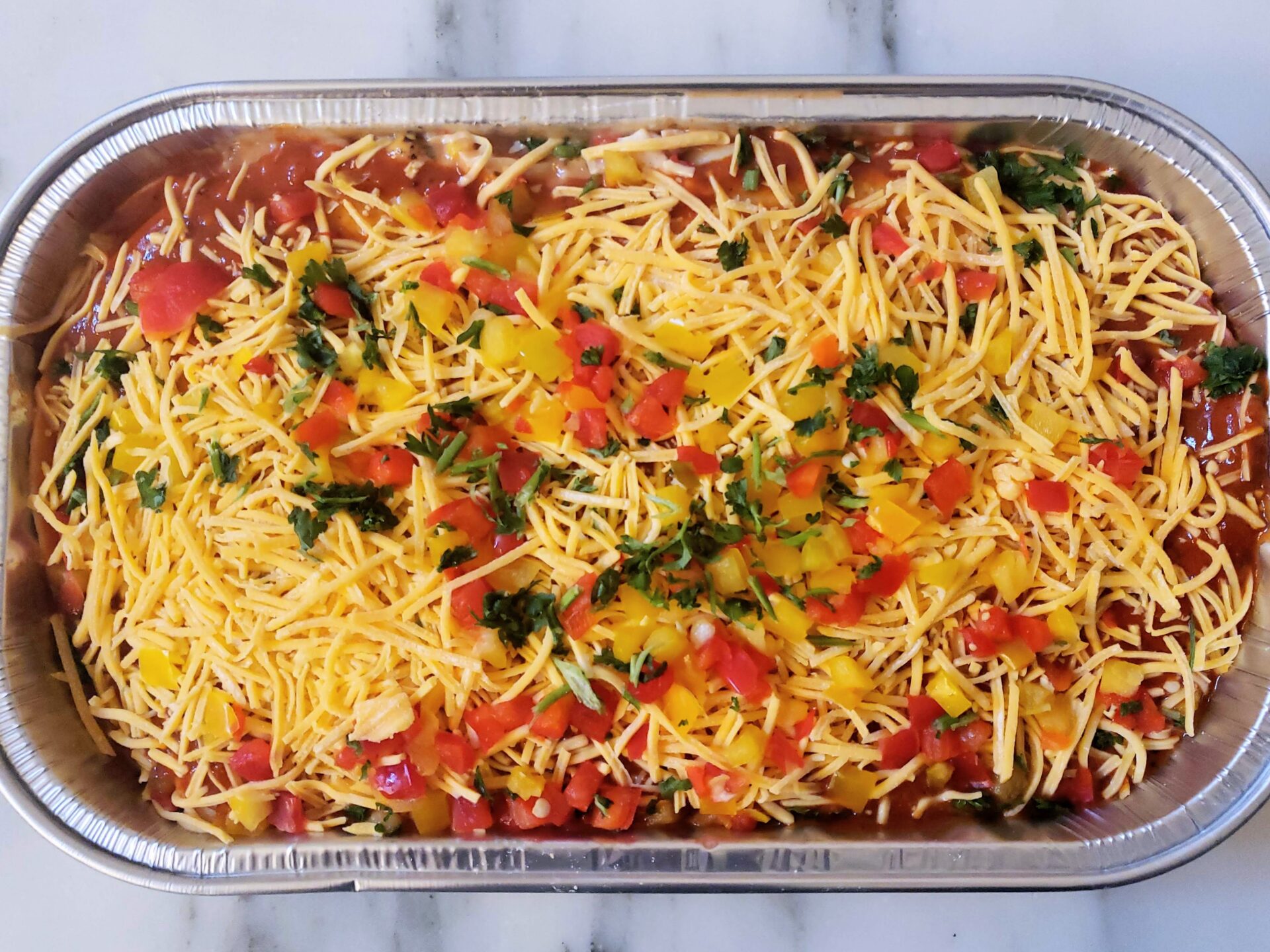 Enchilada Bake With Rotisserie Chicken at Costco
Costco sells its Kirkland Signature Enchilada Bake With Rotisserie Chicken for $22-$23, depending on the exact size of the bake. The enchilada bakes can be found in the deli area of the warehouse near other premade items such as the street taco kit, quinoa salad, and chicken quesadillas.
One Thing to Note: The enchilada bakes need to be cooked in the oven for 50-60 minutes, so prepare accordingly. This is an easy and fun dinner option, not a quick one.
Have You Tried Costco Enchilada Bake?
Let the rest of the Costco Food Database community know what you thought of this product. Results and reviews are at the bottom of this page.
Please allow 24 hours for review moderation and approval.
What is an Enchilada Bake?
An Enchilada bake is a pretty unique item and isn't a traditional Mexican dish by any means. It does use some common ingredients of Mexican cooking but is more of a casserole made with enchilada ingredients.
I was expecting the enchilada bake to be rolled up enchiladas all covered in cheese and sauce, but instead it's closer to an enchilada lasagna where the ingredients are layered on top of one another.

The Costco enchilada bake will include tortillas, their famous $5 rotisserie chicken, enchilada sauce, corn, rice, bell peppers, beans, tomatoes, cheese, and cilantro.
How Much Is the Costco Enchilada Bake?
The Costco enchilada bakes are sold by weight (approximately 4 pounds each), and each package sells for about $22 or $23. This breaks down to $5.99 a pound.
About a year ago, the enchilada bake sold for $4.99 a pound before increasing to $5.49. It made one more jump to $5.99 a pound, and it's about the most I would ever pay for a dish like this. 
It isn't the most expensive of Costco's premade meals, but I don't think it brings much value at $5.99 a pound.
Kirkland Signature Enchilada Bake Taste Test
I followed the cooking directions for the enchilada bake and cooked it for 50 minutes. The enchilada bake hit 165° and was thoroughly heated.

The cheese wasn't fully melted, so I popped it back in the oven for a few minutes after removing the foil cover, but I did notice the bell peppers started to dry out, so I didn't leave it in there long enough to let the cheese fully melt.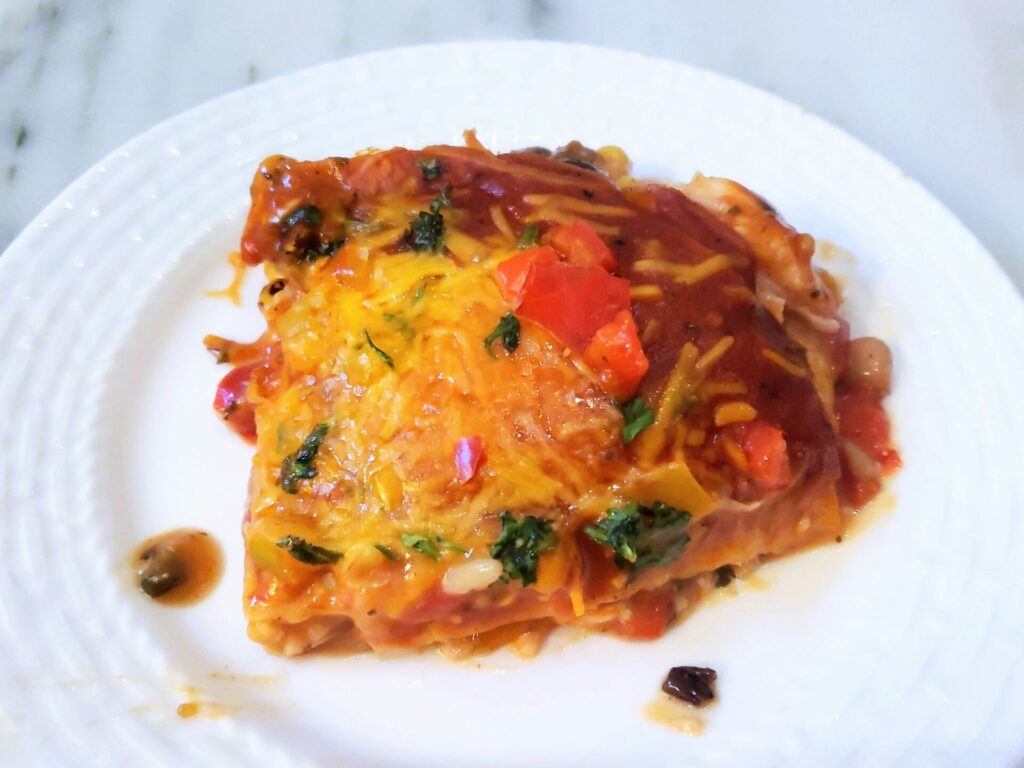 Presentation-wise, the enchilada bake looked great. The bell peppers and parsley gave it some nice color and pop. 
It does all kind of fall apart when you take it out of the tray, but up until then, it looks pretty darn good.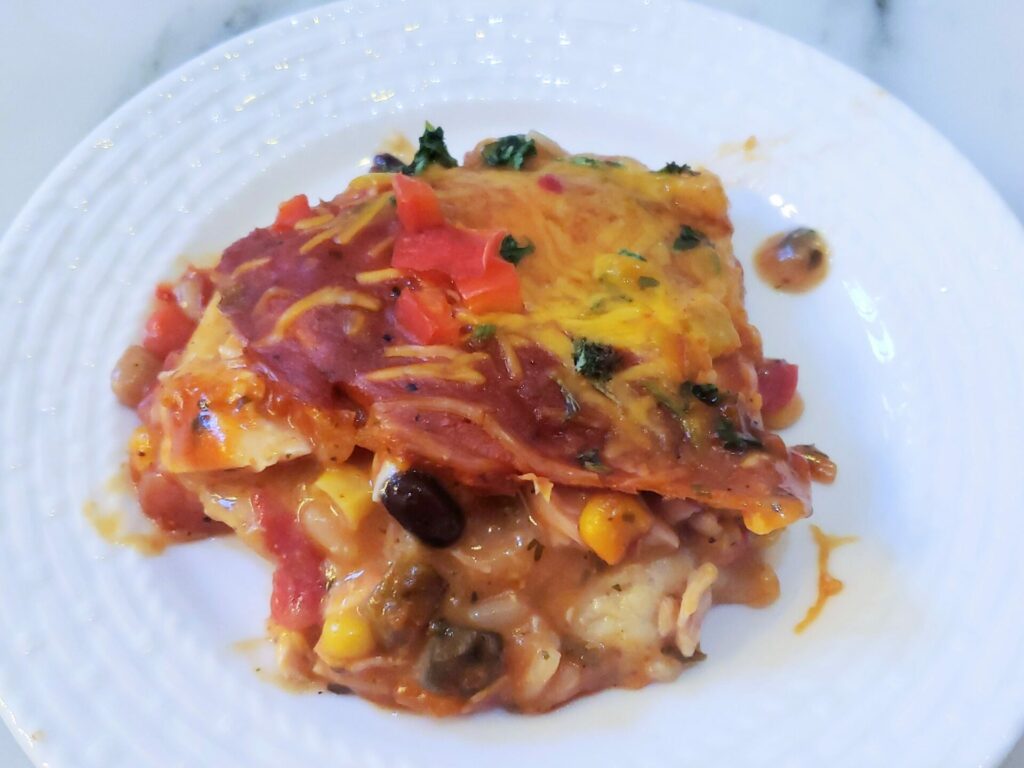 There's a lot to like about the enchilada bake, but it also has some negatives. I'll start with what I liked, and I thought the chicken was fantastic. The rotisserie chicken pieces were large, flavorful, and moist – absolutely no complaints, and I was even very pleasantly surprised with how much chicken was in the enchilada bake. 
It would have been very easy for Costco or any company to skimp out on the chicken, but they did not do that here. A+ for the amount, flavor, and tenderness of the chicken.
The big negative for me was, unfortunately, the tortilla or the enchilada portion. The tortillas were soggy from the sauce and didn't have the right texture. It felt out of place in the dish and significantly detracted from the overall enjoyment. 
The enchilada sauce was just about average. I didn't care for it too much, but it did have a touch of heat that the dish really needed. I wouldn't call it spicy, but the heat was present and noticeable.

Unfortunately, I liked everything except the enchilada portion, and the rest of the filling would have been amazing in a burrito or even made into a burrito bowl.
How to Cook The Costco Enchilada Bake
Costco has only one cooking method to bake their enchilada bake, and that is to bake it in the oven. The instructions are straightforward, but the enchilada bake does take about an hour to cook.
Costco Enchilada Bake Cooking Directions
Preheat oven to 400°F

Remove Lid

Cover loosely with foil

Place on the center rack of the oven

Bake for 50-60 minutes or until internal temperature reaches 165°F.
What To Serve With the Enchilada Bake?
The enchilada bake can be served alone as is, but as a meal, it can benefit from some quick and easy additions. 

I recommend starting with a salad, such as Costco's premade caesar salad or even some chicken tortilla soup. Both options can be purchased at Costco and prepped in about 10 minutes.

I would also pair the enchilada bake with some guacamole and sour cream for added flavor or serve with some Mexican-style street corn.
What To Do With Leftovers?
This is a large dish; if you don't finish it all in one night, don't worry, there are some very nice leftover options. The enchilada bake is excellent for breakfast with some eggs or even served over crispy tortilla chips. The flavors are there and can easily be incorporated into other dishes.
How Many People Does Costco's Enchilada Bake Serve?
My wife and I ate about 35% of the enchilada bake for dinner and saved the rest for leftovers. 
The meal could easily feed 5-6 people if served as a standalone dish, and if you were to combine the meal with some side dishes, you could easily feed 7-8 people.
Costco Enchilada Bake Calories and Nutrition
Costco does make it difficult to find the nutritional information for their premade meals, but I was able to secure the calories and nutritional label for the enchilada bake.

One serving of Costco enchilada bake will be 9 ounces and have 260 calories. Those 260 calories will come from 13 grams of fat, 20 grams of carbs, and 18 grams of protein. The full nutritional label is as follows:
Nutrition Facts
Costco Enchilada Bake
Amount per Serving
% Daily Value*
* Percent Daily Values are based on a 2000 calorie diet.
Considering this is a premade meal, this isn't the worst nutritional profile in the world. The use of rotisserie chicken helps keep the fat content down, and the carbs are tolerable, considering the enchilada bake is made with tortillas. 
The 18 grams of protein are awesome, and I wouldn't have much guilt eating the enchilada bake.
Costco Food Database User Reviews
Have you tried this item? Let the rest of the Costco Food Database community know what you think. Leave a rating and review for this product. 
Costco Enchilada Bake
The best way to cook the enchilada bake from Costco
Ingredients
1

Tray

Kirkland Signature Enchilada Bake
Instructions
Place on the center rack of the oven

Bake for 50-60 minutes or until internal temperature reaches 165°F.
Nutrition
Serving:
9
oz
Calories:
260
kcal
Carbohydrates:
20
g
Protein:
18
g
Fat:
13
g
Saturated Fat:
7
g
Trans Fat:
0
g
Cholesterol:
40
mg
Sodium:
920
mg
Fiber:
1
g
Sugar:
3
g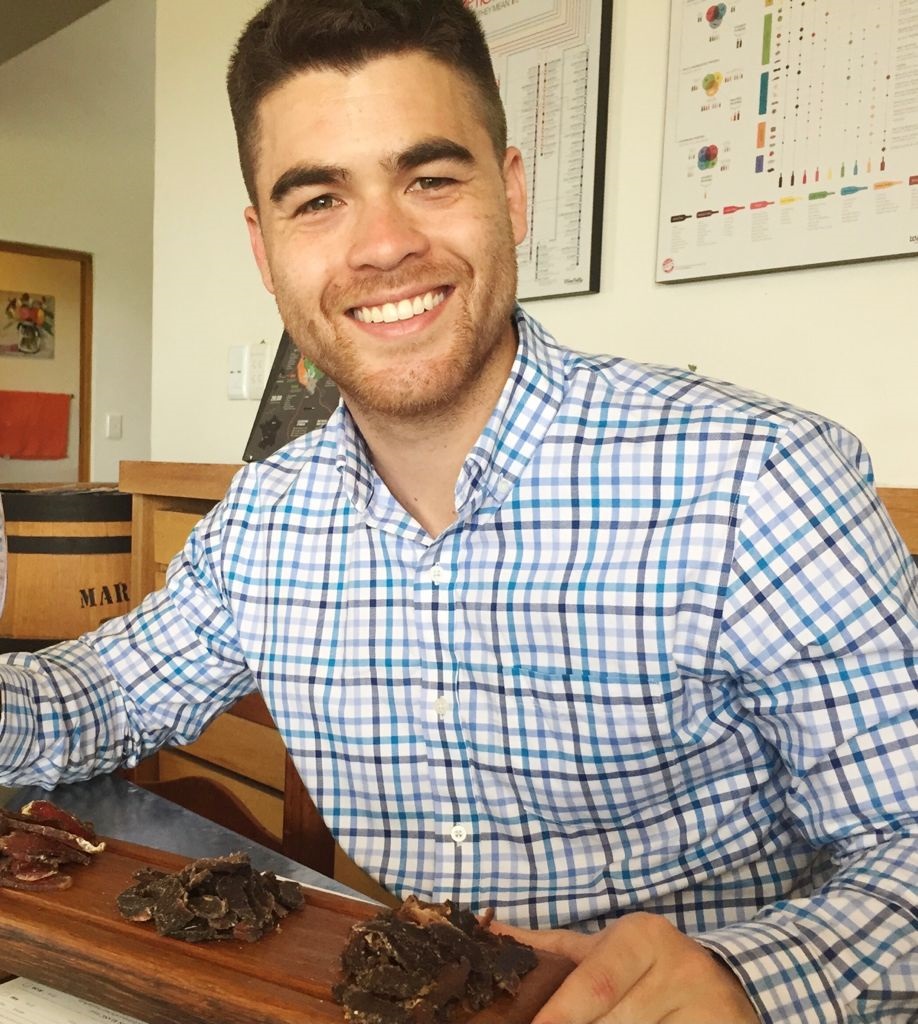 Greg Larkin is the founder and managing editor of Costco Food Database, the premiere site for honest takes on all things Costco food. A self-proclaimed Costco super-fan since childhood, Greg turned his obsession in a mission to properly rate and review all of Costco's delicious buys. When he's not busy navigating Costco aisles, you can find Greg smoking Kirkland Signature meats, meal prepping, or perfecting his homemade jerky recipes.