Costco Mozzarella Sticks - Gooey Cheese + Air Fryer Recipe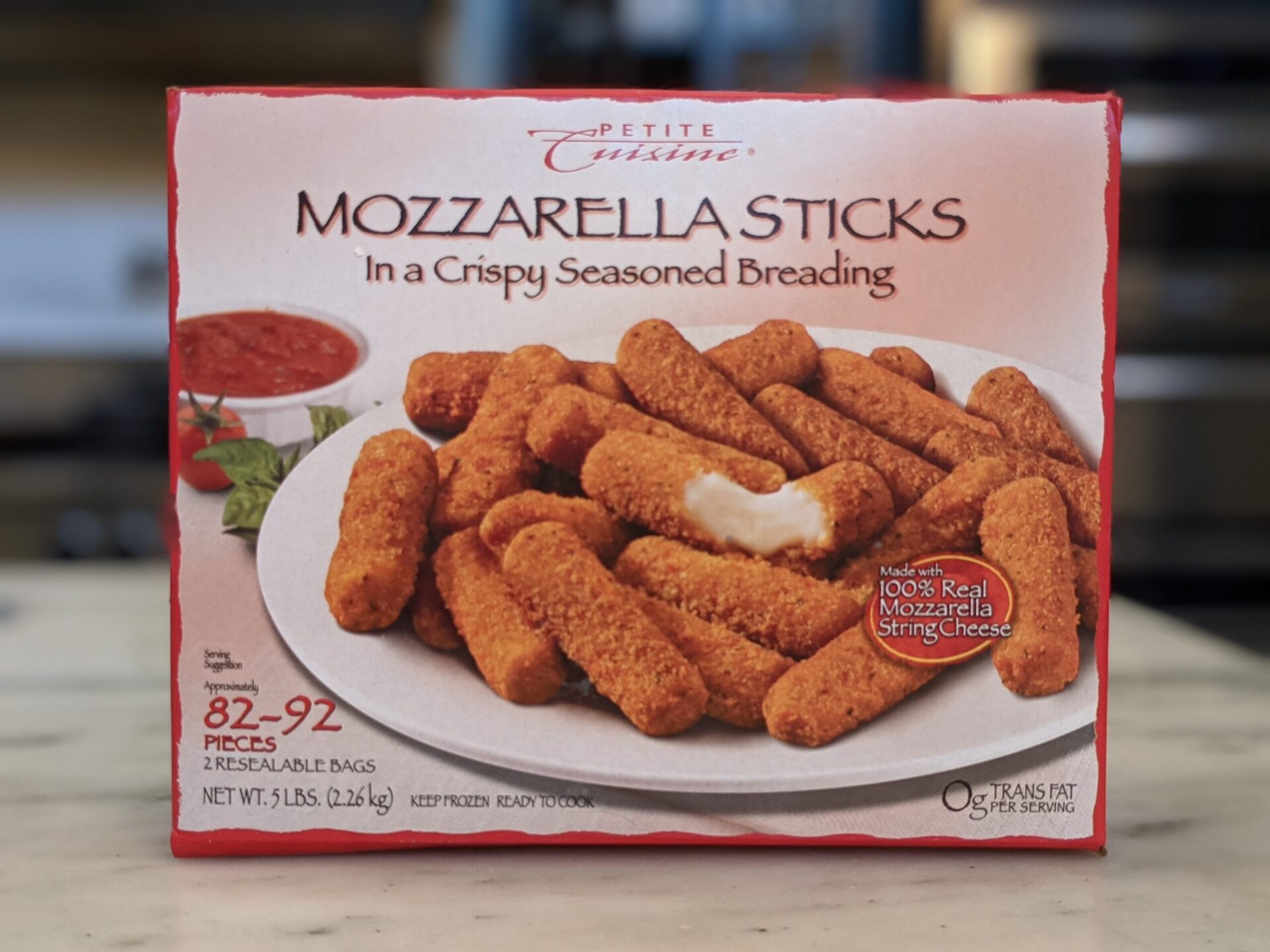 Petite Cuisine Mozzarella Sticks at Costco
The large box of mozzarella sticks comes with approximately 82-92 pieces. The nutritional label states each serving is 3 mozzarella sticks and there are 30 servings per box, meaning the number of included mozzarella sticks is closer to 90.
Have You Tried Costco's Mozzarella Sticks?
Let the rest of the Costco Food Database community know what you thought of this product. Results and reviews are at the bottom of this page.
Please allow 24 hours for review moderation and approval.
One thing I really appreciate about Petite Cuisine's Mozzarella Sticks is that they are packaged in two resealable bags. 
90 Mozzarella sticks are going to take some time to get through, and by splitting the package into two, it will help keep the mozzarella sticks fresh. 
Petite Cuisine's Mozzarella Sticks are made with 100% real mozzarella string cheese and are covered in a crispy seasoned breading. 
They can bake in about 10 minutes and be air fried in even less time! This product does contain bioengineered food ingredients.
These cheese sticks are made by Petite Cuisine, who interestingly enough is owned by Ajinomoto.

I previously thought Ajinomoto was a purely Japanese foods company but it appears they may be more of a frozen foods company.
They sell a few different asian inspired frozen foods at Costco such as their fried rice and frozen ramen bowls.
Costco Cost Comparison - Mozzarella Sticks
How Much are Mozzarella Sticks at Costco?
Costco sells the 5 pound box of Mozzarella Sticks for $14.99. This breaks down to $3 per pound and if there are approximately 90 sticks per package, you can expect about 18 mozzarella sticks per pound. 
Each cheese stick weighs a little less than 1 ounce and costs about $0.16. Seems to be a pretty solid deal for mozzarella sticks.
Costco vs The Competition
Sam's Club sells a 5 pound box of their own brand of Maker's Mark Mozzarella Sticks for $12.68. This breaks down to $2.54 per pound, which is a much better deal than the mozzarella sticks from Costco. 
Sam's Club doesn't win on price often, but they are the more economical option in this case.
Target sells a 2 pound bag of their own Market Pantry Mozzarella Sticks for $7.99 or $4 per pound. Safeway sells a 24oz bag for $7.99 or $5.32 a pound.

Compared to Target and grocery stores, Costco comes out ahead as it should. 
Costco Mozzarella Sticks Review
I've been shopping at Costco for over 20 years now, and believe it or not, I have never tried the mozzarella sticks. I enjoy cheese sticks, but 5 pounds of mozzarella sticks does indeed scare me. 
I can't truly binge on mozzarella sticks, like I can with chicken nuggets or some of Costco's other frozen items. After about 5 mozzarella sticks, I'm usually more than satisfied.
Now, from their frozen state, the mozzarella sticks look great. The breading is a nice dark golden brown. 
It appears to have a lot of potential to crisp up nicely. There's an abundant amount of seasoning that can be seen with the naked eye; most of the breading is covered in green and black specs.
I opted to cook my mozzarella sticks in the air fryer. Unfortunately Petite Cuisine doesn't provide air fryer instructions so I had to improvise. 
I went with 360°F for about 5 minutes. One issue I did have that was mentioned on the packaging was "over heating may cause cheese loss." 
Some of my sticks did begin to ooze out some cheese. It wasn't a lot by any means, but it did make the mozzarella sticks a little less appetizing.
For taste, these are great. The breading didn't get as crispy as I wanted it to. 
They were sufficiently crispy with the air fryer, but for maximum crispiness the ideal method would be to deep fry them.
Regardless, the breading was still super flavorful and added a nice contrast to the mozzarella.
The mozzarella itself was right around average quality. It wasn't stringy, gooey, or stretchy but instead you could bite right through it. The mozzarella was still enjoyable to chew on and paired well with the breading. 
Overall, it was tasty, it just didn't give that classic melted stretchy mozzarella feel.
Rao's Marinara Dipping Sauce
Rao's in my opinion is one of Costco's top marinara sauces and it doesn't disappoint when paired with these Mozzarella sticks.
The mozzarella sticks are great on their own, but even better when dipped in the marinara.
Costco Mozzarella Sticks Cooking/Heating Instructions
Petite Cuisine offers 3 ways to cook their Mozzarella Sticks. They can be heated in the conventional oven, convection oven and deep fried. 
I find it interesting that they do not include microwave instructions nor do they include air fryer instructions. I have included my own personal air fryer cooking instructions for these mozzarella sticks. 
Costco Mozzarella Sticks Air Fryer Cooking Instructions
While Petite Cuisine doesn't offer any specific air fryer instructions, these mozzarella sticks can still be cooked in the air fryer. 
I found that the best method was heating them in the air fryer at 360°F for about 5 minutes. 
The breading doesn't get super crispy because the cheese starts to ooze through the breading when overheated, but they still are tasty. 

Preheat Air Fryer to 360°F.

Place Mozzarella Sticks in a single layer.
Spritz with cooking oil.
Air Fry for 5 Minutes.
Conventional Oven (Toaster Oven)
Preheat Oven to 475°F.

Place frozen Costco cheese sticks in a single layer on a baking sheet. Cheese sticks should not touch.
Bake for 7 to 8 min (Over heating may cause cheese loss).
Remove from the oven and allow the cheese sticks to stand for 2 minutes.
Preheat oven to 350°F.

Place frozen mozzarella sticks in a single layer on a baking sheet. Cheese sticks shouldn't touch.
Bake for 4 to 6 minutes.  (Over heating may cause cheese loss).
Remove from the oven and allow the cheese sticks to stand for 2 minutes
Caution: Ice Crystals on frozen foods can cause spattering when added to hot oil. 
Preheat oil to 350°F.

Fry frozen cheese sticks from 2 to 2 and a half minutes.
Remove from hot oil and allow cheese sticks to stand for 2 minutes.
Mozzarella Sticks Nutritional Information
Each serving of Costco mozzarella sticks is 3 pieces and contains 210 calories. The calories are made up of 10 grams of fat, 20 grams of carbs, and 10 grams of protein. 
Each individual stick has 70 calories with 3.3 grams of fat, 6.5 grams of carbs, and 3.3 grams of protein.
Are Mozzarella Sticks Healthy?
Mozzarella sticks are not a healthy food, but taking it all in, this isn't the worst macronutrient profile. 
These sticks aren't exactly what you are going to want to eat when on a diet, but aren't the worst considering they are a deep fried snack food.
The big issue with these mozzarella sticks and most frozen food from Costco is the amount of sodium in each serving. 
Each serving includes 570 mg of sodium or 25% of the recommended daily value. One serving is 3 mozzarella sticks so be cautious when snacking on these.
Super Crispy Costco Mozzarella Sticks
Costoc's Mozzarella sticks can hit the spot. Follow this recipe to make them super crispy
Ingredients
10

Costco frozen mozzarella sticks

Marinara dipping sauce of your choice
Instructions
Preheat Air Fryer to 360°F.

Place Mozzarella Sticks in a single layer.

Serve with marinara dipping sauce
Nutrition
Serving:
3
Pieces
Calories:
210
kcal
Carbohydrates:
20
g
Protein:
10
g
Fat:
10
g
Saturated Fat:
4.5
g
Trans Fat:
0
g
Cholesterol:
25
mg
Sodium:
570
mg
Fiber:
1
g
Sugar:
1
g
I can't believe it took me this long to finally try Costco's Mozzarella Sticks. These are delicious and can be used for home snacking or even as a party appetizer. 
The breading is flavorful and the cheese is enjoyable. I will be purchasing these again! 
Update - Monster Mozzarella Stick
Sorry for the extra poor quality photo, but I found this behemoth of a mozzarella stick last night during my midnight snack.
Its two conjoined mozzarella sticks. Absolutely delicious and made my night!
Costco Food Database User Reviews
Have you tried this item? Let the rest of the Costco Food Database community know what you think. Leave a rating and review for this product.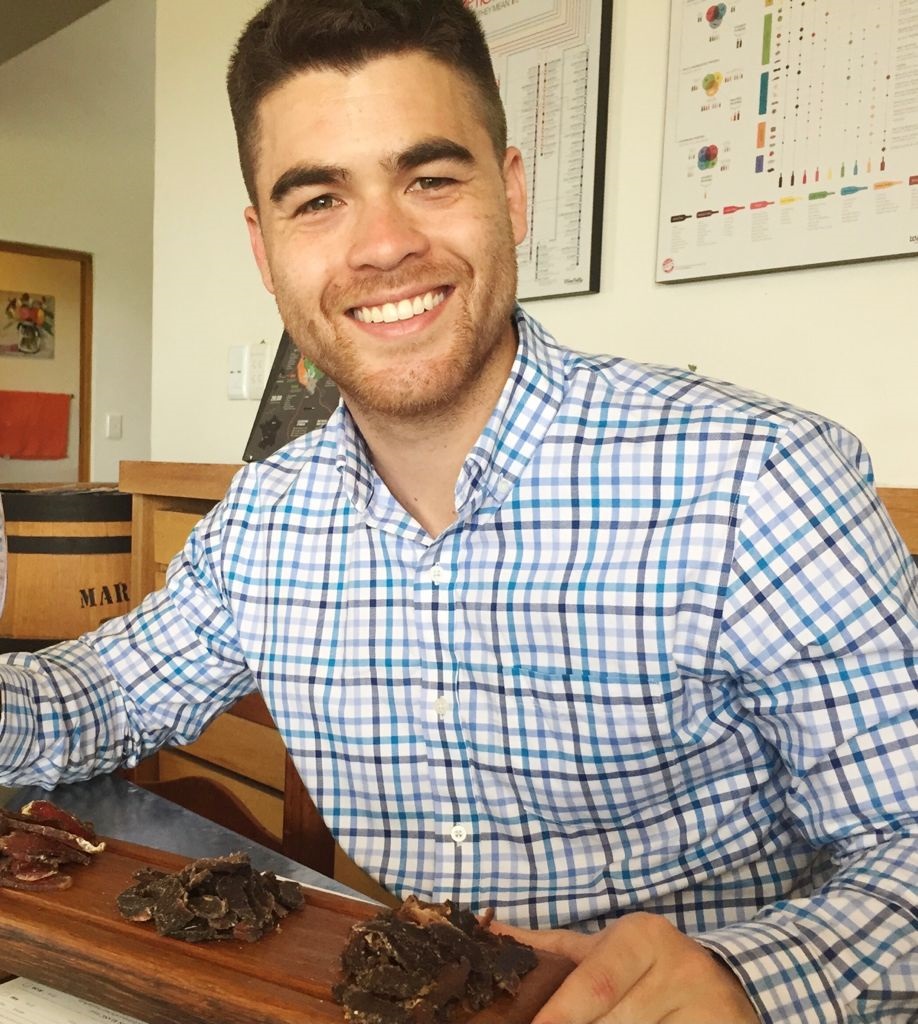 Greg Larkin is the founder and managing editor of Costco Food Database, the premiere site for honest takes on all things Costco food. A self-proclaimed Costco super-fan since childhood, Greg turned his obsession in a mission to properly rate and review all of Costco's delicious buys. When he's not busy navigating Costco aisles, you can find Greg smoking Kirkland Signature meats, meal prepping, or perfecting his homemade jerky recipes.