Costco Veggies Made Great Blueberry Oat Muffins Review
Veggies Made Great Blueberry Oat Muffins made with fresh zucchini and carrots from Costco are gluten free and contain only 110 calories per muffin. The question is, how do they taste?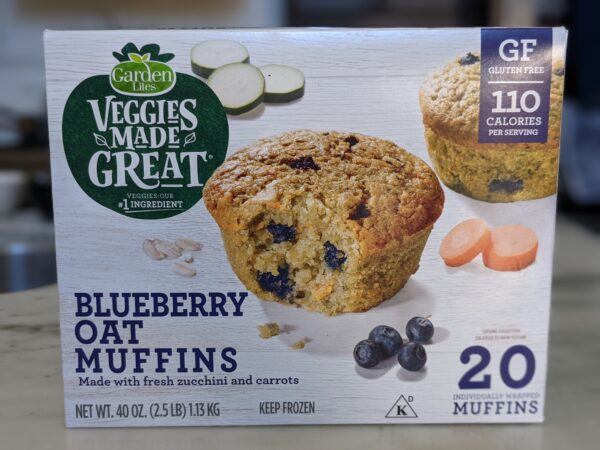 Veggies Made Great at Costco
Costco sells a 20 count Garden Lites Veggies Made Great Blueberry Oat Muffins for $12.69. I recently picked these up for $3 off and paid $9.69 for the entire box. These blueberry oat muffins can be found in Costco's freezer section of the warehouse near the organic smoothie packs. In my particular warehouse, these were in the frozen breakfast section.

You will receive 20 individually wrapped blueberry muffins in each box. The 20 muffins weigh 40oz in total, so each muffin weighs 2 ounces.
The box is actually very beautifully designed. The large picture of the muffin showing multiple blueberries inside while being surrounded by the ingredients does a great job of telling you quickly and easily what this product is about. There are blueberries, carrots, oats, and zucchinis on the packaging and its immediately apparent this is a healthy muffin.
These are made with fruit and fresh vegetables so it is a healthy version of a traditional muffin. While these can be used as an after dinner dessert or a treat, they are also going to be great as a midday snack. The muffins are a little on the smaller side at 2oz and they are only about an inch and a half wide. I personally consider these more as a snack for a young kid rather than a snack for an adult.

Veggies Made Great also sells a frozen egg white frittatas at Costco.
Costco's full retail price for these muffins is $12.69 for the 20 pack. Each individual muffin at that price cost $0.63. I purchased them on sale for $9.69 and each muffin cost $0.48. That is a savings of about 25% and brings the muffins down under $.50 each which is a solid price for a healthy and time-saving kid snack. 

Now of course, you can make your own muffins at home. There are plenty of muffin recipes online that are geared towards kids and healthy eating. When you make your own muffins at home, the price per muffin will probably be closer to the $0.25 range. You will also be able to exactly control the ingredients and added sugars. If you are looking for a muffin that you can just pull out of the freezer in the morning and serve then these are a great option for you.
Heating Your Blueberry Oat Muffin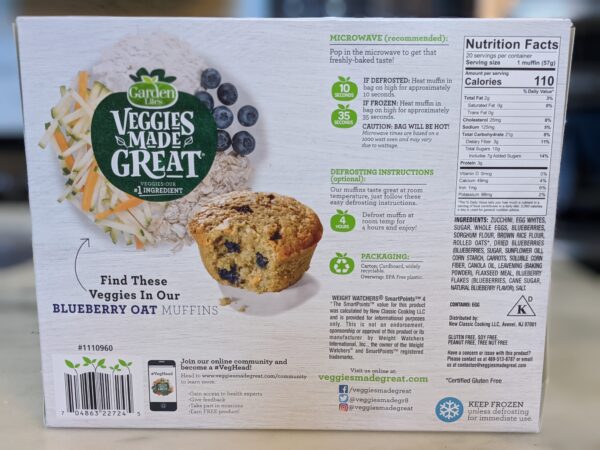 These are frozen muffins that you will have to defrost before consumption. There are 3 methods listed on the packaging to prepare the muffins. The microwave is the recommended option and if the muffins are already defrosted, it only takes 10 seconds in the microwave to heat them. If the blueberry muffins are frozen then it will take 35 seconds to heat them for a freshly-baked taste. Keep the muffins in their individual bags while heating.

The muffins can also be eaten at room temperature, and it takes about 4 hours at room temperature for the frozen muffins to defrost and become edible. That makes these zucchini and blueberry muffins a tasty and convenient snack for kids at school. Simply take one out of the freezer in the morning and throw it in your kid's lunchbox for them to have as a yummy and healthy afternoon snack.
Costco Blueberry Oat Muffin Review
For this review, I heated my muffin in the microwave from a frozen state. The box says 35 seconds, but my muffin was lukewarm. I put it in for another 10 seconds and it was a reasonably hot temperature. Every microwave is different, for mine I needed a total of 45 seconds. 

I'll say it again, I'm not a sweets guy and I understand this muffin is intended to be healthy and it's not a cupcake. Knowing that, the muffin was actually pretty good. It was moist all throughout and it was very delicious. The zucchini flavor wasn't overpowering and if anything the blueberries dominated the flavor profile.
There were 4 to 5 blueberries and a couple of shredded carrot pieces within the muffin. I personally didn't taste the carrots and I forgot about them until after I finished eating. The oats were sporadic but noticeably when eaten. If you looked closely at the muffin, you would see the white spots which were the oats, but for the most part they were somewhat hidden.
This is a quick and easy snack that is actually quite healthy. I have no problems eating these or serving them to my kids. My 3 year old loves them. These blueberry oat muffins are going to satisfy your sweet tooth while also getting some fruits and vegetables in.
Nutritional Information & INgredients
Each 2 ounce muffin contains 110 calories. There are 2g of fat, 21g of carbs with 7g of added sugar, and 3g of protein per muffin. This is an expected amount of carbs for a muffin like this. I'm not a big sweets guy and I probably wouldn't have minded less added sugars per muffin, but this isn't an extreme amount to put in.
Veggies Made Great does a great job with the ingredients of this muffin. As they advertise on the packaging, the first ingredient is a vegetable. The ingredients on packaging are listed in order based on how much of the ingredient is used in the product. In this case, for these blueberry muffins, zucchini is the number one ingredient. That means by weight, zucchini is used in the greatest quantity out of all ingredients.
Next on the ingredient list are egg whites, sugar, whole eggs, and blueberries. These ingredients make up the bulk of the muffin and the only thing I would have liked to have seen would be for the sugar to be lower on the list. Not a deal breaker, because they do have to make these muffins enjoyable.
These muffins are also gluten free, soy free, peanut free, and tree nut free.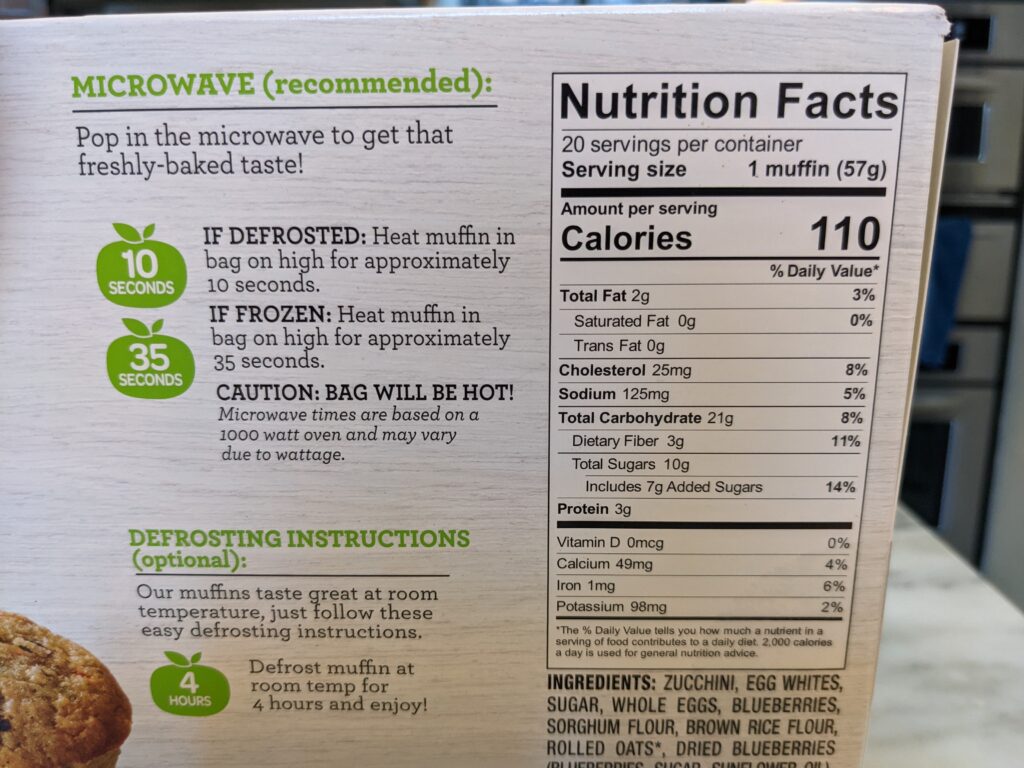 Veggies Made Great did great making these veggie muffins. For a healthy muffin, these tasted pretty darn good. I wasn't expecting a sweet treat and the blueberry muffins did meet my expectations. You can definitely make a similar product at home for about half the cost, but the convenience of having an individually wrapped frozen muffin on hand is hard to beat. My family uses these as a backup snack when we are in a pinch on a school day, and we definitely plan to purchase these again at Costco when we run out.
Costco Food Database User Reviews
Have you tried this item? Let the rest of the Costco Food Database community know what you think. Leave a rating and review for this product.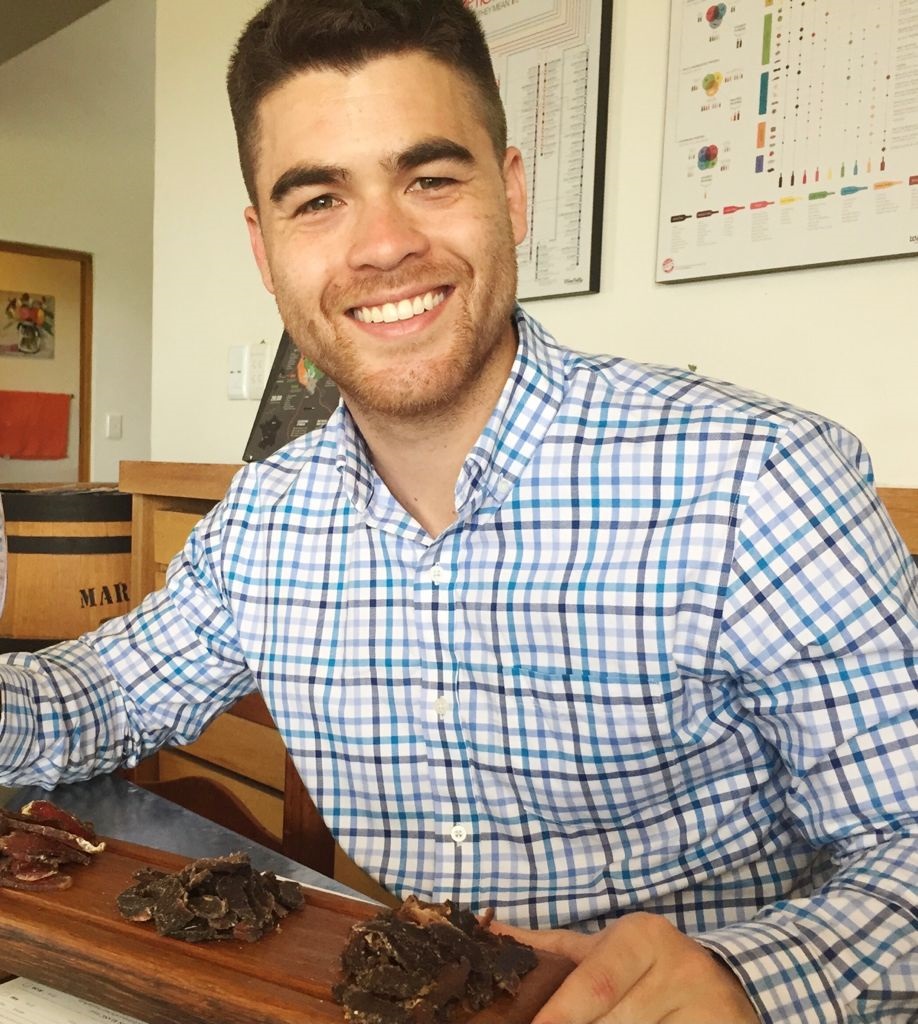 Greg Larkin is the founder and managing editor of Costco Food Database, the premiere site for honest takes on all things Costco food. A self-proclaimed Costco super-fan since childhood, Greg turned his obsession in a mission to properly rate and review all of Costco's delicious buys. When he's not busy navigating Costco aisles, you can find Greg smoking Kirkland Signature meats, meal prepping, or perfecting his homemade jerky recipes.