Costco Mini Egg Rolls - Cooking Instructions & Dip Ideas
Minh Mini Egg Rolls at Costco
Costco sells a 50-count of Minh Mini Chicken Egg Rolls for $10.99. The Mini Egg Rolls can be found in the frozen food area of the store near other Asian inspired items such as tempura shrimp, potstickers, and yakisoba noodles.
Minh's Egg Rolls from Costco are made with no preservatives and have no added MSG.
Are The Costco Egg Rolls Authentic?
The origin of Egg Rolls is up for debate, so no way to determine what is authentic or not. Food historians believe the egg roll has evolved from the spring roll, which is thinner and lighter than an egg roll, but the exact origins are unknown.
Some experts believe the Egg Roll was first consumed in the mid-1800s by Chinese settlers, while others claim the Egg Roll was invented in New York in the 1930s.

Regardless, since we don't know the origins, we have no way to measure authenticity. Most egg rolls found in Chinese restaurants include cabbage, meat, and various other vegetables. 
Costco's Egg Rolls include 100% white meat chicken, freshly chopped cabbage, carrots, onions, & celery. So these definitely look the part to me.
How Much Do Mini Egg Rolls Cost at Costco?
The 50-count box (2 Pounds 14 Ounces) of Minh's Egg Rolls sells for $10.99 at Costco. 
I picked up the Mini Egg Rolls when they went on sale for $4 off, bringing the price down to $6.99. I'm not the biggest fan of egg rolls, but I couldn't resist passing on a 36% discount.
At $10.99, the mini egg rolls cost $0.22 each and when on sale for $6.99, the price per egg roll drops to a staggeringly low $0.14. These are mini-sized egg rolls, but this is still a fantastic price for frozen egg rolls.
Costco Vs. The Competition
It doesn't appear that Minh sells these mini egg rolls at any other retailers. They do sell a 46-ounce box of regular-sized egg rolls at Sam's Club for $9.98. The Sam's Club Egg Rolls are full-sized and are sold as a 16 count.
The price per pound for the 16-count box of egg rolls from Sam's Club is $3.43. Costco's mini egg rolls sell for $3.82 per pound at retail and $2.43 per pound when on sale. 
Sam's Club does beat Costco's price for Egg Rolls at retail but can't compete when the Costco egg rolls are on sale.
Mini Egg Rolls Taste Test
I followed Minh's air fryer directions for these Egg rolls, and I have to say that they came out really well. It only took 7 minutes, and the egg rolls were hot and looked super crispy.
Crispy and Doughy Wrapper
The egg rolls were both crispy and doughy. They had a crunchy exterior layer with a nice bite-through followed by a chewy layer underneath. 
I wasn't a fan of that, and I much prefer my egg rolls to be crispy all the way through.
Flavorwise, these were just ok. They were seasoned well enough without being overly salty, but there wasn't anything special about these Egg Rolls. 
I didn't find them bland, nor were they bursting with flavor.
The chicken pieces were small and lacking. Minh calls these chicken egg rolls, but they are much closer to veggie egg rolls with a hint of chicken.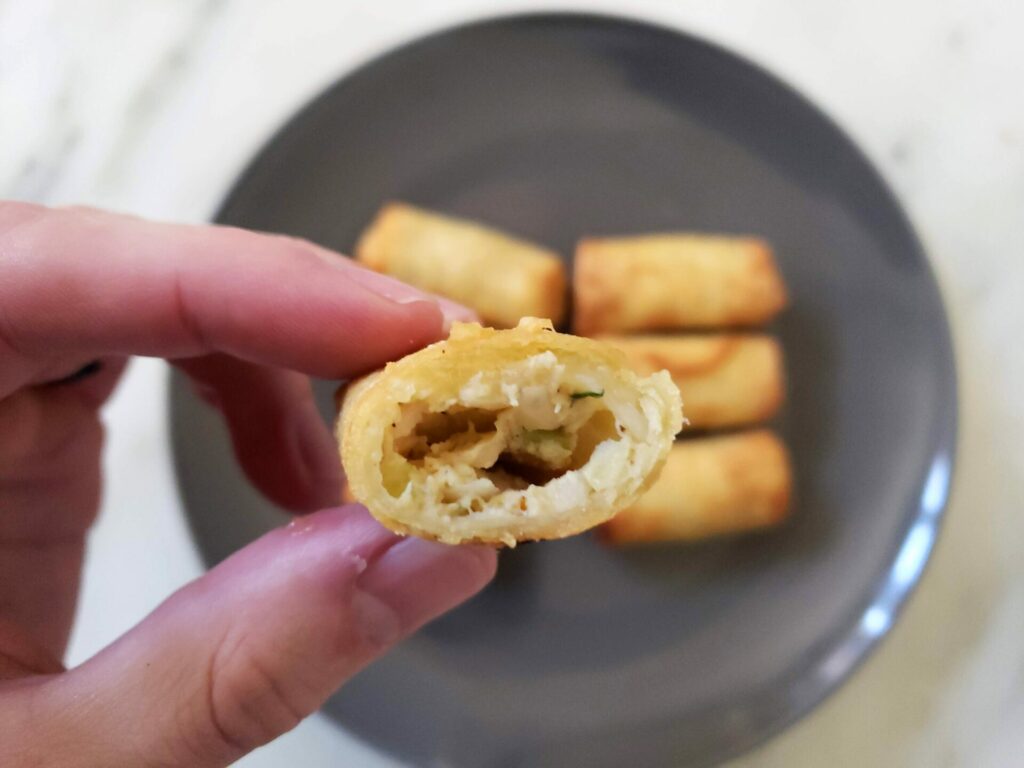 Dipping Sauce Recommendations
I found the egg rolls to be on the dryer side and could benefit from a dip or a sauce. They would pair really well with some sweet and sour dip like the coconut shrimp had or even some soy dipping sauce that comes with the steamed dumplings.
If you want to make your own dipping sauce from home, I would recommend a teriyaki sauce or a sriracha mayo. Both would be excellent options for these egg rolls. 
The egg rolls are edible as is but can benefit from a flavorful dipping sauce.
Good Sized Vegetable Chunks
I did appreciate that the filling included large chunks/pieces of vegetables. It's always nice to be able to see what you are actually eating.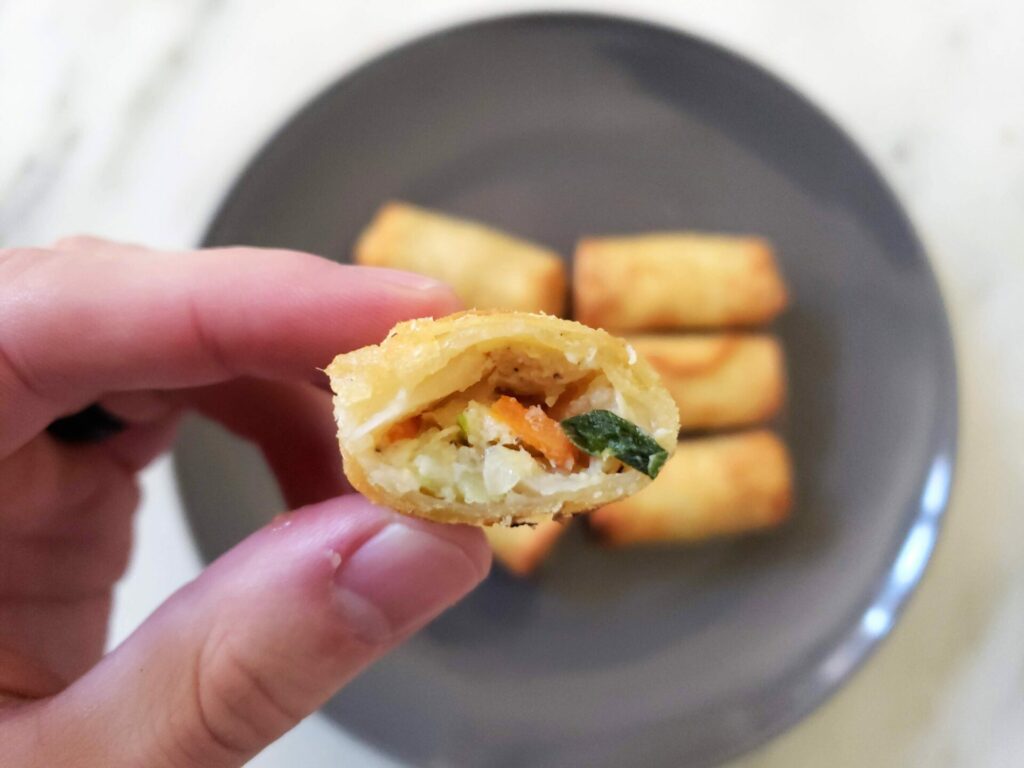 While I could visibly spot each vegetable piece, the mini egg rolls did feel a little mushy at times, and I had difficulty distinguishing the vegetables through taste and texture.
Standard Frozen Egg Rolls
These Costco Egg Rolls aren't terrible, but they also aren't gourmet hand-rolled egg rolls either. They met my expectations and are a standard stereotypical frozen egg roll.
How to Cook Costco Egg Rolls
Minh recommends 3 different methods for cooking their Costco Egg Rolls. You can bake them in the oven, air fry them, or use the microwave. 
I like to air fry the mini egg rolls, making the egg roll wrapper extra crispy and heating the filling up nicely.
Conventional Oven Cooking Directions
Preheat oven to 425°F

Remove 6 egg rolls from the carton and inner wrap.

Place 6 egg rolls on a foil-lined baking tray and place in the oven. 

Heat for 13 to 14 minutes.

Flip the mini egg rolls over halfway through heating.

Let stand for 3 minutes before serving. 

Caution: Tray and product will be hot
Air Fryer Cooking Instructions
Preheat fryer to 400°F

Remove 6 egg rolls from the carton and inner wrapper.

Place egg rolls in the fryer basket.

Fry for 7 to 8 minutes. 

Let stand for 2 minutes before serving.
Based on 3 egg rolls.

Remove 3 egg rolls from the carton and inner wrap. 

Space evenly on a microwave safe plate. 

Microwave on high for 1 to 1:15 minutes

Let stand for 1 minute before serving.
Costco Egg Rolls Calories and Nutrition
One serving of Costco Egg Rolls will be 3 egg rolls weighing about 2.75 ounces. Each serving will contain 130 calories from 6 grams of fat, 17 grams of carbs, and 4 grams of protein.
Each individual mini egg roll will have 43 calories, 2 grams of fat, 6 grams of carbs, and 1.3 grams of protein. 
This nutritional profile seems fairly standard and right where I expected these mini egg rolls to be. Nothing really jumps out positively or negatively to me.
Costco Mini Chicken Egg Roll Review
Product Name: Minh Mini Chicken Egg Roll
Product Description:
Price: $10.99 Retail / $6.99 Sale
Quantity: 50 Mini Egg Rolls (2 Pounds 14 Ounces)
Location Within Costco: Frozen Food Aisles
Price Per Pound: $3.83 / $2.43
Summary
The mini egg rolls from Costco are all around mediocre. They are inexpensive, which is great, but they aren't the highest quality frozen egg rolls either. 
The egg rolls aren't gourmet by any means, and you will be much better off with egg rolls from your local Chinese restaurant.
Value -

8/10

Convenience -

8/10

Taste -

6/10

Nutrition -

5/10

CFDB Score -

5/10
Pros
Great price

50 Mini Egg Rolls
Cons
Mediocre Tasting

Slightly Bland