Costco Vegetable Spring Rolls - Cooking Instructions + Calories​
Have You Tried Costco's Spring Rolls?
Let the rest of the Costco Food Database community know what you thought of this product. Results and reviews are at the bottom of this page.
Please allow 24 hours for review moderation and approval.
ROYAL ASIA VEGETABLE SPRING ROLLS AT COSTCO
There are many variations of spring rolls, but what are they exactly? Wikipedia considers spring rolls to be rolled appetizers or dim sum usually found in China or South East Asia.
Each culture has a slightly different spring roll that varies on wrapper, filling, and even cooking technique!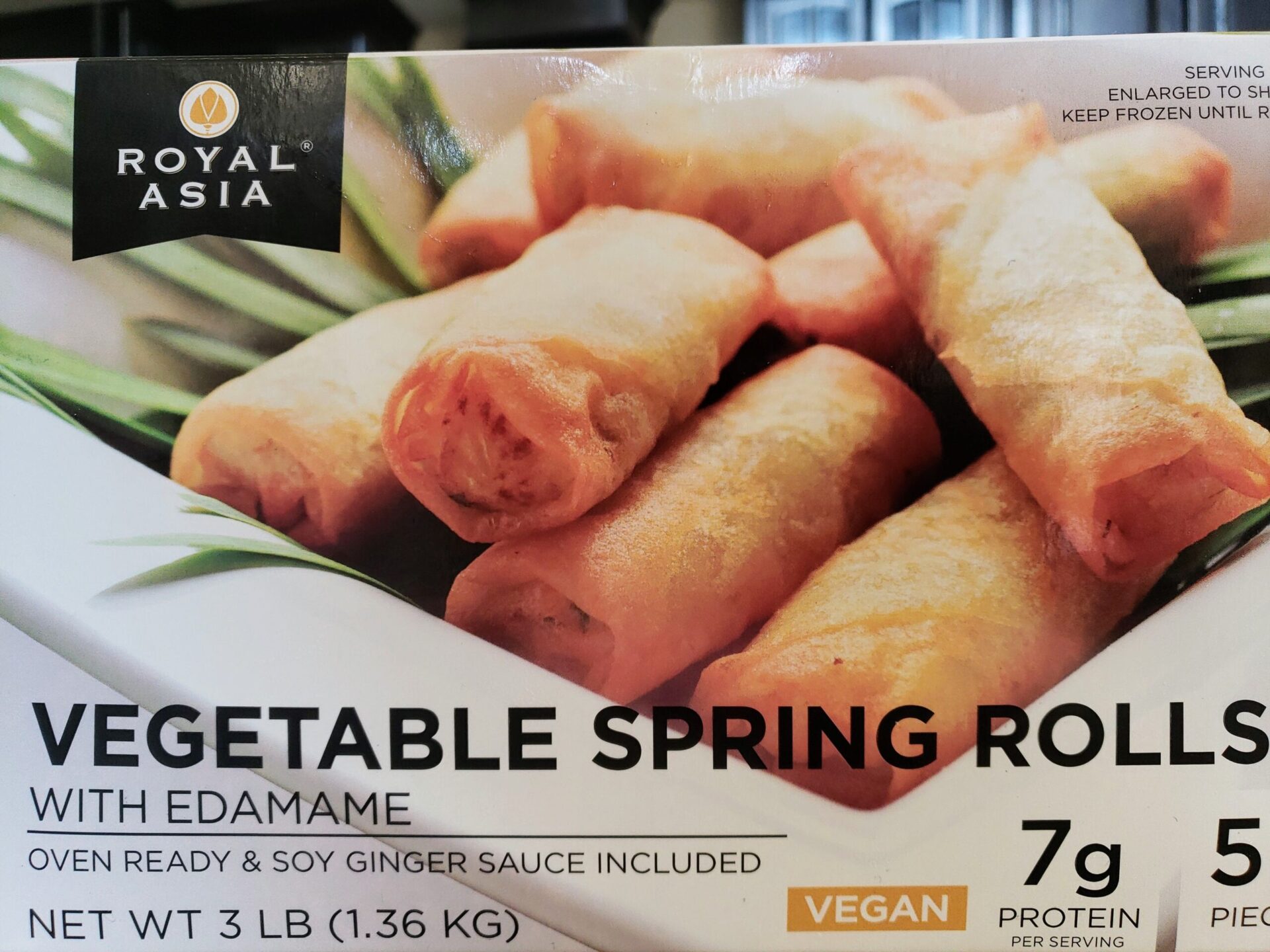 Vietnamese spring rolls are soft and have a translucent wrapper. Chinese spring rolls have a crispy wrapper that is reminiscent of a Filipino spring roll or more popularly known as a lumpia.
In short, spring rolls come in all shapes, sizes, and textures, but are essentially filling inside an elongated wrapper.
Royal Asia Veggie Spring Rolls
Royal Asia doesn't specifically state what type of spring rolls these are, but they very much remind me of Chinese Spring rolls or egg rolls with their hard crispy exterior wrapper.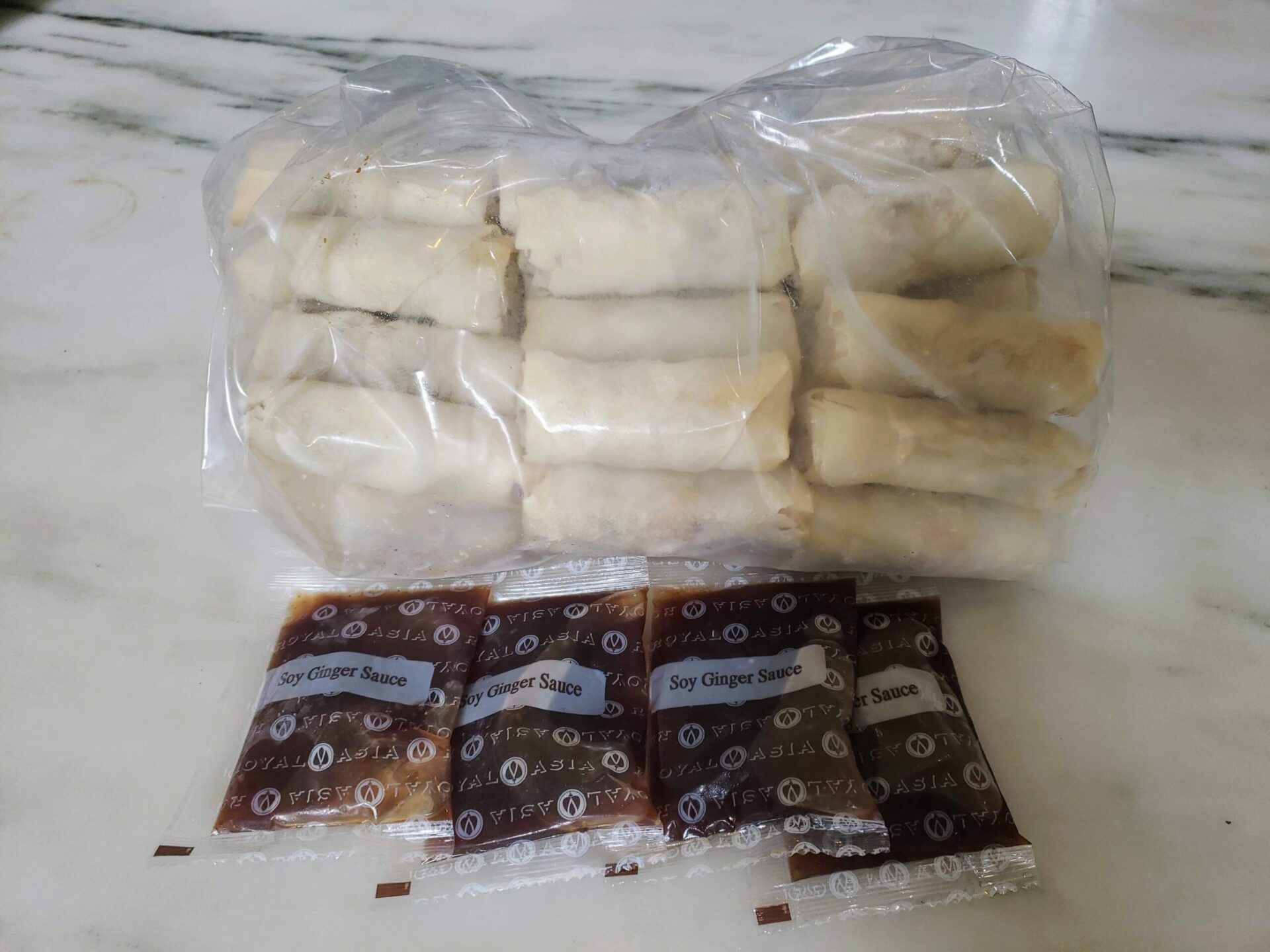 These Costco spring rolls are made with an all vegetable filling and are vegan. They include edamame as well as carrots, cabbage, and jicama.
The spring rolls also include a soy ginger dipping sauce.
COSTCO COST COMPARISON – VEGETABLE SPRING ROLLS
How Much Do the Spring Rolls from Costco Cost?
Royal Asia Spring Rolls sell for $10.19 at Costco, and can sometimes be found on sale for $6.99. This is a discount of $3.20 or 30%.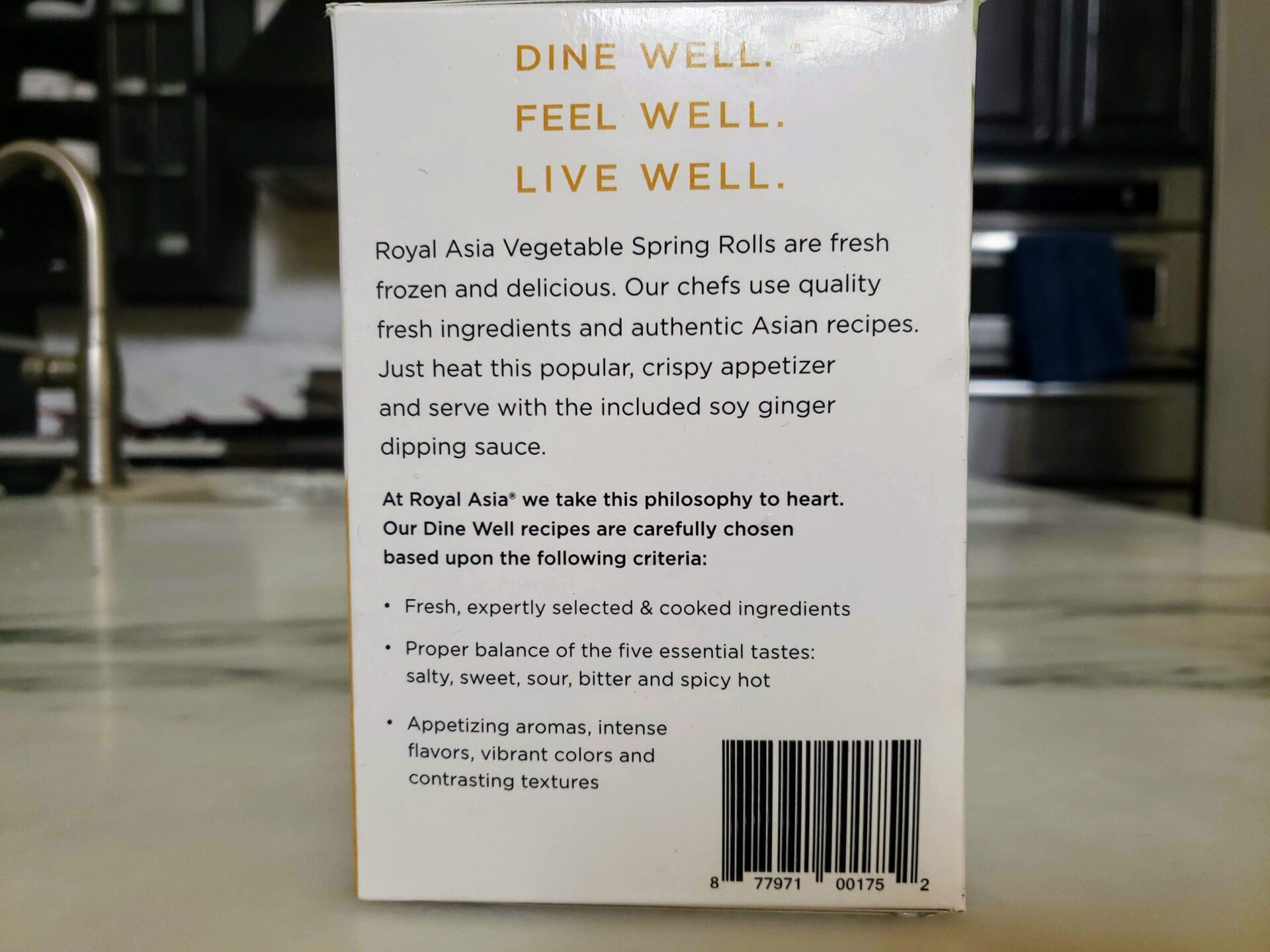 Each pound of Costco spring rolls sells for $3.40 at retail or only $2.33 per pound when on sale.
This is a phenomenal price per pound for frozen food which is only rivaled from a few other items at Costco such as the Chicken Nuggets or the Potstickers.
Costco vs The Competition
It seems that Royal Asia only sells their vegetable spring rolls at Costco and no other retailers. Other retailers such as Walmart do carry egg rolls which are very similar to spring rolls. Walmart's egg rolls costco $5.98 for an 8 count or $3.98 per pound.
Target sells a 10 ounce pack of 5 spring rolls for $5.79 or $9.42 per pound.
And finally, Tom Thumb/Safeway sells a 17 ounce package of vegetable spring rolls for $6.49 or $6.10 a pound.
Costco is clearly the winner in price when it comes to frozen spring rolls. No other competitor even comes close to their $2.33 a pound sale price.
VEGETABLE SPRINGS ROLLS WITH EDAMAME – TASTE TEST
The best way to heat the veggie spring rolls is in the air fryer. Especially for a frozen food like this, where crispiness is of the utmost importance, it is imperative to air fry them if you have the option to.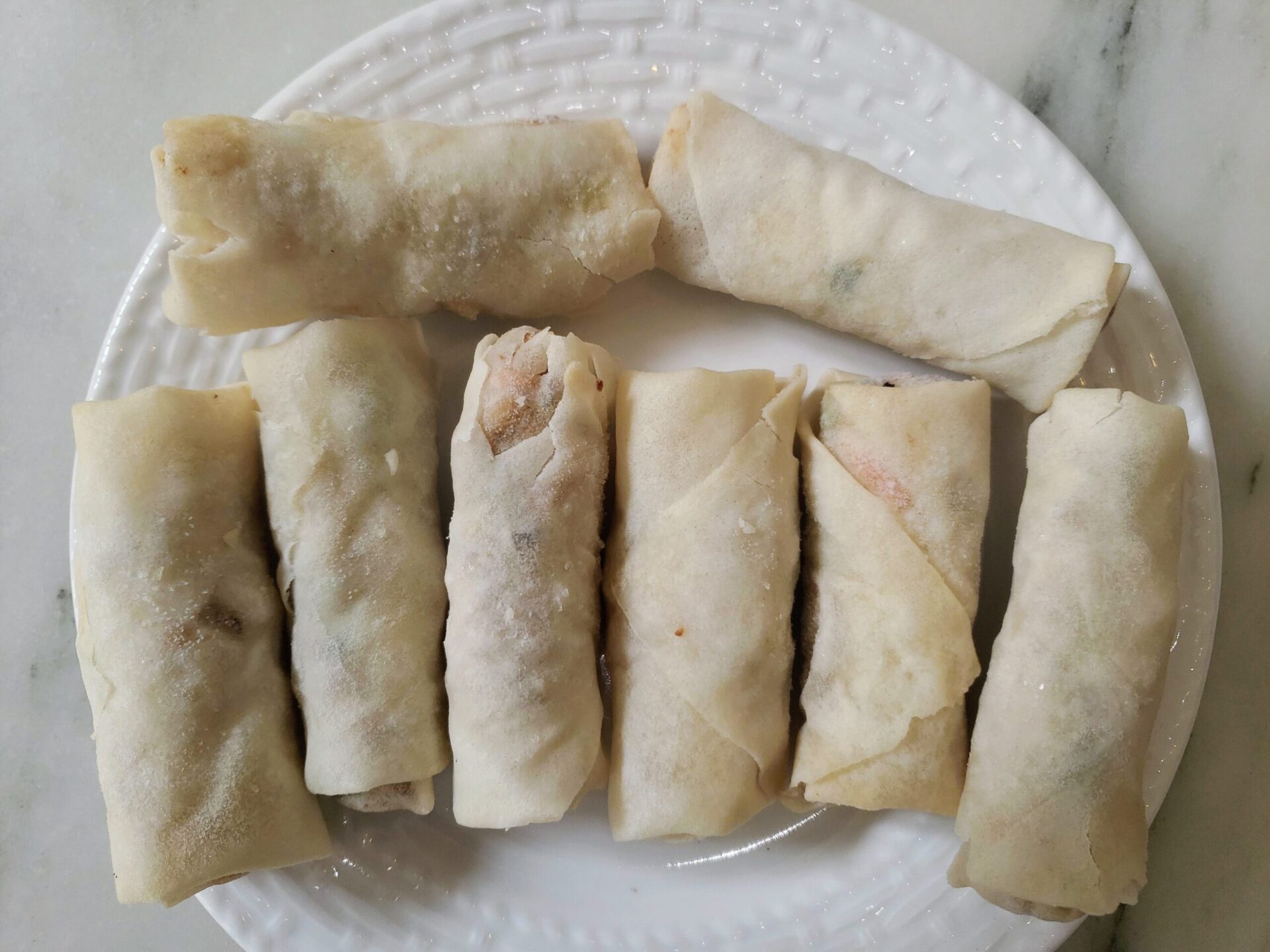 Crispy Spring Roll Wrapper
Even with the air fryer, its tough to get a nice fully golden brown wrapper or exterior on these spring rolls from Costco. They still had whitish and even slightly transparent skin.
I could clearly see some of the colors and shape of the vegetables that were on the inside.
Although the wrapper was not golden brown, it was still sufficiently crispy. There was a crunch on each bite and the wrapper was somewhat flakey.
Sub-Par Vegetable Filling
Considering the price of these spring rolls, there was an appropriate amount of vegetable filling.
Royal Asia didn't load these spring rolls up to the brim nor did they skimp out on vegetables.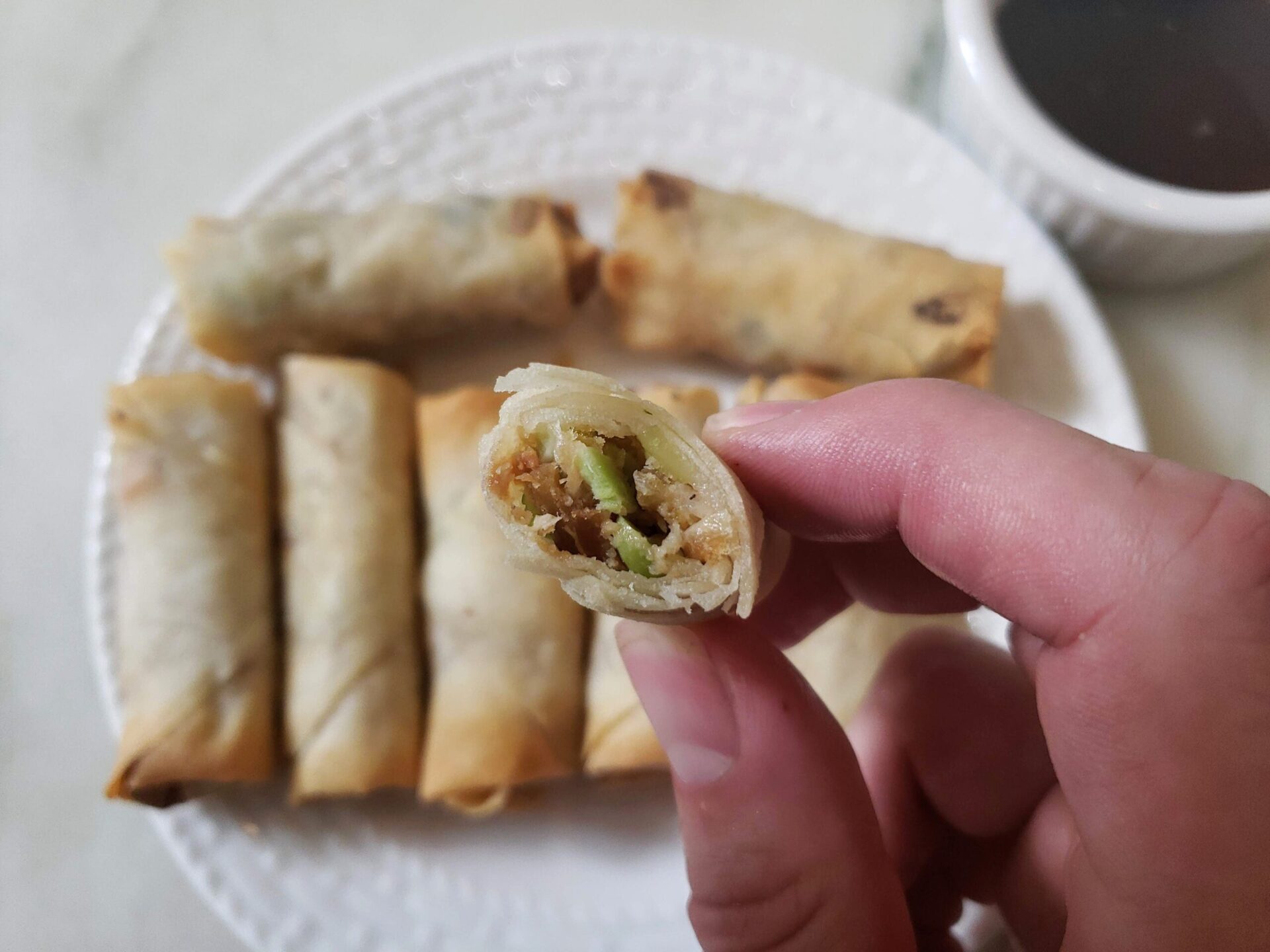 There was a solid amount of vegetables, but it was lacking in flavor. The vegetables were too soft and mushy and didn't add much to the texture.
Most of the included veggies were shredded slices and hard to differentiate from one another. I did not enjoy the vegetable filling!
The edamame, as advertised on the packaging is a great add. Royal Asia included sliced edamame chunks that are clearly visible in their spring rolls.
The edamame is the star of the show and the only vegetable of the spring roll that I can consistently and clearly identify by texture and taste.
Ginger Soy Sauce – Strong Ginger Flavor
The sauce is a ginger soy sauce blend and it wasn't my favorite. The sauce carries a very very strong ginger flavor which can be off putting.
I personally can't stand ginger, so I didn't use very much of the sauce. If you like ginger flavor, you will like this spring roll ginger soy sauce.
The sauce was thicker than traditional soy sauce and the viscosity is closer to that of a chicken katsu style sauce.
An alternative non-ginger dipping sauce option would be Bachan's Japanese BBQ Sauce.
COSTCO SPRING ROLLS HEATING/COOKING DIRECTIONS
How To Cook Costco Spring Rolls
Royal Asia only offers 2 different cooking options for these Costco veggie spring rolls. They can be baked, but my personal favorite method would be to use the air fryer. When cooked in the air fryer, the come golden brown and super crispy.
These are not meant to be microwaved and I'm glad that companies are starting to realize the microwave is the worst heating or cooking option for most frozen foods.
Oven Baked Cooking Instructions
Bake at 375°F for about 20 minutes
Flip halfway through the cooking time.
Springs rolls from Costco are heated when golden brown and crispy
Costco Spring Rolls Air Fryer Heating Directions
Heat Air Fryer at 375° for 8 minutes.
Flip or shake the veggie spring rolls half way through.
The spring rolls will be done when the wrapper is sufficiently browned and crispy.
The package does come with ginger soy sauce packets that are also frozen.
To defrost the sauce packets, run them under cool water. Warm up a small bowl of water in the microwave for 30-45 seconds and then place the frozen packet of sauce in the bowl to defrost. Afterwards dump the water, and pour the sauce into the bowl!
These Royal Asia spring rolls are precooked and are meant to stay frozen until ready to heat and eat.
VEGGIE SPRING ROLL NUTRITIONAL INFORMATION
How Many Calories in Costco Spring Rolls?
One serving of vegetable spring rolls from Costco is 4 spring rolls with sauce (113g) and contains 290 calories.
The calories come from 10 grams of fat, 32 grams of carbs, and 7 grams of protein.
The Spring Rolls are not the Healthiest
The spring rolls from Costco do not have a great nutritional profile. There are a ton of carbs and more fat than to be expected from a product like this.
They do advertise on the box that there are 7 grams of protein per serving and that isn't half bad considering this is a vegetable spring roll, but it doesn't really make up for the massive amount of carbs.
4 spring rolls isn't exactly a full meal either, and if you were to eat 8 of the vegetable spring rolls, you would be looking at 580 calories and 64 grams of carbs.
That is a lot of carbs to be taking in for just one simple meal.
Another big negative of the spring rolls is that the package contains 520 mg of sodium or 23% of the daily recommended value. Again, this is a hefty amount of sodium that will add up quickly if you are eating more than one serving.
This isn't the worst nutritional profile that I've seen, but I guess I expected a little better from a vegan or all vegetable filling spring roll.
When on sale for $6.99 at Costco, these are a major bargain for 50 vegetable spring rolls. Aside from price and a sufficiently crispy spring roll exterior, there isn't much else for these spring rolls to boast about.
The filling was abundant but lacking in flavor and texture. The edamame was good, but the rest of the vegetable filling was mediocre. The soy sauce is ginger based and going to be hit or miss depending on how much you like the ginger flavor.
These are not my favorite, and it will be quite a while before I pick up another box from Costco.
Costco Food Database User Reviews
Have you tried this item? Let the rest of the Costco Food Database community know what you think. Leave a rating and review for this product. 
Extra Crispy Costco Spring Rolls Recipe
Costco's spring rolls are a quick and easy snack, and they are extra delicious when they are extra crispy. Follow these easy directions to make your spring rolls super crispy and crunchy.
Ingredients
10

Royal Asia Spring Rolls

Dipping Sauce
Instructions
Oven Baked Cooking Instructions

Bake at 375°F for about 20 minutes

Flip halfway through the cooking time

Springs rolls from Costco are heated when golden brown and crispy

Air Fryer Heating Directions

Heat Air Fryer at 375° for 8 minutes

Flip or shake the veggie spring rolls half way through

The spring rolls will be done when the wrapper is sufficiently browned and crispy
Nutrition
Serving:
4
Spring Rolls
Calories:
290
kcal
Carbohydrates:
32
g
Protein:
7
g
Fat:
10
g
Saturated Fat:
2
g
Trans Fat:
0
g
Cholesterol:
0
mg
Sodium:
520
mg
Fiber:
5
g
Sugar:
9
g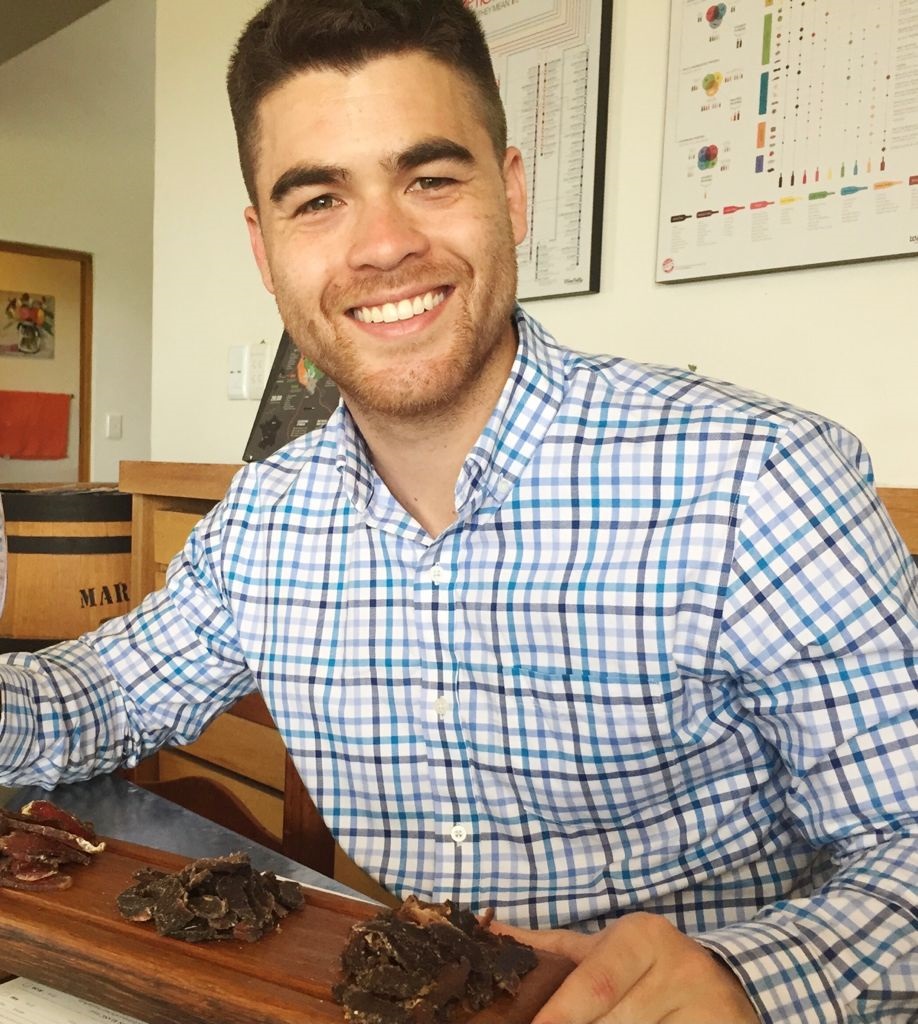 Greg Larkin is the founder and managing editor of Costco Food Database, the premiere site for honest takes on all things Costco food. A self-proclaimed Costco super-fan since childhood, Greg turned his obsession in a mission to properly rate and review all of Costco's delicious buys. When he's not busy navigating Costco aisles, you can find Greg smoking Kirkland Signature meats, meal prepping, or perfecting his homemade jerky recipes.