Costco Motor City Pizza Detroit Deep Dish + Cooking Instructions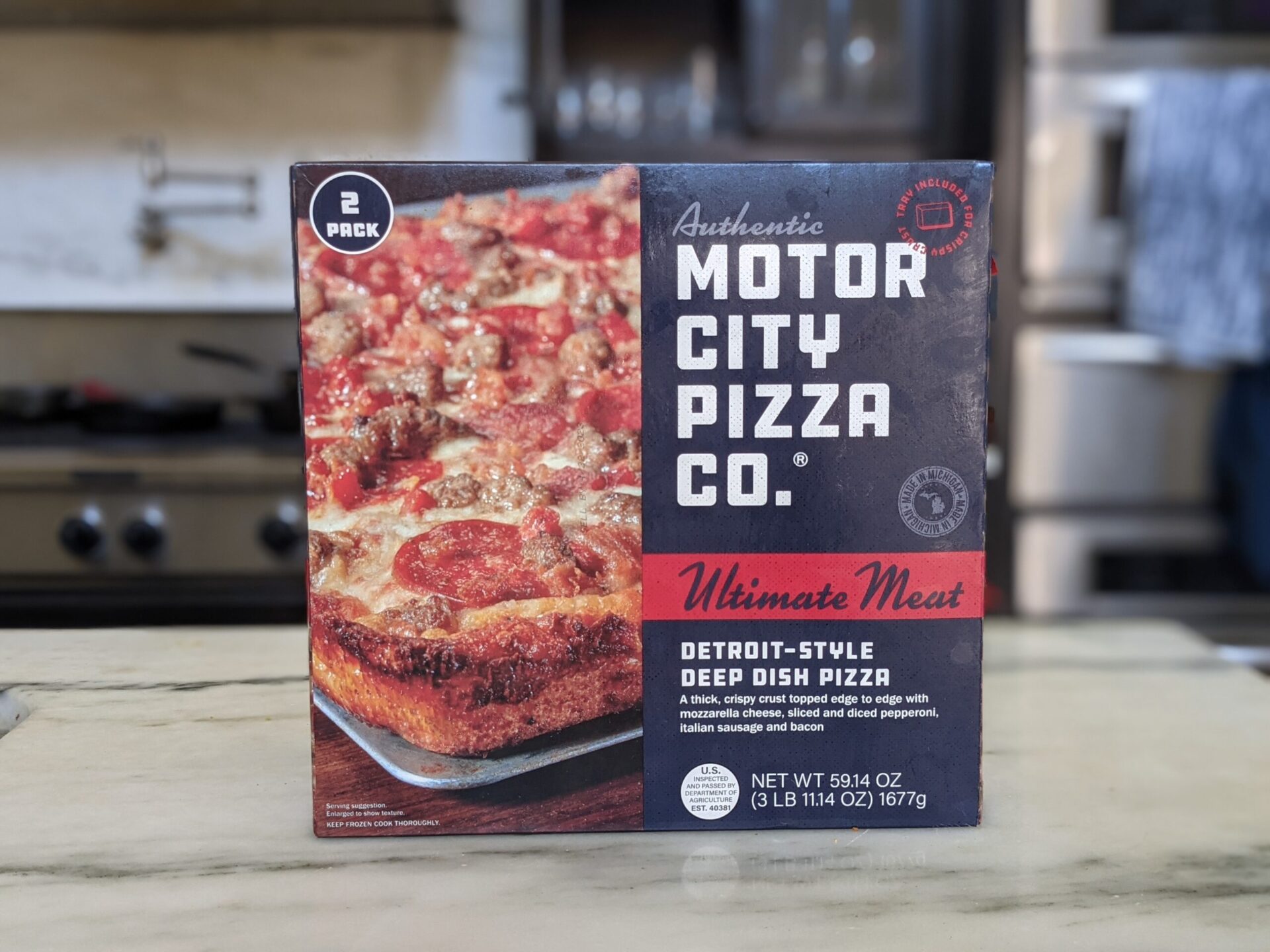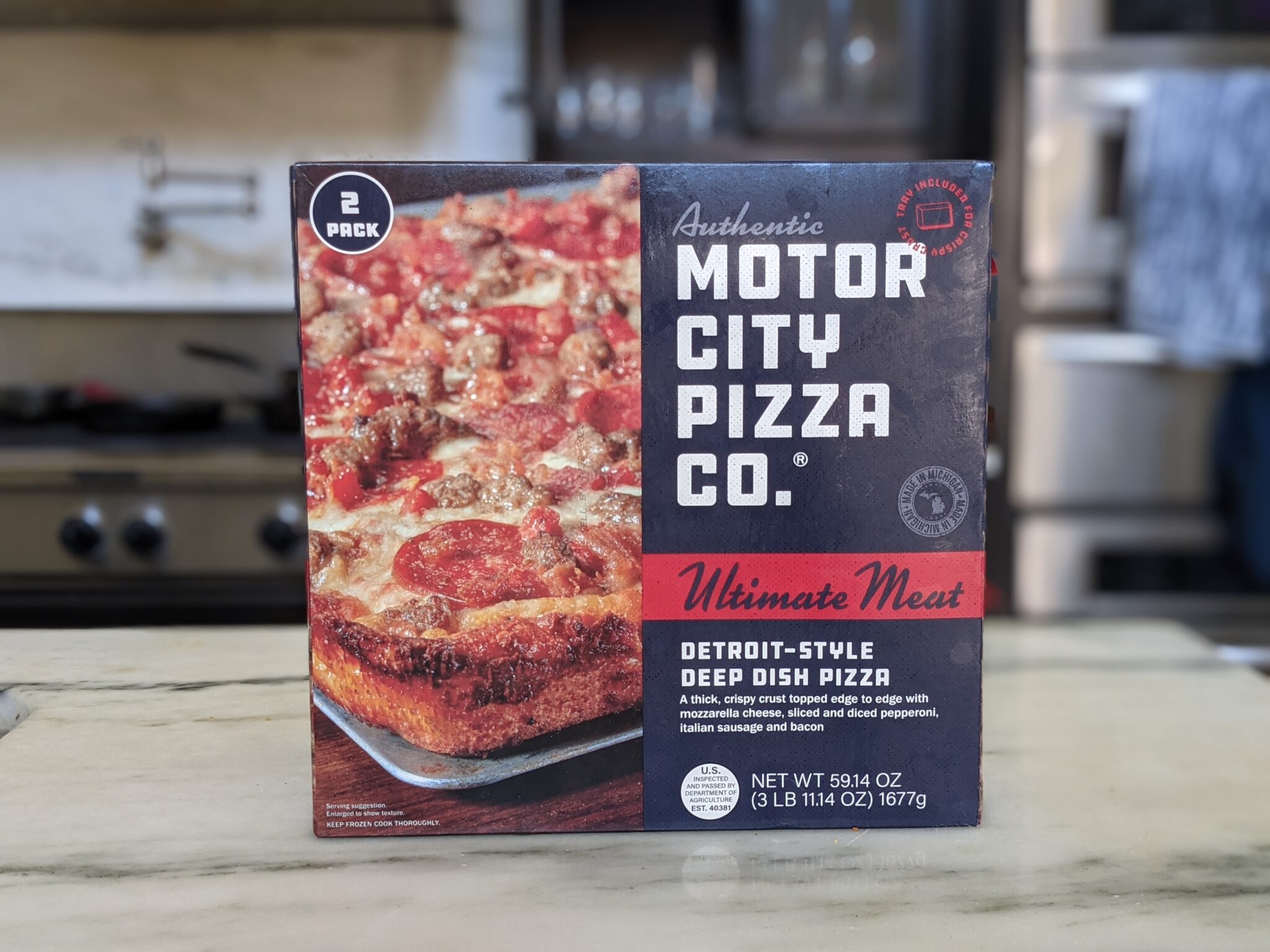 Motor City Pizza (Ultimate Meat) at Costco
Large and Packed with Meat
Costco sells the Ultimate Meat version of the deep dish pizza that includes sliced and diced pepperoni, Italian sausage, and bacon.

Motor City Pizzas are sold in a two pack and each pizza weighs almost 30 ounces.

Yes, these pizzas actually live up to their name and are made in Michigan. They are manufactured in New Boston, Michigan, and I'll admit I got a little scared at first glance that maybe these weren't true and authentic Detroit Style Pizzas.
Detroit Style Pizza Origin Story
Detroit Style Deep Dish Pizzas allegedly were created when a chef baked a pizza in an automated parts tray. The high sides of the tray gave the pizza a thick, air, and buttery flavored crust that had crunchy and caramelized edges. 
The potential is there for this pizza to be amazing.
Ultimate Meat vs Mega Meat
Many companies advertise their meat lovers pizzas as "Ultimate Meat", but I think Motor City Pizza Co upped the standard with the pizza I received and am now dubbing, "Mega Meat". 

I first noticed it after getting home from Costco and attempting to flip the pizza box to find the perfect spot in the freezer. I heard the ingredients falling from one end to the other. I knew the toppings were falling off, but just thought it is what it is.
Low and behold, the pizza was actually covered with meat. In fact, the pizza was so covered in meat that the toppings were falling because the entire layer of cheese was already smothered.
I'm telling you, this pizza is absolutely loaded with pepperoni, sausage, and bacon. This must be a complete outlier because it is insanely huge and weighs 5 ounces more than the other pizza.
I've been blessed by the carnivore gods, and I'm happy to share that with you today.
Costco Cost Comparison - Motor City Pizza
How Much Does Motor City Pizza Cost at Costco?
Costco sells the twin pack of Ultimate Meat Detroit Style Deep Dish Pizza for $14.99. This breaks down to an easy $7.50 per frozen pizza. 
This is by far the most expensive frozen pizza at Costco. 

This pizza is about double the price of a simple 1 topping pizza, but this Detroit style pizza is unique, brings a ton of flavor, and is made with significantly higher quality ingredients than your typical frozen pizza.
Costco vs The Competition
Walmart sells a 28 ounce "Three Meat" Detroit Style Deep Dish for $7.44 which is essentially the same as Costco's price. This pizza is a few ounces smaller but has nearly the same ingredients.
It is a "Three Meat" pizza and not an "Ultimate Pizza," so I'm fairly certain Costco's version will have more meat.
Detroit Style Pizza Taste Test
Now, of course, I had to cook the Mega Pizza for this review. This pizza weighed 20% more than its partner pizza.
After baking, this Detroit style pizza looked amazing. Meat everywhere and a perfect Ultimate Meat Pizza. If I had free reign and was making it myself, my pizza would look very similar.
The Crust Could be Better
The big deal with a Detroit deep dish pizza is a crispy and crunchy crust, and unfortunately this pizza came out right in between crunchy and soggy. It was just about average. 
I used the recommended cook time, and I'm unsure if the amount of meat and the excess weight of the pizza hurt the crispiness of the crust. 
The crust was soft and buttery on the inside as it should be, but just wasn't crispy enough on the outside. I think a longer cook time would help out Motor City Co's pizza.
As you can imagine, this was easily one of my favorite frozen meat pizzas. I couldn't have asked for a better pizza. The meat was juicy, flavorful, and had great textures. 
I could easily distinguish which piece of meat I was eating. Great Job!
The one downside, was that this extra extra extra meat pizza came out a little too salty for me to handle at the end. 
I was even drinking a beer with this meal, as I know a pizza like this is a rare treat, but I still couldn't finish the last few pieces.
One of My Favorite Pizzas
The end result is that I thought this particular pizza was super tasty and delicious. I loved all the meats and really enjoyed the meal. It's a great pizza, but I need a little break and won't be having the second pizza on back to back nights.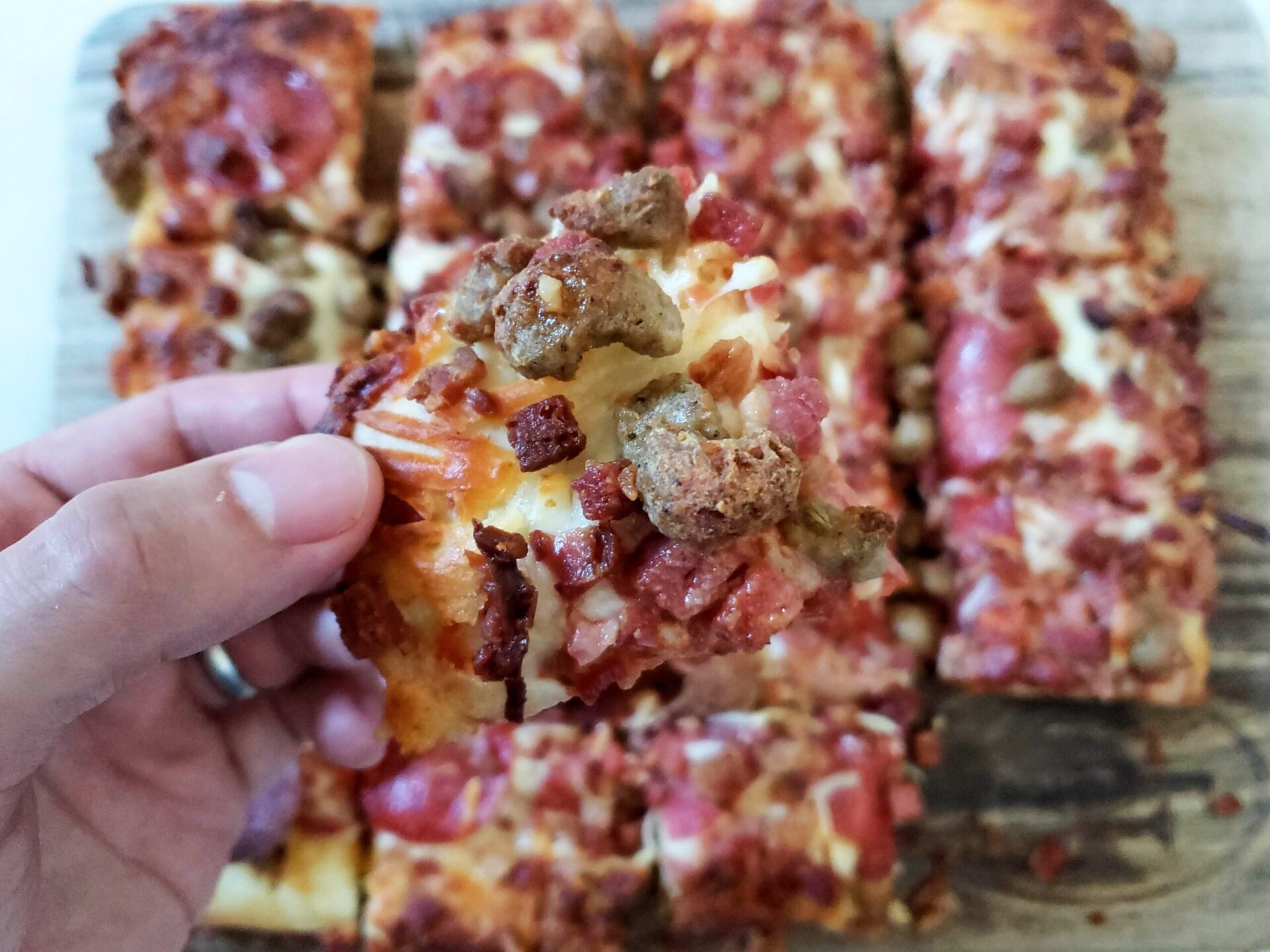 It is a pizza that I know my body and taste buds will need to recover from. 
Motor City Pizza Detroit style Deep Dish Cooking Instructions
Motor City Pizza Co only offers one way to cook their Ultimate Meat Detroit Style Deep Dish Pizza and that is to use the oven. The Detroit style pizza will need to be cooked at 425°F for 18-21 minutes.
It may be possible to use alternative cooking methods such as cooking the motor city pizza on the grill, stove, or even air fryer, but the most foolproof way will be to bake the pizza in the oven.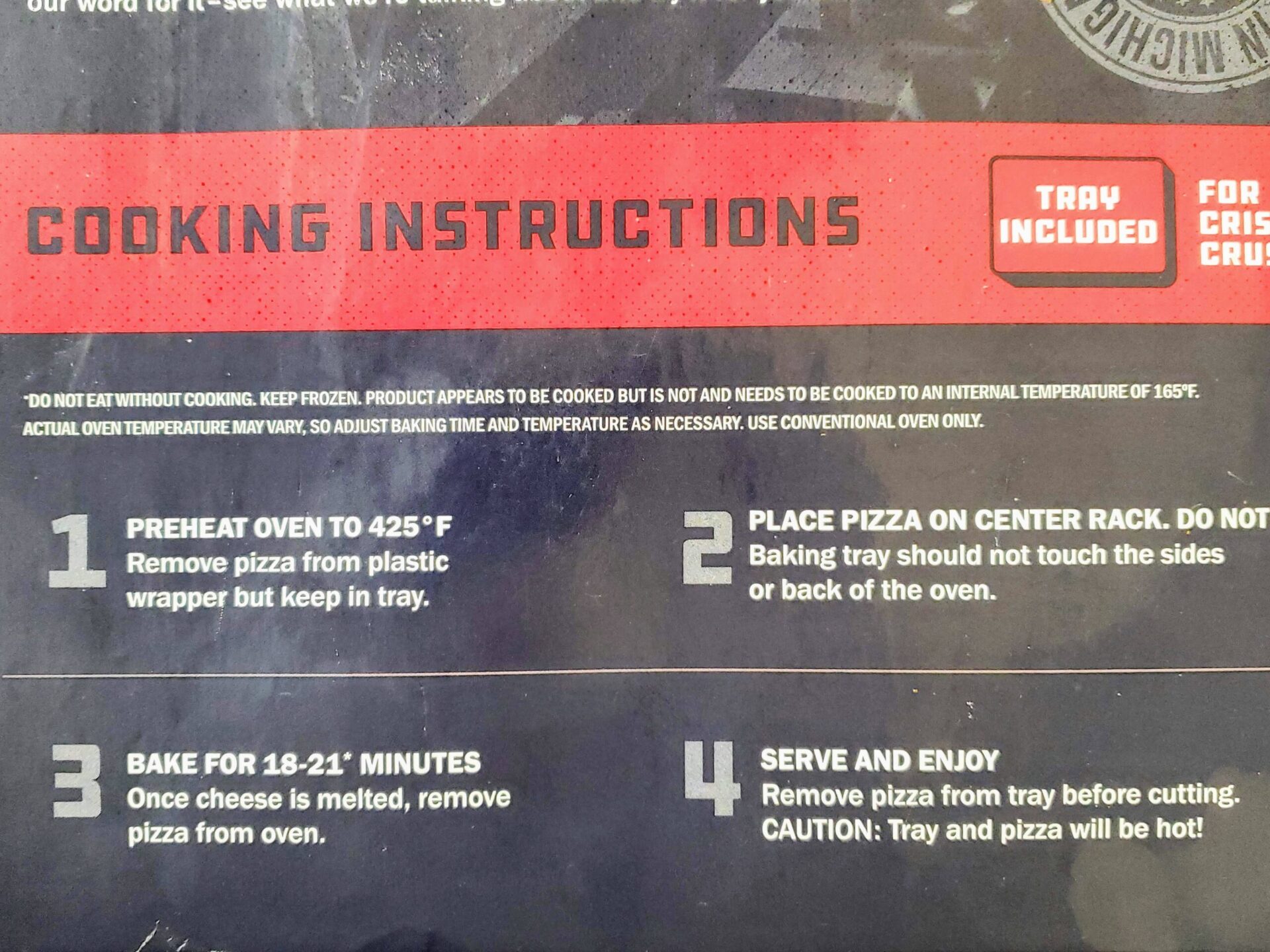 How to Cook Motor City Pizza from Costco - Heating Instructions
Preheat oven to 425°F


Remove the Motor City pizza from the plastic wrapper but keep it in the tray.

Place pizza on the center rack. Do not broil


The baking tray should not touch the sides or back of the oven.

Bake for 18-21 minutes
Once the cheese is melted, remove the pizza from the oven.
Serve and Enjoy
Remove the pizza from the tray before cutting.
CAUTION: Tray and pizza will be hot!
Need the cooking instructions for a different Costco pizza?
How Many Calories in Costco's Detroit Style Deep Dish?
Each serving of Motor City Pizza Co's Ultimate Meat Detroit Style Deep Dish Pizza from Costco is going to be 1/6 pizza (140g or 4.94 ounces) and contain 410 calories. 
The 140 calories are going to come from 22 grams of fat, 35 grams of carbs, and 20 grams of protein.
Not a Bad Nutritional Label for What It Is
Surprisingly, this isn't as terrible I thought it would be. I would have expected maybe 30+% more carbs and wouldn't have been at all surprised to see more fat and less protein. 
This isn't a healthy food, but it exceeds my expectations in terms of macronutrients.
Again, another important issue is going to be the sodium content. A serving of Motor City pizza is going to contain 960 mg or 42% of your daily recommended value. 
If you even eat just 1/3 of the pizza ( I know I ate more than a third), you would have nearly consumed all of your daily recommended sodium intake. Something to make note of.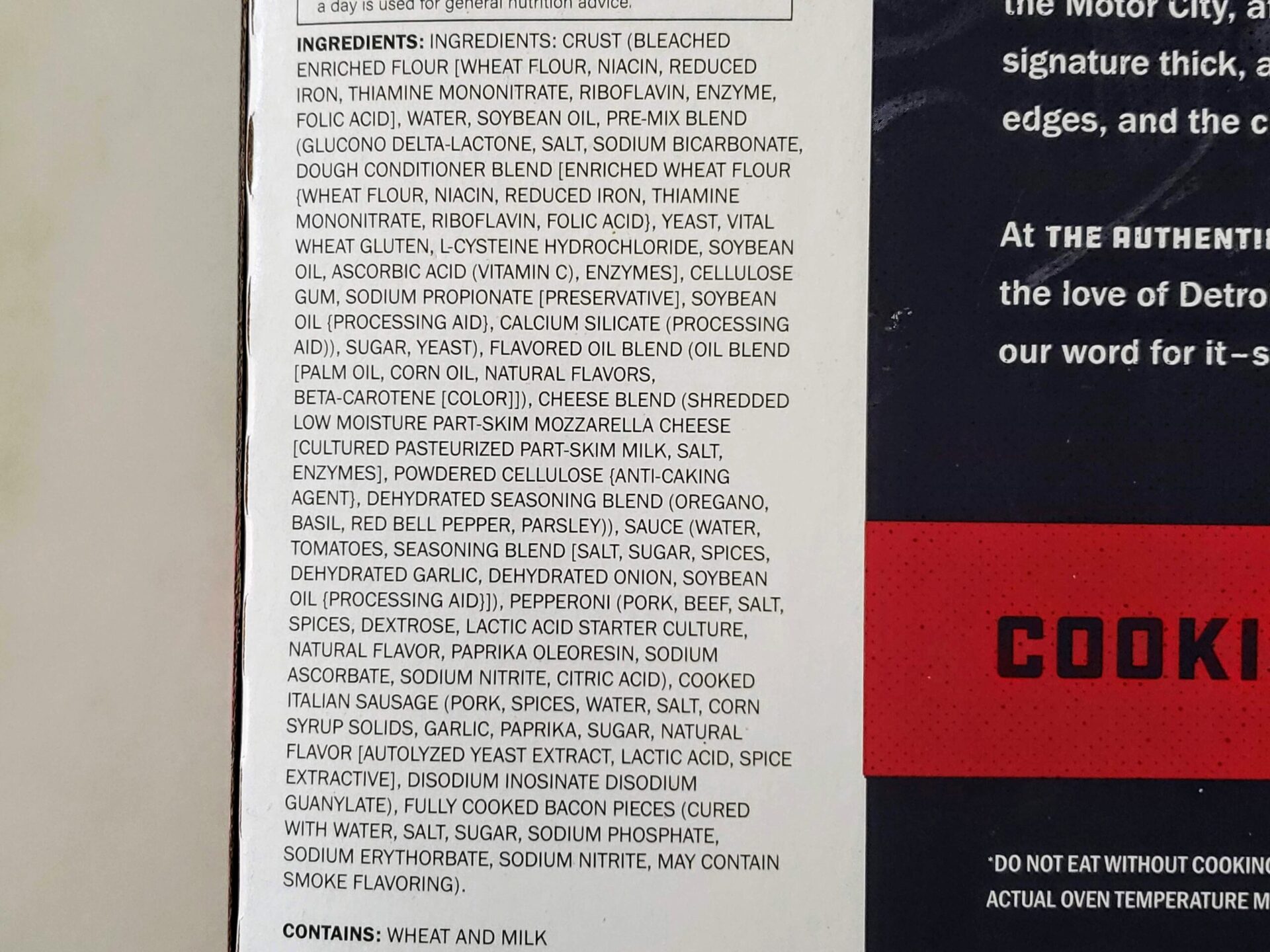 Motor City Pizza Costco - Review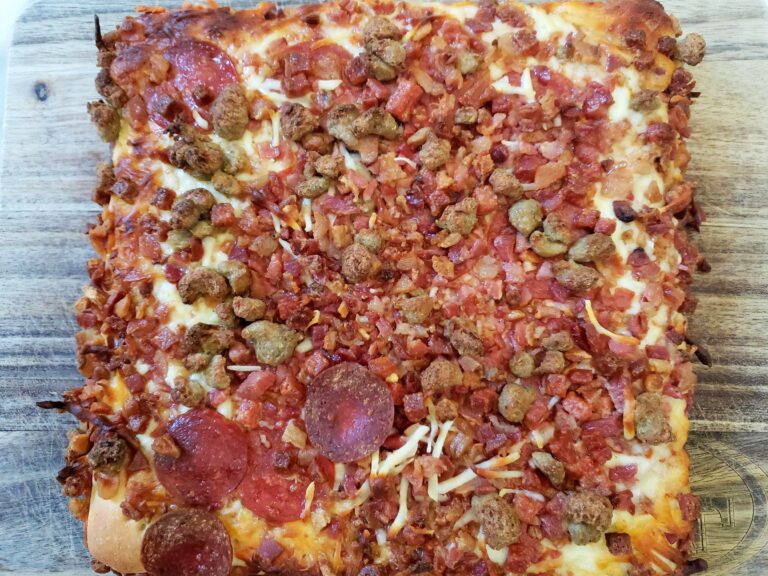 Product Name: Motor City Pizza Co. Detroit Style Deep Dish Pizza (Ultimate Meat)
Product Description:
Price: $14.99
Quantity: 2
Location Within Costco: Frozen Food Aisle
Price Per Pizza: $7.50
Summary
Motor City Pizza easily has one of the best tasting pizzas at Costco. The meat is delicious and the cheese is great. 
The crust came out a little softer than I liked, and I think I could have cooked the pizza for a few minutes longer. 
This Detroit style pizza brings good value and the nutritional label is tolerable. Very solid pizza.
Value -

7/10

Convenience -

8/10

Taste -

9/10

Nutrition -

7/10

CFDB Score -

7/10
Pros
Tastes amazing

Tolerable nutritional label
Fairly priced
I absolutely love the taste and flavors of Motor City Pizza Co's Detroit Style Pizza. This pizza easily jumps to the top of my Costco's frozen pizza rankings, and it's going to be hard to knock off.
As far as everything else, the pizza is good. The nutritional label is not the worst thing in the world, and the price isn't ridiculous. This is just an overall very good pizza.