Costco Chicken Strips - Extra Crispy Recipe + Sauce Ideas
Tyson Crispy Chicken Strips at Costco
Costco sells a 3 pound bag of Tyson Crispy Chicken Strips for $13.99. The chicken strips can be found in the frozen food aisle of the warehouse near other breaded frozen items such as the chicken patties, chicken nuggets, and the chicken sandwich.
Tyson's Costco chicken strips are made with fully cooked breaded breast strips with rib meat. Tyson uses white meat chicken and 100% all natural ingredients.
These Chicken Strips Have Nothing To Hide
On the back of the bag, Tyson states that all of their chicken strip are made with white meat chicken raised with no antibiotics ever. The chicken is breaded using simple, all natural* ingredients. It's a wholesome meal that's super easy to make. 

The asterisk refers to minimally processed, no artificial ingredients.
I did check the ingredient list for these Costco chicken tenders and it was definitely a lot shorter than I expected it to be. 
Many of the ingredients are also at least somewhat recognizable to my untrained eye. You might recognize the majority of them as well.
How Much are Tyson Chicken Strips at Costco?
Costco sells the 3 pound bag of Tyson chicken strips for $13.99. This breaks down to a price of $4.66 a pound, which is definitely on the higher end for breaded chicken items.
Only the Just Bare Chicken Nuggets come in higher at $5 per pound now. 
Back in the day, these Costco chicken strips were in the $11 range and could be had for $8 or $9 when they were on sale. Of course, that was a few years back and a lot has changed since then.
Costco vs The Competition
Sam's Club sells a 3.5 pound version of these Tyson Chicken Strips for $17.58 or $5.02 per pound. Costco is nearly 10% cheaper.
Target sells a similar 25 ounce bag of Tyson Chicken Tenders for $10.29 or $6.59 a pound. This is incredibly expensive, coming in at 41% more than the Costco chicken strips.
Crispy Chicken Strip - Taste Test
For this taste test, I used my extra crispy chicken strip recipe which is listed below in the cooking instruction section.
As expected, the chicken strips were super crispy while still retaining moisture and juiciness on the inside that makes chicken tenders absolutely amazing.
Crispy but Salty Breading
The breading turned out very crispy and crunchy but was also overly salty.
The Tyson chicken strips are flavorful, and these chicken strips could be eaten on their own with no sauce or dips.
The Costco chicken strips are delicious, but also salty. The saltiness can be hidden with most sweet dips, but that would just be covering up the problem. 
There is a certain level of salty expectations to be had when it comes to fried foods like chicken strips or chicken nuggets, and these tenders are right on the borderline of acceptable saltiness.
The white meat chicken is good, if not great. It was clear the chicken is from full chicken tender pieces and is much higher quality than what you would find from some of Costco's other breaded chicken products.
The boneless skinless chicken breast strips that are used actually tasted and felt like full chicken pieces. 
Tyson's chicken strips aren't going to be as good as homemade chicken strips, but they aren't bad for a store bought item.
Costco Chicken Strips Heating/Cooking Instructions (Tyson)
Extra Crispy Recipe (CFDB Recommended)
It's hard to beat crispy chicken strips and while these are fairly crispy when you cook them from the recommended oven method, they can be even crispier with an air fryer. 
Air Fryer Cooking Instructions
Tyson doesn't provide air fryer instructions for their chicken strips, but I found that 400°F for 10-12 minutes flipping halfway through created that perfect extra crispy chicken tender. 
Preheat air fryer to 400°F 
Spritz with cooking oil and place chicken tenders in a tray and cook for 12 minutes.
Flip half way through and spray with cooking oil. 
Enjoy!
Preheat oven to 400°F

Place frozen Costco chicken strips on a baking sheet.

Heat 18 to 20 minutes turning strips over halfway through heating time.
Microwave - Least Recommended Option
Arrange frozen strips on a microwave safe plate

Heat on High (Do Not Overheat)

1 strip for 1½  to 2 minute

2 strips for 2 to 2½ minutes

3 strips for 3 minutes
Let stand for 1 to 2 minutes before serving
Chicken Strip Sauce Ideas
Half the fun with eating chicken tenders is the variety of sauce options that they can be eaten with. Here are my 8 favorite sauces/dips that are likely to be in your pantry.
Honey BBQ + Mayo

Sriracha Mayo

Ketchup

Ranch

Honey Mustard
Costco Chicken STrips Calories and Nutrition
How Many Calories in Tyson Chicken Strips
One serving size of Costco chicken strips is 3 ounces and contains 190 calories. Those 190 calories come from 9 grams of fat, 15 grams of carbs, and 14 grams of protein.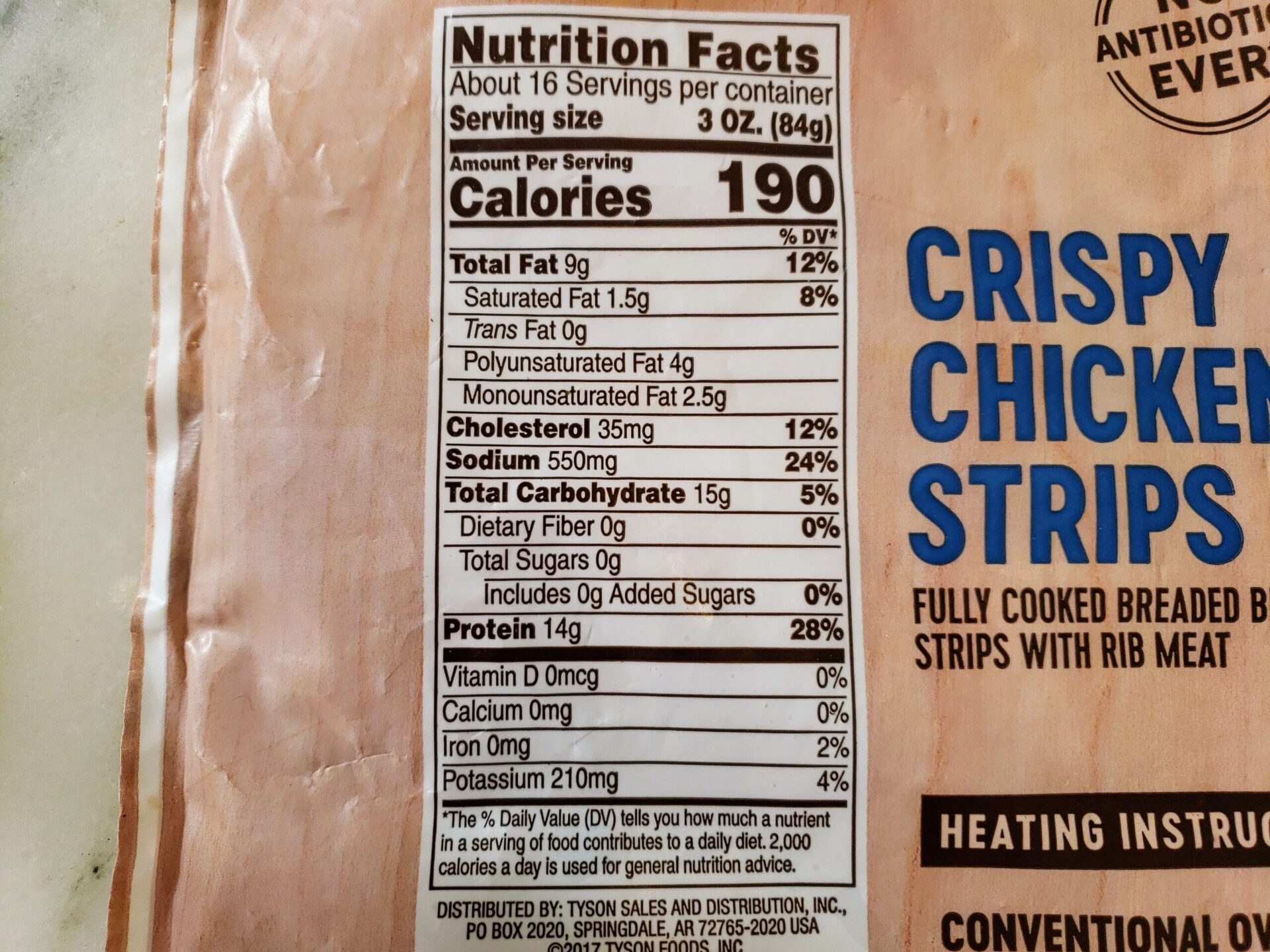 This is a pretty standard nutritional profile for chicken strips, and while it may not necessarily be healthy for you, it isn't the worst nutritional label either. 
There is a very solid amount of protein in each serving, and the fat and carbs are kept in check.
As per usual, when it comes to frozen foods, the sodium content will be on the higher end, coming in at 550 mg per serving or nearly 24% of the recommended daily value. 
When it comes to chicken strips, it can be very easy to overeat, and I would even say it's very easy to take in the daily recommended amount of sodium in one meal! 
This is something to be very cautious about with these Tyson chicken strips and the majority of frozen foods at Costco.
Costco Chicken Strips Review
Summary
Tyson Chicken Strips from Costco are a buy!
The breading is crispy as advertised, and the chicken is tasty. It is a touch salty, but manageable.
The nutritional profile is good and the ingredient list is clean and simple. There is a lot to like about these chicken strips.
Value -

7/10

Convenience -

8/10

Taste -

8/10

Nutrition -

7/10

CFDB Score -

6/10
Pros
Crispy breading
Whole white meat chicken
Good ingredient list
Tyson CrispY Chicken Strip ingredients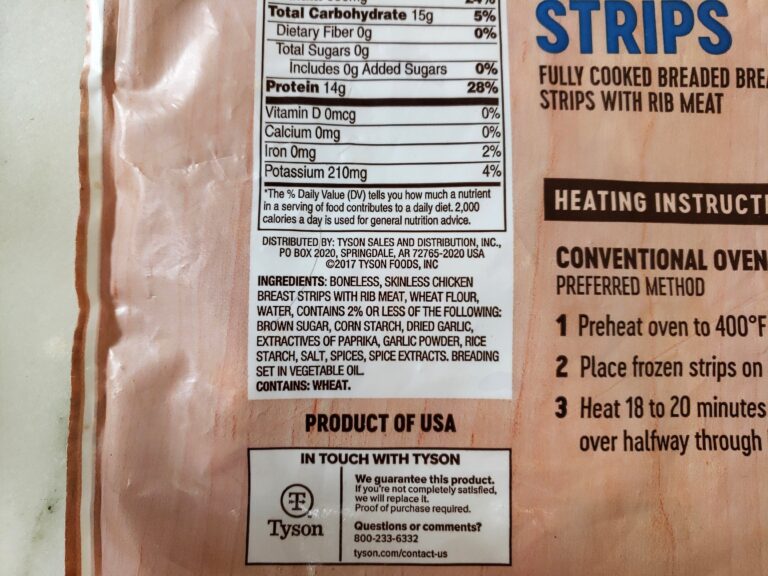 Tyson did a great job with the ingredients on these Costco chicken strips. They kept it relatively simple and basic, and most of the ingredients are recognizable. 
This is a much better ingredient label than a lot of other breaded chicken items or even other frozen food items at Costco.
Tyson chicken strips from Costco are pleasantly surprising. The chicken strips are on the salty side, but the breading is crispy, and the chicken is solid.
The price is fair, and the ingredient list and nutritional label are pretty good. These chicken strips are worth the buy!
Costco Chicken Strips Review
Summary
Tyson Chicken Strips from Costco are a buy!
The breading is crispy as advertised, and the chicken is tasty. It is a touch salty, but manageable.
The nutritional profile is good and the ingredient list is clean and simple. There is a lot to like about these chicken strips.
Value -

7/10

Convenience -

8/10

Taste -

8/10

Nutrition -

7/10

CFDB Score -

6/10
Pros
Crispy breading
Whole white meat chicken
Good ingredient list