The 7 Best Costco Frozen Pizzas of 2023 Ranked! (All Items)
When it comes to frozen pizzas, Costco truly has something for everyone. With a range of choices, from classic cheese to gourmet cauliflower crusts and meaty Detroit-style pies, the beloved warehouse giant offers a variety of delicious frozen pizzas to satisfy every craving. 
The Ultimate Costco Frozen Pizzas Rankings
Ranking The 7 Most Common Costco Frozen Pizzas
Here at Costco Food Database, we took it upon ourselves to taste all seven frozen pizza options available and rank them based on their taste, overall enjoyability, and value. 
In this Costco frozen pizza rankings list, we are looking at only the most 7 common frozen pizzas. These frozen pizzas are available at Costco locations nationwide and all 7 should be available at your local Costco. Keep in mind your Costco may have a pizza or two that doesn't appear on this list, and we have decided to nod muddle the rankings with frozen pizzas that only appear at select locations. 
How To Cook Costco's frozen pizzas
Cooking frozen pizza properly is the key to taking it to the next level and really enjoying the pizza as a meal. 
If you are looking for directions on how to cook your frozen pizzas from Costco, check out our page with all of Costco's frozen pizzas cooking instructions.
#7 Sabatasso's Mini Singles - $10.49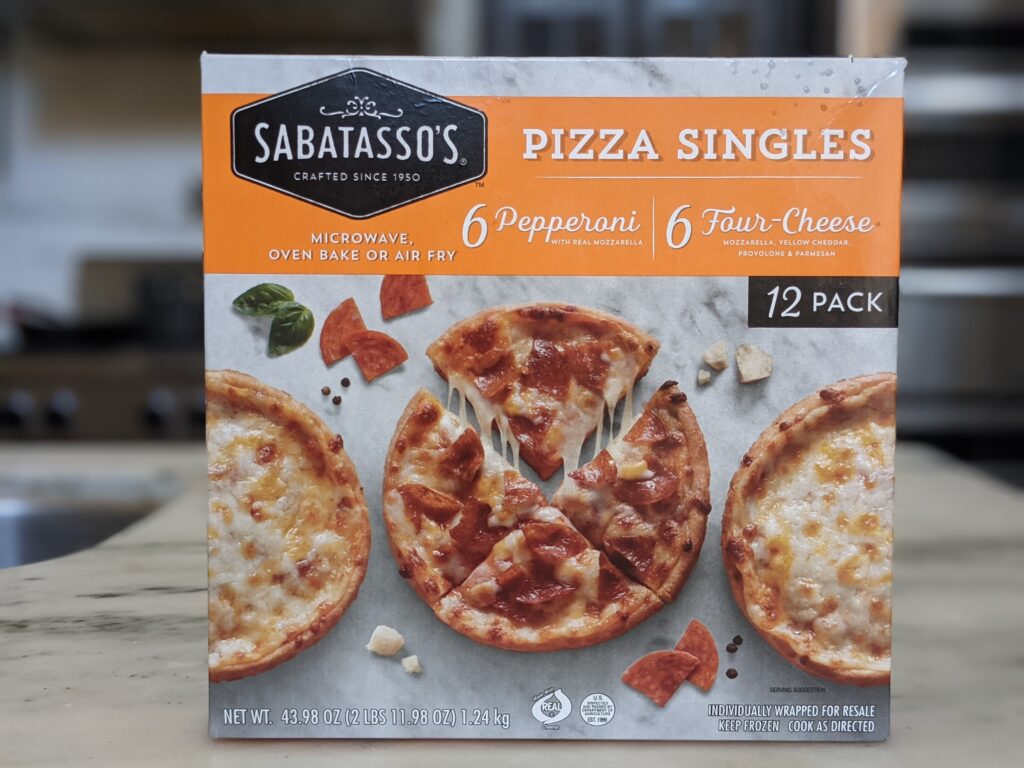 I debated long and hard whether to include Costco's variety pack of Sabatasso's Mini Pizza Singles. It's not a full-size pizza, but technically yes, it fits the description for a Costco frozen pizza, so I had to include it on the list.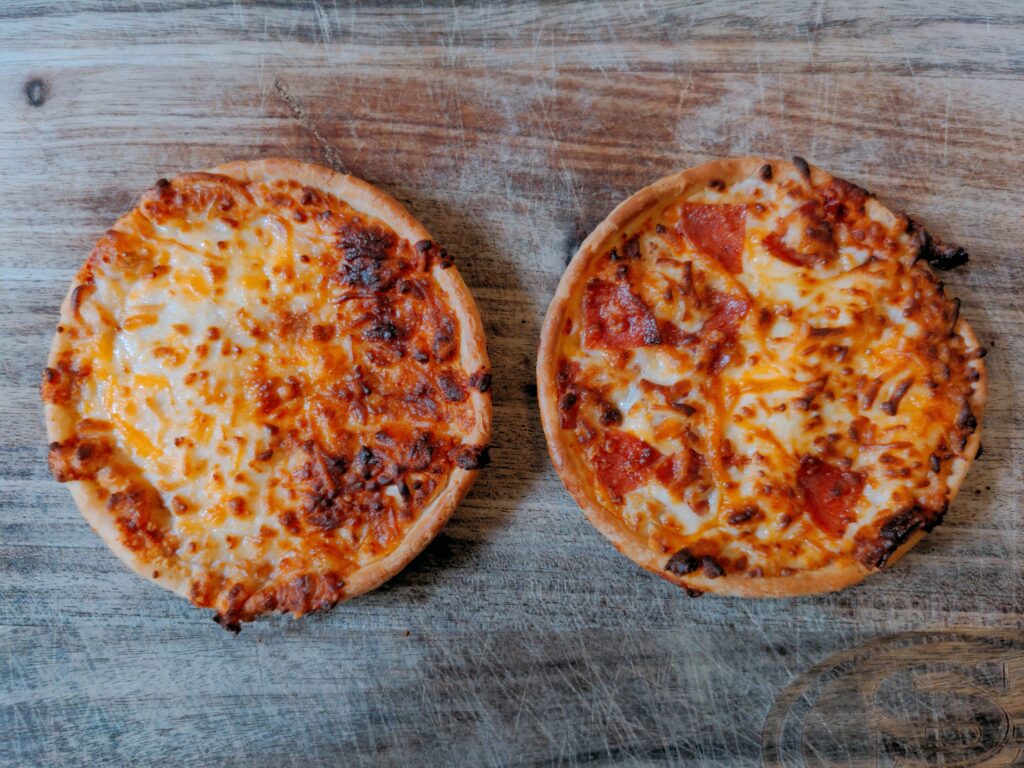 Affordable And Gets The Job Done, But Not A Gourmet Pizza
The frozen mini single-serve pizza doesn't shuffle the Costco frozen pizzas rankings as they come in dead last. 
Each pizza costs about $0.87, so they aren't bad for being less than a buck, but they aren't exactly great either. The pizza cheese develops a nice crust when you cook it in the air fryer, but it's hard to not taste and feel the subpar ingredients.
#6 Sabatasso's Gluten-Free Pizza - $15.99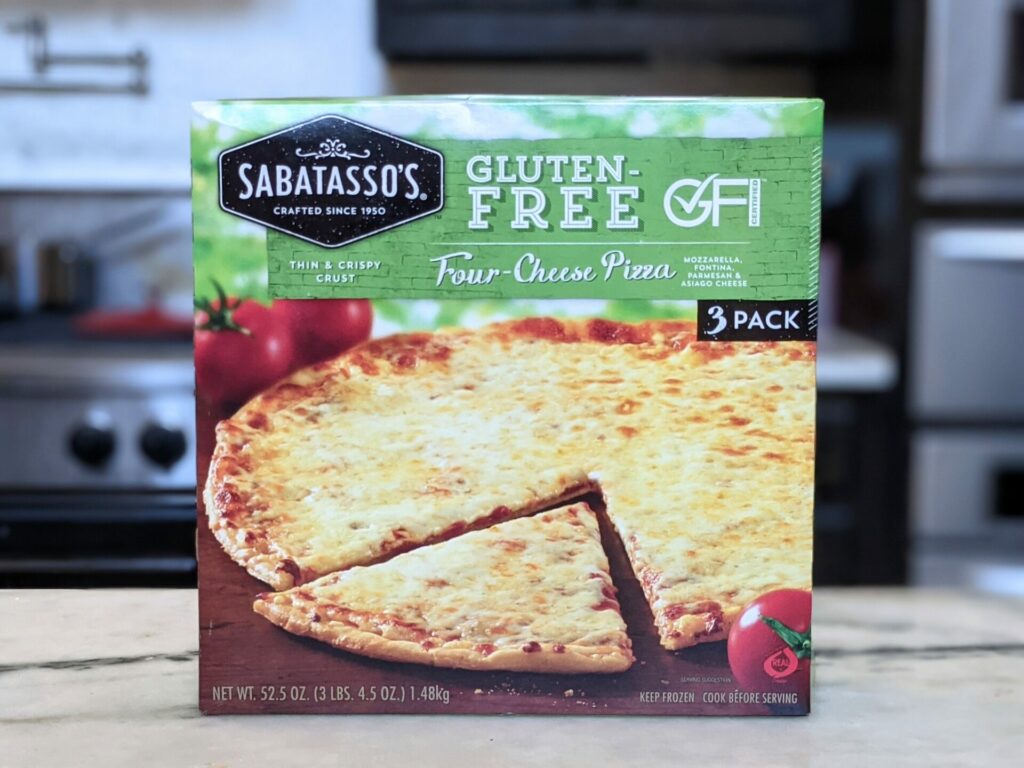 Not A Bad Gluten Free Pizza, But Not a Great Pizza Either
I hate to do this to Sabatasso, but their gluten-free pizza is the second worst on our Costco frozen pizza rankings list. 
The frozen gluten-free pizza from Costco hits a niche market and, unfortunately, just doesn't do it better than the competing gluten-free frozen pizza options at Costco.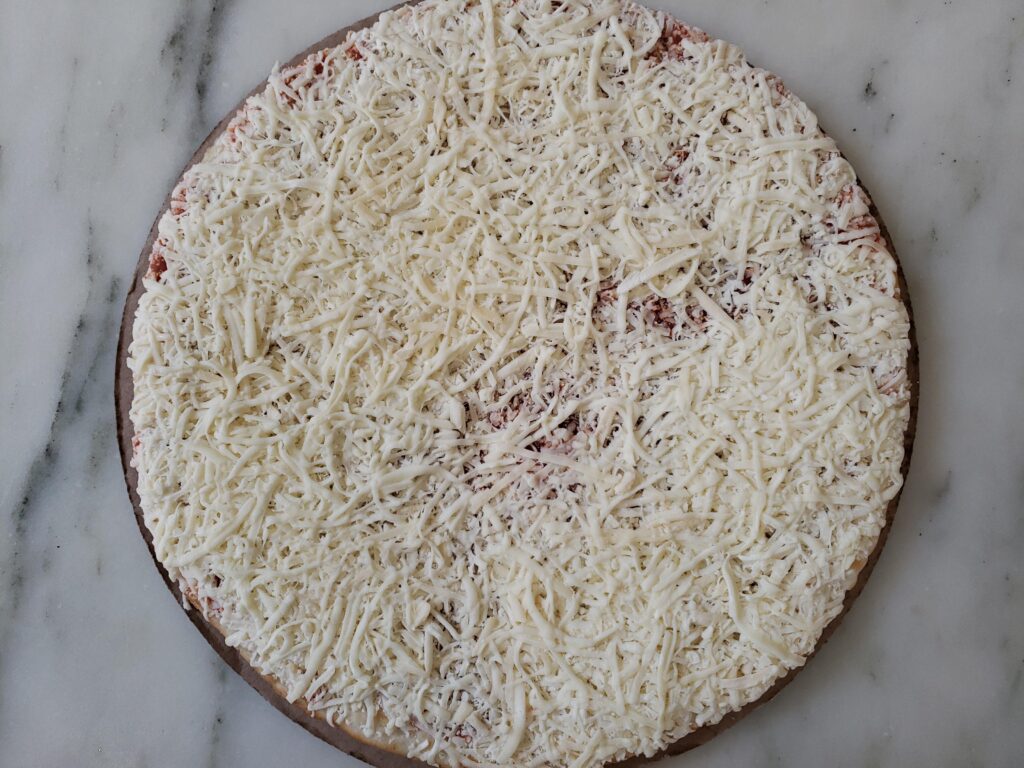 Not The Only Gluten Free Pizza At Costco
The other Costco frozen pizzas don't market themselves as gluten-free but are gluten-free certified; they are the Kirkland Signature Cauliflower Crust Supreme Pizza and the Milton Cauliflower Crust Roasted Vegetable Pizza. 
Both use cauliflower crusts and are topped with delicious ingredients that elevate these frozen pizza options to the next level.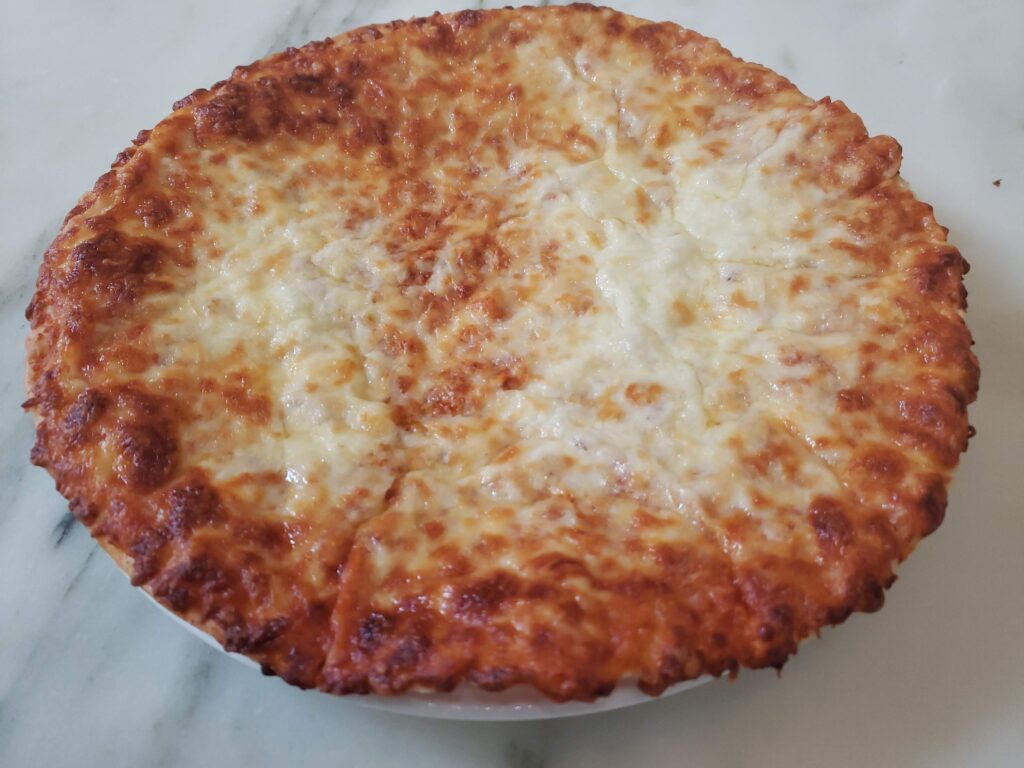 #5 Kirkland Signature Cheese Pizza
A Standard Plain Cheese Pizza
I'm a man who loves cheese, but I'm also a man who loves pizza toppings. I don't dislike cheese pizzas, but to me, they are plain and boring, and that is why Costco's own Kirkland Signature Cheese Pizza takes the number 5 spot on our list of Best Costco frozen pizzas.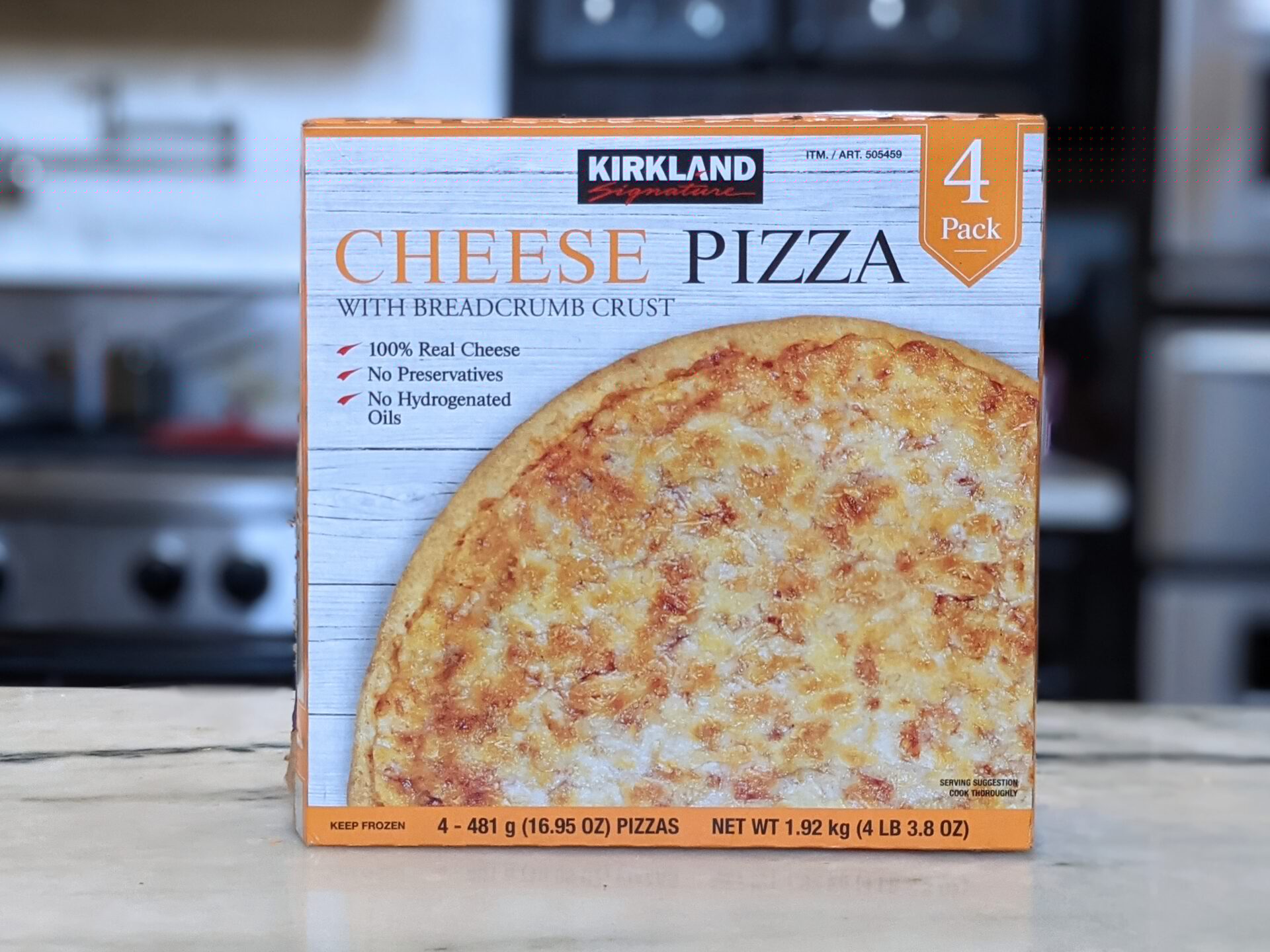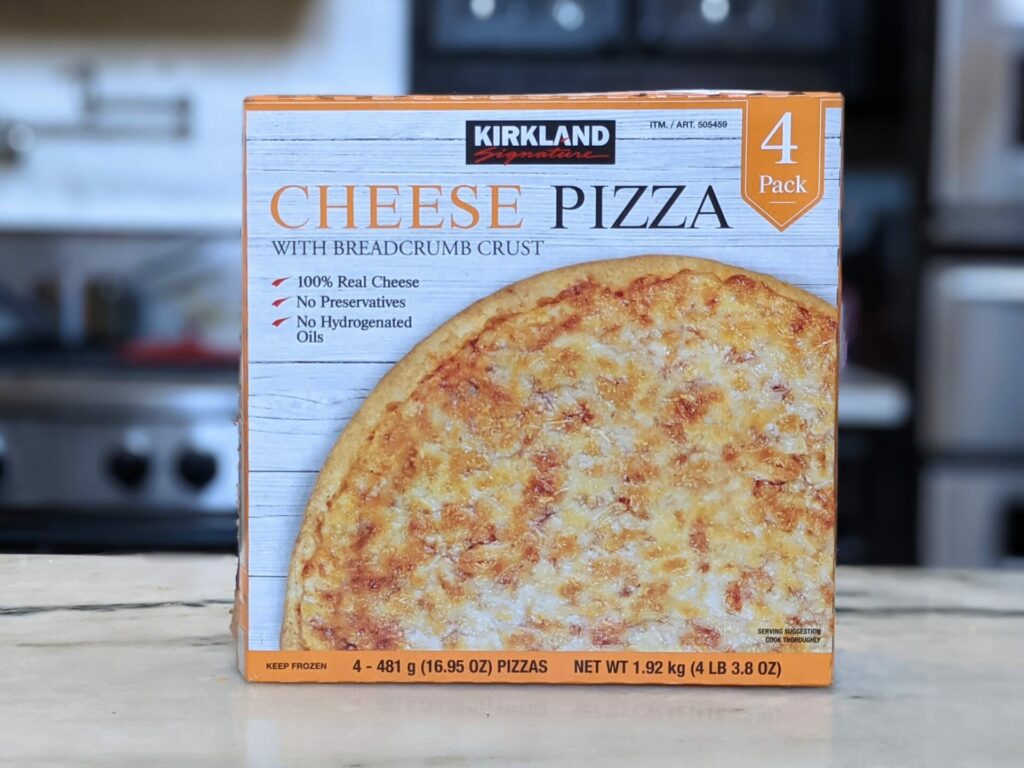 While the Costco frozen cheese pizza delivers with its crispy crust and beautifully golden color cheese, it falls short in terms of flavor and distinctiveness. 
However, this pizza has its merits and makes for an excellent starter pizza.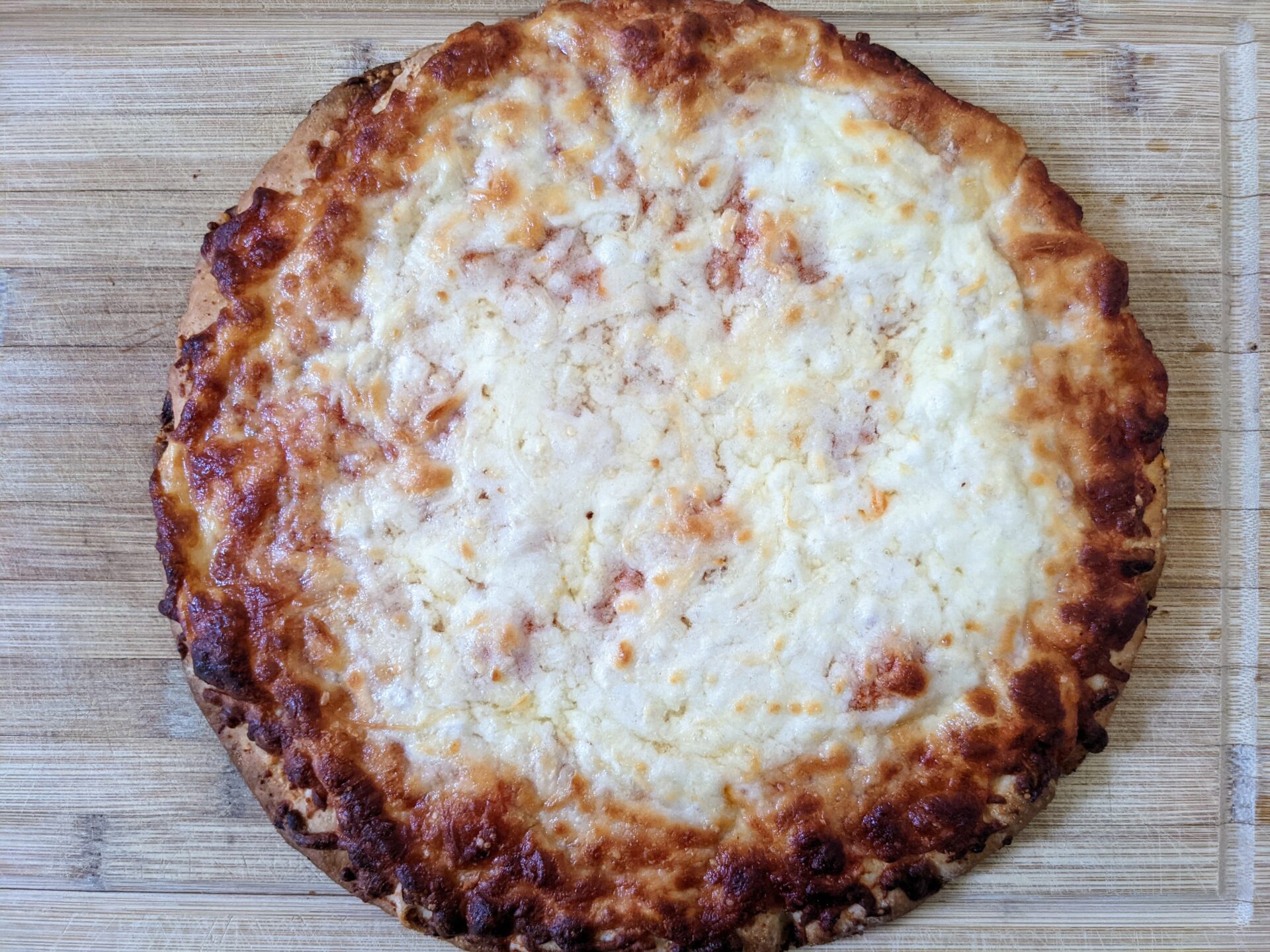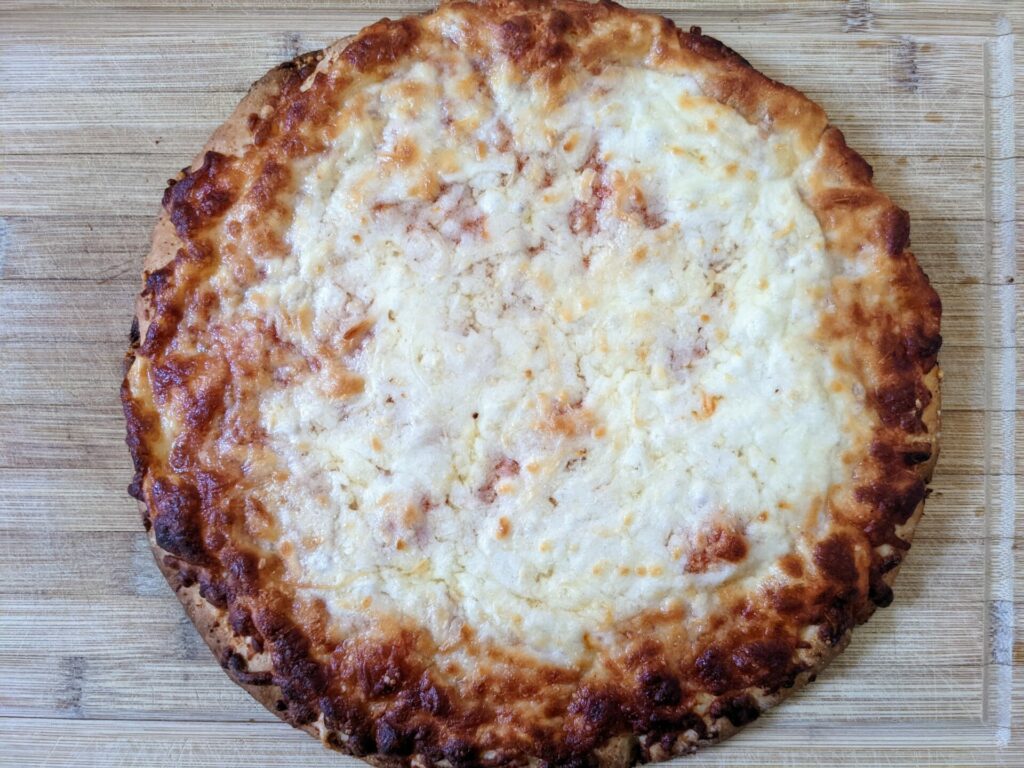 Provides a Great Pizza Base
The Costco cheese pizza is a perfect foundation that can be easily transformed into a mouthwatering BBQ chicken pizza, a Margherita pizza, or even a tropical Hawaiian delight.
So, while it may not dazzle on its own, the Kirkland Signature frozen cheese pizza allows you to personalize it according to your taste and quickly create your own favorite pizza right from home.
#4 Milton's Cauliflower Crust Roasted Vegetable Pizza - $13.99
Next on our Costco frozen pizzas list is Milton's Cauliflower Crust Roasted Vegetable Pizza. Crafted with a gluten-free cauliflower crust, this frozen Costco pizza caters to those seeking a healthier alternative to traditional pizza.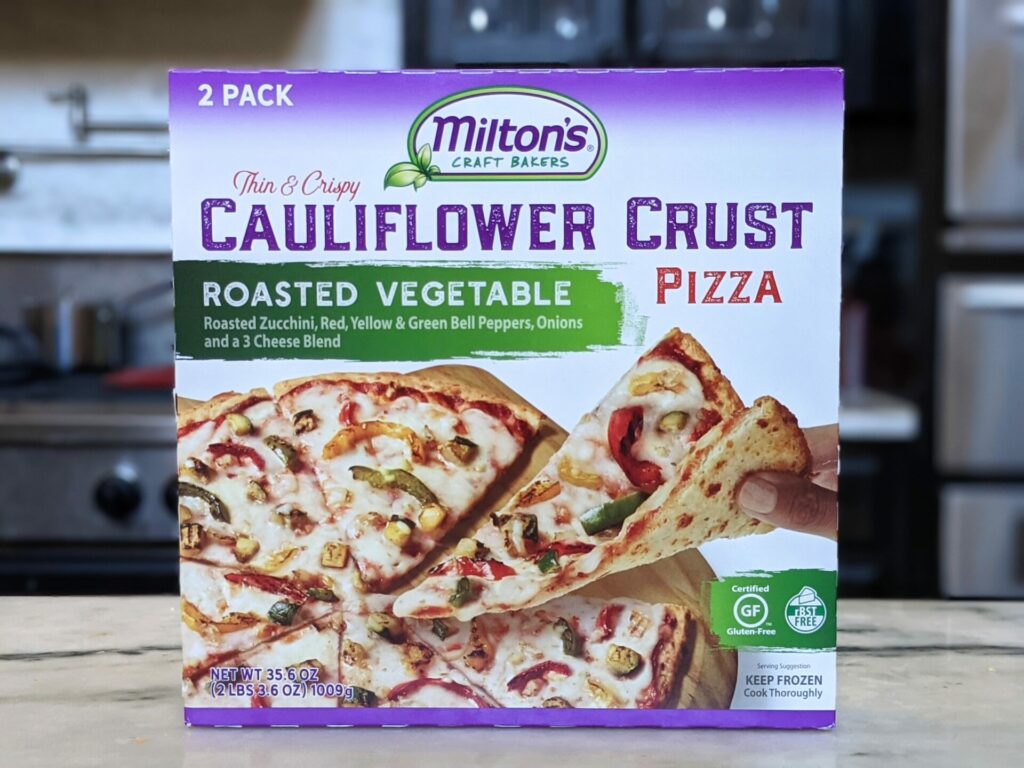 Milton's Cauliflower Crust Roasted Vegetable Pizza truly stands out as a vegetarian delight. The crispy cauliflower crust provides a delightful base, while the combination of roasted zucchini, red, yellow, and green bell peppers, and onions add vibrant flavors.
To top it off, the trio of Mozzarella, Romano, and Parmesan cheeses creates a luscious and satisfying cheesy experience.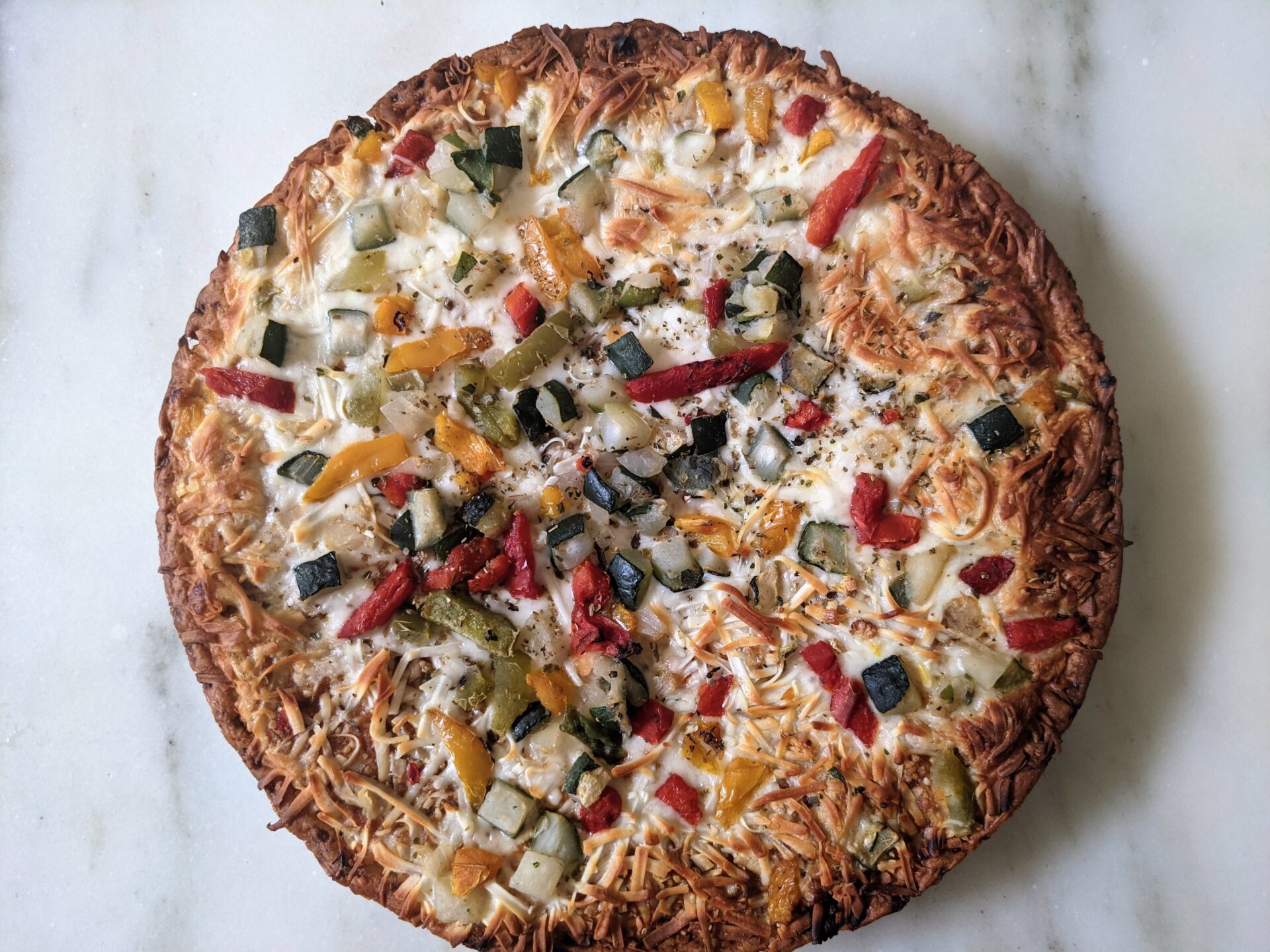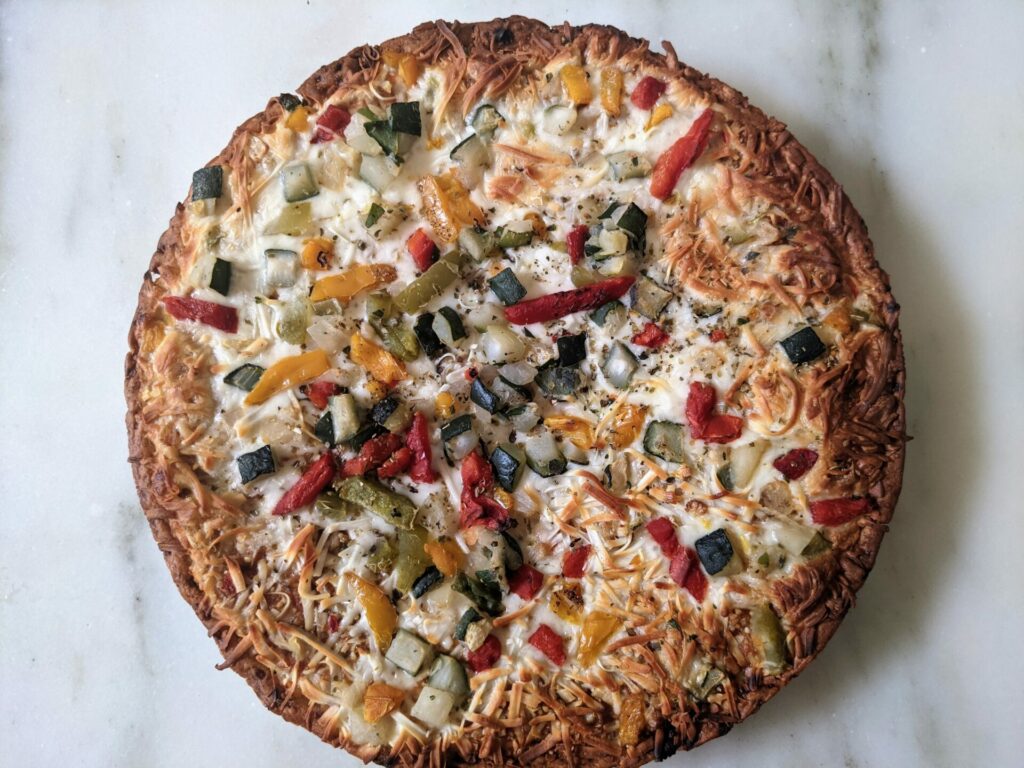 Gluten Free And Made With Veggies, But Not Exactly Healthy
One thing to note about Milton's Cauliflower Crust Roasted Vegetable Pizza is that, while it offers a gluten-free and vegetable-packed option, it may not necessarily be a healthier choice from a nutritional standpoint.
Despite its cauliflower crust, this frozen pizza's overall calorie and carbohydrate content remains similar to other options in Costco's lineup.
It also misses the mark as a low carb/keto friendly pizza option but is a fantastic pick for those with gluten intolerances or who are looking for a lighter, more refreshing pizza.
#3 Kirkland Signature Pepperoni Pizza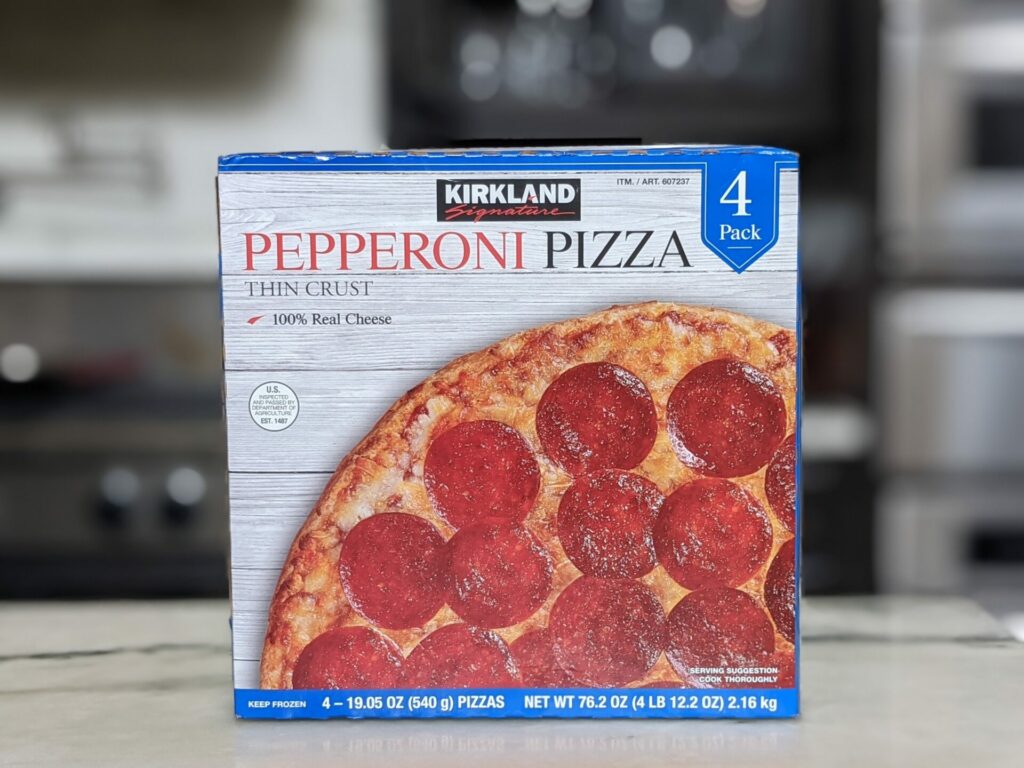 Fantastic Pizza Compared To Others In Its Price Range
Costco absolutely nails its Kirkland Signature frozen pepperoni pizza, and this pizza could easily be higher on the list. The Costco pepperoni pizza is your basic low-cost frozen pizza, but done properly. 
Many companies nowadays try to produce the lowest quality, cheapest food they can get away with, but Costco's budget pizza at $3.37 a piece actually impresses.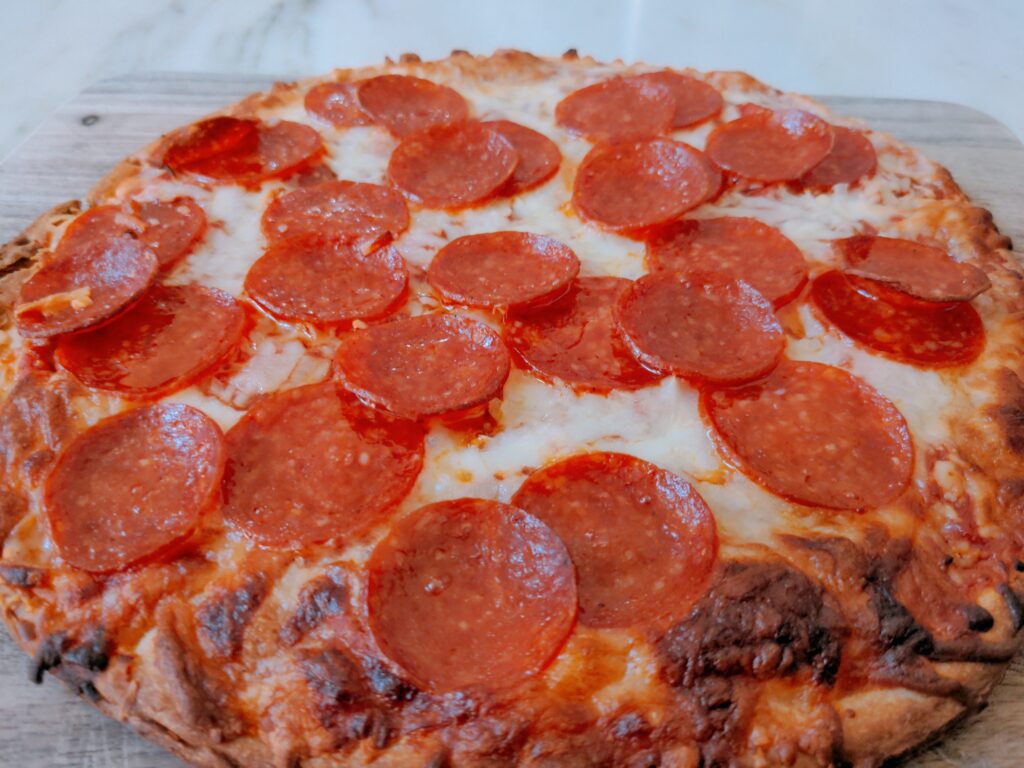 Crispy And A Lot Of Pepperoni
Costco's frozen pepperoni pizza isn't perfect, but it definitely surpasses most other frozen pies in this range. The thin crust is crispy and doesn't taste like cardboard, the gooey cheese melts very nicely, and the pepperoni actually has flavor. 
Not the best frozen pizza in the world, but it does provide fantastic value for $3.37, and is well deserving of the #3 spot on our Costco frozen pizzas rankings list. 
#2 Kirkland Signature Cauliflower Crust Supreme Pizza
The Only Supreme Or Combo Pizza Sold At Costco
Costco's Kirkland Signature Cauliflower Crust Supreme Pizza is the #2 Pizza on our Costco Frozen Pizza Rankings list. This pizza is the only supreme or combo pizza sold at Costco and one of two with a cauliflower crust. 
Costco's Supreme Cauliflower Pizza includes Pepperoni, Sausage, roasted vegetables, and a 3 cheese blend, making this pizza a balanced option that will cater to most taste buds. The cauliflower crust adds a nutritional twist while remaining neutral in flavor. Only when I really searched for the cauliflower flavor, was I able to find it 
Priced at $11.99 for two, the Kirkland Signature Supreme Pizza is a winner and the closest thing to Costco's beloved food court combo pizza.
#1 Motor City Deep Dish Pizza - $14.99
Unique Pizza Worthy Of The #1 Spot
Claiming the coveted top spot on our list of the best Costco frozen pizzas is none other than the Motor City Deep Dish Meat Lovers Pizza. 
This frozen delight boldly defies the prevailing thin crust trend, instead embracing the magnificence of a thick, rectangular-shaped pan pizza that is uniquely Detroit-style.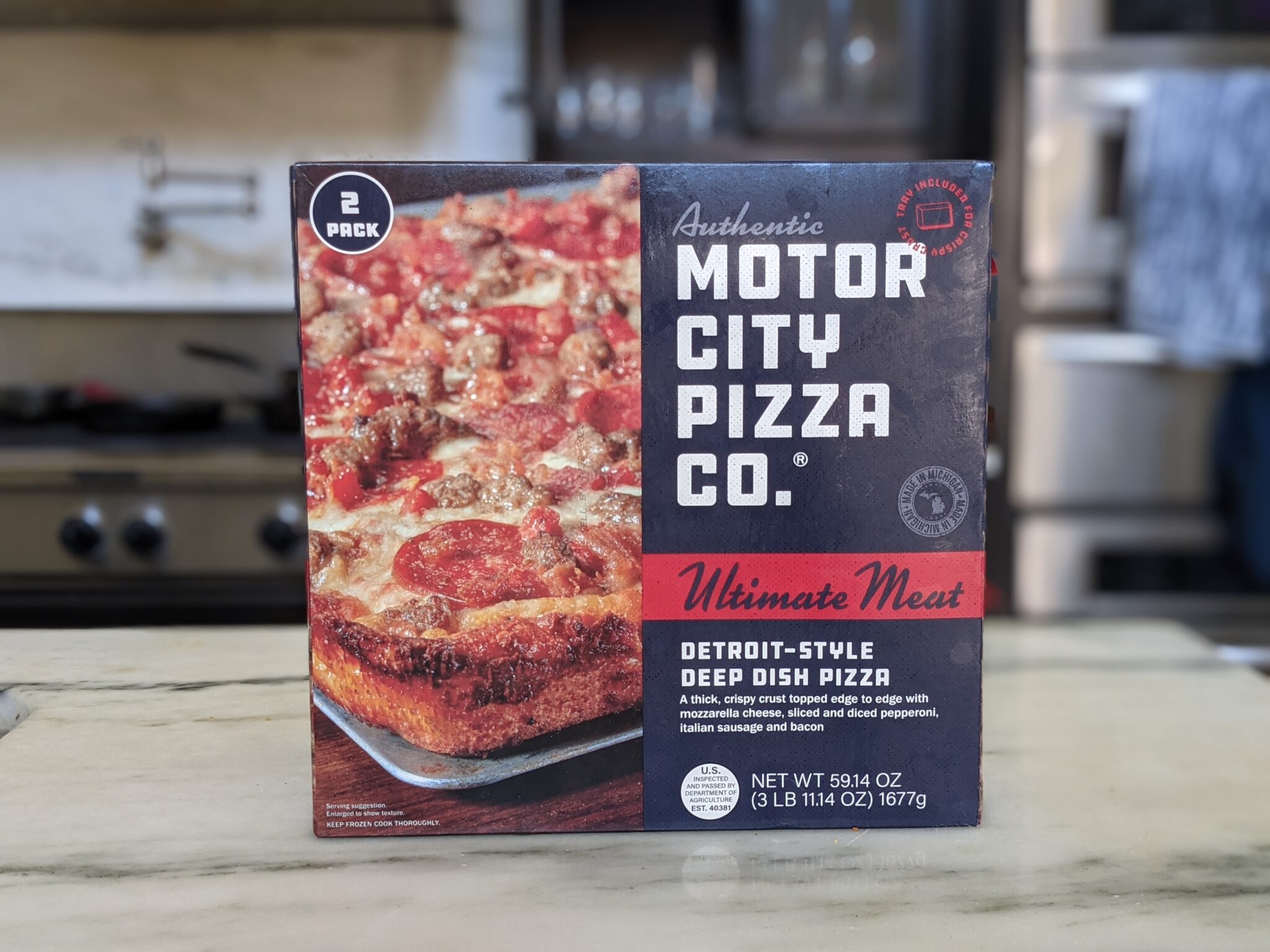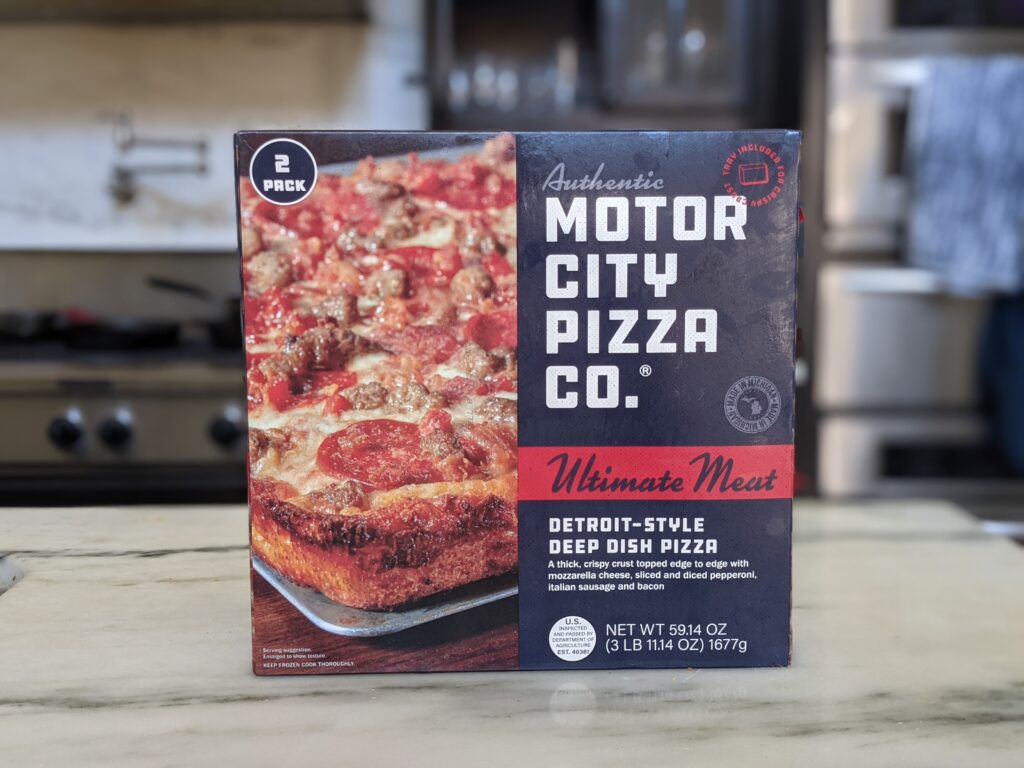 Prepare to gorge on the pizza's generous portions of delicious meaty toppings. Loaded with savory pepperoni, sausage, and bacon, the Motor City Deep Dish Meat Lovers Pizza reigns supreme in flavor and satisfaction.
Its thick crust strikes the perfect balance between crispy and chewy, offering a sublime texture that enhances each bite.
Despite its impressive stature, the Motor City Deep Dish Meat Lovers Pizza remains reasonably priced at $7.50 per pizza, making it an irresistible gem within Costco's frozen pizza lineup.
Did I absolutely crush this list and get it perfectly right? Or did I get it completely backward? Let me know what you think about my Costco frozen pizza list in the comments, and if you disagree with me, tell me how you would rank them!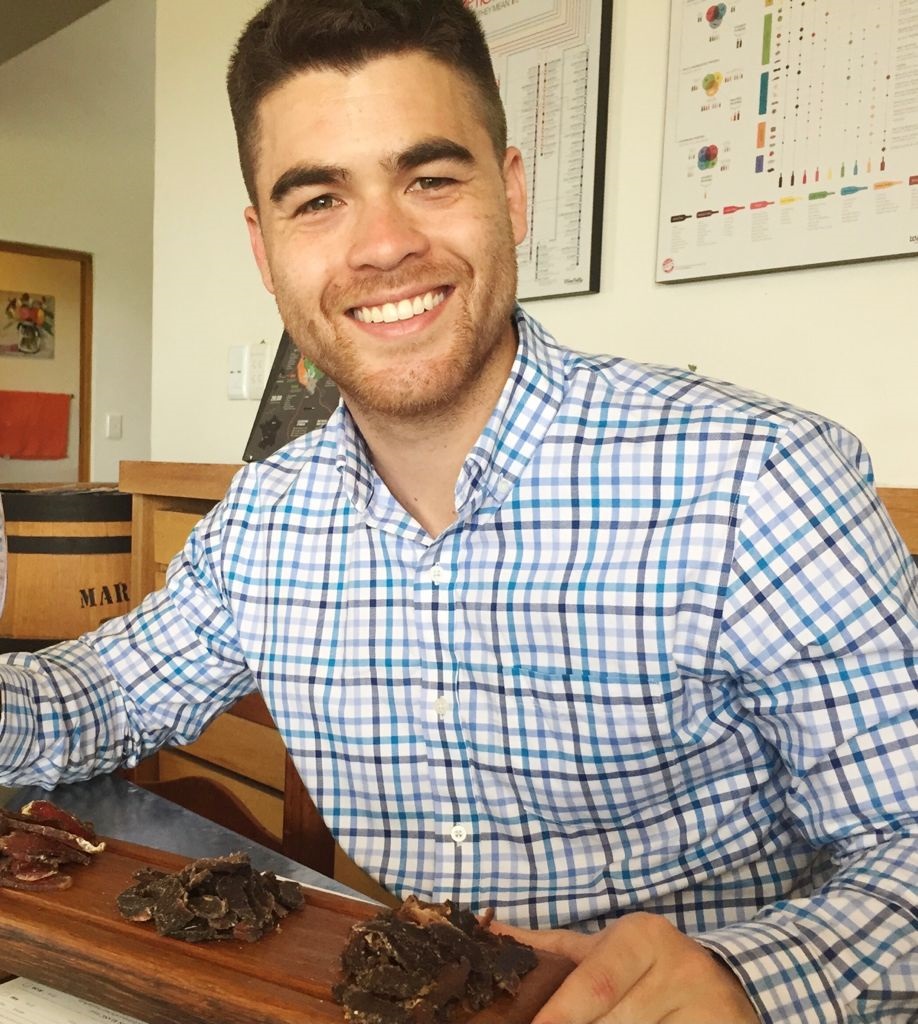 Greg Larkin is the founder and managing editor of Costco Food Database, the premiere site for honest takes on all things Costco food. A self-proclaimed Costco super-fan since childhood, Greg turned his obsession in a mission to properly rate and review all of Costco's delicious buys. When he's not busy navigating Costco aisles, you can find Greg smoking Kirkland Signature meats, meal prepping, or perfecting his homemade jerky recipes.