Costco Overnight Oats (Brekki) - Too Sweet + Pro Tips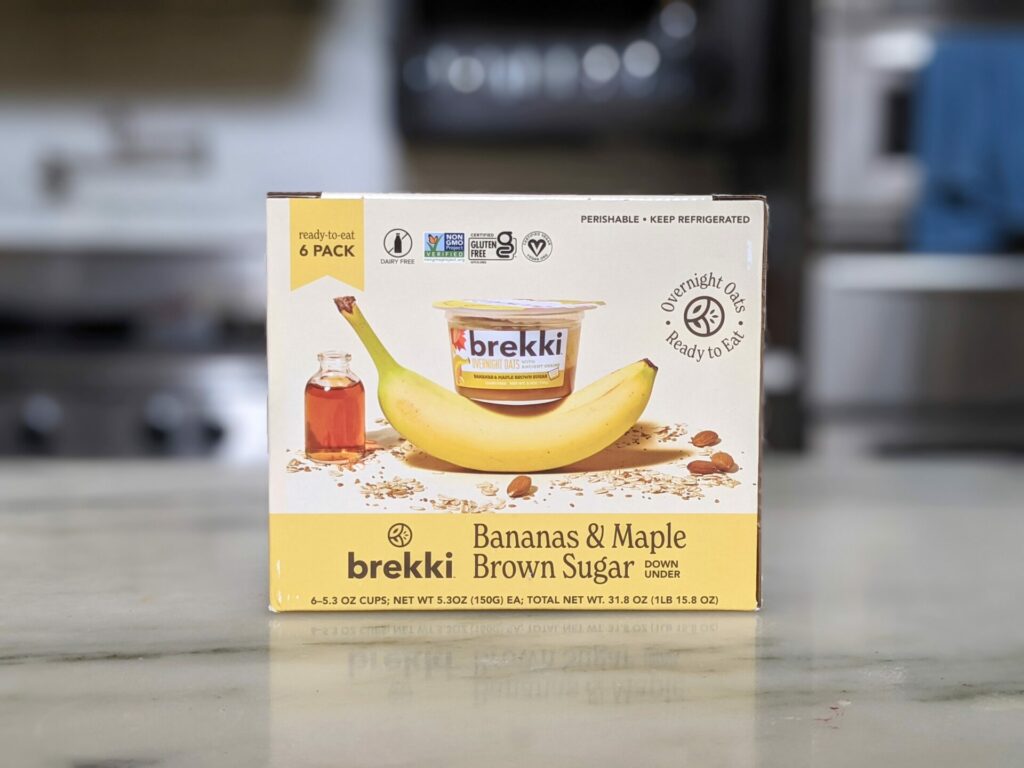 Brekki Overnight Oats at Costco
The Brekki Overnight Oats with Ancient Grains come in 5.3-ounce cups and are ready to eat. This Costco package contains Brekki's banana and maple brown sugar-flavored overnight oats.
The overnight oats are dairy-free, non-GMO, certified gluten-free and certified vegan.
Have You Tried Costco's Overnight Oats?
Let the rest of the Costco Food Database community know what you thought of this product. Results and reviews are at the bottom of this page.
Please allow 24 hours for review moderation and approval.
Brekki is an Australian company that was started with the purpose of creating a convenient, nutrient-dense breakfast that got you going in the morning and kept you going. 
Brekki is slang for breakfast in Australia and seems like an absolutely fantastic name.
They create their overnight oats with chia seeds, flax seeds, buckwheat, almond milk, and a hint of coconut nectar.
Overnight Oats are a no-cook method of making oatmeal that involves soaking the raw oats in milk overnight or even longer.
The oats absorb the milk, making them soft and ready for consumption without heating.
Overnight oats are often flavored with additional ingredients such as chia seeds, berries, nuts, peanut butter and more. The flavor possibilities for overnight oats are endless.
How Much Do the Overnight Oats Cost at Costco?
Costco sells the 6-pack of Brekki Overnight Oats for $7.99 or $1.33 per overnight oat cup. This is a very fair price for a nutrient-packed and unique breakfast option.

Most of Costco's other breakfast options are sandwiches/burritos that fall in the $1.50-$2.25 range. This is an excellent deal for a quick and easy weekday breakfast.
Costco vs The Competition
Aside from Costco, Brekki Overnight Oats are mostly available at your typical grocery stores such as Krogers, Sprouts, and Whole Foods.
At those grocery stores, they range in price from $2.49 to $2.99, which is double Costco's price.
The price isn't close, and the only reason you may want to spend the extra money at other retailers is the additional flavors they carry, such as Apple & Cinnamon, Original, and Blueberry.
If you like the Banana & Maple Brown Sugar, you can save significant money by purchasing the overnight oats from Costco.
Brekki Overnight Oats Taste Test
When I opened the pack of overnight oats, I first noticed how compressed everything looked. 
There was definitely some nice texture where you could see the oats and some of the other ingredients, such as the flax seeds and chia seeds, but as a whole, it didn't look as how my homemade overnights look.
It's not a dealbreaker by any means, but the overnight oats will need a good mixing before consumption.

Visually, the oatmeal needs a little help, but the big issue I had with the Brekki overnight oats was just how sweet the small cup of oatmeal was.
There is a good 1/2 inch layer of maple brown sugar syrup underneath the oats, which was extremely sweet.
Even when mixed with the oats, each bite was too sweet for my liking. I consider oatmeal to be a fairly healthy breakfast option, but the layer of brown sugar made this more of a breakfast treat.
I have some tips below, which can help mitigate some of the sweetness and make the Brekki cups last longer.
These overnight oats from Costco are Banana and Brown Sugar flavor. There is clearly enough brown sugar flavor, but the banana taste seems to be missing from the oats.
Banana puree is listed in the ingredients, but it's not a prominent flavor by any means.
The overnight oats and grains themselves are actually quite tasty. The texture is a nice mix of the typical overnight oats creamy porridge feel and the crunchy texture of the included seeds.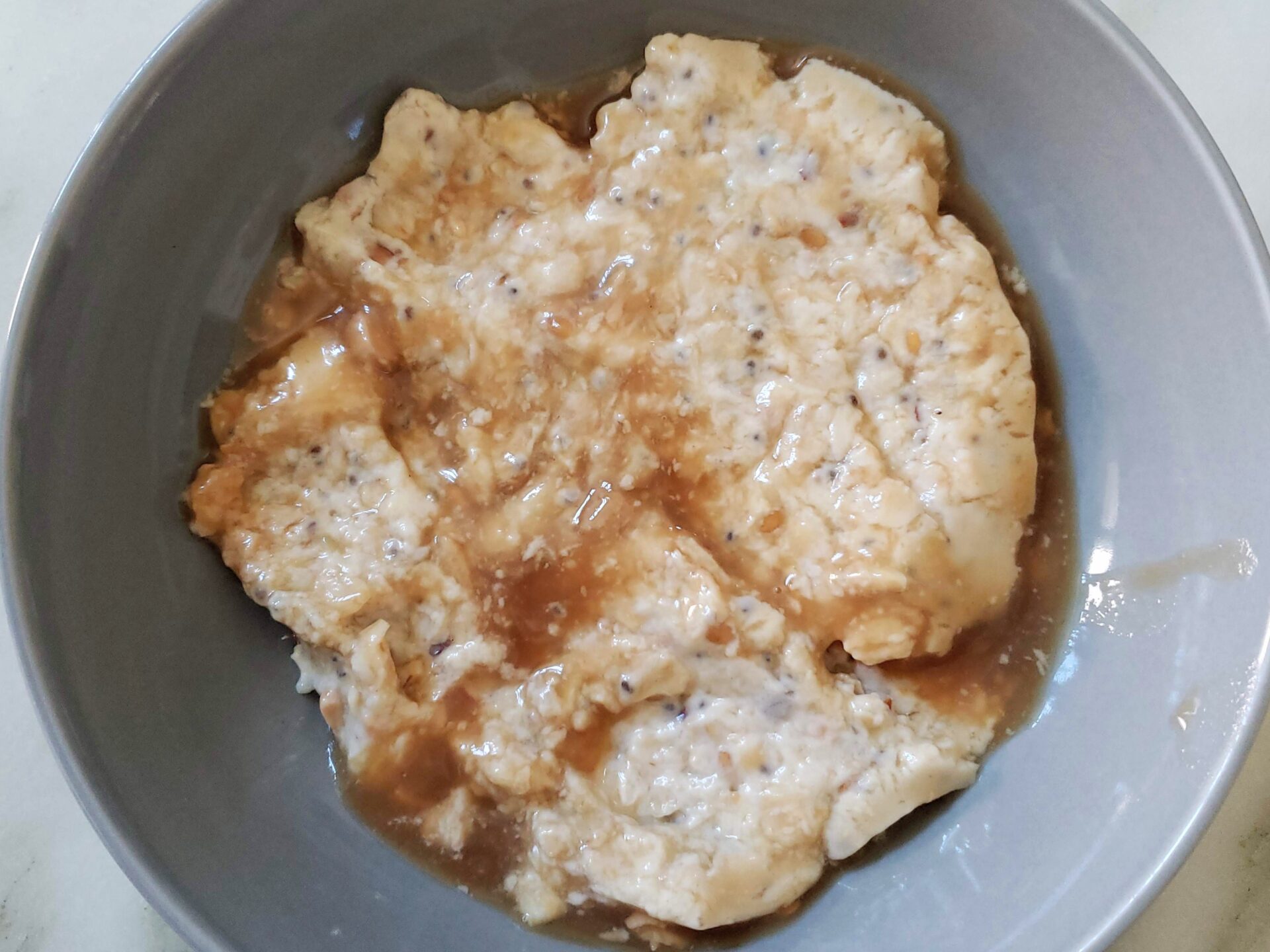 The crunch of the seeds is my favorite part of these overnight oats, and it really helps give it a somewhat nutritious feel.
I've wanted Costco to carry an overnight oats item for quite some time, and I really wanted to like these Brekki overnight oats, but they just didn't do it for me. 
They were too sweet for my tastes and too sweet of a breakfast item for me.
The overnight oats as a whole are very sweet, and I think the actual better use of the Brekki overnight oats is to use it as a mix in or a starter for traditional oats.

There is too much sweetness for my liking, and I much more enjoyed the overnights when I mixed half the cup with some heated-up traditional oatmeal. It gave the traditional oatmeal a nice brown sugar flavor and made the oats much more palatable for me.
I then wrapped the top of the cup with the remaining half of the overnight oats and set it back in the fridge for the next morning's meal.
Overnight Oat Heating Directions
I personally prefer to eat my oatmeal hot and my overnight oats cold, but you have the option to heat these Costco overnight oats.
To heat, remove the foil seal entirely, stir, and heat your Brekki overnight oats cup in the microwave for 20-30 seconds. Let it cool and enjoy.
Costco Overnight Oats Nutritional Information & Calories
How Many Calories in Brekki Overnight Oats?
Each cup of Brekki Overnight Oats from Costco will be one serving and contain 200 calories.
The 200 calories will come from 9 grams of fat, 25 grams of carbs (4 grams of fiber & 7 grams of added sugar), and 6 grams of protein.
Nutritional Analysis & Health Benefits of Oatmeal
This is just an ok nutritional profile. The calories are on the lower end for a breakfast option, and there isn't a lot of protein included in these overnight oat cups.
The one nice thing about the cups is the oatmeal. Oatmeal is a complex carb that is digested slower than other foods containing simple carbs. Combined with a moderate amount of fat, the oatmeal will help keep you full longer than other 200-calorie breakfast meals.
In addition to the fiber and the ability to keep you full, there are quite a few health benefits to oatmeal. Oatmeal is nutrient-rich, provides antioxidants, and can help control cholesterol and blood sugar.

Costco Food Database User Reviews
Have you tried this item? Let the rest of the Costco Food Database community know what you think. Leave a rating and review for this product.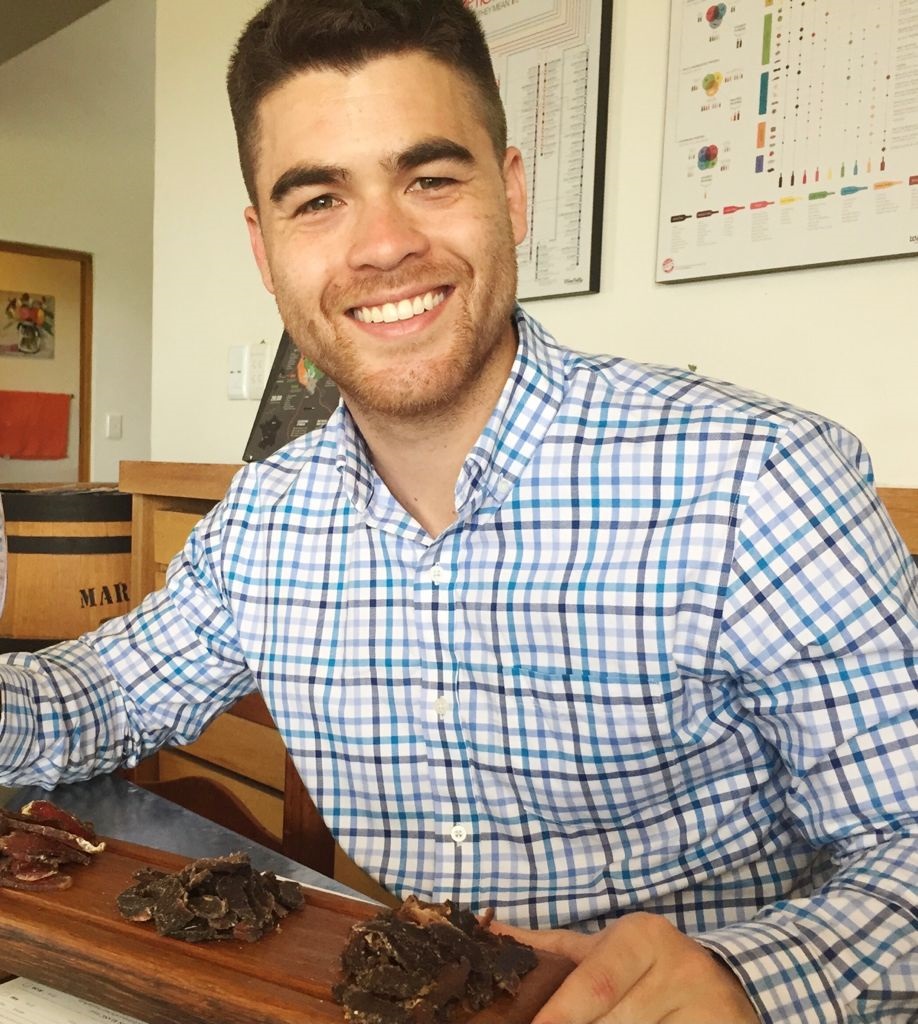 Greg Larkin is the founder and managing editor of Costco Food Database, the premiere site for honest takes on all things Costco food. A self-proclaimed Costco super-fan since childhood, Greg turned his obsession in a mission to properly rate and review all of Costco's delicious buys. When he's not busy navigating Costco aisles, you can find Greg smoking Kirkland Signature meats, meal prepping, or perfecting his homemade jerky recipes.