Costco Egg'Wich with Turkey Sausage (Keto Friendly) - Red's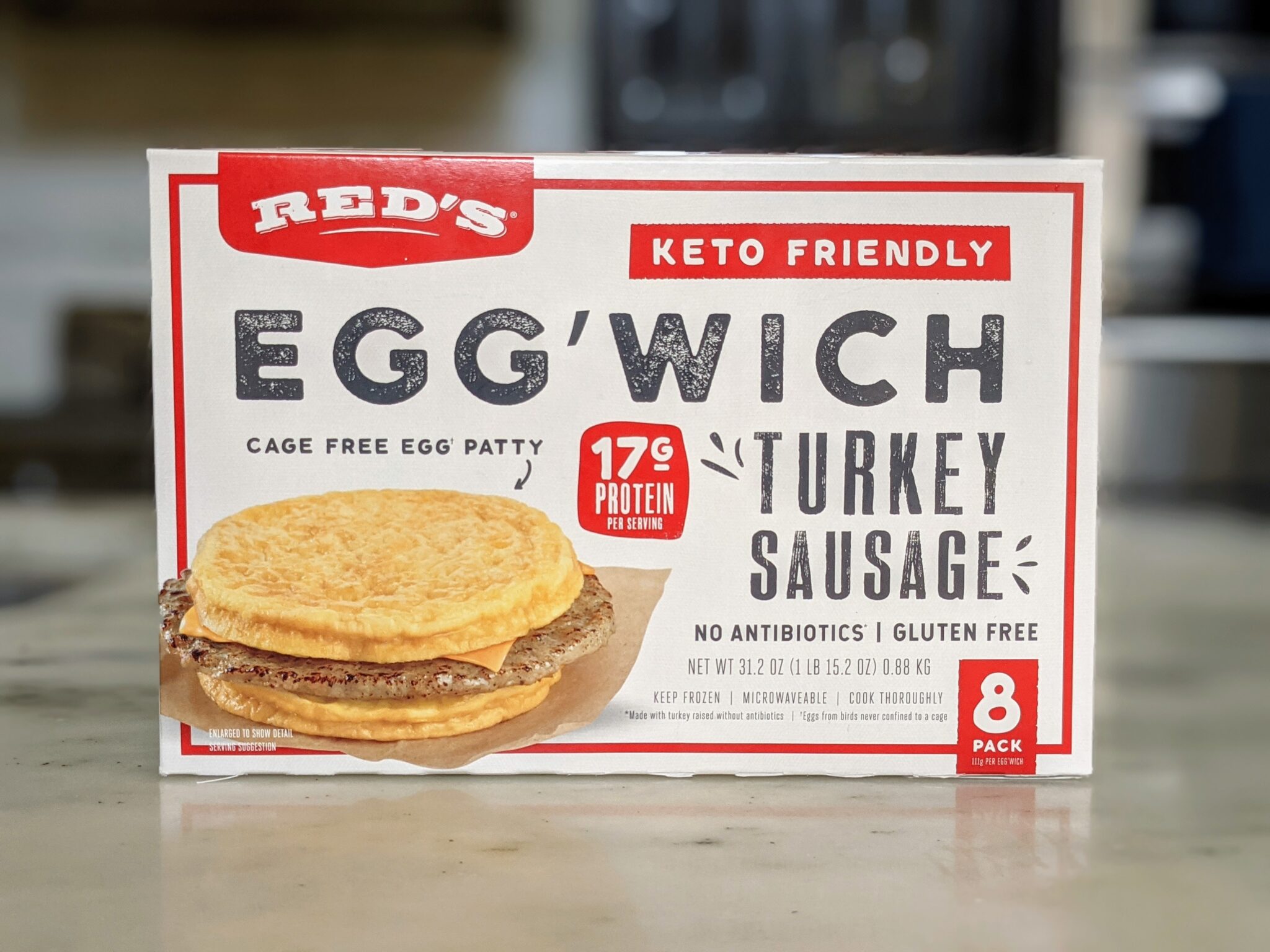 Red's Egg'Wich Turkey Sausage Breakfast Sandwich at Costco
Costco sells an 8 count of Red's Egg'Wich Turkey Sausage Sandwich for $13.99. Each box includes 8 individually wrapped Keto Friendly Egg'Wich sandwiches.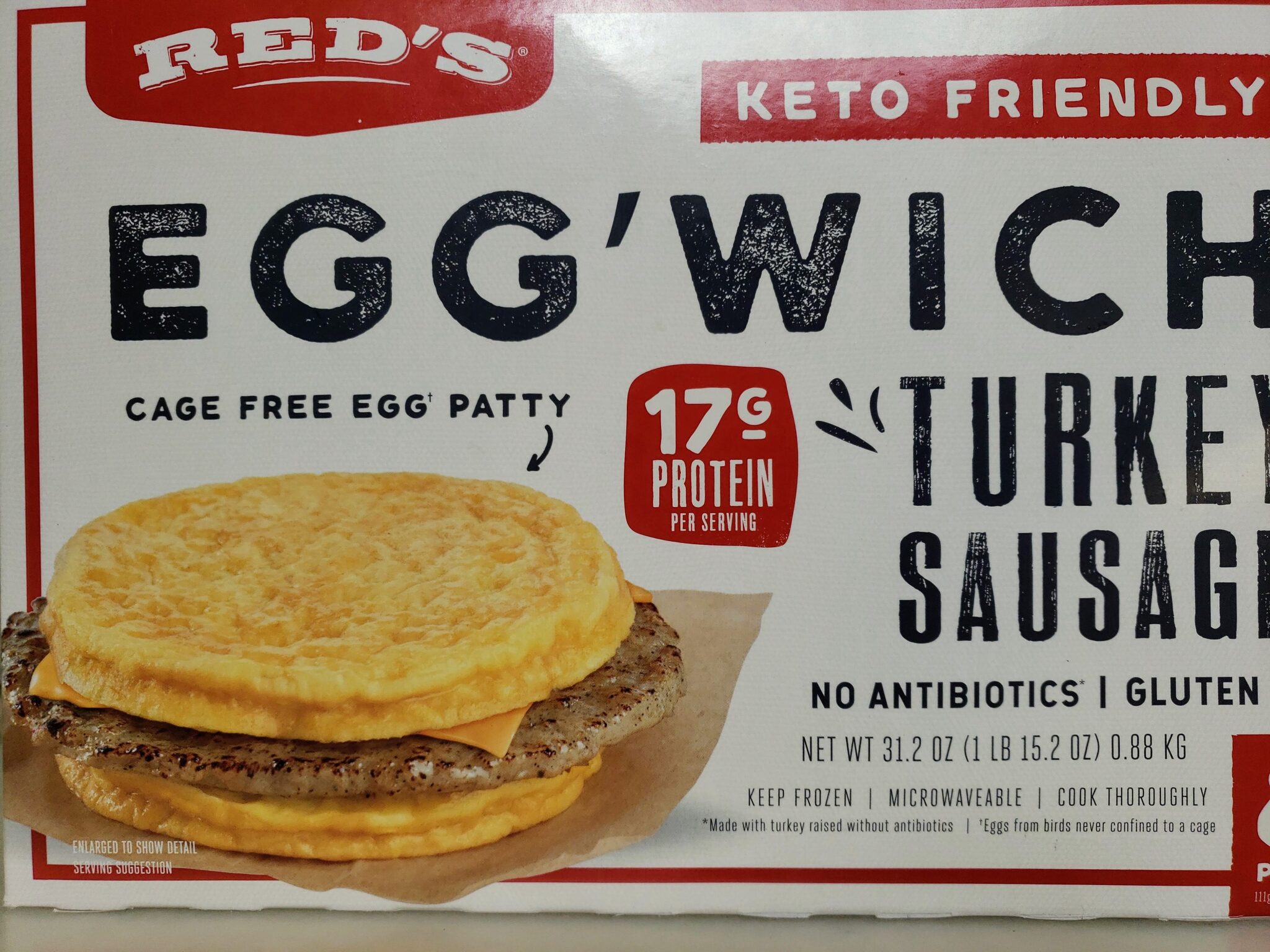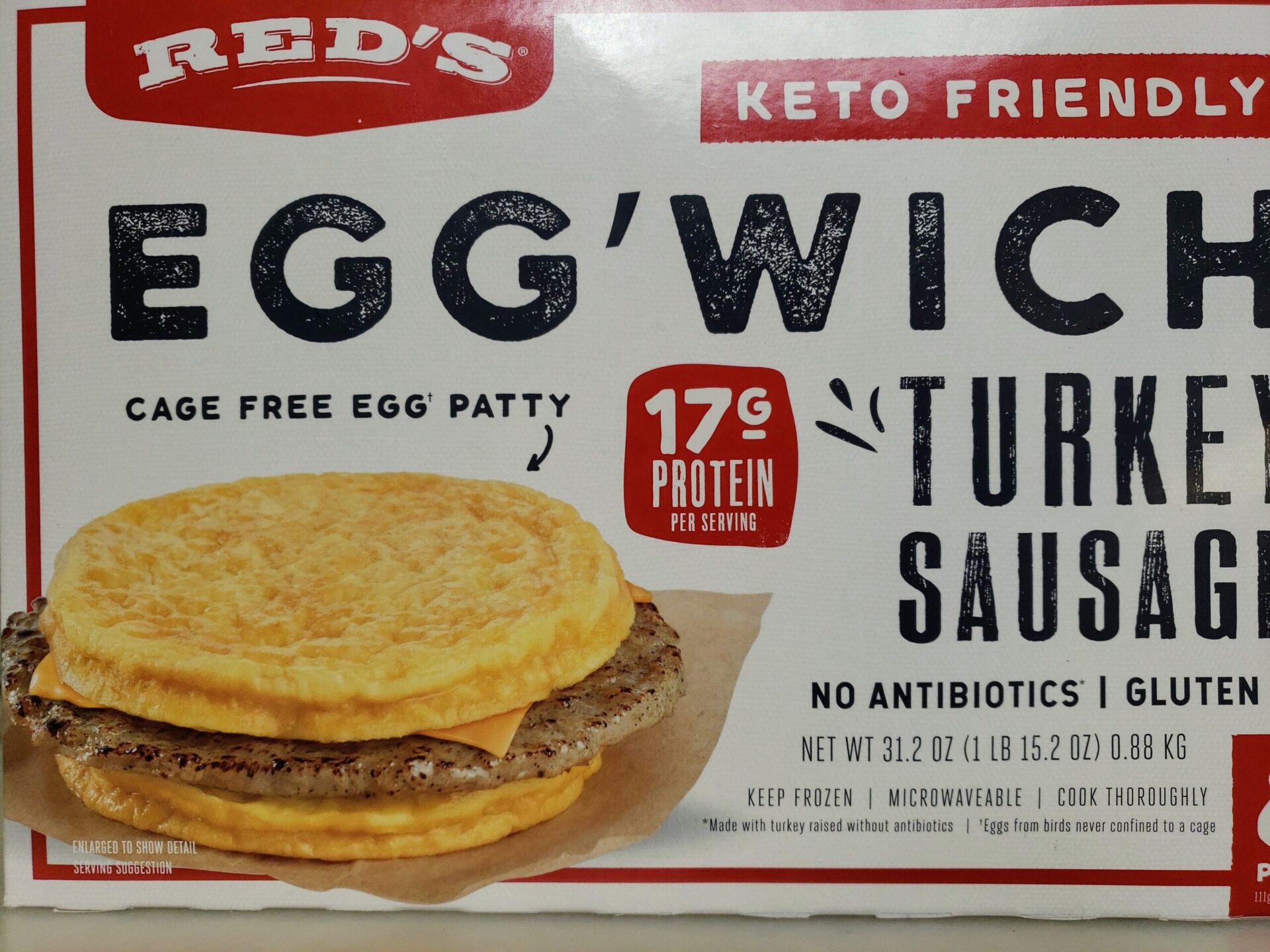 Red's Egg'Wich breakfast sandwiches are a turkey sausage sandwich that uses eggs for buns instead of a traditional breakfast bread.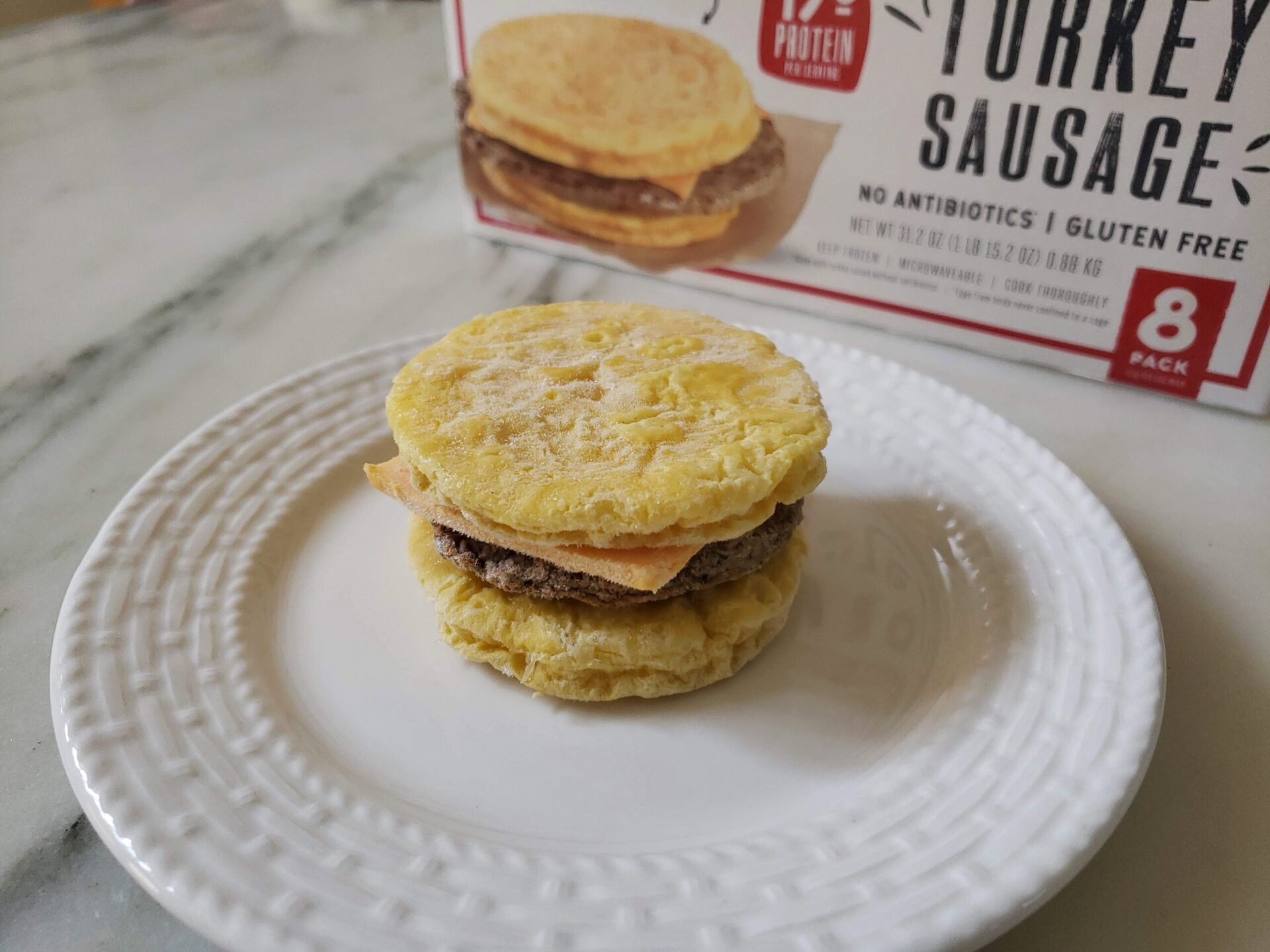 The result is a gluten-free keto friendly sandwich that has only 3 grams of carbs and a whopping 17 grams of protein. 
The turkey used in the turkey sausage is made without any antibiotics and the eggs are from chickens that are never confined to a cage.
Believe it or not, Red, who the company is named after, isn't a person, but actually a dog.
Mike, the Founder and CEO of Red's created the company after deciding that his wife's burrito recipes were too good to not share with the rest of the world.
Red's Organic Chicken Burritos can also be found at Costco
Red's has since grown beyond burritos and now has his Egg'Wiches in Costco's all across the country. Great job!
Costco Cost Comparison - Egg'Wich
How Much Do Red's Egg'Wich Sandwiches Cost at Costco?
Costco sells Red's Turkey Sausage Egg'Wich (8-pack) for $13.99 or $10.49 when the item is on sale. 
This breaks down to $1.75 per Egg'Wich at retail and $1.31 when the item is on sale. For reference, Costco's bacon gouda egg sandwich sells for $1.62 each. 
The sale price is absolutely phenomenal and you would be hard pressed to find either a frozen or fast food breakfast sandwich that would offer better value.
Costco vs the Competition
Sam's club doesn't appear to sell a Egg'Wich sandwich, but Walmart does. Walmart has a few varieties of egg bun sandwiches made by Jimmy Dean. 
These are sold in a 4 pack and cost $7.58 or $1.92 per sandwich. These sandwiches are a little different as the egg is flavored and cooked with additional ingredients such as a mushroom, cheese, broccoli, ham, or peppers. 
Target sells the same Red's Turkey Sausage Egg'Wich for $2.99 per pack. This is $1 more expensive than Costco's per sandwich price.
Egg'Wich with Turkey Sausage - Taste Test
Before I get into the actual Egg'Wich sandwich, I have to mention the packaging.
It is high quality, beautiful, and provides both the cooking instructions and the nutritional information. This is a fantastic piece of packaging and I have to give Red's props for their work.
Only One Way To Cook Red's Egg'Wich
The sandwich itself is very easy to heat but can only be heated in the microwave. 
Typically the microwave option isn't the best method to heat or cook frozen food, but it is rather easy with Red's Egg'Wich from Costco.
How Does the Egg'Wich Taste?
As a whole, I think the Egg'Wich is a very very good sandwich. The cheese and sausage were great and brought a ton of flavor to the meal.
The cheese was nicely melted and there was an ample amount of sausage in the nearly 4 ounce Egg'Wich.
The egg buns which are the main selling point of the sandwich were just about average. The egg was a little spongy, bland, and had that mass produced artificial texture. It wasn't ideal, but it didn't completely ruin the sandwich either.
You can make a significantly better egg at home, and the egg is very reminiscent of a low quality fast food previously frozen egg.
The Egg'wich is a rather simple breakfast option that is healthy and packs in the flavor with the sausage and cheese. The downside is that the egg is sub-par and a little bland. 
Add a little hot sauce or ketchup to help revitalize the egg and the sandwich.
The Egg'wich will also go great with salsa or even some hatch chiles. Costco's Egg'wich is simple and a great foundation for a variety of different toppings and flavors.
Is the Costco Egg'Wich worth the money?
Yes, these Egg'Wich breakfast sandwiches from Costco are worth it and definitely brings the value. When on sale, the price is great at $1.31 and the sandwich is tasty and filling. 
There is a large amount of protein and the sandwich is Keto Friendly and gluten-free.
Costco Egg'Wich Cooking Instructions
Red's makes their Egg'Wich sandwich pretty easy to heat up which is a great thing for a quick and convenient breakfast. When it comes to breakfast, nobody wants to spend 15 minutes heating up a sandwich like some of Costco's other breakfast options require. Red's Egg'Wich at Costco only takes 2 minutes or so to fully heat.
Microwave Heating Instructions
The only option is the microwave but it seems to do well enough and gets the job done.
Remove wrapper.

Wrap in a damp paper towel and place on a microwave-safe plate.

Cook for 50 seconds.

Flip Egg'Wich and cook for 50 seconds more or until internal temperature reaches 165°F.

Let sit for 1 minute and enjoy
All microwaves vary, but I did not have success with Red's microwave instructions.
The two times I used 50 seconds per side, I was left with a sandwich that was still slightly cold in the middle. 60 seconds per side; and the sandwich comes out piping hot.
Egg'Wich Nutritional Information
How Many Calories in an Egg'Wich from Costco
Each Egg'Wich is going to contain 190 calories with 12 grams of fat, 3 grams of carbs, and 17 grams of protein. This is a pretty darn good nutritional label. 
The purpose of this sandwich is the low carbs, and each sandwich has only 3 grams of carbs. The high fat count in the Egg'wich is to be expected with the turkey sausage and the cheese, and the 17 grams of protein is fantastic.
The calories are on the lower end for a breakfast sandwich which can be seen as a plus or a negative. Some may think the lower calorie count could lead to feeling hungry again quickly, but the fat and protein content will help keep you full.
Of course, with the low carb count, these Egg'wich sandwiches from Costco are going to be keto friendly. The sandwich is also gluten free as most of the ingredients are naturally gluten free to begin with.
This is a great little breakfast sandwich that is fairly priced, tastes good, and very filling. The egg is a little bland and the sandwich can use a little drizzle of your favorite breakfast condiments, but overall this is a very enjoyable sandwich!
These are a great keto friendly breakfast option from Costco, and worth stocking up when they are on sale.
Costco Food Database User Reviews
Have you tried this item? Let the rest of the Costco Food Database community know what you think. Leave a rating and review for this product.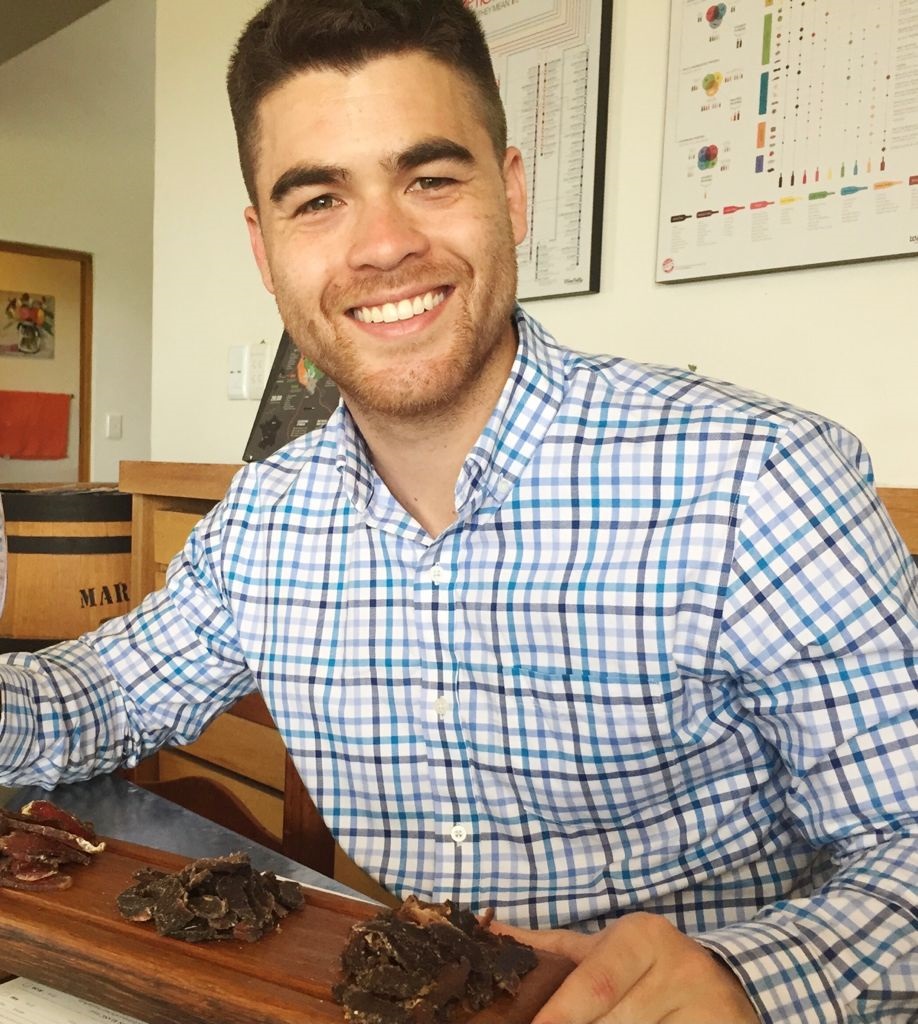 Greg Larkin is the founder and managing editor of Costco Food Database, the premiere site for honest takes on all things Costco food. A self-proclaimed Costco super-fan since childhood, Greg turned his obsession in a mission to properly rate and review all of Costco's delicious buys. When he's not busy navigating Costco aisles, you can find Greg smoking Kirkland Signature meats, meal prepping, or perfecting his homemade jerky recipes.