Costco Health Warrior Oatmeal Review + Easy Prep Method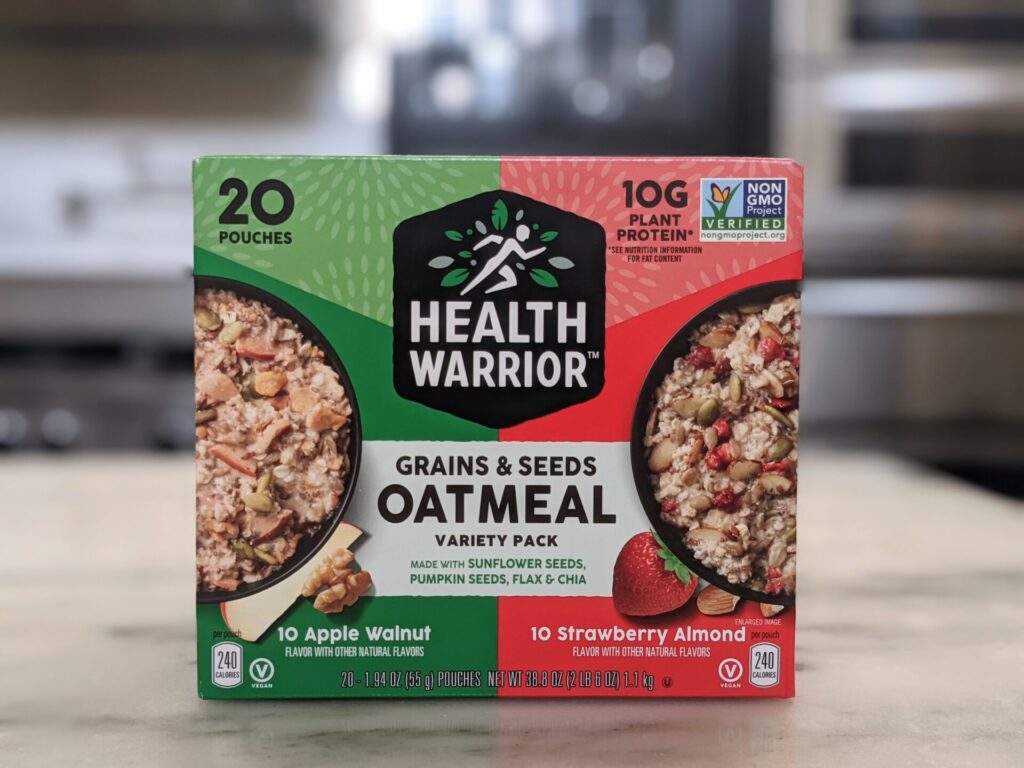 Health Warrior Grains & Seeds Oatmeal at Costco
Costco sells a variety pack of Health Warrior Grains & Seed Oatmeal for $16.99. The oatmeal can be found in the warehouse's pantry and dry goods area near other items such as the Paleo Bars, Mixed Nuts, and the Dried Mangoes.


Costco also sells refrigerated Overnight Oats.
Each box of Health Warrior Oatmeal contains 20 individual packs of either Apple Walnut or Strawberry Almond flavored oatmeal.
The oatmeal is vegan and comprises of Sunflower Seeds, Pumpkin Seeds, Flax & Chia. Each pack even contains a whopping 10 grams of plant-based protein!
Have You Tried Costco's Health WArrior Oatmeal?
Let the rest of the Costco Food Database community know what you thought of this product. Results and reviews are at the bottom of this page.
Please allow 24 hours for review moderation and approval.
Costco's box of Health Warrior Oatmeal contains 10 packs of 2 different flavors. Those flavors are Apple Walnut and Strawberry Almond.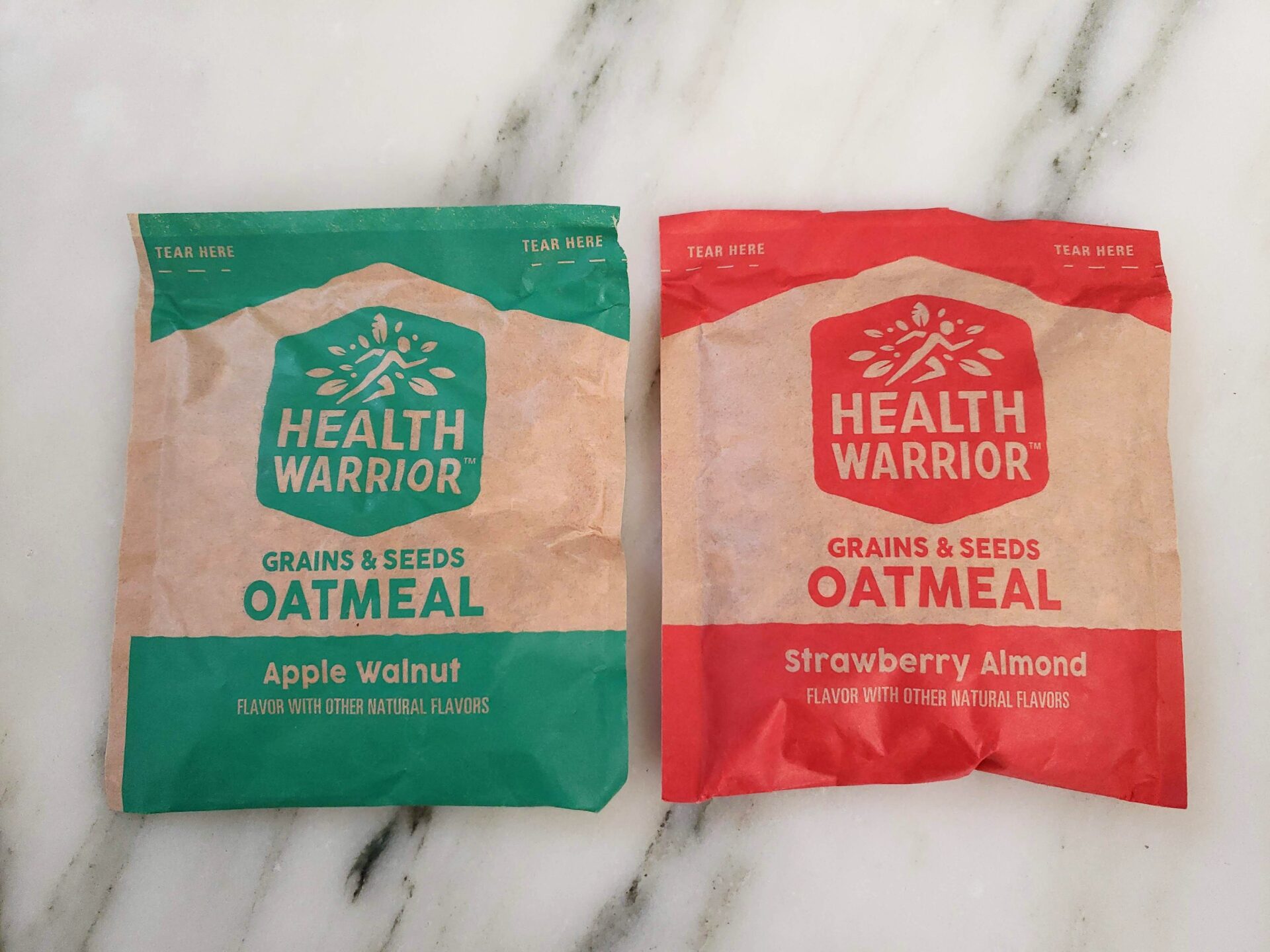 The nice part about this oatmeal is that they aren't artificially flavored, but the flavor will actually come from the ingredients themselves.
The Strawberry Almond oatmeal pack is going to contain dried strawberries and almonds. The Apple walnut pack is going to have dehydrated apples and chopped walnuts.
Not only does this oatmeal contain pieces of real fruits and nuts, but its ingredient list is very clean overall.
You can recognize the name of almost every ingredient on the list, and there is no mono-bi-carbohydrate-sodium-phosphate-acid.
The only downside would be the "natural flavors."
If you were to recreate this oatmeal at home, your ingredient list would be very, very similar to the one that Health Warriors uses. Fantastic stuff! 
I'm not going to get into too much, but I'm just not a fan of plant-based protein being so heavily utilized in marketing nowadays.
Things like nuts and seeds are technically plant-based proteins, but they were rarely advertised as such.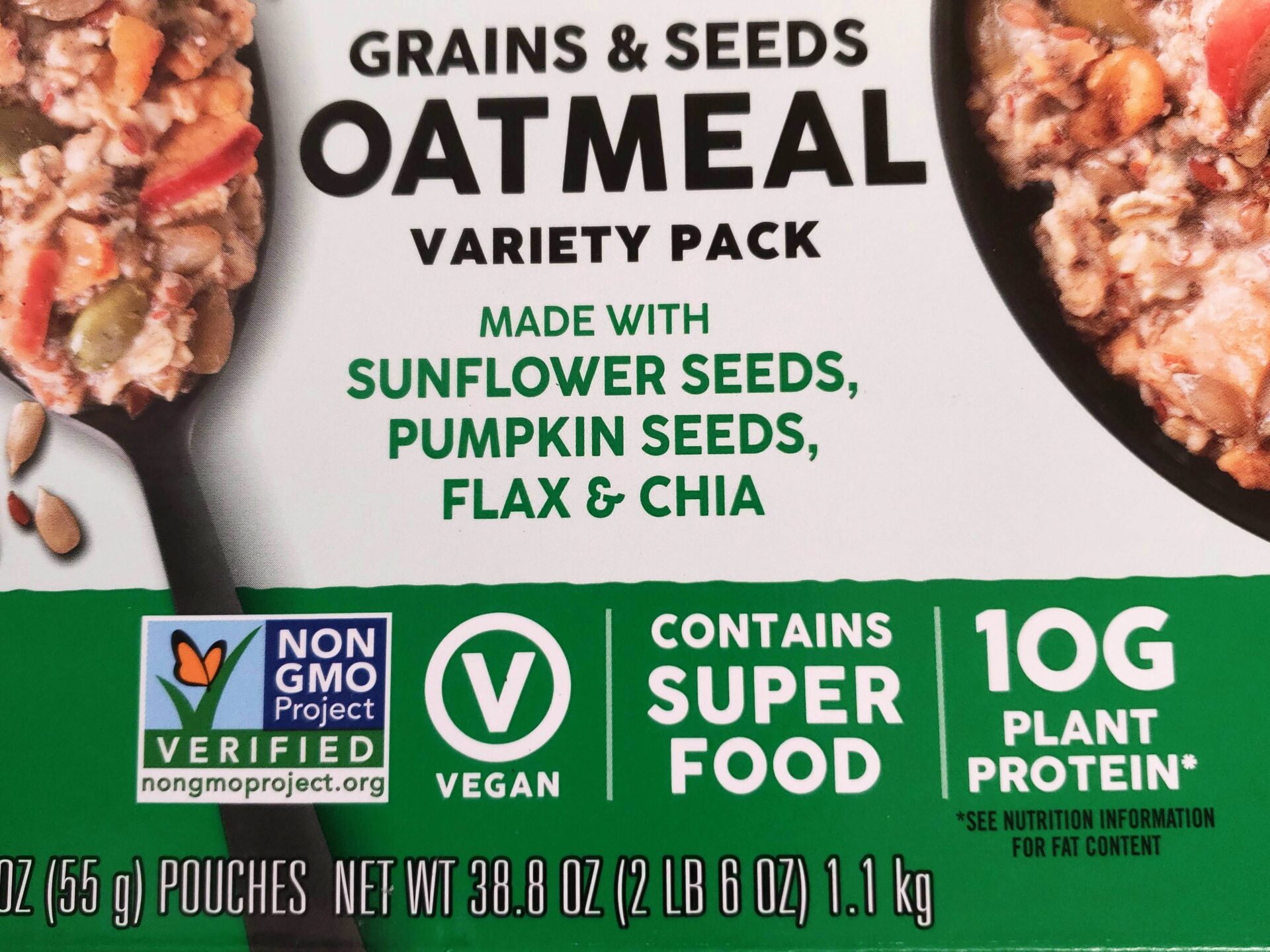 Now, everything that has a nut, seed, vegetable or fruit is marketed as plant-based, and I don't like it!
How Much Does Health Warrior Oatmeal Cost at Costco?
Costco sells the 20-pack of Health Warrior Oatmeal for $16.99. This breaks down to a price of $0.85 per pack.
Costco occasionally discounts the oatmeal by $4.50, bringing the price down to $12.49 or $0.62 per pack.
This will be more expensive than your basic instant oatmeal pack but is an excellent price for a health-conscious oatmeal with various seeds and nuts.

Health Warriors Oatmeal Packs appear to be a Costco exclusive item. The only other option that doesn't involve either Walmart or Amazon's 3rd party sellers would be purchasing the oatmeal directly from Health Warrior's own website.
On their site, they sell similar sized oatmeal cups for $2.16 each. This is nearly 3 times Costco's price for the oatmeal packs.
Health Warrior Oatmeal - Taste Test
I've had a few of these oatmeal packs now, and they are delicious. The oatmeal itself is solid, and the various toppings and ingredients are fantastic. 
There is an abundance of visible pumpkin, flax, chia, and sunflower seeds.
Each bite will contain at least a few different nuts or seeds, each with its own unique texture. There is definitely a lot of crunch to this oatmeal.

Combined with the fruit pieces of either strawberry or apple, there is an ample amount of sweetness in the oatmeal.
The oatmeal isn't overly sweet by any means and is at a great level for healthy oatmeal.
The apple walnut oatmeal is delicious. It smells like apple pie, and Health Warrior doesn't skimp on either the apples or walnuts. 
The apples are packed with flavor, and I would say, on average, each pack contains 20+ sliced apple pieces.
There is also an acceptable amount of walnuts in each oatmeal pack. I can't necessarily complain about the number of walnuts, but a few more pieces would have been nice as well. 
The strawberry almond oatmeal includes dehydrated chopped strawberries and chopped almond pieces.

The strawberry smell is very noticeable in this oatmeal. It does feel like there are less strawberry pieces here than there were apple pieces in the Apple Walnut flavor. 
Still, a very enjoyable flavor, the strawberries are nice and the oatmeal is very delicious.

There seem to be a lot of fans of Health Warrior Oatmeal. This oatmeal has been one of the more requested reviews we have received. Here is what some of our readers have said about this Costco gem on our food database page:

John V: "Great tasty oatmeal with seeds."
Leticia G: "This is one of the best oatmeals in a pack that I've ever had."
Swati J: "THE BEST OATS I HAVE EVER HAD"
Marcy: "I got this at Costco, and it's really helped me while I'm trying to eat nutritiously while breastfeeding my baby."
Traci K: "My family absolutely loves this oatmeal, and I was so sad when I couldn't find it at Costco anymore…. This is an amazing product, and I imagine its a great seller!"
Debbie: "It is so wholesome and the healthiest of all of the convenience packets. I eat this every morning!"
Health Warrior Grains & Seeds Oatmeal Cooking Instructions
Health Warrior suggests two different options for heating/cooking their oatmeal. Both recommended cooking methods are easy and convenient.
You can also adjust the amount of milk or water for your desired thickness.
Just Add Boiling Water/Milk - Recommended
Empty the packet into a bowl.

Add up to 1/2 cup of hot milk or boiling water, and stir.  

Let stand for 1 minute, enjoy!
Empty the packet into a microwave-safe bowl.

Add up to 2/3 cup unheated milk or water, and stir.

Microwave on high 70-75 seconds.

Stir, let stand for 1-2 minutes, and enjoy!
Easy Prep - Microwave Method
Believe it or not, the cooking directions on the individual packs are more helpful than the directions on the box. The box states to fill the bowl of oatmeal with 2/3 cup of water.
The directions printed on the pouch also say to add 2/3 cup of water, but it will provide a fill line on the bag that designates 2/3 cup.
You can simply pour the oatmeal into a bowl and then fill the bag with water up until that line.
This saves you from needing additional equipment as well as making the oatmeal that much more convenient to make in the morning.
How Many Calories in Health Warrior Oatmeal?
Costco's two flavors of Health Warrior Oatmeal both have 240 calories per pouch. The calories are made up of 10 grams of fat, 29 grams of carbohydrates, and 10 grams of "plant-based" protein. 
There are 6 grams of fiber and 5 grams of added sugar.
There are some slight differences in the types of fat in each flavor, but for the most part, they are the same.
Health Warrior includes 4 seeds in the oatmeal; sunflower, pumpkin, flax & chia. Chia seeds are a superfood, and all together, the 4 seeds are full of health benefits.

In fact, these 4 seeds make up Cleveland Health's Top 6 Best Seeds to Eat.
This is an excellent nutritional label for oatmeal and combined with its clean ingredient list, this is a perfect breakfast option.
Costco Food Database User Reviews
Have you tried this item? Let the rest of the Costco Food Database community know what you think. Leave a rating and review for this product.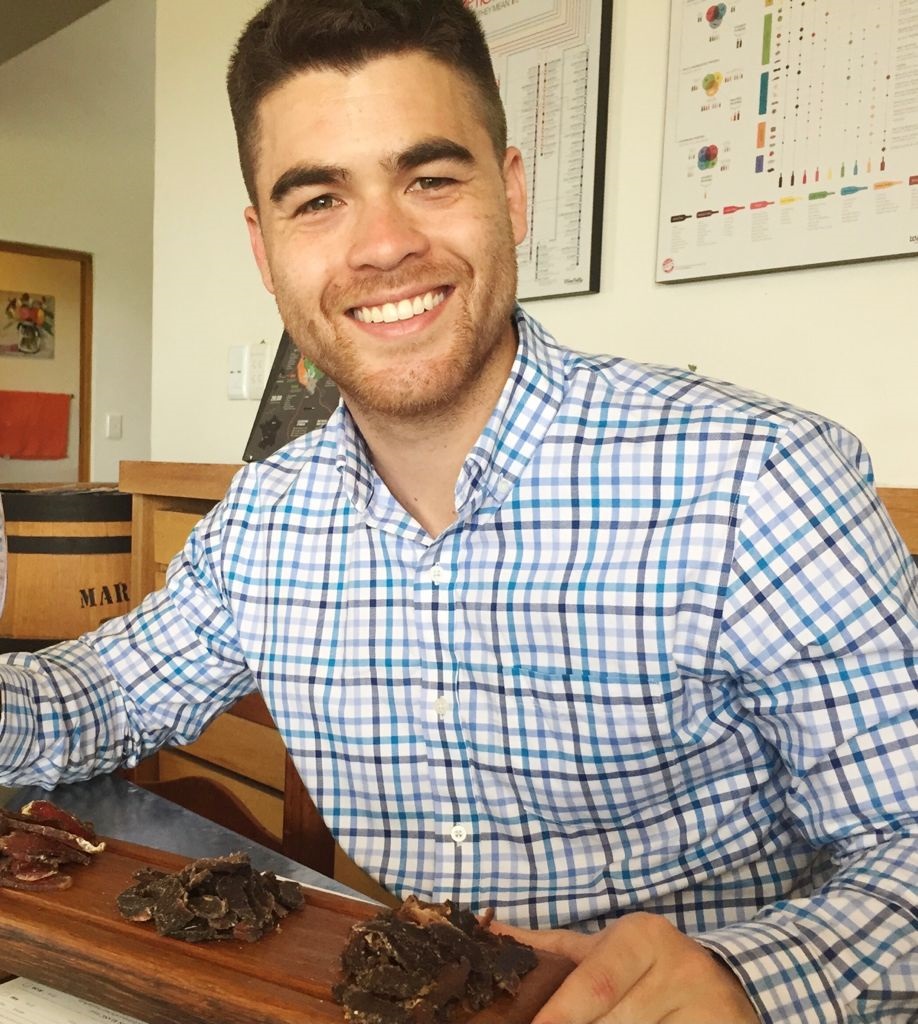 Greg Larkin is the founder and managing editor of Costco Food Database, the premiere site for honest takes on all things Costco food. A self-proclaimed Costco super-fan since childhood, Greg turned his obsession in a mission to properly rate and review all of Costco's delicious buys. When he's not busy navigating Costco aisles, you can find Greg smoking Kirkland Signature meats, meal prepping, or perfecting his homemade jerky recipes.