Costco Korean Fried Chicken (Amazing) + Pro Air Fryer Tips
Bibigo Korean Style Crunchy Chicken at Costco
Costco sells a 3 Pound 8 Ounce box of Bibigo Korean Style Crunchy Chicken (Sweet & Spicy) for $14.49. The Korean Fried Chicken Bites are located in the frozen food aisle near the chicken patties, chicken strips, and the chicken wings.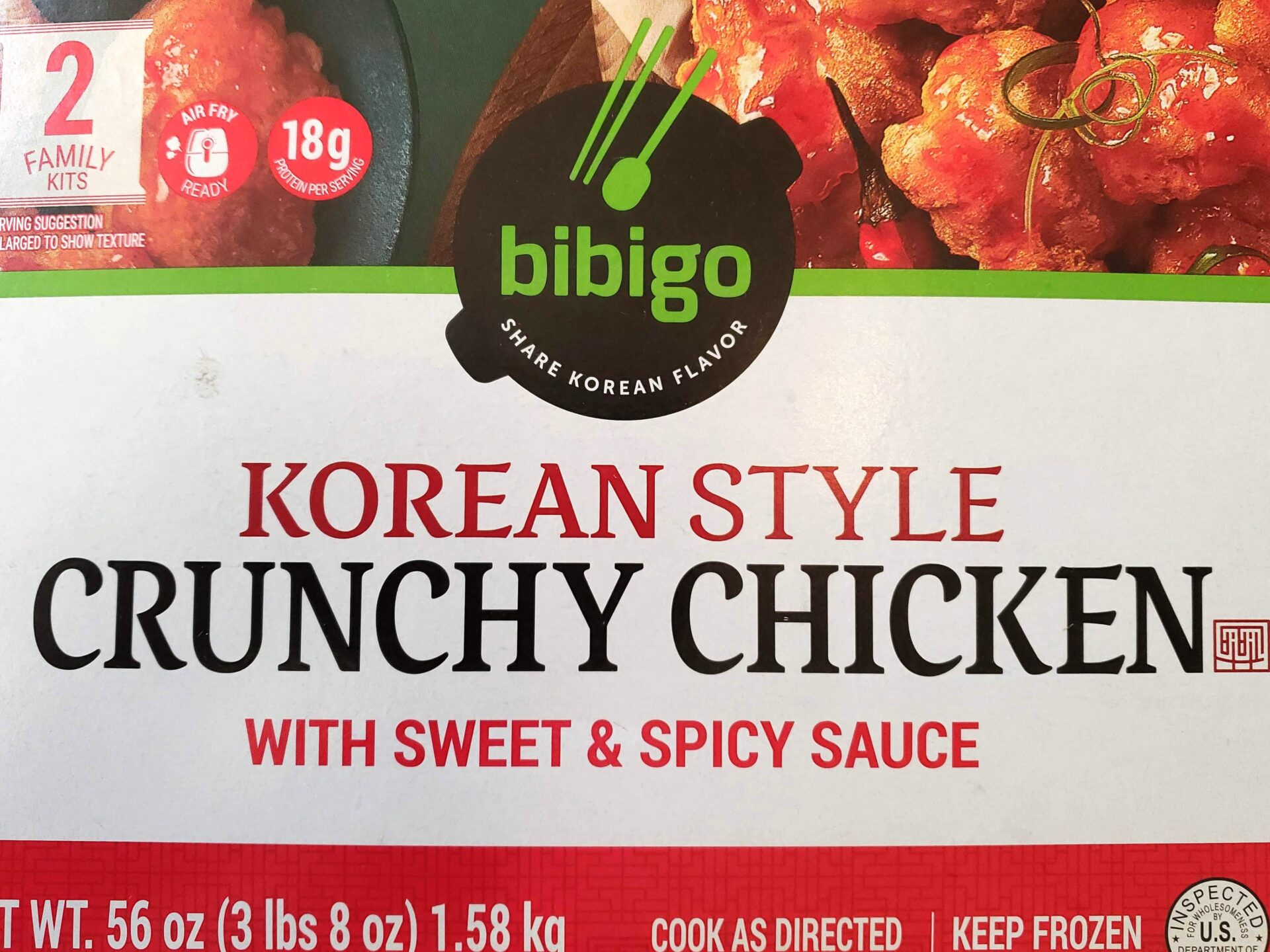 The box of Korean Crunchy Chicken contains 2 family kits and includes a Korean-style sweet and spicy sauce.

Have You Tried Costco's Korean Fried Chicken?
Let the rest of the Costco Food Database community know what you thought of this product. Results and reviews are at the bottom of this page.
Please allow 24 hours for review moderation and approval.
What is Korean Fried Chicken?
Korean Fried Chicken is a style of frying chicken that involves a thin outer layer and frying the chicken pieces two times. 
When fried twice, the chicken gets an extra crispy golden brown crunchy crust that doesn't get soggy when covered or flavored in the sauce.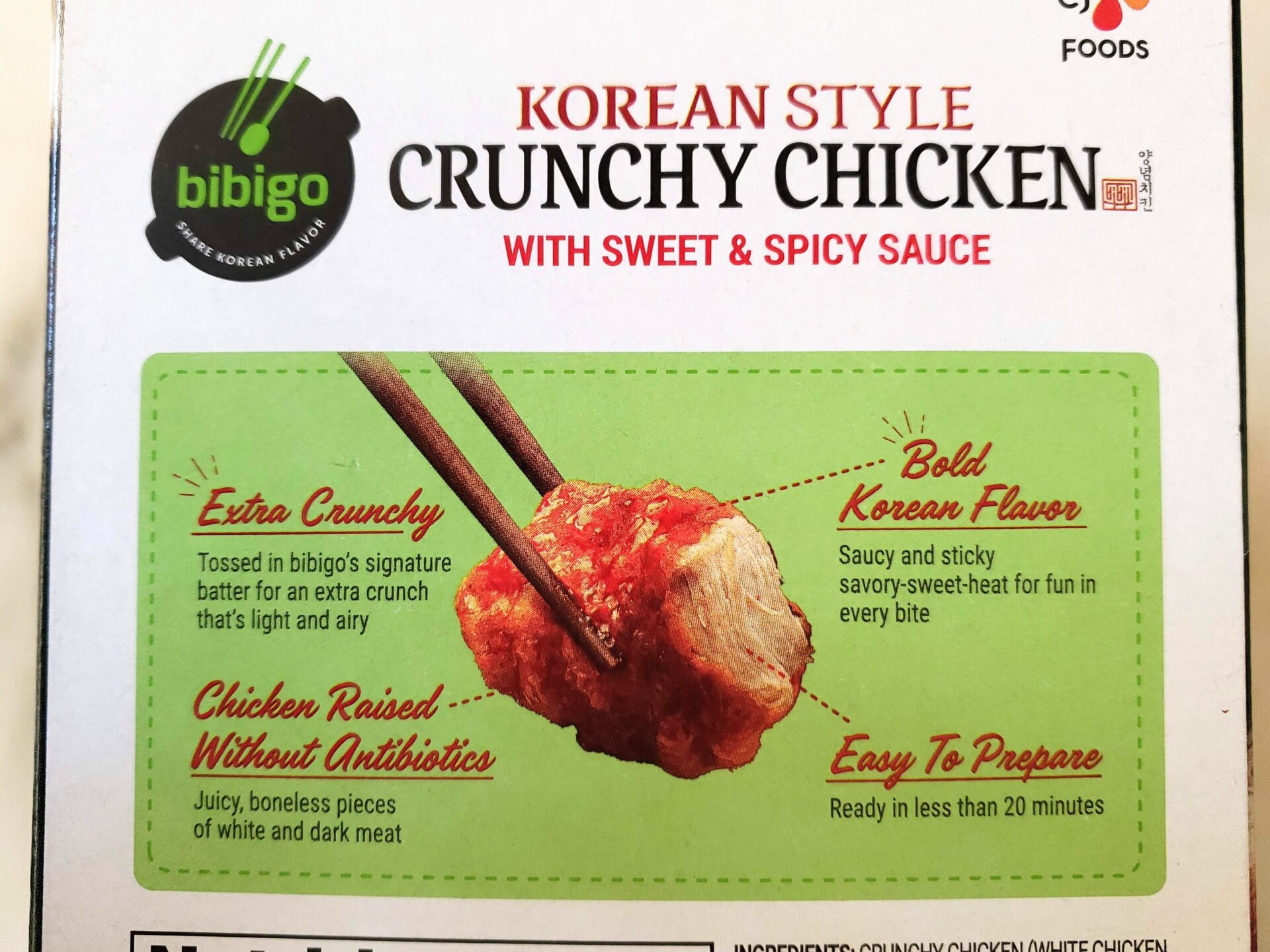 If fried chicken is good, double-fried chicken is fantastic.
Bibigo is a company focused on Korean and Asian-style foods. They sell various frozen food items at Costco, including steamed dumplings, wontons, and beef bulgogi mandus.
I haven't been the biggest fan of some of their other products, but I do have high hopes for Bibigo's Korean Fried Chicken.
Bibigo Korean Extra Crunchy Fried Chicken
Bibigo's Crunchy Chicken is made with chicken that is raised without antibiotics and will have an extra crunchy crust due to its unique signature batter that is light and airy.
The Korean-style sauce will be a mix of sweet and sticky savory heat that really packs in the bold Korean flavor. It looks like this sauce will be Bibigo's version of a gochujang sauce, a sweet, spicy, savory sauce that is heavily used in Korean cooking. 
Bibigo also sells a Soy Garlic version of this Korean fried chicken that is not available at Costco but can be purchased at other retailers.
How Much Does Bibigo Korean Fried Crispy Crunchy Fried Chicken Cost at Costco?
Costco sells the 56-ounce box of Bibigo Korean Crunchy Chicken for $14.49. Each pack from Costco includes two family-size kits, each weighing 28 ounces or 1.75 pounds and will cost $7.25 each.
The per pound price breaks down to $4.14, a fairly solid price for the fried chicken pieces and the included sweet and spicy sauce.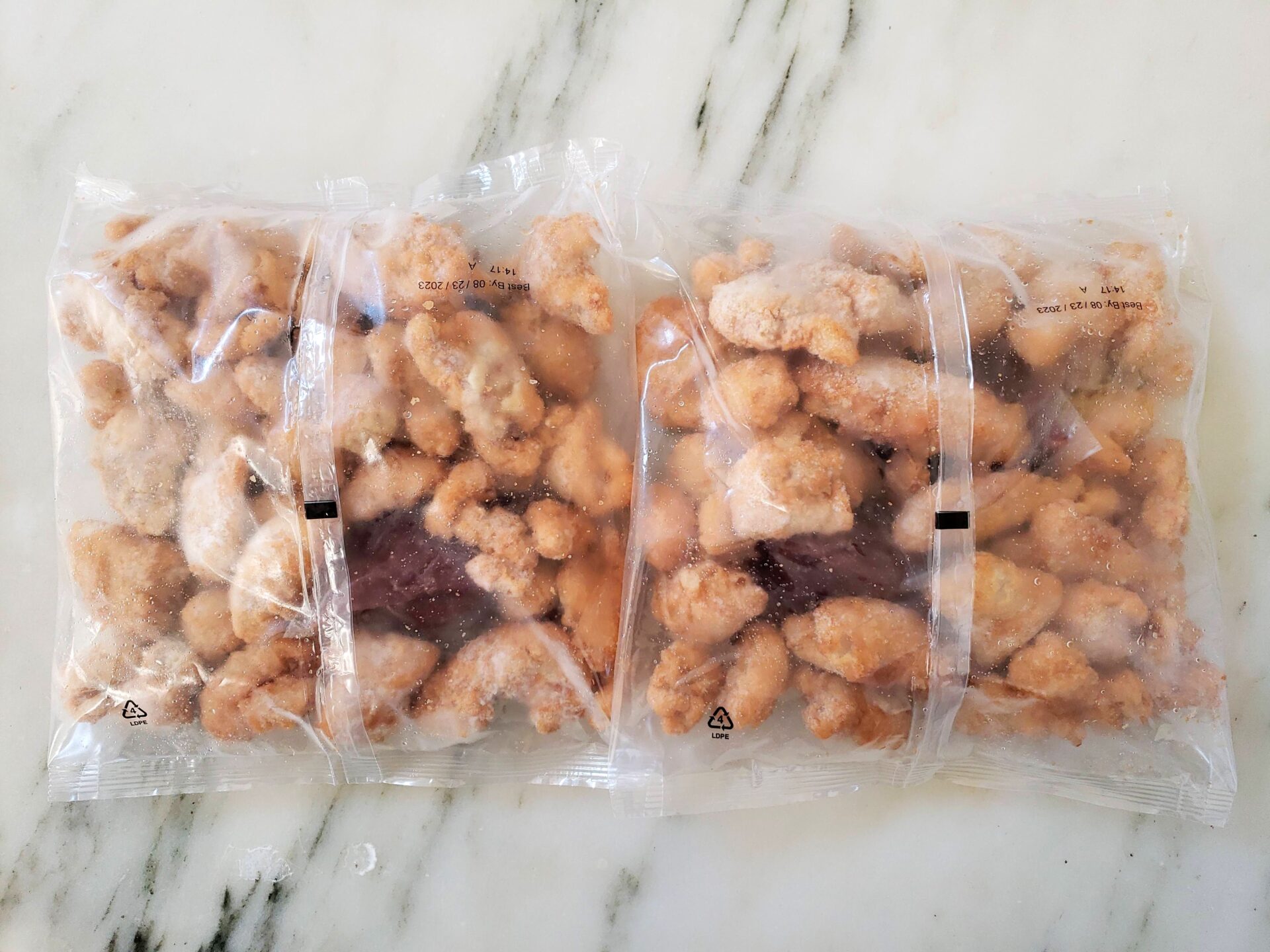 Costco vs. The Competition
Bibigo also sells the 18-ounce pack of their Crunchy Chicken at Target for $7.49. This is a per-pound price of $6.65.
Walmart sells the same 18-ounce pack of Korean Fried Chicken for $7.44 or $6.61 a pound.
Both options will be more than 50% more expensive than Costco's fantastic price of $4.14 per pound.
The Costco family-size kits of sweet and spicy Korean fried chicken will be the all-around best deal.
Korean Fried Chicken Taste Test
Outstanding In The Air Fryer
I opted to use the air fryer cooking method for this Korean fried chicken, and the chicken pieces truly lived up to the crunchy, crispy name.
The breading was super crispy and crackly and looked wonderful.
I recommend cutting the cooking time in the air fryer down to 10-11 minutes or until golden brown. I go further in-depth on the reasoning in the cooking instructions section.
Visually, the chicken looked terrific. I really couldn't ask for a better looking piece of breaded chicken that didn't require oil frying.
The chicken chunks had a nice golden brown appearance and made sharp, crisp sounds when tapped with a fork. Passed both the visual and audio crispiness test.
Korean Style Gochujang Sauce
The chicken was extremely easy to coat with the gochujang-style sauce. There was just the right amount of sauce to sufficiently coat the chicken without feeling like Bibigo was padding the package weight and lowering the price per pound with the included sauce.

The sauce was somewhat sweet, savory, and even had a little spicy flavor. All 3 flavors blended together well and gave the chicken a nice flavor. 
The sauce wasn't excessively spicy but was noticeable and enjoyable.
My one complaint about the sauce is that it can be on the salty side.
This is a drawback of many frozen foods, but this Korean Fried Chicken will need to be eaten with a side dish of rice, salad, or noodles to help mitigate some of the saltiness.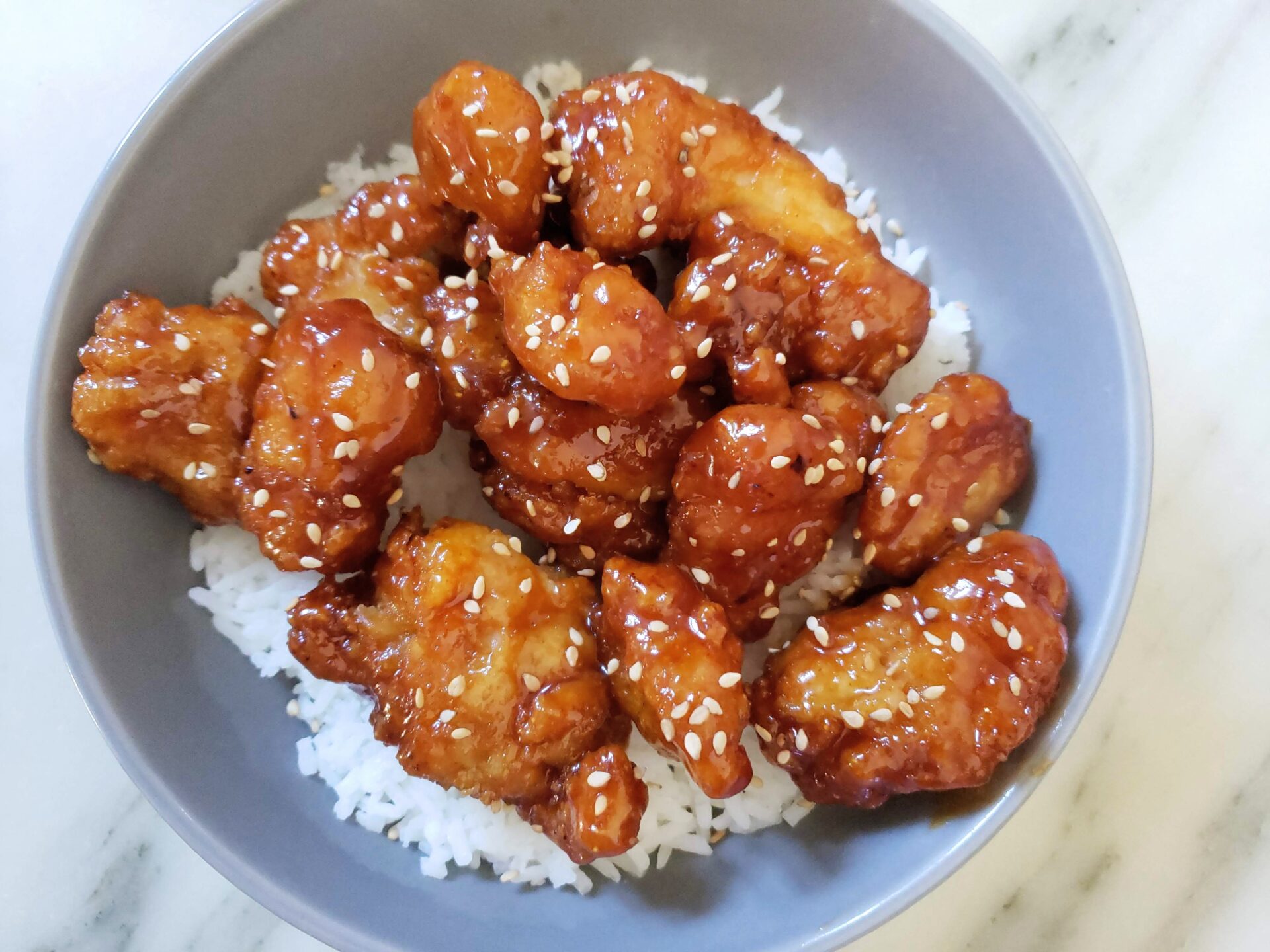 This chicken is so good that it can even be eaten without the sauce; I, personally, found it nearly impossible to transfer the chicken chunk pieces from the air fryer to the saucing bowl without snacking on one or two of the smaller pieces.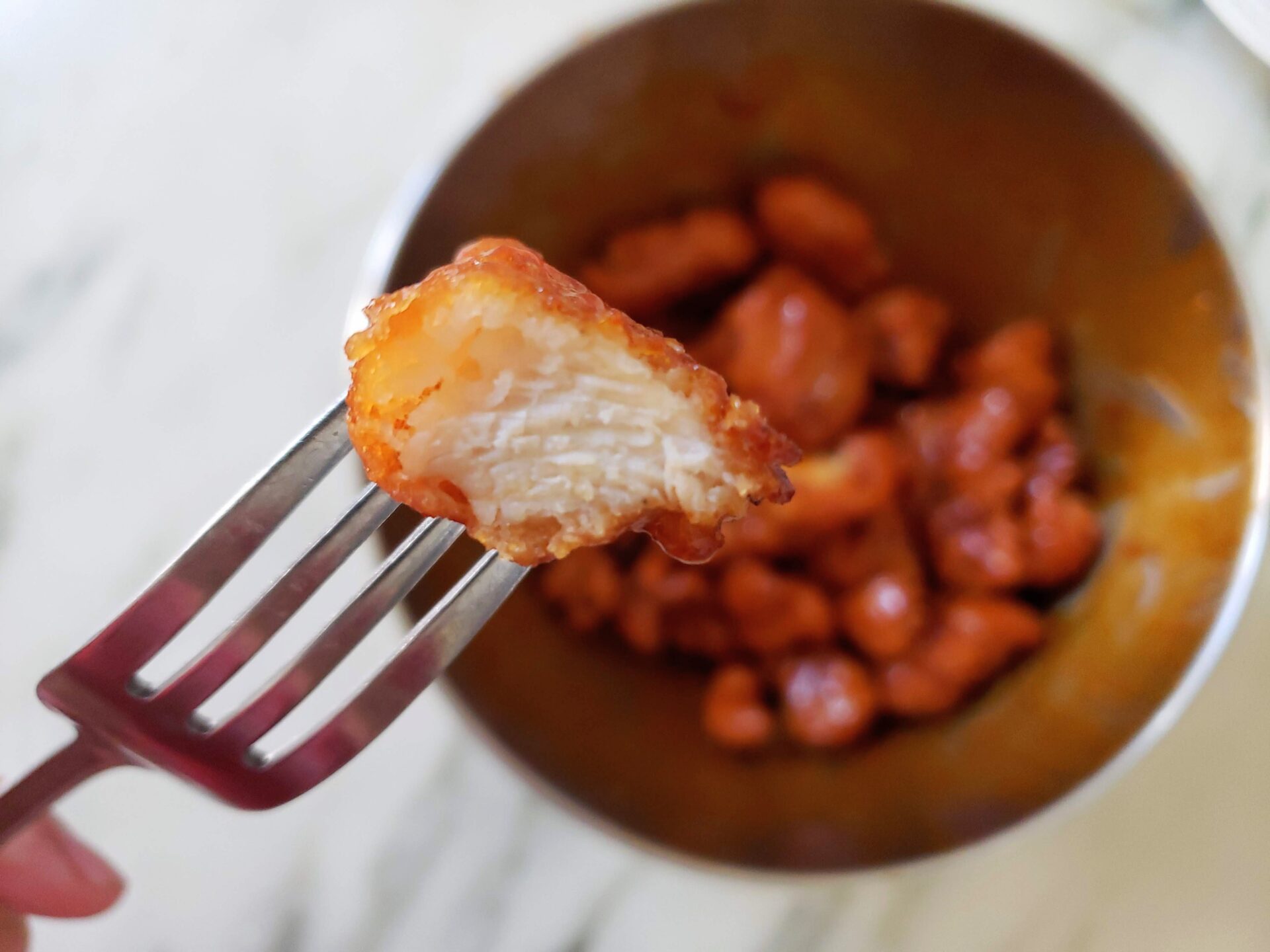 All put together, the Korean fried chicken is an excellent product, albeit salty. The flavors are great, and the chicken is delicious and has immense flavor.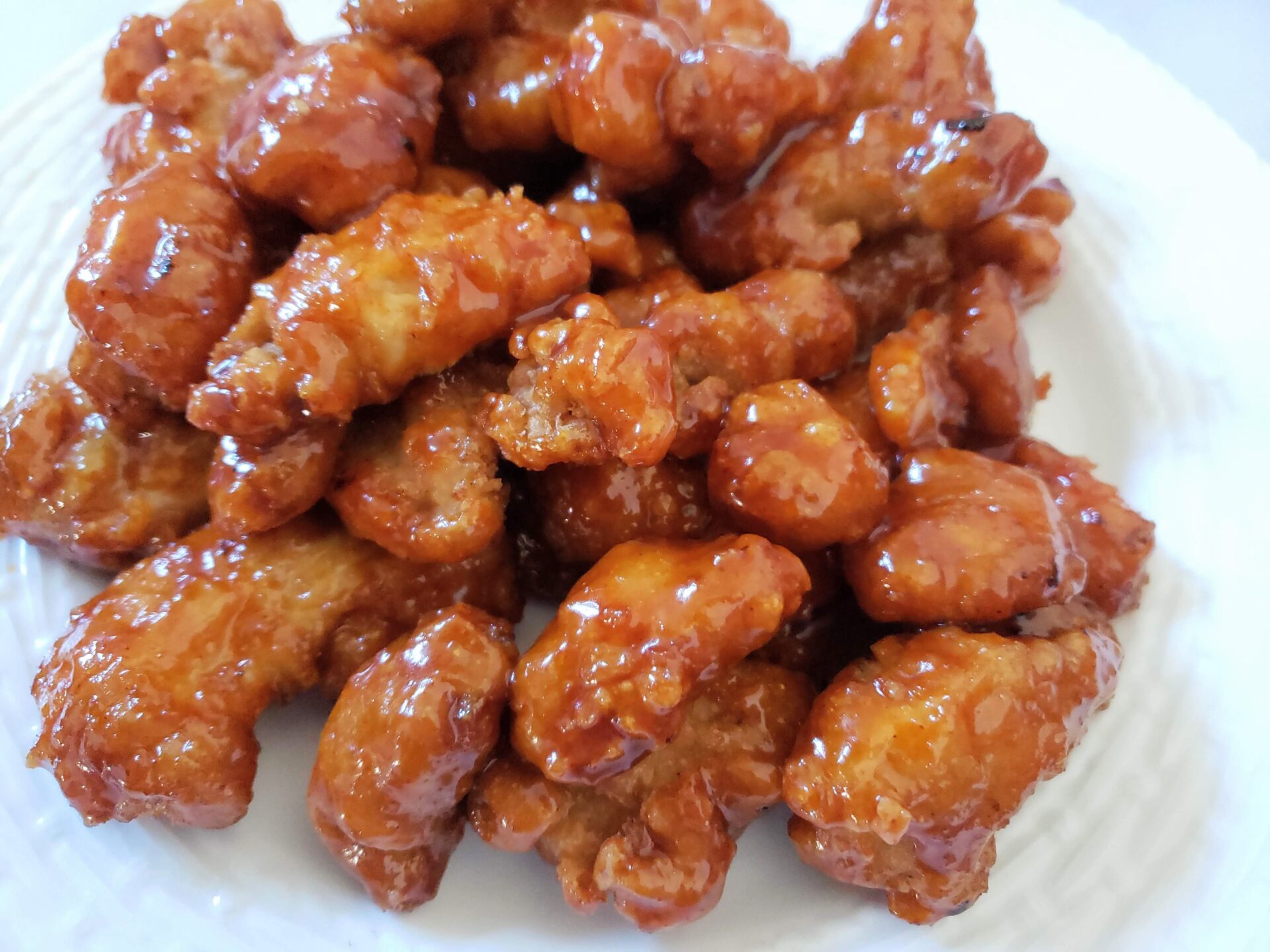 How to Cook Bibigo Korean Crunchy Chicken
Bibigo offers 2 cooking methods for their crispy, crunchy Korean fried chicken. You can bake the fried chicken in the oven, or you can air fry the chicken.
I always prefer the air fry option as it is quicker, and the food usually comes out slightly more crispy.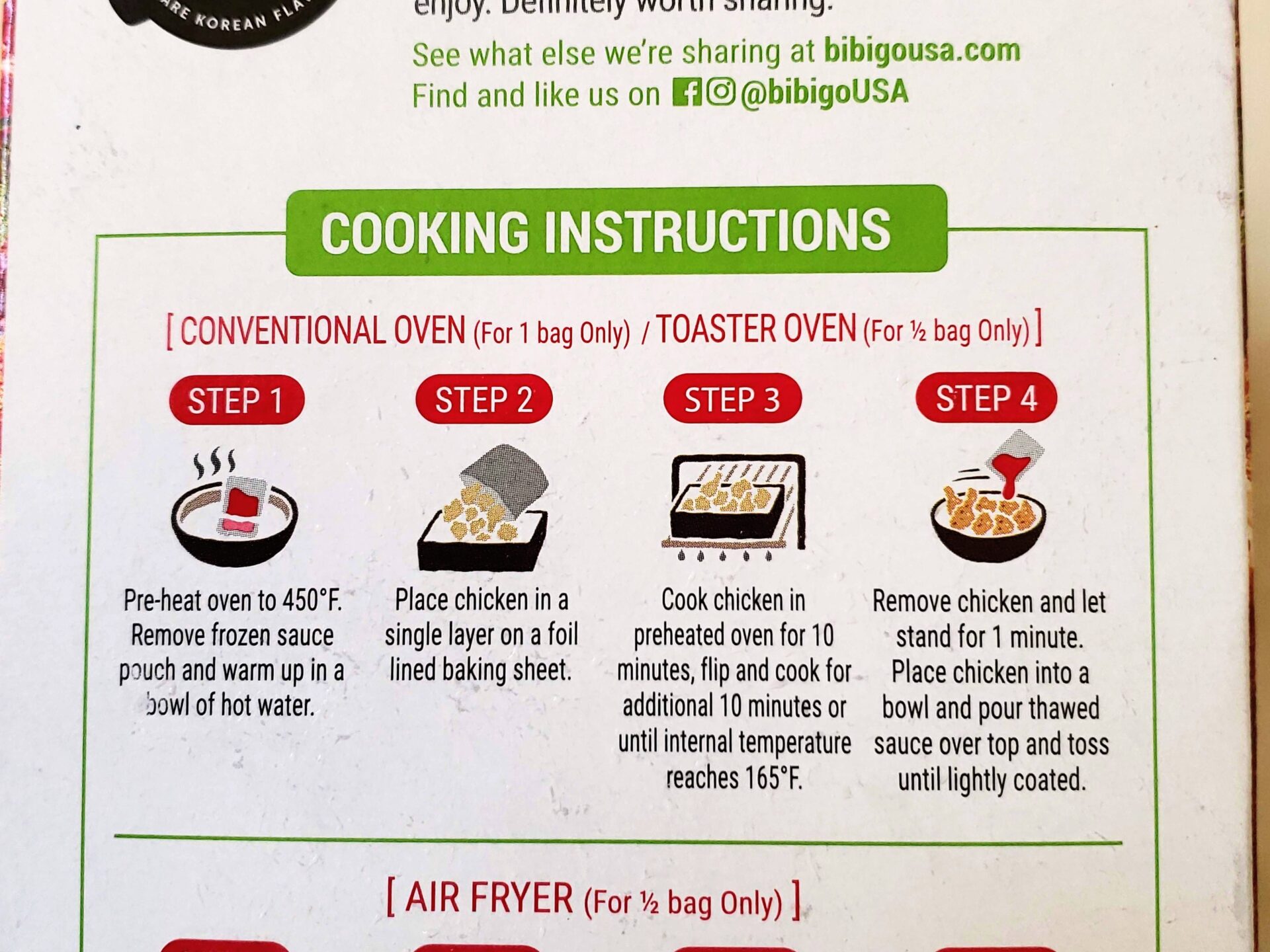 Conventional Oven (For 1 Bag Only)
Preheat the oven to 450°F.

Remove the frozen sauce pouch and warm up in a bowl of hot water.

Place chicken in a single layer on a foil-lined baking sheet.

Cook chicken in a preheated oven for 10 minutes, flip and cook for an additional 10 minutes or until internal temperature reaches 165°F.

Remove chicken and let it stand for 1 minute. Place chicken into a bowl, pour thawed sauce over the top and toss until lightly coated.
The Costco Korean fried chicken can also be made in the toaster oven. Use the conventional oven instructions above but cook only half a bag at a time.
The air fryer instructions do call for half the bag for 16 minutes. I think this is a little bit of an overkill. I think anywhere between 9-11 minutes for half a big will produce better results. 
The chicken will be equally crispy but not dried out as it could be with a longer cook time.
Air Fryer Cooking Instructions (For 1/2 Bag Only)
Set the air fryer to 390°F.

Remove the frozen sauce pouch and warm up in a bowl of hot water.

Place chicken inside the air fryer basket in a single layer.

Cook chicken in an air fryer for 16 minutes or until internal temperature reaches 165°F.

Remove chicken and let it stand for 1 minute. Place chicken into a bowl, pour thawed sauce over the top and toss until lightly coated.
Costco Korean Fried Chicken Nutritional Information and Calories
How Many Calories in Bibigo Crunchy Crispy Chicken
One serving of Costco Korean fried chicken with sauce will be 1 cup or 5.47 ounces. Each family kit will include approximately 5 servings of chicken.

Each serving contains 360 calories coming from 16 grams of fat, 36 grams of carbs, and 18 grams of protein. This isn't going to be healthy food as this is fried chicken, so the subpar nutritional label is expected.
The bigger issue than the macronutrients is the extremely high amount of sodium in each serving.
The 5.47-ounce serving of Korean fried chicken will have a whopping 990 mg of sodium. This is 43% of the recommended daily value.
This is an extremely high amount of sodium, and realistically speaking it is easy to eat more than 1 serving of this delicious fried crunchy chicken. I would have no problem eating 10 ounces of chicken and taking in 2000 mg of sodium.
Without double checking, I do believe this is the highest amount of sodium that I have seen on a nutritional label from a frozen food from Costco.
Costco Food Database User Reviews
Have you tried this item? Let the rest of the Costco Food Database community know what you think. Leave a rating and review for this product. 
Costco Extra Crispy Korean Fried Chicken
Costco's frozen korean crunchy fried chicken is delicious and super fun to eat. Follow this recipe to make sure the Bibigo Korean chicken is extra crispy.
Ingredients
1

Bag

Battered Chicken

1

Pack

Korean Style Gochujang Sauce

Sesame Seeds
Instructions
Set the air fryer to 390°F. 

Remove the frozen sauce pouch and warm up in a bowl of hot water.

Place chicken inside the air fryer basket in a single layer.

Cook chicken in an air fryer for 16 minutes or until internal temperature reaches 165°F. 

Remove chicken and let it stand for 1 minute. Place chicken into a bowl, pour thawed sauce over the top and toss until lightly coated.

Optionally - Sprinkle with Sesame Seeds
Nutrition
Serving:
1
Cup
Calories:
360
kcal
Carbohydrates:
36
g
Protein:
18
g
Fat:
16
g
Saturated Fat:
2.5
g
Trans Fat:
0
g
Cholesterol:
55
mg
Sodium:
990
mg
Fiber:
0
g
Sugar:
16
g