Costco Mini Crab Cakes - How To Cook + Air Fryer Recipe
Phillips Crab Cake Minis at Costco
Costco sells a 36 count of Phillips Crab Cake Minis for $19.99. The crab cake minis can be found in Costco's frozen food area of the store near other seafood items such as the Tempura Shrimp, Salmon Burgers, and the Spanakopita.
Each package of Mini Crab Cakes includes 36 crab cakes and weighs a total of 18 ounce. The easy math tells me that each crab cake weighs approximately half an ounce. These definitely are of the mini variety.
Have You Tried Costco's Mini Crab Cakes?
Let the rest of the Costco Food Database community know what you thought of this product. Results and reviews are at the bottom of this page.
Please allow 24 hours for review moderation and approval.
About Phillips Seafood Restaurants
Phillips, the makers of the Costco crab cakes, are a small restaurant chain with 3 signature restaurants as well as another 10 or so in airports and casinos across the East Coast. 
Brice and Shirley Phillips opened their first Phillips restaurant in 1956 and the business has since grown into multiple restaurants and has even led to their signature seafood brand which is sold in grocery stores across America.

Costco Crab Cake Taste Test
I cooked these mini crabs cakes in the air fryer and they came out looking amazing. My air fryer recipe is included below in the cooking direction section.
While the mini crab cakes look great with their nice dark brown exterior, they came up quite short in flavor and texture. 
The mini crab cakes are made with real crab, which is to be expected, but there are some problems. 
The most glaring problem is the lack of flavor in the crab cakes. It's without a doubt made of crab, but the flavor was very faint. The crab cake had a salty taste but was bland and flat.
There was nothing in the crab cake that left me wanting more. After eating the first few, I could have easily walked away from the remaining 8 or 9 crab cakes on my plate.
The texture was also not great. The crab cake interior looks pretty darn good, but it wasn't enjoyable. The interior of the crab is made with shredded strips of crab, which was just ok.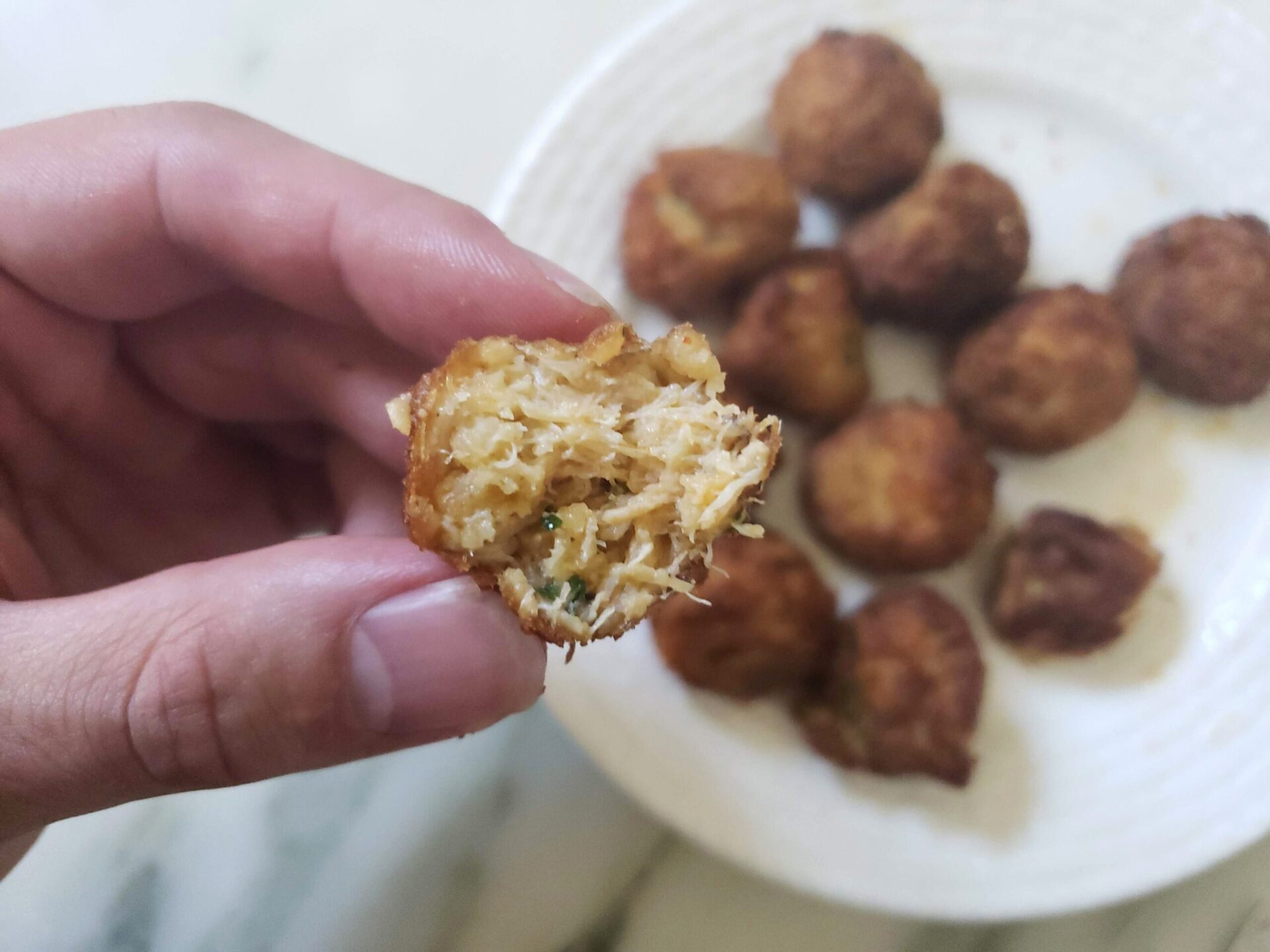 The big turnoff was the occasional crab fragment or a cluster of tiny bones. It really dragged down what I consider to be typically a pretty fancy food item. 
As a whole, the crab cakes just weren't enjoyable. I didn't care for the size or the texture, and the taste was disappointing.
Phillips Crab Cake Minis Cooking Instructions
How to Cook Costco's Mini Crab Cakes
Phillips only offers one cooking option for their mini crab cakes and that is to bake them. I've been a long time convert to air fryers and will primarily use that to cook any of Costco's frozen foods and these crab cakes are no exception.

My air fryer cooking directions for the mini crab cakes from Costco will be included below. 

Before cooking, remove crab cakes from all packaging. Crab cakes should reach an internal temperature of 165°F.
Preheat Oven to 450°F

Place on a lightly buttered baking sheet

For 18 minis, bake for 8 to 9 minutes.




For 36 mini crab cakes, bake for 11 to 12 minutes. 
Caution: May be extremely hot
Not Recommended for use in Microwave Ovens. 
Crab Cake Air Fryer Cooking Directions
Preheat Air Fryer to 400°F

Place 10-12 Mini Crab Cakes in a single layer

Cook for 8 minutes
Optional: Spritz with cooking oil half way through the cook.
I found 8 minutes to be the sweet spot that crisps up the exterior and perfectly heats up the interior of the crab cakes. If you increase the number of crab cakes, increase the time by just a few minutes and check periodically.
Phillips Seafood recommends a Spicy Aioli Dipping Sauce for their crab cakes. Its a fairly simple dipping sauce recipe which can be made with common ingredients that you have in your pantry or refrigerator.
Additionally, if you want to mix it up. JZ Eats has a great crab cake sauce that takes just 5 minutes to make and can be used in a variety of seafood dishes.
If you are lacking any of the ingredients to make the aforementioned dips, you can also try this 3 ingredient crab cake dipping sauce that will add a ton of flavor and really enhance these bland mini crab cakes.
This sauce would also go great with umami flavors of Bachan's Original Japanese BBQ Sauce.
Crab Cake Minis - Nutritional Information
How Many Calories in the Mini Crab Cakes?
Each serving of Mini Crab Cakes is going to be 6 crab cakes or 3 ounces and contains 220 calories. Those 220 calories are made up of 17 grams of fat, 6 grams of carbs, and 10 grams of protein. 
There is actually quite a bit more fat in these crab cakes and a little less carbs than I expected. The 10 grams of protein is a solid amount for only 6 little seafood crab cakes.
Each serving of Phillips Crab Cake Minis from Costco is going to have 270 mg of sodium which is 12% of the recommended daily value. This is a tolerable amount of sodium, so props to Phillips for this.
How Much Do The Crab Cakes Cost?
Each package of 36 crab cakes is going to cost $19.99 at Costco. This breaks down to a per pound price of $17.77 which is definitely on the higher side. Each crab cake itself will cost $0.55.
The $0.97 Clearance Sucker Buy
For those who don't know, if a price ends in .97 at Costco, that item is on clearance. This usually represents a great price for an item the your local Costco warehouse is looking to clear out. You will often see the $0.97 price with an asterisk on the price card as well which signifies the item will not be restocked when sold out. 
One of my Costco trips, I saw this Phillip's Mini Crabs Cakes with a clearance price of $15.97. There were less than a handful remaining on the shelves and the asterisk told me this was my last chance to purchase the item, at least for this season.  
I didn't know the retail price, and the limited quantity forced my hand, and I had to buy it. After bringing it home, and doing some research, it appears the Crab Cakes go on sale with a discount of $4. This means Costco sells the crabs for $15.99 when they are regularly on sale. I paid $15.97 which isn't a clearance price at all and actually just the sales price. 
I was disappointed in myself for falling for this trap, and not knowing Costco's pricing as well as I should.
The crab cake minis are a dud. They are too expensive for what they are, and just plain and simple aren't that good. 
The texture is off and the crab cakes are bland. There is much better value to be had with other seafood items from Costco's frozen food aisle and even Costco's meat and seafood department. Not worth a buy!
Costco Food Database User Reviews
Have you tried this item? Let the rest of the Costco Food Database community know what you think. Leave a rating and review for this product. 
Costco Mini Crab Cakes - The Perfect Appetizer
Costco's mini crab cakes are an easy set it and forget it appetizer for your next party. Cook them perfectly with this recipe and pair them with a delicious dip
Ingredients
18

Mini Crab Cakes

1

Cup

Preffered Aioli
Instructions
Bake from Frozen

Preheat Oven to 450°F

Place on a lightly buttered baking sheet

For 18 minis, bake for 8 to 9 minutes.

For 36 mini crab cakes, bake for 11 to 12 minutes.

Air Fryer Cooking Directions

Preheat Air Fryer to 400°F

Place 10-12 Mini Crab Cakes in a single layer

Cook for 8 minutes

Caution: May be extremely hotNot Recommended for use in Microwave Ovens. 
Nutrition
Serving:
6
Cakes
Calories:
220
kcal
Carbohydrates:
6
g
Protein:
10
g
Fat:
17
g
Saturated Fat:
3
g
Trans Fat:
0
g
Cholesterol:
60
mg
Sodium:
270
mg
Fiber:
0
g
Sugar:
0
g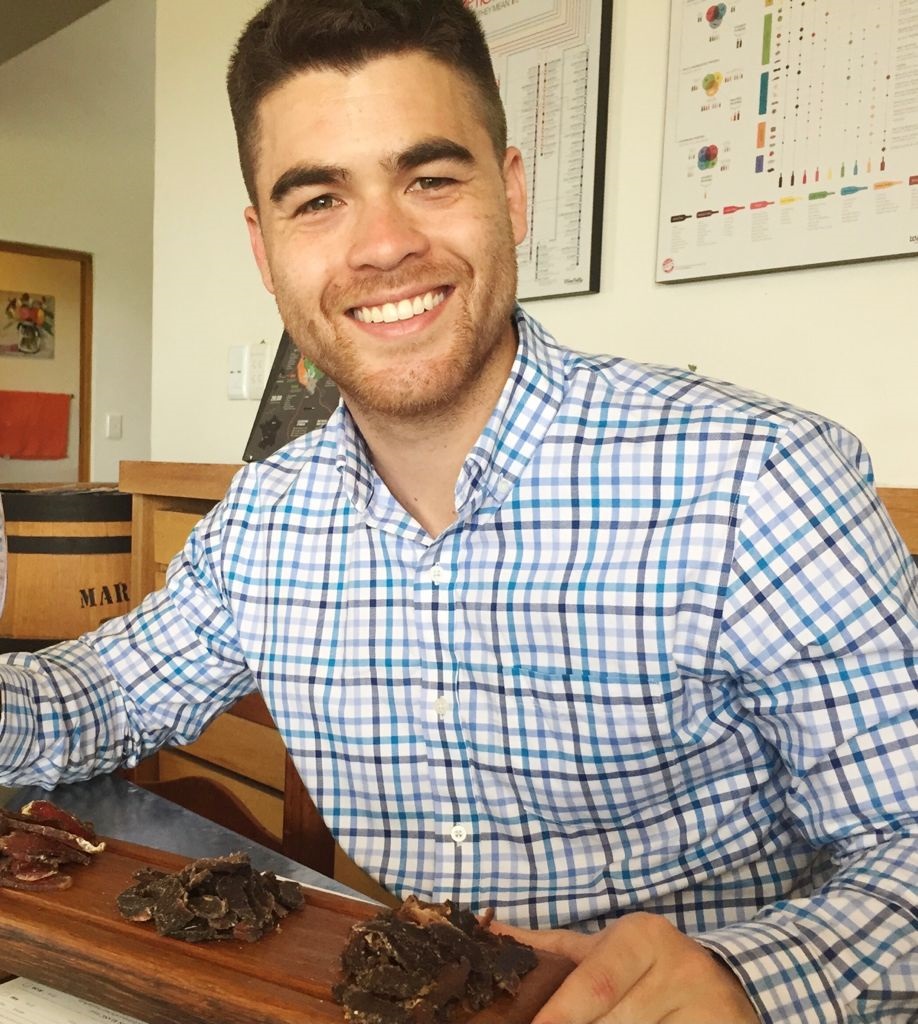 Greg Larkin is the founder and managing editor of Costco Food Database, the premiere site for honest takes on all things Costco food. A self-proclaimed Costco super-fan since childhood, Greg turned his obsession in a mission to properly rate and review all of Costco's delicious buys. When he's not busy navigating Costco aisles, you can find Greg smoking Kirkland Signature meats, meal prepping, or perfecting his homemade jerky recipes.