12 Must Know Facts - Costco's $1.50 Food Court Hot Dog + Calories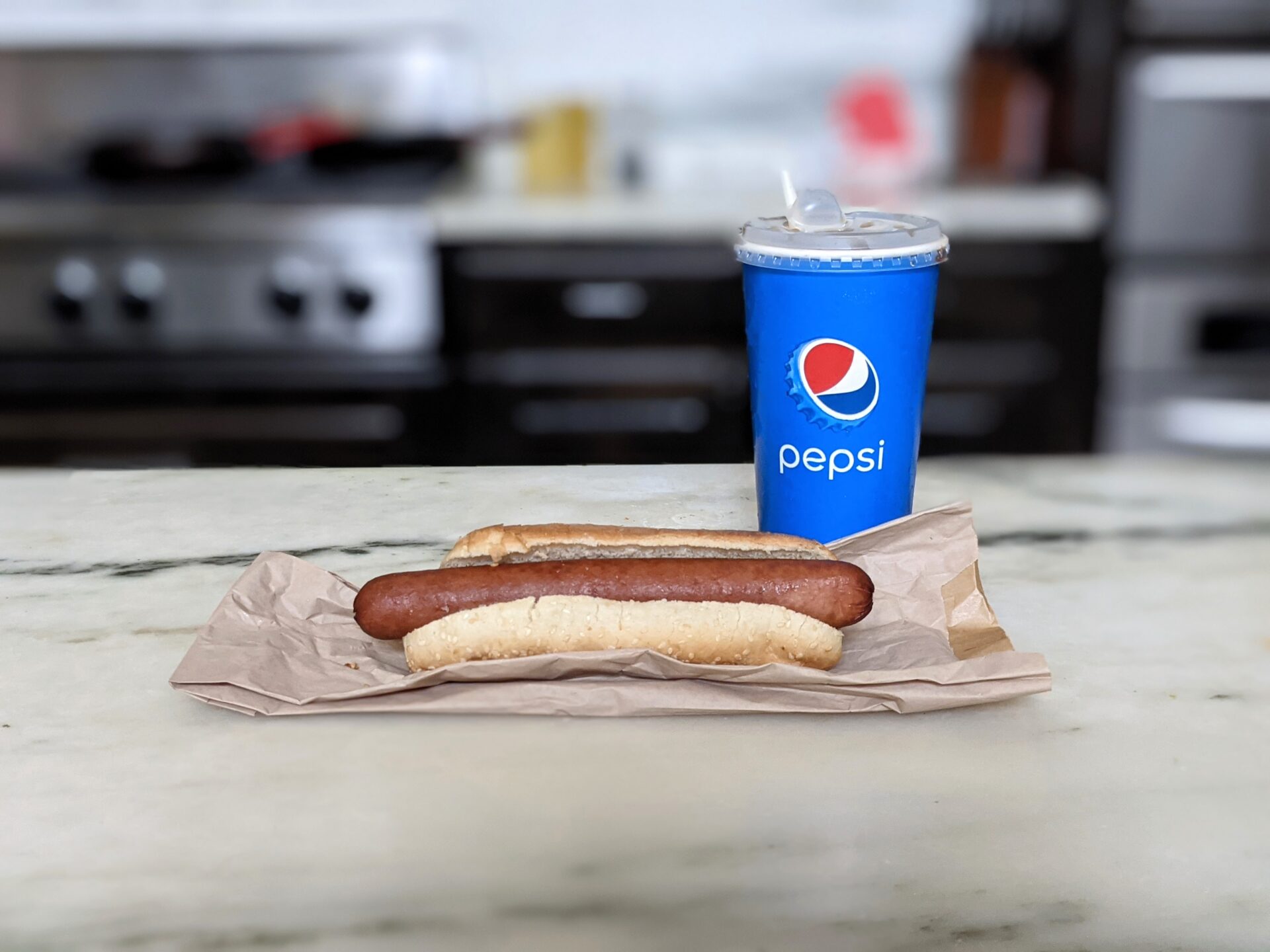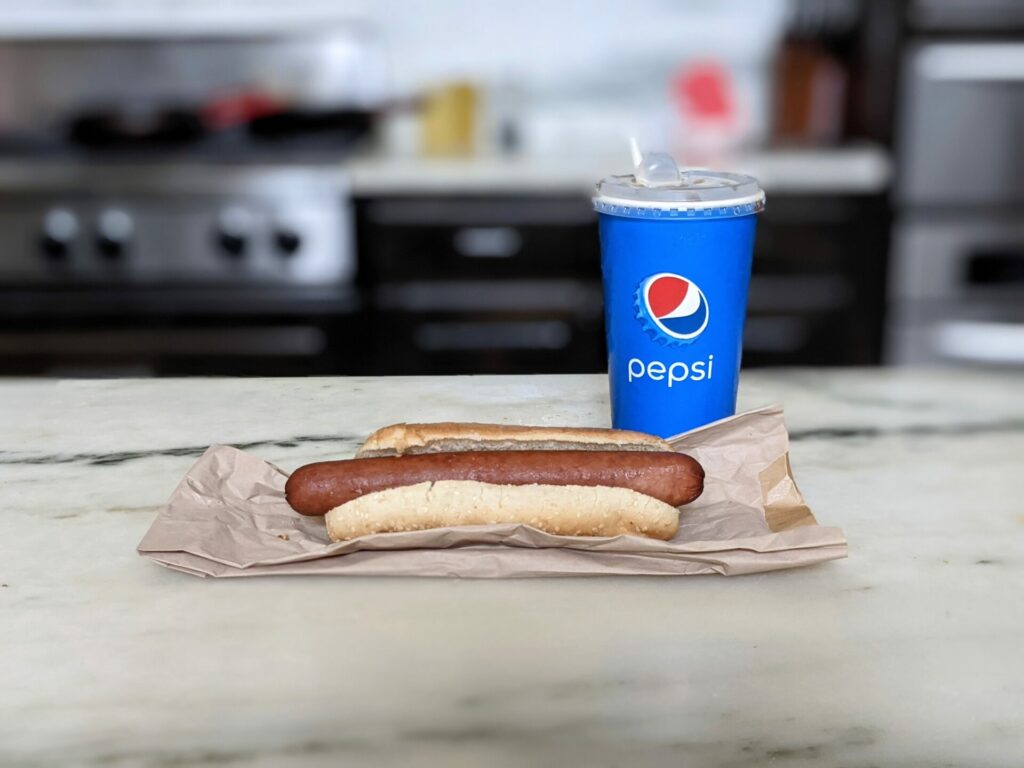 The Costco Hot Dog Is An Icon
There is nothing more iconic at Costco than their food court's $1.50 hot dog and soda combo. The $1.50 quarter pound plus all beef hot dog has a cult following amongst its members and is one of the most popular items in all of Costco.
In honor of the Costco hot dog, here are 12 Facts/Interesting Tidbits about the beloved food court staple. For those looking for just the calorie information, we have listed the full nutritional label for Costco's hot dog at the end of the article. 
1. The $1.50 Costco Hot Dog Has Not Increased In Price For 35 Years.
Since 1985, Costco has sold its hot dog and soda combo (with free refill) for $1.50. Over the past 35 years, almost everything else in the world has gotten more expensive except for Costco's Hot Dog and Soda Combo.
Fun Fact: The soda's size has increased from 12 ounces at its inception to 20 ounces today.
2. The Costco Hot Dog Is A Loss Leader
Costco hasn't raised the price of the food court hot dog and soda combo in over 35 years, and they consider it a loss leader for the warehouse. 
They may not make much if any profit on their hot dog and soda combo, but it does bring people into the warehouse to buy $1,000 TVs and $2,000 gazebos. 
3. As of 2023, There Are Not Plans To Increase The Price of The Costco Hot Dog
The leadership at Costco has also stated they can absorb the loss on the hot dog combo as they can make up the profits in other high-margin areas. 
The hot dogs also make a great consolation prize for blowing the weekly budget on squishmellows and Kirkland Signature brand sweatshirts.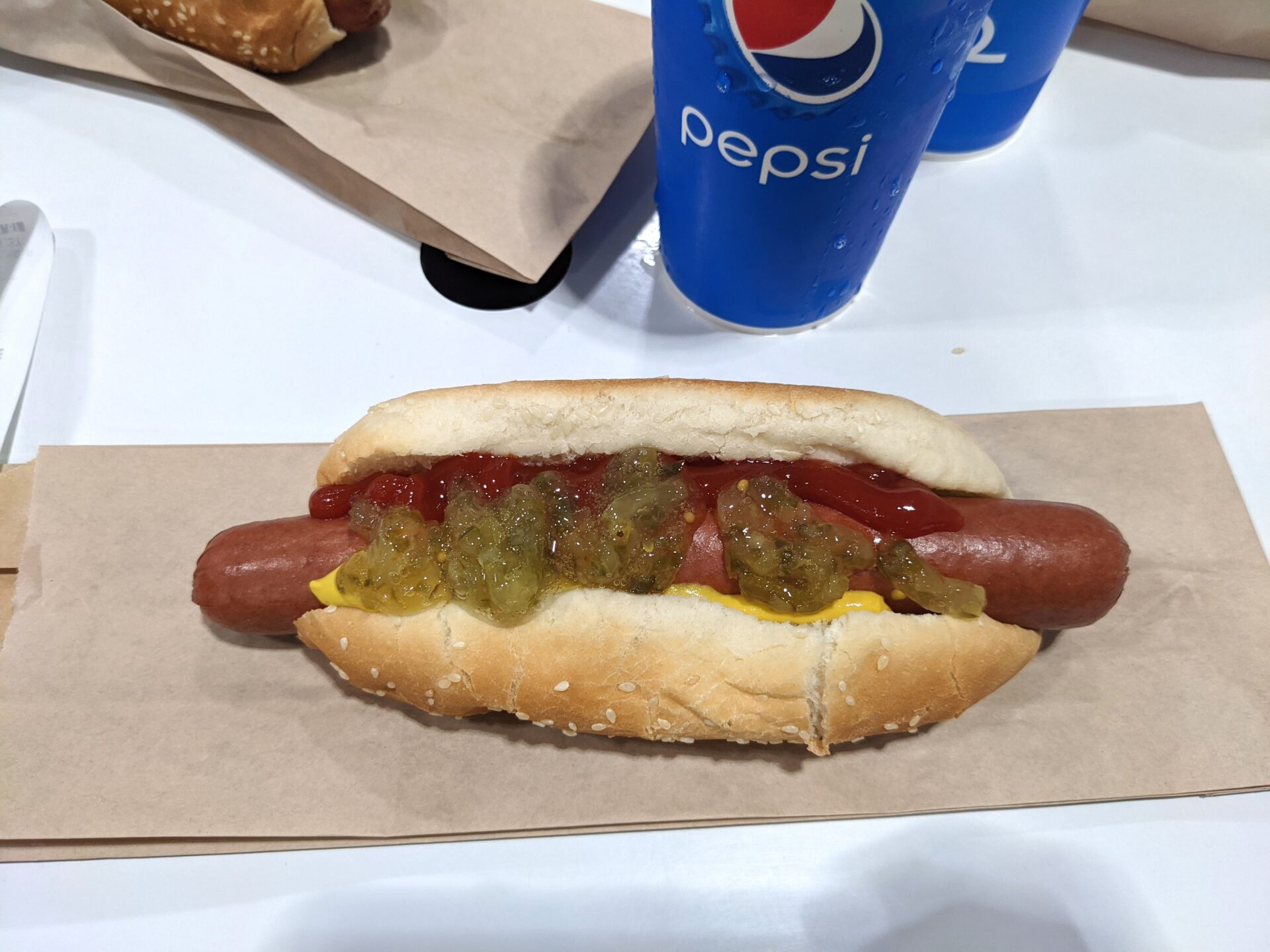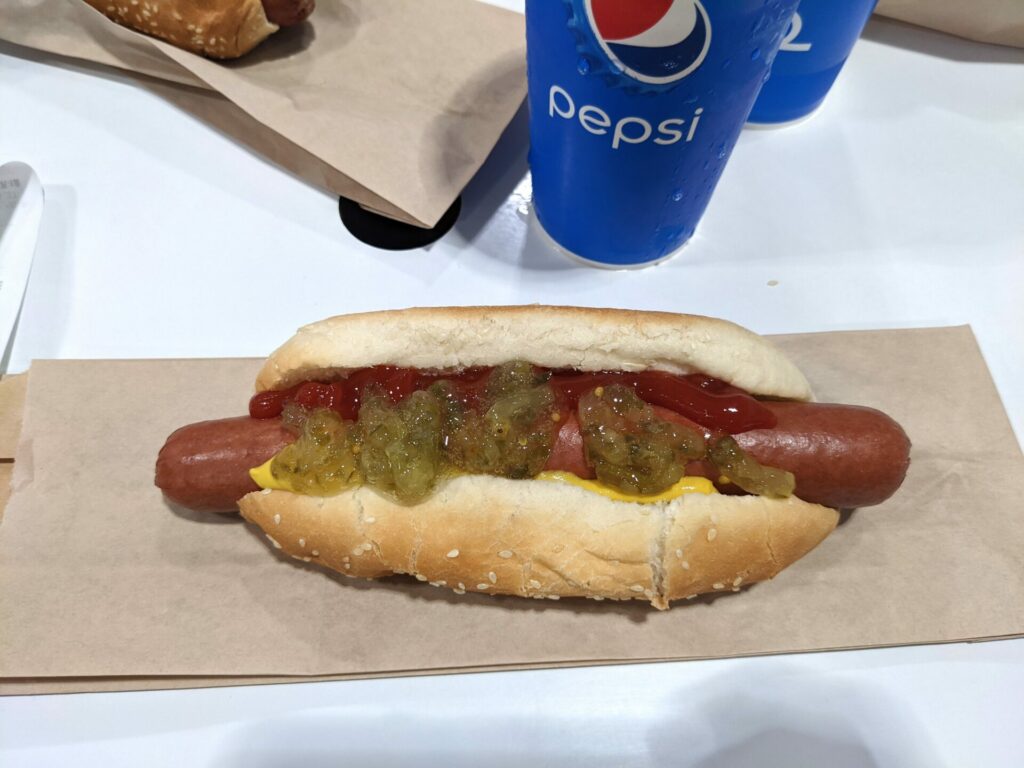 The $1.50 Hot Dog Price Tag Holds Too Much Power
Yes, $1.50 is an amazing price for the hot dog and soda combo, but along with the $1.50 price tag comes a certain novelty, nostalgia, popularity, and reputation. 
If Costco were to increase the price, I can imagine some of the intangibles would disappear, hurting sales just as much as the price increase.
4. The Former Costco CEO Threatened The Current CEO With Death If He Ever Raised Price Of The Hot Dog
That being said, Costco has no intention of raising its $1.50 price point for its hot dog and soda combo. Costco's CFO has stated that they plan to keep the $1.50 price tag forever.
The founder of Costco, Jim Sinegal, is so adamant about keeping the price the same that he even threatened to kill the current CEO, Craig Jelinek if he ever raised the price.

Mr. Sinegal told Mr. Jelinek, "If you raise the price of the F'ing hot dog, I will kill you. Figure it out."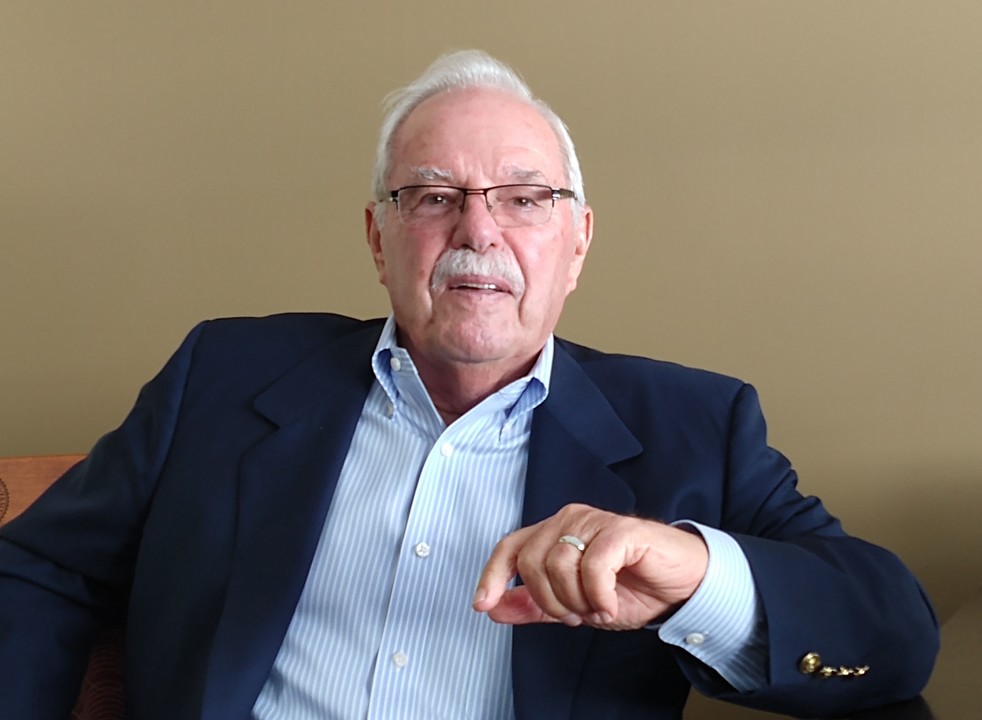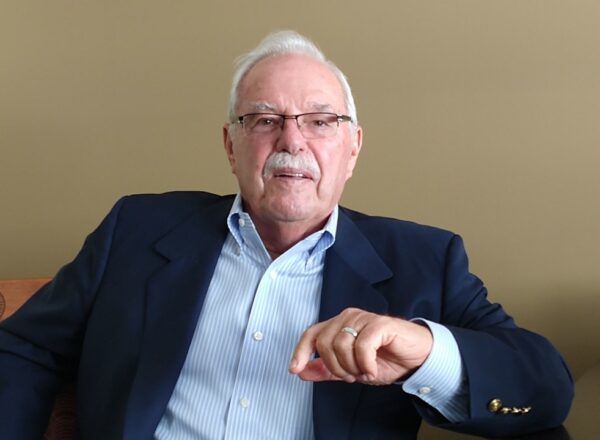 5. Costco Now Uses Their Own Kirkland Signature Hot Dogs
In 2008, Costco switched from selling Hebrew National Hot Dogs in their Food Courts to their Kirkland Signature brand. They made the switch to control production, cut out the middleman, and keep costs down. 
Loyalists to the Hebrew National Brand were upset when the change was made, but it doesn't seem to be a concern now in 2022.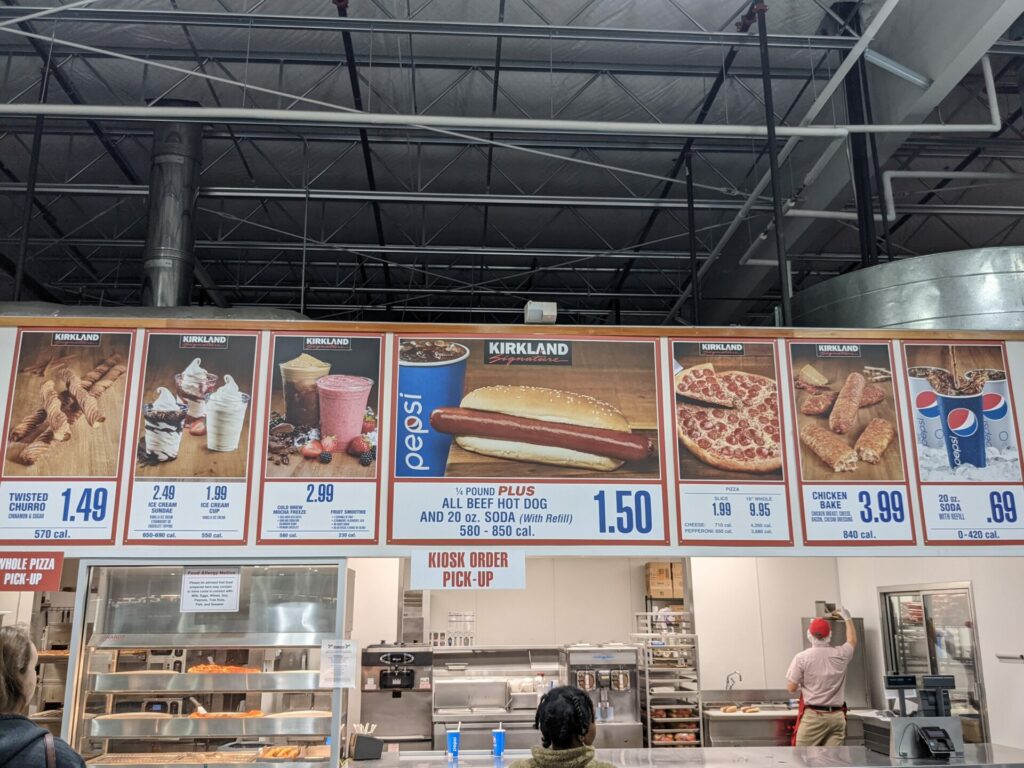 6. Costco's Food Court Hot Dogs Are 100% Beef
Costco's Hot Dog is made with 100% beef, which is fantastic, but that is not where the good news ends for Costco hot dog ingredients. The hot dogs also do not contain any by-products, phosphates, fillers, corn syrup, artificial flavors or colors. The Costco Hot Dogs are also gluten-free.
I'm not saying the Costco hot dogs are healthy for you, but I'll take a Costco hot dog over any other random hot dog.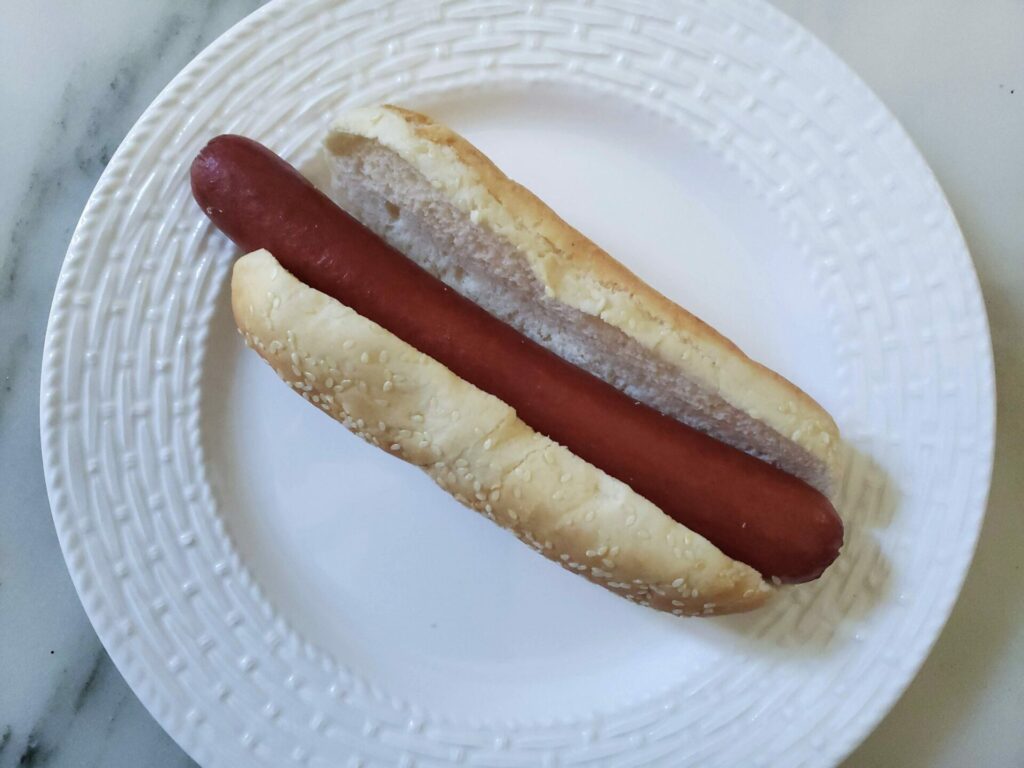 100% Beef Hot Dog Except for In Japan
All Costco Food Court Hot Dogs in the US, Canada, and the rest of the world except for Japan use 100% beef hot dogs.
The Japan Costco Food court hot dogs are made with 100% pork, as the 100% beef hot dogs were unpopular amongst the Japanese People.
7. Each Costco Hot Dog Is Larger than ¼ Pound
The Costco Hot Dog Weighs A Quarter Pound Plus
Many people may not notice this, but the menu signage for Costco's hot dog actually says quarter pound PLUS as each of the Kirkland signature All Beef Hot Dogs weighs about 4.3 ounces or 8% more than a quarter pound.

8. Costco Sells 150+ Million Hot Dogs a Year
Costco Sells 193,000 Hot Dogs Per Year Per Location
It should come as no surprise that Costco sells a ridiculous amount of hot dogs at their food court. In fact, in 2019 alone, Costco sold over 151 million hot dogs.
By Doing some quick math, there were 782 Costco locations in 2019, which means, on average, each location sold about 193,000 hot dogs. This breaks down to a little more than 500 hot dogs per day or about 50 per hour.
With rising food costs across the board, I don't expect hot dog sales to drop anytime soon.
9. Costco Has Made Noticeable Downgrades To The Food Court Over The Years
A common technique to reduce cost is to reduce the size or quality of a product. The $1.50 hot dog combo price has remained intact and seems to be a non-negotiable point, but at what cost to us Costco members? 
Costco has made gradual changes to its food court over the years to bring costs down, such as switching from Hebrew National Hot Dogs to Kirkland Signature, switching from Coke to Pepsi, and the most drastic change of all, removing the onions and deli mustard. 
One of the most disappointing changes in Costco's food court history is the removal of the onions as an available hot dog topping. Pre-Covid, Costco used to offer chopped white onions that perfectly complemented the hot dog and even the Polish dog.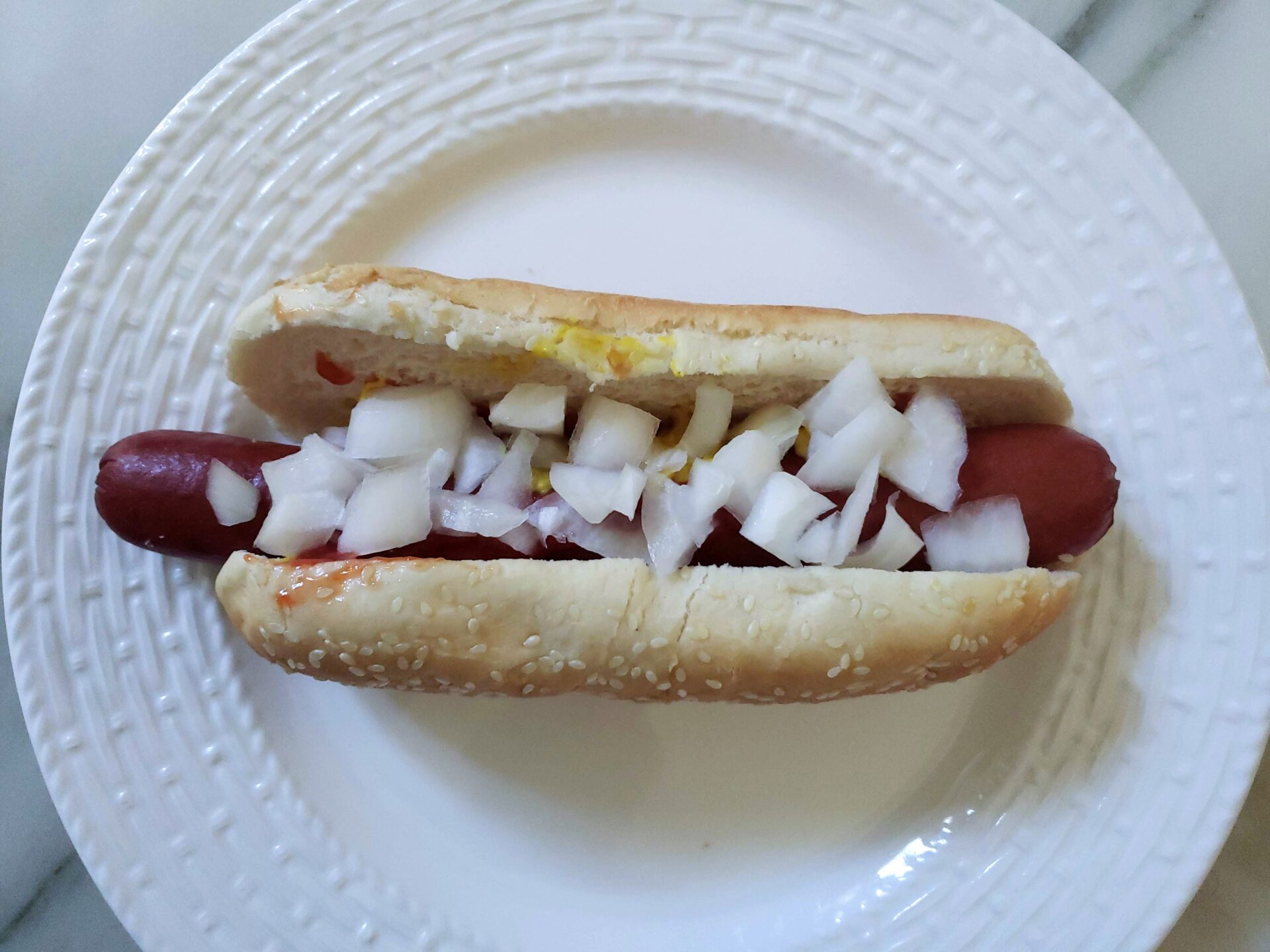 The onion crank used to reside in the condiment area of the food court next to the ketchup, mustard, and relish, but was removed during the beginning of the pandemic. You still may see the open spot at your local Costco's condiment bar.
Update: As of May 2023, the Costco food court onions have returned. The onion crank is still not available, but the diced onions can be requested directly from the food court counter.
10. A Fan Favorite And Rival To Costco's Hot Dog Was Removed In 2020
Costco Removed The Polish Dog From Its Food Court Menu In 2020
Another drastic change the Costco food court has made over the years is the removal of the Polish Dog. 
The polish dog was also sold as a $1.50 polish sausage/soda combo and even shared the same menu spot as the Hot Dog!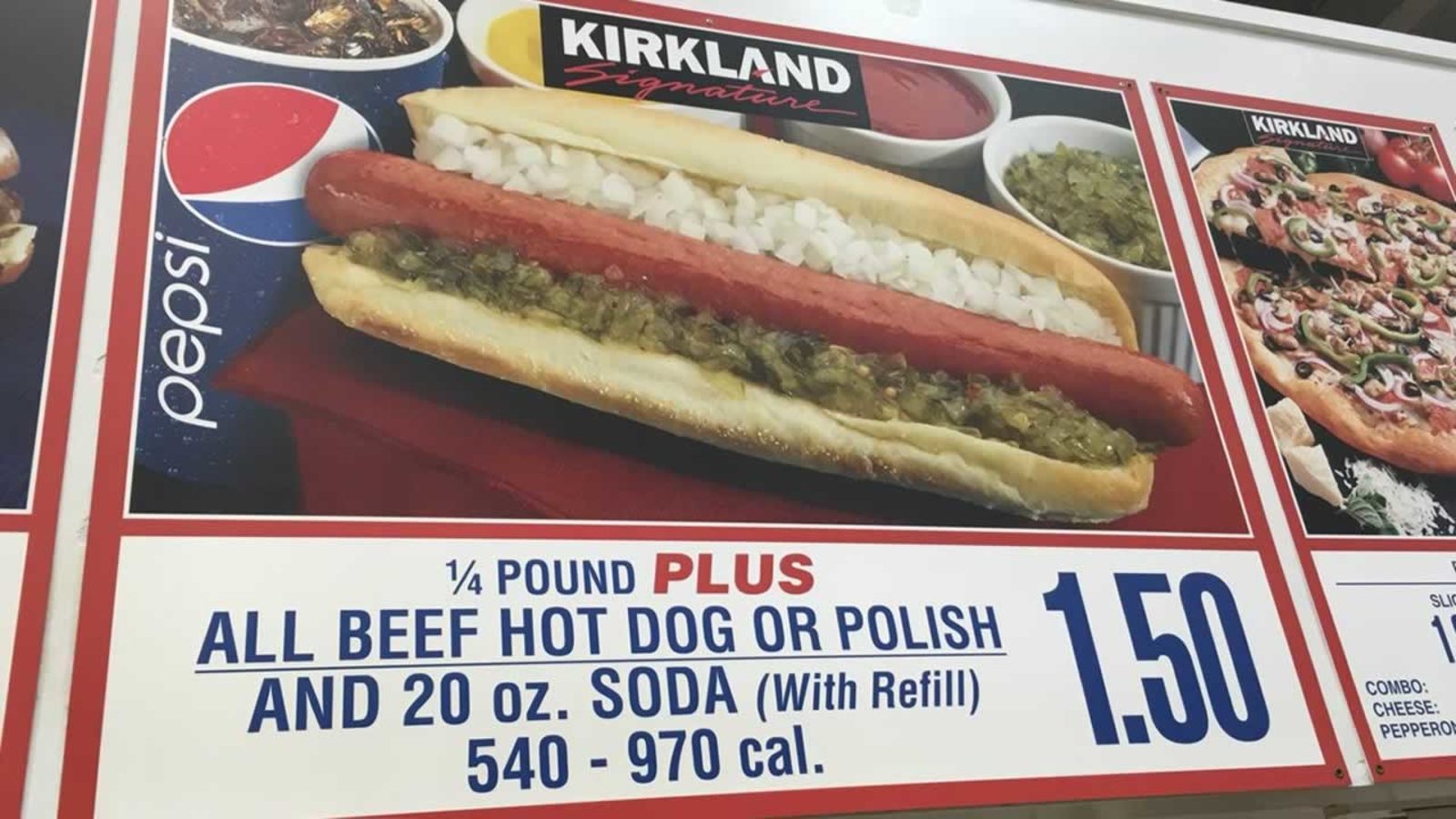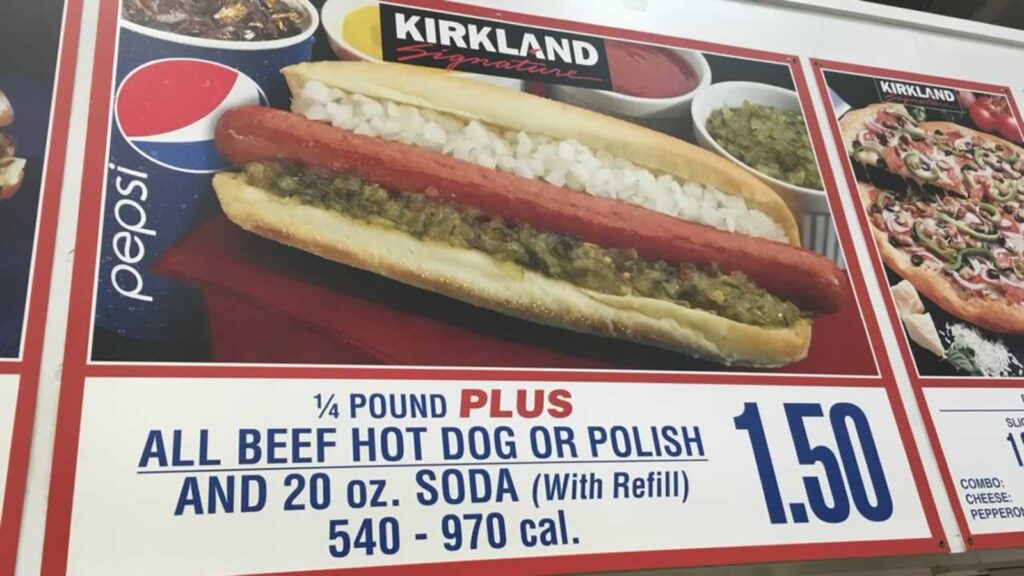 I personally preferred the polish dog option, and it was my go-to even over the hot dog. The polish dog tasted similar to the hot dog, but had additional pepper and garlic spices.
11. You Can Buy Costco Hot Dogs in Bulk
The Same Hot Dog Wieners That Costco Uses In The Food Court Are Also Available In The Frozen Food Aisles
Love Costco's food court hot dogs? Luckily, the hot dogs and buns can be purchased directly from Costco.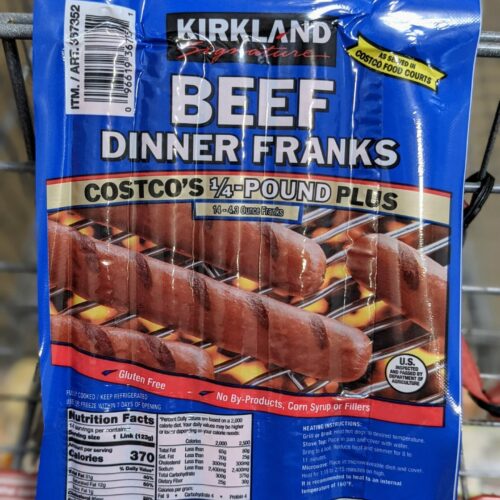 The Costco Hot Dog Dinner Franks Costs $1 Each When Purchased In a 14 Pack.
The Hot Dogs Weiners are sold in the frozen food aisles as the Kirkland Signature Beef Dinner Franks. They cost $13.99, are sold in a 14 pack, and are item number 364352. Each individual hot dog costs $1
There are other hot dog options available at Costco, but the hot dogs used in the food court will be in the blue packaging and say "As Served in Costco's Food Court" in the top right corner.
The Hot Dog buns will vary by location, but my local Costco uses the Francisco Gourmet Sesame Seed Rolls. The hot dog buns costs $3.49 per 12 pack. 
The Hot Dogs Are Sold In A 14 Pack, While The Buns Are Sold In A 12 Pack
One thing that really bothers me is when hot dogs and hot dog buns are sold in uneven portions. I can understand that different brands may sell their products in different amounts, but it would have been nice if the Costco Dinner Frank Hot Dogs were sold at the same count as the buns. 
The Kirkland Signature Dinner Franks package includes 14 hot dogs, and the buns are sold in a 12-pack. I guess I'm having a couple of double dogs.
12. They Make For Delicious Chili Dogs
Top A Costco Hot Dog With Costco's Premade Chili
Costco doesn't sell chili dogs in their food court, but they do sell premade chili that goes great with their food court hot dogs. The chili sells for $3.49 a pound in the deli section of the warehouse. 
It is easy enough to purchase the tub of chili and pour some over the famous Costco Food Court Hot Dogs.
How Many Calories in Costco's Hot Dog? + Ingredient List
A Costco Hot Dog Has 560 Calories
As listed on the food court menu, the Costco hot dog and soda combo has between 560 and 850 calories. The Costco Hot Dog itself has 560 calories, and the complete nutritional profile is as follows:
Nutrition Facts
Costco Hot Dog
Amount per Serving
% Daily Value*
* Percent Daily Values are based on a 2000 calorie diet.
Costco Hot Dog Weiner Dinner Frank Calorie Breakdown
The Costco Hot Dog With No Bun Has 370 Calories
Because the individual components of the hot dog are sold at Costco, I do have the caloric breakdown for the individual components. Here is the nutritional label and calorie information for Costco's Food Court Hot Dog. 
Nutrition Facts
Costco Hot Dog Weiner
Amount per Serving
% Daily Value*
* Percent Daily Values are based on a 2000 calorie diet.
Costco Hot Dog Bun Calorie Breakdown
There are 190 Calories In The Costco Hot Dog Bun Alone
Costco's food court does use different brands of hot dog buns depending on where exactly you are located in the country. Most Costco Food Court locations use Francisco's Seeded Hot Dog Buns. Here is the caloric information for only Costco's hot dog bun. 
Nutrition Facts
Costco Hot Dog Bun
Amount per Serving
% Daily Value*
* Percent Daily Values are based on a 2000 calorie diet.
Costco's Hot Dog Is Relatively Healthy
I'm not going to say the Costco hot dog is healthy, but I will say the nutritional information isn't as bad as expected, and the ingredient list is tolerable. 
The hot dog without soda contains 580 calories which is great for a small-medium sized meal. 
Costco Hot Dog Ingredients
If you really want to know what the Costco hot dog is made of, here is the full ingredient list. This information was taken off of the Kirkland Signature Beef Dinner Franks that is sold in Costco's Frozen Food Aisles. This is the same Hot Dog that is used in the Food Court. 
Costco Hot Dog Ingredient LIst
Beef
Water
Dextrose
Salt
Spices
Sodium Lactate
Garlic
Sodium Diacetate
Sodium Erythorbate
Oleoresin of Paprika
Sodium Nitrite
Liquid Smoke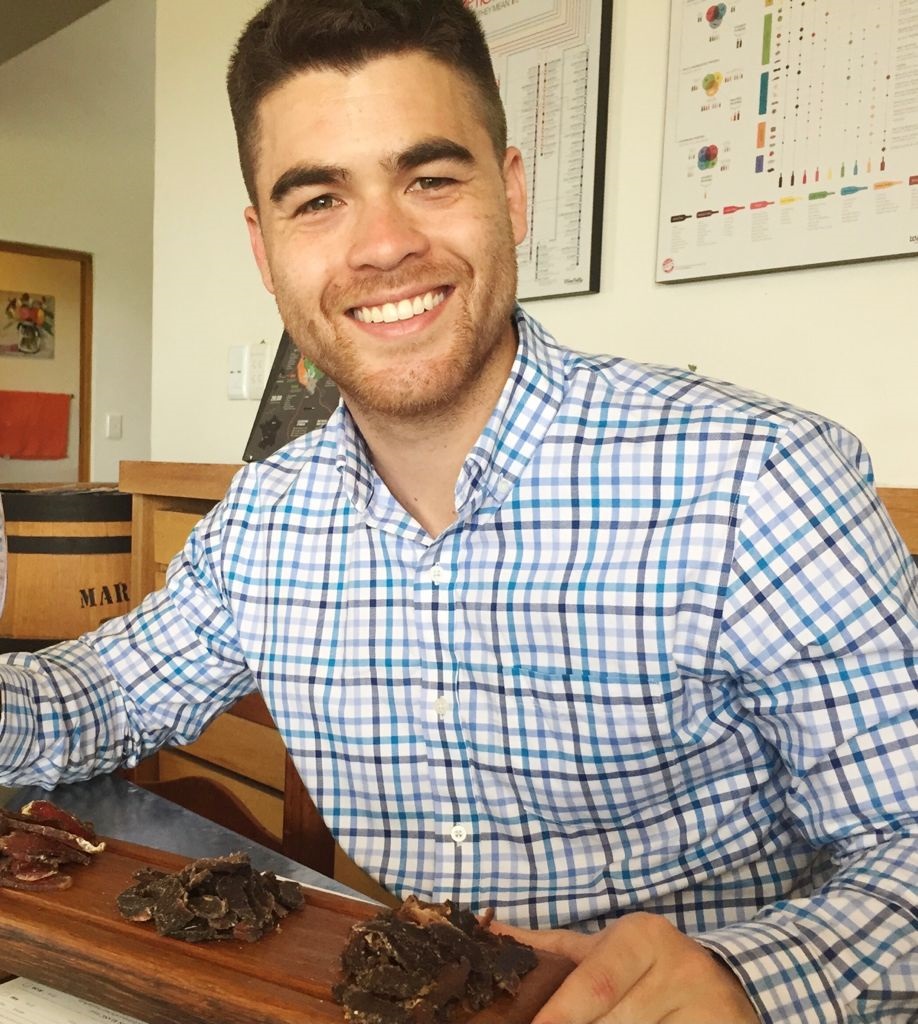 Greg Larkin is the founder and managing editor of Costco Food Database, the premiere site for honest takes on all things Costco food. A self-proclaimed Costco super-fan since childhood, Greg turned his obsession in a mission to properly rate and review all of Costco's delicious buys. When he's not busy navigating Costco aisles, you can find Greg smoking Kirkland Signature meats, meal prepping, or perfecting his homemade jerky recipes.