Everything to Know: Costco's Soft Serve Ice Cream Sundaes + Calories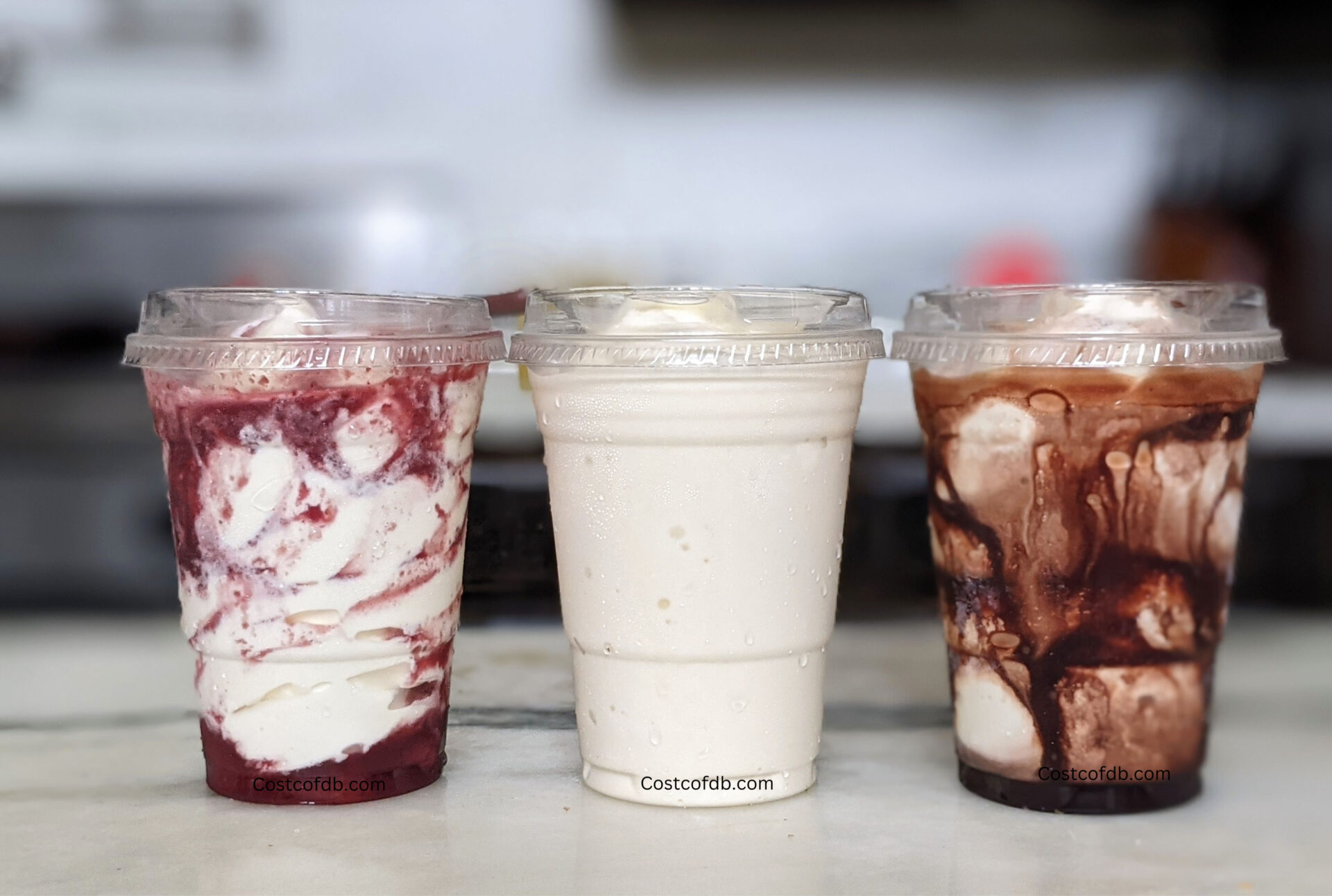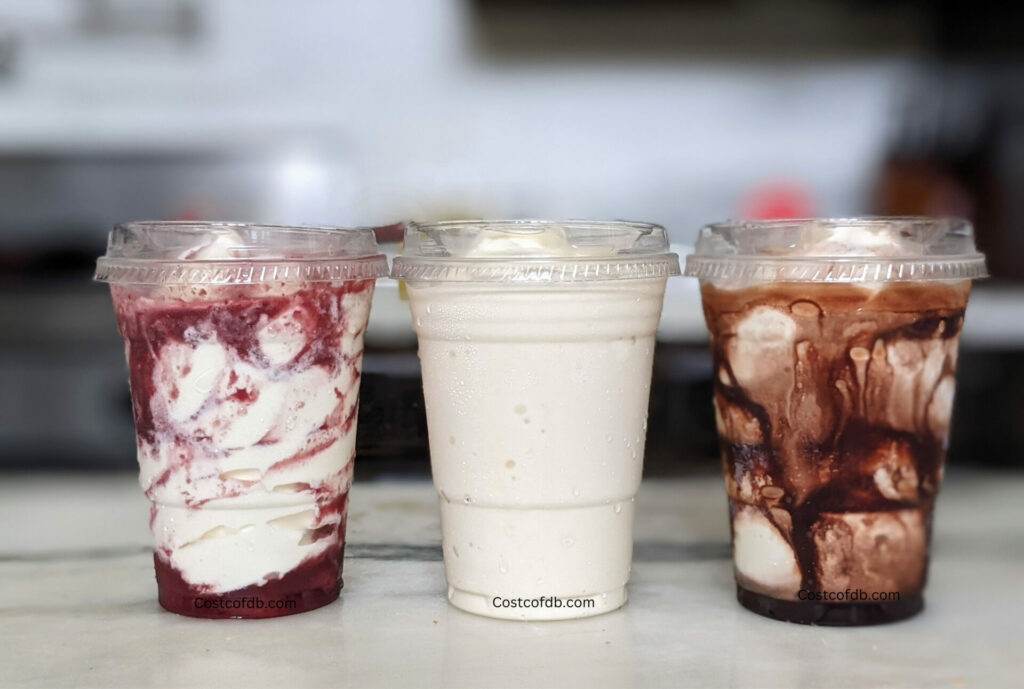 Costco Food Court Ice Cream
I was making my weekly Costco shopping trip the other day when I made the fatal mistake of glancing up at the food court menu boards while waiting in the checkout line. 
When I looked up, there it was, in beautiful blue lettering, the Costco Ice Cream Sundae for just $2.49. At that moment, I knew they had me, I couldn't resist, and I went over and purchased the tantalizing strawberry sundae.
Have You Tried Costco's Food Court Ice Cream?
Let the rest of the Costco Food Database community know what you thought of this product. Results and reviews are at the bottom of this page.
Please allow 24 hours for review moderation and approval.
What Ice Cream Does The Costco Food Court Sell?
3 Costco Food Court Ice Cream Options
Costco sells three different ice cream options a plain vanilla soft serve ice cream, a chocolate sundae, and a strawberry sundae. All three food court ice cream options come in 16-ounce cups and are made from the same vanilla ice cream base. The big difference between the sundae and the ice cream is the added swirled chocolate or strawberry syrup. 

Thing To Know: Costco's ice cream is served in a 16-ounce cup, but there is approximately only 10 ounces of ice cream in the cup.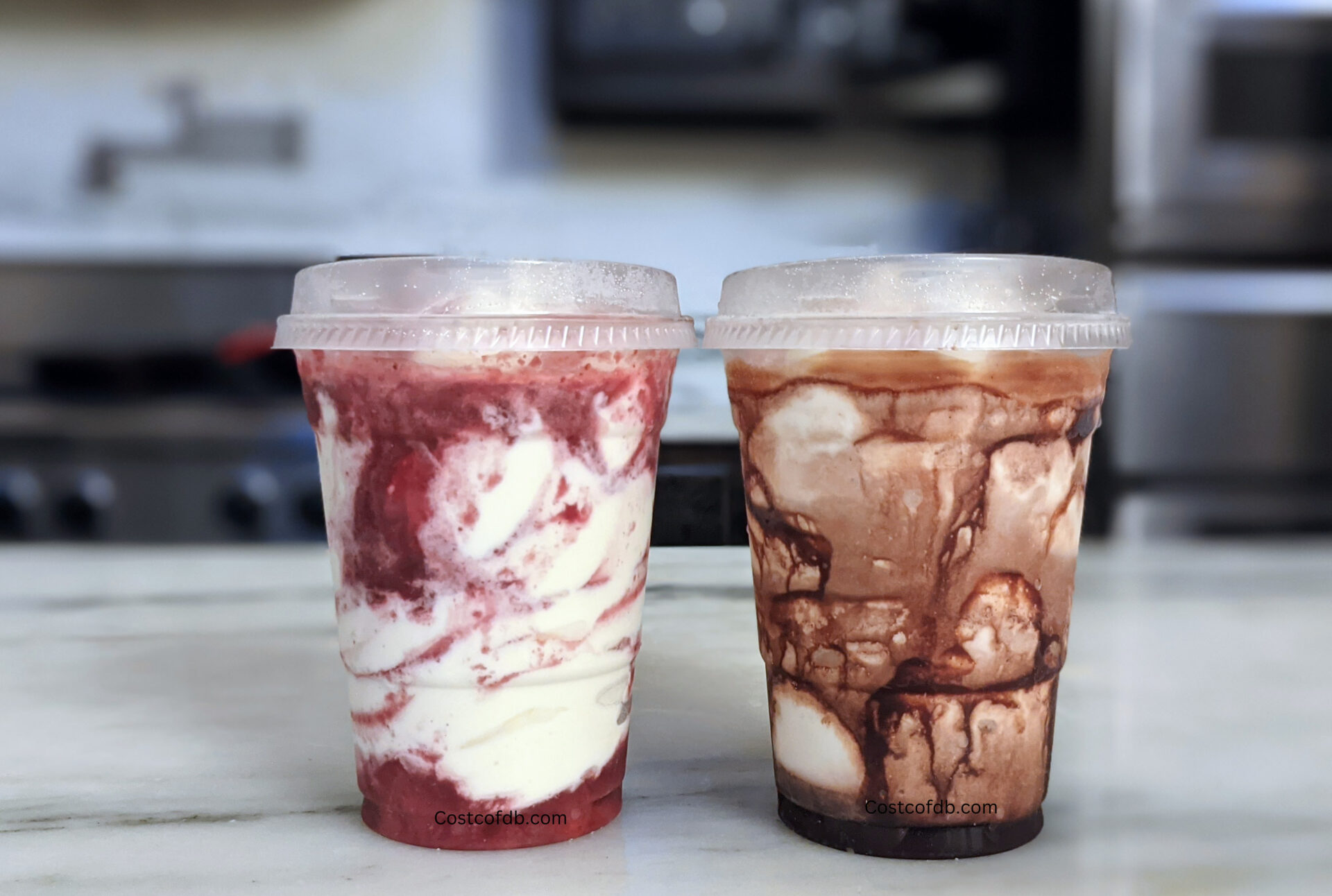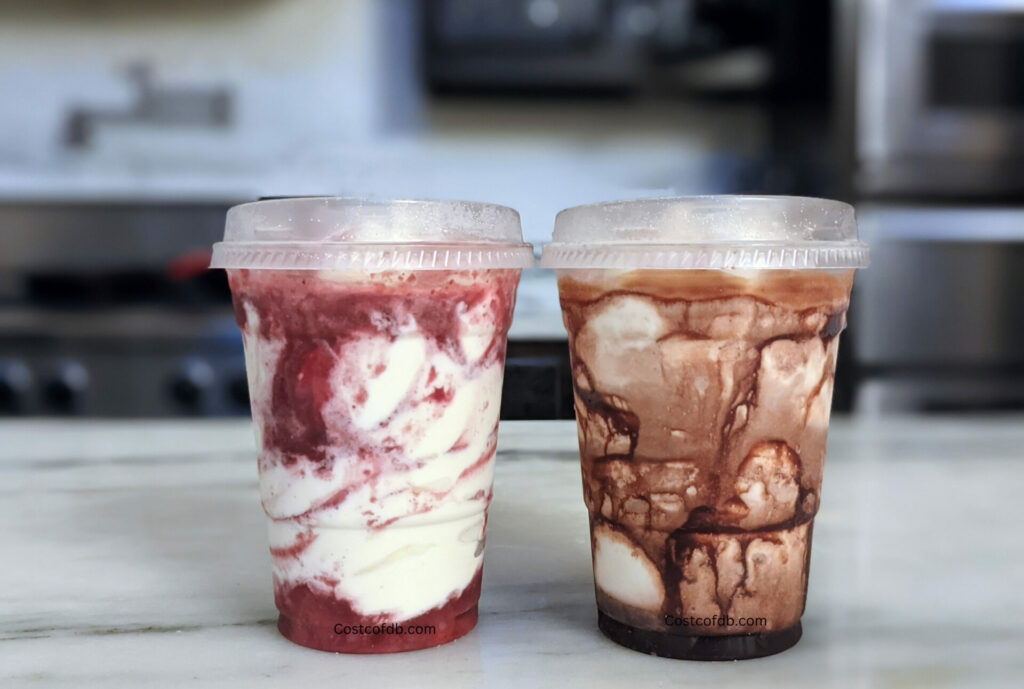 Swirled With Chocolate Syrup
Costco's Food Court Chocolate Sundae is made by swirling the inside of the cup with chocolate sauce and then filling it with vanilla ice cream. 
The chocolate syrup that the food court uses is an unnamed brand that appears to be developed solely for use in the Costco food court. It is also used in the food court Mocha Freeze.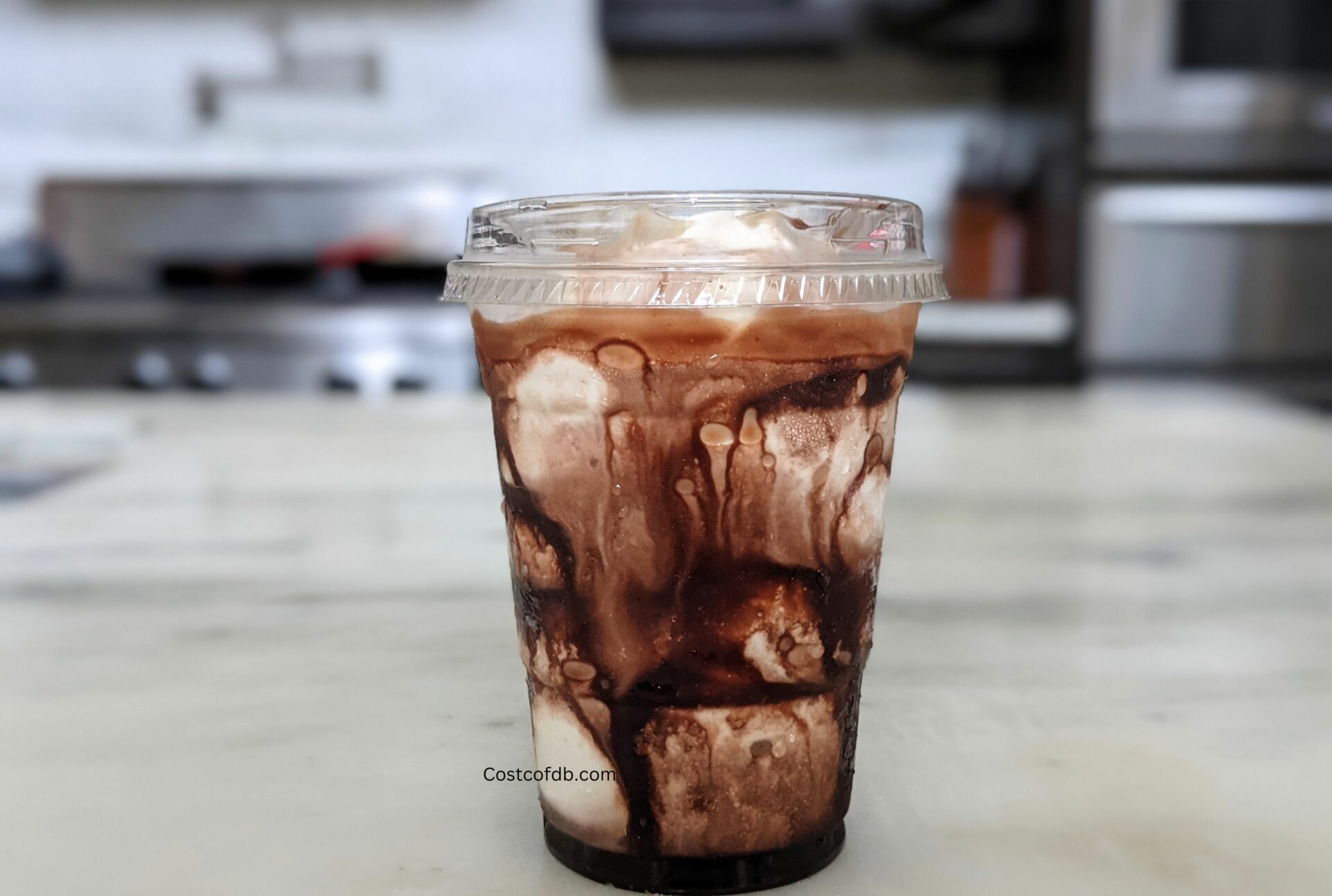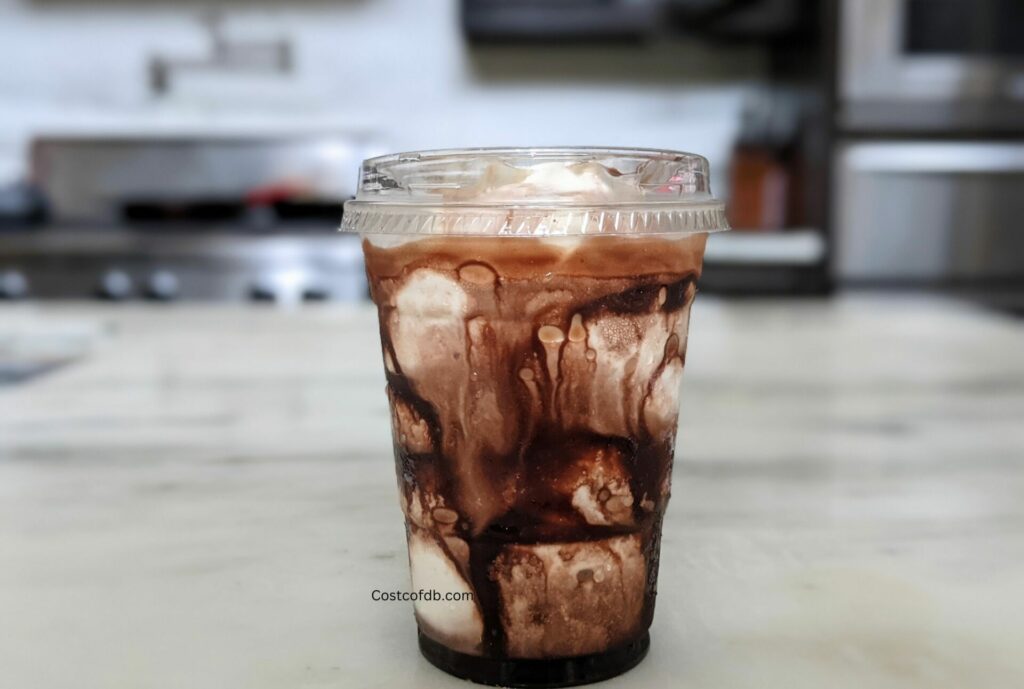 Made With Real Strawberries
The strawberry sundae is made with a strawberry sauce/syrup and includes real chunks of strawberry pieces. The added texture gives the strawberry sundae a little more of a premium or elevated feel to it.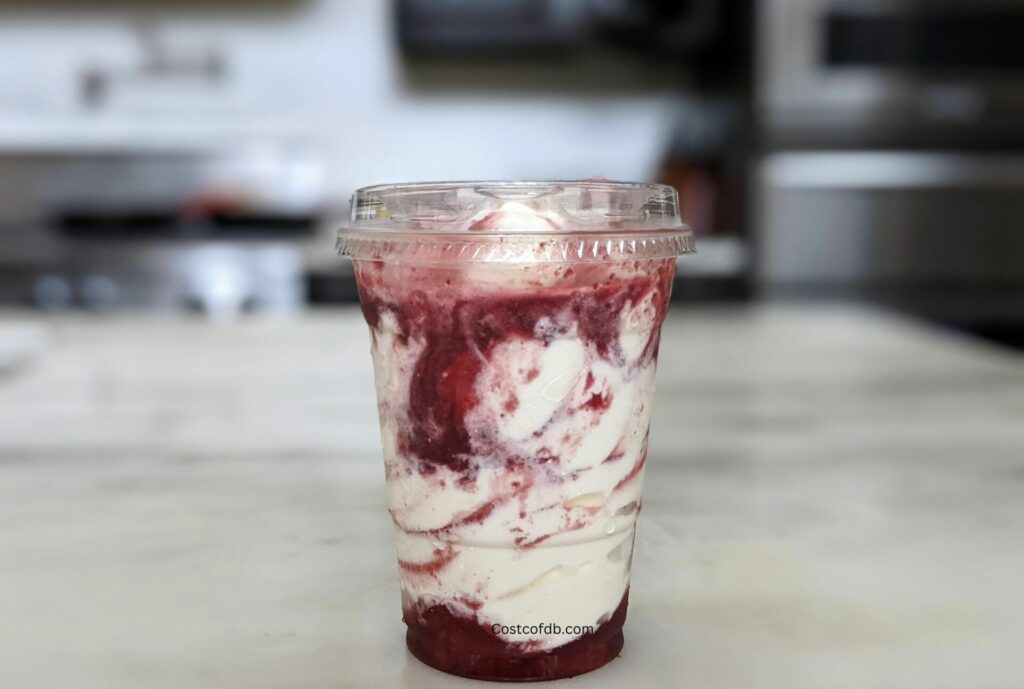 The Ice Cream Is Soft Serve (Sundaes Too)
All Three Ice Creams Are Made With The Same Vanilla Soft Serve
Unfortunately, Costco's food court ice cream is soft service ice cream and not the Kirkland Signature Premium Vanilla Ice Cream (one of the best ice creams around), but it was still extremely creamy and delicious. 
Since the sundaes are made with vanilla ice cream, they, too, will have the vanilla soft serve ice cream base.
The Vanilla Ice Cream Costs $1.99 And The Ice Cream Sundaes Sell for $2.49
All of Costco's food court ice creams all cup in the same 16-ounce cup, but the prices will vary. The cup of vanilla ice cream costs just $1.99 and, on its own, is an amazing deal. Both flavors of ice cream sundaes with their added syrup cost just $2.49.
I can't always resist picking an ice cream sundae up on the way out of Costco, and I may even feel guilty about it, but I won't ever feel bad about the price.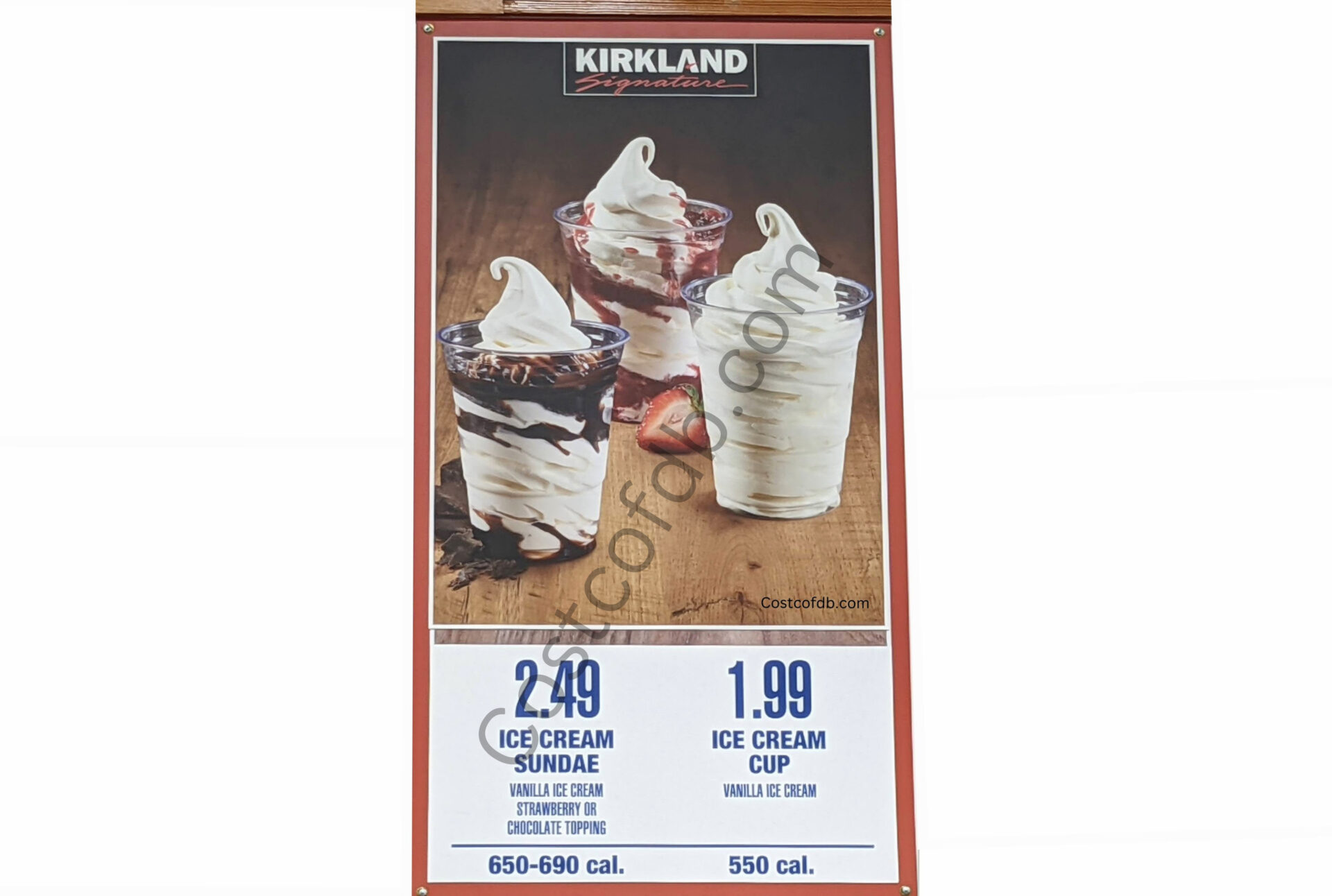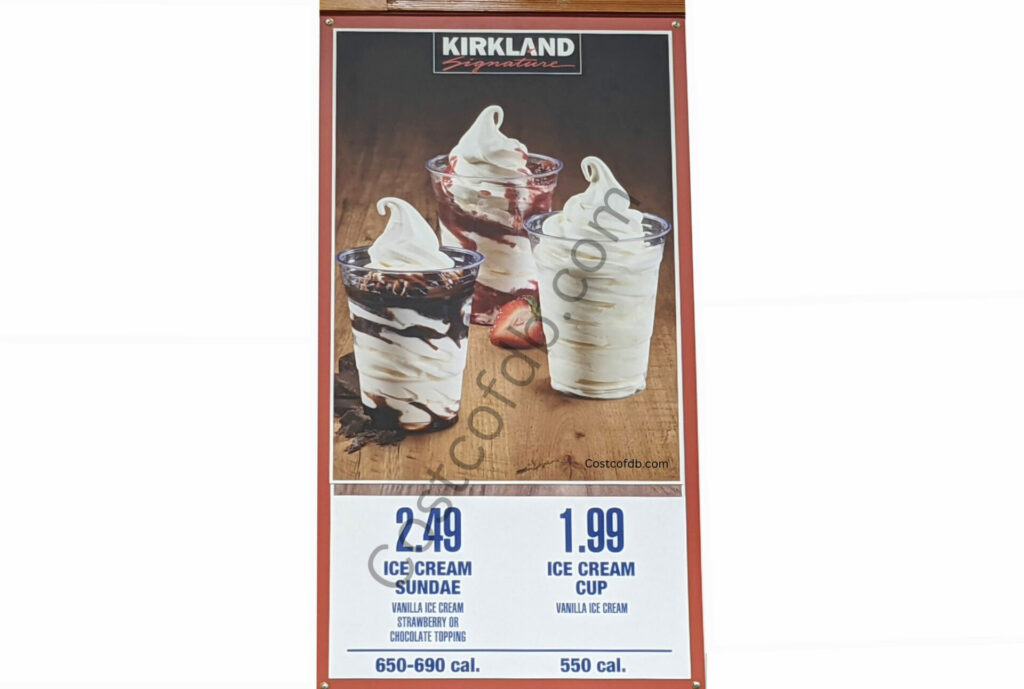 Costco Ice Cream Sundae Churro Hack
A Delicious Cinnamon Twist To Costco's Sundaes
The ice cream sundaes at Costco are already delicious, but have you heard about the Costco churro ice cream hack? Costco members have been experimenting with this one for years, where they purchase a $1.50 food court churro alongside their ice cream sundae.
They then dip the churro into the sundae (usually chocolate). The churro gets covered with creamy ice cream and sweet chocolate, creating a truly decadent treat and the perfect bite of ice cream and churro. 
The churro takes on some classic chocolate flavor, and maybe the best part of it all is your remaining ice cream is now filled with cinnamon from the churro. An absolute win-win.
Costco Member's Thoughts On The Soft Serve Ice Cream Sundaes
I think the ice cream sundaes are an awesome little treat. The soft-serve ice cream is fantastic, and I'm never disappointed. Here are some thoughts from other Costco members on the Costco sundae based on this Reddit thread:
Positives:
It's delicious and creamy soft-serve ice cream. Many say it's the best ice cream around.

Large portion size for the price. At around $2, it's considered a great deal and value compared to other ice cream shops.

Frozen treats are a satisfying and welcomed part of a Costco trip for many members.
Negatives:
The portion size is too big for some. Hard to finish it all, and easy to feel sick from overeating the rich ice cream.

Quality has declined. Complaints that chocolate no longer has chunks or toppings.

Messy to eat. Sundaes can be drippy and sticky to consume.

Higher in calories and sugar than some prefer. Seen as an occasional indulgence, not an everyday treat.

Preference for other flavors varies. Not everybody likes chocolate or strawberry options.

The ice cream alone is preferable to some versus heavy toppings.
Costco Ice Cream Calories and Nutrition Information
Officially Sourced Costco Nutritional Information
Now for the not-so-fun part, the nutritional label. I will just get it out of the way and tell you the Costco Ice Cream Sundaes are not a healthy choice, and they are full of fat, carbohydrates, and sugar.
Here is the nutritional information (sourced officially from the Costco Food Court) for all three Costco ice cream options; the plain vanilla ice cream, the chocolate syrup sundae, and the strawberry sundae. Check here for the rest of Costco's food court nutritional labels.
Costco Vanilla Ice Cream Calories
The Costco Vanilla Ice Cream Has 550 Calories
One serving of Costco's food court soft service ice cream is 10oz and will have 550 calories. There are also 30 grams of fat and 64 grams of carbohydrates in the cup of vanilla ice cream. Here is the full nutritional label. 
Nutrition Facts
Vanilla ice Cream
Amount per Serving
% Daily Value*
* Percent Daily Values are based on a 2000 calorie diet.
Strawberry Sundae Nutritional INformation
The Costco Strawberry Sundae Has 650 Calories
Costco's strawberry sundae comes with 650 calories, 30 grams of fat, and 86 grams of carbohydrates. There are also 77 grams of sugar in each 13-ounce serving of strawberry sundae from Costco. The full calorie and nutritional information is as follows:
Nutrition Facts
Berry Sundae Ice Cream
Amount per Serving
% Daily Value*
* Percent Daily Values are based on a 2000 calorie diet.
Costco Chocolate Sundae Calories
Costco's Chocolate Sundae Has The Most Calories Of The Three at 690
The food court chocolate sundae contains 690 calories, 34 grams of fat, and 88 grams of carbohydrates (65 grams of sugar). As I said, I never feel guilty about spending $2.49 for this chocolate sundae, but I definitely don't like looking at its nutritional label.
Nutrition Facts
Chocolate Sundae Ice Cream
Amount per Serving
% Daily Value*
* Percent Daily Values are based on a 2000 calorie diet.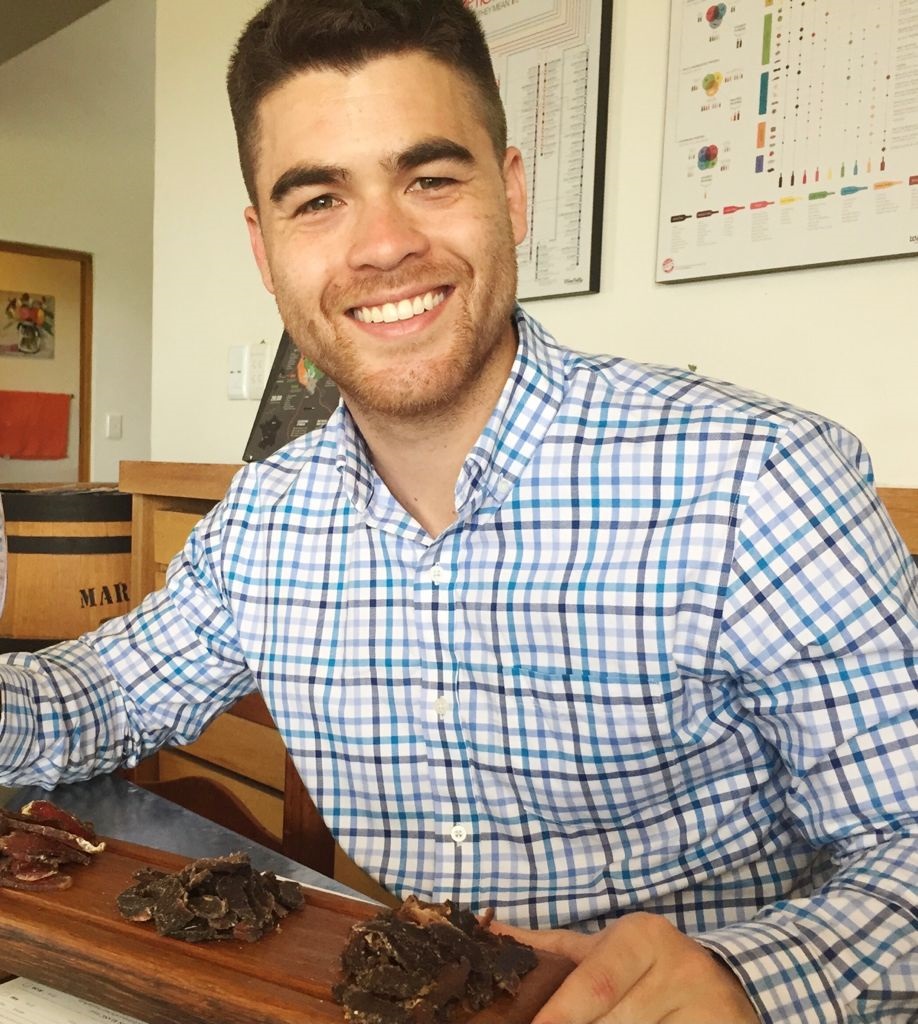 Greg Larkin is the founder and managing editor of Costco Food Database, the premiere site for honest takes on all things Costco food. A self-proclaimed Costco super-fan since childhood, Greg turned his obsession in a mission to properly rate and review all of Costco's delicious buys. When he's not busy navigating Costco aisles, you can find Greg smoking Kirkland Signature meats, meal prepping, or perfecting his homemade jerky recipes.