Costco Beer Battered Cod - Crispy Air Fryer + Serving Ideas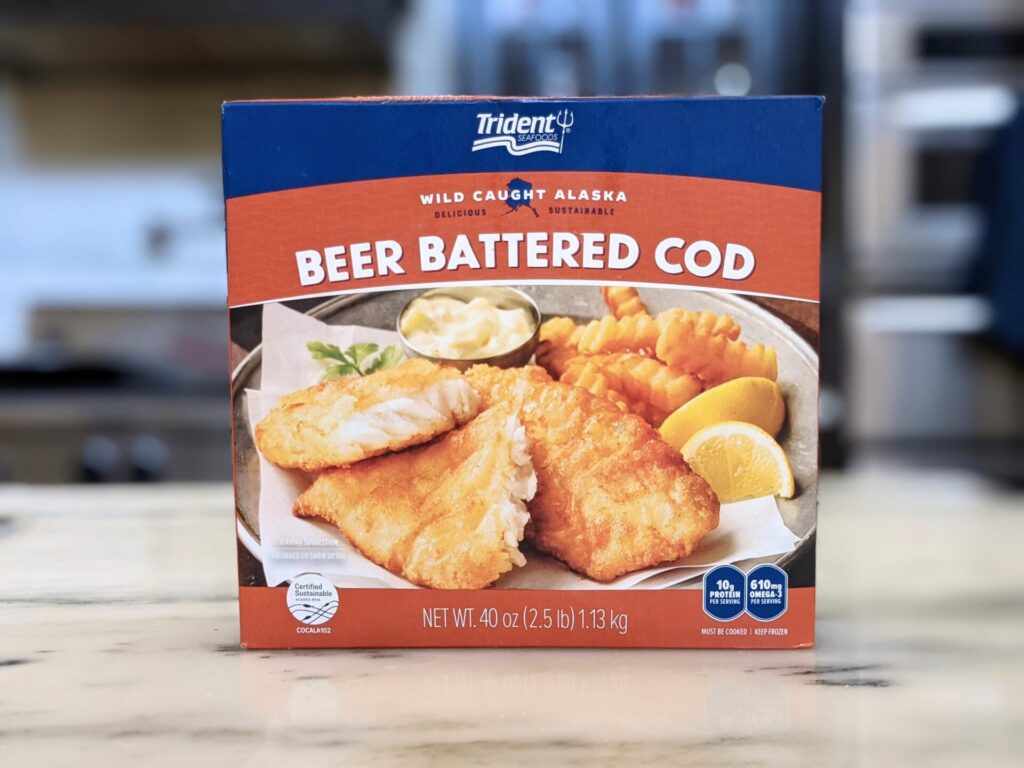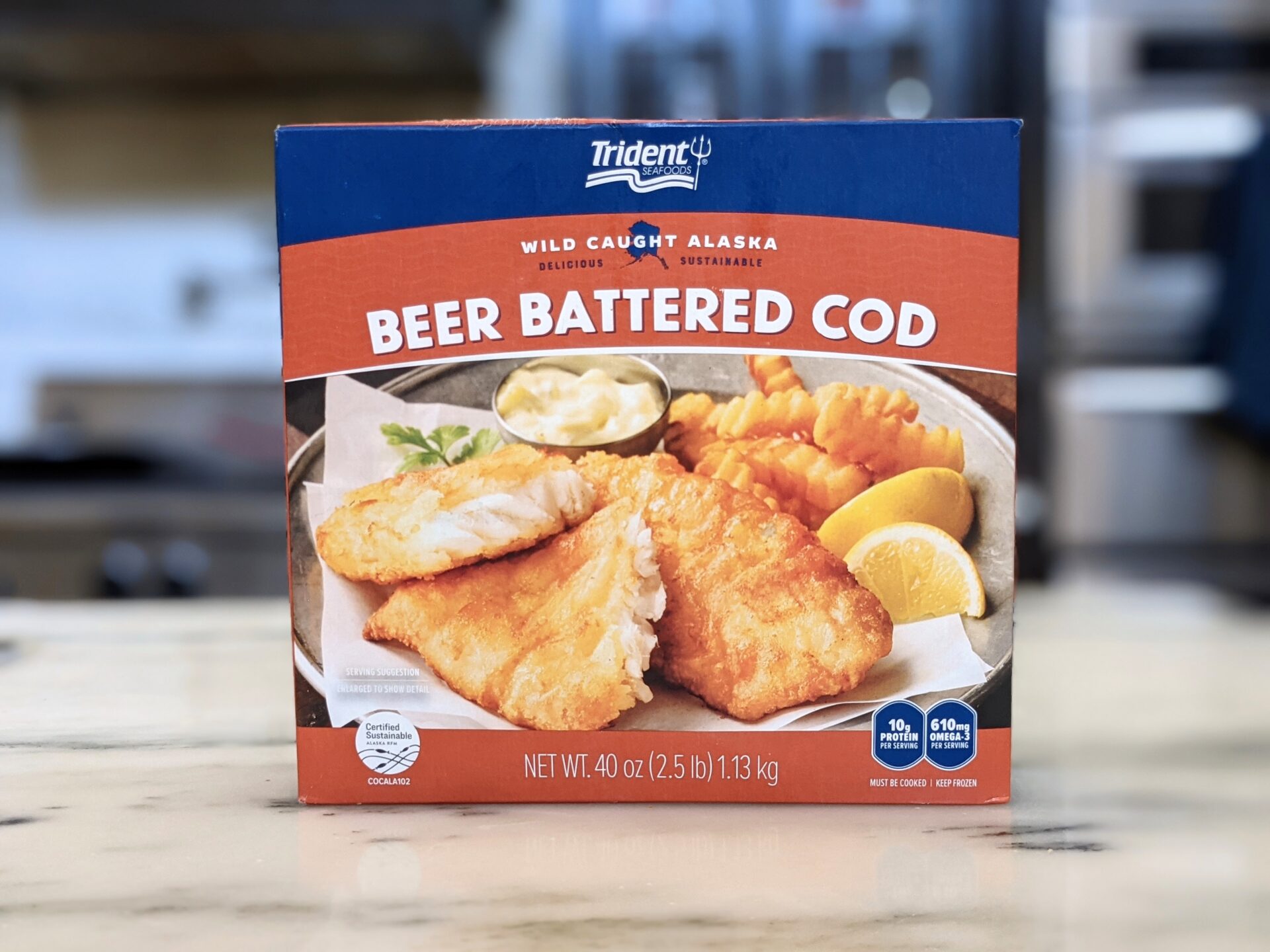 Trident Seafoods Beer Battered Cod at Costco
Each box of Costco's beer battered cod contains 13 pieces of wild caught Alaska Cod. 
Trident Seafood at Costco
This is not the only product that Trident Seafoods sells at Costco. Trident Seafoods also has their fish sticks as well as their salmon burger. 
The fish sticks are just ok, but I am a big fan of the salmon burger. I'm hoping their beer battered Cod is on par with their salmon burgers!
Why doesn't Trident Seafood brag about their Beer Battered Cod?
The thing that bugs me the most about Trident Seafoods' beer battered Cod is that they don't give you a lot of information about exactly what you are buying. 
The item is called beer battered cod, but what else does the box really say about the item? Not Much!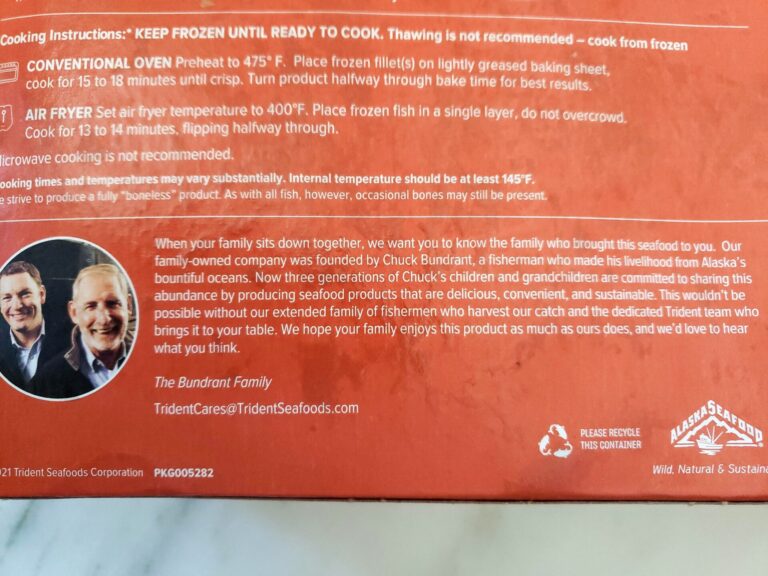 Trident Seafood isn't telling me much about the alleged wild caught Alaska Cod they are using or even the beer battering which is supposed to be one of the main selling points.
There isn't anything on the box that really describes the fish or the product.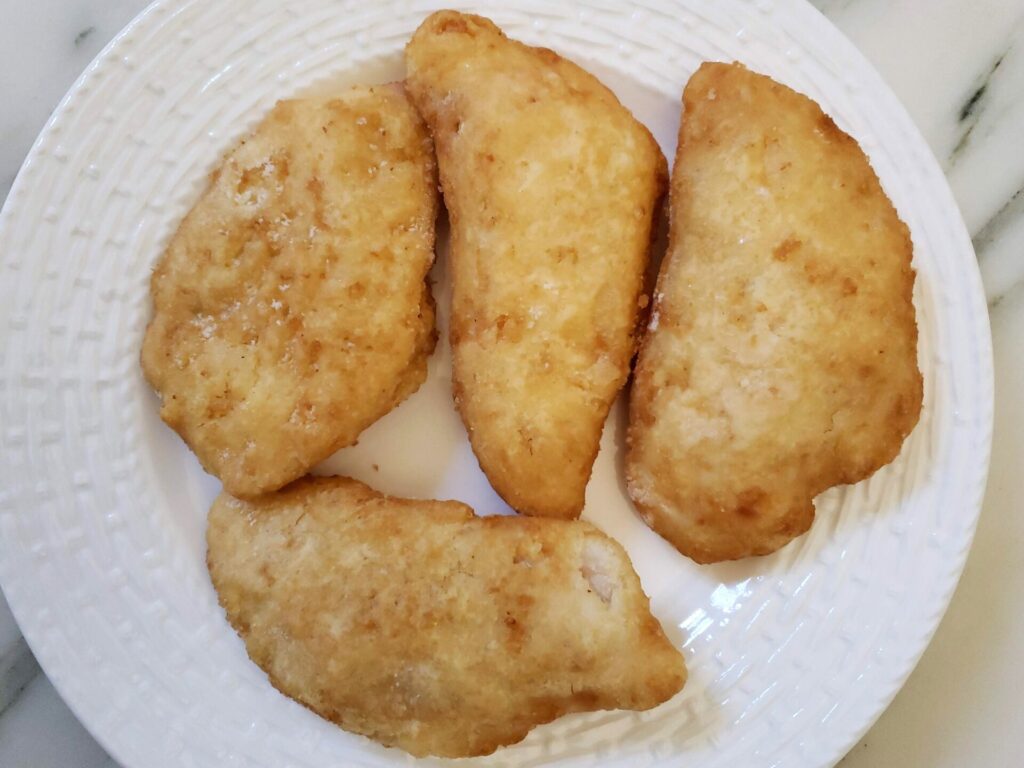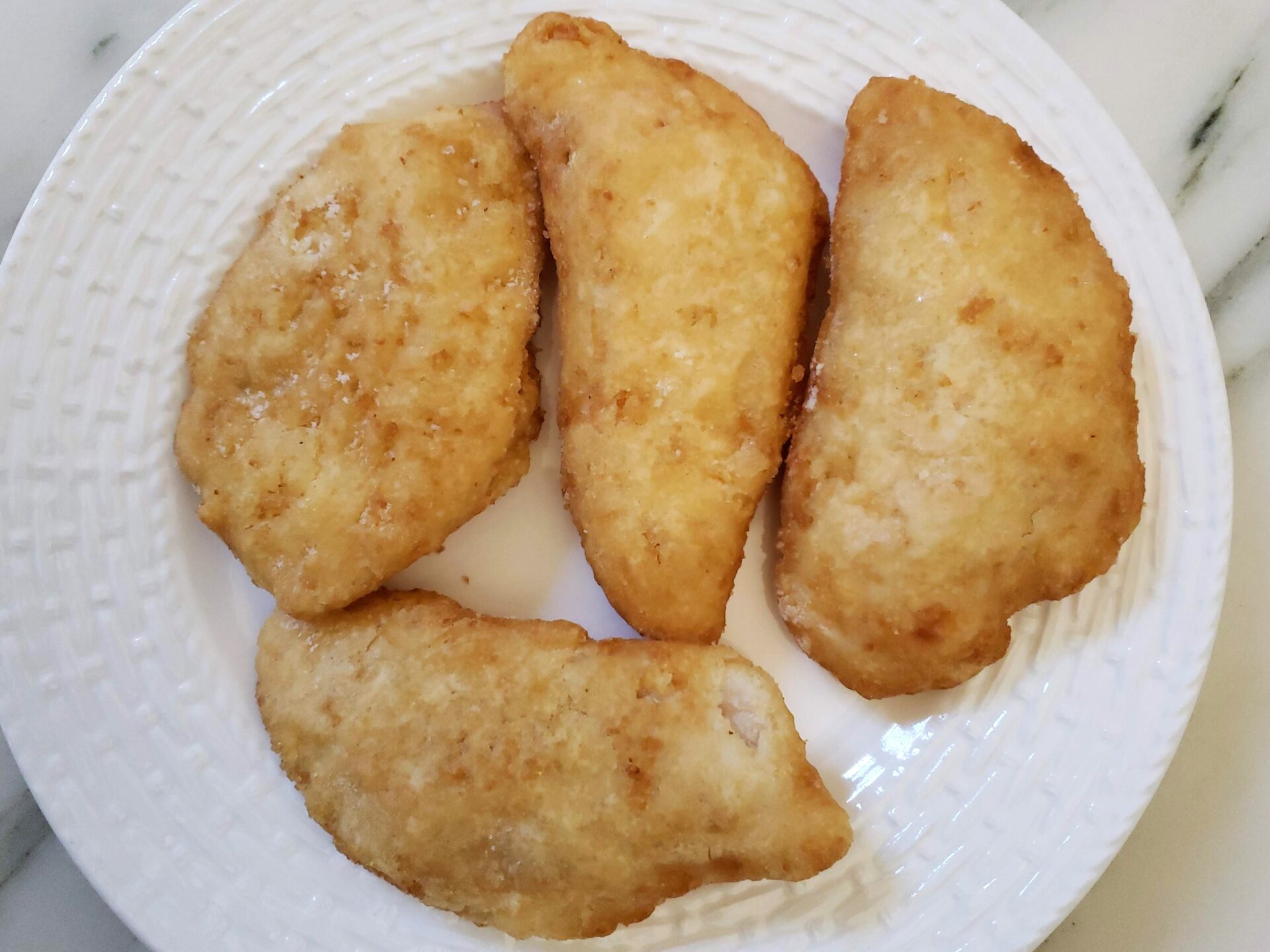 This is concerning to me, because the lack of information leads me to assume there is nothing about this cod to brag about. We all know if they had a truly amazing ingredient or specific catch or cooking method that it would be plastered all over the box. 
If they say nothing about their product, what does that mean?
This isn't just a Trident Seafoods issue, but there are many other Costco frozen food items that choose not to or can not brag about their food.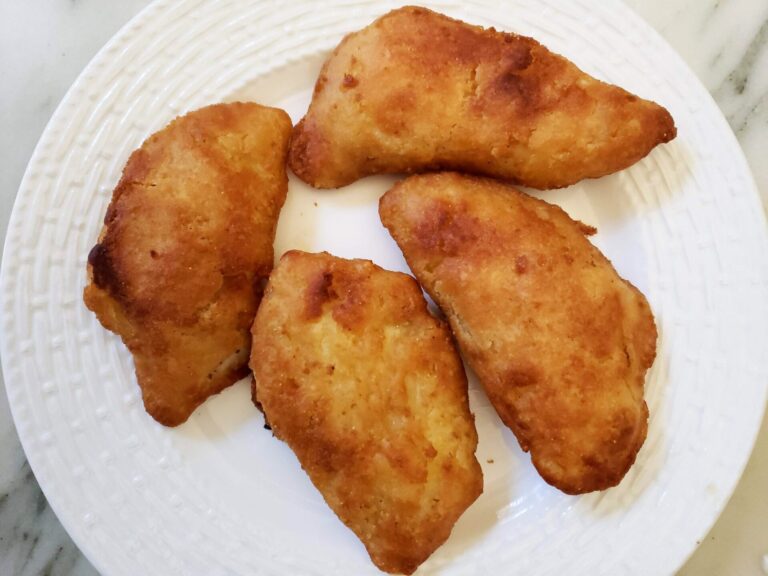 How Much Does the Beer Battered Cod Cost at Costco?
Costco now sells their Beer Battered Cod for $17.99, and like most other items over the past year, it has gone up in price. It was in "pricey" territory to begin with, but now it seems to be "expensive".
At the price of $17.99, Costco's beer battered cod goes for $7.20 per pound. For a frozen food, this is definitely expensive, but for Cod it is reasonable. Costco's fresh cod sells for $7.99 a pound.
The use of batter and the presumably lower quality cod helps bring the price down.
Costco vs The Competition
It doesn't appear that there are any other retailers that sell this exact Trident Seafood Beer Battered Cod that Costco is selling, but Targets fried fish option will be the closest.
Target sells 12 ounces of Trident Seafoods Pubhouse Battered Cod for $6.49. This is a per pound price of $8.65 which is a 20% increase over Costco's beer battered cod price.  
Costco Beer Battered Cod - Taste Test
I used Trident Seafoods air fryer cooking instructions for the fish and they came out very crispy. In fact, I think I could have cooked them for a few minutes less as they did come out a little too dark for my liking.
As a whole, Costco's beer battered cod is just ok. The fish was very respectable, but the breading/binding did have a funky taste to it.
When paired with a dip such as tartar sauce, malt vinegar, or even ketchup, the cod is fairly tasty and enjoyable.
The beer batter is super crispy and Trident Seafoods did a great job with it. It is flavorful and has the right balance of crispy and bite through.
My issue with the breading is going to be the binding that connects the fish and the fried beer batter. The binding is thicker than it should be and does have a funky taste that is hard to explain.
There is just something about the binding that doesn't sit right with me.
I attempted to eat just the binding, but it was extremely salty so I couldn't really grasp what the specific taste was that bothers me. 
The cod itself is great. It's not the highest quality fish, but more than adequate for a frozen fried fish fillet. The Wild Alaska Cod is both firm and flakey as well as delicious. 
The fish is perfectly moist and looks, tastes, and feels great.
I am more than satisfied with the quality and preparation of the fish in Costco's beer battered cod. 
Trident Seafoods offers a few different serving suggestions for their beer battered cod fillets. Of course the easiest way to eat the cod would be as fish and chips. 
In fact, their first two serving suggestions essentially make a fish and chip dish with their fried cod.
Tartar Sauce or Malt Vinegar
French Fries – Regular or Sweet Potato Fries
Alongside your favorite coleslaw recipe
In a taco with shredded cabbage and sriracha mayo.
As pictured above, I created my own fish and chips dish with homemade tartar sauce using avocado mayo. I also was able to try the cod in a fish taco with homemade sriracha mayo. Very tasty!
Beer Battered Cod Cooking Directions
How to Cook the Beer Battered Cod from Costco?
Trident Seafoods lists two different cooking methods for the beer battered cod. You can either bake them in the oven or air fry the cod. I, of course, will be air frying the beer battered cod.
Microwave cooking is not recommended and when using the baking or air frying cooking method, the cod's internal temperature should reach 145°F.
Preheat the oven to 475°F. 

Place frozen cod fillet(s) on a lightly greased baking sheet.

Cook for 15 to 18 minutes.

Flip halfway through.
Air Fryer Cooking Instructions
Pre-heat fryer temperature to 400°F.
Place frozen fish in a single layer.
Do now overcrowd the frozen cod!
Cook for 13 to 14 minutes.
Flip halfway through.
From my personal experience, the cod came out a little overdone at 13 minutes. I can get away with about 11 minutes, but always make sure your beer battered cod comes out at 145°F or higher.
Each package of Costco's beer battered cod is going to contain 13 pieces that weight about 3 ounces each. Each 3 ounce fried fish fillet is going to contain 170 calories coming from 7 grams of fat, 16 grams of carbs, and 10 grams of protein.
This is a fairly normal nutritional label for a frozen seafood product like this. I do wish there were just a touch less carbs.
The macronutrients for Trident's beer battered fish aren't the worst, but the sodium is something to be concerned with at 380 mg or 17% of the daily recommended value. 
Eating three of these cod fillets isn't going to be hard, but they will be 54% of the recommended daily value of sodium.
Costco Beer Battered Cod Review
Product Name: Trident Seafoods Beer Battered Cod
Product Description:
Price: $17.99
Quantity: 2.5 Pounds
Location Within Costco: Frozen Food Aisles
Price Per Pound: $7.20
Summary
I have mixed thoughts on the beer battered cod from Costco. The fish is tasty, but the binding can use some work. 
The frozen fried cod is great with french fries or even in fish tacos. Costco's beer battered cod is up there in price, but fairly priced for cod. 
Its a dish that is fine for what it is, but I probably won't be purchasing it again for quite some time.
Value -

7/10

Convenience -

8/10

Taste -

7/10

Nutrition -

7/10

CFDB Score -

7/10
Pros
Whole cod fillets

Crispy in the air fryer

Easy to cook
Cons
Disappointing breading/binding

Heavy sodium