Costco Sweet Potato Fries - Healthy + Crispy Cook Tips!
TropicLand Sweet Potato Fries at Costco
Costco sells a 4 pound bag of TropicLand Organic Sweet Potato Fries for $9.99. The bag of sweet potato fries can be found in Costco's frozen food aisles. 
They can be found near other items such as the Kung Pao Shrimp, Mozzarella Sticks, and the Spring Rolls. 
These frozen sweet potato fries made by TropicLand are organic, vegan, and gluten free. 
Have You Tried Costco's Sweet Potato Fries?
Let the rest of the Costco Food Database community know what you thought of this product. Results and reviews are at the bottom of this page.
Please allow 24 hours for review moderation and approval.
Why Not Regular French Fries?
The question on everybody's mind is "Why Sweet Potato Fries?". French fries made from regular potatoes are pretty darn good, so why doesn't Costco sell french fries instead? 
My local Costco business center will have french fries, but those fries are either low quality or sold in quantities that are meant for businesses. Will Costco ever provide us with regular frozen french fries?
Two interesting points to know about these TropicLand Sweet Potato Fries from Costco:
Keep them frozen. If they thaw, do not refreeze.
My bag has a use by date 2 years from the purchase date. Purchased in 03/22 and expires in 02/24
Costco Sweet Potato Fries Price Comparison
How Much Do The Sweet Potato Fries at Costco Cost?
Costco Organic Sweet Potato Fries cost $9.99 for a 4 pound bag. This breaks down to $2.50 per pound or $0.15 per ounce. 

Typically most retailers sell bags of frozen french fries, onion rings, or sweet potato fries in a 20 ounce bag. 
This bag of TropicLand sweet potato fries weighs 64 ounces or a little more than 3 times the average bag of frozen potatoes. 
If broken down into 3 bags instead of one large bag, Costco's sweet potato fries would cost $3.33 each.

Costco vs The Competition
A $3.33 price tag is about average for sweet potato fries or even a little expensive if you were to compare the fries to national store brands. 
For instance Target sells 20 ounces of Alexia Sweet potato fries for $3.99 and their own Market Pantry brand of frozen Sweet Potatoes for $2.99. 
Tom Thumb or Safeway sells their Signature select sweet potato fries for $2.49 or $1.99 on sale.
Does Costco Provide the Best Value?
As you can see, this isn't Costco's best deal, as you can find fries made with sweet potatoes at a sometimes a much better price. 
Of course, we should factor in that these are organic, gluten free, and vegan sweet potato fries which brings the price up. 
Nonetheless, I believe that if a Costco food item is near or at the same price as its competitors then the quality should be significantly higher, and I'm not sure if these are top tier quality sweet potato fries. 
TropicLand Organic Sweet Potato Fries - Taste Test
One thing I really like about these Costco sweet potato fries is that the bag is resealable. The bag holds 64 ounces which is over 3 times the normal sized frozen french fry or sweet potato fry bag size. 
It's a must for an item like this to have a resealable bag. 
In their frozen state these fries look more like carrots than they do sweet potatoes.
Most of the time, you can tell the difference between a cut potato and a frozen french fry but these sweet potatoes do make it difficult to tell if they have been fried or not. 
Of course they have already, but the color and texture doesn't necessarily give it away.
Fantastic In The Air Fryer
I, of course, used the air fryer and the Costco sweet potato fries did cook in the expected 12-15 minutes.
I shook the air fryer basket a few times during the cook and applied some cooking spray. The sweet potato fries came out hot, crispy, and ready to be eaten.
For taste, the sweet potato flavor was there. There's a big difference between potatoes and sweet potatoes and it's definitely noticeable in these fries.
I would say the fries were under salted which is always better than being overly salty. Having the ability to season to your taste is preferred.
Also by being under salted, they don't hit you with that junk food or fast food feeling. 
I typically eat french fries with burgers, wings, or in this case homemade fried chicken using costco chicken, so I do like the salty fries to complete the meal. Because of that, I did feel these TropicLand Sweet Potato Fries didn't really hit the spot for me.
They may be better off eaten with a sandwich, or even organic chicken nuggets. These sweet potato fries are going to pair well with "healthier" food options.
Costco Sweet Potato Fries Cooking Instructions
How to Cook Costco Sweet Potato Fries
I absolutely love that these sweet potato fries proudly say on the front of the bag that these are great in the air fryer. As you all know, I love using my air fryer to heat up Costco Frozen foods. 
Some of my favorite Costco frozen foods to heat in the air fryer are their salmon burgers, chicken patties, and Costco mini pizzas.
Costco Sweet Potato Fries Air Fryer Cooking Instructions
Preheat Air Fryer at 360° for 2 Minutes.

Add Sweet Potatoes to your air fryer.

Spread out in a single layer as much as possible.

Cook at 360°F for 12 to 15 minutes.

Shake the basket a few times during cooking to evenly cook.

Air Fryers Vary; adjust times as needed.
One thing to note: Potato french fries need about 20 minutes in the air fryer at 400° to become sufficiently crispy. These sweet potato french fries from Costco are cooked for 12-15 minutes at 360°F.
TropicLand Sweet Poatoes Heating Chart
Preheat Oven to 350°F.
Arrange Fries in a single layer on sheet pan.
Bake for 20-24 minutes or to desired color.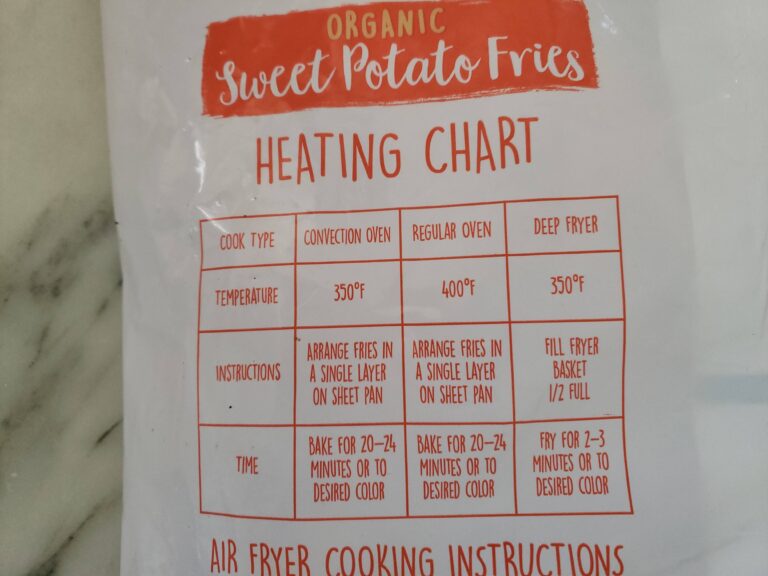 Preheat oven to 400°F.
Arrange fries in a single layer on sheet pan.
Bake for 20-24 minutes or to desired color.
Deep Fryer Sweet Potato Fries
Heat oil to 350°F. 
Fill fryer basket until half full. 
Fry for 2-3 minutes or to desired color.
This appears to be another private label brand at Costco. It's not entirely clear on the bag of organic sweet potato fries if TropicLand is one word or two words, so I did a quick google search to find the answer. 
Unfortunately TropicLand doesn't have a website and there isn't much information about the company.
The back of the bag does say that Costco's sweet potato fries are distributed by Meel Corp, which is a company that will white label food items to be sold at large retailers or wholesale retailers aka Costco. 
So I'm going to assume this is a situation similar to Daphne's Beef and Lamb Gyros or possibly even Costco's spicy chicken sandwich.
Sweet Potatoes from Costco Nutritional Information
How Many Calories In Costco Sweet Potatoes?
One serving is about 15 sweet potato fries or about 3 ounces. Each serving contains 140 calories, with 6 grams of fat, 21 grams of carbohydrates, and 1 gram of protein.
This is a pretty standard nutritional label for french fries and even though these are made with sweet potatoes, this nutritional label matches up very closely with regular potato french fries. 
Sweet Potato vs French Fry Nutrition
If we look at Target's Frozen Seasoned Straight Cut Fries, their nutritional label nearly matches these Costco Sweet Potato Fries. Each serving of target french fries is 3 ounces of fries and contains 150 calories made up of 8 grams of fat, 20 grams of carbohydrates, and 2 grams of protein.
There is not a significant difference in the nutritional labels between the sweet potato fries and regular french fries.
Heath Benefits of Sweet Potatoes
If the nutritional label between the french fries and sweet potato fries are fairly similar, then what is the point of eating the allegedly healthier sweet potato?
Well, sweet potatoes bring quite a few benefits to the table. They contain more Vitamin A and C and are lower on the glycemic index.
Sweet potatoes also contain antioxidants that can decrease the chance of heart disease and cancer. While these are still fried and not exactly healthy for you, sweet potatoes do provide a little more for your overall health. 
While just a touch pricey for a bag of this size, Costco's sweet potato fries (organic & gluten free) are an acceptable alternative to french fries for light and refreshing meals, such as a ground turkey burger.
Unfortunately these fries don't get the job done when paired with typical oily fast foods or junk foods. These TropicLand Sweet Potato Fries from Costco have their place, but they also leave us wondering when Costco is going to start offering regular frozen french fries.
Costco Food Database User Reviews
Have you tried this item? Let the rest of the Costco Food Database community know what you think. Leave a rating and review for this product.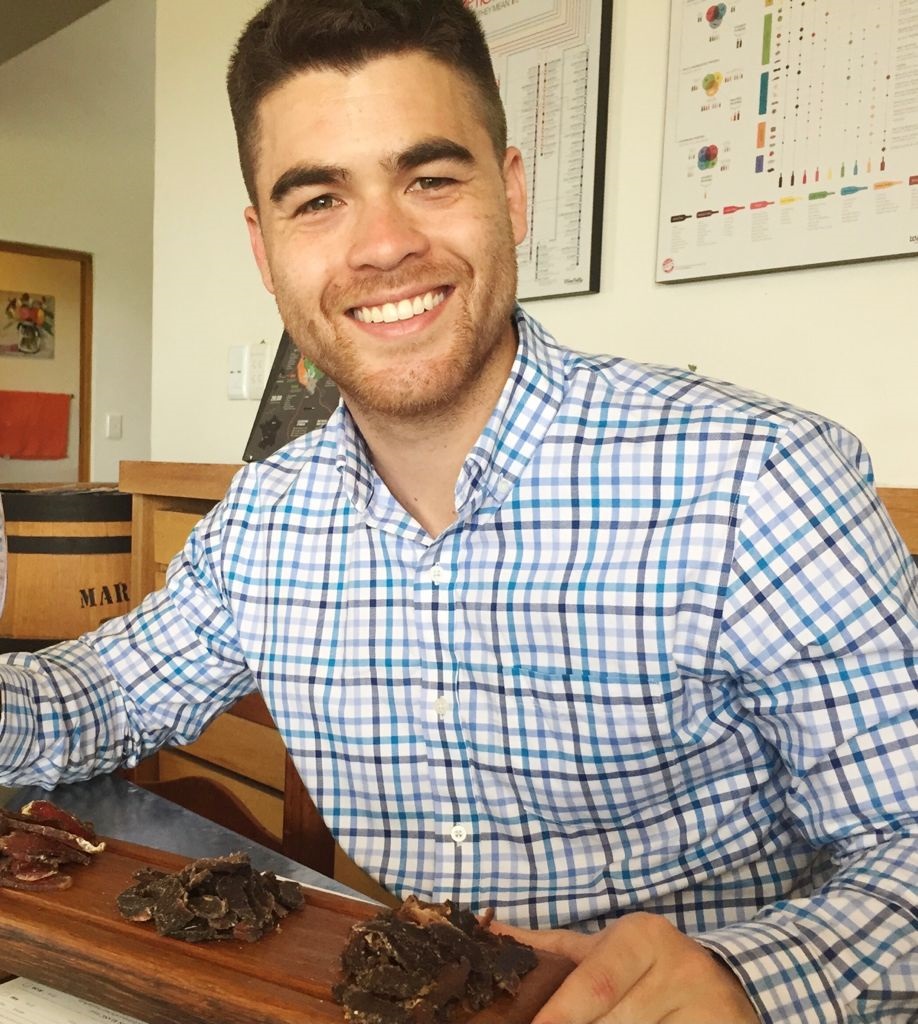 Greg Larkin is the founder and managing editor of Costco Food Database, the premiere site for honest takes on all things Costco food. A self-proclaimed Costco super-fan since childhood, Greg turned his obsession in a mission to properly rate and review all of Costco's delicious buys. When he's not busy navigating Costco aisles, you can find Greg smoking Kirkland Signature meats, meal prepping, or perfecting his homemade jerky recipes.