Costco Rao's Pasta Marinara Sauce - The Best In Costco?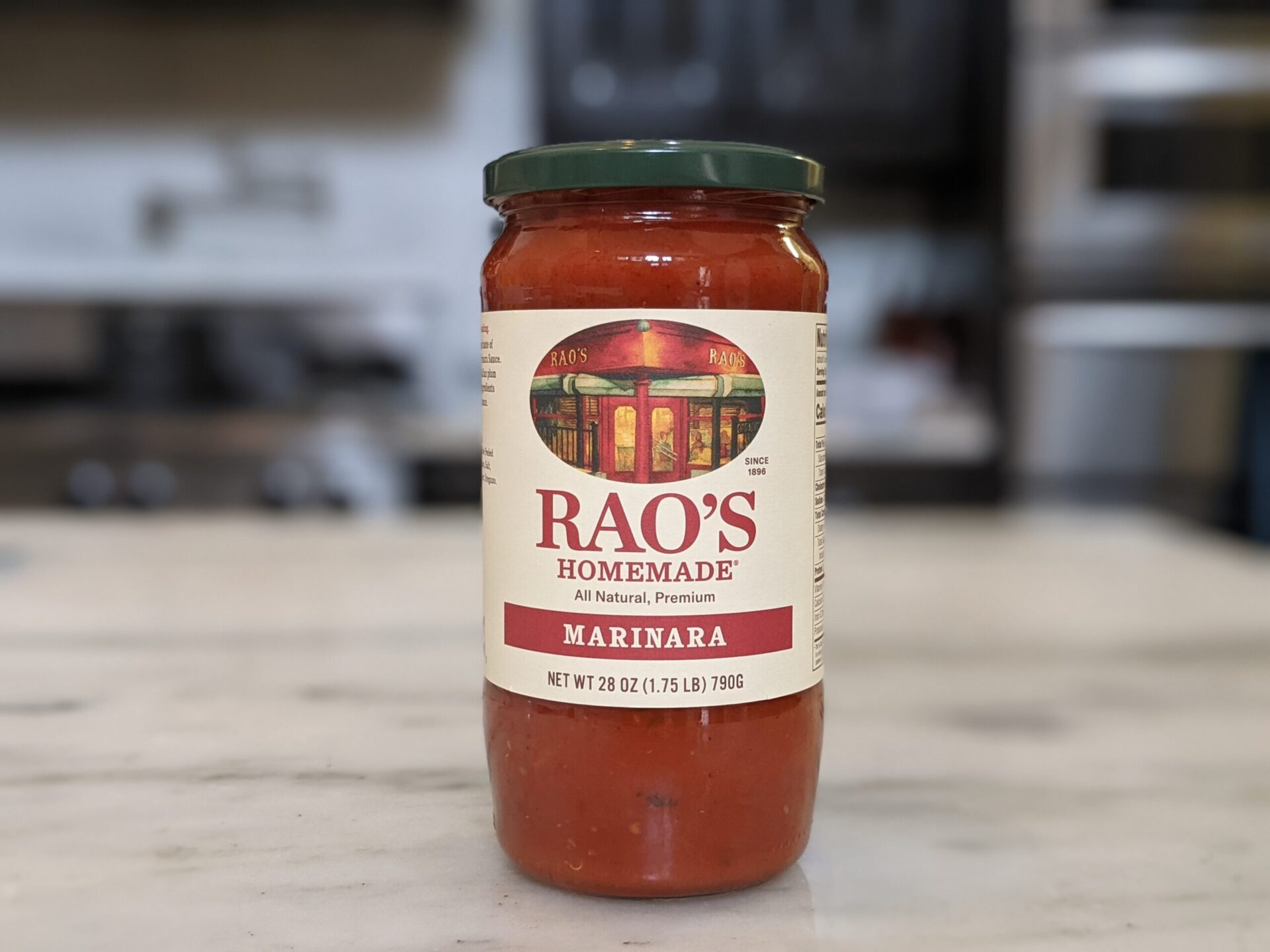 Rao's Pasta Sauce at Costco
Costco sells a two pack of 28 ounce Rao's Homemade Pasta Marinara Sauce for $11.49. Yes, this means each jar of marinara sauce cost nearly $6 each. 
I will go in-depth on pricing in the following sections. 
The big question is, Who is Rao's and why are they charging so much for a jar of pasta sauce? Well, I didn't know this, but Rao's has been making pasta sauces for over 120 years.
Their sauces are simmered slowly and made in small batches using only high quality ingredients such as pure Italian olive oil and hand-picked tomatoes from southern Italy. 
They don't use any tomato blends, paste, water or starches and that is evident in their impressive ingredient list.
They have restaurant locations in Las Vegas, Los Angeles, and New York.
Rao's Marinara Pasta Sauce Costco Price Comparison
Let's talk about price, because Rao's homemade pasta sauce is not cheap. Believe it or not Rao's Marinara Sauce at Costco might be one the of the best deals around for this pasta sauce. 

At Costco's $11.49 price, each jar of pasta sauce cost $5.75. Costco will occasionally put the sauce on sale for $2.80 off, bringing the price for the two pack of Rao's pasta sauce down to $8.69. 
This comes out to be $4.35 per jar, which is a much more palatable price for me to spend on some premium pasta sauce.
Rao's Makes it Tough To Price Compare
What often makes a price analysis so tough is that retailers will sell the same product but each have their own unique sizes. Even in this review, no grocery store or large retailer had the same sized jars. 
Each of Rao's pasta sauce jars ranged in size from 22 ounces up to 32 ounces. To even it all out, we'll have to measure the price per ounce. For Costco, this breaks down to $0.21 an ounce at retail, and $0.16 when Rao's Pasta Sauce is on sale. 
Sam's club sells a 2 pack of 22 ounce jars of Rao's spaghetti sauce for $9.48. Each 22 ounce jar is about 20% smaller than Costco's version of Rao's and cost $4.75 or $0.21 per ounce. 
This is the same as Costco's retail price per ounce for Rao's pasta marinara sauce.
Target sells a 24 ounce jar of Rao's homemade for $6.99 or $5.99 when on sale. At the $5.99 sale price, the price per ounce is $0.25. My local grocery store, Tom Thumb, sells a 32 ounce jar for $8.99 or $0.28 an ounce.  
The takeaway from this comparison is that Rao's Homemade Pasta Sauce is expensive almost everywhere, but much more reasonable when it's purchased on sale at Costco. 
At Costco, the two pack of 28oz Rao's pasta sauce for $8.49 is a steal compared to Tom Thumb's or Safeway's 32oz jar that goes for $8.99.
Costco Marinara Pasta Sauce - Rao's Homemade Review
From the very first taste, Rao's Pasta Sauce brought me back to being a kid. I don't know if I'm getting old enough to start saying they don't make it like they used to (I'm sure most people will agree with me on that nowadays anyways) or if its the fondness of childhood creating a picture perfect marinara spaghetti, either way this sauce taste like how a true marinara would. 
I would even say its exactly how a higher being would have wanted a marinara sauce to taste like.
The flavors blend so perfectly and the sauce is balanced with just a slight sweetness. It's a smooth sauce with enough texture to tickle the palate. The flavors are deep and without a doubt one of the best store bought marinara sauces.
I've had the opportunity to have Rao's with some spaghetti and some ground pork meatballs also purchased from Costco. 
It's a fantastic pasta sauce that you don't have to add any additional flavors or seasoning too. The sauce complemented both the pasta and the pork meatballs perfectly. Rao's also goes well with ground turkey and ground beef.
I also tried Rao's with Costco's lobster ravioli, but I didn't care for it much. Not the fault of Rao's, the ravioli itself just wasn't good. 
Rao's is the type of sauce that can also be dressed down. I had it with some Mozzarella Sticks from Costco, and the sauce took the cheesy delights to the next level. I've made pizzas using Stonefire's Naan and those were also amazing.
Rao's makes an absolutely wonderful sauce that could potentially change the marinara world for you. The sauce smells so fresh, tastes excellent, and pairs really well with traditional Italian dishes.
Rao's Homemade Pasta Sauce Nutritional Information
How Many Calories in Rao's Marinara Sauce?
Each Serving of Rao's Homemade Marinara Sauce from Costco is half a cup or nearly 4.5 ounces. There are about 6 to 6 and half servings per jar.
One serving contains 100 calories with 7 grams of fat, 6 grams of carbs, and 2 grams of sugar.
This is about 25% more than typical marinara sauces, but still not bad. Adding only 25 more calories to power up your pasta is easily worth the price.
Ingredients in Rao's Sauce
The ingredients are fairly simple in this Costco marinara sauce. They include Italian whole peeled tomatoes, olive oil, onions, salt, garlic, basil, black pepper, and oregano. 
The ingredient list looks great as most if not all of these ingredients will be recognized by the average person. I always love to see as many whole and real foods/ingredients as possible.
COSTCO RAO'S MARINARA SAUCE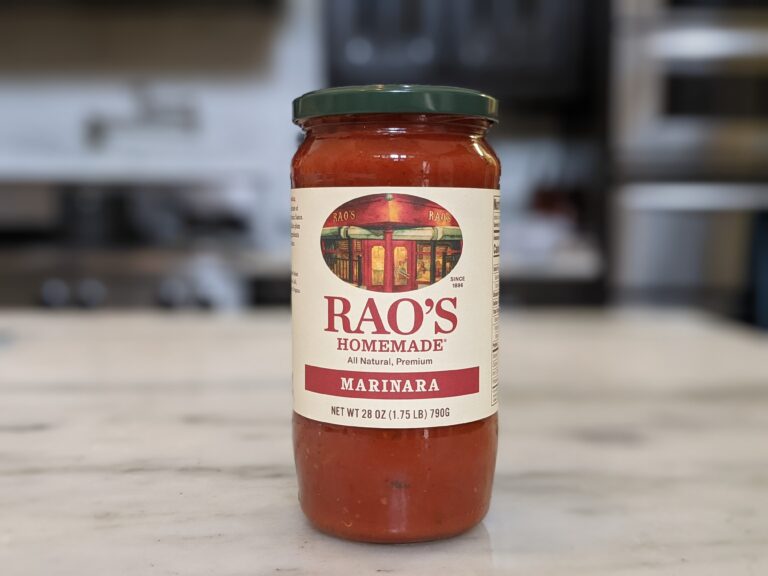 Product Name: Rao's Homemade Marinara Sauce
Product Description:
Price: $11.49 Retail / $8.69 Sale
Quantity: 56 Ounces
Location Within Costco: Pantry and Dry Goods
Price Per Jar: $5.75 / $4.35
Summary
This is without a doubt one of the best jars of pasta sauce that you can buy. It's very fresh and tastes great.
It is expensive but becomes slightly more reasonable when on sale at Costco. If you want a top-tier marinara pasta sauce, then pick up a two-pack of Rao's from Costco.
Value -

6/10

Convenience -

10/10

Taste -

9/10

Nutrition -

7/10

CFDB Score -

6/10
Pros
Great marinara sauce
Fresh taste and smell
Amazing price at Costco
Cons
Expensive for pasta sauce
I hate that Rao's is so expensive, but it is a good sauce. Costco's retail price is a bargain, and when on sale it's a steal; unfortunately, its still more expensive than most other pasta sauce brands. Rao's Marinara Sauce is easily the freshest smelling as well as one of the tastiest pasta sauces I have ever had in America.
This sauce is one of the best sauces you can buy, and you would be hard pressed to make a sauce that even comes close to this at home.  If you like good marinara sauce, buy Rao's pasta sauce from Costco.