Costco Chicken Melts (Too Small!) + Better Alternatives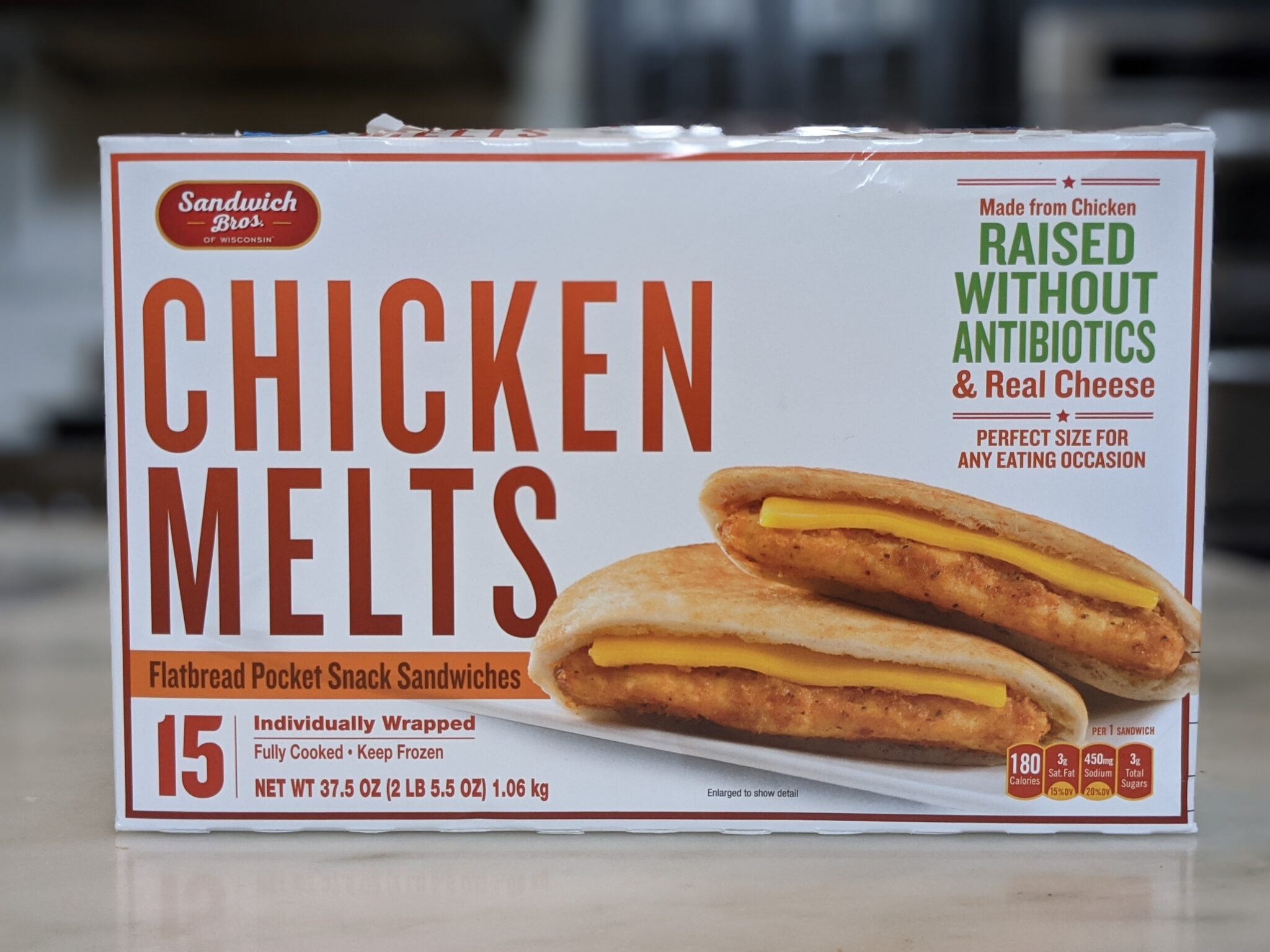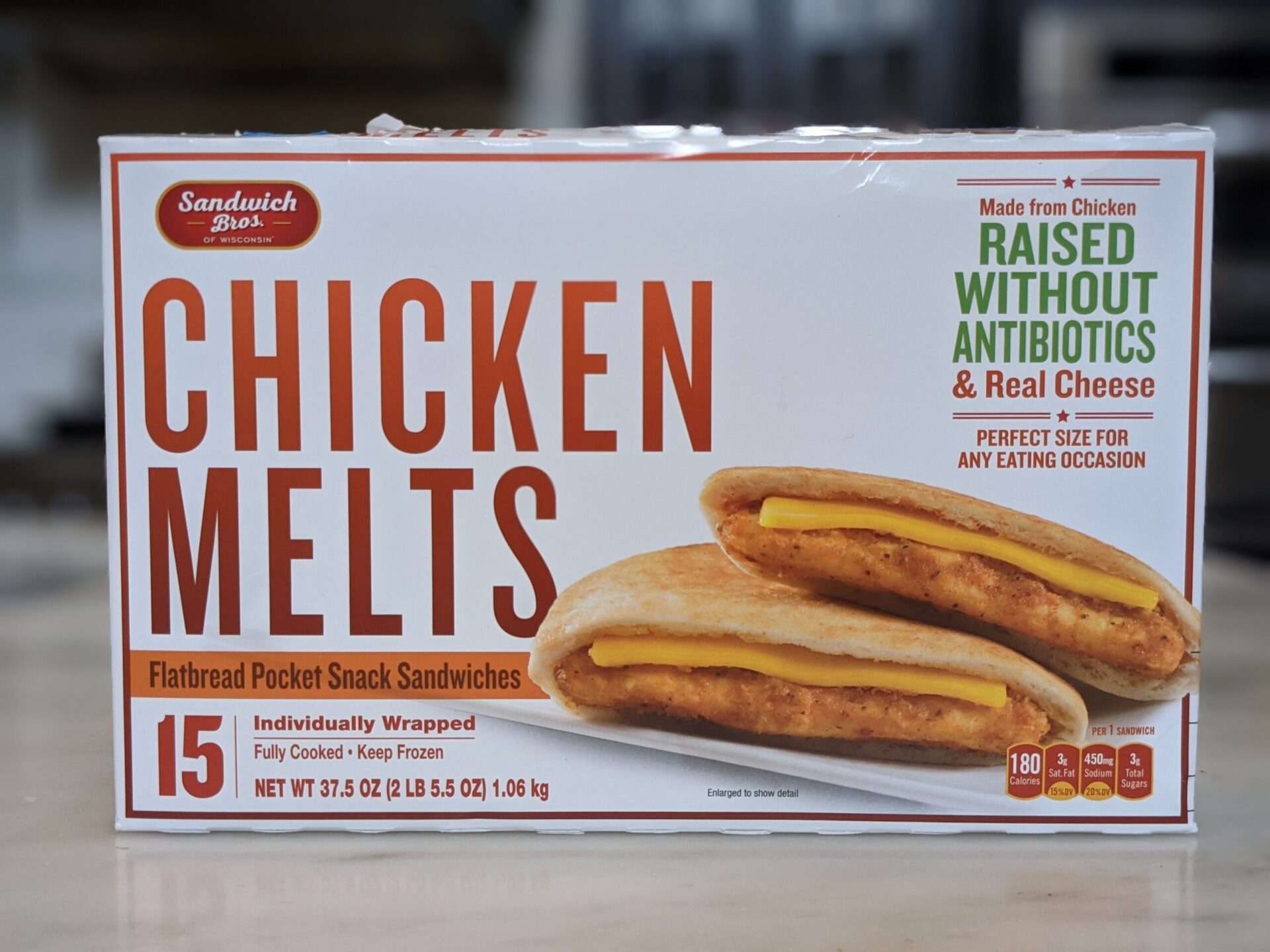 Sandwich Bros Chicken Melts at Costco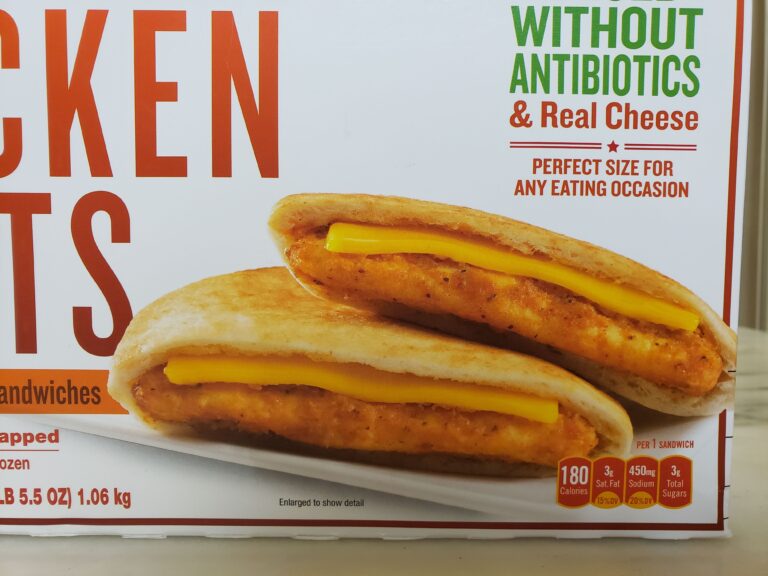 The chicken melts are made with fresh baked pitas which are cut in half, and then each pocket is filled with lightly breaded white meat chicken and a slice of real American cheese.
Have You Tried Costco's Chicken Melts?
Let the rest of the Costco Food Database community know what you thought of this product. Results and reviews are at the bottom of this page.
Please allow 24 hours for review moderation and approval.
Chickens Raised with No Antibiotics
These chicken melts are made with chicken raised without antibiotics and real cheese. Most chicken in the United States is raised without antibiotics and if antibiotics are used it must clear the chickens system before it can be processed and sold. 
A lot of companies advertise their chicken as raised without antibiotics, and while technically true, it doesn't really mean much.
My biggest complaint about these Costco chicken melts is that they are sooo small. Now, this isn't the first time I've had these. I picked up a box a few years back when Costco had them on sale.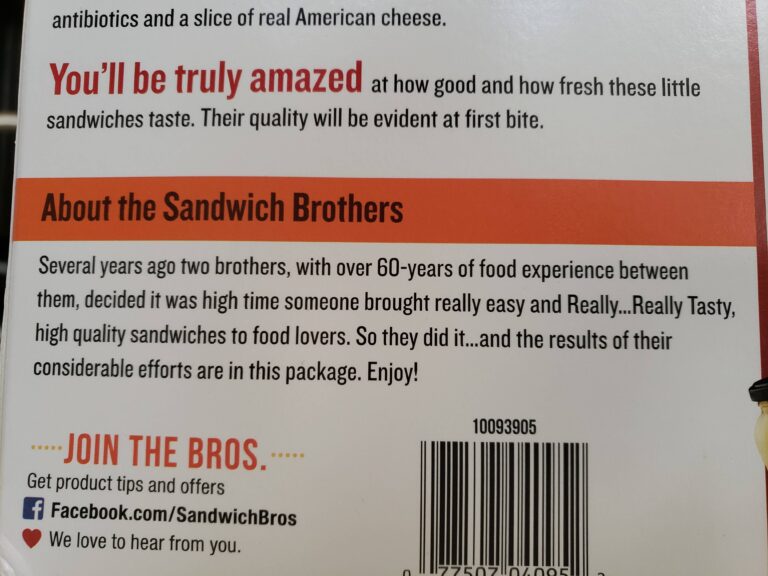 I didn't really look at the box much as I figured it's a chicken sandwich, and what could really go wrong. 
When I got home from Costco and actually saw these chicken melts, I was so disappointed. 
I don't recall the price I paid, but even when discounted, I was still unhappy. Maybe I was wrong with my expectations, but these sandwiches were half the size of what I expected. 
Each Sandwich Bros Chicken Melt only weighs 2.5 ounces and that is including the bread, cheese, and the chicken.
On the packaging instead of saying enlarged to show detail, it should read enlarged to deceive. 
Now to be fair, there is always information on the packaging that will tell you how big each sandwich or serving is. 
I could have looked at the front and saw that there were 15 Costco Chicken Melts that weighed a total of 37.5 ounces. The nutritional label also states each chicken melt weighs 71 grams.
Need to Eat Multiple for a Full Meal
To defend myself with a disingenuous argument because I didn't read this before I purchased it, but the box does say these are "perfect size for any eating occasion." 
I don't believe this statement to be factually true. They are not the perfect size for a full meal and it seems contradictory that sandwich bros can call these chicken melts the perfect size for any eating occasion as well as the perfect size for on-the-go. 
In my opinion, they aren't even a perfect size for an on-the-go snack. 
Even with years between my first Sandwich Bros Chicken Melt experience and this current one, I obviously still harbor some anger and resentment. I attempt to be as fair as possible with all my thoughts, comments, and ratings, and I will give these sandwiches a fair review.
Costco Cost Comparison - Chicken Melts
The 15 pack of Sandwich Bros Chicken Melts at Costco sell for $10.69. The price per sandwich breaks down to $0.71. At first glance, this seems like quite the bargain, until you realize these are actually teeny tiny sandwiches. 
There are Better Options at Costco - Spicy Chicken Sandwich
I've complained and lambasted Costco's La Boulangerie Spicy Chicken Sandwich because I felt that sandwich was way too small for the price. 
That sandwich was small, but it did taste good, and after reviewing these Costco chicken melts, I feel that spicy chicken sandwich provides a little more value than what I originally thought.
That La Boulangerie spicy chicken sandwich at 5.3 ounces could pass as a snack or a light meal. 
Eating one of these Costco chicken melts does not meet the snack requirement for me. I will probably have to eat at least 2 if not more to consider it a snack. 
Build your Own Chicken Sandiwch
It will be hard to come in lower than $0.71 for a chicken sandwich, but I think we can get close with Costco's Chicken Patties. Each Chicken patty weighs 4oz and costs only $0.60. 
With bread and cheese, we are looking at closer to $1+ but I think the end results is a much better, larger, and more filling chicken sandwich or chicken melt.
For a full comparison of Costco's fresh and frozen chicken, check out our Costco Chicken guide. 
Chicken Melts from Costco Cooking Instructions
It's interesting that these Costco chicken melts only offer 1 heating method, and that is going to be with the microwave. 
I've never been a fan of heating in the microwave, but if these are the only option, then so be it. 
How Long to Cook the Chicken Melts
Because these Sandwich Bros chicken melts are so small, the instructions say they will need only 1 minute to heat through entirely and a minute and a half if you want to heat 2 of them.
Now in my testing with my personal microwave, I needed to heat 1 chicken melt for 80 seconds or so to reach an optimal internal temperature. Every microwave is a little different, so not a major problem.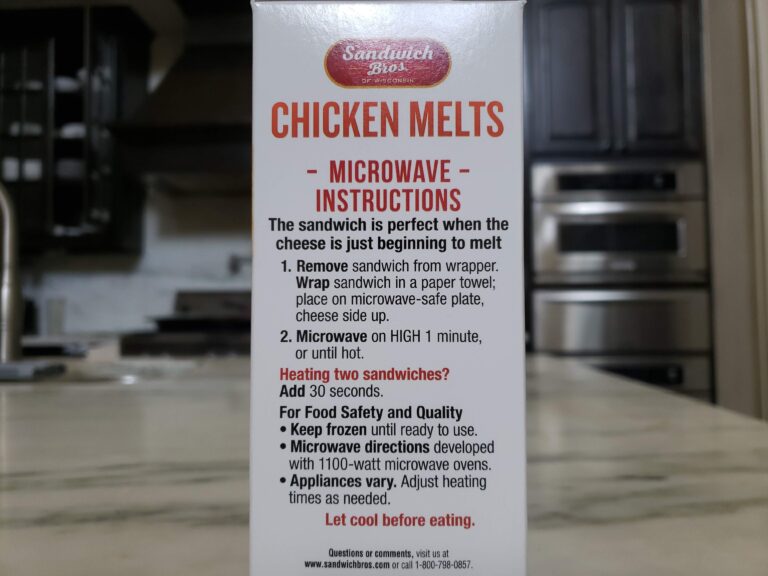 I did also attempt to air fry the Costco chicken melts, and it did not go well. The chicken and cheese were fine, but the pita came out extra hard and dry. 
It was nearly inedible, and the microwave is definitely the better option.
Costco Chicken Melt Taste Test
With 80 seconds in the microwave, the entire chicken melt was heated properly but the pita bread was a little dried out. Even at 60 seconds, the bread was not winning any awards, but was slightly better. 
Either way, I didn't really care for the pita bread in these Costco chicken melts. The bread wasn't terrible and it wasn't great, it was just kind of there.
The cheese on the sandwich wasn't bad. It was thicker than I expected, which is nice. I was hoping to melt the cheese by over microwaving the sandwich just a little bit, but the cheese came out with a weird texture.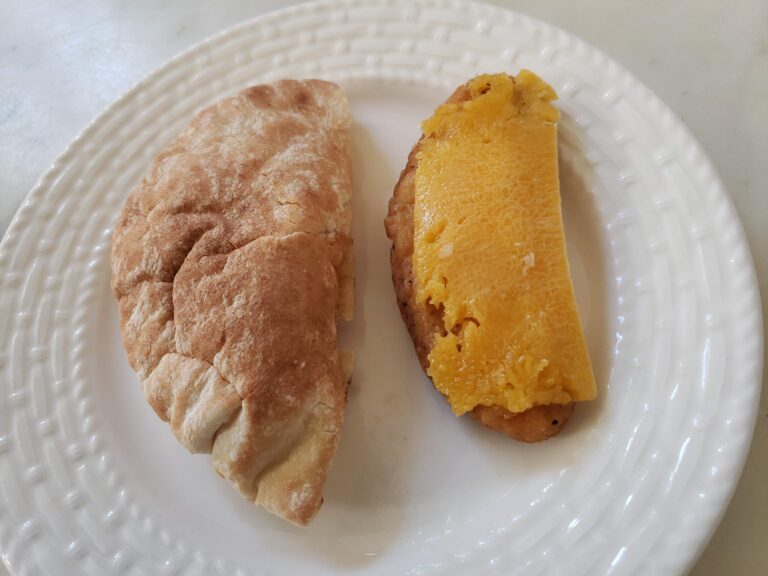 The packaging says "made with real cheese", but this must be some extremely processed low quality cheese. 
The chicken was disappointing. I would liken the piece of chicken to an oversized chicken nugget. 
The breading wasn't crispy at all, but no breaded chicken ever will be crispy from being heated in the microwave.
Overall
Taste wise the sandwich isn't great or even good, but maybe slightly above average. I didn't hate the overall flavor, but individually each piece of the sandwich just felt to be of low quality. 
The small size combined with low quality ingredients is not a good combination.
Sandwich Bros Chicken Melt Nutritional Information
How Many Calories in Each Chicken Melt?
Each perfectly sized miniature Costco chicken melt contains 180 calories with 8g of fat, 17g of carbs, and 10g of protein.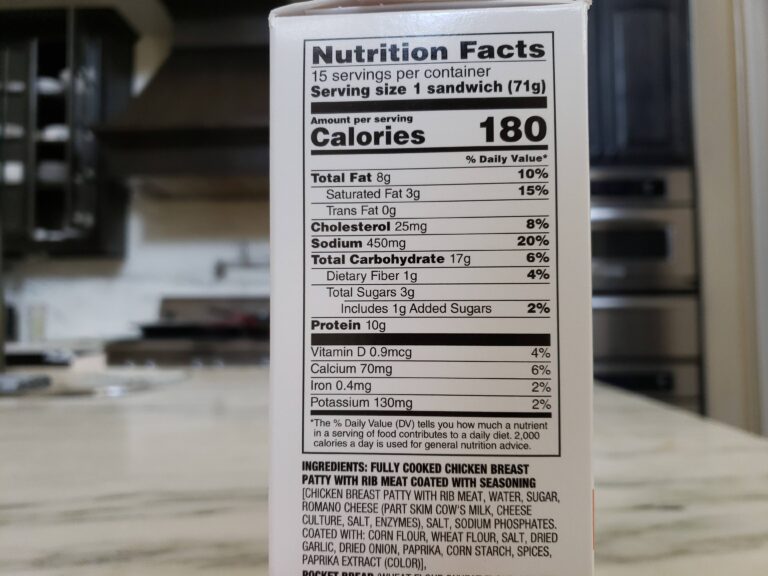 The protein content is admirable considering this sandwich's stature. Fat and carbs seem pretty standard, and this is your typical nutritional label.
Moderately High in Sodium
The sodium content at 450 mg isn't the worst I've seen, but considering the lack of size on these chicken melts, you will most likely be eating more than 1 per sitting. 
At 20% of your daily recommended value for sodium, eating multiple will really add up.
I originally came in looking to like and dare I say even love, but these Sandwich Bros Chicken Melts from Costco are a letdown. They don't seem to be intended for me as a grown man, and might be better served as a snack for my 18 month old daughter. 
The chicken melt itself is also just ok. The bread is a little dry, the cheese is wonky, and the breaded chicken is just a simple chicken nugget/tender. I won't be buying these again even if they are on sale.
Costco Food Database User Reviews
Have you tried this item? Let the rest of the Costco Food Database community know what you think. Leave a rating and review for this product.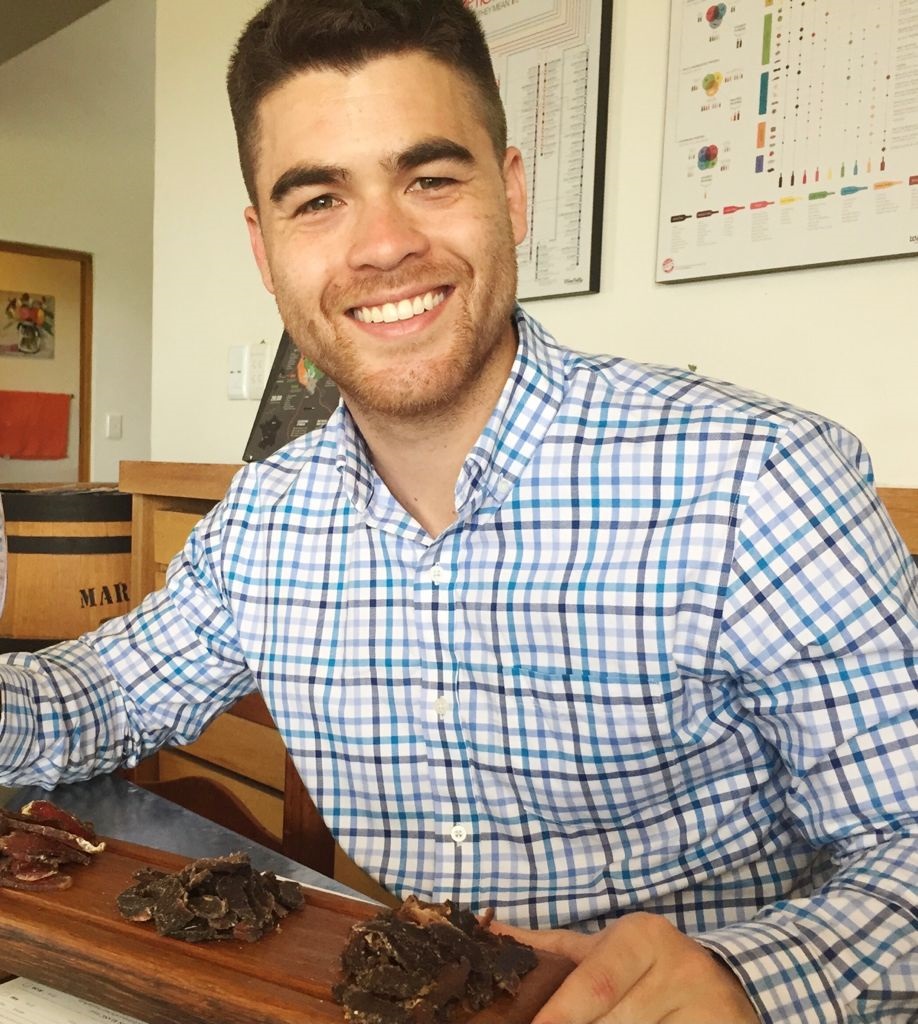 Greg Larkin is the founder and managing editor of Costco Food Database, the premiere site for honest takes on all things Costco food. A self-proclaimed Costco super-fan since childhood, Greg turned his obsession in a mission to properly rate and review all of Costco's delicious buys. When he's not busy navigating Costco aisles, you can find Greg smoking Kirkland Signature meats, meal prepping, or perfecting his homemade jerky recipes.