Costco Liquid Egg Whites + Healthy Recipe Ideas (Kirkland Signature)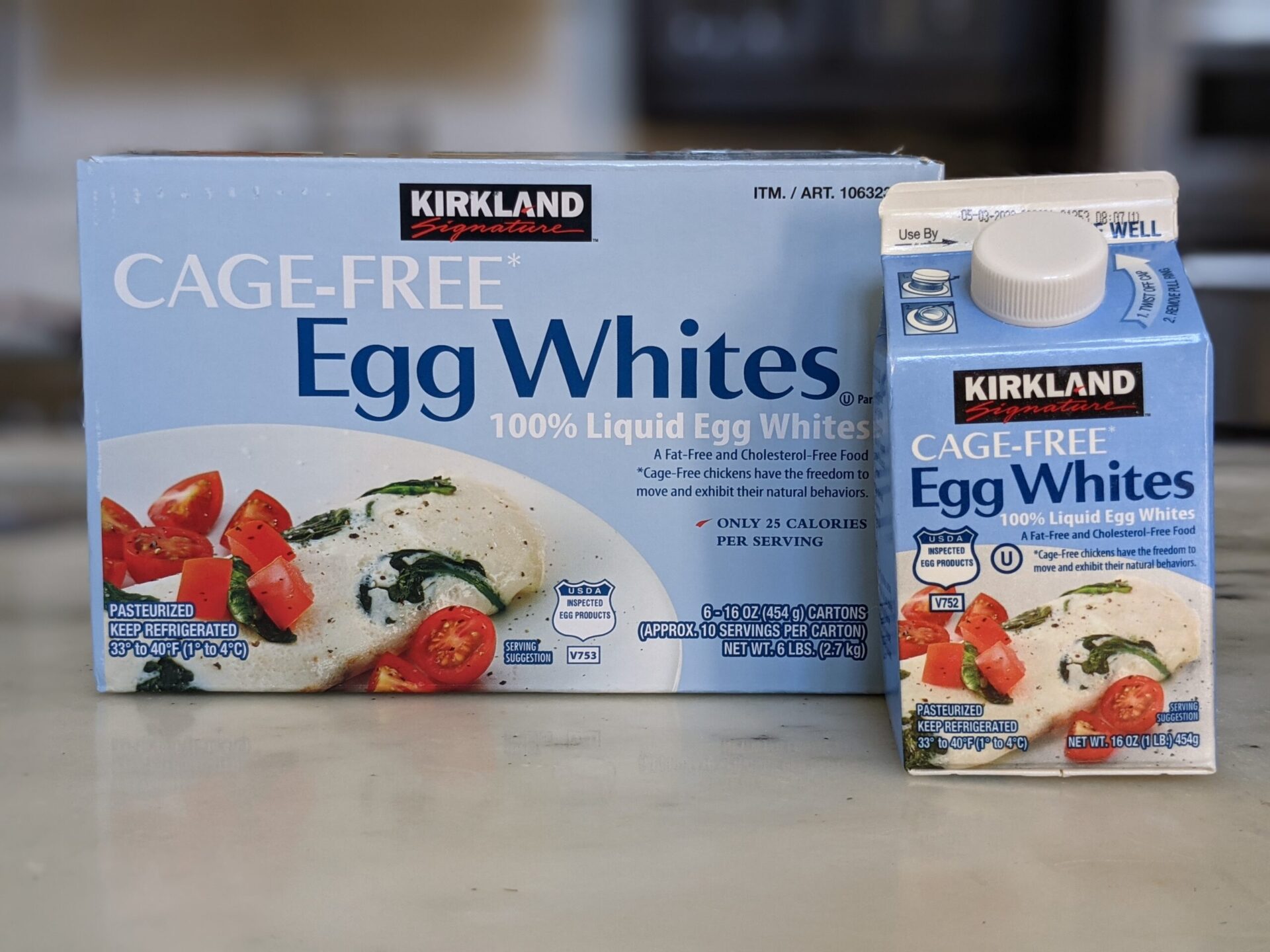 Kirkland Signature Liquid Egg Whites at Costco
Costco sells a 6-carton pack of Kirkland Signature Liquid Egg Whites for $9.49. The box of egg whites can be found in the large refrigerated dairy room that holds the milk and the butter. This location within the warehouse will vary depending on your local Costco.
Costco also sells Egg White Quiches for those looking for additional egg white options.  
Each carton costs $1.58 and contains 1 pound of liquid egg whites.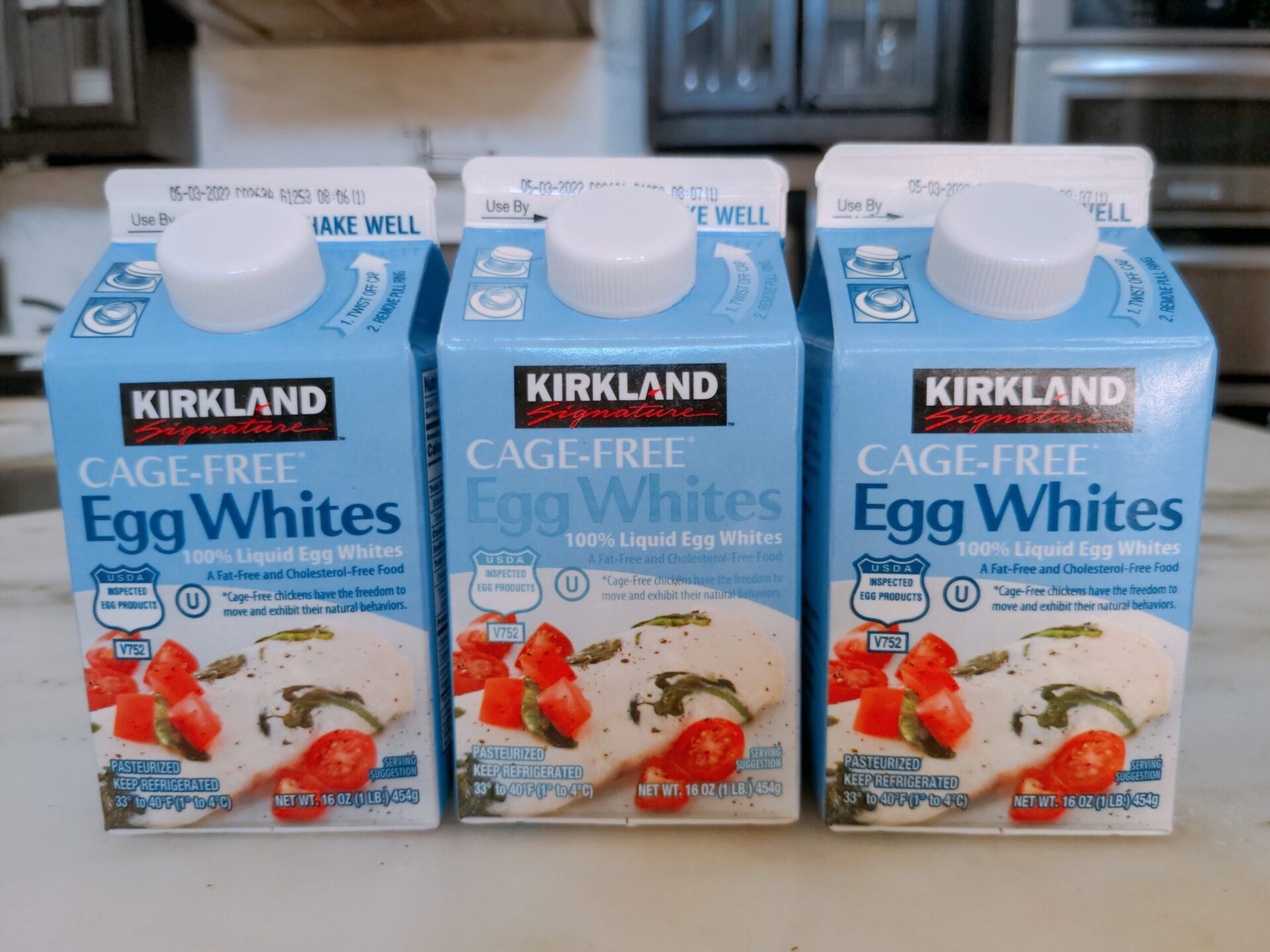 Have You Tried Costco's Egg Whites?
Let the rest of the Costco Food Database community know what you thought of this product. Results and reviews are at the bottom of this page.
Please allow 24 hours for review moderation and approval.
Kirkland egg whites are a healthier alternative to whole eggs. They have no fat or cholesterol and are low in calories.

While they can lack flavor compared to whole eggs, they are a great source of protein and are eaten by many who are looking to improve their health.
When I went through my no egg yolk phase, I discarded the egg yolk when making breakfast. It was always a pain to get rid of the egg yolk while preserving as much egg white as possible. 
This liquid egg white from Costco will make life a lot easier for those who can't or don't want to eat egg yolks.

Costco Liquid Egg White - Whole Egg Equivalent and Prices
10 Whole Egg Equivalents Per Carton
I had to really examine the box to figure out that there was the equivalent of 60 whole eggs in the entire package. Each serving is 3 tablespoons and is equal to one whole egg with yolk, and each carton has 10 servings. 
One whole carton is the equivalent of 10 large eggs with the yolk.  
The most interesting part is that two tablespoons of Costco's egg whites are equivalent to the egg white of one shelled egg.

If I understand correctly, each carton contains 30 tablespoons and has the egg white of 15 eggs.
Only Slightly More Expensive than Whole Eggs
At $1.58 a carton, they are a touch more expensive than a dozen whole eggs. It's a small premium to pay to avoid having to separate the egg yolks yourself.
If you are going for strictly egg whites and have no use for egg yolk, then you are getting egg white from 15 eggs for $1.58. That is a total steal!
Costco Egg White Taste Test
Egg Whites are an Easy and Excellent Substitute for Whole Eggs
At the CFDB household, we have an all-day breakfast policy; we'll eat eggs for breakfast, lunch, and dinner, and we go through eggs quickly. We weren't going to have any trouble using the egg whites as a substitute in our regular breakfast meals. 
How do the Costco Egg Whites Taste?
The texture was no different than your typical egg white, and just like regular eggs, it's imperative to properly season them.
There is a flavor difference between a whole egg and egg whites.
Not as Good as Regular Eggs With Yolk
We both agreed that the liquid egg whites did not taste as good as the egg with the yolk and that it was more bland and neutral in flavor. 
This is to be expected, considering the creamy egg yolk is removed.

While lacking a little flavor, the egg was still tasty and enjoyable. The Costco egg whites integrated into the meal very nicely and didn't feel out of place. 
The egg whites did a great job of balancing and completing each of our meals.
Less Cooking Options than Traditional Whole Eggs
One downside to liquid egg whites is fewer traditional egg cooking options. 
You won't be able to utilize some cooking methods that require egg yolks, such as over-easy, poached, or soft-boiled eggs. 
Liquid egg whites won't be as tasty or as versatile as regular whole eggs, but they make up for it in nutrition and health benefits. 
Pro-Tip: Combine Kirkland Signature liquid egg whites with a whole egg to get the best of both worlds.
Healthy Egg White Recipes
Egg whites can be cooked similarly to whole eggs but often need an additional flavor boost. 
Here are some of my favorite recipes to maximize and use the Kirkland egg whites to their fullest potential.
I Heart Nap Time has a great egg white muffin cup recipe that is fully customizable and helps make a quick and easy on-the-go breakfast.
Quick Recipe
1. Cooked desired vegetables and meat on the stove until sufficiently browned.
2. Add meat and veggies to the muffin cup and pour in egg whites. Leave 1/4″ at the top.
3. Bake at 350°F for 23 to 30 minutes or until the egg has puffed.  
These egg muffin cups are bite-sized and can be filled with your favorite ingredients. 
Costco also sells Three Bridges Egg White Egg Bites, which are absolutely incredible.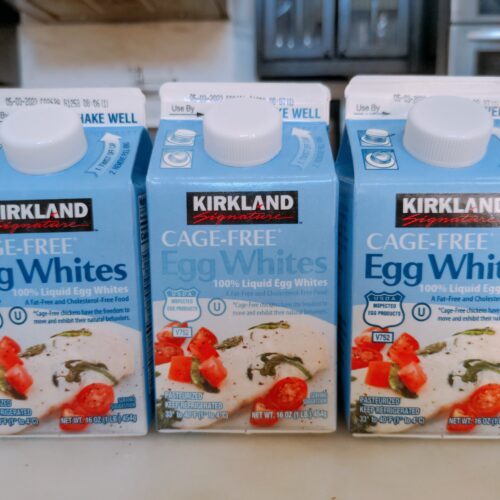 Healthy Egg White Muffin Cups
You will love these super healthy, quick, and tasty egg white muffin cups with the filling of your choice.
Ingredients
1

Carton

Kirkland Signature Liquid Egg Whites

Chopped Vegetables of your choice

Diced meat of your choice

Shredded Cheese

Salt and Pepper
Instructions
Spray muffin tin or tray with non stick cooking oil.

Heat pan to medium heat and cook vegetables to desired doneness.

Combine Costco's liquid egg whites with vegetables and meat and pour into oven tins

Cook the egg white muffins for 25-28 or until the egg comes clean with a toothpick.
Nutrition
Serving:
1
Muffin
Calories:
50
kcal
Carbohydrates:
0
g
Protein:
6
g
Fat:
2
g
Saturated Fat:
0
g
Trans Fat:
0
g
Cholesterol:
0
mg
Sodium:
100
mg
Fiber:
1
g
Sugar:
0
g
Just like whole eggs, liquid egg whites make for a great omelet. They do require a little extra flavoring, but this Mexican Egg White Omelet from GimmeSomeOven.com does the trick. 
Prepare your omelet as you usually would but substitute the whole eggs with yolk for just the egg whites. The Mexican flair goes a long way with the Costco egg whites. 
CheerfulChoices.com has an amazing egg white frittata recipe that is too good to not share with the world.
This frittata is jam-packed with healthy vegetables and ingredients and can easily be customized to suit your taste.
Kirkland Signature Egg Whites - Nutritional Information & Calories
How Many Calories are in Kirkland Signature Egg Whites?
Each serving of Costco egg whites is 3 Tbsps (46 grams) or the equivalent of 1 large whole egg containing 25 calories. 
These 25 calories only come from 5 grams of protein, and there are no fat and no carbs in the liquid egg whites. The full nutritional label is as follows:

Calories: 25
Total Fat: 0g
Saturated Fat: 0g
Cholesterol: 0mg
Sodium: 75mg
Total Carbohydrates: 0g
Dietary Fiber: 0g
Added Sugars: 0g
Protein: 5g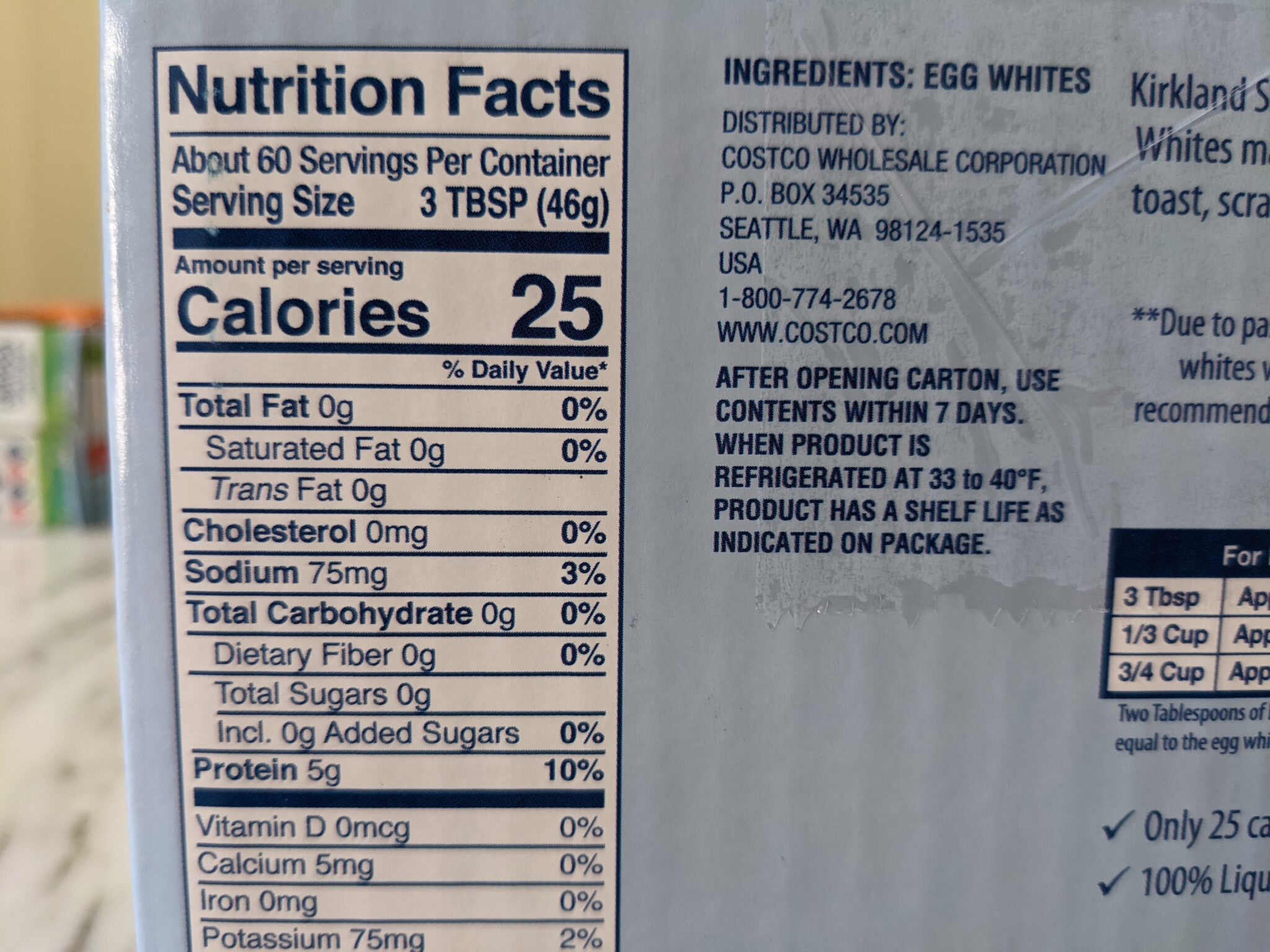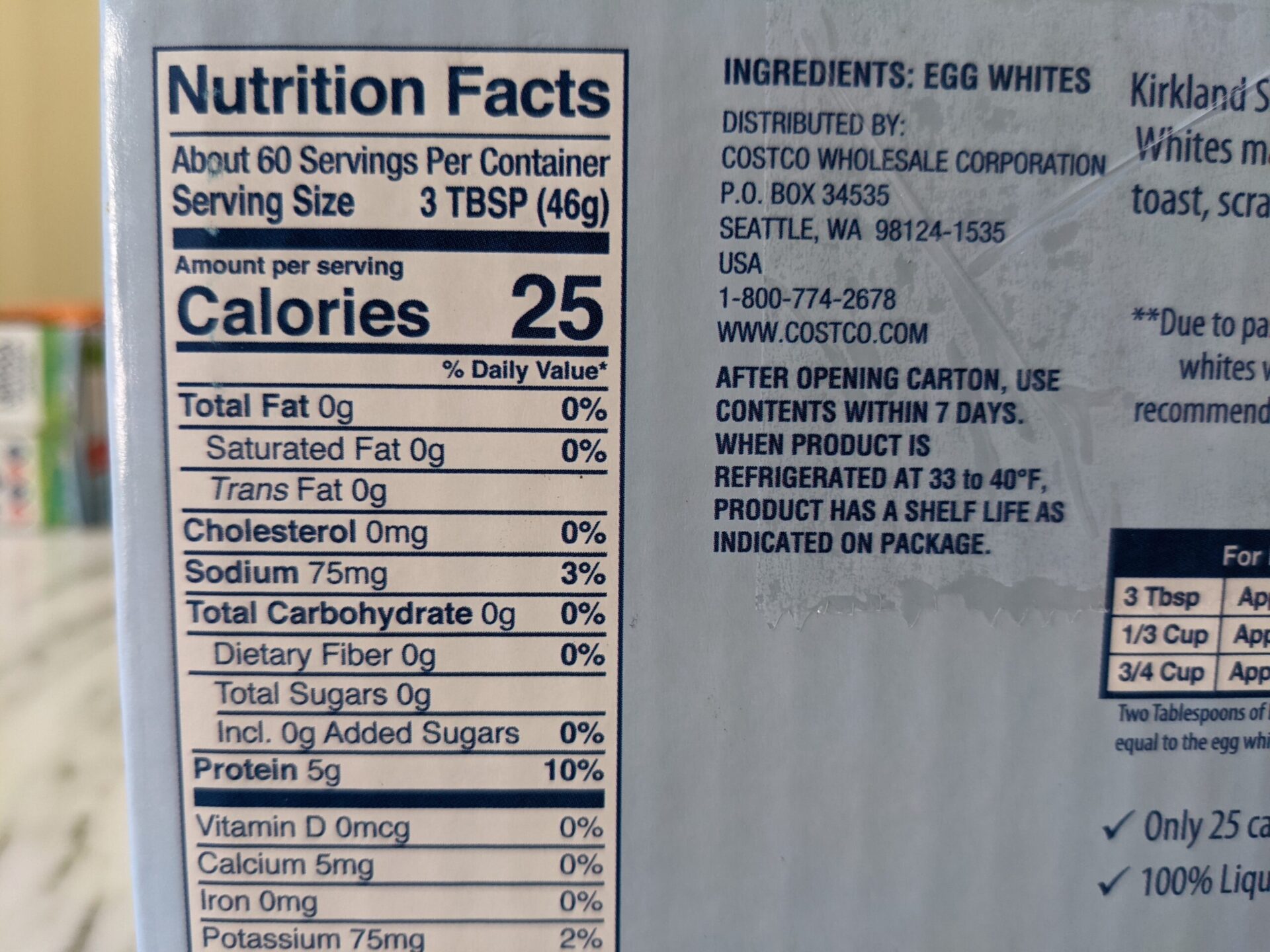 Kirkland Egg Whites are fat-free, carb-free, and cholesterol-free. This is a perfect nutritional label, and this product easily scores a 10/10 for nutrition.
These Egg Whites can Fit in any Diet.
This phenomenal nutritional profile makes this extremely healthy food that can easily fit into almost anyone's diet.
Egg Whites provide ample amounts of extra protein, and I highly recommend this product!
Understanding the Nutritional Label and Servings
The nutritional label does say there are 60 servings per container which can be a little confusing. In this case, the container refers to the entire package, not each carton. 
In total, this item contains the equivalent of 60 eggs.
Are Costco Egg Whites Healthy For You?
Yes, these are incredibly healthy for you, and liquid egg whites are a healthy alternative to whole eggs. By consuming just the egg white, you are reducing calories by 75% but only reducing protein content by 33%.
Consuming Costco's liquid egg whites also means no fat and no cholesterol.
Can Kirkland Signature Egg Whites Be Whipped?
The packaging states the Kirkland egg whites will be difficult to whip because of the pasteurization process. You will be better off using real egg whites separated from the yolk.
Can you eat liquid egg white everyday?
Yes, egg whites can be eaten every day. Liquid egg whites are low in cholesterol and fat, making them suitable for everyday consumption for those with dietary restrictions. 
Egg whites are an excellent choice for those concerned with cholesterol intake or those looking to lose weight.
Can you drink liquid egg whites?
Yes, you can safely drink the liquid egg whites from Costco. The rule of thumb is that if the egg whites are pasteurized, you can drink them raw.
Kirkland egg whites are pasteurized, and the box even includes a recipe to use the raw egg whites in a smoothie!
Kirkland Signature Egg Whites from Costco check off many of the boxes I look for in a product. The only downside is that you are sacrificing some taste for quite a bit of nutritional value.
Otherwise, they are priced right, convenient, and a solid addition to any breakfast meal.
Costco Food Database User Reviews
Have you tried this item? Let the rest of the Costco Food Database community know what you think. Leave a rating and review for this product.