Costco Sabatasso's Mini Pizza Singles + Crispy Air Fryer Cook
Sabatasso's Mini Pizza Singles at Costco
Sabatasso's 12 pack of mini pizza singles is available at Costco for $10.49. Each 12 pack includes 6 frozen pepperoni personal pizzas and 6 frozen four-cheese pizzas. 
These Sabatasso's pizzas can be found in the frozen food aisle near the rest of Costco's frozen pizzas such as the Motor City Detroit Deep Dish Pizza, Kirkland Signature Cheese Pizza and Sabatasso's gluten free pizza. 

Have You Tried Costco's Mini Pizza Singles?
Let the rest of the Costco Food Database community know what you thought of this product. Results and reviews are at the bottom of this page.
Please allow 24 hours for review moderation and approval.
Made with Real Mozzarella
The Sabatasso's pepperoni pizza is made with real mozzarella and the 4 cheese pizza is made with mozzarella, yellow cheddar, provolone, & parmesan. 
Each Costco frozen mini pizza is individually wrapped and according to the box is even meant to be resold.
Sabatasso's Mini Pizzas Stand the Test of Time
These mini pizzas have been around at Costco for quite a while now and I would guess at least 8-10 years if not more. 
I remember eating the Sabatasso's personal pizzas growing up along with Red Baron's French Bread Pizza Singles.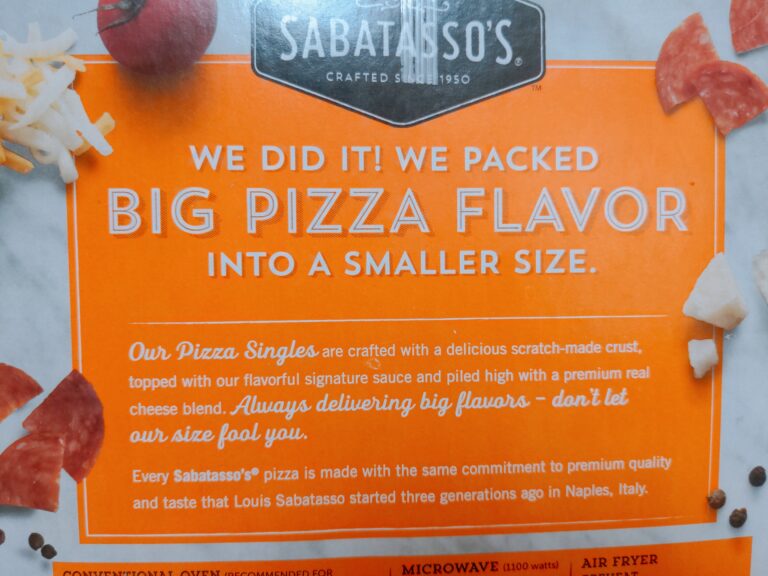 At my local Costco, these frozen mini pizza singles are the only individual sized or personal pizzas available. 
They must have quite the demand since they seem to have a permanent spot in Costco's frozen food area.
Costco Sabatasso's Personal Pizza Price Breakdown
How Much do The Pizza Singles Cost at Costco?
At the $10.49 price tag at Costco, you will get 12 individually wrapped frozen personal pizzas. Each pizza will break down to just $0.87. 
Even though the personal pizzas are small, and not speaking on quality yet, the price per pizza seems really reasonable. 
For comparison's sake, the price per pound for these mini personal pizzas is $3.80. To give you an idea, Costco's Kirkland Signature Frozen Pepperoni Pizza sells for $3.37 each or $4.42 per pound. 
The quality of Costco's pepperoni pizza is great and is easily worth that extra $.60 per pound. 
There are other frozen food items that can bring a little more value such as Costco's chicken patties at $2.60 a pound or Costco's Fish Sticks at $3.25 per pound. 
The $0.87 price per Costco mini pizza look great, but the item is still small and there are better value deals to be had.
Frozen Mini Pizzas at Costco
I can't say for certain that these are the same pizzas that I ate as a kid in the early 2000s, but they do look very very similar. 
The size, branding, wrapper, and even the microwavable tray don't look any different from how I remembered these mini pizza singles looking.
Anybody else remember eating these as a kid?
For $0.87 each, I think we all understand that these are not gourmet pizzas and they aren't premium or super high quality. 
The bread and cheese look ok, but the pepperonis are going to be of lower quality. 
There is a solid amount of pepperoni on these pizzas and even more than I expected. The pepperoni will add nice flavor and texture to the Sabatasso's mini pizzas. 
The mini cheese pizza looks about the same as the pepperoni pizza minus the pepperoni. The crust and the cheese look ok. 
It's not super apparent that there are 4 cheeses on this pizza and you probably wouldn't even notice if you didn't look closely.
From the looks of it, these are going to be great for kids or just as a quick fill me up snack or meal. 
You won't be serving these to your friends, and they may not really be a meal you are going to plan ahead and look forward to.
Costco Mini Pizza Singles - Taste Test
Cook these in the Air Fryer
For this review and all of the rest of Sabatasso's pizza singles from Costco that I will be eating, I will be using the air fryer. 
I know the microwave is going to produce a sub-par product and the oven just takes too long for my liking. I don't want to wait 30 minutes or more for a frozen personal pizza. 
Surprisingly these pizza singles from Costco are not bad. From the air fryer, the pizzas came out a little more on the "well done" side but I don't mind that.
The crust had a very nice color and was crispy as well as tasty.
Chewy Gooey Cheesey Pizza
I normally don't care for cheese pizzas and will always opt for a topping of some sort, but I didn't hate these. The cheese was chewy, gooey, and rather enjoyable.
I didn't have the issue that I have had with other frozen pizzas where you could potentially take a bite and pull off all the cheese from that slice. When I bit into the pizza single, I was able to cleanly bite through everything.
These pizza singles taste great with some Costco chicken and bbq sauce to make your own bbq mini chicken pizza. 
I do want to say that this particular pepperoni pizza I'm showcasing in this review, had less pepperoni than average for Sabatasso's pizza singles.
It's unfortunate that this is the one I randomly picked to take photos of because I don't believe it to be an accurate representation.
This particular Costco mini pizza appears to have about 8-10 pepperoni pieces and they seem to be amassed on one side of the pizza only. 
The rest of the other pepperoni pizzas have between 12-15 pieces of pepperoni. 
Sub-Par Quality Ingredients
The pepperoni pizza itself was again just ok. The pepperonis did add some texture and some flavor, but was obviously a low quality ingredients.

For both personal pizzas the sauce was an afterthought. The cheese was the highlight of these pizzas and actually made them fairly enjoyable. 
I only slightly prefer the pepperoni single over the cheese pizza but wouldn't mind eating either. 
Costco Mini Pizzas - Heating Instructions
How to Cook Sabatasso's Mini Pizza
Sabatasso's recommends 3 different cooking methods or "cooking guidelines" as they call it on the individual pizza packages. You can heat these in the oven, the microwave, or the air fryer. 
Caution: The only cooking method that uses the silver tray will be the microwave method. For all other heating options please discard the silver tray and wrapper.
Preheat oven to 400°F. Discard Plastic wrap and silver microwave tray.

Place 1 Costco frozen mini pizza on a baking sheet on the center oven rack. Caution: Do not use silver microwave tray in the oven. 

Cook for 13-15 minutes or until cheese starts to turn golden brown.
Remove overwrap from pizza and silver microwave tray. 

Place 1 pizza on silver microwave tray and microwave safe plate.

Cook on high. Pizza is ready when cheese is melted. 


Pepperoni: 80-95 seconds
Four-Cheese Pizza: 85-90 seconds
Preheat air fryer to 350°F for Sabatasso's pepperoni pizza or 325°F for Four-Cheese Pizza. Discard plastic wrap and silver microwave tray

Place one Costco mini pizza into the air fryer. Caution: Do not use silver microwave tray in the oven.

Cook for 6-8 minutes. Crust edge and cheese may brown quickly. Ensure product is cooked thoroughly.
My personal favorite method is heating these Costco mini pizzas in the air fryer because of the crispy crust, ease of use, and the time convenience.
Sabatasso's personal Pizza Singles - Nutritional Information
How Many Calories in Each Pizza Single?
There are some slight differences in nutritional value between the four cheese pizza and the pepperoni pizza. I'll start with the 4 cheese mini pizza. 
That pizza has 290 calories with 15g of fat, 25g of carbs, and 12g of protein. 
The pepperoni pizza has 310 calories with 18g of fat, 25g of carbs, and 13g of protein. 
Cheese naturally has a lot of protein, but it's interesting to note that the difference in protein between the pepperoni pizza and the cheese pizza is just 1 gram. 
The cheese mini pizza will have 620 mg of sodium while the pepperoni pizza will have 740 mg. Respectively this is 27% and 32% of your recommended daily value.
This is typical of frozen foods at Costco, but on the higher end for how small the Sabatasso's pizzas are.
According to the packaging, Sabatasso's has been making pizzas since 1950. The interesting thing is, I can't seem to find anything about them online. Even in 2022, they don't appear to have a website. 
This may be an example of a product that is made by a manufacturer that uses another company's branding. 
The manufacturer of these pizza is SFC Global Supply Chain in Marshall Minnesota. I think another product that operates in this manner is Daphne's Gyro Meat.
Sabatasso's mini pizza singles have been at Costco for many years and for good reason. They are sold at an excellent price and will fill you up. It's not the greatest personal pizza in the world, but for $0.87 each they may be hard to beat. 
At this point in my life, even with kids, I don't think I'll be buying this item very often, but I will have no problem finishing off the rest of this box.
Costco Food Database User Reviews
Have you tried this item? Let the rest of the Costco Food Database community know what you think. Leave a rating and review for this product.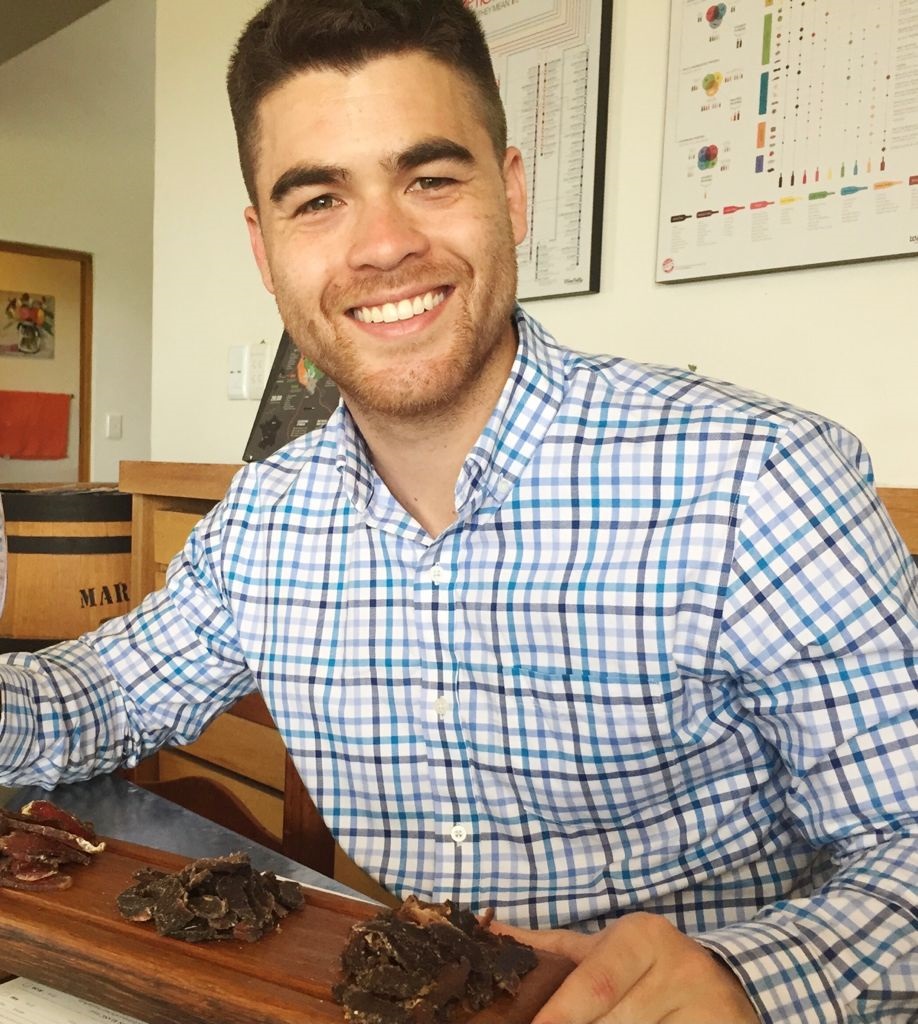 Greg Larkin is the founder and managing editor of Costco Food Database, the premiere site for honest takes on all things Costco food. A self-proclaimed Costco super-fan since childhood, Greg turned his obsession in a mission to properly rate and review all of Costco's delicious buys. When he's not busy navigating Costco aisles, you can find Greg smoking Kirkland Signature meats, meal prepping, or perfecting his homemade jerky recipes.