Costco French Onion Soup - Cuisine Adventures
Costco's French Onion Soup is a seasonal favorite. This soup is affordable, convenient, and only available at Costco for a limited time.
French Onion Soup at Costco
Costco sells a 6 pack of Cuisine Adventures French Onion Soup for $9.99. The soup is unlike the other soups sold at Costco because this one is actually frozen and not refrigerated in the deli section. At my local Costco warehouse, they were found in the misc frozen food aisle near the breakfast sandwiches and the chicken nuggets. 
The Cuisine Adventure french onion soup is pretty standard and includes a vegetable broth, slow cooked onions, croutons, and swiss cheese. French onion soup doesn't take a lot of ingredients or extensive cooking skills to make so I am excited to see how this frozen version compares.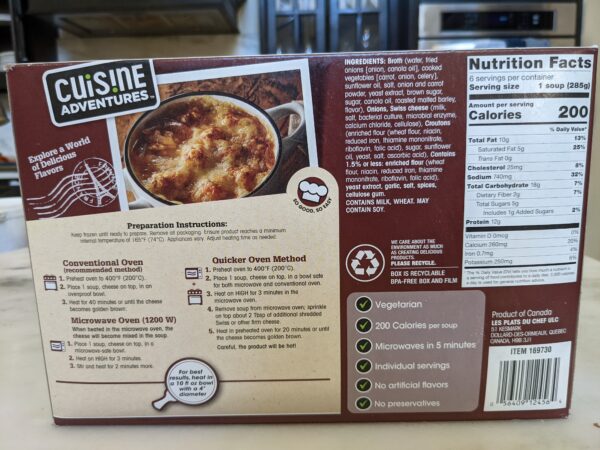 The Costco french onion soup is a seasonal item. It is available only during the winter seasons and then taken off the shelves. I wasn't planning to make this purchase during my most recent Costco trip, but I did see the infamous asterisk on the product label. I knew it was a seasonal item, and that when it was gone, it was going to be gone until next winter, so I had to make the purchase.
Have You Tried Costco's French Onion Soup?
Let the rest of the Costco Food Database community know what you thought of this product. Results and reviews are at the bottom of this page.
Please allow 24 hours for review moderation and approval.
Costco French Onion Soup Price Breakdown
Costco sells this french onion soup for $9.99. Each box contains 6 individually frozen soups which cost $1.67 each. This is a fantastic price for a frozen soup considering it is about what you would pay for a can of soup. This particular soup is on the smaller end, coming in at 10oz, but a good deal nonetheless.
It does make sense why a french onion soup would be so inexpensive. The main ingredient is going to be vegetable broth and then secondly onions. It may only cost them $0.25 or probably even less for those particular ingredients.
I will tell you, I was very surprised when I opened the french onion soup box. Maybe my expectations were off, but I was expecting to see the soup in a small bowl, but the soup was actually wrapped in plastic.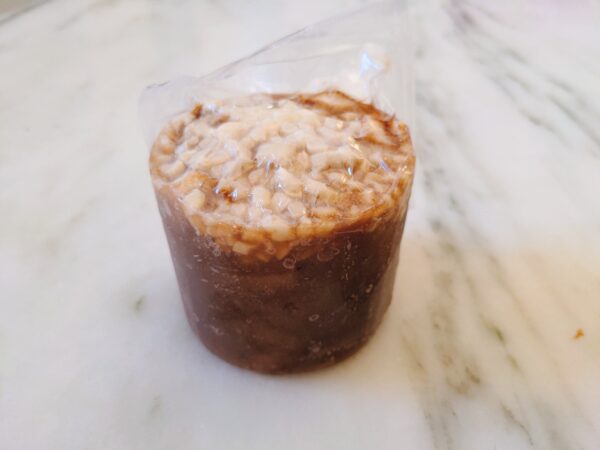 Thinking about it a little more, I guess it is the only way to really package the soup. It would be costly to provide an oven-ready bowl and plastic wrapping the soup may be the only viable option. Just wasn't what I was expecting and I have a general rule to stay away from bagged foods that aren't normally packaged in a bag.
Aside from the bag, the soup looked pretty. Again, a little surprising to see the frozen soup shaped like a cylinder, but the soup, onions, cheese, and croutons were all visible. The vegetable broth had a dark rich color, and the swiss cheese squares looked delicious.
Costco French Onion Soup Heating Instructions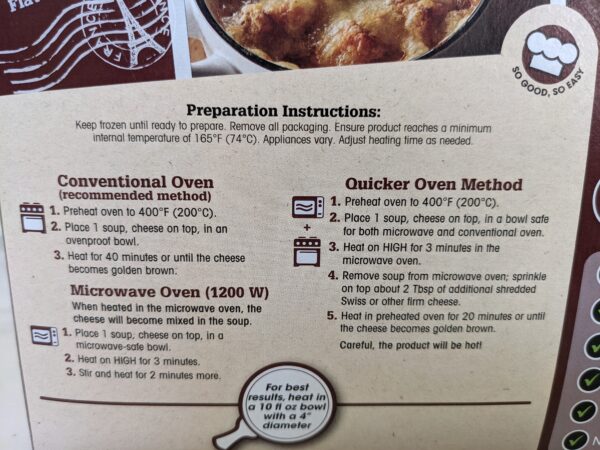 Cuisine Adventures lists 3 heating options for this french onion soup. 
Conventional Oven – Heat french onion soup in 400° for 40 minutes or until cheese is golden brown.

Microwave – Microwave soup on high for 3 minutes, stir, and microwave for 2 minutes more.

Hybrid Method – Microwave for 3 minutes, add additional swiss cheese, bake for 20 more minutes in a 400° oven. 
Typically with frozen food, I'm looking for a certain level of convenience. So I wasn't fond of the idea of baking the soup in the microwave for 40 minutes. Fresh french onion soup can be made in about an hour and a half, so the bake time really is quite excessive. The time is too large. I don't like heating frozen foods in the microwave, but it's the more appealing option, given the cook times.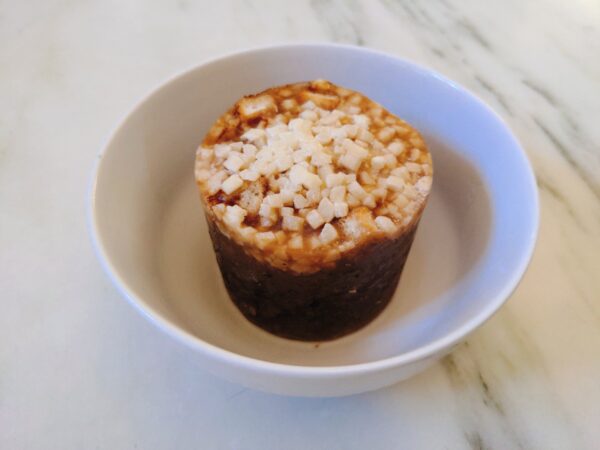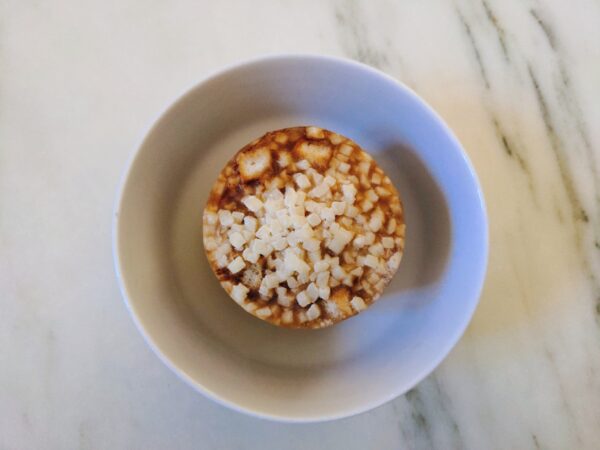 I've tasted the soup a few different times for this review. I wanted to test out multiple heating methods to determine if it was indeed worth the time to bake this soup. I heated the soup with a microwave and with the oven but did not do the hybrid microwave-oven cooking method. 
Microwaving soup for 5 minutes is still going to be quite a long time, but it makes sense considering this product is frozen. I actually had to put my soup in for about 45 more seconds, but no complaints there, every microwave is different. 
After 5 minutes and 45 seconds, the soup came out hot enough. The problem is that the cheese essentially melted into the soup. It wasn't a pretty sight, and I can tell you right now, that the picture they used on the box was not a microwaved version of the soup. It's not appealing nor appetizing and if the presentation means anything to you, then I would skip the microwave version. I unfortunately or fortunately don't have any microwaved French onion soup pictures at the moment.
The oven baked version came out slightly better. I did follow the instructions and baked the soup for 40 minutes at 400°. After 40 minutes, the soup was ready to be eaten, but I wanted that golden brown simmering cheese like the packaging showed. I put the French onion soup back in the oven for an additional 7 minutes. The cheese maybe came out slightly more golden brown, but some of the soup did reduce away. Wasn't worth putting back in the oven in my opinion, and the 40 minutes as per the instructions was probably best. Compare the original 40 minute cook time to the 47 minute cook time below. 
I may not have had the proper bowl for this soup. The instructions do state to use a 10oz bowl with a 4-inch diameter. My bowl has a diameter closer to 6 inches. Is that alone going to be the difference to get that golden brown cheese? I'm not entirely sure.
Both soups tasted about the same. I didn't notice any discernable difference in taste between the microwaved version and the oven baked version. The broth was favorable and very noticeable. The onion flavor was present but balanced. There were varying sizes of onions throughout the soup. Most pieces were smaller strips, but some were about 1 inch by 1 inch. I did not find any pieces that I thought were too big and did not belong in the french onion soup.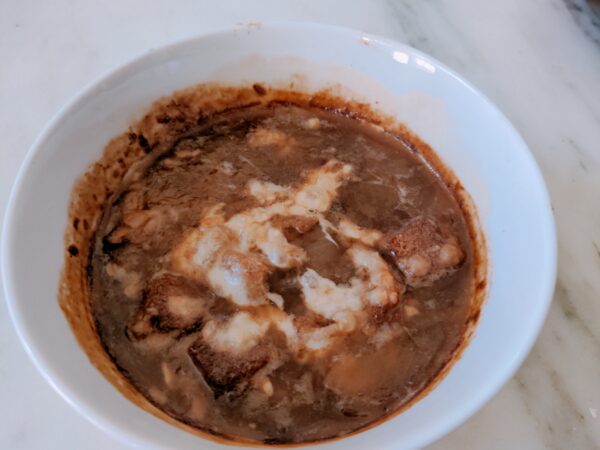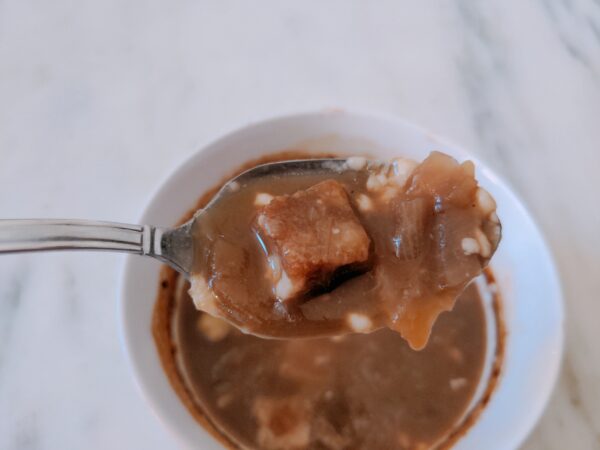 Each package of soup includes about 5-6 croutons. The croutons were of course going to be soggy after cooking in the soup for 40 minutes. They were mushy and I personally didn't care for them much. While they are a part of a traditional french onion soup, I wouldn't have missed them if they weren't included. 
I did enjoy the swiss cheese that topped the french onion soup. Not all of the swiss cheese balls melted together and many of them could still be seen in the soup as their own individual pieces. They were gooey, chewy, and added an excellent flavor to the soup. The only issue is that I couldn't achieve that golden brown bubbling look for the cheese.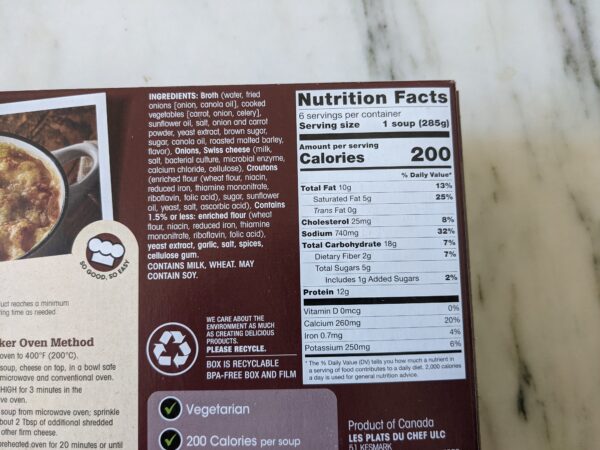 The nice thing about this Costco french onion soup is that the calories are very reasonable. Each serving of soup has only 200 calories. There are 10g of fat, 18g of carbs, and 12g of protein. This is actually pretty good for a soup. The calories are on the lower end, and there are 12g of protein which is much more than I expected in this soup. I've seen protein based products call out 12g of protein on their packaging before. So I'm actually rather surprised to see that much protein in this soup and not have it advertised heavily on the packaging. 
And as always, the same issue with the majority of frozen foods at Costco is going to be the sodium. Each individual french onion soup has 740mg of sodium (32% daily value). This is an extreme amount considering how small the soup is and that it probably won't be enough for a full meal. 
It is a soup, so I don't expect people to often eat multiple at a time. The macros on this soup are fantastic but the sodium is what you have to watch out for.
This Costco french onion soup is pretty darn solid. It's a nice little meal for $1.67 per soup, and the calorie count is right. The presentation can be improved, but the ingredients were adequate. The soup isn't winning any Michelin stars, but it's passable for a french onion soup that cost just a couple of bucks.
Costco Food Database User Reviews
Have you tried this item? Let the rest of the Costco Food Database community know what you think. Leave a rating and review for this product.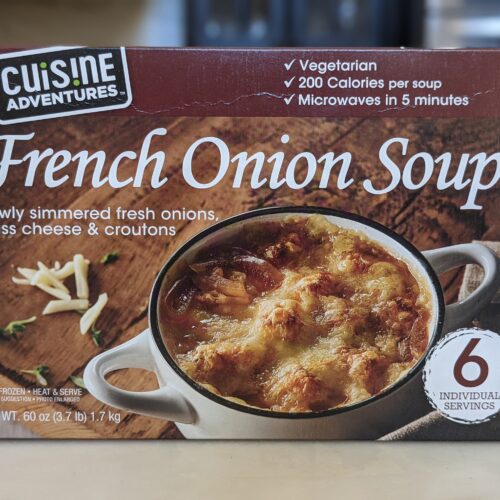 Costco's French Onion Soup - Official Cooking Directions
Costco's french onion soup is a fantastic seasonal treat. Here are the 3 official cooking direcitons for the soup.
Ingredients
1

Pack

French Onion Soup

2

tbsp

Additional Swiss Cheese
Instructions
Conventional Oven – Heat french onion soup in 400° for 40 minutes or until cheese is golden brown.

Microwave – Microwave soup on high for 3 minutes, stir, and microwave for 2 minutes more.

Hybrid Method – Microwave for 3 minutes, add additional swiss cheese, bake for 20 more minutes in a 400° oven. 
Nutrition
Serving:
1
Soup
Calories:
200
kcal
Carbohydrates:
18
g
Protein:
12
g
Fat:
10
g
Saturated Fat:
5
g
Trans Fat:
0
g
Cholesterol:
25
mg
Sodium:
740
mg
Fiber:
2
g
Sugar:
5
g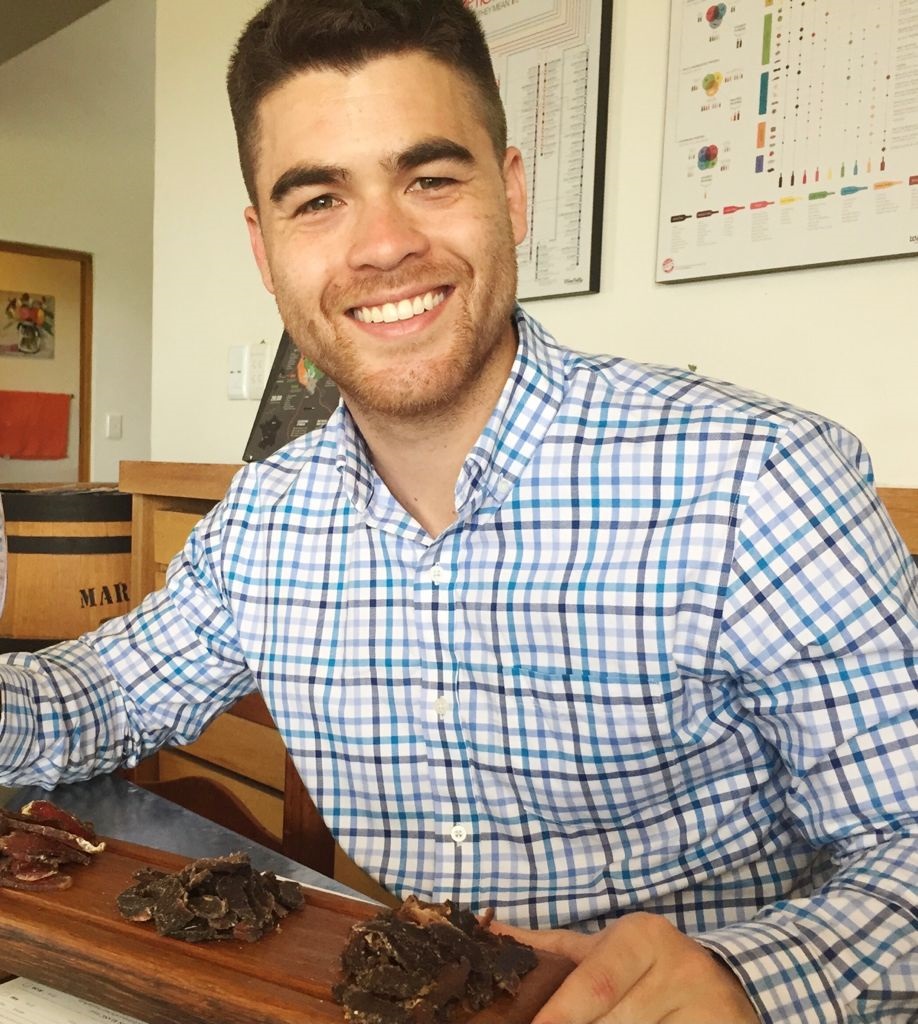 Greg Larkin is the founder and managing editor of Costco Food Database, the premiere site for honest takes on all things Costco food. A self-proclaimed Costco super-fan since childhood, Greg turned his obsession in a mission to properly rate and review all of Costco's delicious buys. When he's not busy navigating Costco aisles, you can find Greg smoking Kirkland Signature meats, meal prepping, or perfecting his homemade jerky recipes.