Costco Chicken Wings - Extra Crispy Tips + Sauce Ideas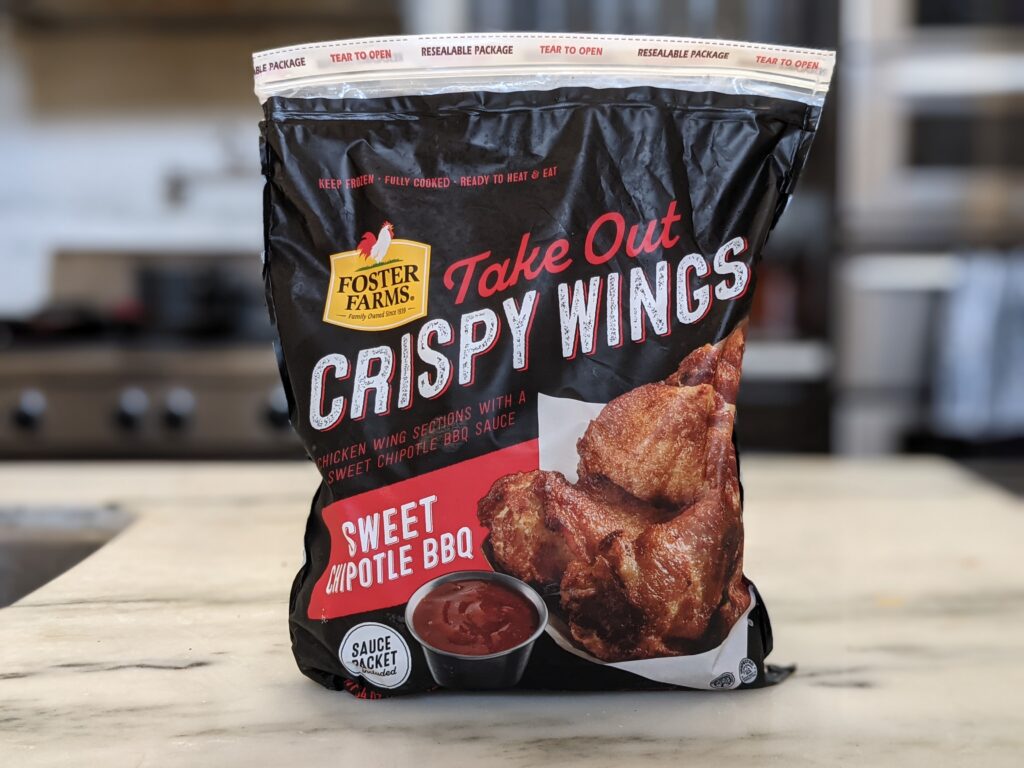 Foster Farms Crispy Takeout Wings at Costco
Costco has carried a lot of different frozen chicken wing options in the past, but Foster Farms Takeout Wings are the current offering. The chicken wings are sold with either Buffalo Sauce or Sweet Chipotle BBQ, but in the past Costco did also sell the Korean style BBQ Flavor.
These wings would make a great addition to any party and will complement Costco's party platter menu very well.
The #1 factor in quality chicken wings is going to be the crispiness. I will even take a plain crispy chicken wing over a sauced and soggy wing. So, I'm excited that Foster Farms has created a wing that focuses on crispiness. 
Foster Farms has created a method to maximize crispiness for a frozen chicken wing to the point where it mimics takeout wings from restaurants. 
They pre-season the chicken wings and then fry them just long enough to make the outside crispy. The inside of the wings stay tender and juicy, and will be finished off when you cook the chicken wings at home.
For this review today, I have the Sweet Chipotle BBQ version of these Costco chicken wings. 
The actual chicken wings seem to be the same for each bag, and the only differentiator between the Foster Farms takeout wings is going to be the sauce. 
The Sweet Chipotle BBQ Sauce has a slight kick that blends in so well with the sweet bbq sauce.
I opted for this bag of wings over the Buffalo chicken wings from Costco because I have had Foster Farms' Buffalo wings before and I found the buffalo sauce to be just ok. The sauce was a little thin and lacked a bit in flavor. 
My favorite wings are buffalo wings, but I have Franks Red Hot at home which I much prefer over the Foster Farms' Buffalo sauce packets. 
The Costco chicken wings are the same regardless of which bag you pick, so I would much rather go with the sauce I don't have at home which is the sweet chipotle bbq sauce.
I always have the option to coat and sauce these Costco chicken wings anyway I like, including with my own buffalo sauce or bbq sauce that I already have at home. I do appreciate that these chicken wings have a neutral flavor and can be sauced anyway I choose.
How Much do Chicken Wings at Costco Cost?
Costco sells the 4 pound bag of wings for $17.99. This breaks down to a price of $4.50 per pound of chicken wings. 
Compared to other Costco chicken wing options, this is on the higher price end for chicken wings, but they are pre-seasoned and partially fried that allows for an extra crispy skin when its time to cook and eat them. 
Better Costco Chicken Wing Deal?
Costco sells their fresh chicken wings at $2.99 a pound and their frozen wings for $3.50 per pound. 
The best deal for Costco chicken wings will be their $2.99 fresh party wings which can be found in the meat and seafood area of the store. Yes, the fresh chicken wings will also be the most affordable. 
One of my biggest gripes with some frozen foods is that they provide an excessive amount of sauce to increase the total weight of the food package. They offer less of the actual food and more of the sauce. 
In this case, the bag of chicken wings and sauce weighs 4 pounds. Out of the 4 pounds, there are only 3.25 pounds of actual wings. 
There are approximately 12 ounces of sauce in each bag of Foster Farms takeout wings. 
If we were to take $2 (I think this is more than a fair price for the sauce) off the retail price and remove the sauce, we would be paying $15.99 for 3.25 pounds of chicken wings. 
This increases the price per pound for the wings to $4.92, which is almost $2 more than Costco's fresh chicken wing price.
Costco vs the Competition
Target sells a one pound bag of Foster Farms Takeout Wings for $9.29 which is double Costco's price per pound. 
Safeway sells the same 1 pound bag for $9.99. 
Costco has by far the best price for these Foster Farm Takeout Wings, coming in at nearly half the price of other retailers and grocery stores.
Costco Chicken Wing - Taste Test
Extra Crispy Chicken Wings
I went with the air fryer cooking method for these chicken wings and they came out not just crispy but super crispy. The skin was very nice, and the interior chicken was still juicy and flavorful. 
If you want to use the air fryer to cook these chicken wings, either consult your air fryer cooking guide or use my recipe below. 
Visually, the Costco chicken wings look fantastic. The skin is crisped and even blistered from the initial frying of the wings during production, and the air fryer is the perfect cooking option to bring out the best of these wings.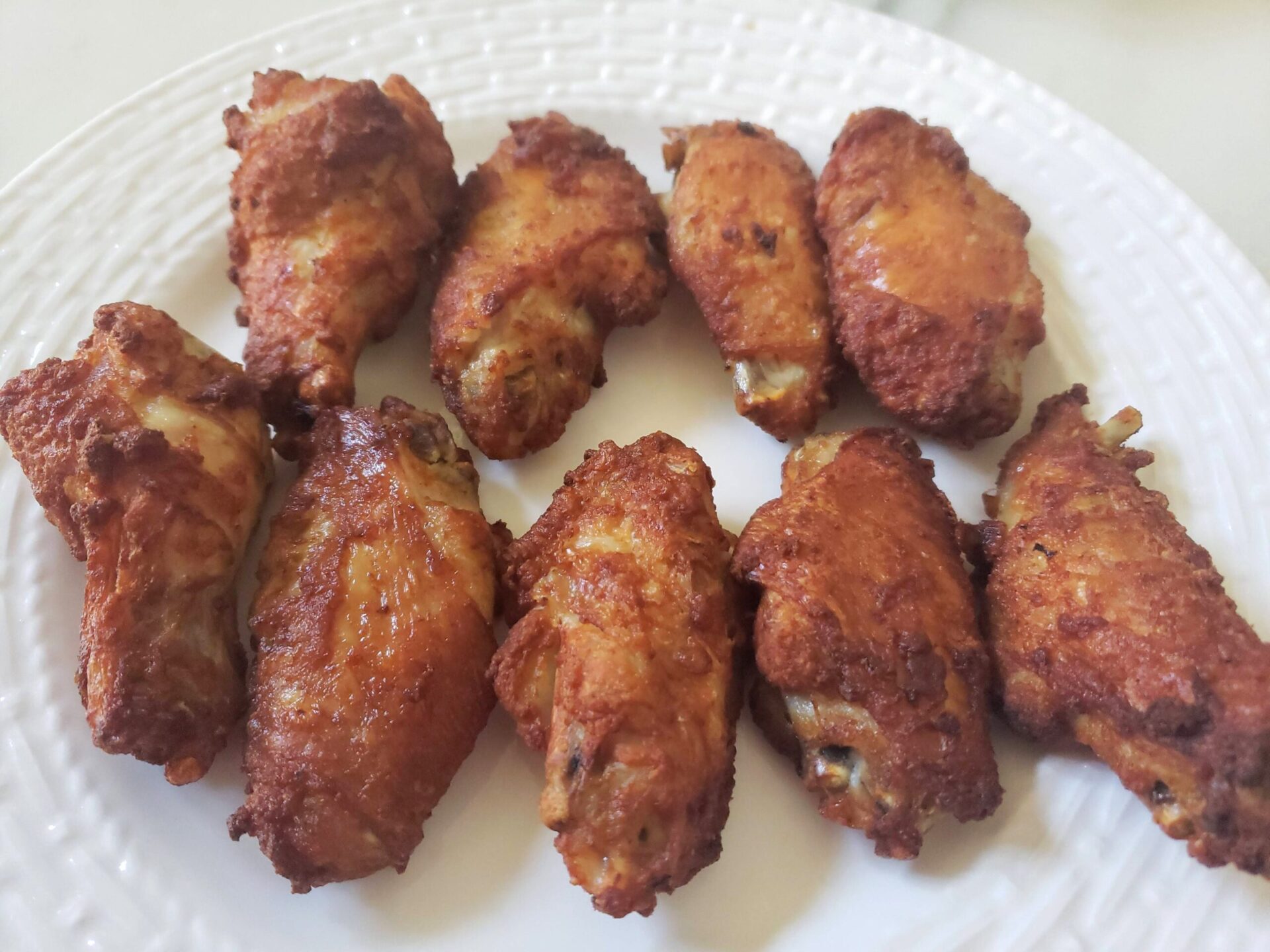 After 20 minutes in the air fryer, these chicken wings from Costco had perfectly dark brown roasted skin. 
The chicken wings are so crispy, that you might even be tempted to eat them right then and there. (I did, and they are good sauceless as well)
The meat of the wings is also rather juicy. They aren't perfect, but there is a lot of potential if these are cooked properly.  
The meat is tender and without a doubt one of the better tasting frozen chicken wings. 
The Costco chicken wings themselves are on the smaller side. The wingettes or the flats seemed to be fairly normal-sized, but the drumette did seem a little small to me. 
I know that Kirkland Signature Frozen Chicken Wings will include larger drumettes than these.
For this review, I only had the Sweet Chipotle BBQ Foster Farms Chicken Wing Bag, but I did have some Frank's Red Hot Buffalo Sauce. 
I tasted one wing sauceless, one with the Chipotle BBQ, and one with Buffalo.
The unsauced chicken wing actually tasted really good. The seasoning wasn't overwhelming and the skin was more than sufficiently crispy. I actually rather enjoyed the "naked" chicken wing.
The Sweet Chipotle BBQ sauce was great. I expected Sweet Chipotle more in name than in game, but was pleasantly surprised.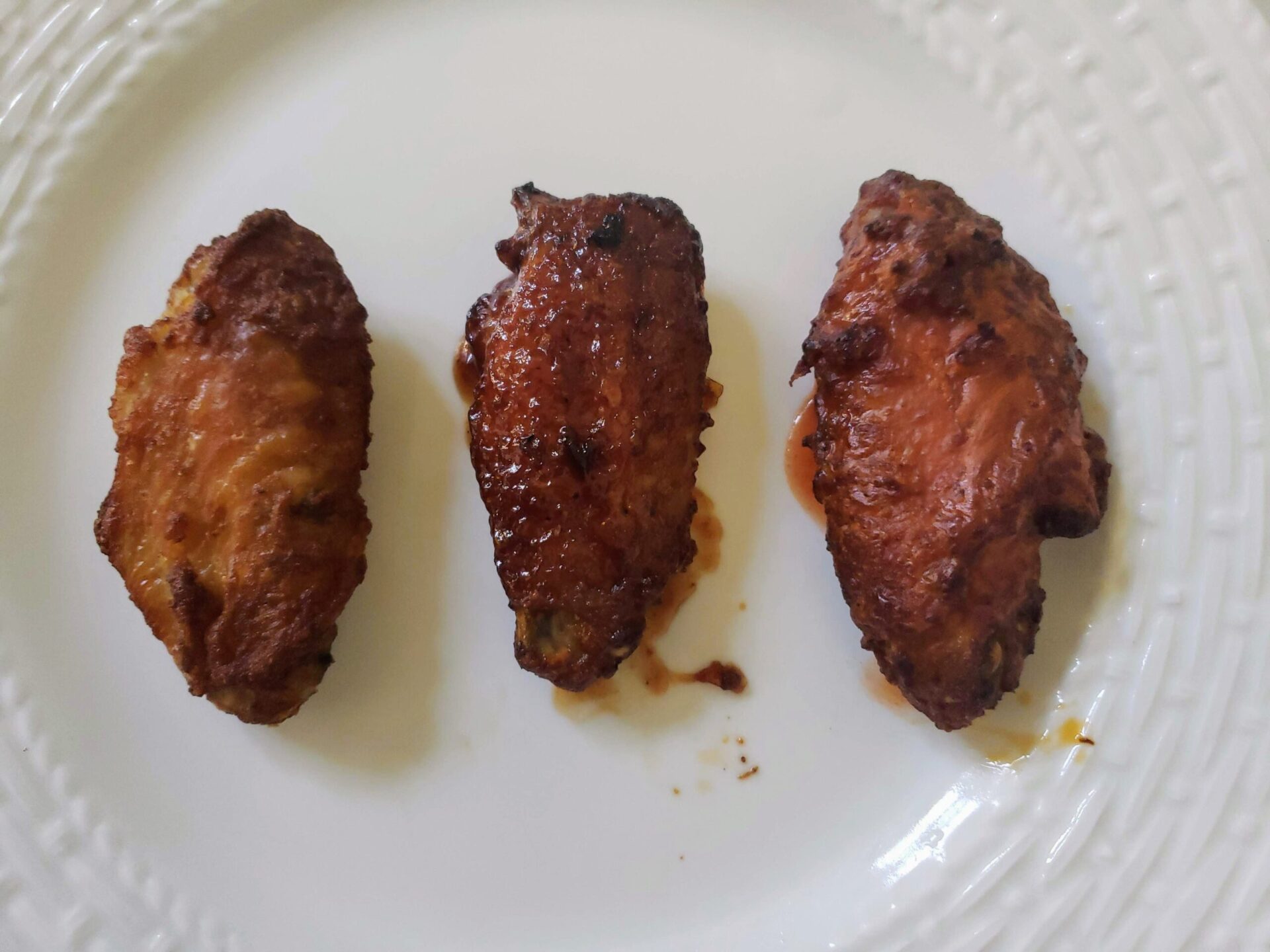 The sauce tasted rather unique and did even bring some heat. It was sweet, rich, and had just a slight kick. I enjoyed the bbq sauce much more than I thought I would.
The Buffalo sauce I used was Frank's Red Hot and it goes great with chicken wings. I love buffalo wings, so I knew I was in for a treat.
The wing was spicy, but a touch overly salty as well. The Costco chicken wings are already seasoned and buffalo sauce is very salty and sodium intensive.
Foster Farm Take out Wing Cooking Instructions
How to Cook Foster Farms Takeout Wings
Foster Farms recommends cooking these chicken wings in either the oven or in an air fryer. 
They don't have specific instructions for the air fryer, but I have an extra crispy chicken wing air fryer recipe that works so well with these wings.
Costco Chicken Wing Air Fryer Super Crispy Cooking Instructions
Preheat air fryer to 400°F 

Spray tray with cooking oil

Place chicken wings in a single layer with sufficient space between them.

Spray with oil and cook for 20 minutes.

Halfway through cook time, flip and spritz with cooking oil. 

After 20 minutes or until sufficiently heated through, remove from air fryer
Optional: Sauce and return to the air fryer for 3 more minutes to caramelize.
Cook up to 12 Wings in a preheated oven at 425°F for 20-22 minutes.

Cook the entire 3.25 pound bag of wings at 475°F for 30 minutes.
Cook up to 12 chicken wings in a preheated oven at 400°F for 14-16 minutes.

Cook the entire 3.25 pound bag of wings at 460°F for 30 minutes.
Costco Chicken Wing Nutritional Information
How Many Calories in Foster Farms Chicken Wings?
There are 9 total servings in each bag of chicken wings, and each serving is 3 ounces of chicken meat and contains 150 calories. 
Those 150 calories come from 9 grams of fat, 4 grams of carbs, and 12 grams of protein. 
This is a standard chicken wing nutritional profile aside from the 4 grams of carbs. 
Chicken wings naturally do not contain any carbs, so whatever they used to make the wings crispy does bring some carbs to the nutritional label.
If there are 9 servings in the entire bag, does that mean there are only 1350 calories in the entire bag? (9 servings times 150 calories per serving) 
I will say that 1350 calories for a whole bag of chicken wings seems rather worth it. I know some of you out there are with me on this. 
The major bigger problem with the chicken wings is going to be the sodium. Each serving contains 630mg of sodium or 27% of the daily recommended value. W
hen I eat chicken wings, I know I'm eating multiple 3 ounce servings, so the sodium level is something to watch here.
Sweet Chipotle BBQ Sauce - Nutrition
The Sweet Chipotle BBQ Sauce for these wings has a serving size of 2 Tbsp and contains 80 calories. The 80 calories all come from 20 grams of carbohydrates.
The BBQ sauce is for taste, but it might not be something that you want to consume too much of.
Buffalo Sauce Chicken Wings
The Buffalo sauce that is included with the Buffalo Chicken Wing has the same 2 Tbsp serving size, but contains only 10 calories. The 10 calories come from 3 grams of carbs.
This sounds great, but the trade off is the massive amount of sodium that is included at 1060 mg or 46% of the daily recommended value. 
It's almost a pick your poison type situation.
Alternative Dipping Sauce Ideas
Costco currently only offers two flavors of chicken wings, but if you don't care for either the Buffalo or Sweet Chipotle BBQ, you can always use or make your own sauce.
Some of my favorite DIY sauces are Smoked Paprika Aioli and Chipotle Lime Sauce.
If you don't want to go through the trouble of making your own sauce, give one of these classics a try.
Garlic Parmesan

Spicy Garlic

Lemon Pepper

Caribbean Jerk Sauce
These chicken wings from Costco are awesome. Easily, my favorite frozen chicken wing that Costco has ever sold. 
The wings are crispy and the meat is juicy. 
You can always make chicken wings on your own, but there is something about the Foster Farm Take Out Wings that just makes them fun and memorable.