Costco Paleo Bars by Universal Bakery (Healthy & Filling)
Costco sells a 20 count pack of Organic Grain Free Paleo Bars by Universal Bakery for $10.99. The paleo bars are located in the Pantry and Dry Goods area of the store.
They are often found near other items such as the sourdough bread, madras lentils, and the Belgian Waffles.
Costco also sells That's It Bars, which aren't heavily marketed as paleo, but are indeed paleo certified.
This package of Paleo Bars contains 20 individual 1.34 ounce bars. These bars are about 3 inches long and made with only ingredients that are part of the paleo diet and will mostly be made of nuts and seeds. 

These Bars are paleo certified, organic, grain free and include 6 grams of protein per bar.
Have You Tried Costco's Paleo Bars?
Let the rest of the Costco Food Database community know what you thought of this product. Results and reviews are at the bottom of this page.
Please allow 24 hours for review moderation and approval.
What is Paleo and Why Eat These Bars?
Paleo Diet aka Paleolithic diet aka Caveman Diet is a diet where you consume foods only eaten by people in the Paleolithic area.
This essentially means avoiding all processed foods and focusing on foods such as vegetables, fruits, nuts, roots, and meats.
The paleo diet excludes dairy, grains, most sugars, certain oils, and other foods that were not accessible or available in the time period.
As you can imagine going through this exclusion list here, it can be difficult to find a baked good that is also Paleo.
Costco Paleo Bar Ingredients
The ingredient list for these paleo bars is rather simple and its great to see a lot of recognizable items in these bars. 
Organic Whole Almonds
Organic Honey
Organic Shredded Coconut
Organic Pumpkin Seeds
Organic Coconut Oil
Organic Brazil Nuts
Organic Pumpkin Seed Protein
Organic Chia Seeds
Organic Cinnamon
Sea Salt
Vanilla Extract
How Much Do Paleo Bars Cost at Costco?
The Paleo bars at Costco go for $10.99 or $0.55 per bar. Occasionally, Costco will discount the paleo bars to $8.49. 
This is a savings of $2.50 or 22% and brings the price of each bar down to $0.42.
Factoring in the size and the ingredient list of these bars, I would say that is a pretty darn good deal for a bar like this. 
You would often pay a similar price or more for an unhealthy snack bar, so these are quite the deal, and well worth the money.
Typically, I would do a price comparison to other retailers, but there aren't many bars marketed as paleo out there. 
Not only does Costco have exclusivity with the Universal Bakery Paleo Bars, but it is one of the few places to purchase a bar designed solely for the paleo crowd. 
Most other bars that are paleo certified are marketed and sold as protein bars. 
Visually, these paleo bars easily pass the test. They look great and they are jam packed with seeds and nuts, which is exactly what you want to see in a paleo bar. 

The almonds, pumpkin seeds, chia seeds, and brazil nuts are all very visible throughout the paleo bars. 

The bars smell earthy with a slight hint of cinnamon.
The texture of the paleo bar is as expected. The bar is firm and dense while also slightly chewy. The chewiness pairs really well with the crunchiness of the nuts. 
There are quite a few different textures coming from the bar, the large nuts, and the small chia seeds. Each nut provides a varying level of crunch that makes the bar rather enjoyable. 
I would have preferred some of the nuts such as the almonds to be broken down into smaller pieces.
My only complaint is that some of the nuts are too large and when eaten may feel out of place. They separate from the bar and it feels like you're eating a snack bar and some nuts at the same time.
For taste, these are good for a grain free healthy paleo bar. I liken them to a healthier version of an Aussie Bite which is a healthier version of a Heavenly Hunk. This bar feels and tastes the healthiest out of these options.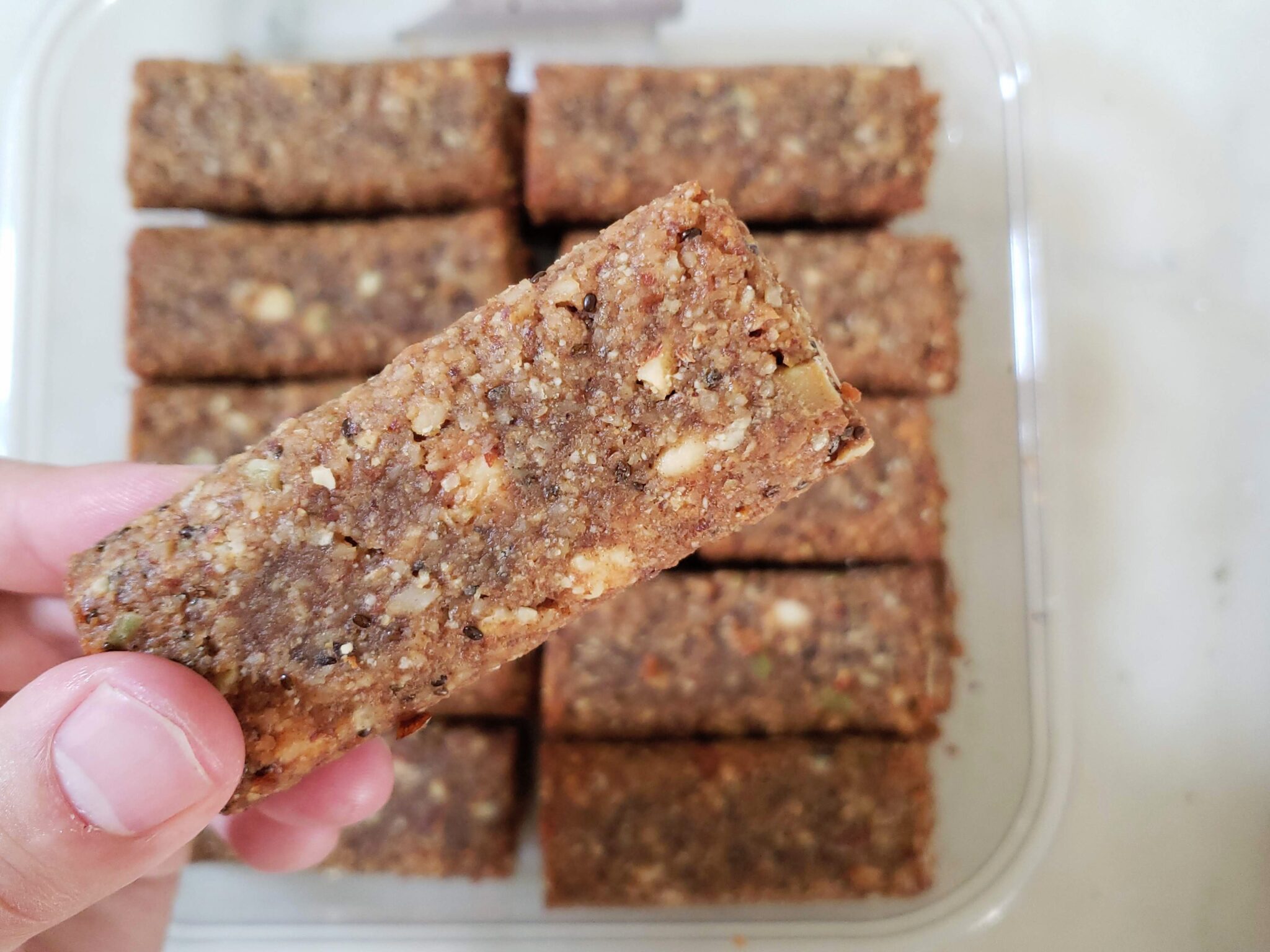 They remind me very much like an Aussie Bite that has a few more nuts and is a little more on the dry side. There is a very light sweetness, but for the most part the bar tastes earthy and nutty. 
Universal Bakery's Paleo Bars makes for a great and filling snack that is healthy and enjoyable

Universal Paleo Bars Nutrition
How Many Calories in Costco Paleo Bars?
One serving of Paleo Bars is going to be 1 bar and contain 230 calories. In each bar there are 19 grams of fat, 14 grams of carbs, and 6 grams of protein.
At first glance, this may seem to be a very calorie dense bar with quite a bit of fat and carbs. While this is true, those on a paleo diet will understand that there will be an inordinate amount of fat due to the nuts and seeds that are required to make this bar. This bar contains an abundance of healthy fats. 

The paleo bars may not necessarily be a great diet food, but are a great option for those following the paleo or caveman diet.
As part of the Paleo diet, paleo bars will help to balance blood glucose levels, improve insulin sensitivity, lower blood pressure and more. Many people who have committed to the paleo diet have also noticed fat loss and lean muscle gain.
Do the Paleo Bars from Costco have Sugar?
Yes, the Costco Paleo Bars do have 9 grams of sugar and 8 grams of included sugar. Sugar isn't a direct ingredient in the paleo bars, but there is sugar in some of the ingredients such as honey and coconut. 
Sugar from honey and coconut are generally accepted in Paleo diets and this bar is still paleo certified.
Why do Paleo Bars have so many calories?
Universal Bakery Paleo Bars have a lot of calories because of the amount of nuts and seeds that are used as ingredients. The calories come from the high amount of healthy fat that can be found in some of the ingredients such as almonds, honey, and coconuts.
For those following the paleo diet, these paleo bars are a must buy and quite the treat. If paleo isn't your concern, these are average but still tasty snack bars.
Costco's offers these at a fantastic price, and the quality is there for these organic grain free paleo bars. I personally don't follow the paleo diet, but I will have no problem enjoying and even finishing off these nutrient rich paleo bars.
Costco Food Database User Reviews
Have you tried this item? Let the rest of the Costco Food Database community know what you think. Leave a rating and review for this product.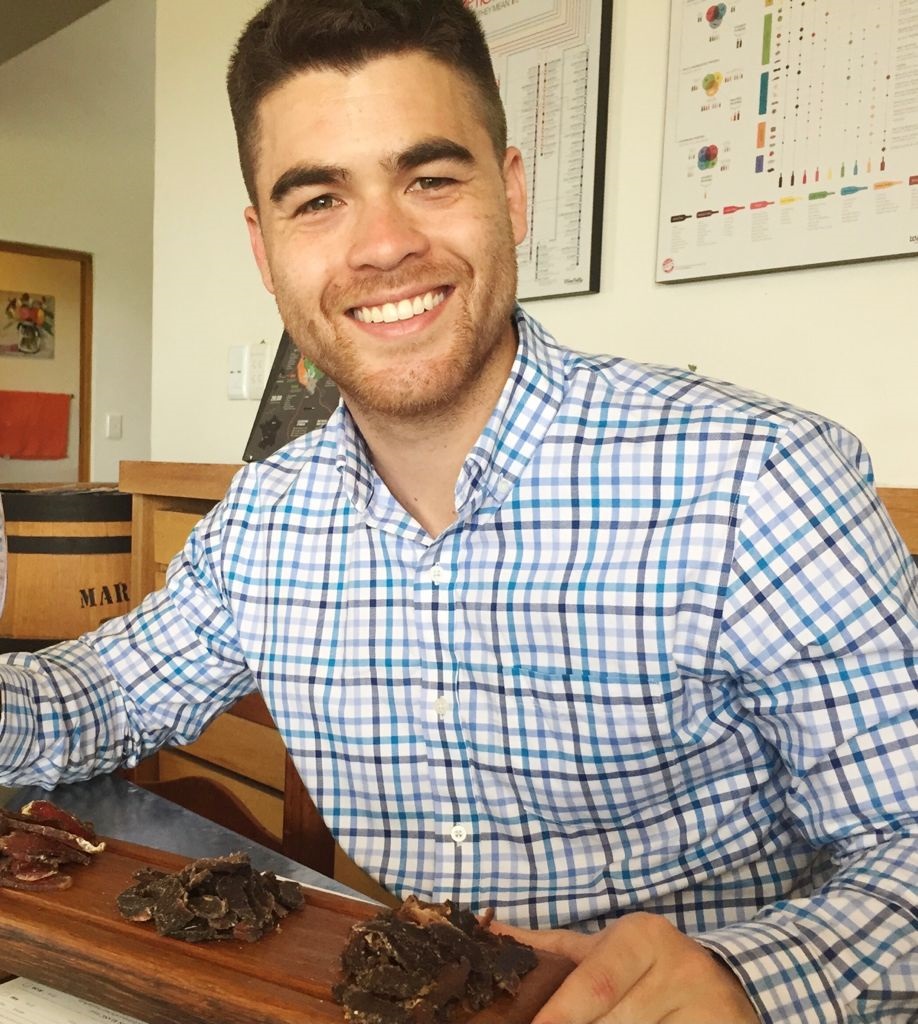 Greg Larkin is the founder and managing editor of Costco Food Database, the premiere site for honest takes on all things Costco food. A self-proclaimed Costco super-fan since childhood, Greg turned his obsession in a mission to properly rate and review all of Costco's delicious buys. When he's not busy navigating Costco aisles, you can find Greg smoking Kirkland Signature meats, meal prepping, or perfecting his homemade jerky recipes.