Costco Turkey Burgers (Healthy & Delicious) + Recipe Ideas
The Columbus frozen turkey burgers are 90% lean/10% fat burgers, which is ok but not ideal.  
Traditionally for beef burgers, most people prefer 80% lean/20% fat, and it would be safe to say that 80/20 ground turkey would be best for burgers as well.
The turkey patties are on the larger side for frozen burger patties coming in at 1/3 of a pound. This is great, as a double turkey burger sandwich will contain 10.66 ounces of turkey. 
That makes for a nice and filling meal!
Columbus Turkey Burgers are Pre-Seasoned
Columbus has already pre-seasoned their turkey burgers. Depending on who you ask, this may be a good thing as you don't have to worry about seasoning the burger patty yourself, but people may also say it's a negative as you can't really adjust the flavor much.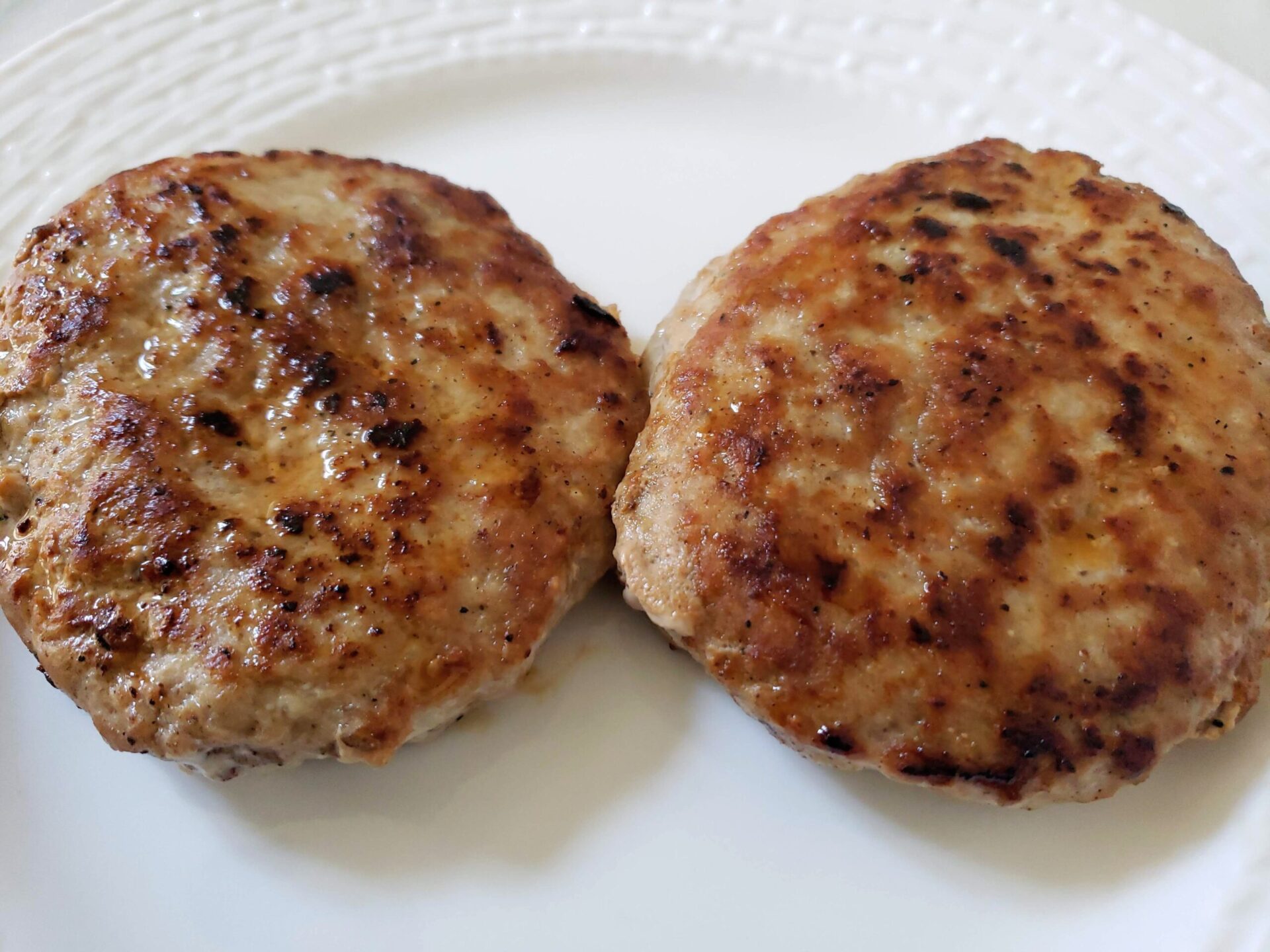 I personally would have preferred Costco to sell unseasoned turkey burgers as I prefer the customizability of seasoning it myself.
Who is Columbus Craft Meats?
Columbus is a San Francisco based company that focuses on deli meat and turkey products. 
They sell quite a few other items at Costco including the Salami, turkey breast deli meat, and turkey bacon.
Costco Cost Comparison - Columbus Turkey Burger
How Much Do the Turkey Burgers Cost at Costco?
Costco sells the 10 pack of turkey burgers for $10.99, but will occasionally discount them to $7.69. 
This breaks down to $1.10 per turkey patty at retail and $0.77 when they are on sale. This is a huge discount of 30%.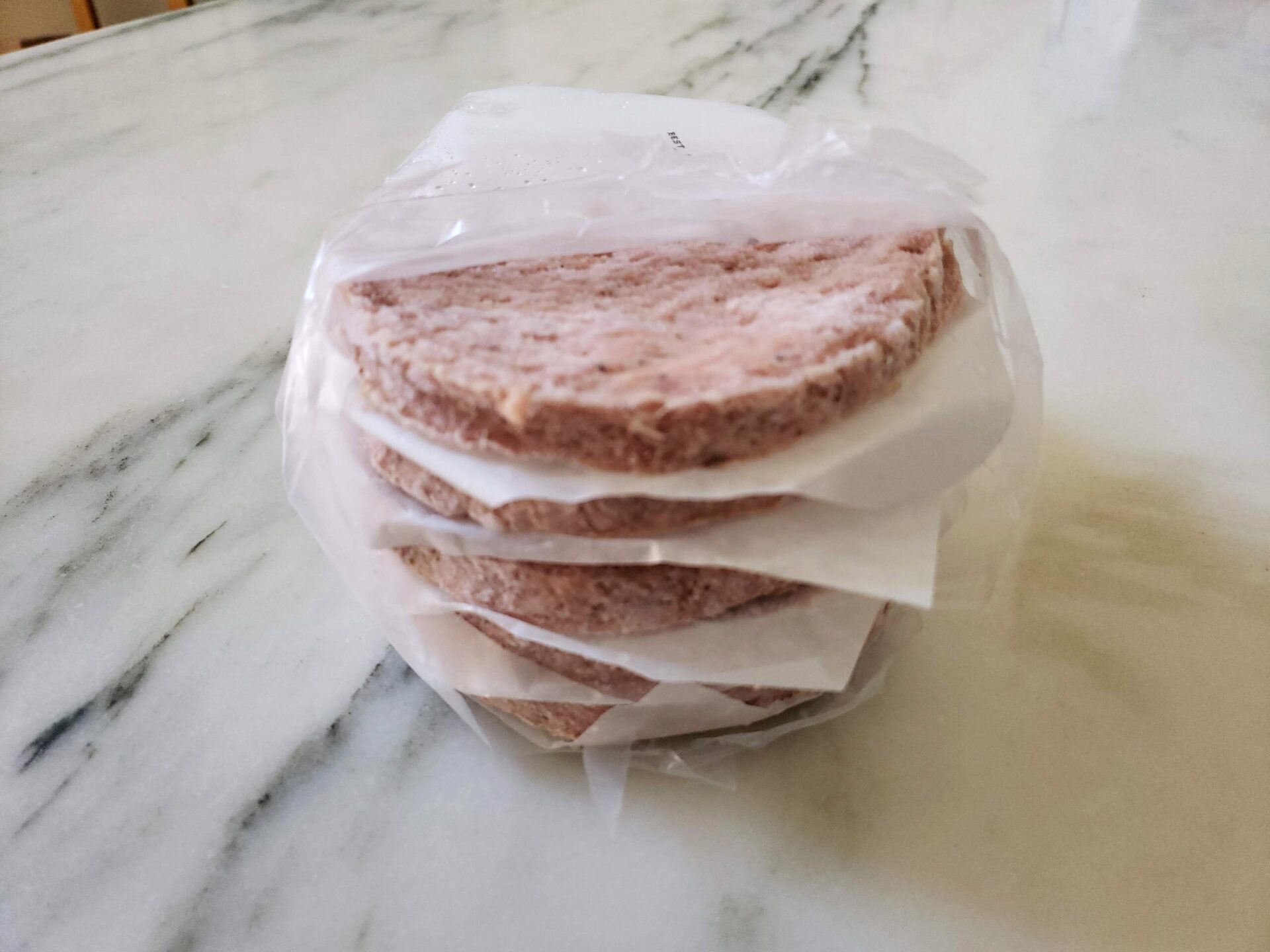 At retail the price per pound is $3.30 and when on sale this drops to a staggeringly low $2.30 per pound.
Costco has recently raised the price of the fresh ground turkey from $2.59 to $3.30 per pound which once again reinforces how great of a deal it is for these frozen turkey burger patties. 
Turkey Burger vs The Rest
At $0.77 a patty, these 1/3 pound turkey burgers are quite the bargain. Costco's grass-fed beef goes for $1.60 and a Costco salmon burger patty goes for $1.50. 
When Costco puts Columbus Turkey Burgers on sale, they are nearly half the price of beef or salmon burgers! 
They are not a bad item to stock up on! 
Costco vs the Competition
Sam's Club sells a 6 pack of Butterball Turkey Burgers for $10.96 or $1.83 a burger patty. This is more than double Costco's price and even more expensive than Costco's high quality grass-fed burger.

The price is much better at Target, as they sell a 6 count of their own Good & Gather brand for $5.99. 

Costco, again, comes out ahead in price, and the turkey patties are an absolute steal when they are discounted.
Seasoned Turkey Burger - Taste Test
To start, these are very easy to cook. They can be cooked from frozen and take about 10-12 minutes regardless of method. I like to grill for maximum taste or pan cook if grilling isn't an option.
Are Costco Turkey Burgers Good?
These are good burgers in their own right, but they pale in comparison to fresh handmade turkey burgers. 
The turkey burgers are convenient and tasty, but they are frozen burger patties and there is an upper limit to how good these can taste. 
I made a double turkey burger with cheese and it was good. The turkey could be a little rubbery at times and the texture is a little processed.
The patty doesn't fall apart like a handmade burger patty would. This is a processed and frozen burger, and as it should, it tastes like one.
The seasoning is ok at best. Again, these would be better if they were unseasoned as you would be able to flavor the turkey patty exactly as you please. 
For a turkey burger, the seasoning isn't bad, but if you want to use the turkey burger meat for additional uses, the seasoning may slightly conflict with other items.
Turkey Burger Recipe Ideas and Additional Uses
Many people may only consider eating these turkey burgers on a bun, and that makes the most sense. 
I too, think that they are best as burgers, but the patties can also be used in a pinch with other food items.
Best Turkey Burger Toppings
To spice up your burger a little, Columbus recommends topping your turkey burger with classics such as sliced tomato, red onion, and cheese.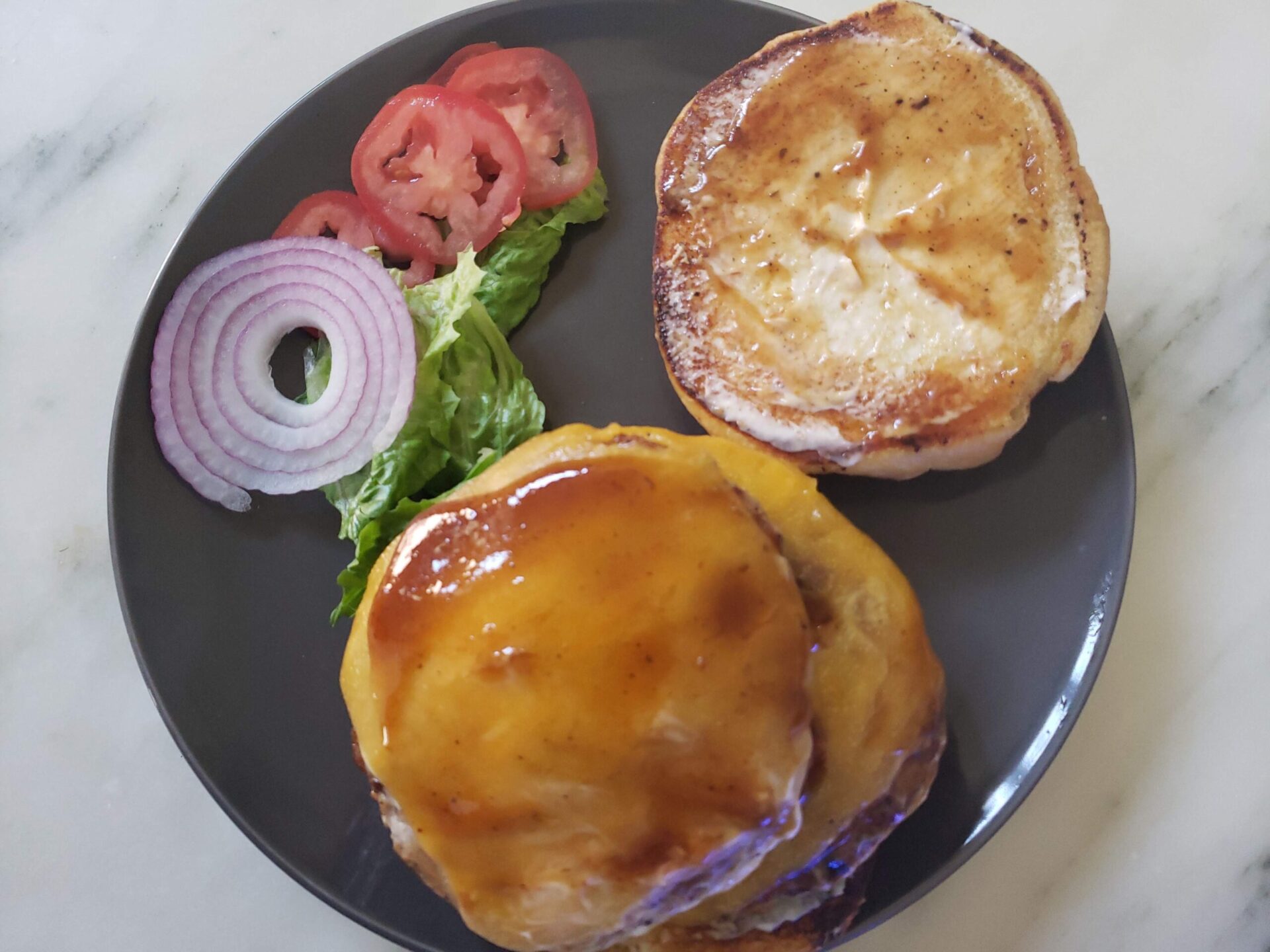 For a quick protein these are great when diced up with some spaghetti or even added to some rice. They are delicious when chopped up and thrown in a burrito with some rice, beans, and salsa.
There are even recipes that can really enhance the simple turkey burger patty and make it a memorable meal. 
Check out this mushroom gravy turkey burger recipe from Don't Sweat the Recipe.
These patties don't just have to be burgers, the better way to think about it is as frozen pre-portioned meat. The possibilities are literally endless!

Costco Turkey Burger Cooking Instructions
Columbus recommends 3 different methods to cooking their seasoned turkey burgers. They can be grilled, pan fried, and baked in an oven.
How to Cook Turkey Burgers from Costco?
Place frozen turkey burgers on a pre-heated grill.

Grill Burgers for approximately 6 minutes per side until the internal temperature reaches 165°F. 
Lightly oil and preheat a large skillet over medium heat.
Add frozen burgers to skillet and cook approximately 6-8 minutes per side until fully cooked and internal temperature reaches 165°F. 
Preheat the oven to 375°. Place frozen turkey burgers in a single layer on a cookie sheet lined with parchment paper. 
Put the cookie sheet with the turkey burgers in the oven and position them 5-7 inches from the heat source. 
Cook each side for approximately 6 minutes until the internal temperature reaches 165°F. 
Columbus Turkey Burger Nutrition & Ingredients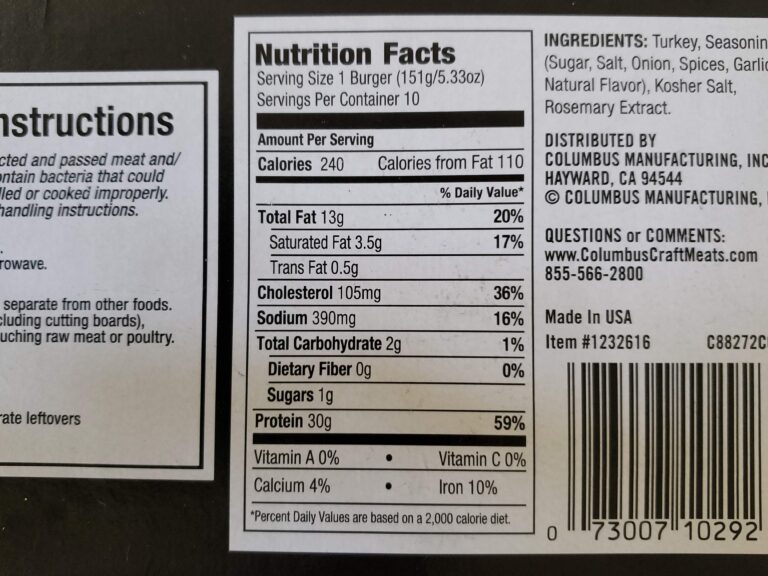 How Many Calories in Columbus Frozen Turkey Burgers?
Each 1/3 pound turkey burger is going to be one serving and will have 240 calories. Those 240 calories will come from 13 grams of fat, 2 grams of carbs, and an ultra mega 30 grams of protein.
Yes, this is just basic meat, but this is an amazing nutritional profile. The protein to fat and carbs ratio is astounding and 30 grams of protein per turkey patty is huge. 
Those double burgers I like to eat have 60 grams of protein with only 24 grams of fat. Wow!
When it comes to sodium, there are 390 mg per turkey burger patty or 16% of the daily recommended value. Normally I would have labeled a sodium content like this as a moderate amount, but for pre-seasoned burgers, I find it fantastic to only have 390 mg per serving. 
I honestly was expecting a lot worse and was super surprised to only 16% DV there. That double burger is sounding double good now. 
Of course, this could be made better if burgers were not seasoned, but I will take what I can get.
Are Turkey Burgers Healthier than Ground Beef Burgers?
Yes, but not in the way most people think of ground beef and ground turkey. When it comes to calories and fat they are essentially equal.
The reason turkey burgers are indeed healthier than ground beef burgers is because they contain better fats. Ground beef is made of saturated fats, while turkey is made of polyunsaturated fats which are much healthier.
The big misconception usually comes from people who associate calories/fat with healthy. An 80/20 (80% lean, 20% fat burger) is going to have the equivalent amount of calories as a 80/20 ground beef burger.
Ground turkey does not contain fewer calories or less fat than its beef counterpart. In fact, ground turkey has more calories than ground beef does!
Another healthy alternative to beef cheeseburgers will be Costco's chicken burger.
Costco Turkey Burger Patties
Product Name: Columbus Seasoned Turkey Burgers
Product Description:
Price: $10.99 Retail / $ 7.69 Sale
Quantity: 10 Turkey Patties
Location Within Costco: Frozen Food Aisles
Price Per Pound: $3.30 / $2.30
Summary
Costco's turkey burger patties are a force to be reckoned with. The price is fantastic, the nutritional label is amazing, and they are super easy to cook.
The only downside is the taste is just a bit above average. Regardless, they are still worth a buy!
Value -

10/10

Convenience -

8/10

Taste -

6/10

Nutrition -

10/10

CFDB Score -

7/10
Pros
Great value
Excellent nutritional profile
Versatile
The Costco Turkey Burgers are a winner! The price is fantastic, the nutritional profile is excellent, and they are convenient and versatile.
The problem is the burger is a little too processed which is hurting the taste and texture. A little more of a ground turkey feel would be nice.
Columbus' Turkey burgers aren't the best in the world, but they are worth a buy at Costco.