Costco Keto Crackers - 4g Carbs, But Big Calorie Problem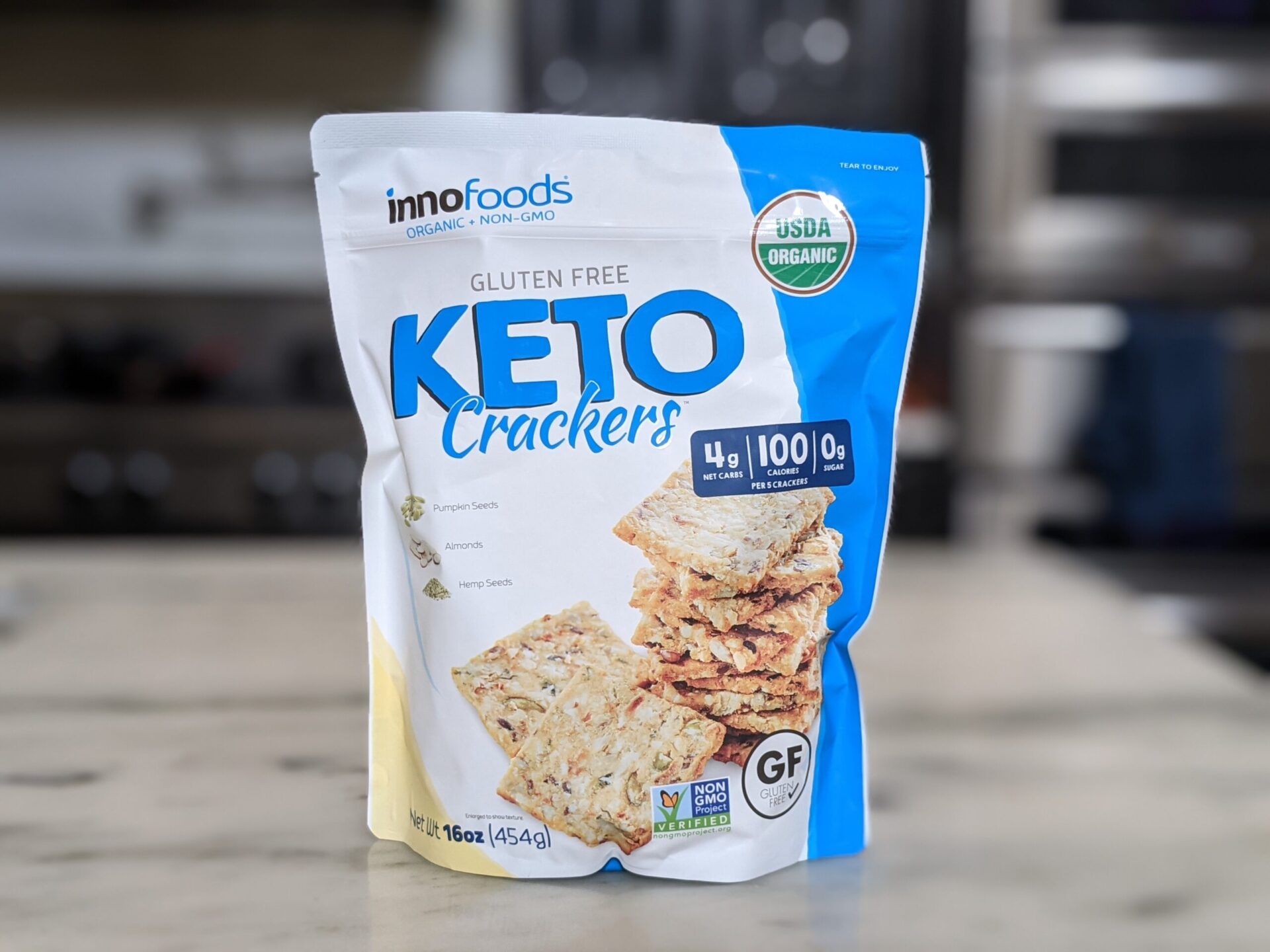 Innofoods Keto Crackers at Costco
Have You Tried Costco's Keto Crackers?
Let the rest of the Costco Food Database community know what you thought of this product. Results and reviews are at the bottom of this page.
Please allow 24 hours for review moderation and approval.
Whats In InnoFoods Low Carb Crackers?
The Keto Crackers are made with coconut, and a variety of seeds such as pumpkin seeds, sunflower seeds, almonds, and hemp seeds.
Each serving of crackers contains only 4 grams of net carbs which makes these a very keto friendly and low carb food option from Costco.
These crackers hit the trifecta by not just being keto friendly but are also certified organic and gluten free.
Keto is short for ketogenic and is a low carb, high fat diet. The diet involves replacing carbohydrates with fat and in turn will put your body into a state called ketosis. 
When in ketosis, your body does a great job of burning fat for energy, which results in weight loss.
Costco Cost Comparison - Innofoods Keto Crackers
How Much are the Keto Crackers at Costco?
Costco retails InnoFoods Keto Crackers for $8.49 but will discount the crackers to $6.49. This is a solid $2 or 23% discount, which makes the keto crackers much more affordable.

Now, even when on sale at $6.49 a bag, these keto crackers are going to be more expensive than typical crackers.
They are made with quality ingredients such as hemp seeds, pumpkin seeds, and almonds, which will of course bring up the price of the package.
Costco vs the Competition
It does appear that Innofoods Keto crackers are only sold at Costco. Other retailers such as Amazon will sell the same bag of Keto Crackers at $22 which is 3 or 4 times more expensive than Costco's price.
Amazon is never going to be the place to get the best deal on food products as usually the items are bought and then resold by individual resellers or small companies.
Keto Crackers from Costco - Taste Test
The Crackers Look Amazing
The first thing that sticks out with these keto crackers is that they aren't traditional wheat or flour crackers but instead are a cracker that is filled with a visible variety of nuts and seeds.
It is quite apparent that these low carb crackers are going to be bursting with nutrients, minerals, and vitamins.
Slightly Dry (Might Be a Positive)
As far as taste is concerned, the crackers are a little dry. I understand these are a keto version of crackers that is intended to reduce sugars and carbohydrates in your diet, but they are a little more dry than a typical cracker.

Typically with crackers this may be a bad thing, but the dryness does help limit some of the binging or overeating. I will eat maybe a handful and that is enough to satisfy my snack cravings.
While the crackers are dry, they are tasty. The seeds provide a very nice crunch and texture to the crackers as well as add a ton of flavor.
The pumpkin and sunflower seeds are of course delicious and the almond adds a very nice neutral sweet flavor to the cracker.
The Big Problem - Hard to Track Calories and Carbohydrates!
One issue I do have with the keto crackers from Costco is that they break apart rather easily. I transported the crackers home from Costco, and opened the bag to find that many of the cracker pieces had already broken apart. 
I searched for as many whole keto crackers as I could, but this is the best I could do. Imagine trying to count calories and more importantly carbs when you have cracker pieces instead of full on crackers. 
Normally, this wouldn't be the worst thing, but for those with strict diets, you would have to weigh a serving of crackers instead of simply pulling out 5 full crackers (1 Serving).
Overall, the keto crackers from Costco are very enjoyable and tasty. Their smell and taste remind me of Costco's Ancient Grain Granola and are extremely easy to eat.
Costco Keto Cracker Nutritional Information
How many calories in Costco Keto Crackers?
One serving of InnoFoods Keto Crackers is going to be 5 crackers (20 grams or 0.7 ounces). Each serving contains 7 grams of fat, 7 grams of carbs, and 3 grams of protein.
This is a standard nutritional profile as most low carb crackers or foods will trade off the carbs for fat.
This will also explain why the fat content is so much higher than traditional crackers as well as the high calorie count.
With such a high calorie count for a small amount of crackers, these are intended for those with specific dietary needs and are not going to be a great diet food for the general population.
How many carbohydrates are in these keto crackers?
Costco's keto crackers contain 7 grams of carbs but have only 4 grams of net carbs. There are 2 grams of fiber and 1 gram of sugar alcohol which are subtracted from the 7 grams of carbohydrates to make 4 net carbs.
The sugar alcohol comes from erythritol which I recently learned about when I reviewed the Body Armor Sports Drinks. 
Erythritol is a sugar alcohol that is typically used as a sweetener and will get quickly passed through the body before it can be metabolized. This is why sugar alcohol is not included in the net carbohydrate count.
Innofoods Gluten Free Organic Keto Crackers - Ingredients
These keto crackers have a pretty clean and healthy ingredient list. You will probably know the majority of the ingredients on the label and that is a very good sign.
The Keto Crackers from Costco are great for what they are, which is a low carb no sugar cracker alternative. They are very tasty in their own right and are packed with healthy nutrients. 
They are more expensive than traditional crackers and are packed with calories due to the increased fat, but they are excellent for those who are on a keto diet and want to remain in ketosis. 
Innofoods Keto Crackers are going to be more expensive than most other crackers, but in terms of Keto friendly foods these are quite the bargain when they are on sale at Costco.
Costco Food Database User Reviews
Have you tried this item? Let the rest of the Costco Food Database community know what you think. Leave a rating and review for this product.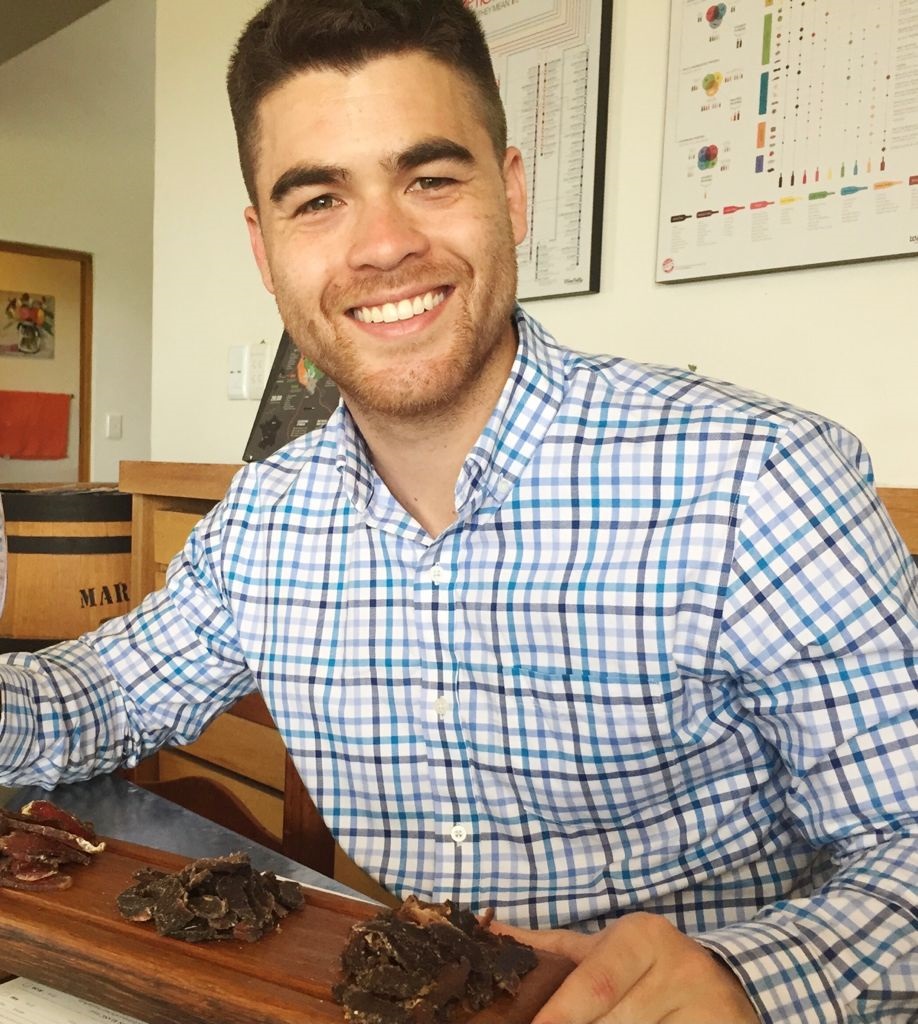 Greg Larkin is the founder and managing editor of Costco Food Database, the premiere site for honest takes on all things Costco food. A self-proclaimed Costco super-fan since childhood, Greg turned his obsession in a mission to properly rate and review all of Costco's delicious buys. When he's not busy navigating Costco aisles, you can find Greg smoking Kirkland Signature meats, meal prepping, or perfecting his homemade jerky recipes.