Costco Turkey Bacon - Worthy Bacon Substitute? + Cook Tips
Columbus Turkey Bacon at Costco
Costco sells 2.5 pound of Columbus Turkey Bacon for $13.99. The Costco turkey bacon is located in the frozen food aisles near the pork belly bacon and deli meat.
The turkey bacon is hickory smoked and uncured. It contains no nitrates and no preservatives.
Have You Tried Costco's Turkey Bacon?
Let the rest of the Costco Food Database community know what you thought of this product. Results and reviews are at the bottom of this page.
Please allow 24 hours for review moderation and approval.
What is Turkey Bacon made out of?
Turkey bacon is a meat product prepared from chopped, formed, cured, and smoked turkey. Turkey bacon usually comes from either the thigh of the turkey or from finely ground light and dark meat. 
Columbus Turkey Bacon is made from turkey thighs which are chopped and then formed.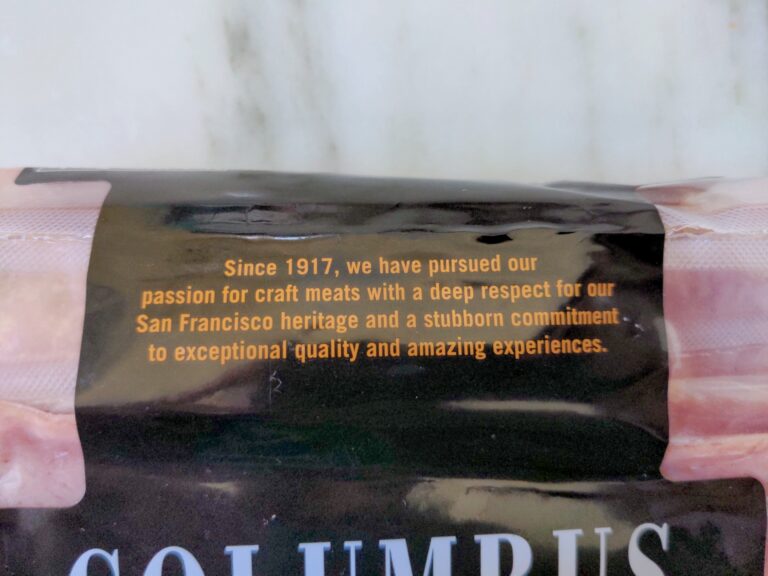 Columbus Craft Meats also sells the Turkey Burgers that are sold at Costco.
Turkey Bacon's Deep Dark Secret?
The real question is, why is it so hard to find out what turkey bacon is? I googled "what is turkey bacon" and aside from the wikipedia article on the side of the page, the top results focused on whether turkey bacon is healthy or not. 
Seems like google missed the mark with this query…..or maybe they don't want the world to know.  
Costco Turkey Bacon Price Comparison
How much is Turkey Bacon at Costco?
The Columbus turkey bacon retails for $13.99 but will occasionally go on sale for $9.99. The price per pound breaks down to $5.60 at retail and $3.99 when the item is on sale. 
When on sale, the $3.99 per pound price is very competitive with other turkey bacon brands and even pork belly bacon from Costco.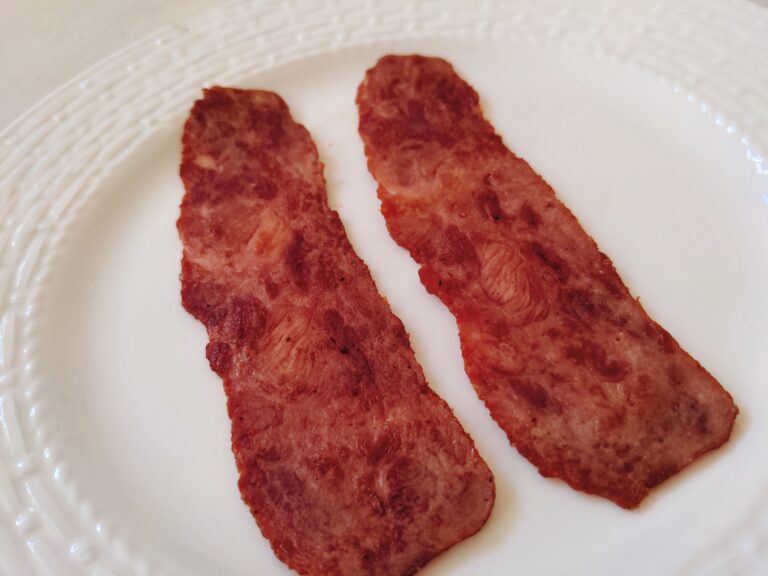 We'll save the debate about whether turkey bacon is actual bacon or not for another day, but when on sale the Columbus turkey bacon is actually a touch cheaper than Costco's ~$4.25 per pound pork belly bacon  
It doesn't appear that Columbus sells their turkey bacon anywhere else aside from at Costco.
Costco vs the Competition
Sam's Club sells 40oz of Godshall's Uncured Turkey Bacon for $11.78. The price per pound is $4.71 and as you can see they actually are cheaper than Costco on a per pound basis.
I can't speak for the quality of Godshall's turkey bacon, but this is one of the rare times when Sam's Club beats Costco on price.
Granted, when the Columbus turkey bacon from Costco is on sale, the $3.99 per pound price is nearly 20% less expensive than Sam's Club turkey bacon. If you dig turkey bacon, stock up when Costco has a sale.
Costco Turkey Bacon Review
Let's get it out of the way right now. This isn't pork belly bacon and it never will be nor will it compare in taste to pork bacon. It's very tasty for what is, it just isn't pork belly.
For this review, I tasted both pan cooked and air fried turkey bacon. Turkey bacon is extremely easy to cook and takes about 8 minutes to fully cook with either of these methods. 
How Does the Turkey Bacon Taste?
For taste, the turkey bacon is very good. It's flavorful, savory, smokey, and has just enough salt. The taste is similar to pork bacon, but lighter in flavor. 
Just from taste alone, it's pretty easy to tell the difference between traditional pork bacon and turkey bacon. Regardless, it's a delicious piece of meat that is enjoyable in its own right.
The texture of the turkey bacon is significantly leaner than pork belly. Turkey bacon also doesn't get as crispy as pork belly but instead will dry out. 
I like mine "overcooked" or well done where there is some char on the outsides.
Overall, turkey bacon is a very enjoyable breakfast protein. Costco turkey bacon still has the saltiness and smokiness that pork belly bacon brings to the table.
While very good, it's not something I will eat outside of breakfast nor top a burger with it.
How to Cook Columbus Turkey Bacon
Turkey bacon from Costco can be cooked in a few different ways. My favorite and easiest methods for cooking turkey bacon are with the air fryer and pan frying them. Turkey bacon can also be cooked in the oven or the microwave.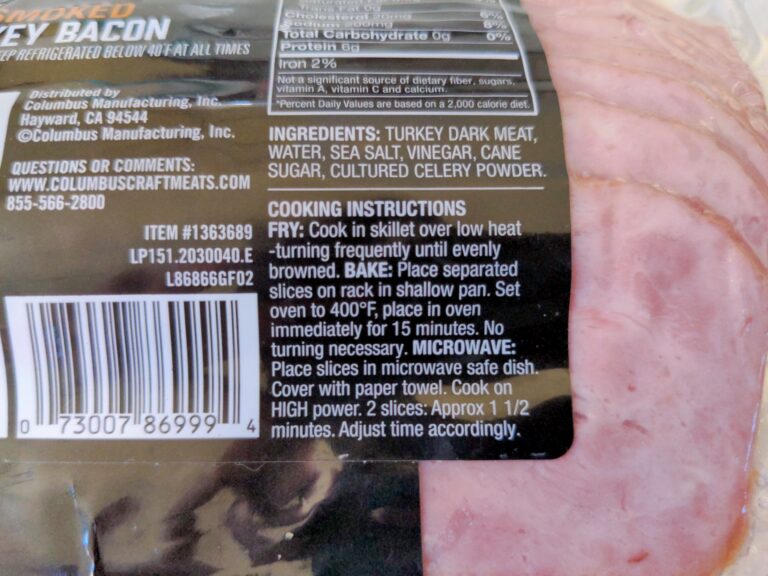 Place the turkey bacon in a single layer on a non-stick pan or skillet. Heat for 7-10 minutes on low heat while turning frequently. I like a nice sear and crisp on my turkey bacon so I cook them on a medium heat.
Preheat the air fryer to 360°. Place the turkey bacon from Costco in a single layer in the basket. Cook for 7 minutes, flipping once halfway through the cooking process.
Place separated slices on a rack in a shallow pan. Set oven to 400°F, place in oven immediately for 15 minutes. No turning is necessary.

With the oven method, it seems that you don't have to preheat the oven to 400°F before inserting the turkey bacon. I've seen pork belly bacon recipes that require a cold pan or cold oven, so this isn't too far from the norm.

This will be the quickest method, but also the least desirable. The bacon will come out a little more on the chewy side and not be as crisp as any of the other methods.
Microwave the Costco turkey bacon for one and a half minutes on high. Microwave strength will vary, so please adjust accordingly.
And yes, you can freeze turkey bacon for up to 6 months if uncooked. For maximum taste and freshness, freeze for only 1-2 months before consuming.
Nutritional Information - Turkey Bacon
How Many Calories in Costco Turkey Bacon?
Each serving size is one slice of turkey bacon. Each slice contains 45 calories with 2 grams of fat, 0 grams of carbs and 6 grams of protein. There is a moderate amount of sodium with 8% of the daily recommended value or 200mg per slice of turkey bacon.

6 grams of protein and only 2 grams of fat with 0 grams of carbs is a fantastic nutritional profile. Kirkland Signature's sliced pork belly bacon has a similar but fattier nutritional profile. Each slice of pork belly bacon will have 40 calories with 3.5 grams of fat and 2.5 grams of protein.
In this case, the turkey bacon trades away some of the fat content for protein. This is an excellent trade that makes turkey bacon significantly healthier than pork bacon.
For more turkey products, check out my Costco ground turkey review and its comparison to ground beef in taste and nutrition.
Is Costco Turkey Bacon Healthy?
Seems like everyone is asking if Turkey bacon is healthy or not, so let's take a look. From a macronutrient level, turkey bacon is extremely healthy for you. It contains about half the fat of regular bacon, but double the protein. 

Coming in at a massive 6 grams of protein per slice, it can be quite easy to rack up the protein while keeping fats and carbs low. When paired with some Kirkland Signature egg whites, it's possible to have a very filling carb free breakfast that totals over 30 grams of protein.  

So yes, turkey bacon is healthier than pork belly bacon but also fairly healthy for you overall. The biggest concern will come from the sodium content which is manageable, but higher than Costco's pork bacon sodium content.
Turkey bacon from Costco is a bargain when it's on sale. The taste very much resembles a "light" bacon while the texture is slightly dried out or leathery.
Turkey bacon is easy to cook and healthy for you. This is a great buy as a pork belly bacon alternative.
Costco Food Database User Reviews
Have you tried this item? Let the rest of the Costco Food Database community know what you think. Leave a rating and review for this product.