Costco Breakfast Chicken Sausage - Best At Costco?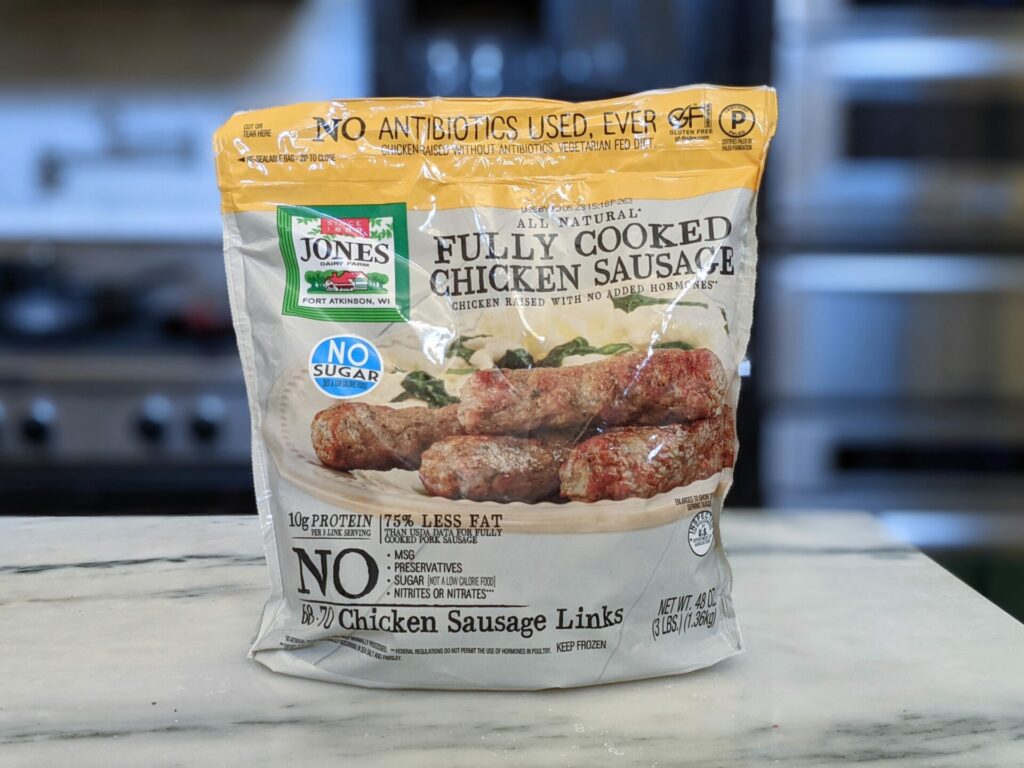 Jones' Breakfast Chicken Sausage at Costco
Costco sells a 3-pound bag of Jones Fully Cooked Breakfast Chicken Sausage for $14.99. The frozen breakfast sausages can be found in Costco's frozen food aisle near other breakfast items such as the Egg'wich, Croissant Breakfast Sandwich, and the Acai Bowls.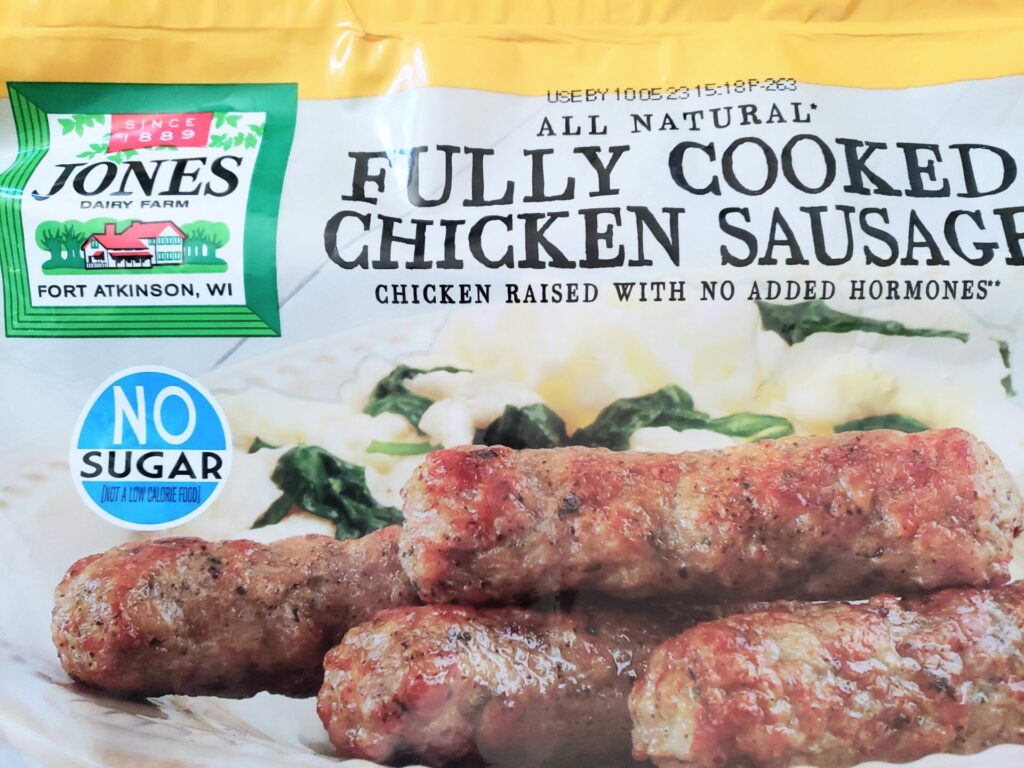 Each bag of Jones Fully Cooked Breakfast Sausages holds 68-70 chicken sausage links and will not have any MSG, preservatives, sugar, or nitrites/nitrates. The breakfast sausages are also gluten-free and certified paleo. 
The chicken is raised with no added hormones or antibiotics and will be fed a vegetarian diet.
Have You Tried Costco's Chicken Breakfast Sausage?
Let the rest of the Costco Food Database community know what you thought of this product. Results and reviews are at the bottom of this page.
Please allow 24 hours for review moderation and approval.
Why Chicken Breakfast Sausages?
Pork sausages are delicious, so why eat chicken sausages? Yes, the flavor will pale compared to pork sausages, but there are quite a few benefits.
Chicken breakfast sausages have significantly less fat than their pork counterparts, and Jones' chicken breakfast sausage links have 75% less fat than pork breakfast sausages. 
Chicken sausages also avoid some of the negatives of eating pork, such as the increased risk of cardiovascular disease, diabetes, and more.
These Chicken breakfast links are a great way to start the day for those counting calories.
Jones vs. AmyLu - Best Breakfast Chicken Sausage at Costco?
There are two chicken breakfast sausage link options at Costco; this one by Jones Farms and a refrigerated version by AmyLu. Both options are similarly priced and extremely healthy, and both are solid options in the chicken breakfast sausage realm. 

The question is, which one tastes better?
How Much Do Costco Breakfast Sausages Cost?
A 3-pound bag of Jones's frozen but fully cooked chicken sausages sells for $14.99 at Costco. This breaks down to a per-pound price of $5.00.
This is a reasonable price for a healthier breakfast sausage alternative. For reference, AmyLu's chicken breakfast sausage links sell for $5.59 a pound.
Costco vs. The Competition
Unfortunately, I couldn't find any other retailers that sold Jones Farm's Chicken Sausages. Target does sell Jones Farm's turkey sausages and pork sausages. Both breakfast sausages are sold in a 10-count box for $3.19 each.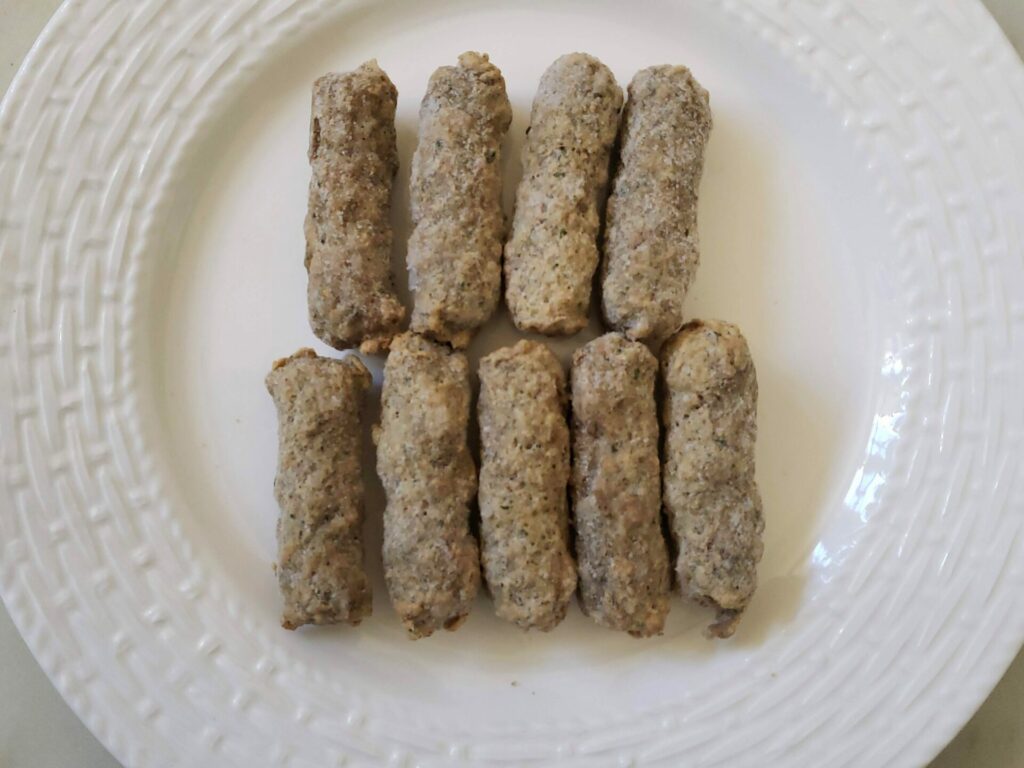 The 5-ounce pack of turkey sausages sells for $10.20 a pound, and 7 ounces of Jones' pork breakfast sausage links cost $7.29 per pound.
Both options are considerably more expensive than Costco's chicken sausages, which cost $5.00 per pound.
Jones' Fully Cooked Chicken Sausage Taste Test
I pan cooked these breakfast sausages using my own method (using oil) rather than one of the cooking options listed on the bag. The chicken sausages came out with crispy skin and were moist and juicy inside.
The chicken breakfast sausages look very much like traditional pork sausage links with a very processed appearance. 
They do have the look of a breakfast sausage you would find from a fast food restaurant or chain diner.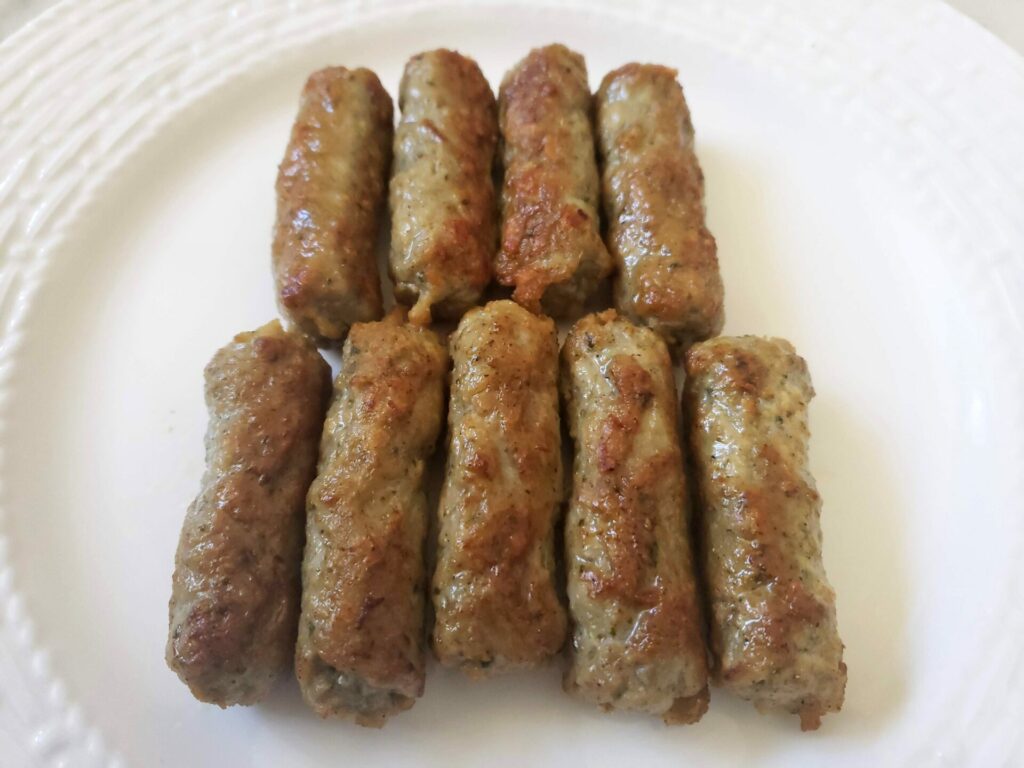 That being said, they actually taste pretty darn good. It's obvious they aren't pork sausages, but they are still tasty and enjoyable. 
The chicken sausage links are seasoned quite well and do not lack any flavor. The sausage links don't have the intense traditional sausage flavor but are still quite flavorful in their own right.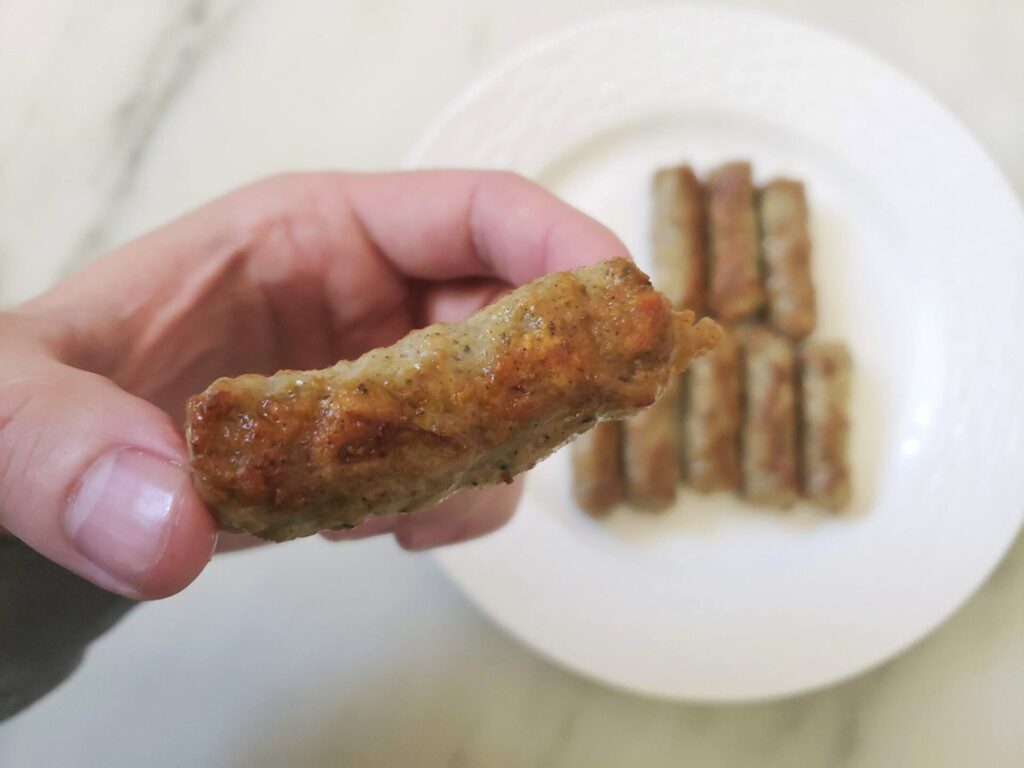 One of the most significant differences between these chicken breakfast sausage links and pork sausage links is that they are nowhere near as oily. 
After cooking them, I placed these on a paper towel, and there was significantly less oil than I expected. This makes perfect sense because of the use of leaner chicken vs. fatty pork.
After eating both the Jones Farms chicken breakfast sausages and AmyLu's chicken breakfast sausage links, I have to say that I much preferred the Jones Farm chicken sausages. 
AmyLu sausages had more potential and looked better, but Jones' chicken sausage links were much tastier. The Jones Farm sausages are my pick for the best Costco chicken breakfast sausage link.
How to Cook Jones Frozen Chicken Sausage
The packaging lists two different methods to cook these Costco breakfast sausages; they can be cooked on the stovetop or microwaved.
Each method only takes a few minutes, so I lean towards using the stovetop method to get a nice crispier crust on the breakfast sausage.
I have also included my own cooking directions which use oil to crisp up and brown the sausage exterior.
Stovetop (Jones Farms Preferred)
Heat sausage in a covered skillet with water (3 tbsp for frozen or 2 tbsp for thawed) over medium heat for times shown or until heated through. Turn occasionally for even heating.
2 Links: Frozen – 4 Minutes or Thawed – 2.5 Minutes.
4 Links: Frozen – 4.5 Minutes or Thawed – 3 Minutes.
Heat sausage on medium (50% power).
High Heat Toughens the Costco breakfast sausages.
Use a microwave safe plate lined with a paper towel for the times shown below or until heated through.
2 Links: Frozen – 1.5 Minutes or Thawed – 45 Seconds.
4 Links: Frozen – 2.5 Minutes or Thawed – 1.5 Minutes.
Costco Food Database Method
Heat pan and oil (vegetable/canola/olive) on medium-high heat. Fry chicken breakfast sausages until browned on all sides. 
Add a few teaspoons of water and cover with a lid to steam finish. Sausage links should be soft on the inside with a browned, firm exterior.
Costco Breakfast Sausage Calories and Nutrition
How Many Calories in Jones' Chicken Breakfast Sausages?
One serving of Jones Breakfast Sausage Links from Costco will contain 3 links (~2 ounces) and 90 calories. The 90 calories include 5 grams of fat, 0 grams of carbohydrates, and 10 grams of protein. 
Each individual chicken breakfast sausage link will have 30 calories with 1.5 grams of fat, 0 grams of carbohydrates, and 3 grams of protein.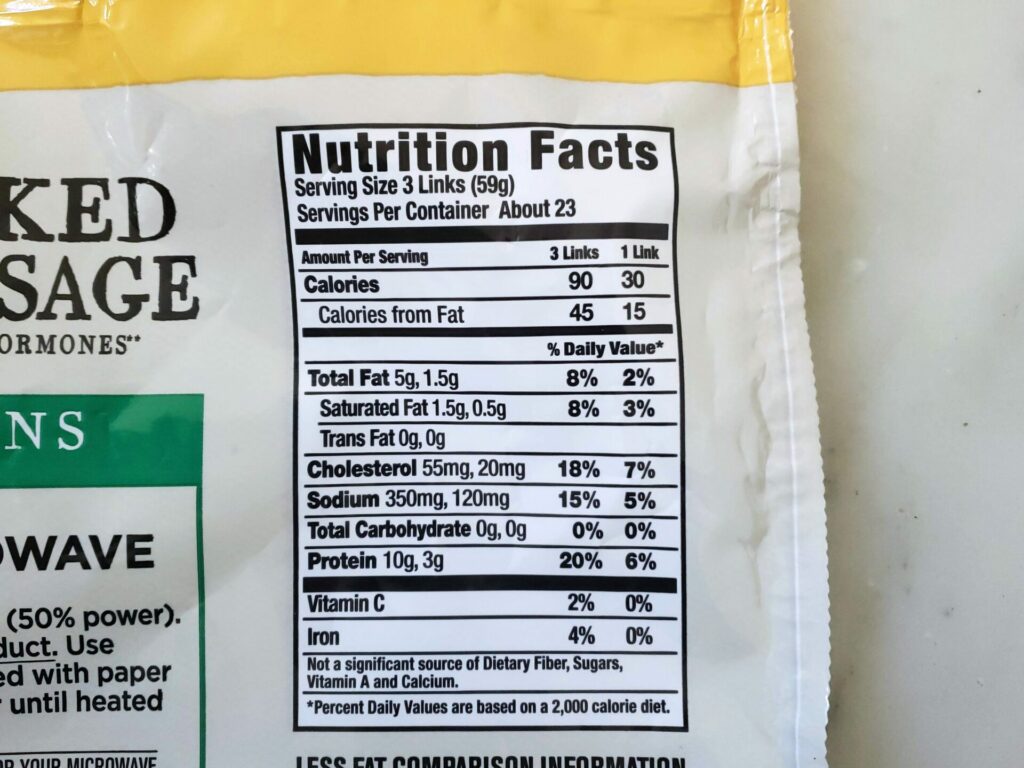 This is an excellent nutritional profile and phenomenal for a breakfast sausage. There is a moderate amount of fat and zero carbs, and the 10 grams of protein for 3 chicken sausages is amazing. This is a great way to take in some extra protein at the beginning of your day.
We love that these chicken sausages have zero carbs and they are one of our favorite keto friendly options at Costco. Check out the rest of Costco Keto Foods.
Inconsistent Nutritional Label and Cooking Directions
One serving of the breakfast sausage is 3 links, but the cooking instructions are for 2 or 4 sausages. 

Yes, I can estimate a cooking time between the two listed ones, but I find it weird that they would print cooking directions that are not for one recommended serving.
One concern that pops up with processed foods is the sodium content. Each serving of 3 breakfast sausages will have 350 mg of sodium or 15% of the daily recommended value. 

I don't find 3 of these Costco breakfast sausages (2 ounces) to be filling enough for a meal, and I could easily eat 9 sausages, if not more. This would be 45% or nearly half of my daily recommended sodium at breakfast time. Something to be aware of.
Costco Food Database User Reviews
Have you tried this item? Let the rest of the Costco Food Database community know what you think. Leave a rating and review for this product. 
Costco Breakfast Chicken Sausages - Easy Recipe
Costco's chicken breakfast sausages from Jones farms are easy to make and super delicious. Follow this recipe for a quick weekday breakfast.
Ingredients
2

Chicken Sausage Links

Hot Sauce
Instructions
Stovetop (Jones Farms Preferred)

Heat sausage in a covered skillet with water (3 tbsp for frozen or 2 tbsp for thawed) over medium heat for times shown or until heated through. Turn occasionally for even heating.

2 Links: Frozen – 4 Minutes or Thawed – 2.5 Minutes.4 Links: Frozen – 4.5 Minutes or Thawed – 3 Minutes.

Microwave

Heat sausage on medium (50% power).

High Heat Toughens the Costco breakfast sausages.

Use a microwave safe plate lined with a paper towel for the times shown below or until heated through.

2 Links: Frozen – 1.5 Minutes or Thawed – 45 Seconds.4 Links: Frozen – 2.5 Minutes or Thawed – 1.5 Minutes.

Optional: Serve with hot sauce of your choosing
Nutrition
Serving:
2
Links
Calories:
60
kcal
Carbohydrates:
0
g
Protein:
6
g
Fat:
3
g
Saturated Fat:
1
g
Trans Fat:
0
g
Cholesterol:
40
mg
Sodium:
240
mg
Fiber:
0
g
Sugar:
0
g