Costco Pull Apart Cheese Bread Garlic & Herb (Underwhelming)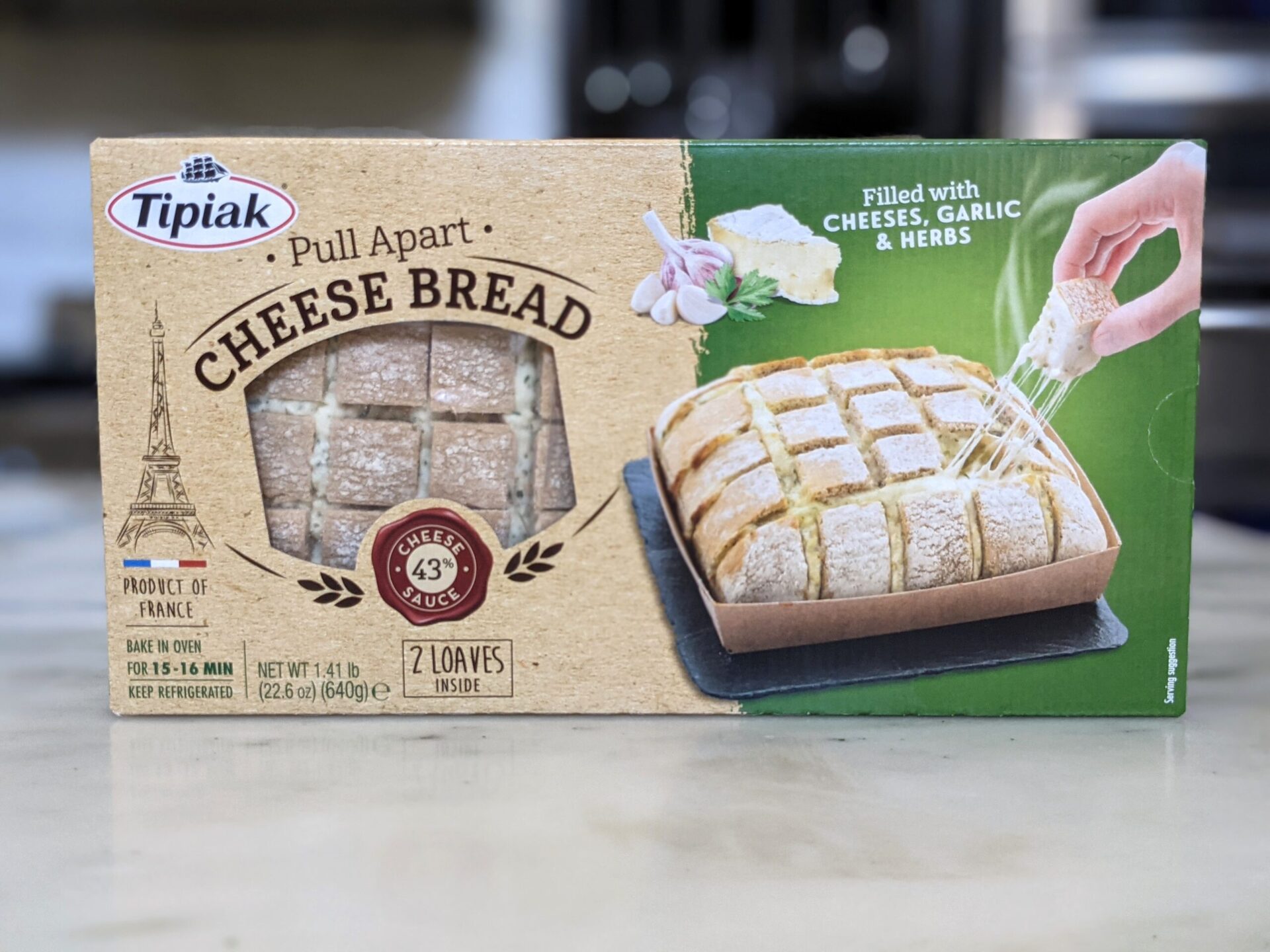 Garlic Herb Cheese Bread at Costco
Costco sells a 2 pack of Tipiak Pull Apart Garlic Cheese Bread for $11.89. The cheese bread can be found in the refrigerated deli area of Costco and is usually near other products such as the Basil Pesto, Healthy Noodle, or the Clam Chowder.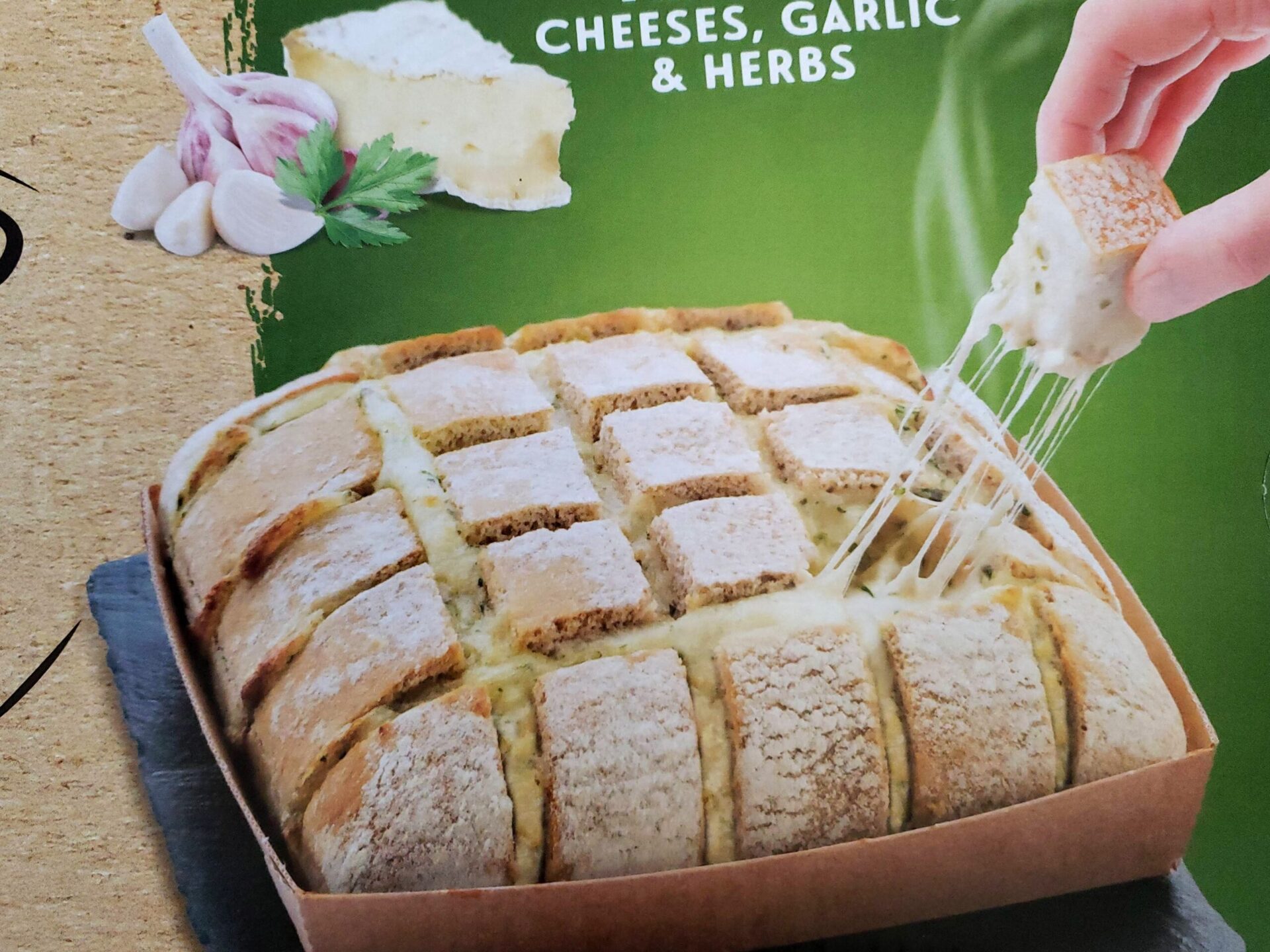 Tipiak's Garlic Cheese Bread is imported from France and contains 2 loaves of pre-cut wheat bread that is filled with cheese, garlic, and herbs. 
While the product is imported from France, the cheese capital of the world, they decided to give us Americans some cheese sauce instead of the actual good stuff.
Have You Tried Costco's Garlic Cheese Bread?
Let the rest of the Costco Food Database community know what you thought of this product. Results and reviews are at the bottom of this page.
Please allow 24 hours for review moderation and approval.
They even advertise on the packaging that this cheese bread contains 43% cheese sauce. I was under the impression that we wanted as little cheese sauce as possible, but France seems to think otherwise.
They even have their 43% cheese sauce graphic on top of a wax seal. I guess they think that's what we Americans like. Am I insulted? Not yet, but that is strike 1.
The cheese bread also contains prepared brie cheese cream product, grated Emmentaler cheese and mozzarella cheese.
I'm still pretty excited about this because who doesn't like garlic cheese bread?
Costco Cost Comparison - Tipiak Cheese Bread
How Much Does the Cheese Bread Cost at Costco?
This package of Tipiak Pull Apart Cheese from Costco contains 2 individually wrapped cheese breads. At $11.89 for the two-pack, each cheese bread costs $5.95. 
Unfortunately or fortunately, this 43% cheese sauce bread is not sold anywhere else except for Costco. Costco has secured for us members an exclusive French-imported cheesy product. Thank you, Costco! Very Cool.
Pull Apart Cheese Bread - Taste Test
Each of the loaves comes individually wrapped and in an oven safe tray. The only option to heat the cheese bread from Costco is to bake it in the oven at 410° for 15-16 minutes. Full instructions included below.

What I like about this Cheese Bread
The bread was nicely precut, and the pull-apart action was very easy. The cubes came out without a fight.
There is also a hefty amount of cheese, and from the eye test, it looks like an appropriate amount. No complaints here.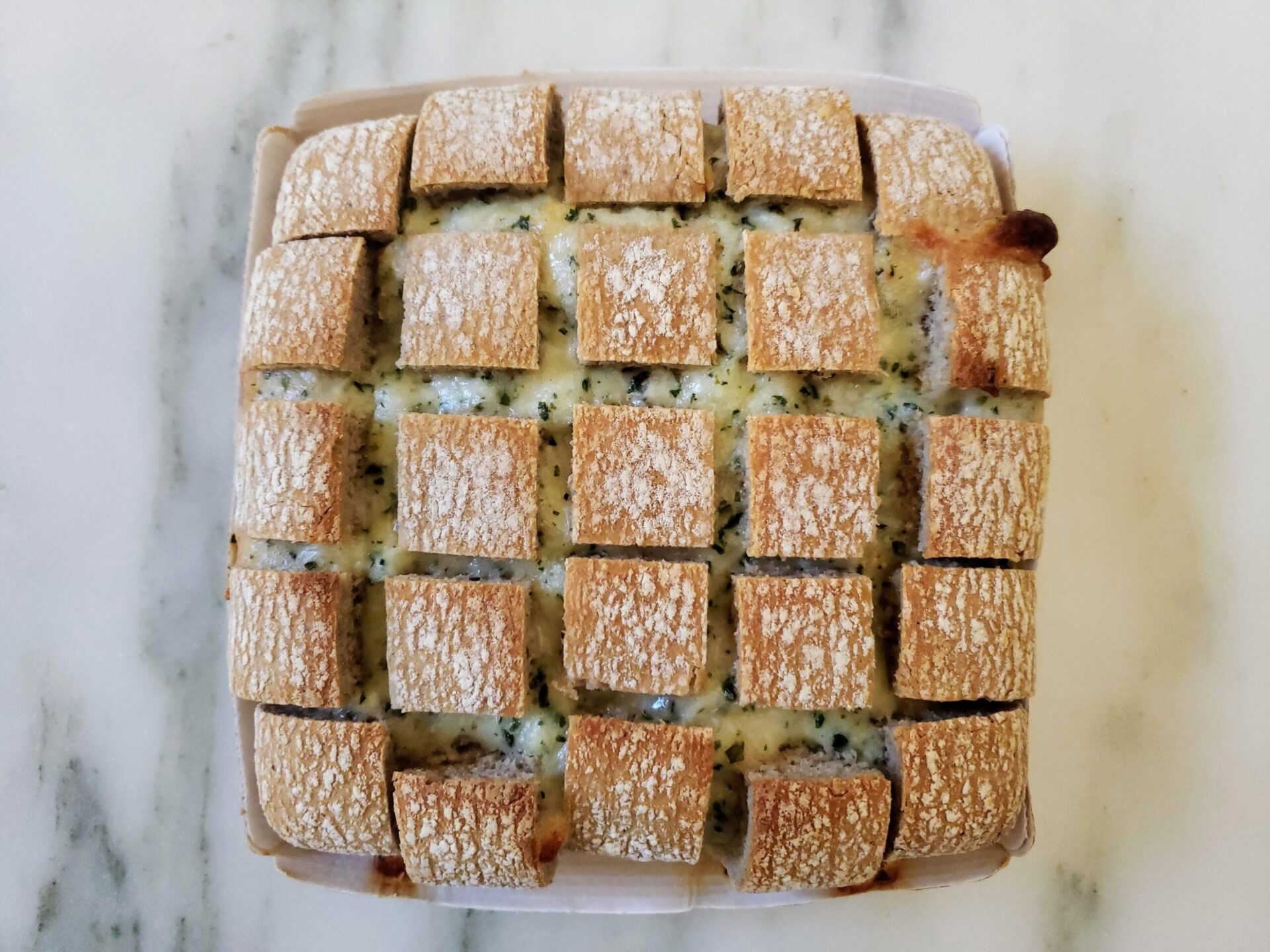 Why this Cheese Bread is Disappointing?
I was really hoping to see some stringy cheese action on the pull apart, but unfortunately, the cheese sauce was sauce-like and simply just separated. 
For taste, the bread was a letdown. It was crispy and toasty on the outside, but the inside was dry and had a texture that reminded me of an old crusty carpet. 
The bread wasn't fresh, but it also didn't feel fresh. It's a long trip from France for a loaf of bread to make.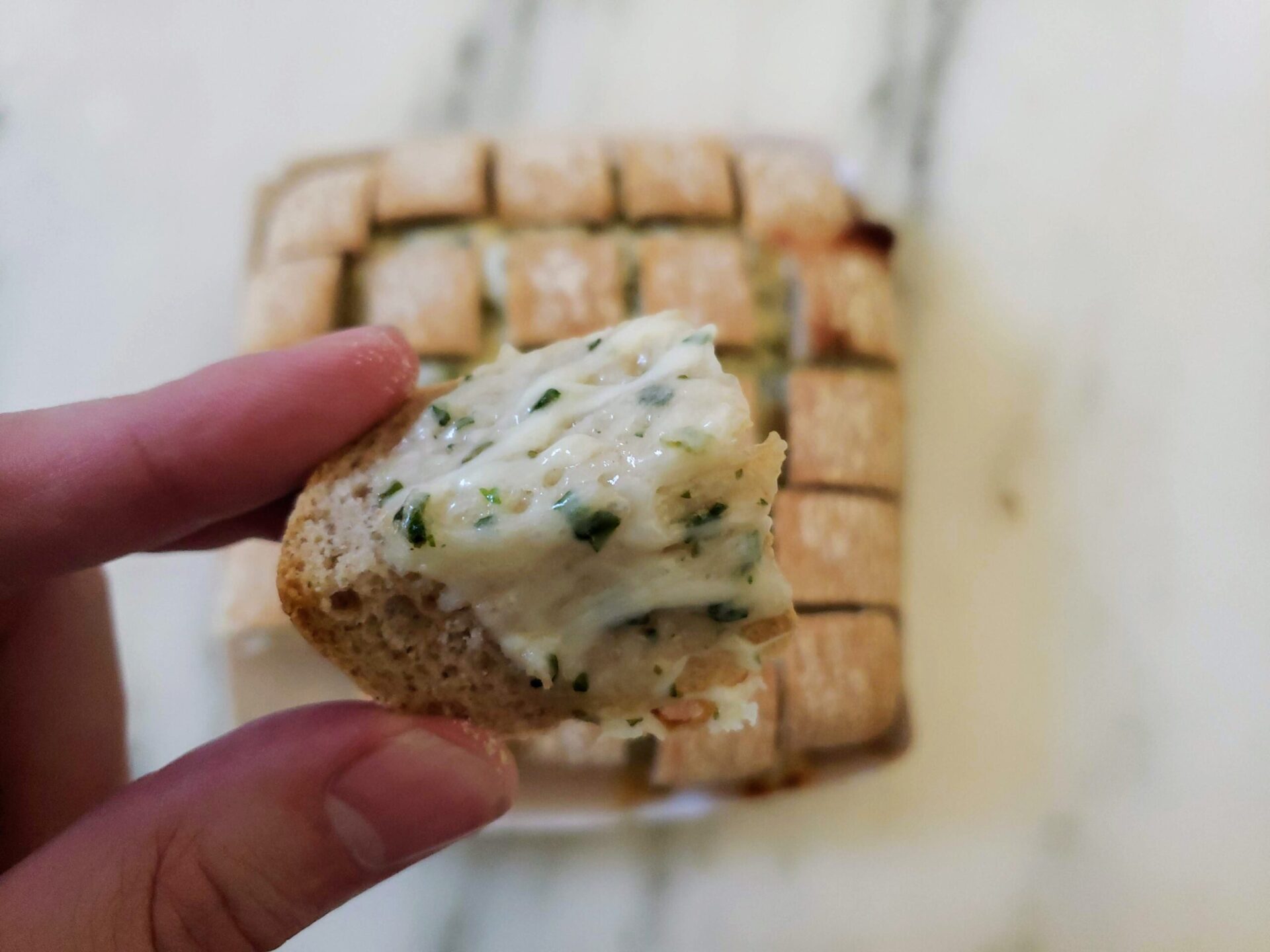 The star of the show, the 43% cheese sauce, was bland and flavorless. The sauce was thin and had just a hint of garlic and cheese flavor. There were plenty of herbs in the cheese, but no taste. Strike 2.
The saddest thing about eating this cheese bread is that it wasn't even a fun experience. In the worst-case scenario, I figured it would be fun to pull the bread apart.
It didn't create any sensation for me, and my 3-year old didn't even mention anything about pulling the bread apart.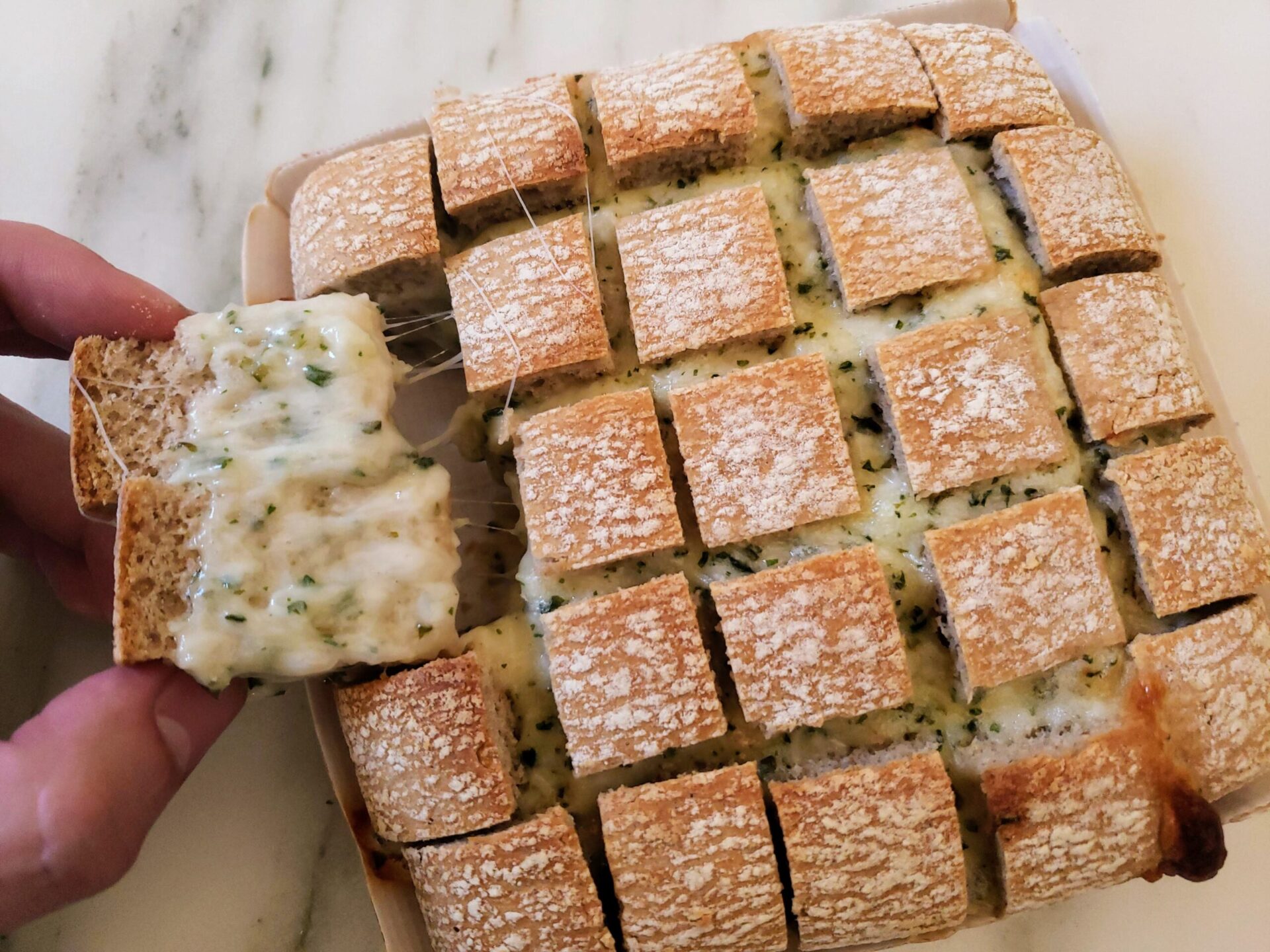 This cheese bread could be made much better at home with a loaf of bread and some Boursin cheese. There would be 10x the flavor.
Costco Cheese Bread Heating Instructions
Tipiak only lists one heating method for this garlic herb cheese bread and that is to bake it in the oven.

Preheat the oven to 410°F.

Remove the plastic and bake in special oven tray for 15 to 16 minutes.

Let cool for 2 to 3 minutes before serving.

Do Not Microwave.
What makes this tray so special? Because it can be baked? We usually just call that an oven-safe tray and move on with our lives.
Do the French think we are supposed to be impressed with their "special" oven tray. Well, I'm not, and that's strike 3.
Tipiak Cheese Bread Nutritional Information
One serving of Tipiak Cheese Bread from Costco contains 13 servings, which is about 4 pieces. Each serving has 130 calories with 5 grams of fat, 16 grams of carbs, and 5 grams of protein. 
It isn't great nutritionally for you, but it's not the worst thing in the world for a cheesy sauce treat.
I normally wouldn't have expected much from cheese bread, but the fact that this was imported from France gave me a bit of hope. A French baked bread with some authentic French cheese and the Costco seal of approval sounds like a recipe for success, but the Tipiak Cheese Bread was a major disappointment.
Not only am I insulted by the labeling, but my taste buds are insulted by the bland and flavorless cheese bread. This item is a pass for me.
Costco Food Database User Reviews
Have you tried this item? Let the rest of the Costco Food Database community know what you think. Leave a rating and review for this product.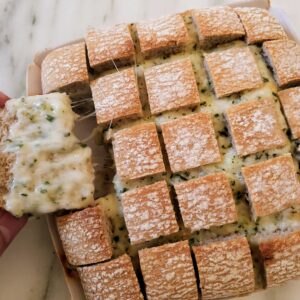 How To Cook Costco's Cheese Bread
Costco's Pull A Part Cheese Bread is a unique item. Here is how to make it perfectly everytime.
Ingredients
1

Costco Cheese Bread

Garlic Powder
Instructions
Preheat the oven to 410°F

Remove the plastic and bake in special oven tray for 15 to 16 minutes. 

Let cool for 2 to 3 minutes before serving. 

Sprinkle with garlic powder

Do Not Microwave.
Nutrition
Serving:
4
Pieces
Calories:
130
kcal
Carbohydrates:
16
g
Protein:
5
g
Fat:
5
g
Saturated Fat:
2.5
g
Trans Fat:
0
g
Cholesterol:
5
mg
Sodium:
220
mg
Fiber:
1
g
Sugar:
1
g