Costco Frozen Cheese Pizza - How to Cook + Calories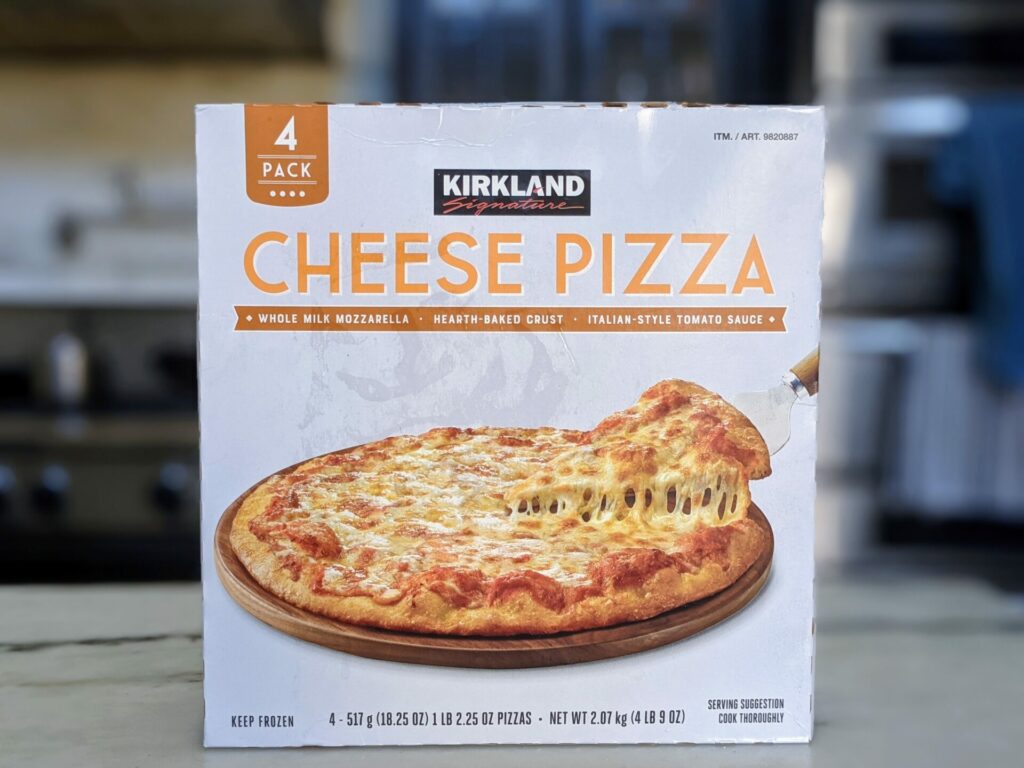 Kirkland Signature Frozen Cheese Pizza at Costco
I've been shopping at Costco for over 20 years now, and out of all the items that Costco has carried throughout the years, I would say their Kirkland Signature Frozen Cheese Pizza is perhaps the most overlooked and underappreciated item in the frozen food aisles.
Costco's frozen cheese pizza is made with a hearth-baked crust that is topped with a tomato sauce seasoned with basil, garlic, and Italian herbs. The Kirkland Signature pizza includes whole milk mozzarella, provolone, parmesan, and romano cheese.
Have You Tried Costco's Frozen Cheese Pizza?
Let the rest of the Costco Food Database community know what you thought of this product. Results and reviews are at the bottom of this page.
Please allow 24 hours for review moderation and approval.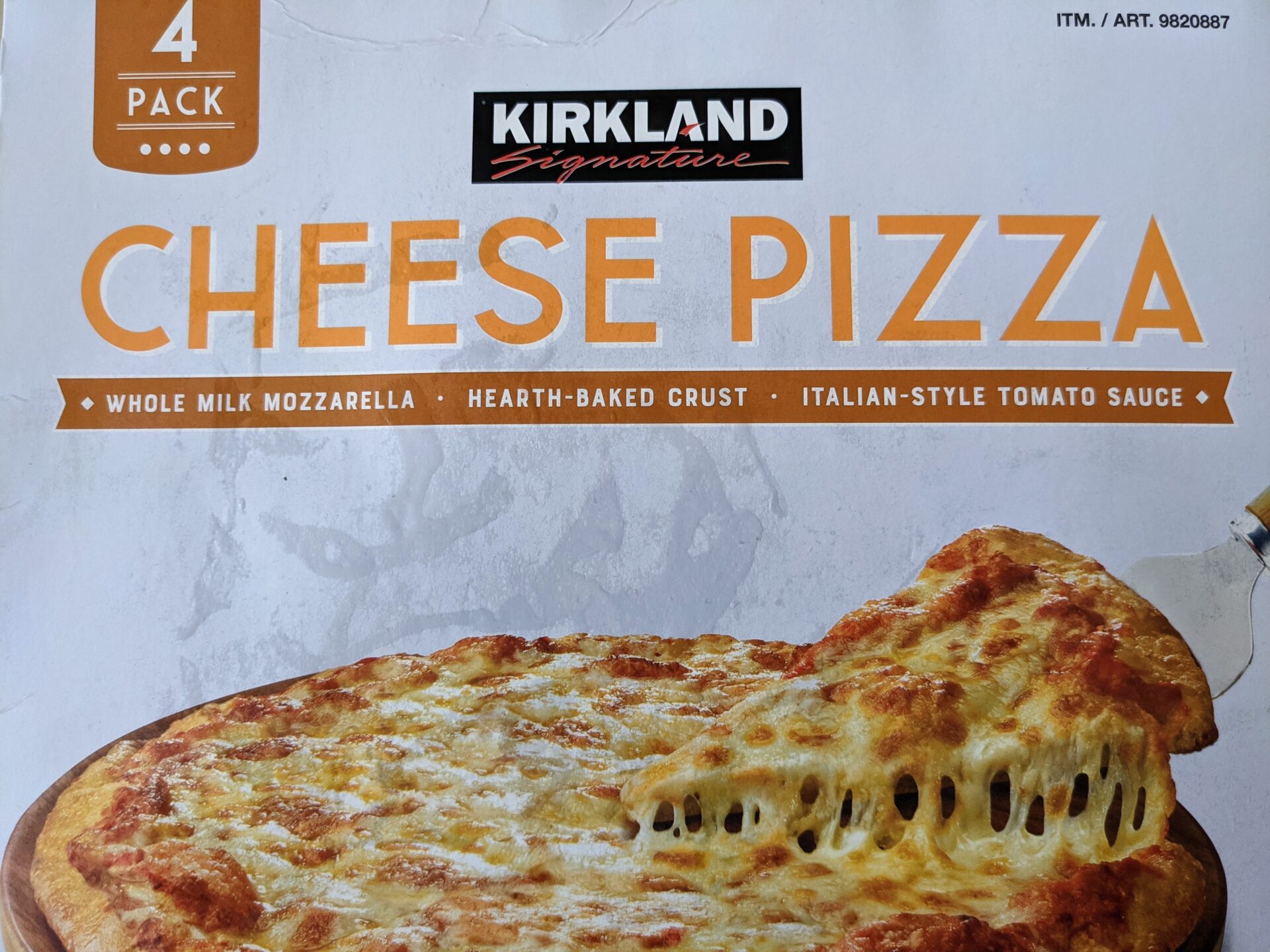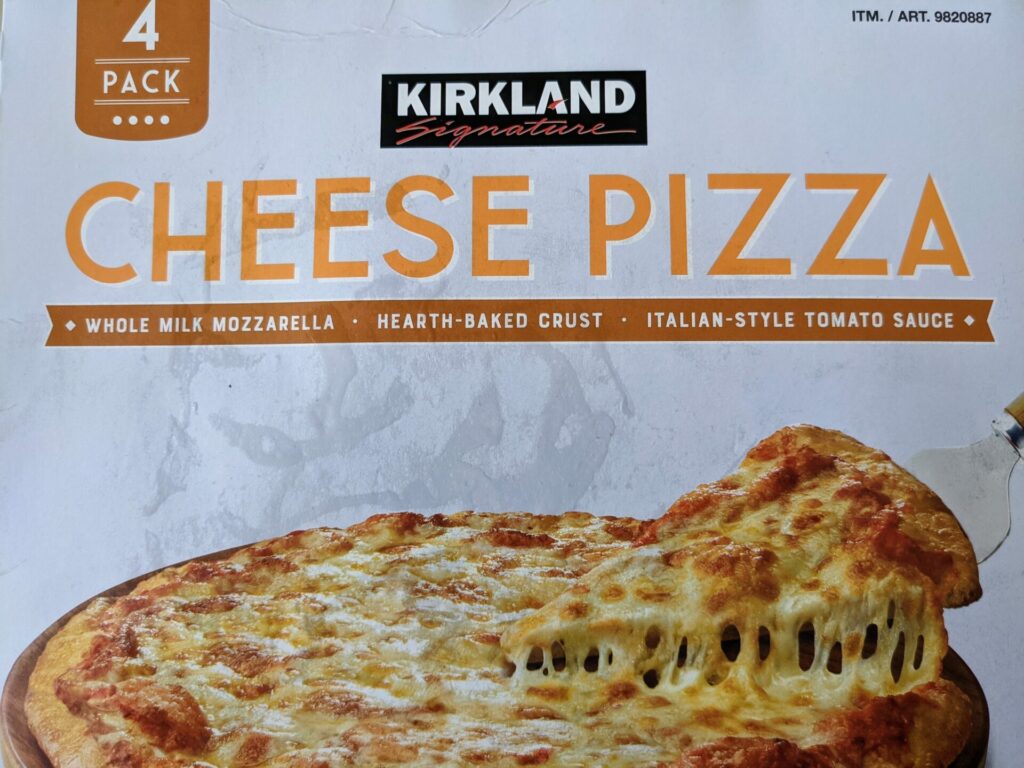 While it may not be as flashy as the rest of the frozen pizza lineup, Costco's frozen cheese pizza still provides some amazing value and is quite tasty in its own right.
Costco sells a 4-pack of their Kirkland Signature frozen cheese pizzas for $10.99 or $2.75 per frozen pizza pie. In typical Costco fashion, this is great value for a cheese pizza of this size. Each pizza weighs 18.25 ounces.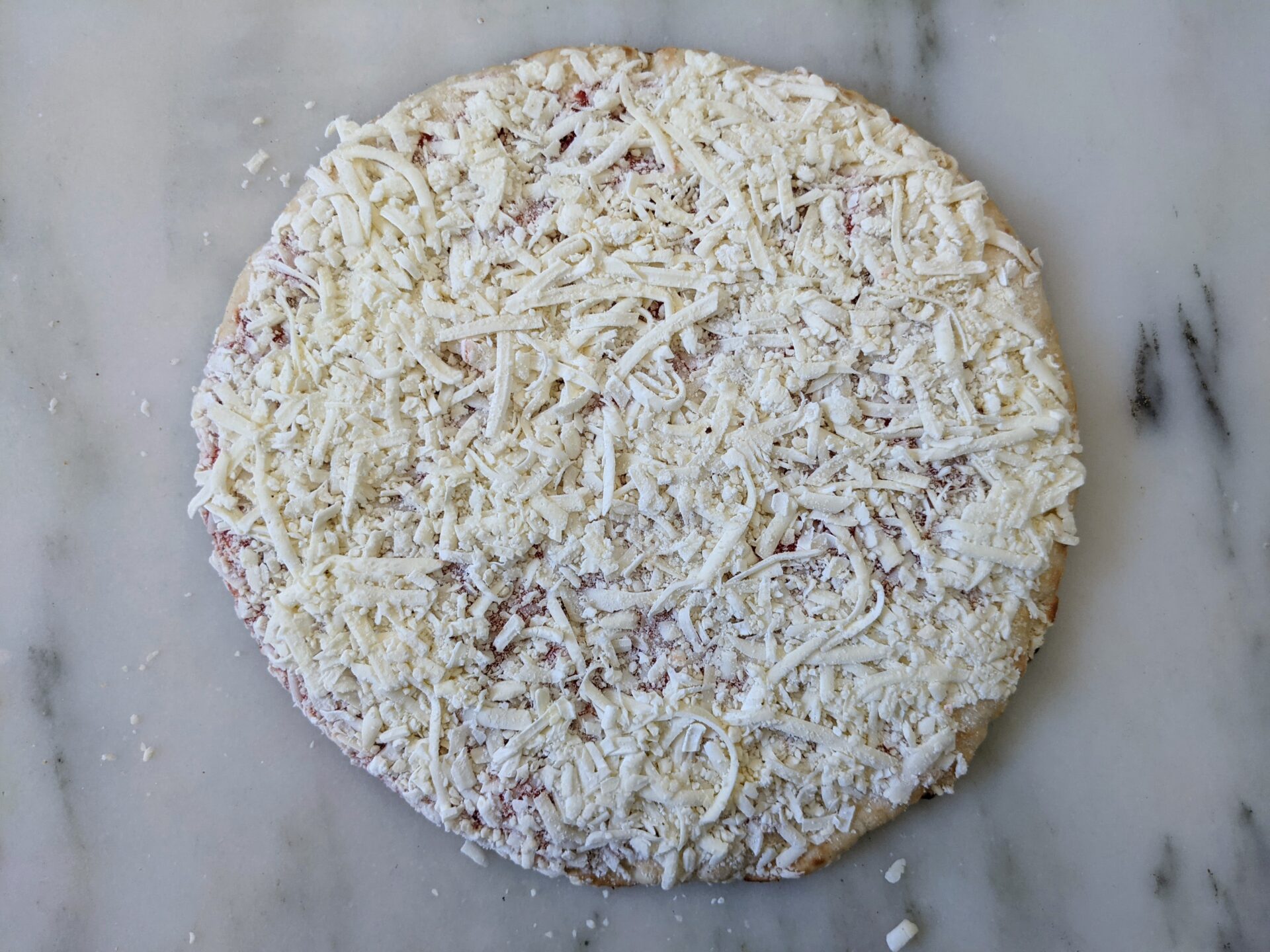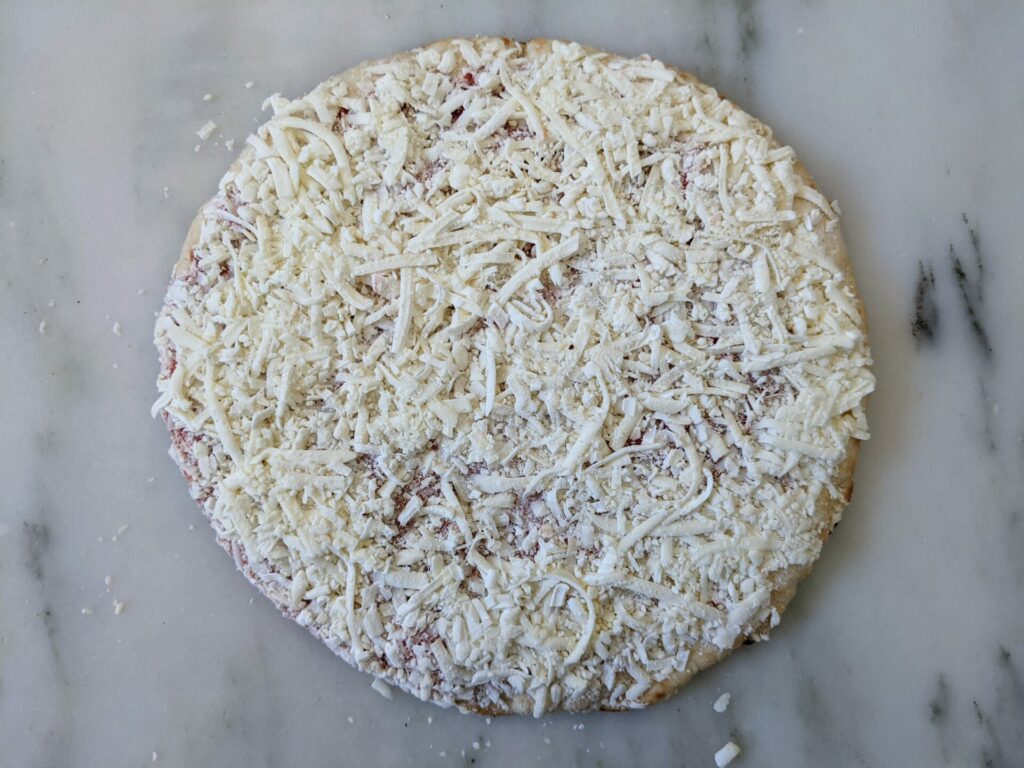 This is about $0.50 less than what Costco sells their Kirkland Signature Pepperoni Pizza for, which sounds about right, considering that this pizza doesn't include any toppings.
Frozen Cheese Pizza Taste Test
The cheese pizza was actually pleasantly surprising. At least for me, expectations are kept to a minimum for any type of frozen pizza, especially a cheese-only pizza.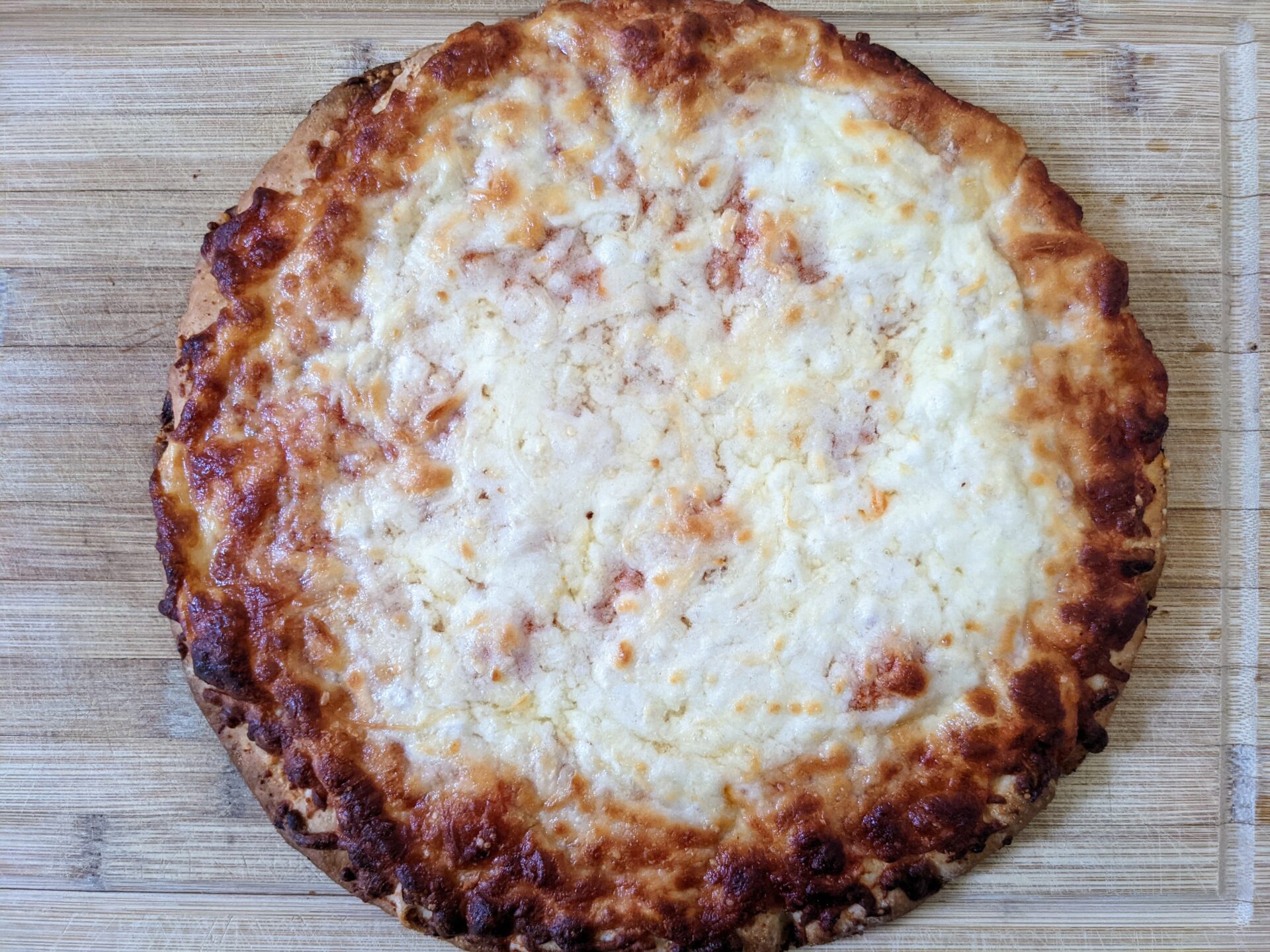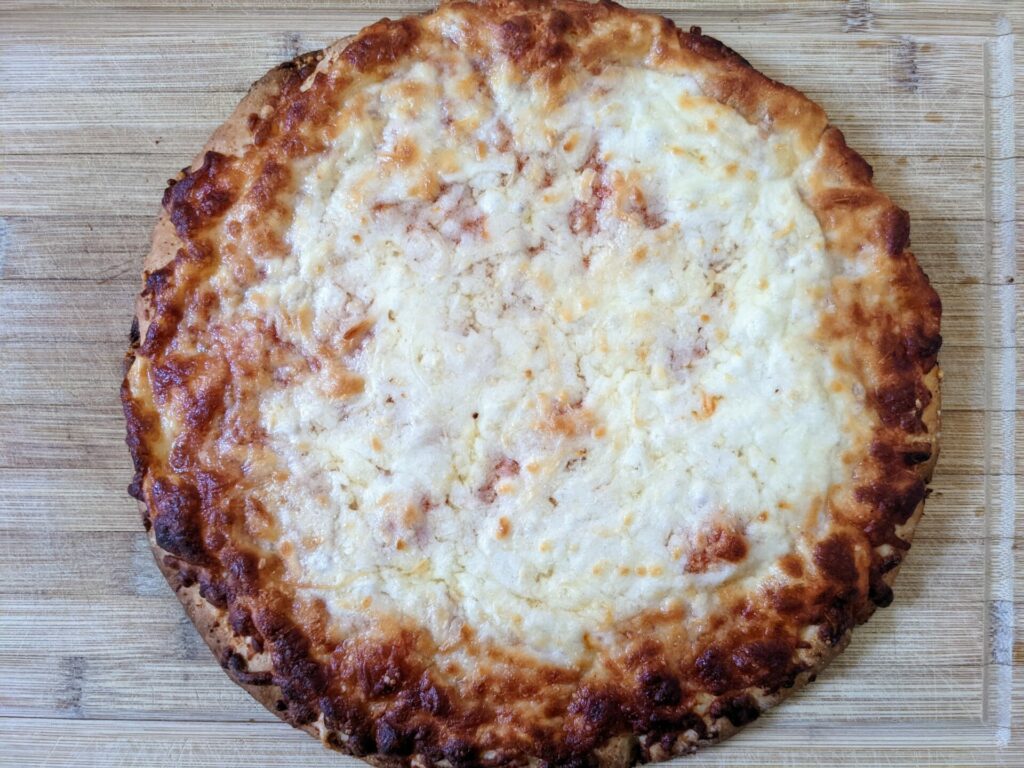 The crust was sufficiently crispy with some nice chewiness as well. The cheese pizza has a traditional thick crust that is tasty and not too bready. 
I could still somewhat taste the infamous cardboard crust taste, but it was minor for this frozen cheese pizza and very easy to overlook.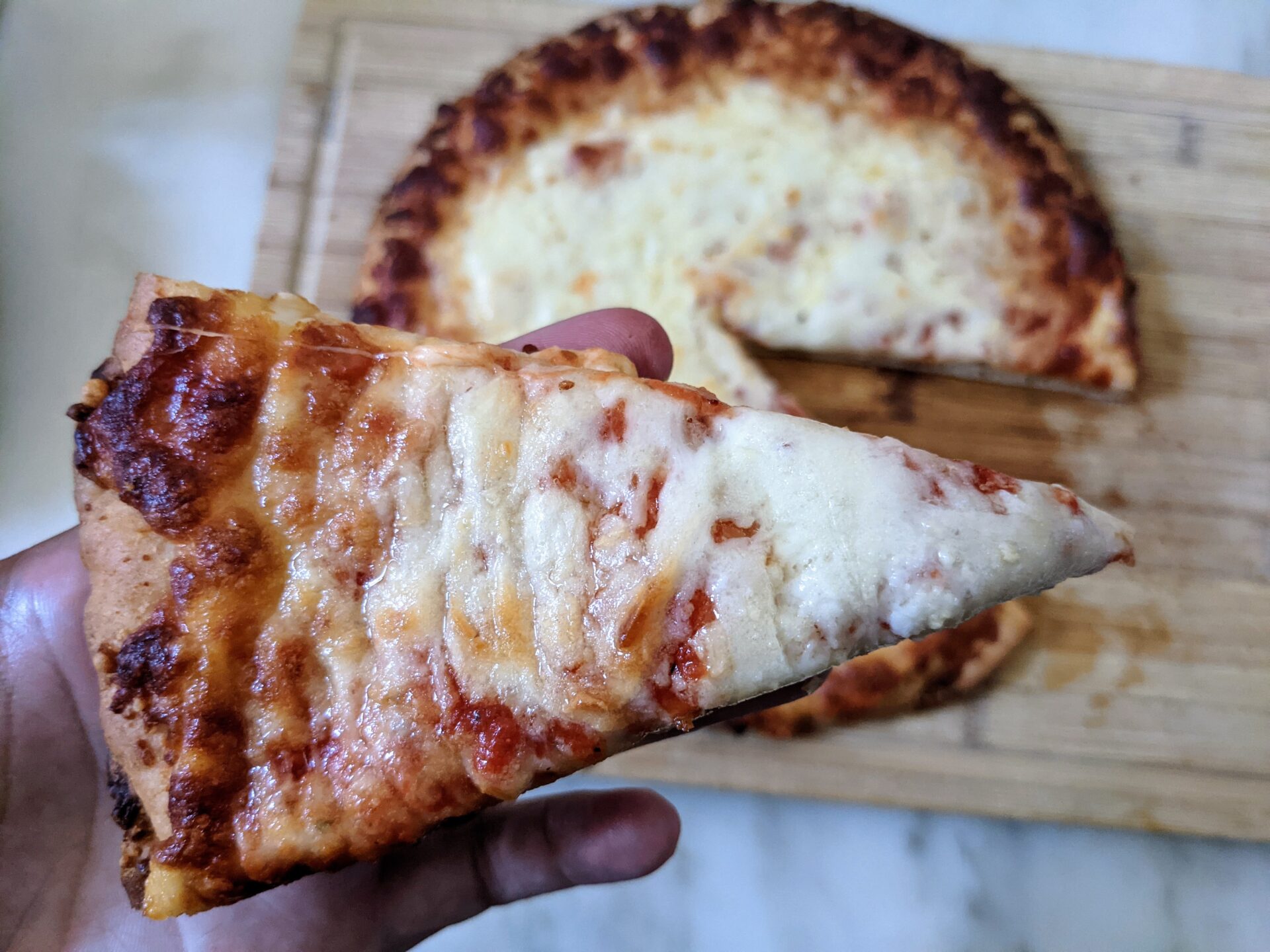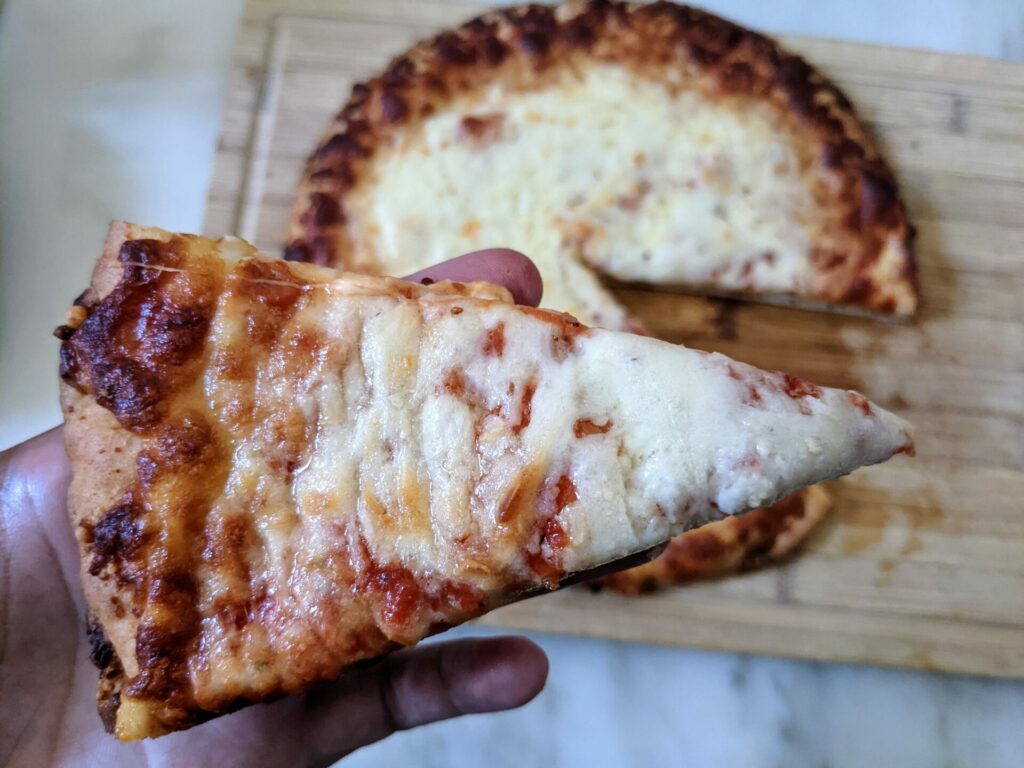 The cheese itself was excellent, with the mozzarella being the star of the show. The cheese had a nice pull and a very neutral flavor. 
The cheese pizza is still delicious, but it also makes it perfect for those looking to use it as a pizza canvas where they can add their own toppings. I went with a bacon cheese pizza, and it was a hit amongst the household.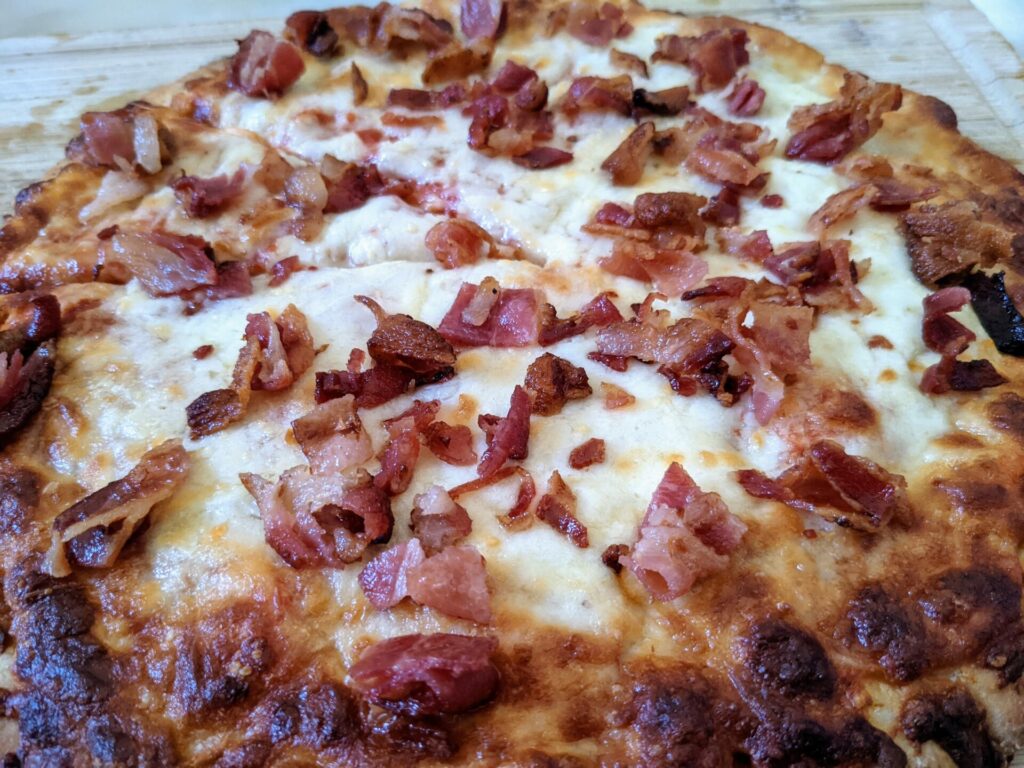 Costco Cheese Pizza Cooking Instructions
Costco's frozen cheese pizza is your standard frozen pizza and will be best prepared in a conventional or convection oven. The baking instructions for the pizza are below.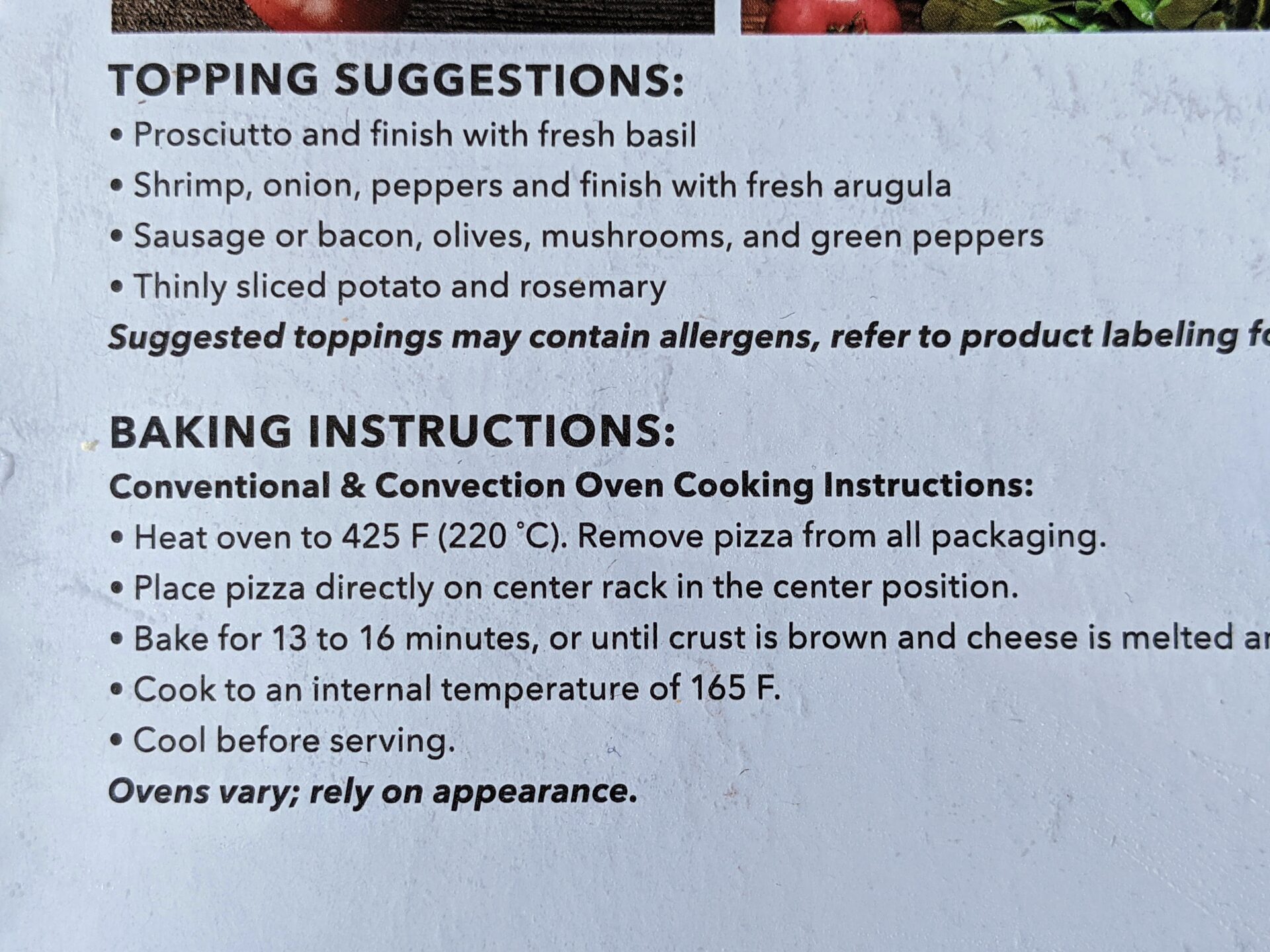 Conventional and Convection Oven Cooking Instructions For Costco's Frozen Cheese Pizza
Heat the oven to 425°F (220°C). Remove the pizza from all packaging.

Place the pizza directly on the center rack in the center position.

Bake for 13 to 16 minutes until the crust is brown, and the cheese is melted and golden brown.

Cook to an internal temperature of 165°F.

Cool before serving.
Here are the cooking instructions for other Costco frozen pizzas.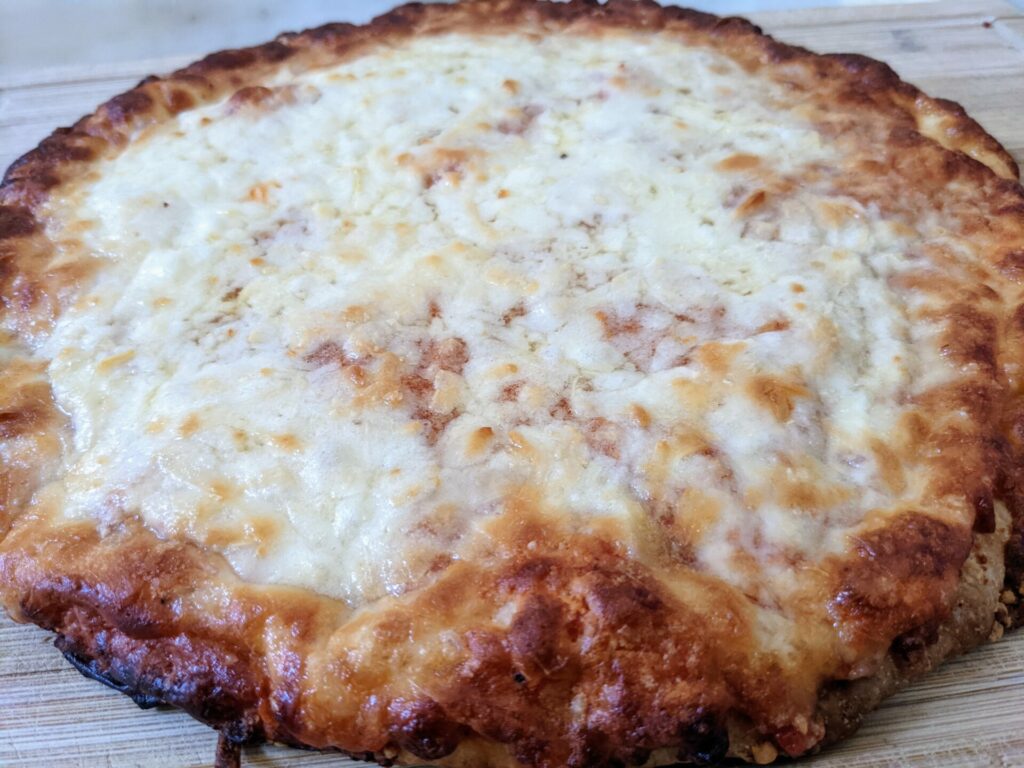 Pro Cooking Tips For Costco's Cheese Pizza
Preheat the Oven: Preheating your oven is one of the most important steps to ensure a well-cooked frozen pizza. Set the oven temperature according to the pizza packaging instructions (425°F) and give it enough time to reach the desired temperature. Preheating ensures that the pizza cooks evenly and helps to achieve a crispy crust.


Use a Pizza Stone or Pizza Pan: If you want a crispier crust and evenly cooked pizza, use a pizza stone or a pizza pan. These tools help distribute heat more evenly, preventing the crust from becoming soggy. Pro Tip: Before placing the pizza on the stone or pan, make sure to sprinkle it with a little cornmeal or flour to prevent sticking.


Avoid Overcooking: While you want to ensure the pizza is fully cooked, avoid overcooking it, as it can lead to a dry and hard crust. Keep a close eye on the pizza during the last few minutes of cooking, and remove it from the oven as soon as the cheese is melted and slightly golden. Remember that the pizza will continue to cook a bit after it's taken out of the oven due to residual heat.
Costco Frozen Cheese Pizza Serving Suggestions
Yes, Costco's Kirkland Signature frozen cheese pizza is just a cheese pizza, but the real beauty of the pizza is being able to add in your own toppings to transform it into the pizza of your choice. The cheese pizza makes a great starter pizza set that is ready to heat in 15 minutes and is great to keep in your freezer when you are looking for a quick meal.

I would guess that most people just take this cheese pizza and pop it into the oven with no further thought, which is what I did for the longest time. But the pizza is so simple that it's actually meant to be customized and spruced up. Costco even prints some suggestions for your own pizza creations: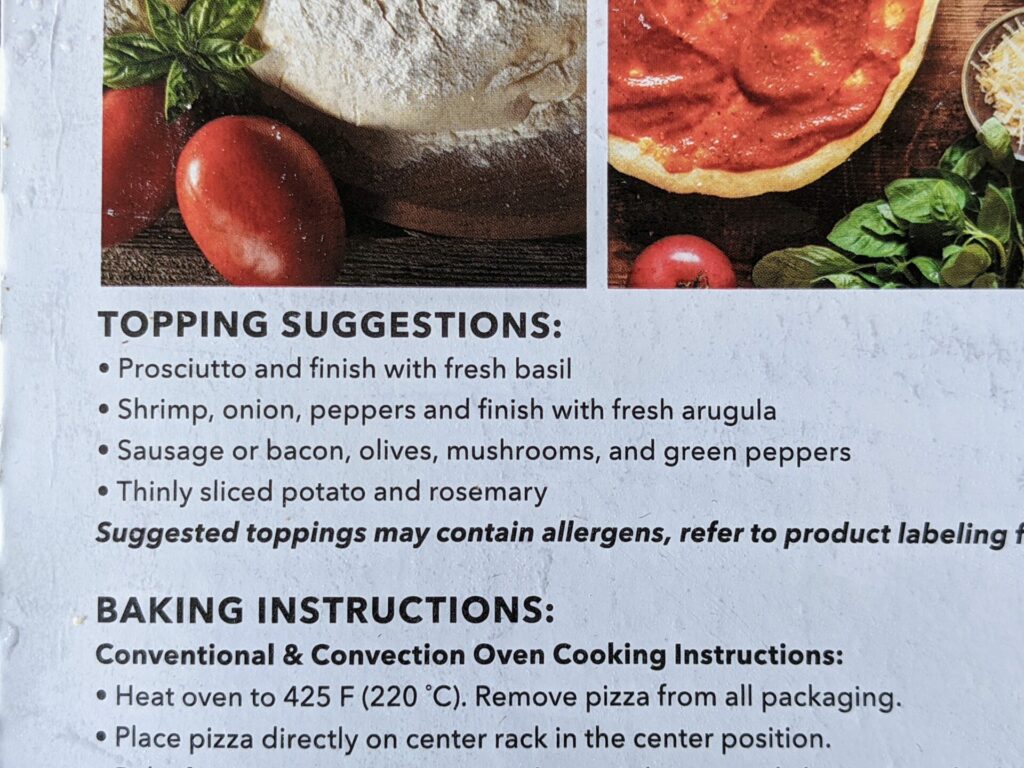 Prosciutto and finish with fresh basil

Shrimp, onion, peppers, and finish with fresh arugula

Sausage or bacon, olives, mushrooms, and green peppers

Thinly sliced potato and rosemary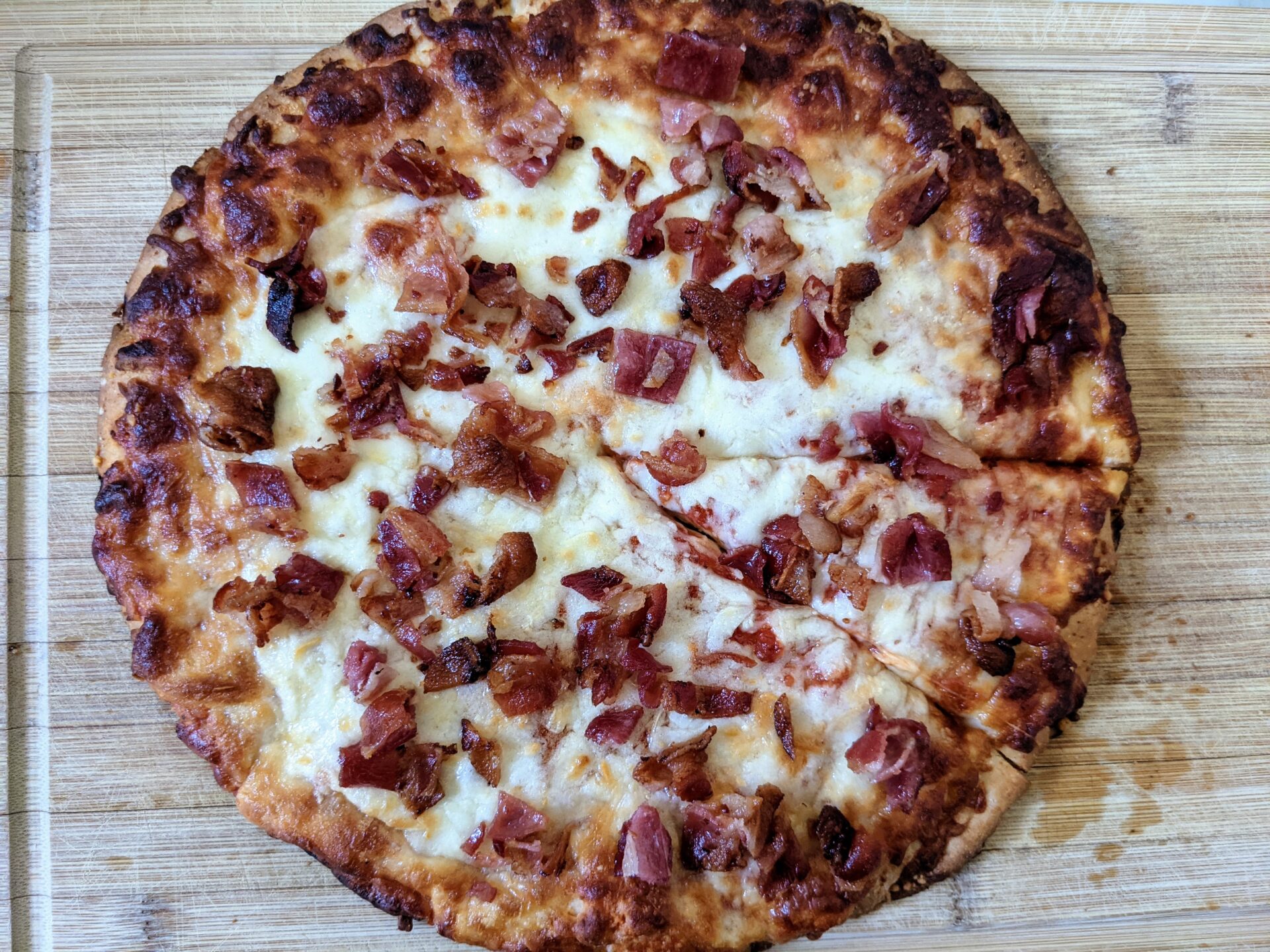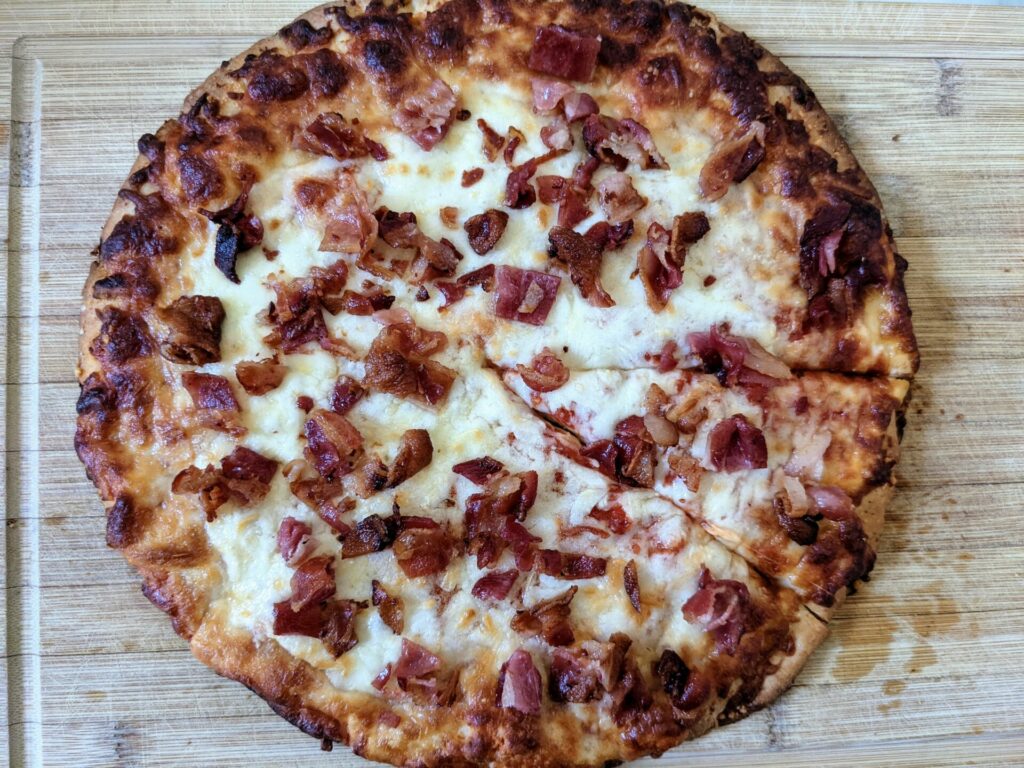 Those were the official topping suggestions from Costco, but really the topping possibilities are endless. Here are 10 more delicious topping ideas for Costco's frozen cheese pizza:
Pepperoni, black olives, red onions, and finish with grated Parmesan.

Mozzarella, sun-dried tomatoes, spinach, and finish with balsamic glaze.

Chicken, spinach, feta cheese, and finish with a drizzle of tzatziki sauce.

Artichoke hearts, roasted red peppers, Kalamata olives, and crumbled feta.

Mushrooms, caramelized onions, goat cheese, and truffle oil.

Ham, pineapple chunks, jalapenos, and finish with a sprinkle of cilantro

Buffalo chicken, blue cheese, celery, and finish with ranch dressing.

Roasted garlic, cherry tomatoes, fresh basil, and a drizzle of olive oil.

Smoked salmon, capers, red onions, and finish with a dollop of cream cheese.

Fig, prosciutto, arugula, and finish with a drizzle of honey.
Let me know in the comments which of these topping ideas was your favorite!
Costco Frozen Cheese Pizza Calories and Nutritional Information
One serving of Costco's cheese pizza is 1/4th pizza and contains 310 calories. The 310 calories come from 12 grams of fat, 38 grams of carbohydrates, and 13 grams of protein. The full nutritional label is below:
Nutrition Facts
Kirkland Signature Frozen Cheese Pizza
Serving Size
1 /4th Pizza
Amount per Serving
% Daily Value*
* Percent Daily Values are based on a 2000 calorie diet.
This is a standard nutritional label for a frozen pizza. The pizza's nutritional label doesn't really jump out to me in anyways. Not exactly a healthy meal, but considering we all know frozen pizza isn't the best for us, its not the worst either.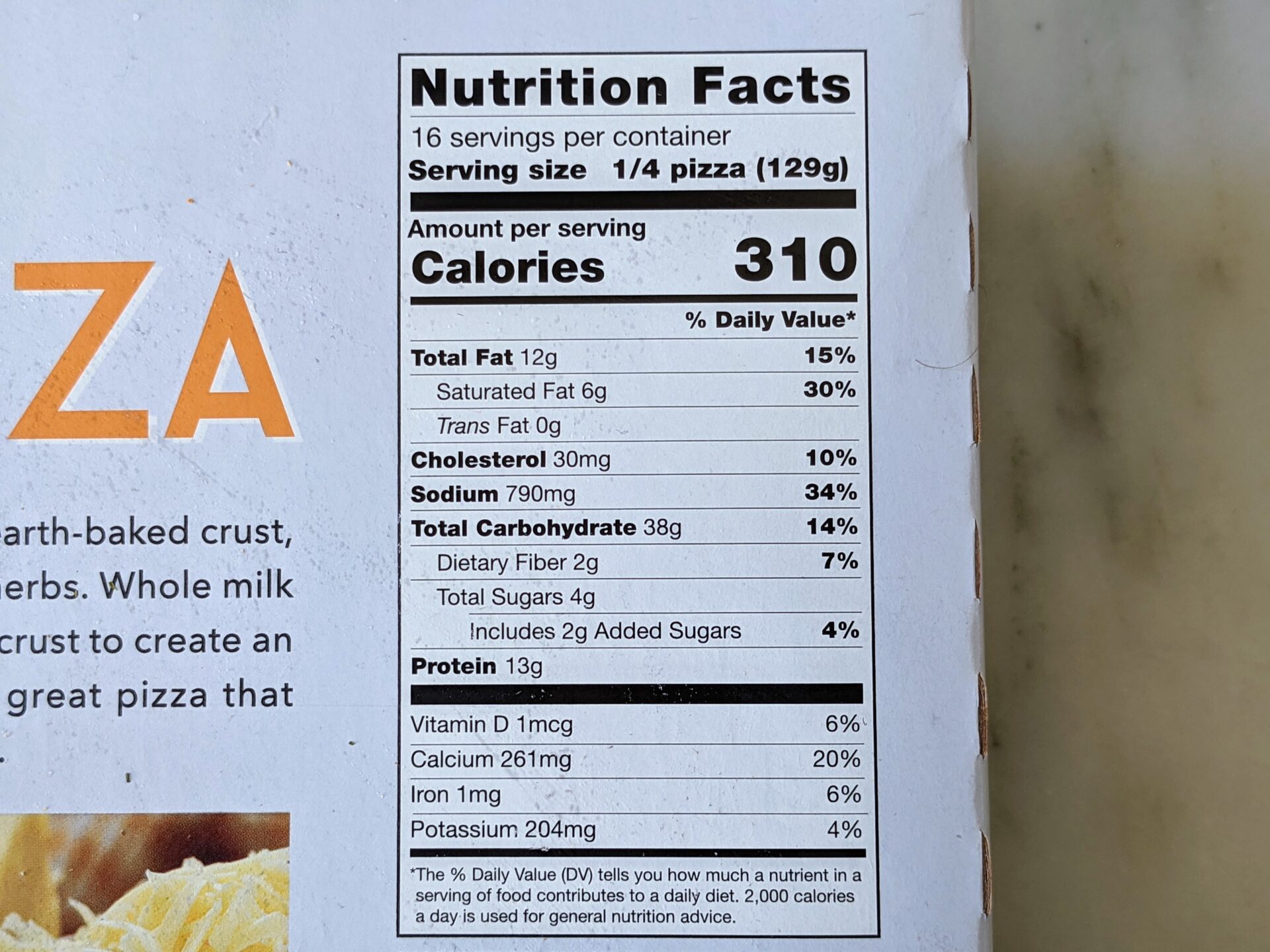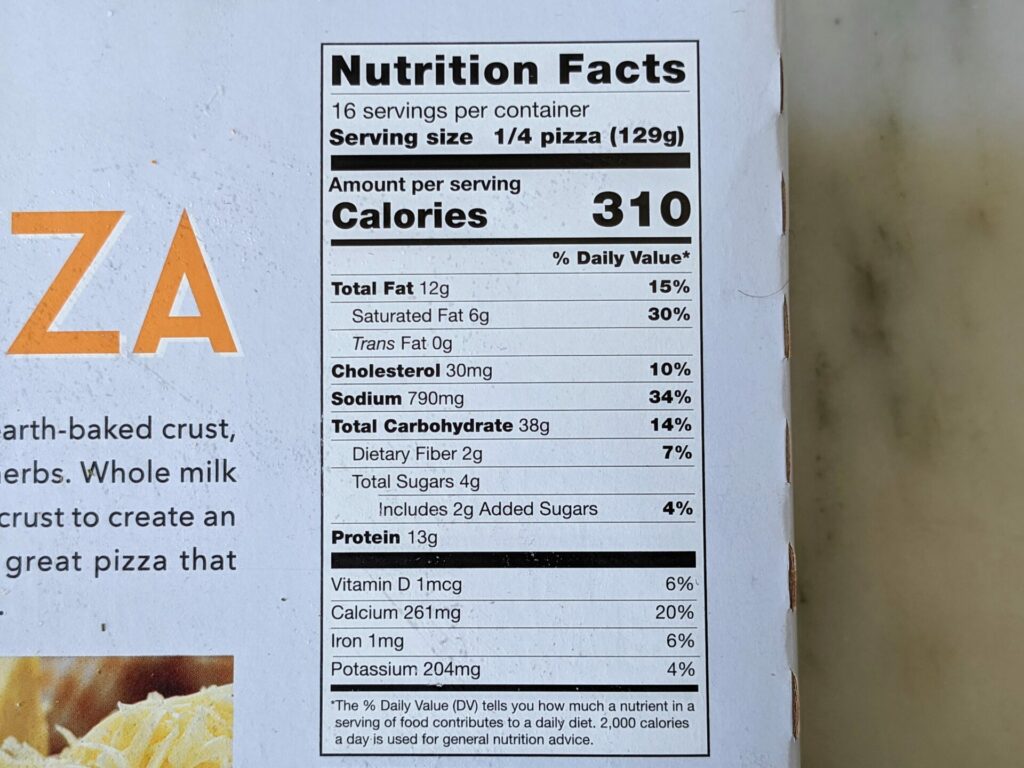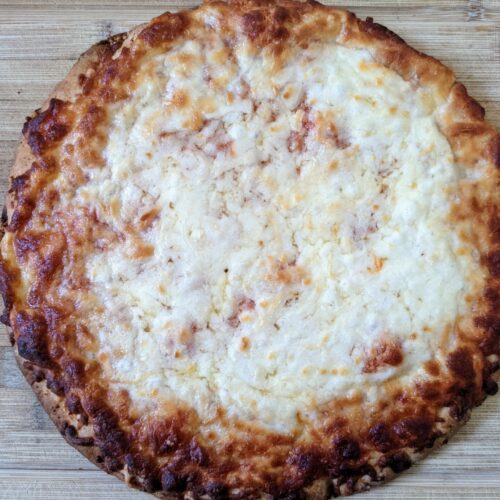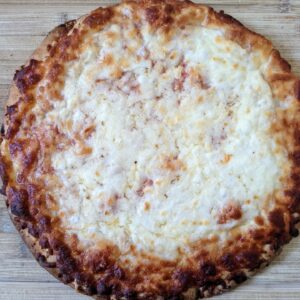 Costco Kirkland Signature Cheese Pizza
Costco's Kirkland Signature Frozen Cheese Pizza is an awesome quick and easy dinner. Well worth the price and super tasty!
Instructions
Heat the oven to 425°F (220°C). Remove the pizza from all packaging.

Place the pizza directly on the center rack in the center position.

Bake for 13 to 16 minutes until the crust is brown, and the cheese is melted and golden brown.

Cook to an internal temperature of 165°F.
Nutrition
Calories:
310
kcal
Carbohydrates:
38
g
Protein:
13
g
Fat:
12
g
Saturated Fat:
6
g
Trans Fat:
0
g
Cholesterol:
30
mg
Sodium:
790
mg
Fiber:
2
g
Sugar:
4
g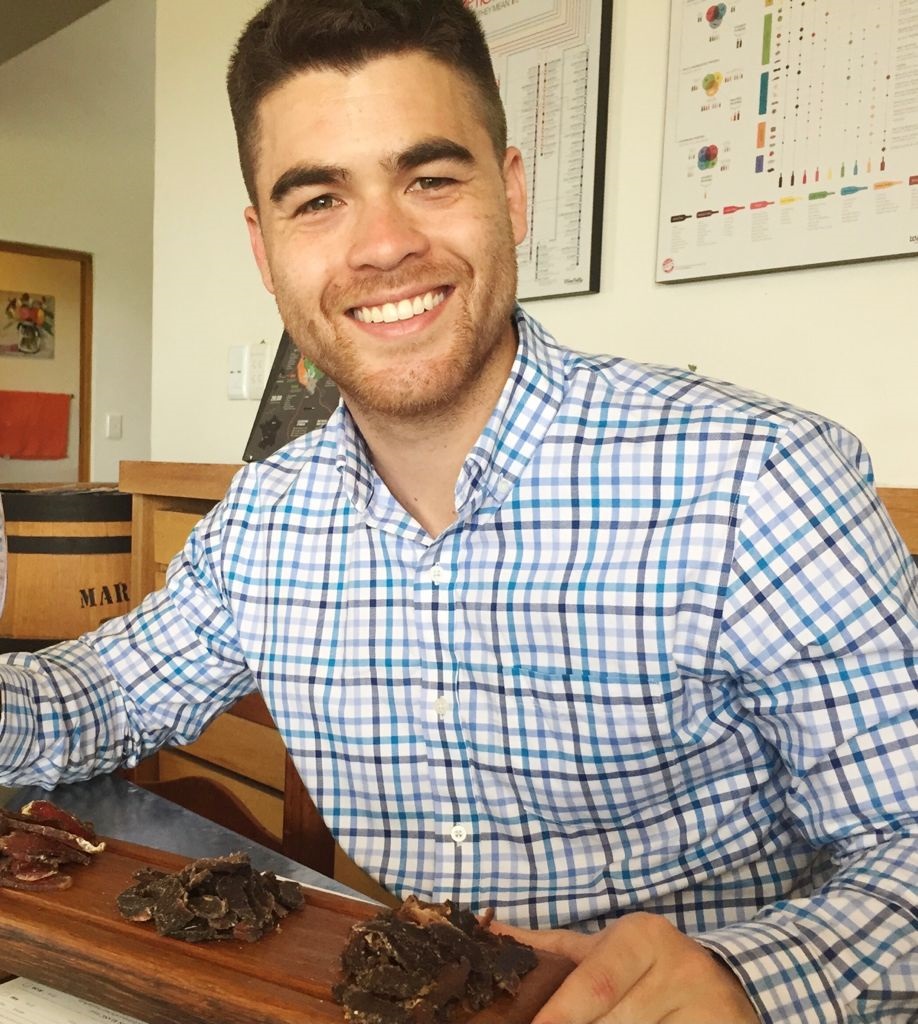 Greg Larkin is the founder and managing editor of Costco Food Database, the premiere site for honest takes on all things Costco food. A self-proclaimed Costco super-fan since childhood, Greg turned his obsession in a mission to properly rate and review all of Costco's delicious buys. When he's not busy navigating Costco aisles, you can find Greg smoking Kirkland Signature meats, meal prepping, or perfecting his homemade jerky recipes.