Costco Meatballs - Air Fryer Tips + Recipe Ideas & Sauces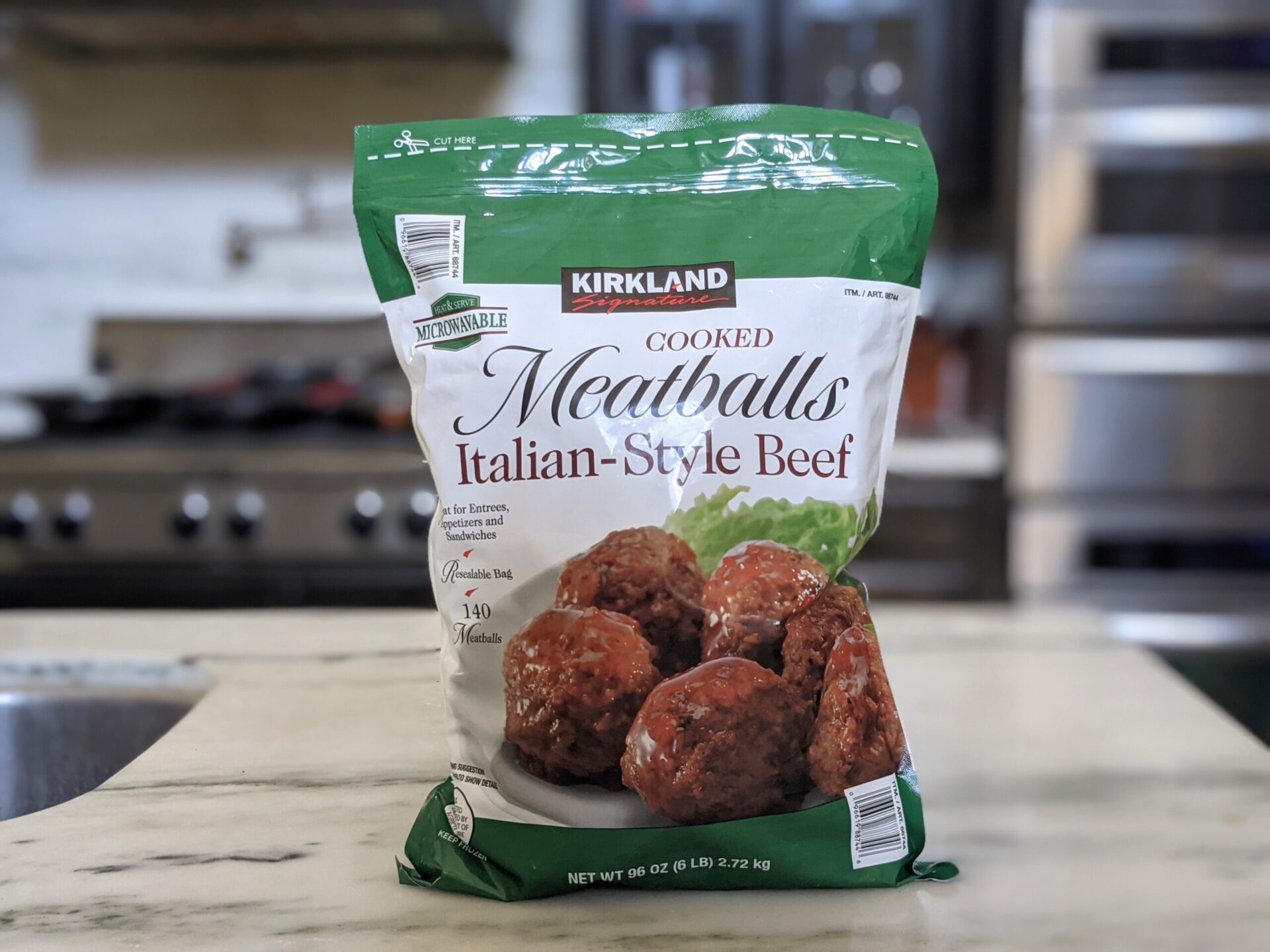 Kirkland Signature Italian-Style Beef Meatballs at Costco
The 6-pound bag of Costco meatballs includes 140 individual meatballs. There are 96 ounces in 6 pounds, so each meatball weighs approximately .69 ounces. These meatballs are on the smaller side; some people would even dare call them mini-meatballs.

Versatile - Eat These Meatballs Anytime
The great part about the Kirkland Signature Italian Beef Meatballs is that they are super versatile. The packaging states they can be used as appetizers, as part of an entree, and even in sandwiches.
These meatballs have a lot of potential, and because of their wide range of uses, they provide a lot of value and are a great item to keep in the freezer.
How Much Do The Meatballs Cost at Costco?
Each 6-pound bag of Kirkland Signature Italian Meatballs at Costco sells for $19.99. This is a price of $3.33 per pound and is probably one of the best value beef products at Costco. The price of each meatball is roughly $0.14.

Sam's Club sells their 6-pound bag of Member's Mark Frozen meatballs for $13.98 or $2.33 per pound. This is a significantly better price than what Costco offers for their version of Italian meatballs. 
I can't speak on quality, but it's clear that Sam's Club wins on price here.
Costco Meatballs Taste Test
Again, my favorite benefit of these meatballs is their versatility. They can be eaten as is with no additional seasoning or sauces or included in various meals.

For this taste test, I was able to eat them plain as well as add them to a spaghetti and meatball dish, teriyaki meatball rice dish, and a meatball mashed potatoes bowl.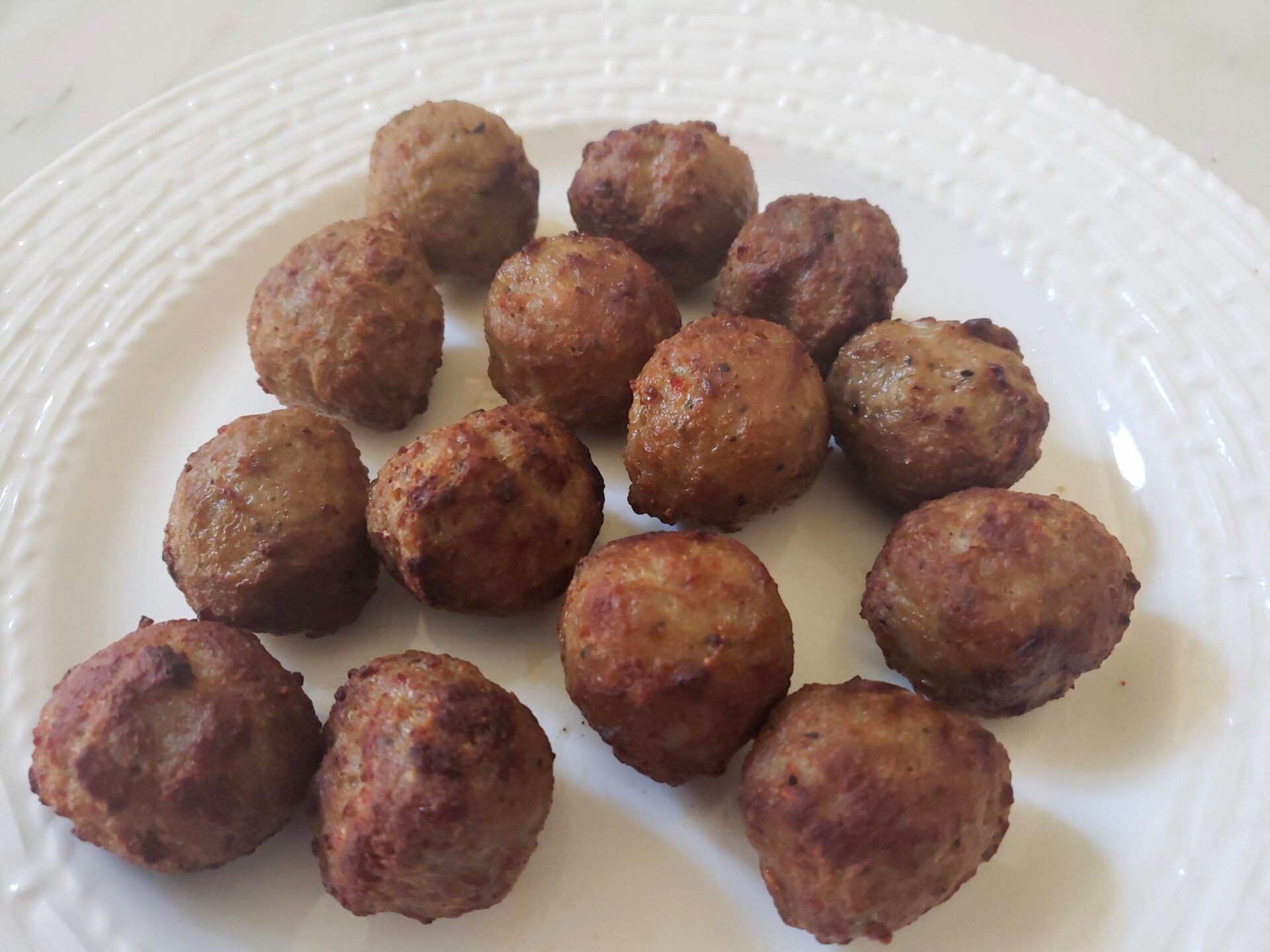 I cooked these using my own air fryer cooking instructions, and they turned out great. The meatballs were a nice dark brown color and fully heated on the interior.
For taste, the meatballs are good. The Italian seasoning is present, and the Costco meatball isn't overly salty.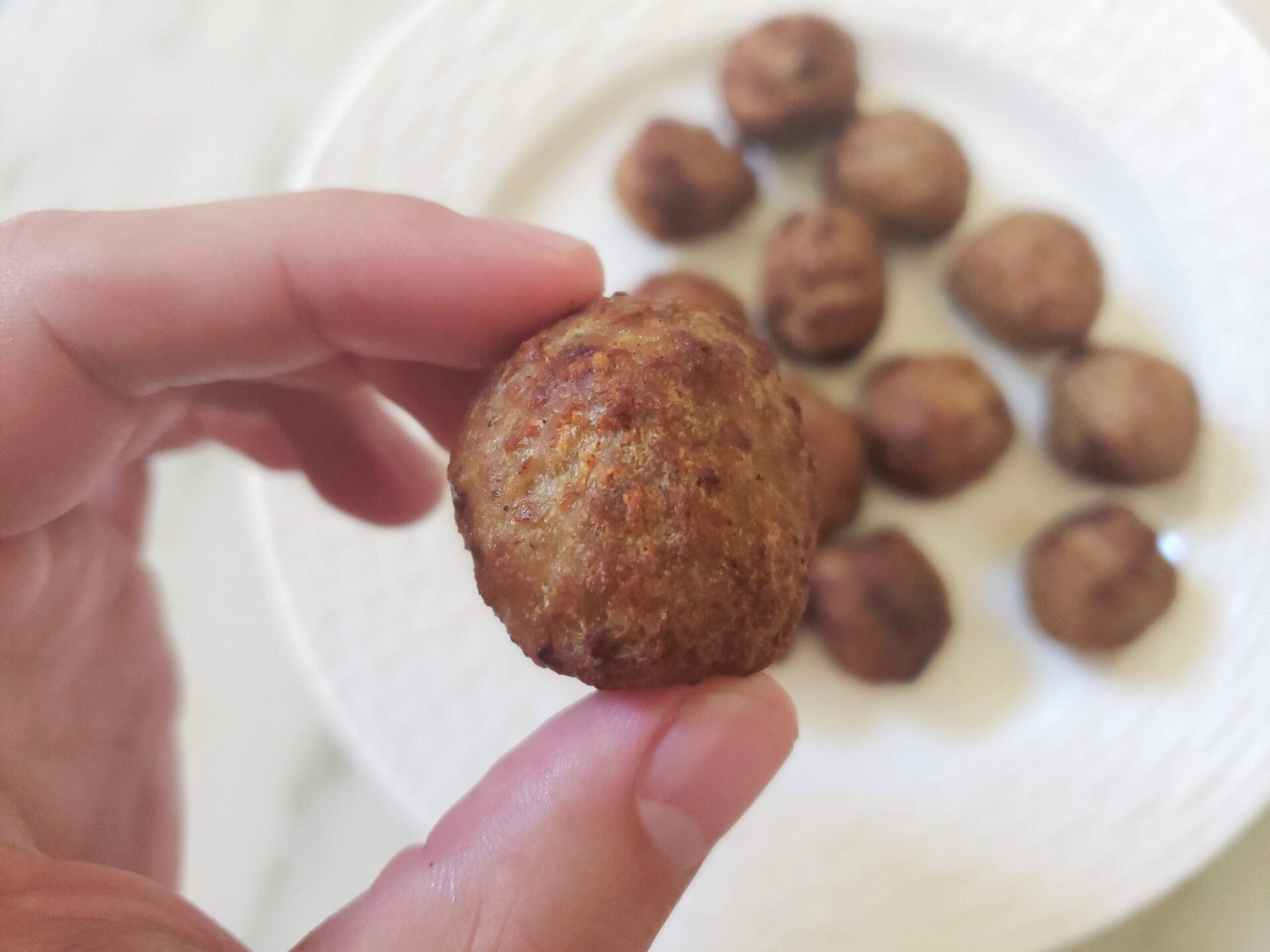 As you can expect, the meatball is very processed and doesn't have a crumbly ground beef feel, but instead is more of the soft spongy meatball.

It isn't as bad as AmyLu's teriyaki chicken meatball, but it definitely is processed, and there is room for improvement.
The seasoning is on point but light. The Italian flavor is there if you are really searching for it. When you eat the meatballs with a teriyaki sauce or Japanese BBQ sauce, the sauce overrides the Italian seasoning that is present in the meatball.


It is always nice when you cut open a meatball, and you can clearly see the seasoning.
Meatball Serving Suggestions and Recipes
The biggest appeal to me about these Italian meatballs is their versatility. Eating 6 pounds of any frozen food can become repetitive, but that doesn't have to be the case here. There are many quick and easy options for these fully cooked meatballs.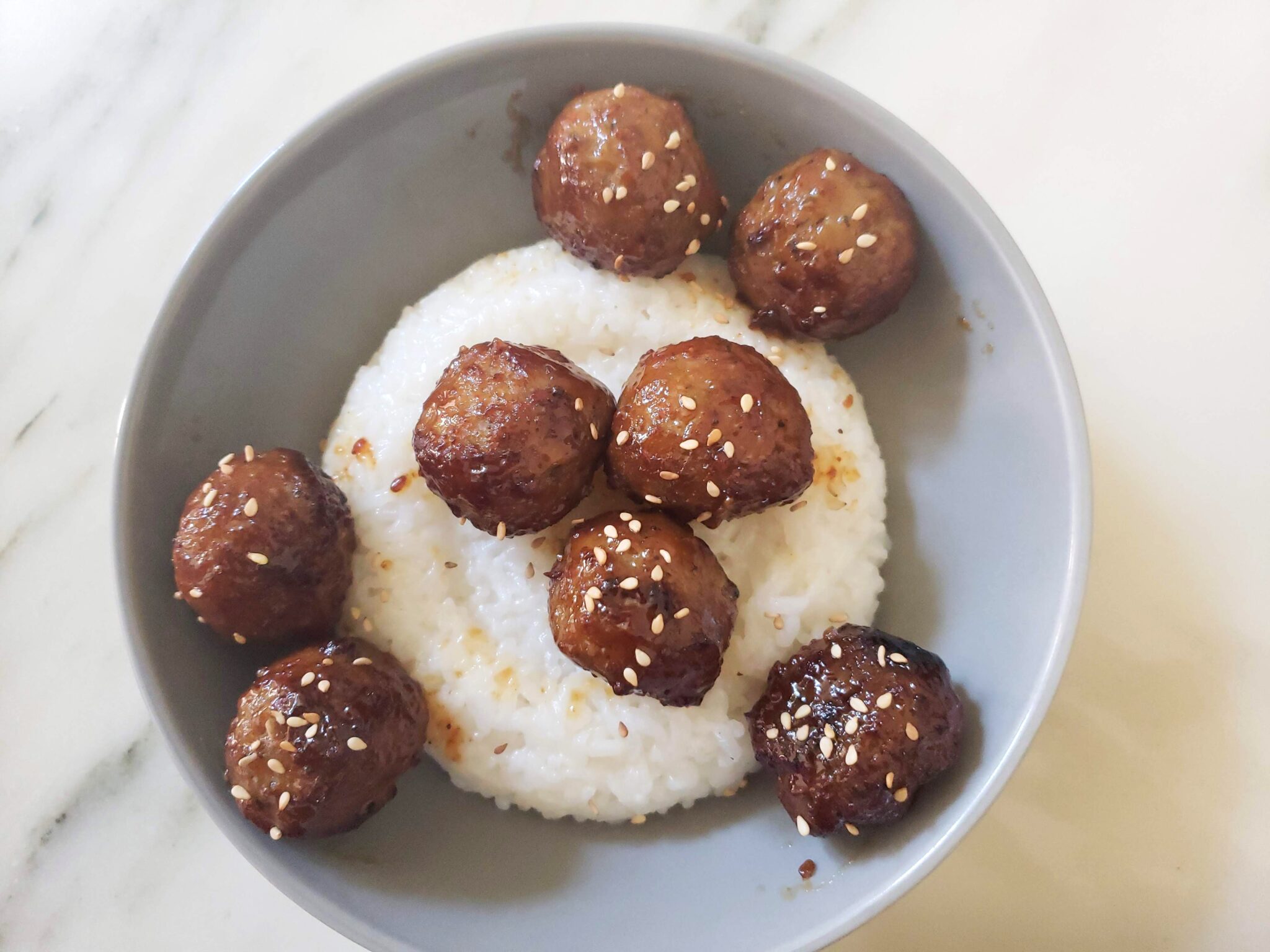 Costco Meatballs and Sides
The easiest way to eat these meatballs will be to pair them with the side of your choice. Some common side dishes that go great with these Costco Italian Meatballs.
Mashed Potatoes

Rice

Green Beans

Salad

Corn on the Cob
You can quickly and easily pair the meatballs with any of the above mentioned side dishes for a delicious weeknight dinner.
Of course, these Italian meatballs can be used to make a classic spaghetti and meatball dish. Pair your favorite pasta with some Rao's marinara sauce and these Kirkland Signature meatballs, and you will have a good time.

I also added Aidells' Chicken Apple Sausage to the spaghetti, and it was delicious. 
Another all time classic recipe with meatballs is going to be the marinara meatball sandwich.
The sandwich can be put together in just a few minutes and involves just a few simple ingredients that you may already have in your pantry.
Kirkland Signature provides a recipe, but I also really like this recipe from Rachel Cooks. The meatball sandwich bread is crunchy, and the cheese is melty. Delicious!

One of my favorite uses for Costco's meatballs is to slow-cook them and cover them in sauce. 
They go great with bbq, buffalo, sweet and sour, or teriyaki sauce and are super easy to make.
Simply combine the meatballs, sauce of your choice, and optional onions and slow cook for 2-4 hours.
These meatballs make an excellent appetizer for parties and are great if you want to combine them with a side dish for an entree.
These frozen meatballs are Italian flavored already but can still be combined with a wide variety of dips and sauces. Insanely Good has a list of 20 meatball sauces and dips.


My favorite options from the list include the following:
Swedish Meatball Sauce

Honey Garlic Sauce

Sweet & Sour 

Creamy Tomato Sauce

Yogurt Sauce


Another great option would be to drizzle some Nona Pia's Balsamic Glaze on the meatballs.
Costco Meatballs Cooking Instructions
How to Cook Costco Meatballs?
The Kirkland Signature packaging advertises that these meatballs are microwaveable and a great heat and serve option. The meatballs are fully cooked and just need to be heated to a desirable eating temperature. 
While they are a great heat and serve option, there are much better cooking methods than simply microwaving them. My personal favorite cooking method is to air fry the meatballs, which is even faster than cooking them in the microwave.
Costco Meatball Air Fryer Cooking Instructions
Preheat the air fryer to 400°F.

Arrange frozen meatballs in a single layer in an air fryer tray.

Heat for 5-7 minutes or until thoroughly warmed.
The air fryer might be the quickest cooking method for the Italian meatballs from Costco and may also produce the tastiest meatballs. The meatballs develop a nice firm and crispy exterior while remaining juicy and soft on the inside. 

If you have an air fryer, I highly recommend cooking these meatballs with it.
Steamer Cooking Instructions:
Place frozen meatballs in a double boiler and steam heat until thoroughly warmed.

Preheat the oven to 375°F (190°C).

Arrange frozen meatballs in a single layer on a baking sheet.

Heat for 20 minutes or until thoroughly warmed.
Place approximately 20 frozen meatballs on a microwave-safe plate.

Heat for 10 minutes on medium power (50%) or until thoroughly warmed. 

Ensure internal temperature reaches 165°F. 

Let stand 2 minutes before serving. 
Keep frozen and sealed until ready to use.

Heat directly from a frozen state.

Reseal the bag and keep it frozen (do not allow it to thaw) until the next use.
Nutritional Profile - Italian Style Meatballs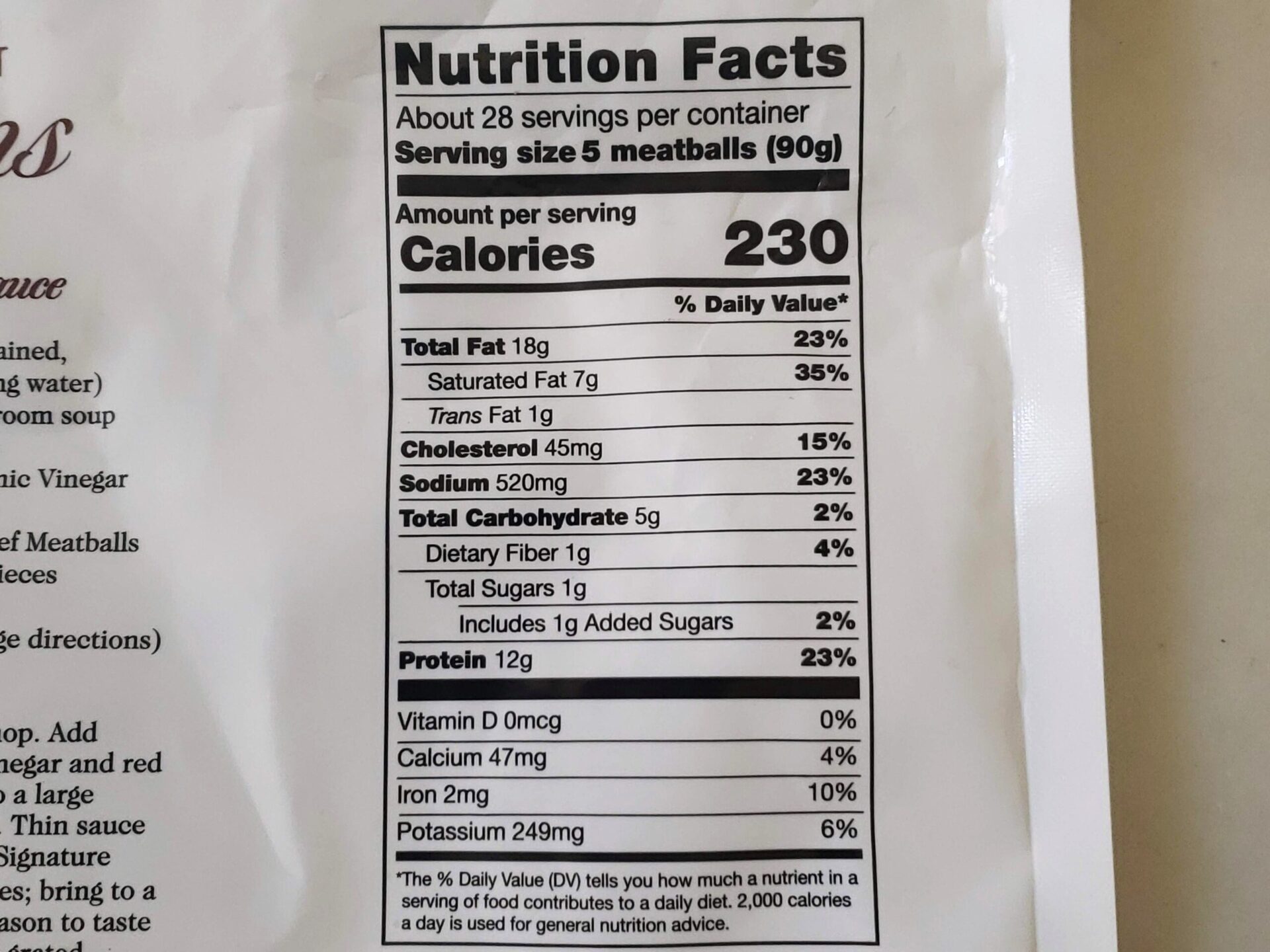 How Many Calories in Costco Meatballs?
One serving of Costco's Italian Beef Meatballs will be 5 meatballs and contains 230 calories. Those 230 calories include 18 grams of fat, 5 grams of carbs, and 12 grams of protein.
This is a slightly disappointing nutritional profile. These meatballs are rather small, and the fat and calorie content are a little higher than I would like to see.
This is typical with frozen food items from Costco and in general, but the sodium is going to be something to be cognizant about. Each serving contains 520 mg of sodium which is 23% of the daily recommended value.

This is quite high, considering one serving is only 5 meatballs or about 3 ounces. The sodium will add up very quickly if these meatballs are anything more than a light snack.
Costco's 6 pound bag of Italian Style Meatballs is an all around solid product. The bag may seem pricey at $19.99 but the per pound price is fair at only $3.33.
The recommended cook times are slow, but can be improved with an air fryer. 
The Italian meatballs are very versatile and can be used as appetizers or even in entrees. They are great to have in the freezer.