Costco Pizza Crust Kit - Hand Stretched & Organic!
Molinaro's Hand Stretched Organic Pizza Crust Kit at Costco
Costco sells Molinaro's Hand Stretched Pizza Crust Kit for $9.99. The organic pizza kit can be found in Costco's pantry and dry goods area of the store near items such as the naan bread, marinara sauce, and the aussie bites.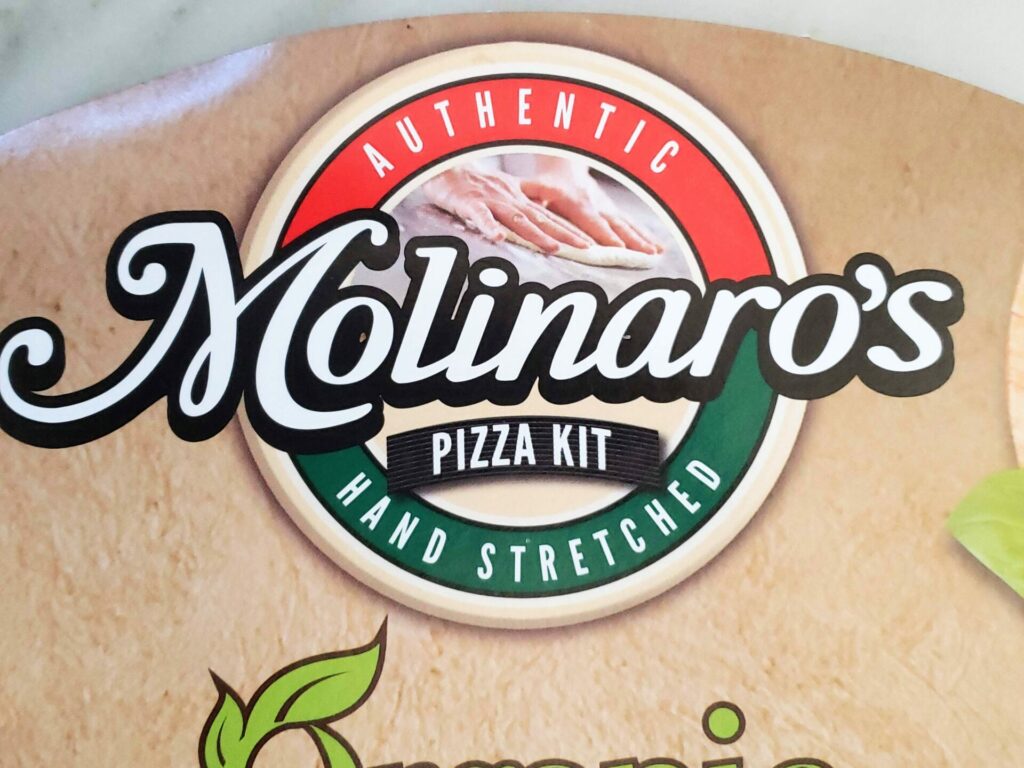 Each Costco pizza kit will include 4 hand stretched pizza crusts and 4 packs of premium tomato sauce pouches. The pizza dough and sauce are USDA organic and have no preservatives. 
The entire kit weighs 53.6 ounces (3 pounds 5.6 ounces).
Have You Tried Costco's Pizza Kit?
Let the rest of the Costco Food Database community know what you thought of this product. Results and reviews are at the bottom of this page.
Please allow 24 hours for review moderation and approval.
Hand Stretched Pizza Crusts
When I bought these pizza crusts from Costco, I was pretty excited that they were hand stretched. It wasn't until I got home that I realized I mentally pictured hand tossed pizza dough instead of hand stretched.
Hand stretched is still fantastic by all means, as the crust becomes airy and full of holes. The pockets of air in the crust will expand during the baking process, which should give the pizza a more artisan look and feel.
You can even see finger marks and divots in the hand stretched pizza dough.
Organic and Real Ingredients
Molinaro's does claim multiple times on the packaging that their pizza crusts and sauce are organic and made with 100% real ingredients, so of course, I had to check. Here is their ingredient list:
Organic Enriched Wheat Flour
Water
Yeast
Organic Olive Oil
Organic Cane Sugar
Salt
Organic Vinegar
Organic Canola Oil as Manufacturing Aid
Organic Tomato Sauce
Water
Organic Tomatoes
Organic Canola Oil
Salt
Cane Sugar
Organic Garlic Puree
Organic Basil
Organic Oregano
Citric Acid
Interesting Packaging Design + Storage Bags
One thing I found interesting about the Costco pizza kit is that the pizza crusts do not come individually wrapped; instead, all 4 crusts are unwrapped in the main packaging.
Molinaro's does provide a storage bag that is used to refrigerate or even freeze the pizza crust after opening, but it seems like they could have saved a step by packaging them in the bag to begin with, or making the entire packaging resealable. 

If refrigerating, the pizza crust and sauce will need to be used within 10 days of opening.
How Much Does Costco Pizza Kit Cost?
Molinaro's Pizza Crust Kit with 4 pizza crusts and 4 sauce packets sells for $9.99 at Costco, which breaks down to $2.50 per pizza crust and sauce. This is an excellent price as you can complete the pizza with toppings of your choice, and still come in right around $5.
While it is more expensive than some of Costco's frozen pizza options, this is a fantastic price for an organic premium pizza base.
Molinaro's Pizza Crust - Taste Test
There is a lot to like about Molinaros – the pizza crust is all organic, made with real ingredients, hand stretched – and who doesn't like to build your own pizza? Unfortunately, the taste did not live up to the potential, and the pizza crust was quite the letdown.
Disappointing Pizza Crust
I made a few pizzas and tried a few different techniques, but I couldn't get the crust to taste anything more like pizza dough rather than bread. 
I tried making some gourmet pizzas, including a prosciutto mozzarella pizza, but the pizza crust really detracted from the feel.
The crust size was fine, it was right between thin and thick crust, but the dough was stiff and slightly dry. It felt out of place and just marginally better than a frozen pizza. 
I was hoping for dough that was a little closer to a mom-and-pop pizza shop, but it much more resembled a fast-food pizza dough.
The pizza sauce was mediocre and didn't live up to the "premium" nametag. It wasn't terrible sauce, but it was your run-of-the-mill pizza sauce. Nothing special about it. The flavor was solid and it had a nice savory taste with a touch of sweetness.
The nice thing is this is a build-your-own pizza, and you can flavor the sauce to your liking. I would add some garlic powder, black pepper, and maybe some Italian seasoning for a little more oomph.
The pizza wasn't the best, and I probably won't be purchasing the Costco pizza kit again. I liked the idea of the pizza kit more than I actually liked the food.
How to Cook Molinaro's Pizza Crust
There are two ways to Cook Molinaro's Pizzas; they can be cooked in the oven or on the BBQ grill. Most of the time, when given the option to bbq something, I will, but my goal for this pizza is to maximize crispiness, so I went with the oven cooking method.
Conventional Oven Cooking Directions
Preheat oven to 450°F (232°C)

Remove all packaging from under the crusts, including the cardboard disk and storage bag. 

Spread Organic tomato sauce on Organic pizza crusts.

Garnish with your favorite toppings or our recommended recipes.

Place pizza directly on the middle rack and cook for 8-10 minutes.

The pizza is cooked when the cheese is melted (if used), and the crust is golden brown.

For a crispier crust, increase cooking time accordingly.

Let sit for 2 to 3 minutes before slicing and serving.
BBQ Grill Cooking Directions
Preheat the gas BBQ with all burners on medium for at least 5 minutes.

Remove all packaging from under the crusts, including the cardboard disk and storage bag.

Spread organic tomato sauce on organic pizza crusts.

Garnish with your favorite toppings or our recommended recipes

Turn off one burner. Place pizza on an unlit side.

Close the grill and cook for 6 to 8 minutes until the pizza crust is lightly browned.

For even browning, rotate the pizza 180°F halfway during cooking. 

To maintain cooking temperature, avoid opening the grill too frequently.

Slide the cooked pizza onto a pan using tongs or a large metal spatula.

For a crispier crust, increase cooking time accordingly.

Let sit for 2 to 3 minutes before slicing and serving.
Costco Pizza Kit Nutrition and Calories
One serving of Molinaro's Pizza Kit from Costco will be ¼ of a pizza crust with sauce. Here is the nutritional information for one serving of Pizza and Sauce:

Calories: 190
Total Fat: 2.5g
Sodium 550 mg (24% DV)
Total Carbohydrates: 37g (13% DV)
Dietary Fiber: 2g (8% DV)
Protein: 6g
This will only include the pizza dough and sauce and will not include any additional cheese or toppings.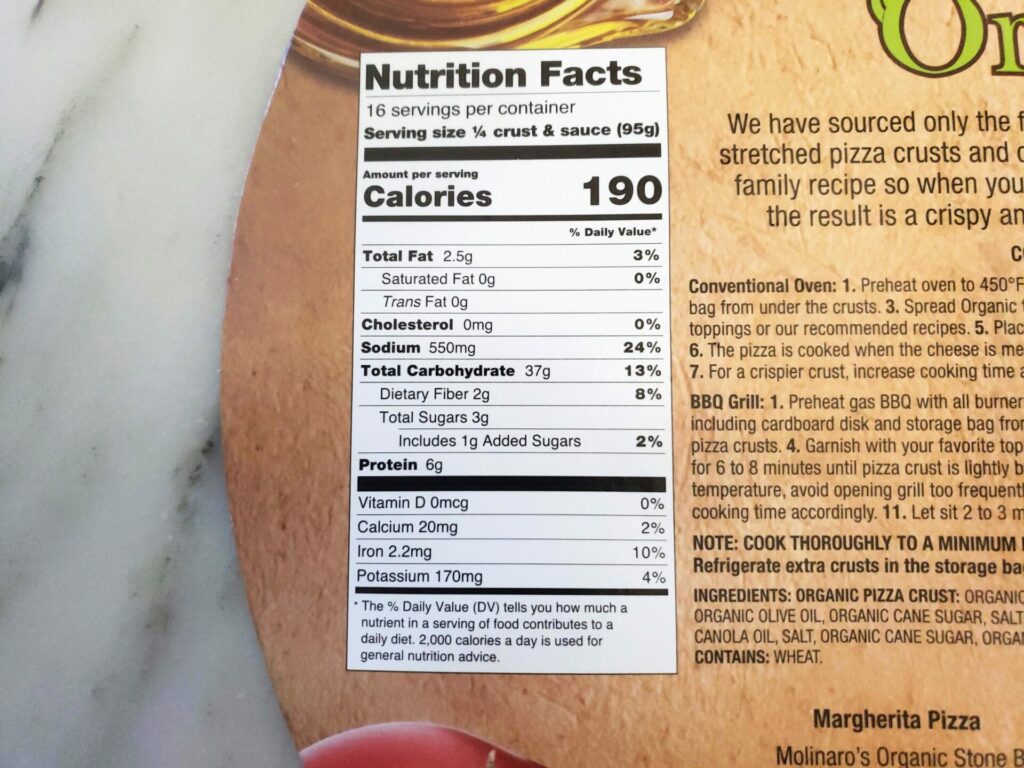 One entire pizza with sauce will have the following nutritional information:
Calories: 760

Total Fat: 10g

Sodium: 2200mg (96% DV)

Total Carbohydrates: 148g (52% DV)

Dietary Fiber: 8g (32% DV)

Protein: 24g
This will be a relatively standard nutritional label for pizza. The meal will, of course, be carb heavy, and depending on your topping selection, the fat and the protein count should rise significantly.
As you can see from the nutritional information, there is 550 mg of sodium in ¼ of a pizza or 2200 mg in an entire pizza. If you were to eat one whole pizza, this would be nearly 100% of the recommended daily value for sodium, not including any additional toppings.
The sodium numbers would be astronomical if you went with a classic pepperoni or sausage topping. Eat with caution!
Costco Food Database User Reviews
Have you tried this item? Let the rest of the Costco Food Database community know what you think. Leave a rating and review for this product.