The 18 Best Costco Breakfast Options for 2023 Ranked!
Best Costco Breakfast Foods Ranking
Costco carries almost everything imaginable and definitely has no shortage of ready to heat/eat breakfast options. They carry everything from oatmeal packs to breakfast sandwiches to freshly made pastries. 

There are quite a few ways to rank breakfast foods. There is an argument to be made that convenience is king at breakfast, but the nutritional label, price, and taste all play a significant role. We've factored all of this into the rankings of Costco's 18 most popular breakfast options.
Check out our other Costco Rankings List: Frozen Food. 
18. Alpha Plant-Based Breakfast Sandwich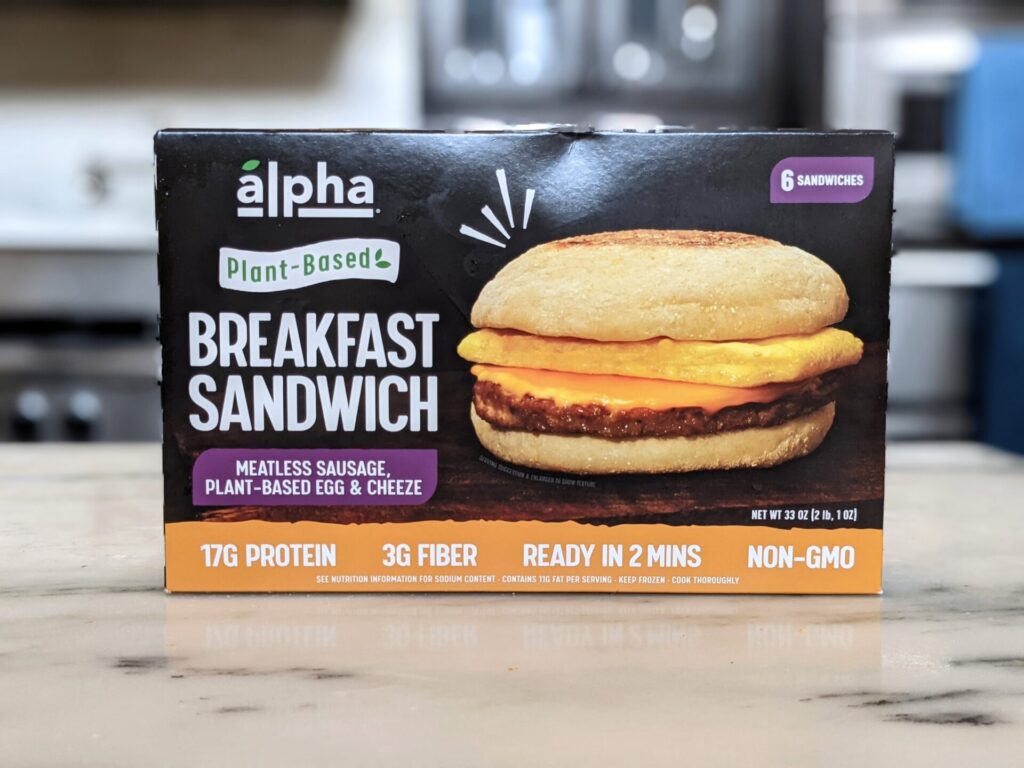 The Alpha Plant-Based Breakfast Sandwich is an easy pick for the worst item on our Costco breakfast list. The entire breakfast sandwich is plant-based and vegetarian but lacks flavor. The plant based meat and egg just don't taste right and don't let you get off to a good start in the morning. 
A box of 6 of these plant-based sandwiches costs $12.99, and unfortunately, I still have 5 of them in my freezer.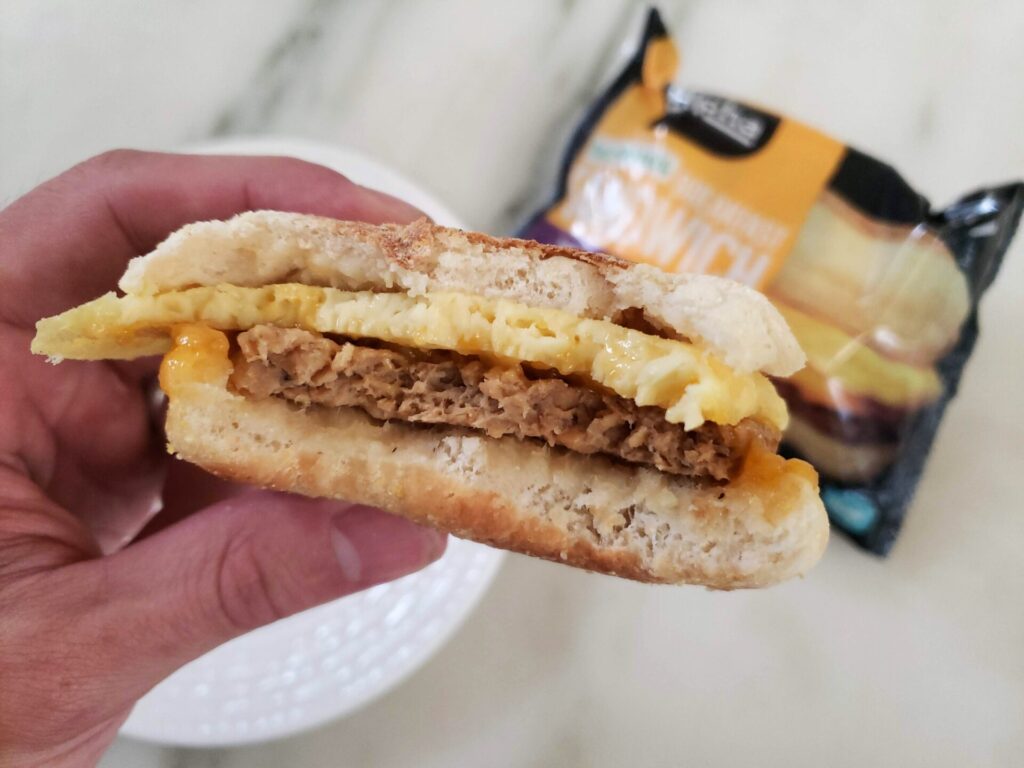 17. AmyLu Chicken Breakfast Sausages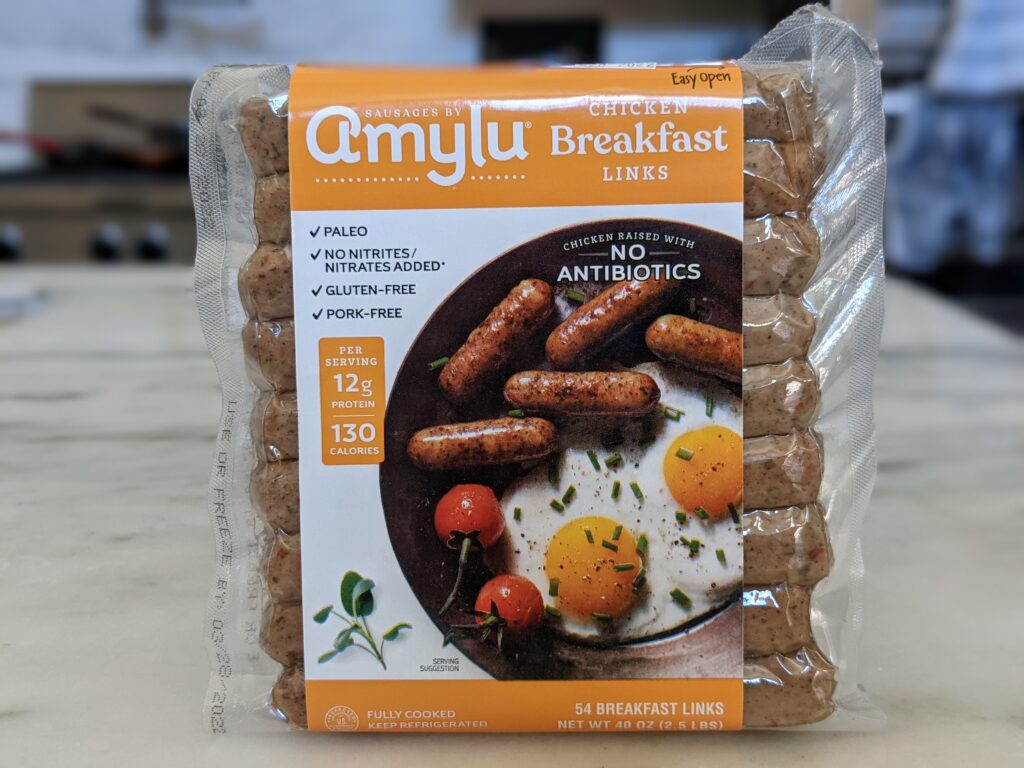 Costco carries 2 chicken breakfast sausage options; a refrigerated option in their deli as well as a frozen breakfast chicken sausage. And yes, the refrigerated breakfast sausage is ranked worse on the list than the frozen one. 
The AmyLu chicken breakfast sausages look great and are paleo, contain no nitrates/nitrates added, are gluten-free, as well as pork free, but after going through the pack, I think I ended up eating more than one or two chicken bone fragments. 
A 2.5-pound pack containing 54 breakfast links sells for $13.99 at Costco, but they are an easy pass for me.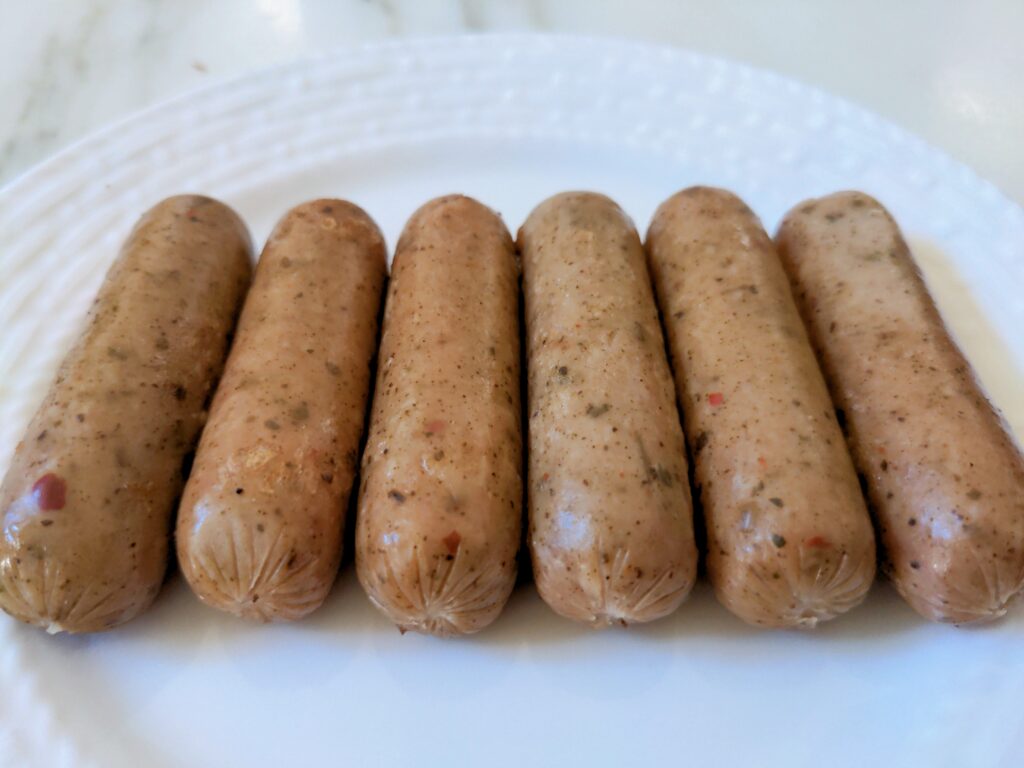 16. Jimmy Dean English Muffin Sandwich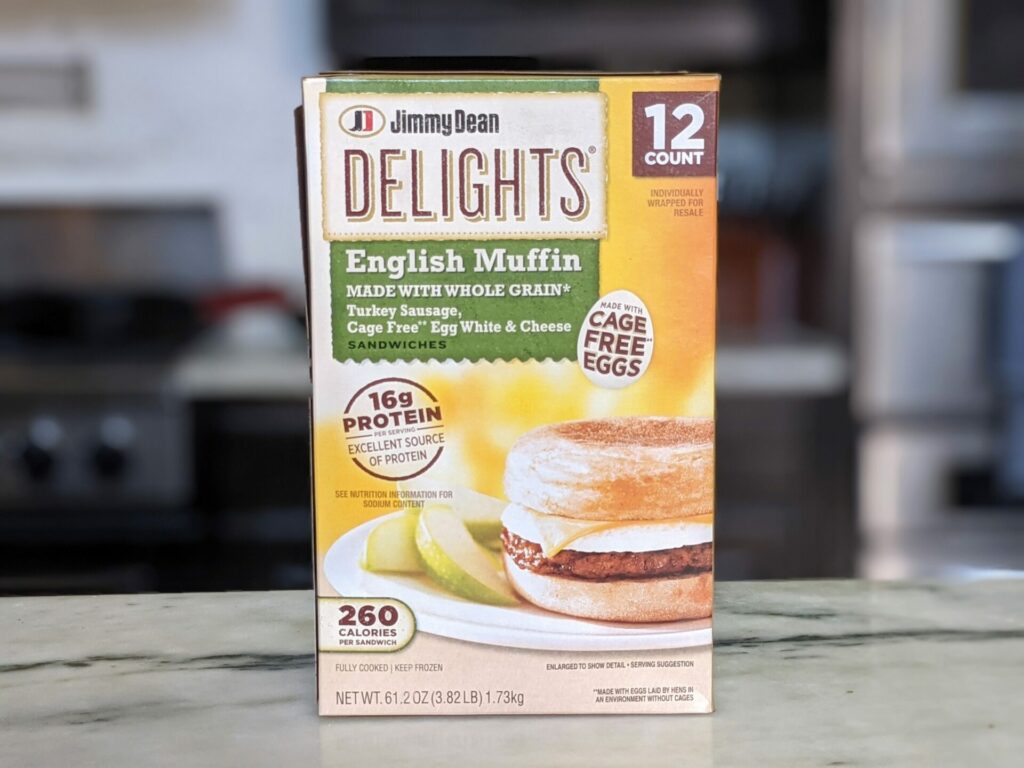 Jimmy Dean's Sausage McMuffin clone is next on our Costco breakfast list. The breakfast sandwich is made with an english muffin, a turkey sausage patty, an egg white, and a slice of cheese. 
Nutritionally, you can't ask for much as the sandwich contains only 260 calories with 16 grams of protein, but the english muffin always comes out dry, and the flavor is minimal. 
A 12 Count of Jimmy Dean Delights English Muffin Breakfast Sandwiches retails for $15.49 at Costco.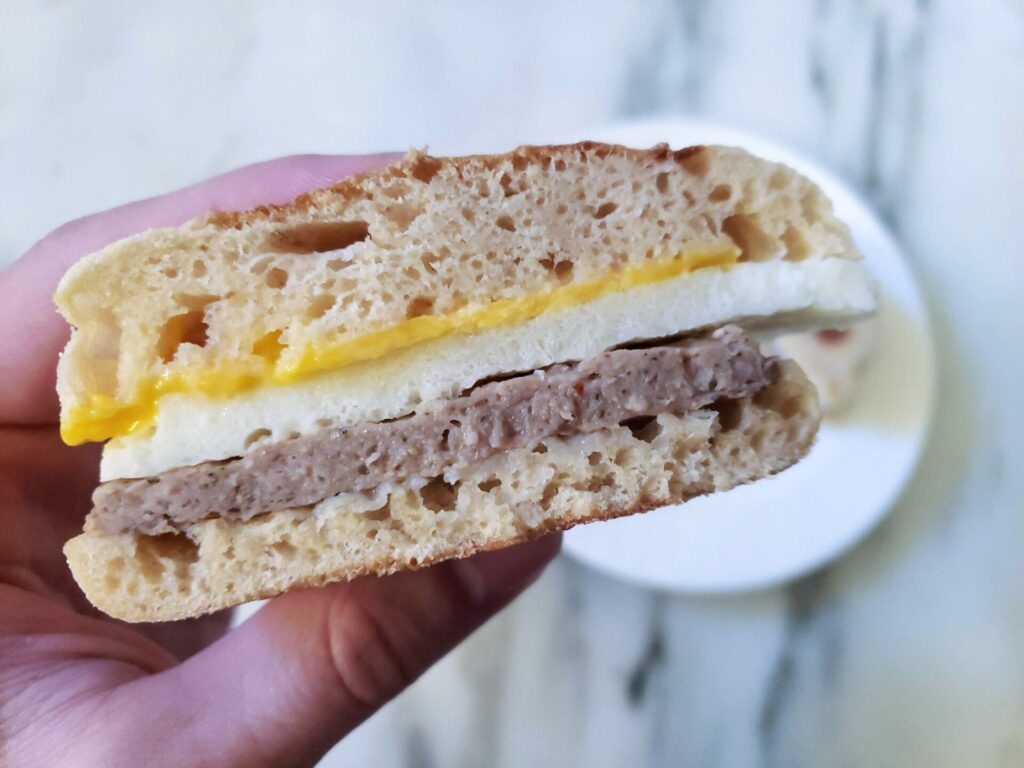 15. Brekki Overnight Oats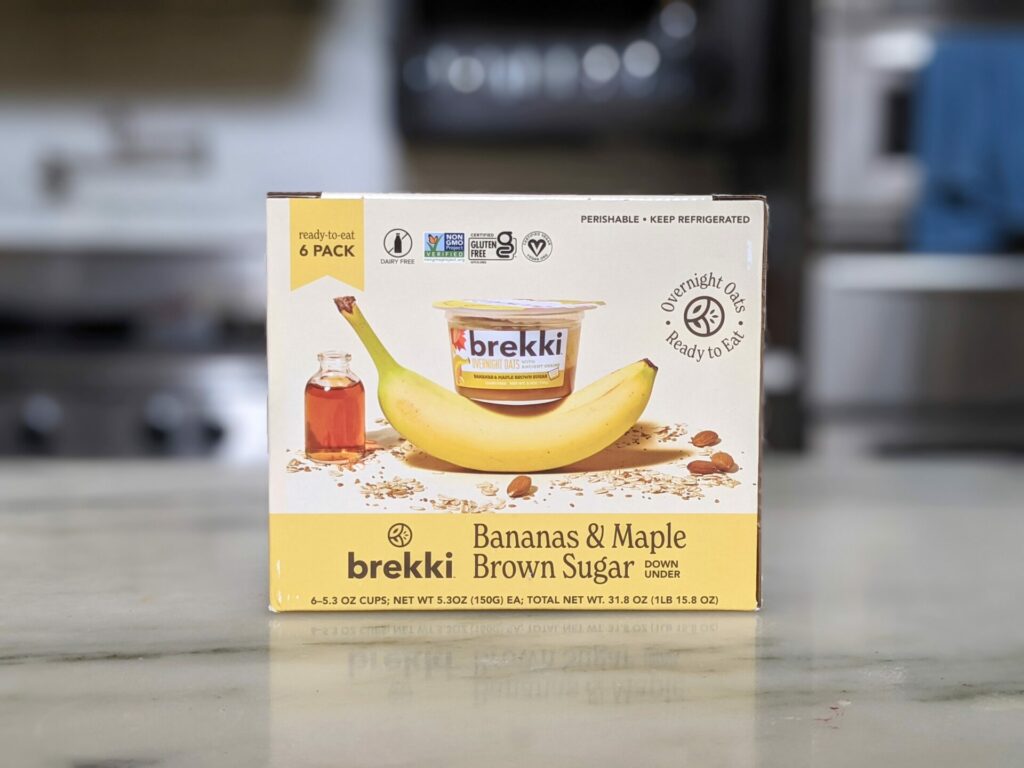 Nothing beats the convenience of overnight oats, which is made even easier with Brekki's individual overnight oat packs. I loved the idea and wanted to love the overnight oats, but visually they were extremely unappealing. I wouldn't have looked twice if I saw the overnight oats in a dog bowl. 
Additionally, the overnight oats are way too sweet. The sweetness isn't the worst thing, as it can be cut by mixing in some plain oatmeal, but this is just extra work for this supposed extremely convenient product.

Costco sells a 6-count of overnight oats for $7.99. The price is right, but the appearance is not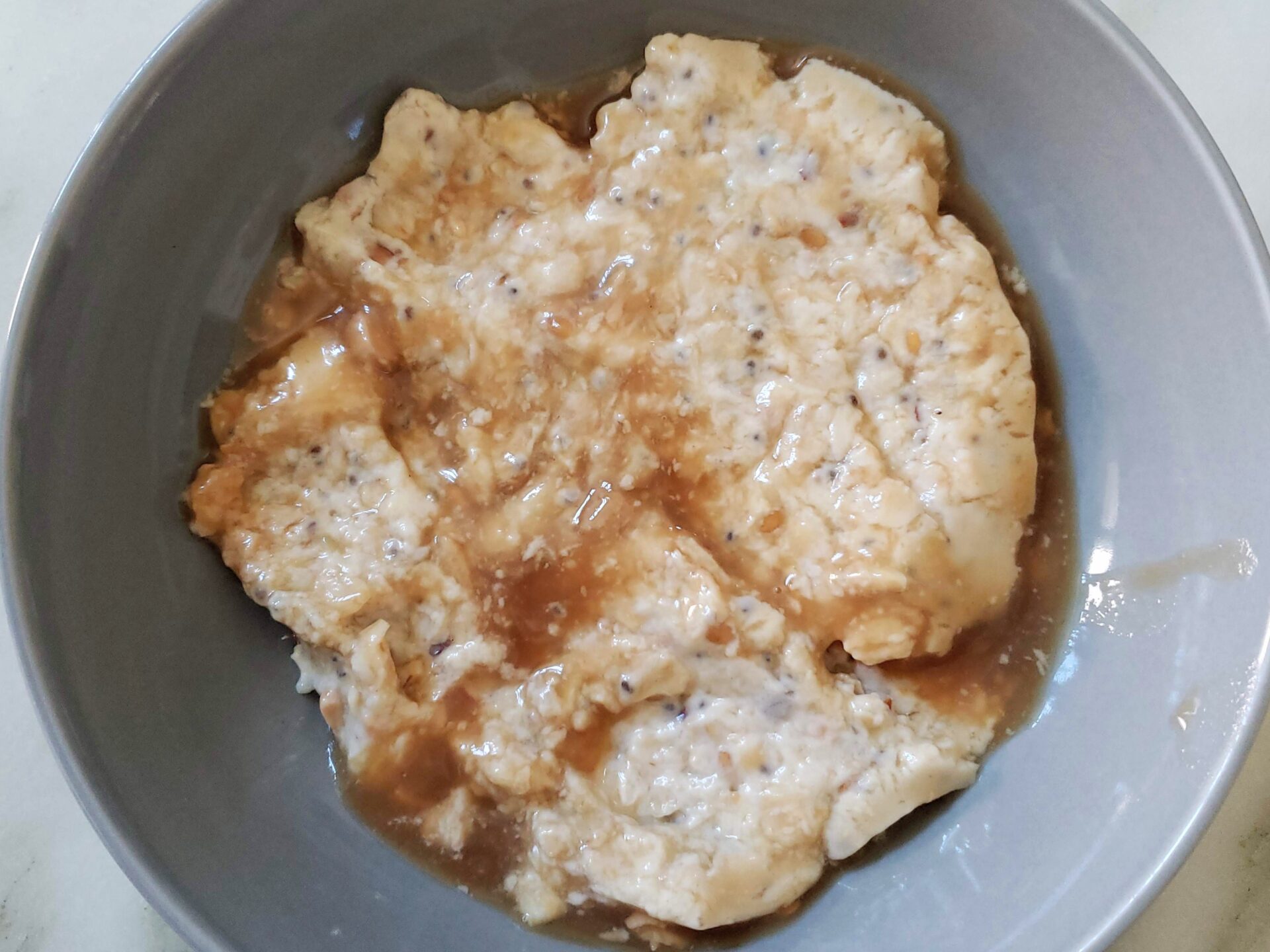 14. Kirkland Signature Muffins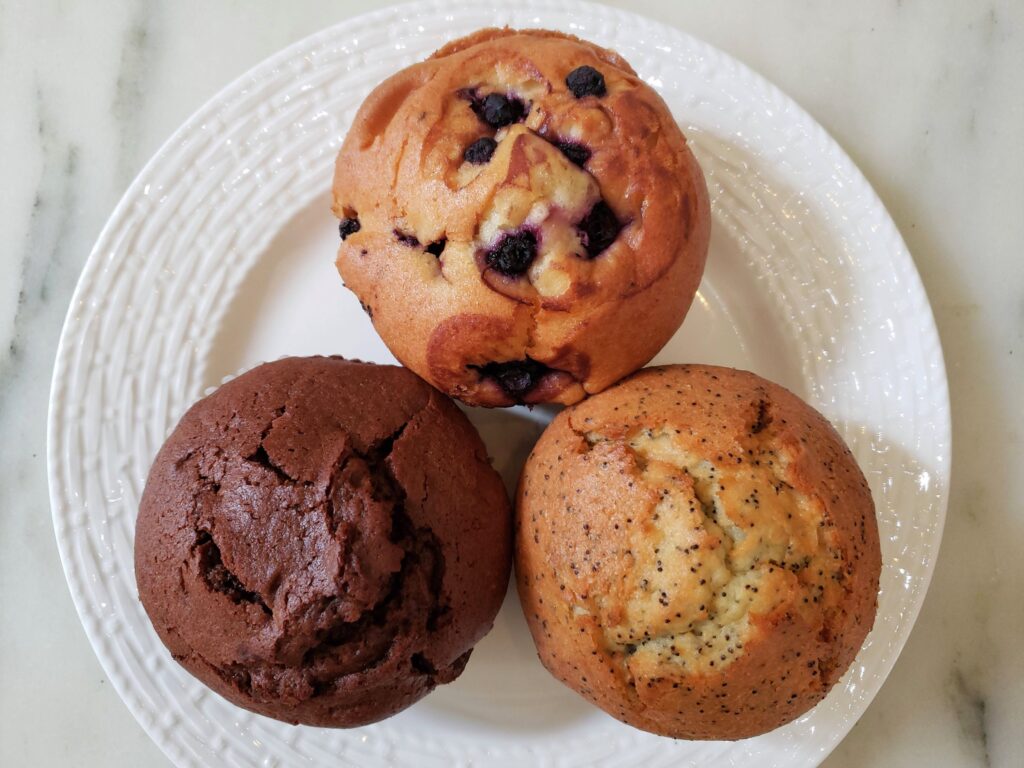 No Costco breakfast list is complete without the famous Kirkland Signature muffins. The standard Costco muffin options are Double Chocolate, Blueberry, and Poppyseed, but some lucky warehouses will have other options, such as the Mantecada muffin as well as the Coffee Cake muffin. 
The muffins are one of the most popular Costco bakery items and have their own cult following, so why are they ranked so low on the list? Well, the Costco muffins have a dirty little secret, and that lies in their nutritional label. Each muffin has approximately 600-650 calories and 35-45 grams of sugar. Our Costco bakery calorie page has more information on the muffins.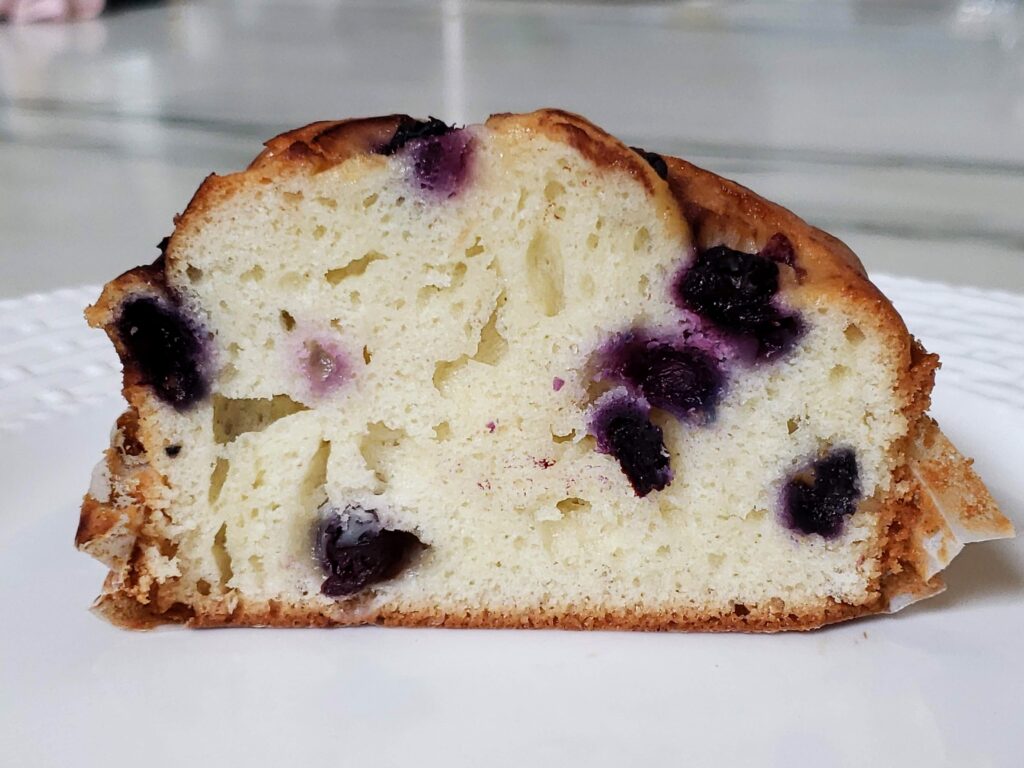 13.Kirkland Signature Cinnamon Rolls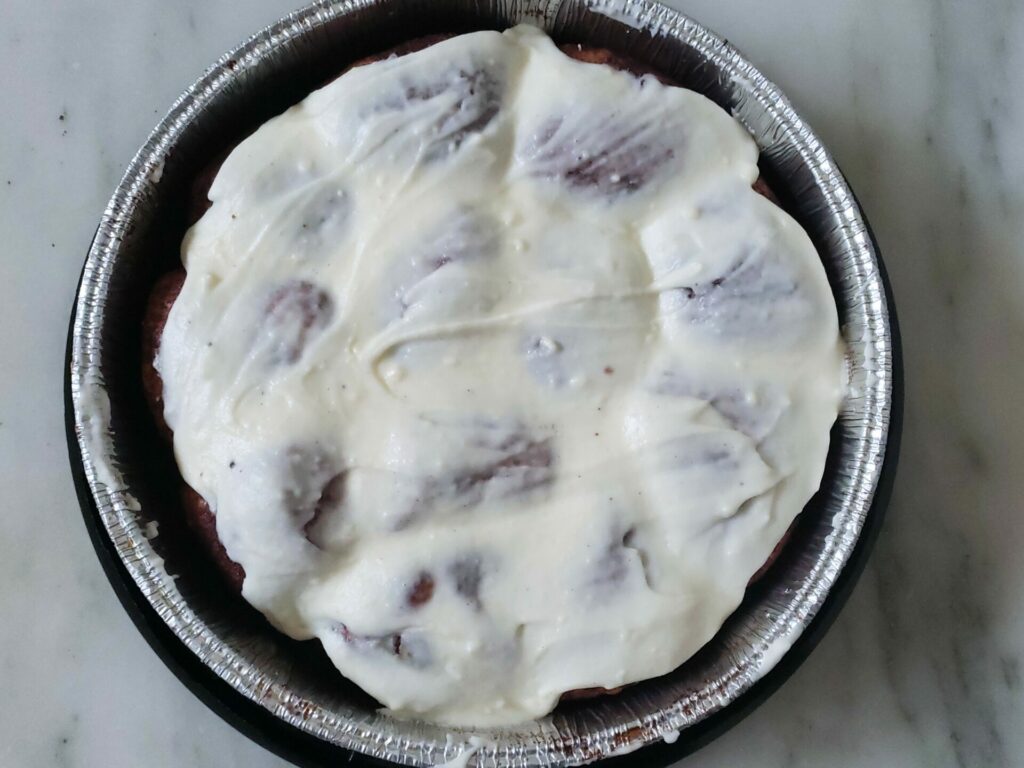 There are two questions you may be asking. Are cinnamon rolls even a breakfast food? Maybe yes, maybe no, but they make the list either way. Secondly, how the heck can I rank the Costco cinnamon rolls higher on the breakfast list than the Costco muffins. 
I knocked the muffins for the nutritional label, and yes, I would say cinnamon rolls are a better option nutritionally. Each cinnamon roll contains 250 calories with 16 grams of sugar, and there's no pretending that they are a healthy option. Two cinnamon rolls are nearly the equivalent of one Costco muffin, but significantly more tasty.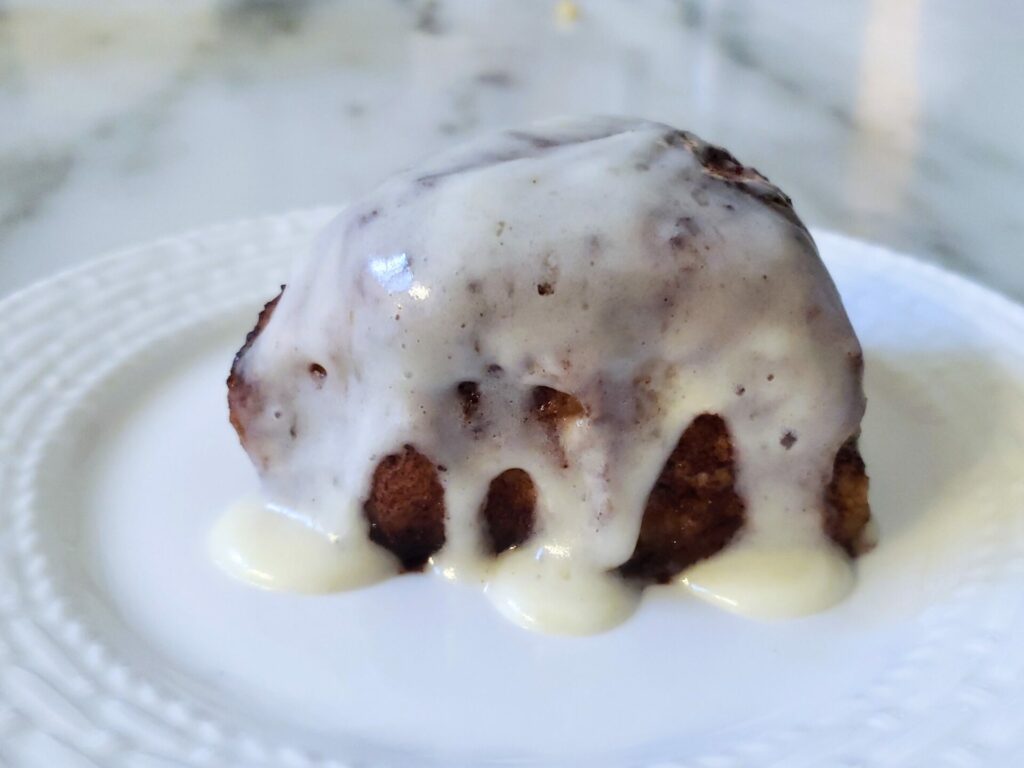 12. Jimmy Dean Croissant Breakfast Sandwich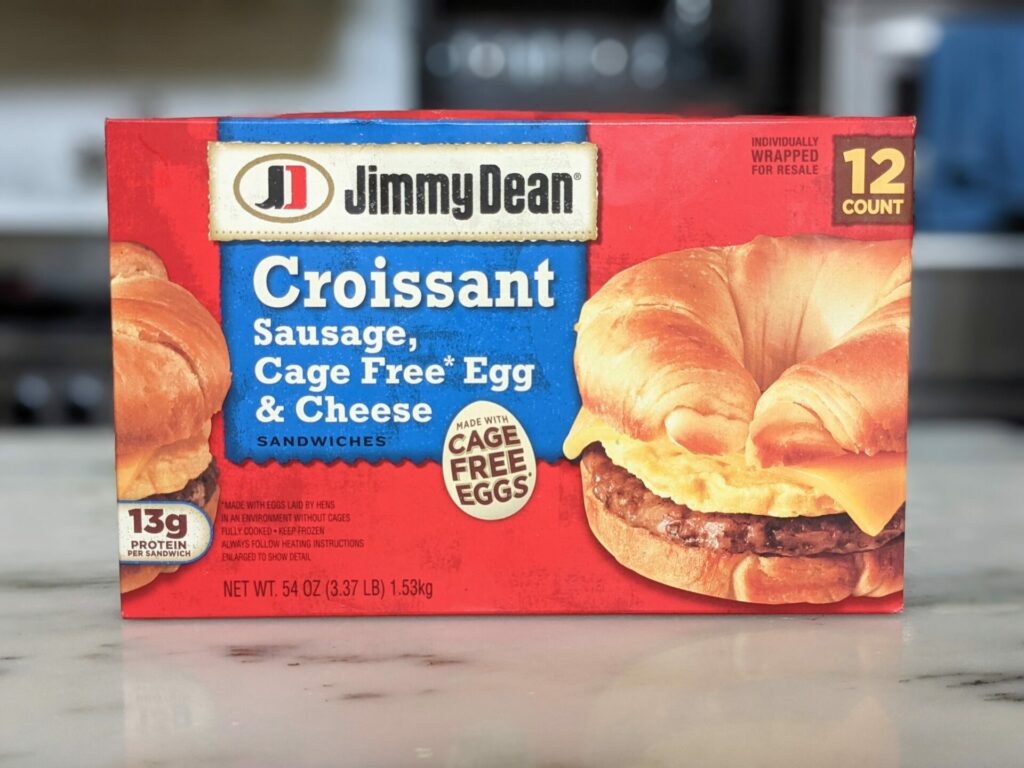 Jimmy Dean makes the list for the second time with the Croissant Sausage egg and cheese breakfast sandwich. This Burger King croissan'wich clone is nowhere near as healthy as the English Muffin Jimmy Dean Delight, but is much more flavorful and satisfying. 
A 12-count box of the croissant breakfast sandwiches retails at Costco for $13.99. One thing to note is that the croissant bread is closer to a typical breakfast sandwich bun than a croissant bun.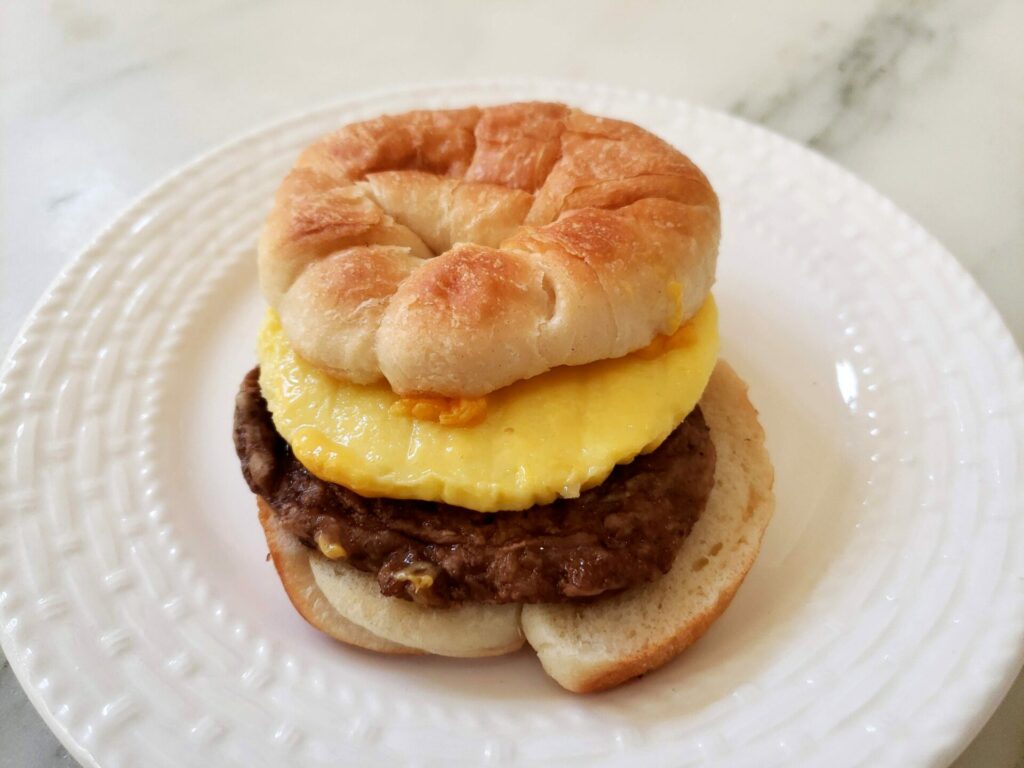 11. Spinach Egg White Frittata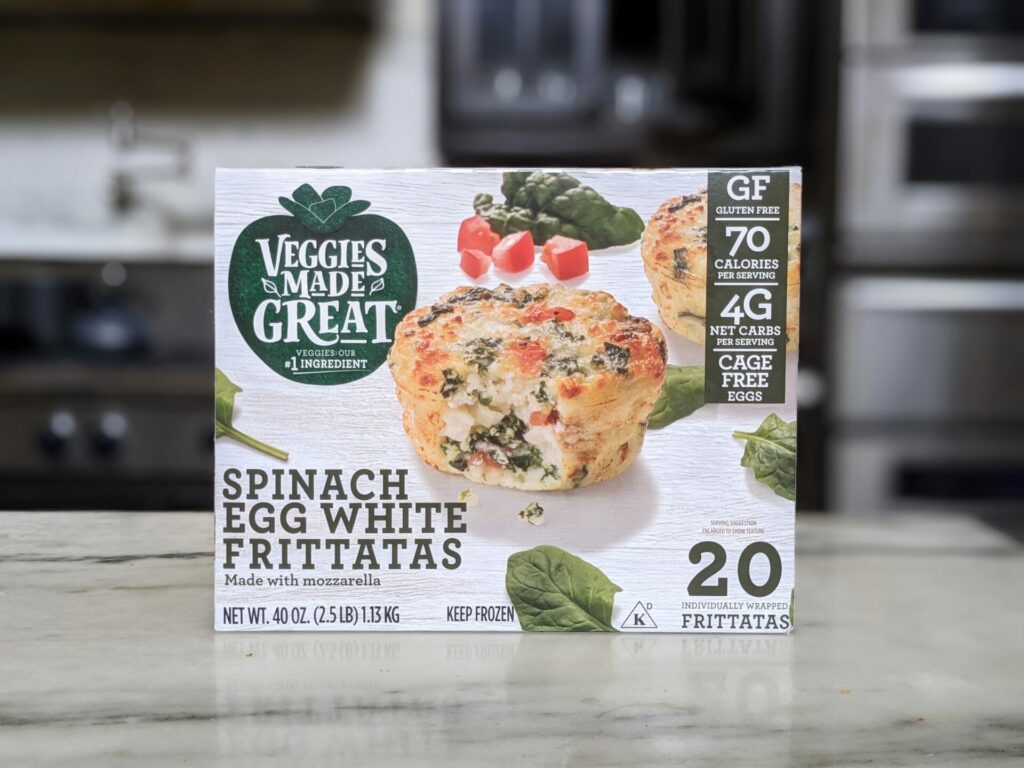 Costco sells a 20-pack of frozen spinach egg white frittatas for $13.99. The frozen frittatas are made with some great ingredients such as spinach, mozzarella cheese, tomatoes and egg whites and only take about a minute to prepare in the morning. 
Convenient, filling, healthy, and pretty darn tasty. This is nearly the perfect breakfast combination.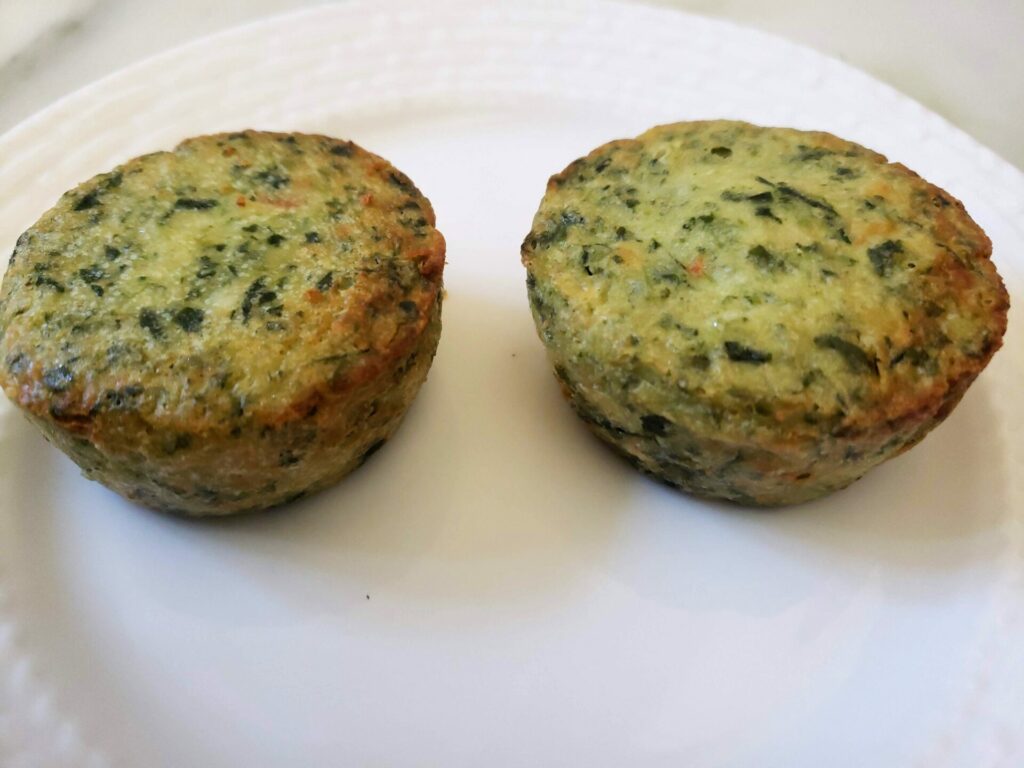 10. Frozen Chicken Breakfast Sausages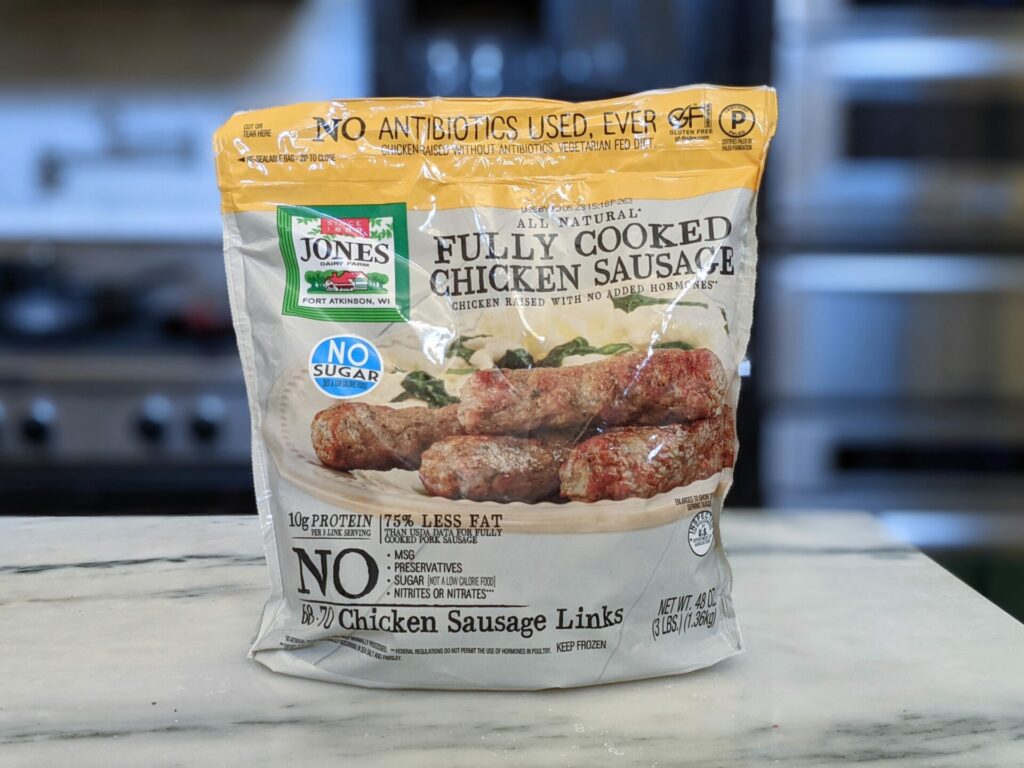 Yes, we do rank the Jones Farm's frozen chicken breakfast sausages higher than AmyLu's fresh chicken breakfast sausages. The Jones Farm's breakfast sausages have all the flavor of a traditional sausage while keeping a healthy, high-protein nutritional profile. They are super easy to cook, and most importantly, no unexpected chicken bone fragments. 
Costco sells a 3-pound bag of Jones Farms breakfast sausages for $14.99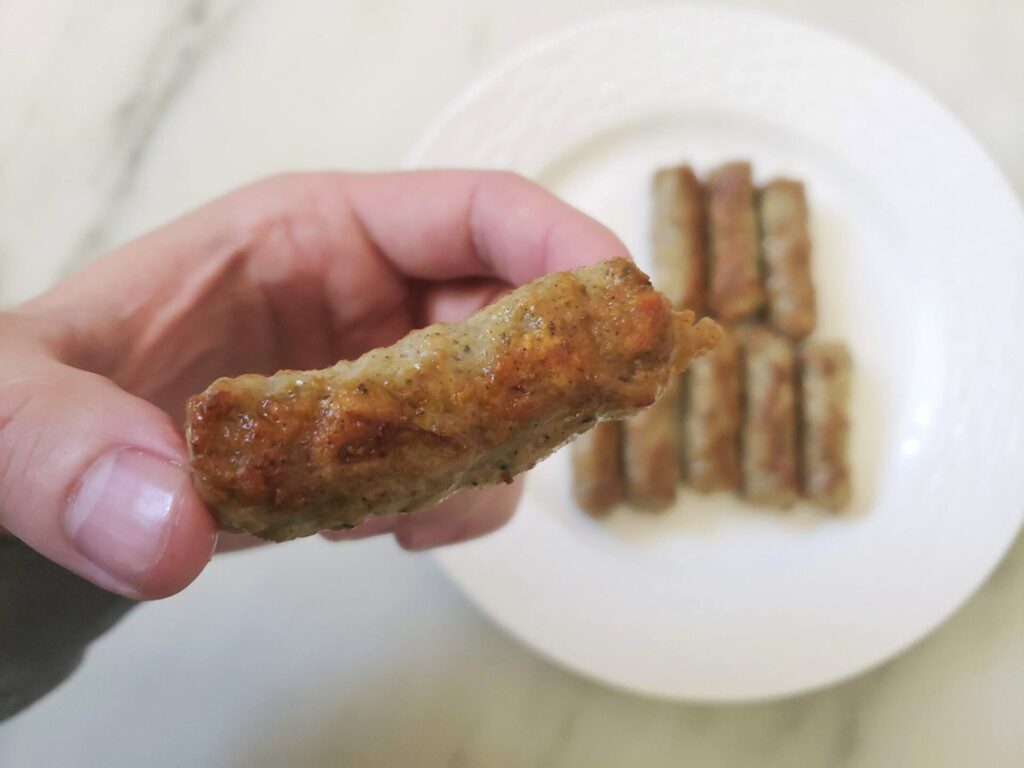 9. Kirkland Signature Water Boiled Bagels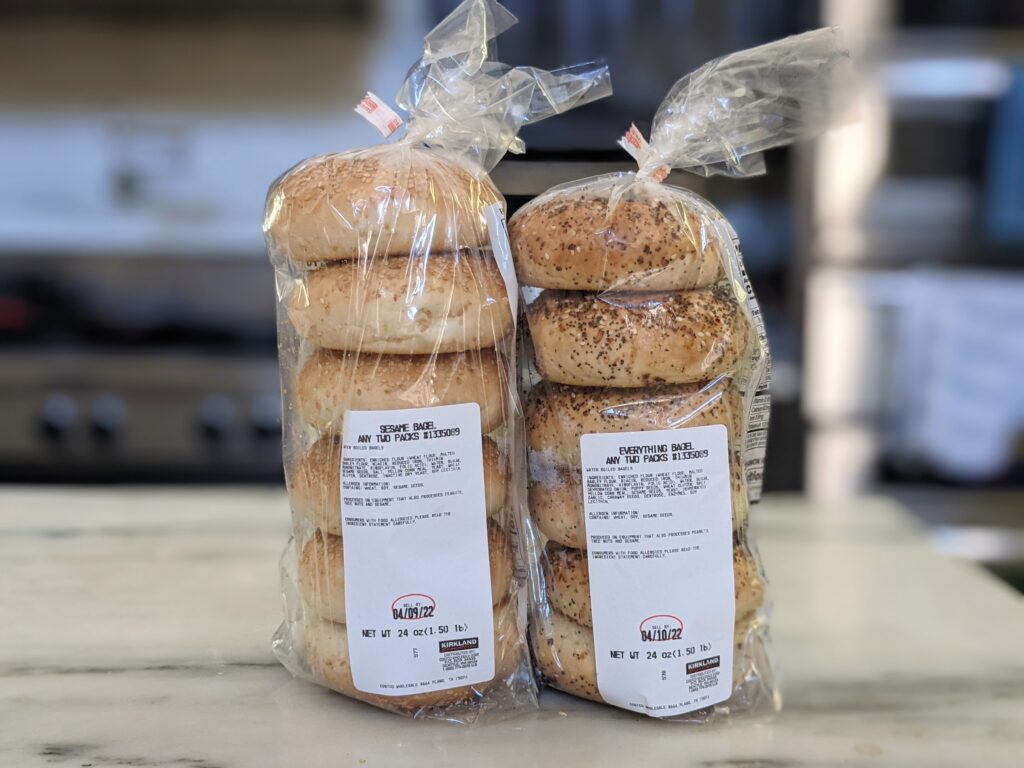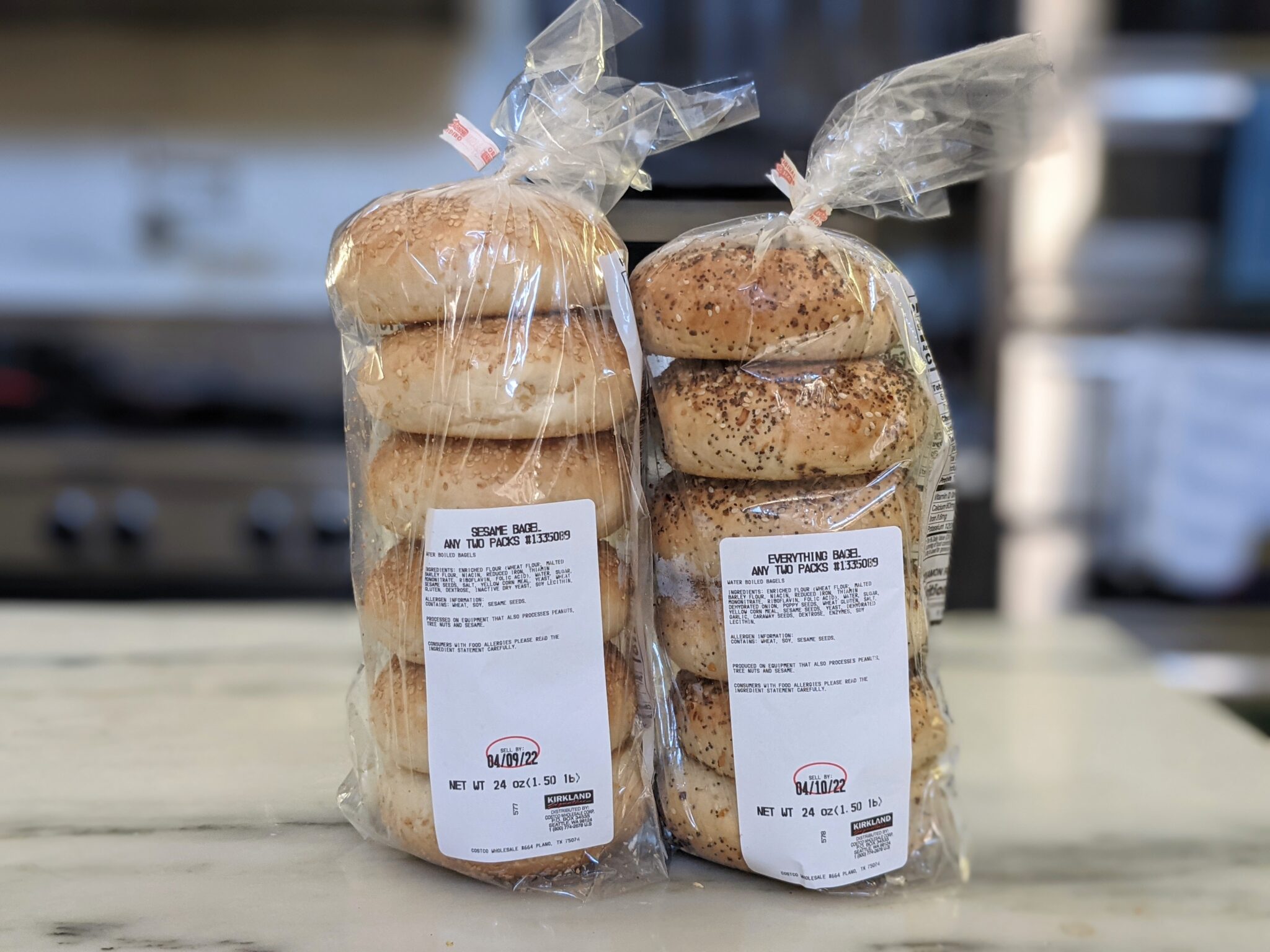 One of the more underrated options from the Costco bakery is their bagels. Costco sells a dozen mix-and-match bagels for $7.99 and they come in 5 different flavors; plain, sesame seed, everything bagel, cinnamon raisin, and parmesan. 
The bagels are fairly priced, easy to prepare in the morning, and pair perfectly with Costco's cream cheese or even some smoked salmon. It is a carb-filled breakfast, but at least the sugars are kept to a minimum.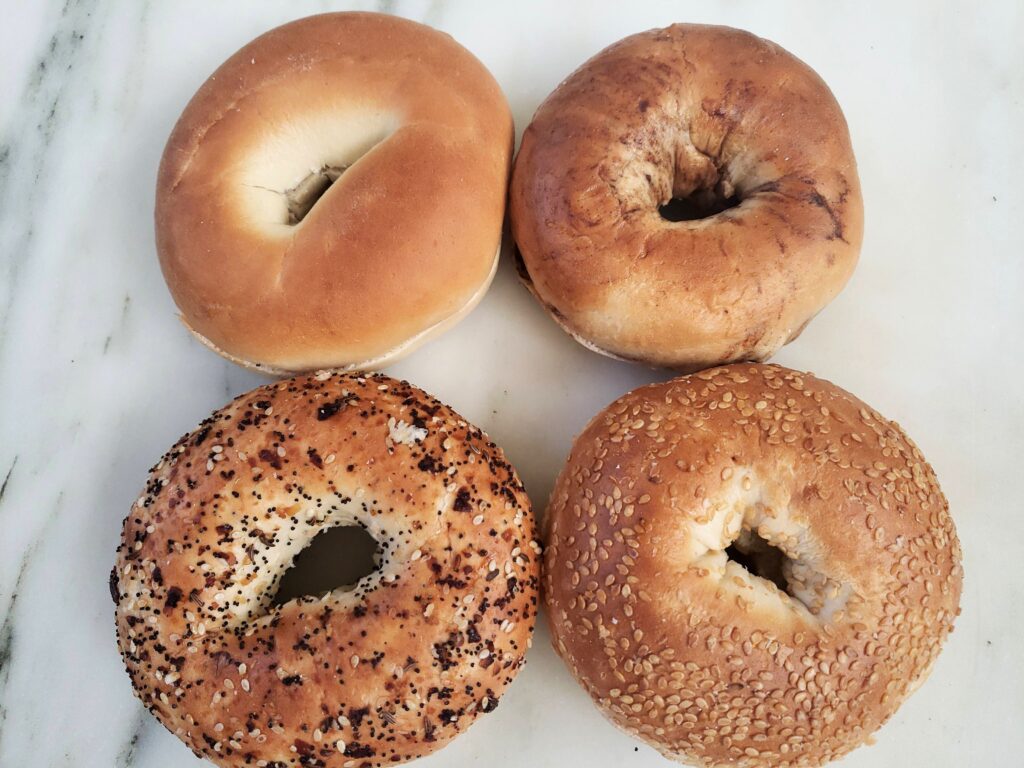 8. Grace Gourmet Bacon Gouda Egg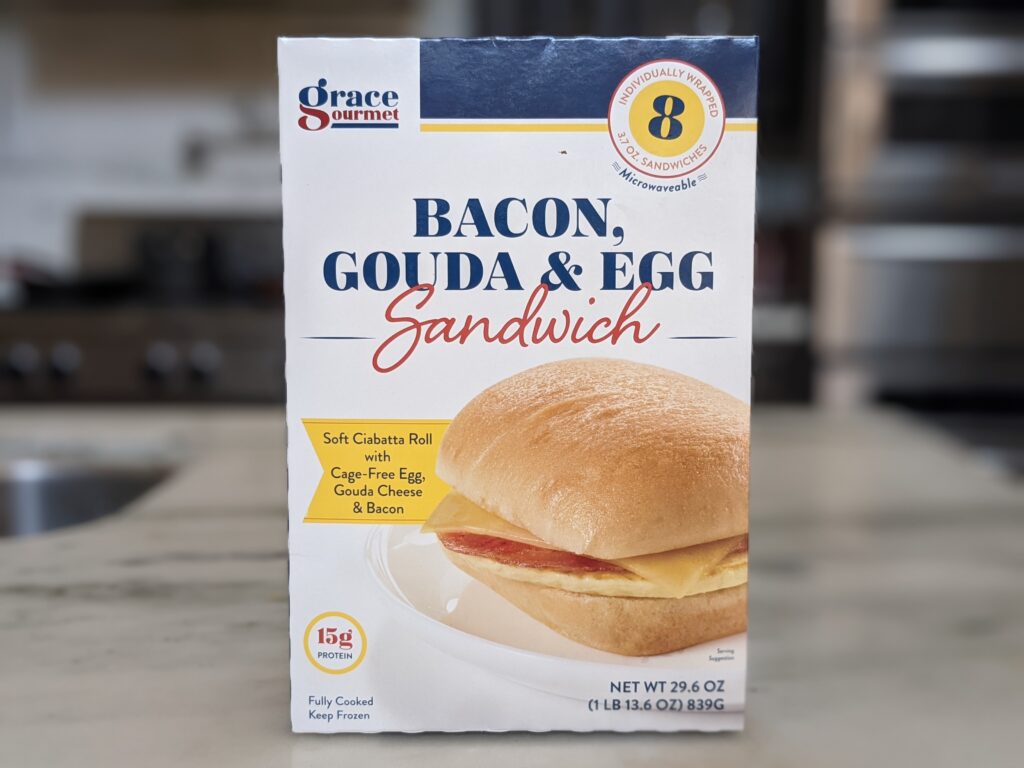 This Grace Gourmet breakfast sandwich is a copycat of Starbucks' famous bacon gouda egg sandwich and quickly built up a lot of hype. Unfortunately, the breakfast sandwich fell quite short in a couple of key categories. 
The sandwich is fine tasting, but the reality is that it takes about 15 minutes to heat up. A frozen breakfast sandwich just shouldn't take that long, and I could probably drive to Starbucks, order the sandwich, and get home faster than I could heat one of these in the air fryer.  
Costco sells an 8-pack of the Bacon Gouda Egg Sandwiches for $12.99.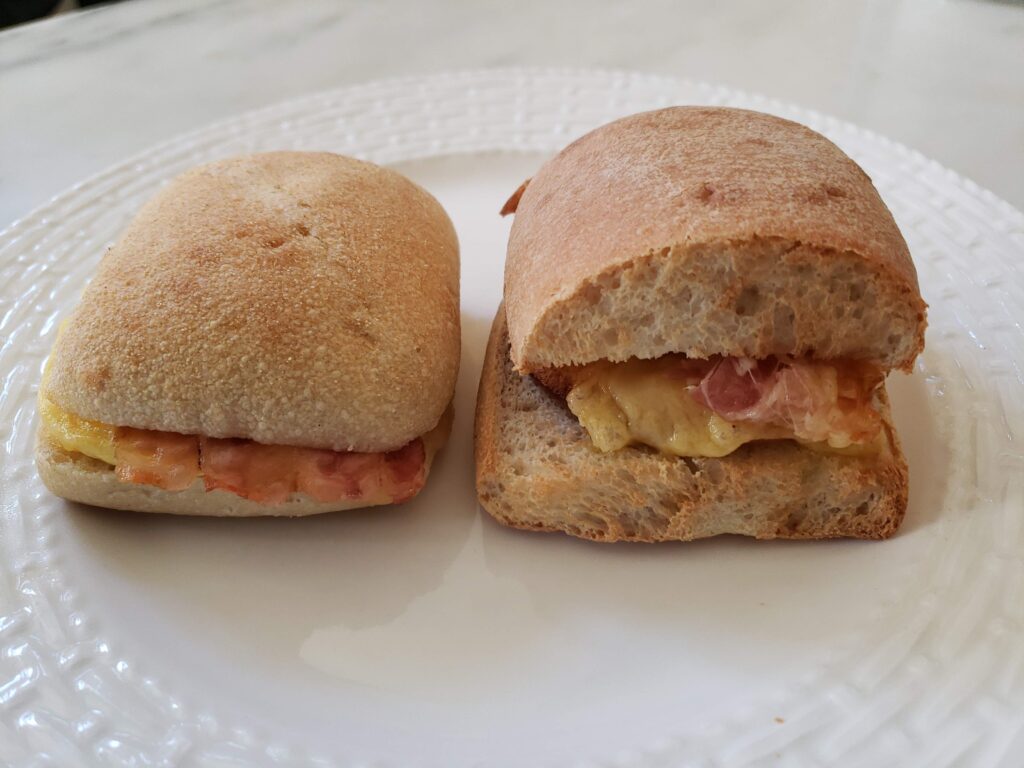 7. Cuisine Adventures Mini Quiche
Cuisine Adventures' mini quiche takes the number 7 spot on our list. The mini quiches live up to their name, with each one weighing three-quarters of an ounce. Each quiche has a crispy crust that holds the delicious egg filling. 
The mini quiche comes with two flavors, three cheese and florentine, and a 72-count box sells for $17.69 at Costco. Costco also sells a full sized quiche which is another great breakfast option.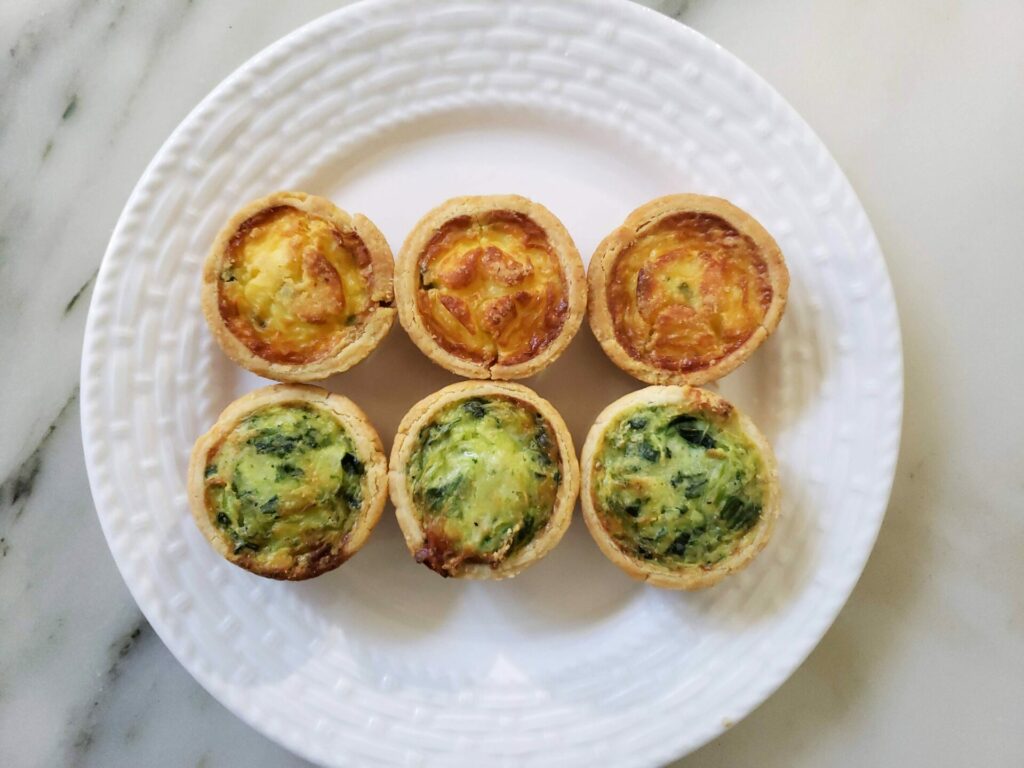 6. Kirkland Signature Croissant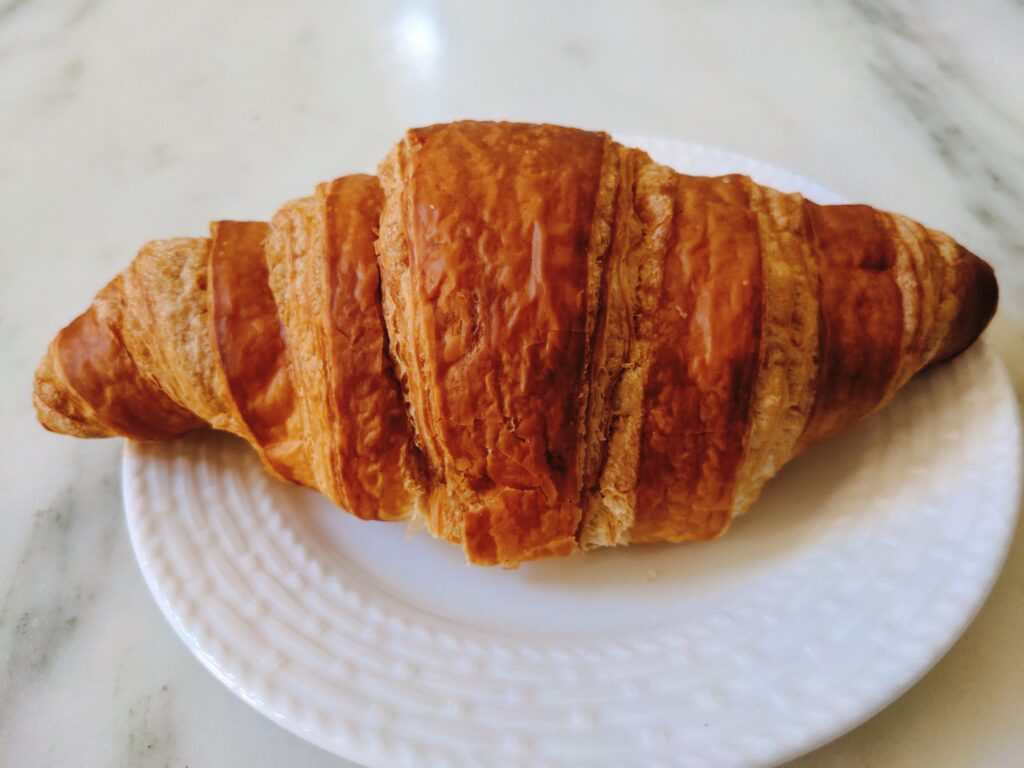 Nearly as popular as the muffins, the Kirkland Signature Croissants come in at #6 on our list. The ultra versatile croissant can be toasted and eaten as is or combined with eggs and bacon for an amazingly delicious croissant breakfast sandwich. 
The price of a dozen Costco croissants has recently increased from $4.99 to $5.99.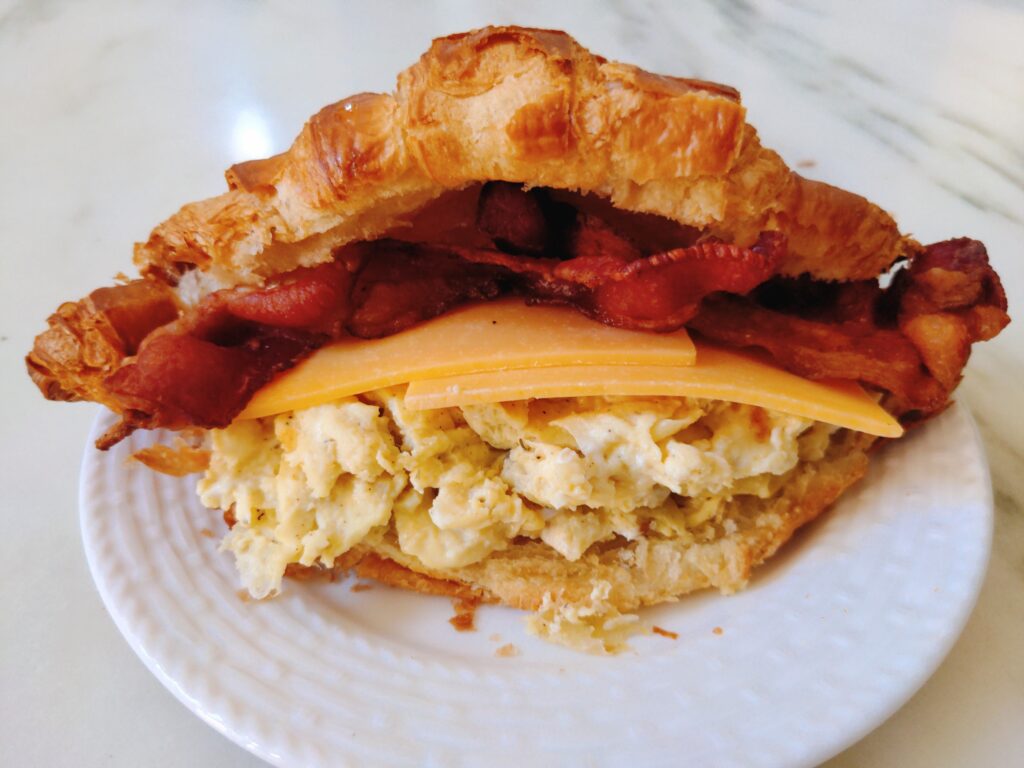 5. Don Miguel Breakfast Burritos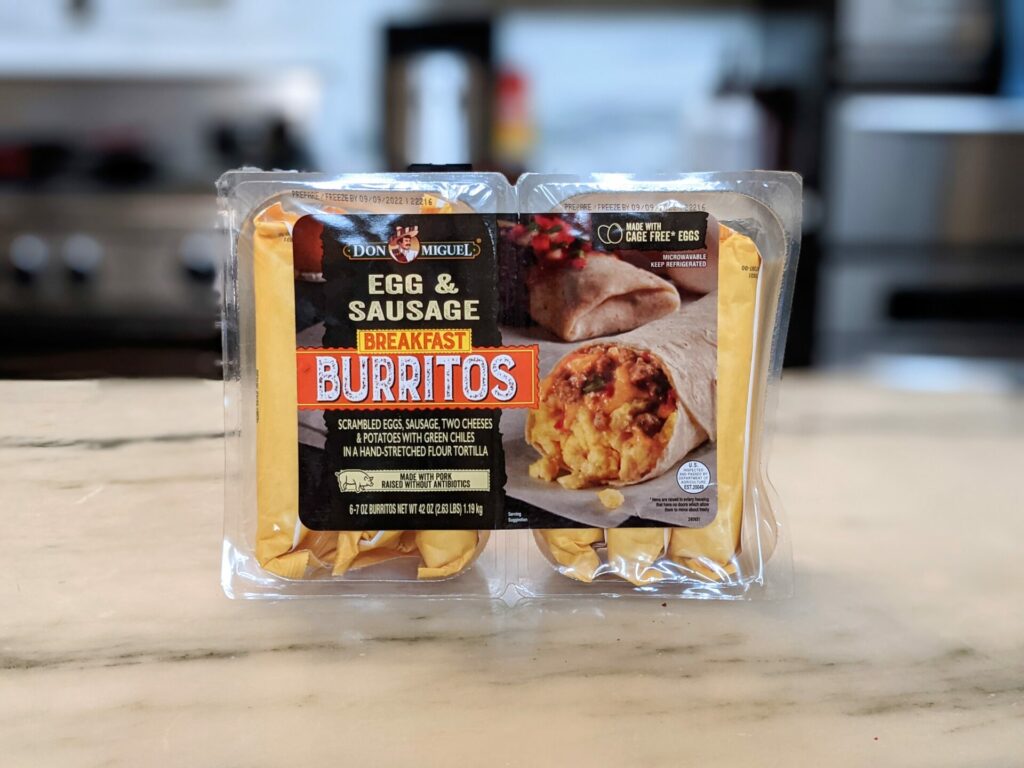 The most surprising item on our list is the Don Miguel Breakfast Burritos. These refrigerated burritos are made with cage-free eggs, sausage, two kinds of cheese, potatoes, and green chiles. They come out super crispy in the air fryer and are filling enough to get you to lunchtime. The key may be that these burritos are refrigerated and not frozen. 
6 of these Costco breakfast burritos cost $11.99 and can be found in the refrigerated deli section of the warehouse.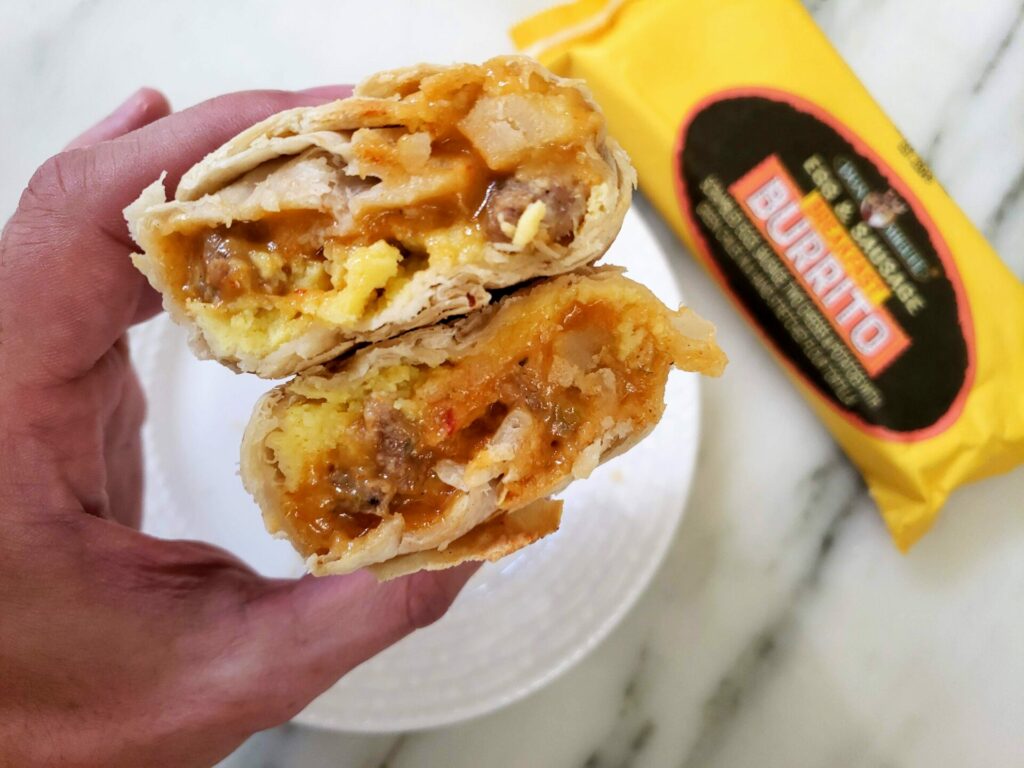 4. Kirkland Signature Ham and Cheese Pastry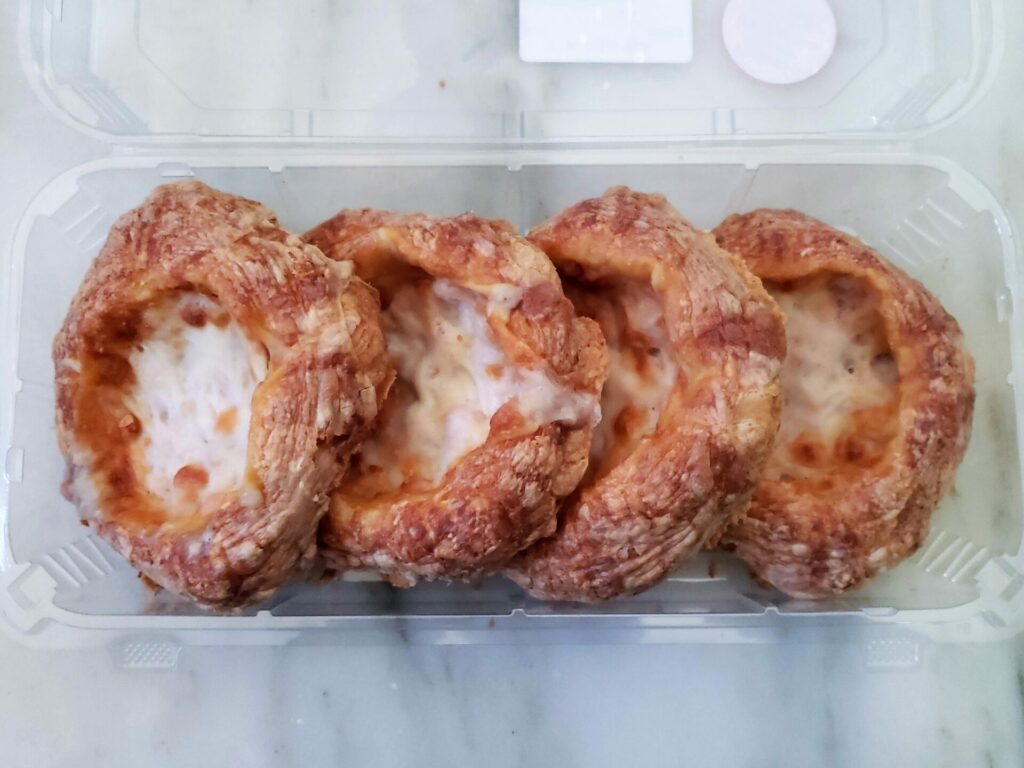 Costco has finally brought back its Ham and Cheese Pastry, and it jumps to the top of our Costco breakfast list. The pastry is light and flakey and filled with bechamel cheese, provolone cheese filling, and ham. 
They are extremely easy to reheat in the air fryer, and you can even heat them with an egg on top for some extra protein. Costco sells a 4 pack of their Kirkland Signature Ham and cheese pastries for $8.99.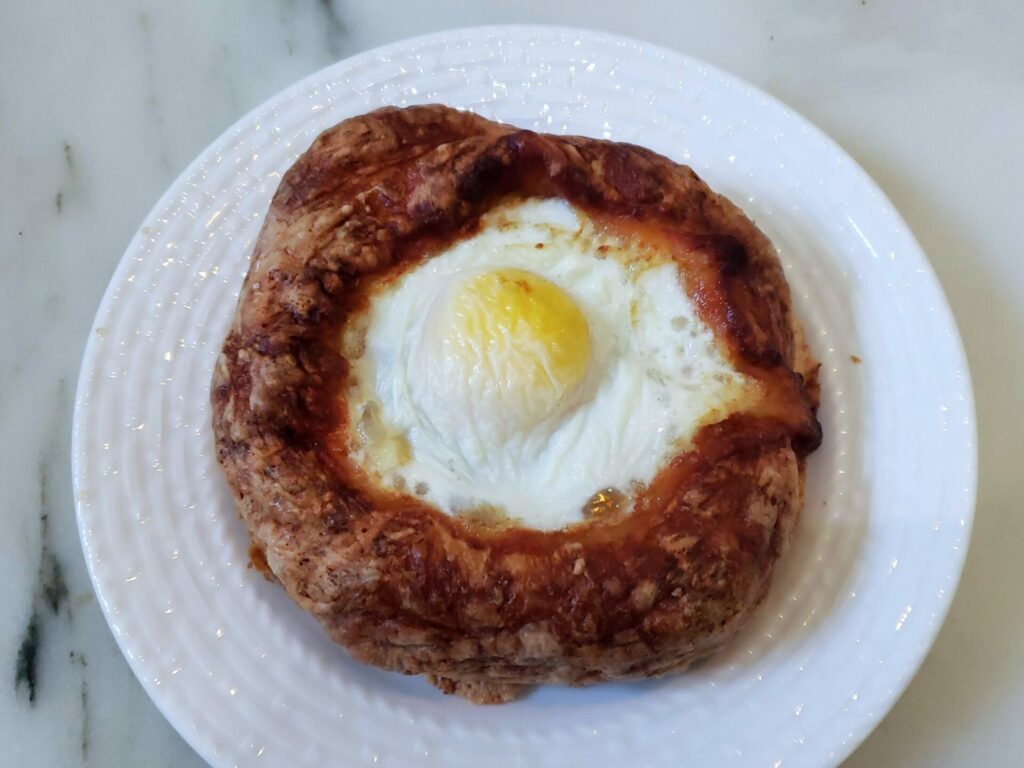 3. Health Warrior Oatmeal Variety Pack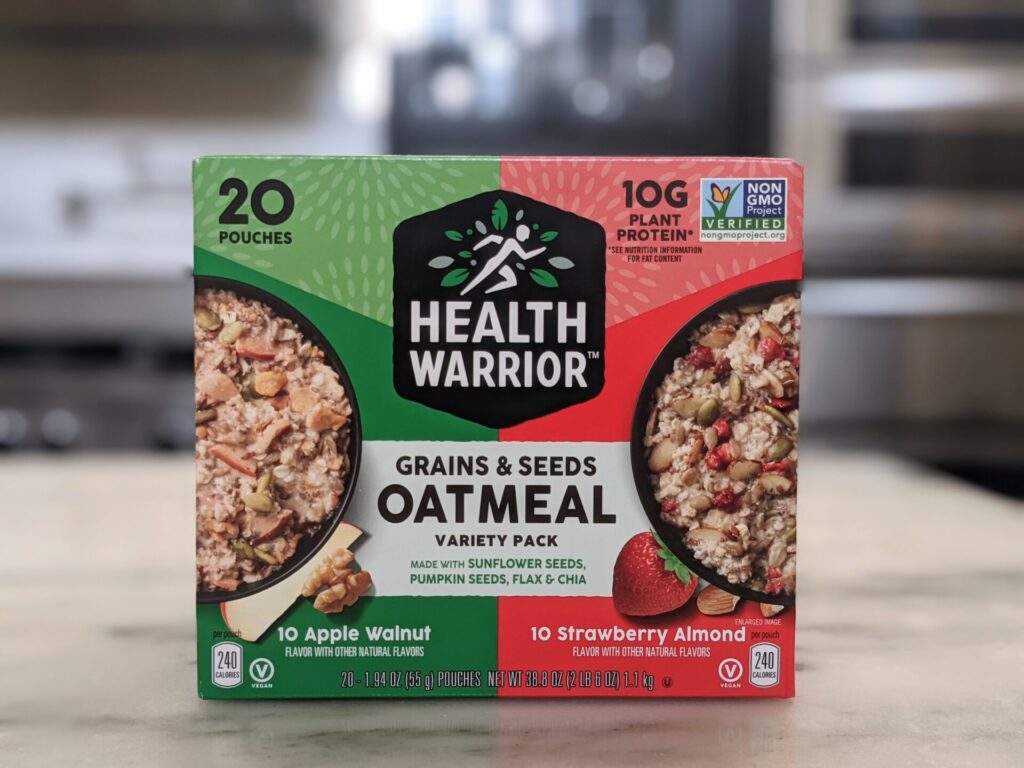 Health Warriors Oatmeal packs were the talk of 2022 and for a good reason. The oatmeal is made with sunflower seeds, pumpkin seeds, flax and chia and comes in two different flavors; Apple Walnut and Strawberry Almond. 
The oatmeal packs are tasty, full of nutrition, and have earned the #3 spot on our Costco Breakfast list. Costco sells a 20-pack of the health warrior oatmeal for $16.99.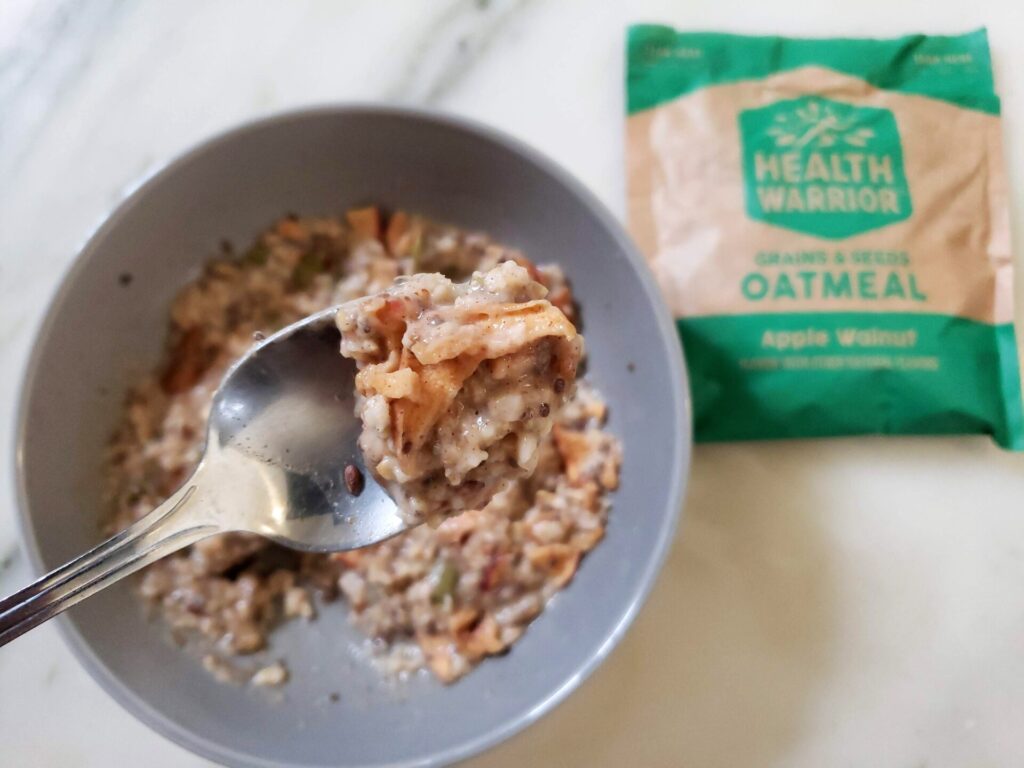 2. Red's Egg'Wich Turkey Sausage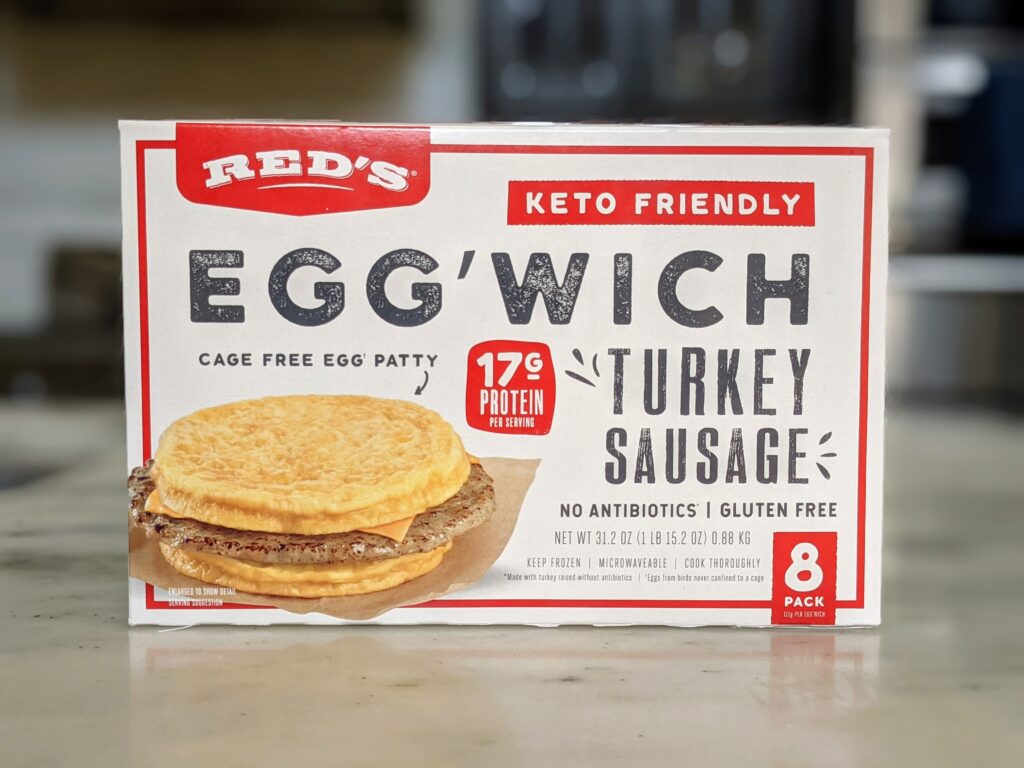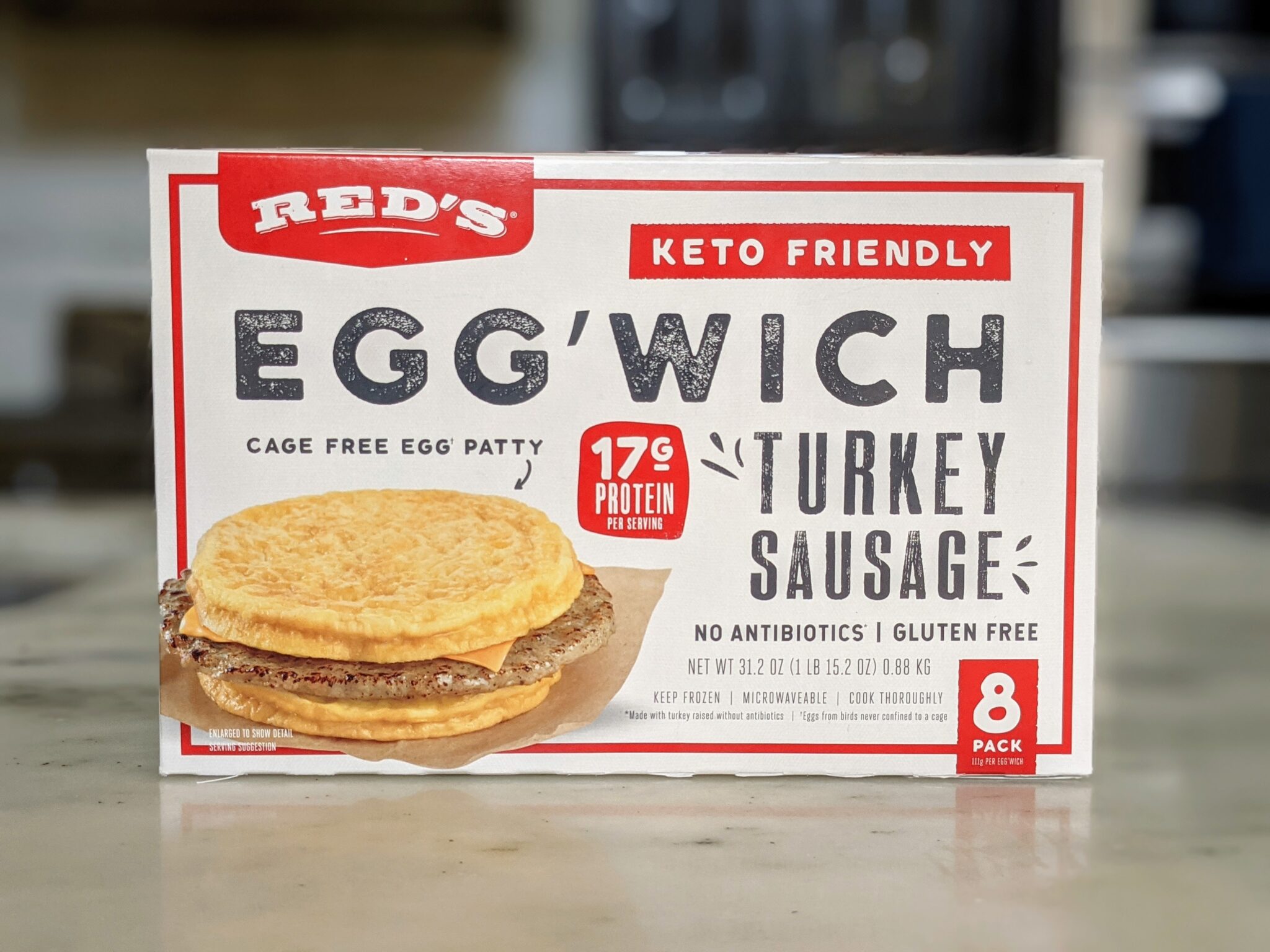 Costco's best breakfast sandwich is, without a doubt, the keto-friendly (3 grams of carbs) egg'wich. The breakfast sandwich is made with cheese, turkey sausage and two egg patties. The eggwich sandwiches take just a few minutes to heat up, are filling, and are packed with protein.
An 8-pack of Reds Egg'wiches sells for $13.99 at Costco.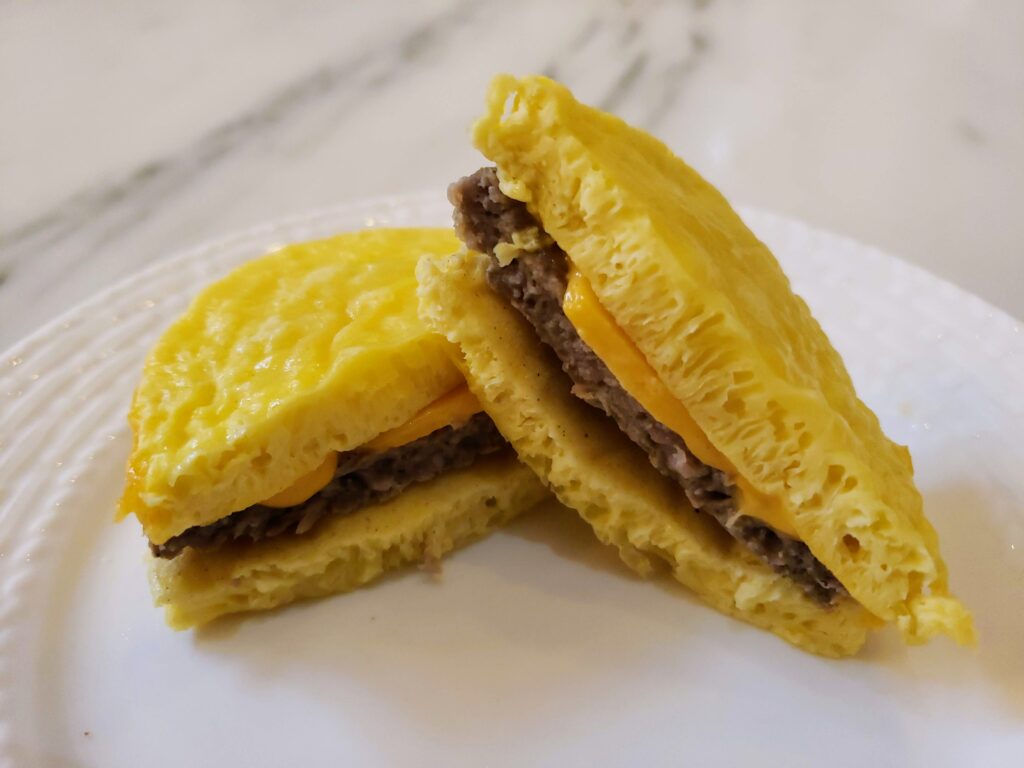 1. Three Bridges Egg Bites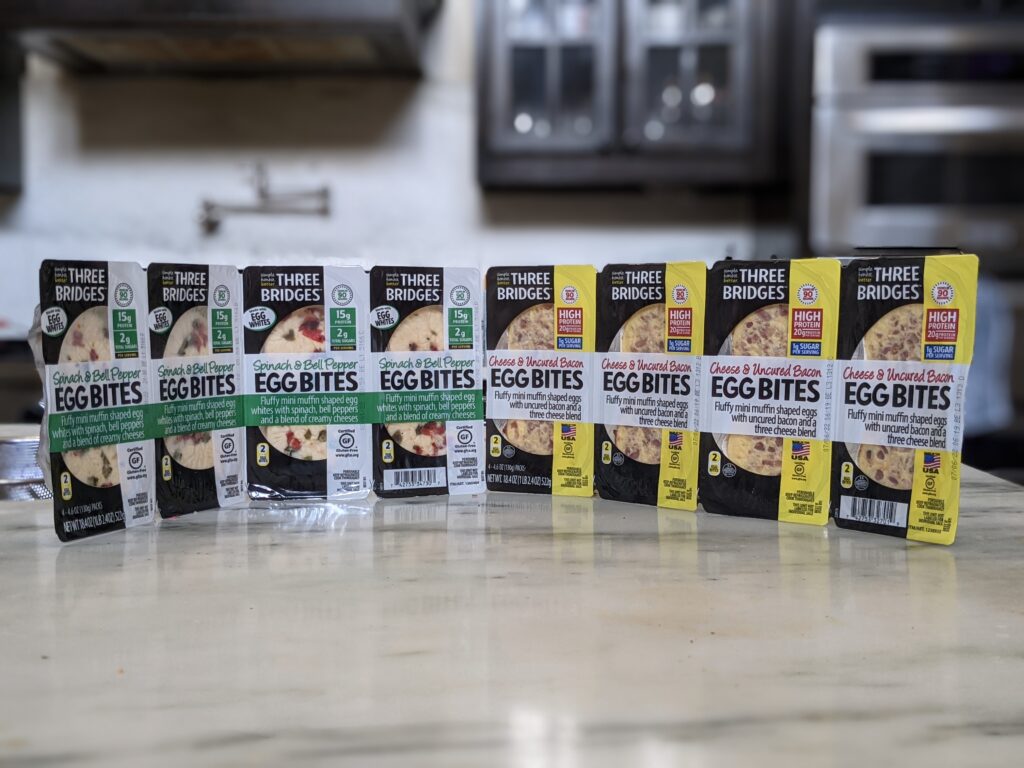 My absolute favorite Costco breakfast item is the Three Bridges egg bites. The egg bites are a Starbucks copycat, but are too delicious to not have in the #1 spot. Costco sells 8 total egg bites for $10.99, just a fraction of Starbucks' cost, and they come in two flavors: Spinach and Bell Pepper, and Cheese and Uncured Bacon. 
Costco's egg bites have it all. They are fairly priced, convenient to heat up (90 seconds), amazing nutritionally, and are so delicious. They are my #1 go-to Costco breakfast option, and it's going to be really hard for any of the competitors to take its spot.