Costco Croissant Breakfast Sandwich - Croissan'wich Clone?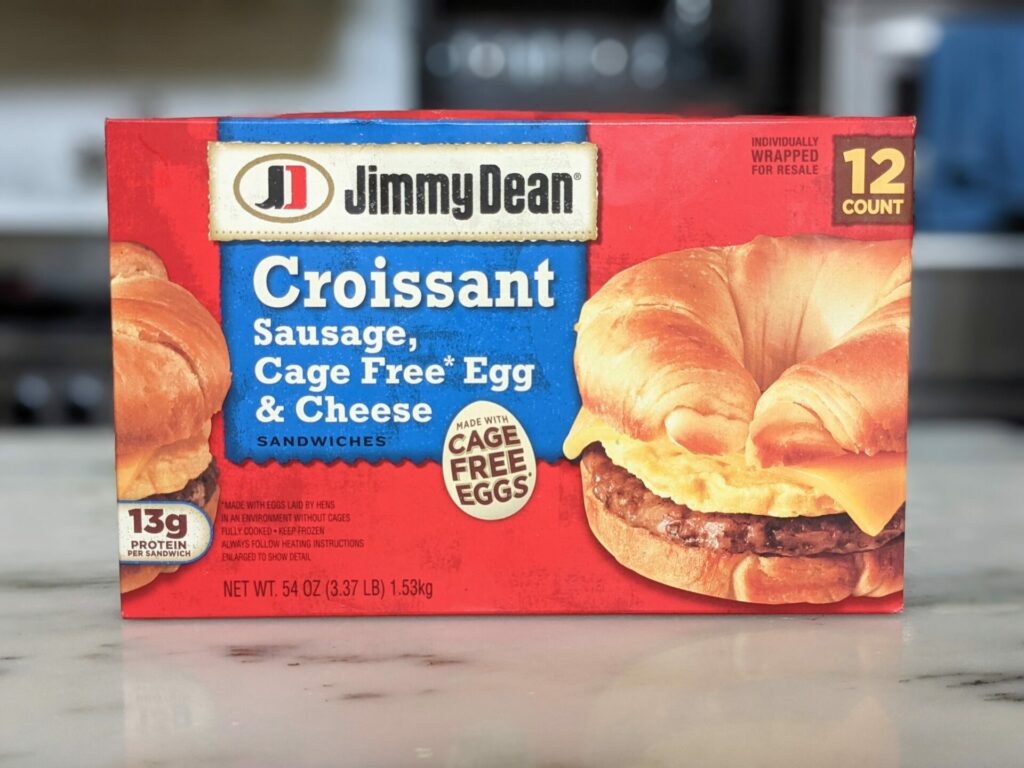 Jimmy Dean Croissant Sausage, Egg & Cheese Breakfast Sandwiches at Costco
Costco sells a 12-count box of Jimmy Dean Croissant Sausage Egg & Cheese Breakfast Sandwich for $13.99. 
The croissant breakfast sandwiches can be found in the frozen food aisle near some of the other breakfast options, such as the Bacon Gouda Egg Starbucks Clone Sandwich, Red's Egg'wich, and Breakfast Bowls.
Jimmy Dean's Croissant Breakfast Sandwiches are very similar to Burger King's Croissan'wich, which includes a croissant with the same ingredients of Sausage, Egg, & Cheese.
Jimmy Dean also sells a McDonald Sausage McMuffin Clone Breakfast Sandwich.

Have You Tried Costco's Croissant SAusage SAndwich?
Let the rest of the Costco Food Database community know what you thought of this product. Results and reviews are at the bottom of this page.
Please allow 24 hours for review moderation and approval.
Cage Free Eggs always sound great, and I'm sure they hit the minimum mark to be able to say that, but it's never reassuring for me when companies have to include an asterisk and additional clarification.
Burger King Croissan'wich CLone
This Jimmy Dean breakfast sandwich appears to be a clone of the popular Croissan'wich from Burger King. Both Sandwiches are made with croissant buns, sausage, eggs, and American cheese.
These sandwiches are a more economical and convenient alternative to the Burger King breakfast item.
How Much Do The Costco Croissant Breakfast Sandwiches Cost?
Costco sells the 12-count box of Jimmy Dean Croissant Breakfast Sandwiches for $13.99 or $1.17 each. This is a fantastic price for a breakfast sandwich and one of the most affordable options at Costco.

Here is how the Jimmy Dean Sandwich stacks up compared to the rest
Costco vs The Competition
Sam's Club sells the same package of 12 Jimmy Dean Croissant Sandwiches for $13.58 or $1.13 each. This is a price that is slightly better than Costco's.
Target sells a 4 count of the sandwiches for $6.99 or $1.75 each.
Croissant Sausage, Egg, and Cheese Sandwich Taste Test
I followed the microwave directions for these breakfast croissant sandwiches, and the sandwich came out very warm and thoroughly heated through. 
The sandwich can be air fried, but it will involve a process of heating the ingredients at different intervals. I don't consider it to be worth the work. 
The croissant style bread is very soft, but it's not exactly a croissant. It looks like a croissant and is shaped like a croissant, but it's closer to a typical bun/bread than it is a croissant.
There is definitely a strong buttery flavor, and the bread is as soft as a croissant, but it's closer to a regular bun. It does go great with the sandwich and is very tasty.
The sausage is also pretty good. The sausage won't be winning any awards, but it is flavorful and enjoyable. 
I liken it to a sausage that you would find on any typical fast food breakfast sandwich. It's a pretty darn good sausage for a $1.17 breakfast sandwich.
The cheese is also a positive addition to the croissant sandwich. It has a nice thickness considering the sandwich size and price, and provides a great texture to the sandwich.
It has a moderate amount of flavor and a nice chewy gooey texture.
The egg can be the trickiest part with a microwavable frozen breakfast sandwich, but Jimmy Dean does a good job here. 
The egg texture is a little weird, but that's to be expected. The texture is your typical frozen egg patty, but it gets hidden when combined with the sausage and cheese.
Overall, the Jimmy Dean Croissant Sandwich with Sausage is more than passable. It's not the highest quality sandwich, but it is tasty and filling for its size.
Costco Jimmy Dean Croissant Breakfast Sandwich Cooking Instructions
Jimmy Dean only recommends one method to cook their breakfast sandwich, as that is with the microwave. They offer two heating suggestions depending on if the croissant sandwich is frozen or already defrosted.
Always follow heating instructions. Keep frozen until ready to use. It may be refrigerated to thaw. Do not refrigerate longer than 3 days.

Frozen Jimmy Croissant Sandwich Microwave Instructions
Prepare: Remove the wrapper. Wrap in a paper towel.

Defrost: Defrost (30% Power) 90 Seconds. Turn the croissant sandwich over.

Heat: Microwave on High for 50 Seconds or until hot. Let stand for 1 minute.
Caution: The product Will Be Hot! 
Defrosted Croissant Sandwich Microwave Instructions
Prepare: Remove the wrapper. Wrap in a paper towel.

Heat: Microwave on high for 50 seconds or until hot. Let stand for 1 minute.
Caution: The product Will Be Hot!
Croissant Sausage Egg & Cheese Nutritional Information and Calories
Each of Costco's Croissant Sausage Egg and Cheese breakfast sandwiches will weigh 128 grams or 4.5 ounces and have 400 calories. Those 400 calories come from 26 grams of fat, 28 grams of carbs, and 13 grams of protein.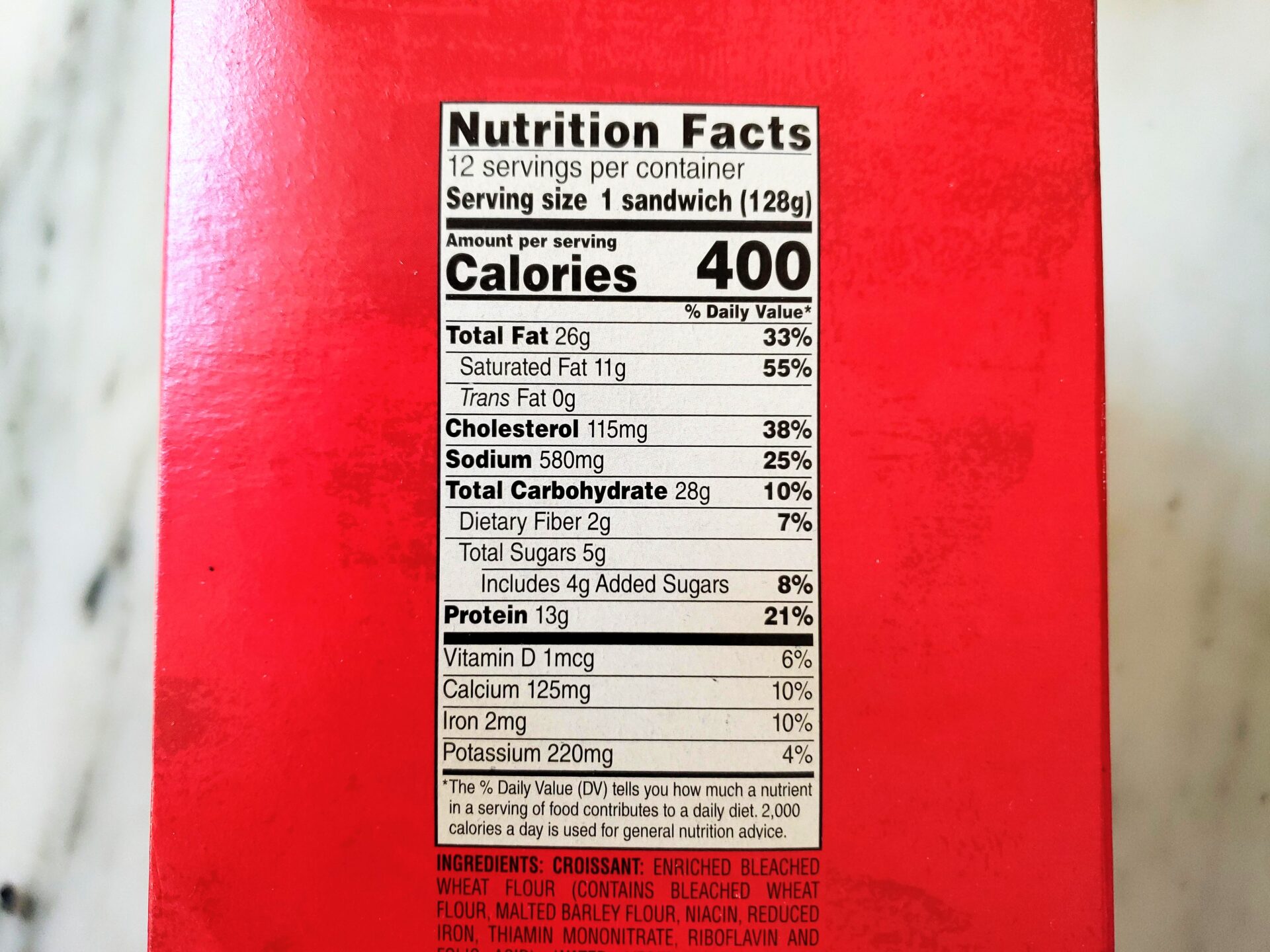 This is a standard and reasonable nutritional label for a sandwich like this. There will be a higher fat content from the sausage, and the only thing that somewhat bugs me is the slightly low 13 grams of protein.
Moderately High Sodium Content
The big non-macronutrient issue with the Jimmy Dean croissant sandwich is the 580 mg of sodium content in each sandwich. The 580 mg of sodium is 25% of the daily recommended value and is quite a bit of sodium to start the day.
It is almost unavoidable when it comes to frozen foods, but I would have been able to better tolerate something closer to 400 mg of sodium.
Costco Food Database User Reviews
Have you tried this item? Let the rest of the Costco Food Database community know what you think. Leave a rating and review for this product.